Nitesh Gandhi is the Cluster General Manager, Rajasthan Hotels, Marriott General Manager, JW Marriott New Delhi. With an experience of more than 20 years in hospitality, Nitesh is a seasoned hospitality professional with renowned accolades and several prestigious awards to his credit. Nitesh joined JW Marriott New Delhi in the year 2017. During his tenure, achieving the revenue target of 300 Crores benchmark in the year 2019, initiating the elimination of 20 million plastic water bottles at the hotel and coming forward to serve the underprivileged during the pandemic, are some of the prime achievements that the team at JW Marriott New Delhi holds under his leadership.
Nitesh started his career with The Oberoi Group as a Management Trainee at The Oberoi Centre of Learning & Development and then moved within the company in various roles starting with The Oberoi Udaivilas, Udaipur in April 2001 as the Food & Beverage Manager to Trident in Bandra Kurla and The Oberoi. He has also worked with Four Seasons Maldives and Trident Gurgaon (erstwhile Trident Hilton, Gurgaon). In the year 2008, Nitesh worked with select properties under The Oberoi Group as the Hotel Manager. He joined as General Manager for Trident Gurgaon in January 2013 before moving on to The Oberoi, Gurgaon as General Manager. In his leisure time, Nitesh is an avid biker and off-roading enthusiast.
What makes The JW Marriott New Delhi Aerocity stand out from other properties you've worked in?
The exemplary initiatives in accepting a great sense of responsibility towards the environment, community and sustainability make JW Marriott New Delhi an admirable destination for patrons, customers and associates. The hotel has led remarkable campaigns addressing consequential concerns such as the plastic-free campaign that started in the year 2019 which helped us to eliminate the usage of 2 million single use plastic bottles for the year; clean air initiative at the hotel that addressed the air pollution concerns of travelers; serving free meals to dislocated people in 2020 due to COVID-19; delivering free meal trays to home-isolated COVID patients; distribution of masks in the desolate areas of New Delhi; vaccination drives for guests and associates; feeding stray dogs in Aerocity and more.
The larger catering space of 30,000 sq. ft. is another reason for the hotel to stand out along with exceptional food and beverage outlets offering experiential dining with signatures from our expatriate Master Chefs and their teams.  We have been consistently creating moments of delight for our guests and the hotel has won over 50 prestigious awards since the year 2017.
Please tell us about your new role as Cluster Head for Marriott hotels in Rajasthan.
I am leading the Rajasthan Marriott hotels along with JW Marriott New Delhi for Marriott International. Rajasthan has distinctive Marriott properties that are prepossessing and the experiences these destinations have to offer are unique and eccentric. My portfolio includes all these hotels:
Jaipur Marriott Hotel
The Westin Pushkar Resort & Spa
Jaisalmer Marriott Resort & Spa
Le Méridien Jaipur Resort & Spa
Fairfield by Marriott Jodhpur
The idea is to bring synergy in the brand offerings wherever possible to offer distinct brand experiences under the umbrella of Marriott to match the varying needs of our guests. Each of our hotel is a representation of rich cultural heritage of Rajasthan in it's own unique way. We invite you to experience the grandeur of our hotels in Rajasthan, each representing the glory of Rajasthan.
Who is your typical customer?
Travelers from across the world seeking experiences that revitalize the mind, body and spirit. Now, especially because of the pandemic, the focus has predominantly shifted towards domestic travel including leisure and coporates.
If you could plan a one-day itinerary for guests looking to explore Delhi, where would you send them?
Delhi is a city of rich culture, heritage and great style. One can have a diverse range of experiences in the capital city for which a single day is less and we, at JW Marriott New Delhi, take pride in our specially curated local experiences. If you ask me, a great breakfast excursion at the plush greens of Sundar Nursery is one. To follow, a walk through the streets of Old Delhi that emits the rich culture and history of the city. To enjoy the vibrancy of Delhi, a drive by the graffiti walls of Lodhi colony followed by the views of India Gate, The Parliament House, Qutub Minar is great. For travelers looking for shopping experiences, Khan Market, Dilli Haat and Connaught Place are great landmarks to shop. As the day progresses, the team at the hotel can bring a delectable array of local flavours to your table at the hotel, set up at the luxurious Cabanas or the award-winning restaurant K3 – New Delhi's Food Theatre.
Building the right team is crucial for a property's success. What are the key skills you look for when hiring new employees?
Passion. The compelling aspiration to outperform and excel in their work, passion is the key skill that I look at when interviewing associates for hotels.
How important is it for a luxury hotel to have a solid gastronomic offering?
Food is an important element and significant part of driving an exceptional customer experience. Hence, it is important that you have class-apart offerings, authentic tastes, and a phenomenal team to make it an experience to remember. With our five Master Chefs who specialize in various cuisines ranging from Mediterranean, Asian to Indian, there's a lot of options to choose from when you dine at JW Marriott New Delhi.
Since the last year, focus has been on food deliveries and getting hygienically safe food to our guests and the team made sure that we excel in this area too as shown by our guest satisfaction and revenues we did from Marriott Bonvoy on Wheels.
What is the one dish that guests have to try when at your hotel?
The signature 100 hours Dry Aged Roast Duck Experience is something one should definitely try at the hotel. Curated by Asian Master Chef Travis Loh, the humble pedigreed duck, raised at the award winning Organic Gayatri Farms, is dry aged for 100 hours in an Asian rub and cooked in a traditional Duck oven. The experience starts with a serve of Oolong tea followed by Organic greens and crispy duck salad, crispy Asian Duck pancakes, cucumber, scallions and homemade duck dipping sauces with Duck massaman curry and Jasmine rice.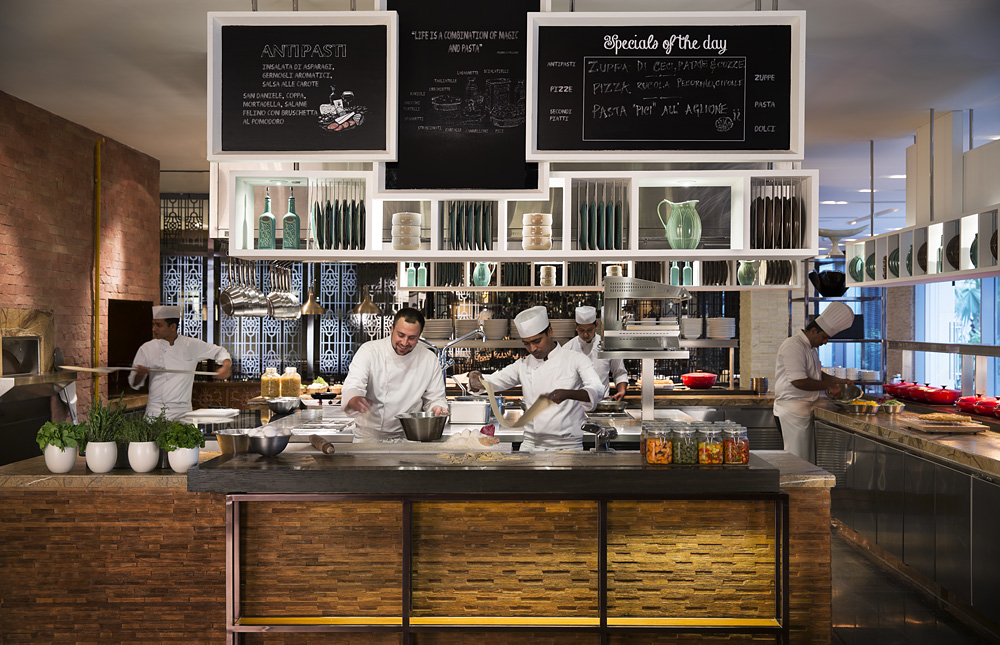 2020 was a challenging year for the hospitality industry. In your opinion, how will travel trends change in 2021?
The pandemic has adversely affected the hospitality and travel industry. The year 2021 did start at a great pace for us, but with the second wave, there has been a drastic shift in business. However, once things normalize towards quarter 3, travel shall soon begin for all hotels. The prime focus for sometime will remain domestic leisure and corporate travelers.
Was a career in hospitality something you always dreamt of?  What is your advice to aspiring hoteliers?
Yes, I've always been very passionate about hospitality industry and hotels in specific. It is extremely satisfactory to see all positive guest feedback and how they eventually become your brand ambassadors as you continue to provide them with superlative experiences. My advice to the aspiring hoteliers will be that though the times are tough right now but remain resilient, have patience and focus on working with well established brands like Marriott which offers associate-centered culture.
Which Indian cities are your favourites for: 1) food 2) history 3) fashion?
Food – Jaipur
History – Jaisalmer
Fashion – New Delhi
What are some of the new measures your team has put into place to deal with the post-COVID-19 situation?
We were the first hotel to come up with an extensive list of more than 200 touch points in the guest and associate journey within the hotel. We were able to create  detailed Standard Operating Procedures for each touch point in terms of cleaning process, frequency of cleaning and chemical to be used. We re-engineered our operations with medicinal grade precision for safety and sanitation while still giving our guests the JW Treatment.
In our constant efforts to redefining luxury with vital importance given towards safety and hygiene, JW Marriott New Delhi has explicit practices and procedures adopted under Marriott International's Commitment to Clean. All associates at the hotel are 100% vaccinated with the first dose making the hotel a safer abode.
Well-defined contact-less stays and contact less dining experiences centered on hygiene with medicinal level precision are the major focus points and this is completely re-engineered with the operating procedures across the hotel backed up with technology and essential intervention.
The hotel is following all measures to offer you a safe stay at the hotel with:
Contact-Less food and beverage options
Social distancing across the hotel
Each touch point is sanitized with medicinal grade chemicals and agents
In-House dedicated Hygiene Manager who performs surface testing across the hotel
200 New Standard Operating Procedures
2 Stage Temperature Checks with Thermal Scanning Gun
ISO 22000:2005 Certified Kitchen