Initiated to the culinary arts from a tender age, Chef Daniele has always been passionate for all thing's gastronomy. With a first job as cheesemonger at the age of 13 in Genova, Chef Daniele began its culinary journey that would bring him to build its fundamentals through culinary school and apprenticeships in both Italy and France. During his training across the continents, Chef Daniele had trained and worked with talented and ground-breaking Michelin Starred chefs like Gianni Malagoli in Genova, Grant Achatz in Chicago and Yoshihiro Narisawa in Tokyo.
A lifelong student, Chef Daniele diligently apply a Kaizen approach trough his philosophy continuous improvement, 'Knowledge is key, you need to be able to understand the boundaries in order to break them'; he is a member of the United
State Sommelier association and the Order of the Knights of Alba, a student of Food Science and Business from the universities Harvard in Boston, USA and Warwick London, UK. Landing in Singapore in 2012 in search of new culinary horizons, Chef Daniele has soon realized he has found a home-away-from-home.
Do you have a favourite time of the year or set of ingredients that you look forward to working with?
While all seasons have beautiful gems to be discovered, I would say that Spring/Summer is my favourite part of the year, filled with vibrant produce like morels, asparagus, tomatoes, wild garlic .
 What would you do if you weren't a chef?
Two potential alternative paths, I would either be in animation (storytelling is part of who I'm), or I would have probably pursued a career in science.
 Do your personal preferences influence the menu at all?
Definitely, I can't really cook something that I don't like, no matter the ingredient or the type of cuisine, if I'm the one cooking it or creating the dish, it will be inevitably evolve into a version that seems palatable to me.
 What do you think is the most over-hyped food trend currently?
Honestly, nowadays everything is over hyped, we seem to have lost the ability to appreciate and promote the simply 'good' things in life. Everything has to be portrayed as either amazing or terrible, always at the extremes, nothing in between. The "in between" ain't trendy.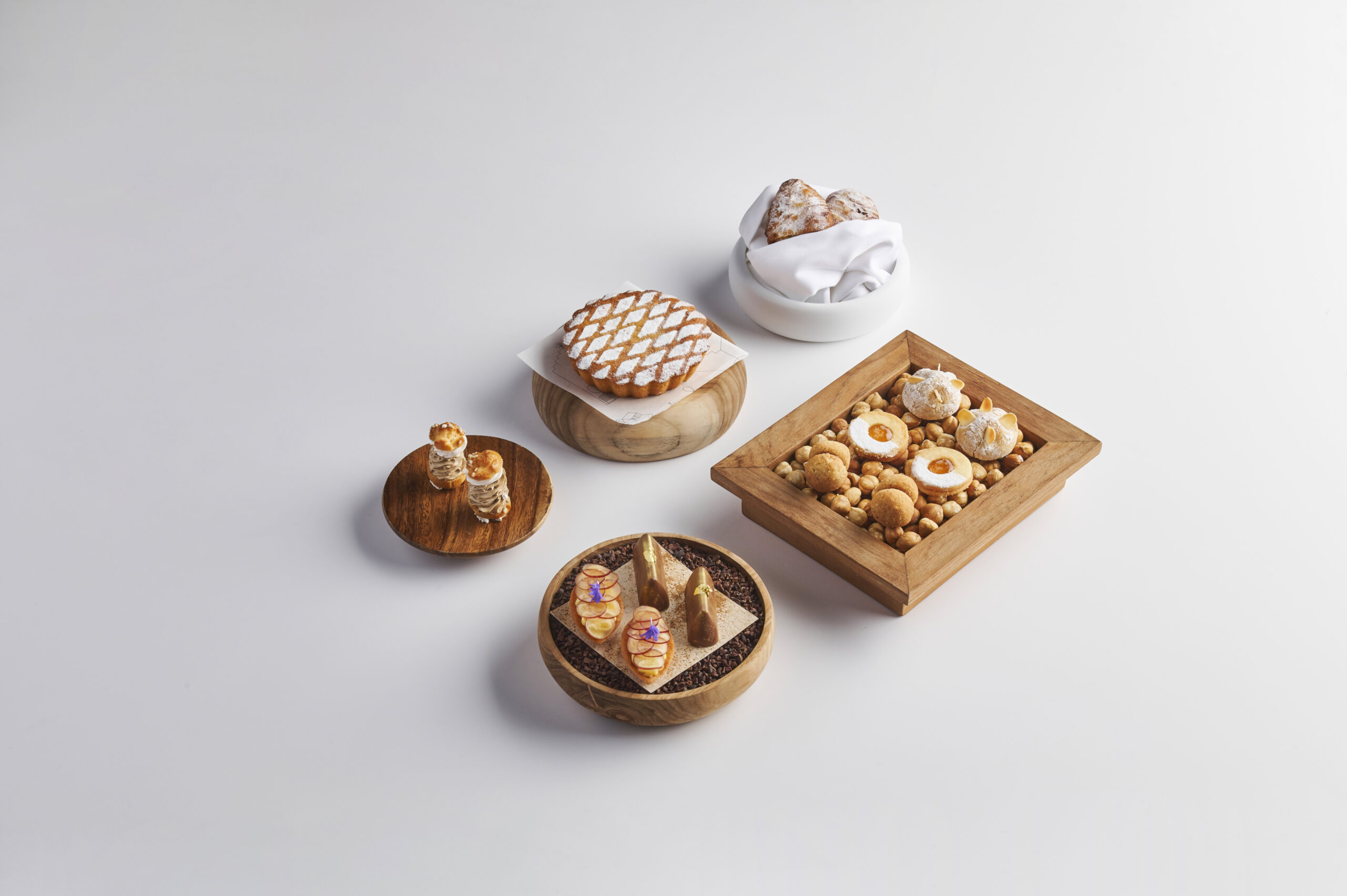 When are you happiest?
Generally, wherever there is good food and good company. Then if it happens to come with a beautiful Alpine backdrop and the soothing smell of the forest, that's a bonus.
When you're not in the kitchen where can you be found?
Most likely playing with my daughter, or in some remote book shop with my wife. If it isn't work time, it is usually family time. Occasionally at the gym (but not often enough 
).
 Where is your favourite place to dine?
In Singapore, for fine dining I would pick Zen and for casual Gavroche. There are many others of course.
What's your favourite takeaway or comfort food?
Let's remove pizza from the equation, or it would be too obvious. I would say Japanese in all its variances, tonkatsu, ramen, dons and so on. It is definitely comforting food to me.
 What makes the local food scene so exciting?
Singapore is just on fire. All the best chefs from around the world are opening in town and the competition is through the roof. One could virtually find a great restaurant for each international cuisine, that would be considered great even in their country of origin. And competition breeds excellence.
Which is the dish you've created that you are most proud of and why?
Usually it's always the 'latest' dish. Since we follow a Kaisen approach of continual improvement, inevitably the latest creation is the one that always reflects our philosophy the most. The latest is Faraona all'Albese, a dish that is perpetuating Piemontese heritage but evolved in our own way. Guinea fowl combined with a preserved tomato and roasted chicken skin farce, a crown of truffle and a heart of smoked sardines. It is beautiful to look at but also fulfilling and comforting.
You're having friends over for dinner tonight. What's on the table?
Fried anchovies with red onion jam, Vitello tonnato with toasted ciabatta bread and Ligurian olive oil to start; Swiss Chard Pansotti Pasta with Walnut sauce and Pecorino; Roasted Rabbit with Taggiasche olives, Butter Carrots and Potatoes; finished with some assorted Italian sweets, fruit, coffee and perhaps a slice of my very own Panettone.
 Name your favourite city that has it all: food, culture, and nightlife.
Tokyo
Can you tell us more about the cuisine at your restaurants?
I call it conversational cuisine. It is like traveling without leaving the table, an interpretation of my heritage and stories from an Italian's point of view. Approachable and non-stereotypical. Quintessentially Italian. I think there is nothing more comforting than a slice of warm bread coated with a delicious spread or pate, I could probably live with that as my main source of sustenance. During one of my brainstorming sessions, I was looking to rethink a classic dish called Vitello Tonnato, generally poached veal coated with a tuna-based sauce, delicious yet not visually flattering. I have decided to turn it into a spread. So here we have a Tonnato Paté, covered with a layer of black onion pearls and a pickled yellow mustard seeds flower.
Tonnato Cream with Onion Caviar
Makes 8-10 portions
Components:
Tonnato Cream
Onion Caviar
Tonnato Cream Hot Mix 
Ingredients:
Veal striploin, cleaned 170g
Salt 1g
Pepper TT
Olive oil TT
Garlic, peeled 10g
Shallot, peeled 30g
White Wine 40g
Sherry 20g
Technique:
● Sautee the garlic and shallot with a tablespoon of olive oil
● Deglaze with the alcohol, once evaporated add the seasoning
● Cut the striploin into 4cm cubes
● Place all ingredients into a sous vide bag and cook for 40mins @ 62.
● Strain the liquid out, and set the mix aside at room temperature
Tonnato Cream Cold Mix
Ingredients:
Japanese Mayonnaise 150g
Worcestershire 1.5g
Shallot, peeled 23g
Tuna, tinned 140g
Lemon Jus 3g
Capers 10g
Cantabrian Anchovies, tinned10g
Whole egg 1no
Cream 60g
Gelatine sheet, bloomed 2sheet
Technique:
● Using an high speed blender, blend all the ingredients together with the previous
striploin mix
● Pass the mix through a sieve to refine the texture and then pour it into the serving
bowl/s of choice, set in a fridge for at least 1 hour
Black Onion Caviar
Ingredients:
Worcestershire 250g
Agar 5g
Sunflower oil 1bowl
Ice bath 1bowl
Technique:
● Add the Agar Agar to the Worcestershire and bring it to a boil
● Fine strain the mixture, allow to cool down slightly (around 45 degrees)
● Transfer the mix into a squeeze bottle
● Pour the room temperature sunflower oil in pot and place it over an ice bath (ideally
the ice covers the bottom 20% of the pot)
● Press the bottle ensuring a consistent gentle stream of warm liquid is dripped into
the oil, forming caviar like dark pebbles which will sink and set into jellies at the
bottom
● Strain and reserve for later use
Mustard flower (optional)
Ingredients:
Yellow mustard seeds 200g
White Balsamic Vinegar 100g
Water 100g
Sugar 50g
Orange Cosmos Flowers 10nos
Technique:
● submerge the mustard seeds into room temp water and bring to a rolling boil, strain
● repeat the previous step for 7 times using fresh water at each step (this is to remove
bitterness
● bring to a boil the pickling liquid (vinegar, water, sugar), pour in the cooked mustard
seeds and steep in the fridge for at least 1 hour (until completely chilled)
● Drain the seeds, and using a melon scooper create the middle part of your flower
garnish and finish it with cosmos petals.