A renowned name in the hospitality industry, Kunal Chauhan is the General Manager at JW Marriott Mumbai Sahar. With 19 years of diverse experience under his belt, Kunal's key strengths lie in (but not limited to) hotel operations, marketing, food & beverage, team management and financial management. He is also committed to a stellar financial performance, market share growth, improving service standards as well as maintaining excellent relationships with stakeholders.
In his role as General Manager of the JW Marriott Mumbai Sahar, Kunal Chauhan envisions a stellar road-map for the hotel's leading position within the hospitality landscape. With his robust experience across several disciplines, he is all set to steer the property to provide experiences that are synonymous with the JW Marriott brand.
Apart from being extremely business focused, Kunal is also passionate about travel and spending time in the outdoors. His go-getter attitude allowed him to complete the Himalayan 10 day base camp trek in the peak winter season, prior to the pandemic. He is also hopeful of completing the top 5 marathons and top 5 trekking routes across the globe.
With his extensive knowledge and experience of luxury brands, Kunal is a great asset to JW Marriott Mumbai Sahar. The hotel continues to provide guests with memorable experiences and uphold traditions, while striving to further enhance service quality and brand value into the future.
2020 and 2021 were challenging years for the hospitality industry. In your opinion, how will travel trends change in 2022?
Indians are increasingly looking for experiences that help them to reconnect with their loved ones. This could be a workcation, staycation or a weekend getaway, travelers are leaning towards richer immersive experiences that allow them to explore and unwind. I believe travel will become an essential part of self-care. Since a large number of Indian travelers affirm that travel helps their mental and emotional well-being. Another significant change brought about by the pandemic is the way we work. With the rise of the hybrid working model, people are experimenting with their work settings by traveling to new locations and working from there to alleviate boredom. Such trends are fueling the growing demand for a workation. In addition, families are looking for short-term travel and weekend getaways to domestic locations. Therefore, the changing dynamics of the travel and hospitality industries have ensured the two industries to curate safe and mindful experiences for guests.
Building the right team is crucial for a property's success. What are the key skills you look for when hiring new employees?
While hiring new talent it is crucial that there is a balance in the team's professional goals. An associate needs to understand the organization's end goal and have the ability and passion to work towards achieving it. Apart from this attention to details, dedication to serve guests and communication skills are key factors to determine the right candidate.
 How important is it for a hotel to have a solid gastronomic offering?
Hotels in the recent times need to focus on more than just rooms. The gastronomic offerings of the hotel impact the brand positioning of the hotel. Guests begin to understand a hotel's ability to innovate and serve through its food and beverage offerings. Guests are looking at uniqueness and authentic experiences along with a comfortable stay. To ensure this, the team at JW Marriott Mumbai Sahar is curating newer experiences for guests. A new theme for our Sunday Brunch every week, food promotions focusing on hyper-regional cuisines are a few initiatives we undertake to provide our guests with distinctive culinary experiences.
Was a career in hospitality something you always dreamt of? What is your advice to aspiring hoteliers?
Hospitality industry was always a career priority. Each day in the life of a hotelier is full of excitement and new discoveries. This urge for self development and taking up challenges is what steered my interest towards the industry. My advise to aspiring hoteliers would be that hospitality is not a career choice, it's a lifestyle choice.
Which cities are your favourites for: 1) food 2) history 3) fashion?
South Asian cuisine lists amongst one of my favourite cuisines. Traditional South Asian delicacies are a blend of Chinese and Indian spices which strikes the perfect balance of flavours. Singapore, particularly is loved by me and my family for its rich culinary culture.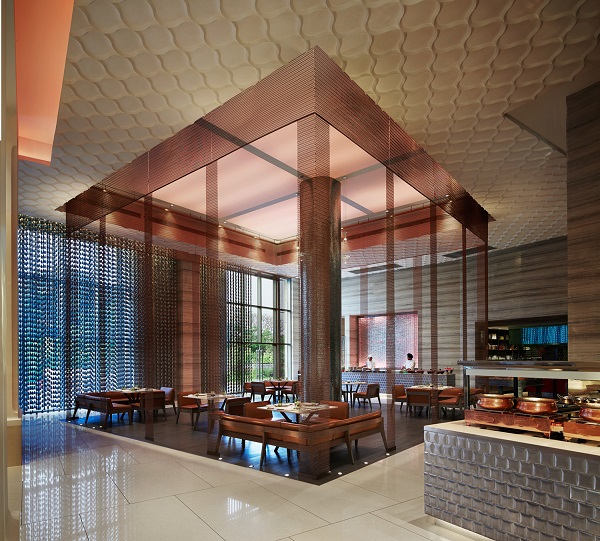 What are some of the new measures your team has put into place to deal with the post-COVID-19 situation?
Focus is on contact less interaction without losing the human element. Technology will facilitate processes however, it cannot replace human interaction. Digitization, web check-in and technological advances will be seen as the new COVID-era luxury. Hotels are witnessing a fundamental shift in what 'luxury' means, with guests becoming more environmentally and socially aware and digital channels become more important. At JW Marriott Mumbai Sahar, our focus will remain on streamlining operations and redefining luxury to be less conspicuous and more inclusive and investing in new ways of doing business are more likely to not just power through these uncertain, changing times but emerge stronger for the future.
 What would you do if you weren't a hotelier?
Apart from being extremely business focused, I am also passionate about travel and spending time in the outdoors. My competitive spirit draws me to sports and I can often be found playing badminton and squash. If not a hotelier, I would most definitely be a sports person.
When are you happiest? At work, which is your most challenging activity and why? 
Every day is a challenge in the life of a hotelier. During my career I have faced multiple scenarios that were challenging and what allows me to accept these challenges is the success that follows.
 What makes JW Marriott Sahar stand out from other brands you've worked with?
JW Marriott Mumbai Sahar has a charm of its own. The hotel is an oasis of luxury and each associate here is extremely passionate about delivering flawless service.
 You've had such a successful career – what would you say has been your career highlight? 
The highlight of my career would definitely be my role here at JW Sahar. The magnificence of this property is incomparable and these challenging times have taught me so much about the changing dynamics of business.