A chef by choice Vishal Atreya started his culinary journey more than 20 years ago after passing out from the Institute of Hotel management in Chandigarh. "While helping my mother in her daily chores, doing petty jobs for her in the kitchen, as a young boy, little did I know that I would be doing this for a living one day. Since I have a creative inclination, I knew from the first day in college that I will express myself through the senses -taste, smell, vision, touch and feel. Although I tried my hands at many a things, but as destiny would have it, it always cajoled me to don my white and be the cook that I am today," he says.
Chef Vishal started his journey from the legendary kitchens of Taj exploring the extravaganza of various cuisines across the globe and working across Europe, he enhanced my culinary repertoire dwelling in search of the right ingredients and learning the rustic nuances of mastering a dish keeping the basics right. He has worked with the finest hotel companies such as Taj Hotels, Hilton Hotels, Ananda in the Himalayas, The Ritz Carlton LLC, The Imperial Hotel New Delhi, JW Marriott Mumbai Sahar and JW Marriott Mumbai Juhu overseeing a brigade of more than 100 chefs. Recently, he decided to switch sides and explore his hand at entrepreneurship. Right now he is with a 400 seater Microbrewery called The Pump House in the south of Bengaluru, cooking and being a Managing Partner. Simplicity always inspires this talented and friendly chef and ingredients are the keys elements of his food philosophy. He believes in the usage of fresh, seasonal and local produce strictly sourced for their quality and provenance.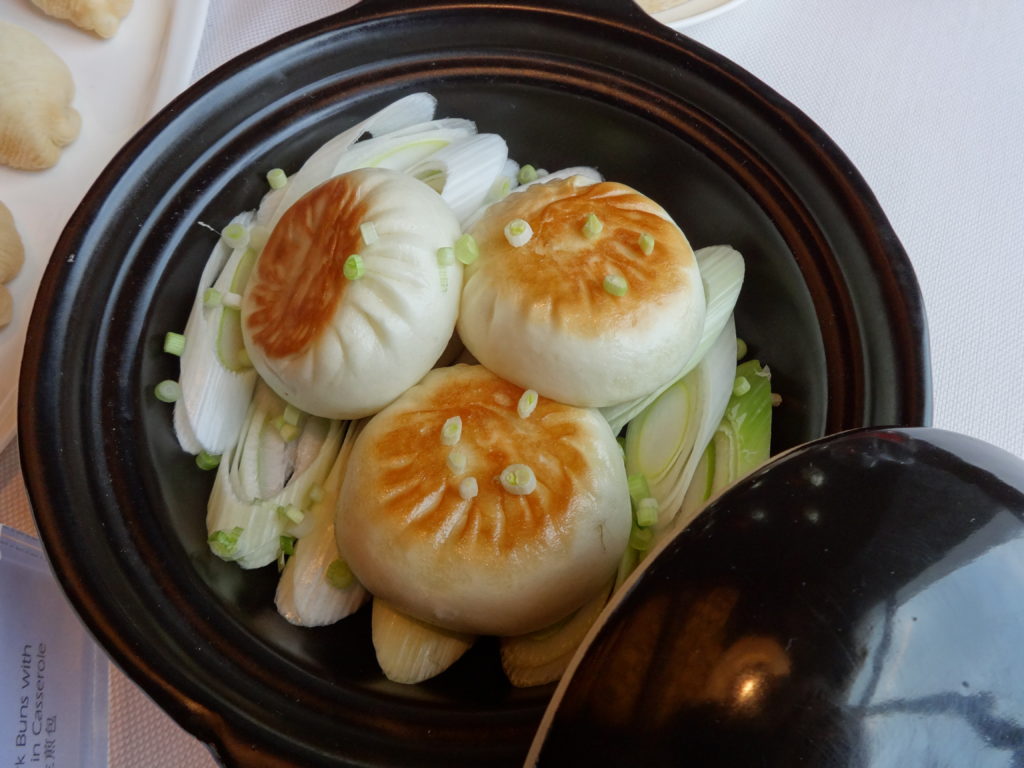 How much is your food driven by plant products?
About 60 percent of my ingredient list comprises of plant products.
 Tell us about your vision and philosophy.
Food for me is a medium of connect between people and cultures. Hence the vision for food, at any place I work, is to keep it simple and honest. Ingredients are the key elements of my food philosophy and I believe in the usage of fresh, seasonal and local produce strictly sourced for their quality and provenance.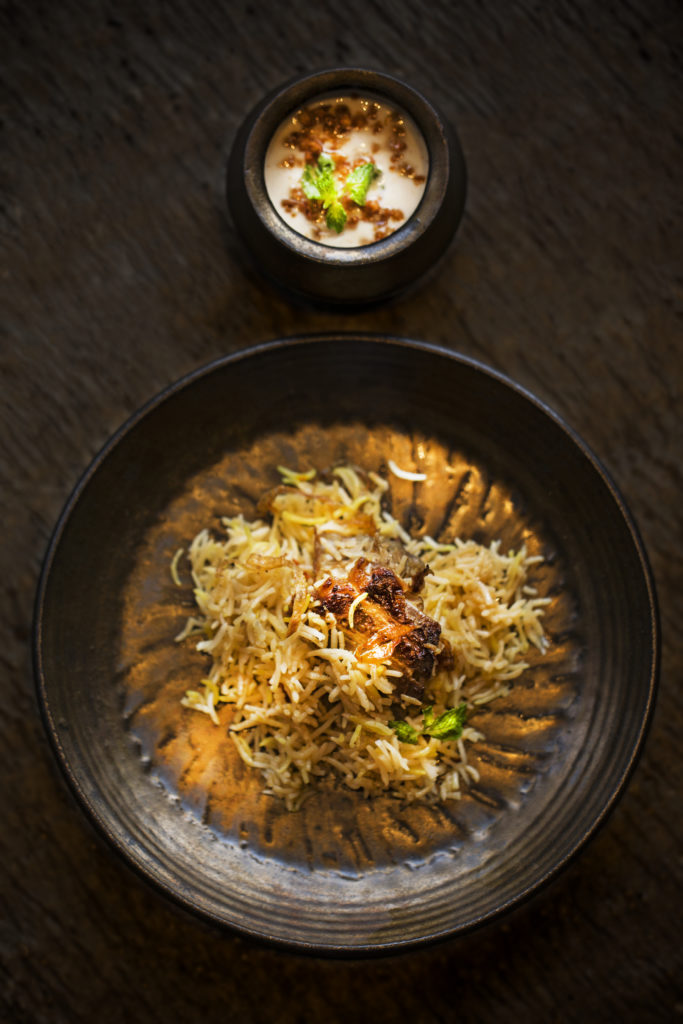 Tell us about your cooking and brewing methodology in context with sustainability? Is India ready for sustainable cooking?
Sustainability extends beyond merely reducing the green house emissions. Sustainable food is produced in an ecologically benign, economical and socially responsible way so that there is enough to feed the entire human population in a given demography. Unfortunately, the food system in India faces severe sustainability roadblocks. The supply chain and the economies of scale always do not overlap with the agricultural sustainability. It would be attributed to various factors like – lack of economic infrastructure, poor execution of government policies, unhealthy diets, weather conditions, unorganized supply chain and above all the lack of intent.
 What exactly is vegan cooking and how do you go about it? Are there many takers for this food these days?
Vegan cooking is a practice of abstaining from the usage of any animal product for meals. This basically takes away the commodity status of livestock and animals in the food production cycle. About 30 percent of the Indian population is vegan, of which about 60 percent are converts in the last decade.
 Vegan cooking/ vegan restaurants; how easy/difficult it is; what are your previous experiences with it.
Veganism, in my opinion, is a way of life. It is just a simple thought of removing the commodity status of animals and animal produce from the food chain. If you think about it, it is a fairly simple way of eating. It does not restrict you from deriving any nutrition, apart from some essential amino acids. If you can avoid ghee and milk in your cooking, you can do without anything that is animal origin.
What is the secret of a good vegan kitchen?
The secret of a good vegan kitchen can lie in the drive to experiment and keep things simple. You will need to have a fair understanding of nutritional needs of a human body and flavor combinations.  We are so accustomed to using animal products in our day to day life, that it becomes a real challenge to replace them in an entire meal.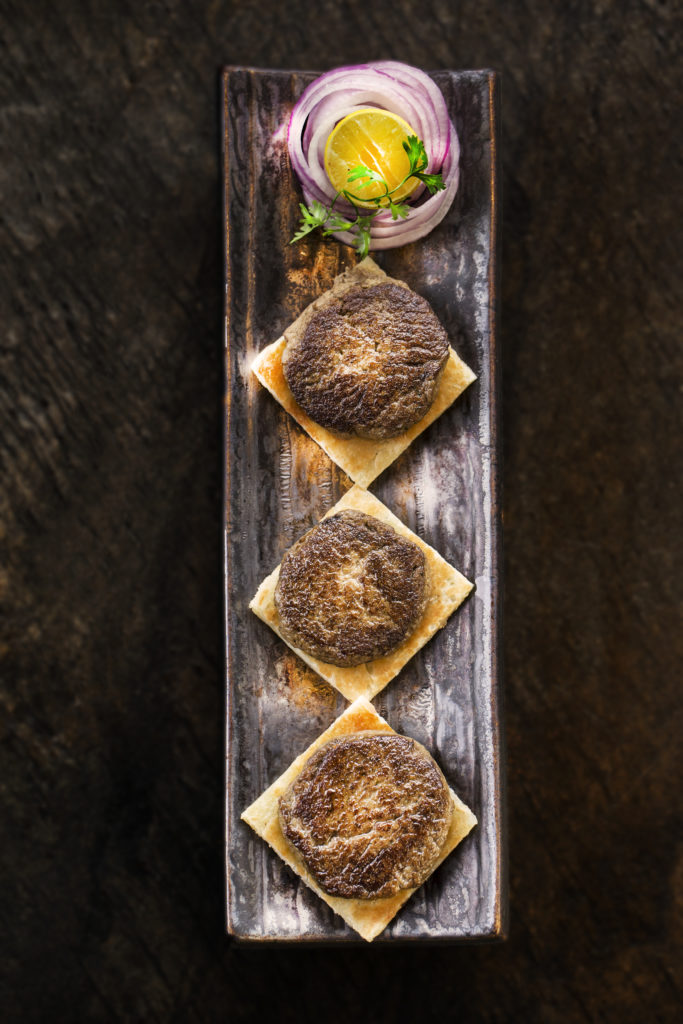 What about the suppliers, are there enough in India and Ireland currently and easily accessible?
Supply chain has always been tough, for chefs like me, in our country. But I will also reiterate that there is a serious lack of intent to support local farmers and adopt sustainable practices.
Have you ever worked with meat substitutes? If yes, what are the pro and cons.
Yes, I have worked with edible oils instead of Ghee, sea weed instead of gelatin, egg replacers, tofu instead of paneer. I do not see any serious cons apart from the adaptability of palates. We are so used to the taste of our ghee and paneer, it initially becomes a challenge to satisfy all.
According to you will Sustainable food work in company canteens? Where do we stand / what is the potential?
The definition of sustainability itself means adopting economical and socially viable practices. Company canteens thrive on these two basic foundations. I see a lot of food going to hungry stomachs rather than garbage bins, thereby reducing major landfills.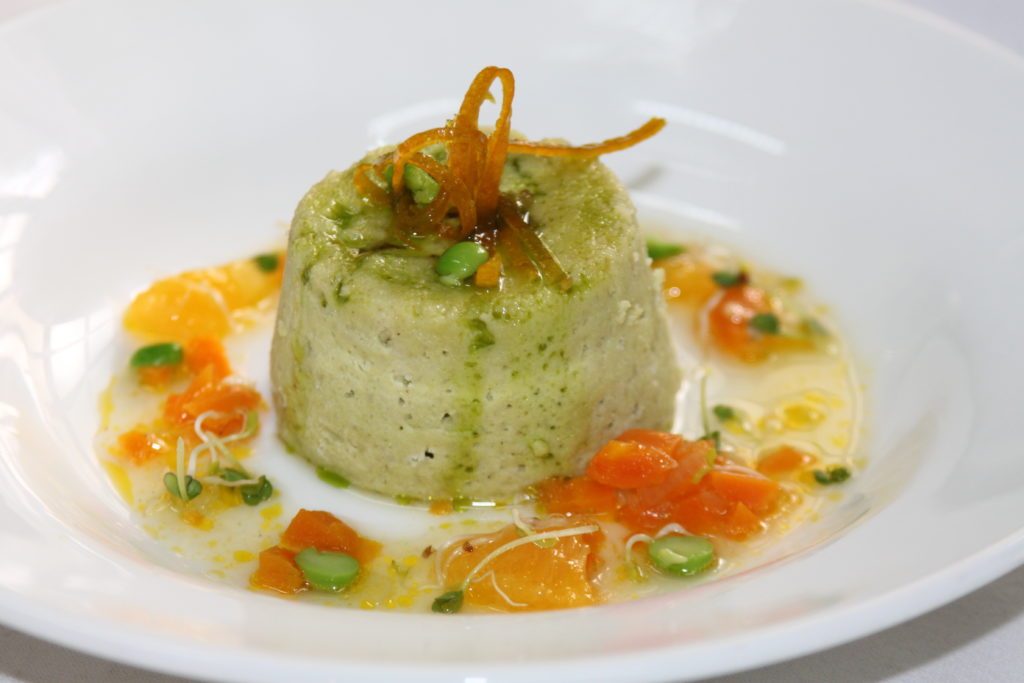 How can restaurants/ hotels/ cooks communicate the approach of innovative sustainable plant-based food/ food chains to others?
Story telling is a very effective tool in communicating an approach and has been perceived very well by content mongers across various digital and analog platforms. Conducting events to showcase a concept also works well, although the reach may remain limited.
Adding vegetarian or vegan menus to the menu: what is the trend/experience with this?
My menus have always given an equal weightage, and sometimes more, to the vegetarian mortals. The primary reason can be attributed to statistics; 71 percent of our population is vegetarian and 30 of which is vegan. There are 300 times more plant products and derivatives available than meats. Although it has always been perceived as a challenge by chefs, my experience has always been positive.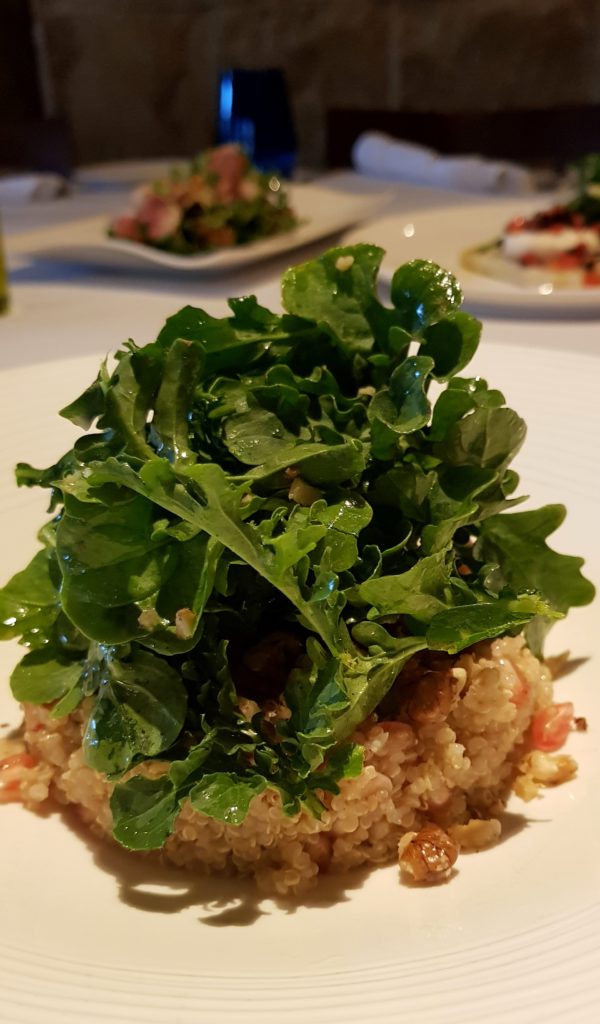 What are the challenges for chefs/restaurants with an increasing demand for vegetarian or vegan menus?
Awareness and adaptability is the biggest challenge here. We are already doing it but it can be increased with creativity and social responsibility can make it even better.
Tell us about your two most popular preparations in line with this concept (sustainability)
Rajma chitra ki Galawat – It is a vegetarian version of the Lucknowi Gosht ki galawat and is done in vegetable oils only. There is no animal product used . The other one is a salad made with daliya and rucola. Rucola for this salad is locally sourced from a farmer who grows it on the outskirts of Bangalore.
What made you initiate this process in your workspace?
Sustainability also entails sustenance of business. Hence in a restaurant business, we are left with minimal choices, but to adapt the sustainable practices. Moreover, I am a strong believer that major hunger will be eradicated from our planet, if we can reduce the landfills to nil.
How does it help local farmers/suppliers?
Farmers in our country have always been using sustainable practices like crop rotation and seasonal farming since ages. It is the gradual upsurge in mouths to be fed and economic migration which has led the farmers to adapt to usage of chemicals and pesticides. By adopting sustainable practices they will be able to reduce their costs and provide us with better tasting seasonal produce.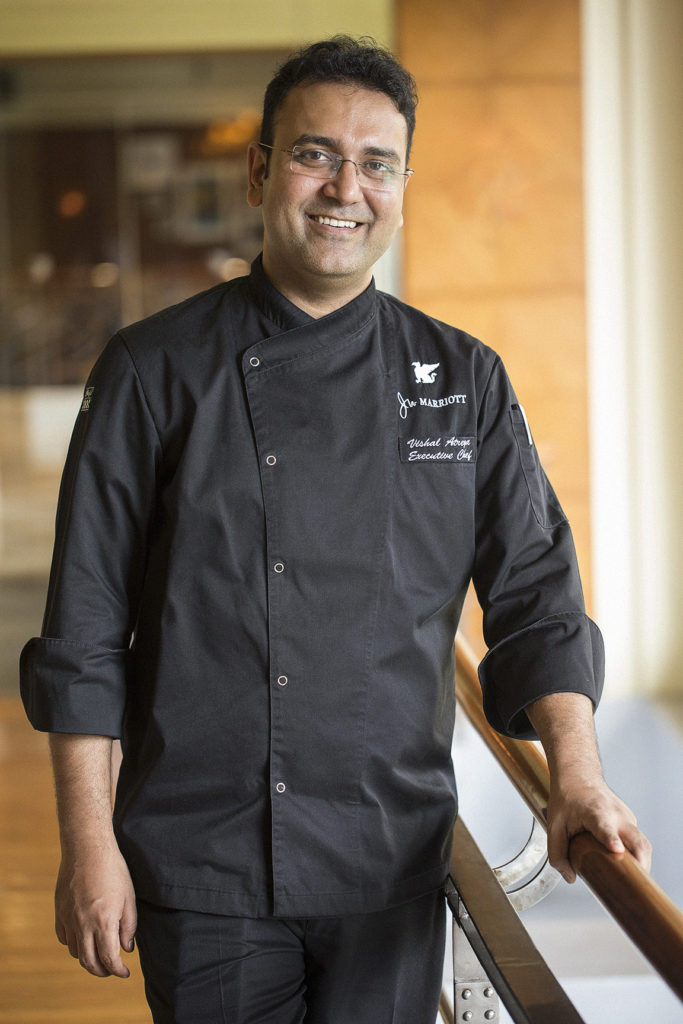 Please tell us more about the concept of zero wastage and how you have contributed to it so far. Does this put pressure on your budgets?
Changing menus according to crop cycles, production planning, adopting local produce, minimizing waste etc are a no brainer for anyone who wants to run a profitable food venture. It actually eases out the pressure on the budgets.
Tell us about the concept of 'farm to fork' and how it helps to promote the idea of sustainability and good health.
Very lately, Farm to Fork concept was predominantly adopted by the European countries to tackle the environmental changes and enhance biodiversity. Our history has enough evidences of 'farm to fork' being a way of life in our country, since unknown times. Our farmers have been practicing all these concepts of crop rotation, using organic waste as manure, growing seasonal produce, crop suitable for  particular demographics and so on. It does help you reduce the monetary pressure and also enhances the health parameters by taking away the non organic components from farming.
How do you think we can create awareness amongst more chefs and restaurants and hotels so that they contribute to this initiative?
Going local and working around the seasonal produce is one of the most basic ways to create awareness about sustainability. Although many are aware about all that is there, but it will require a great intent and a serious drive to bring about this change.