Renowned pastry chef Nina Tarasova graduated with a distinguished diploma from the Higher Culinary School Alain Ducasse in the city Yssingeaux ENSP (Ecole Nationale Superiere de la Patisserie). Since then she has been upgrading and skills and furthering her education. She returns to Europe to undergo training at some of the most prestigious pastry schools often. With more than seven years of experience, Nina works in Russia and abroad conducting master classes and consulting for pastry shops and restaurants. She represents Russia annually at various international gastronomy festivals and forums.
 What inspired you to become a pastry chef? You've been in the
industry for quite some time. Would you have done anything differently
when first starting out?
I woke up one day when I was almost 24 years old and thought: "What if I cook something special?" And suddenly this 'special' was successful, so I decided to dedicate my life to pastry. I cooked, tried, experimented, combined, erased, drew, built the schemes, tried again and enjoyed the result. France was and remains for me as a country – discovery in the world of culinary skills. People can say anything about other countries – everyone has a right to their opinion, but for me France is not only a country that brought me closer to food and art, not just a place of great quality products and famous pastry chefs… but it's the country of my soul. Every time when I step off the plane, I become so calm, like I come back home after a very long separation and I feel that now everything will be great because I'm at home. I lived inspired after reading books of French masters and of course I wanted to try it all out, it was like magic for me.
I'm inspired absolutely by everything, especially France. I get inspired in France and I feel deeply lost and weak if I don't go there at least once in six months. When I create a new dessert I can be inspired by the weather, flowers, unusual pattern on the grids, interesting interior and dishes! I can take a new form for the dessert in the shop, and staying at the checkout I can imagine a new image of a dessert – what will be the best combination for this dessert, for this form. I experiment with chocolate, macaroons, caramel… I do something well and I understand that this will be a perfect decoration for a cake or individual cake. And the best ingredients for it will be so-and-so. I want to start to cook and decorate as soon as possible, to see if my ideas were right. And I'm wrong very rarely.
Today I'm a Russian artist-patissier and an Ambassador of the Cacao Barry chocolate, RaviFruit French puree company, Sosa Ingredients, Ambassador of WorldSkills 2019, Pure Vanilla Madagascar and Bergner company. A graduate from Ecole Nationale Superieure De La Patisserie, I have been a participating in numerous professional competitions, a consultant in pastry skills and a columnist in a number of pastry journals.
I received professional training in France and annually attend professional development programs in top European schools. I work in Russia as well as abroad and hold master classes all over the world. I represented Russia as a patissier. I believe that if you follow your dream, all your dreams will come true for sure.
 What is the philosophy and ethos behind the food you create?
One of most important things for me – is the taste of my desserts. I always work with clean taste and flavours and use only natural ingredients. We always fall in love with our desserts and food with our eyes first. We like desserts that look yummy. And the second waves of love appear when we taste the dessert.
What's the latest trend when it comes to baking and patisserie?
What is one food (pastry) trend you wish would just go away?
These days vegan desserts, gluten free and sugarless desserts are popular. People are more and more concerned about their health which is good. Too much bright glazing with a lot of colorants is a pastry trend I wish would go away.


What's your favourite comfort food? What's your favourite pastry or cake or baked product?
One of my favorite desserts is a traditional Russian Honey cake. It brings back memories of The taste from my childhood: honey sponges and rich sour cream fillings.
Who or what was your inspiration to become a pastry chef?
My inspiration would certainly be Pierre Herme, because I studied the basics of pastry art and even French language by his book PH10.
What is your advice to aspiring pastry chefs?
My advice to pastry chefs is to believe in yourself and don't listen to anyone. Your magic is in your own hands, but you must work relentlessly and passionately to activate your magic.
 Future Plans?
I hope I will have more opportunities to teach people around the world and share all my knowledge and experience.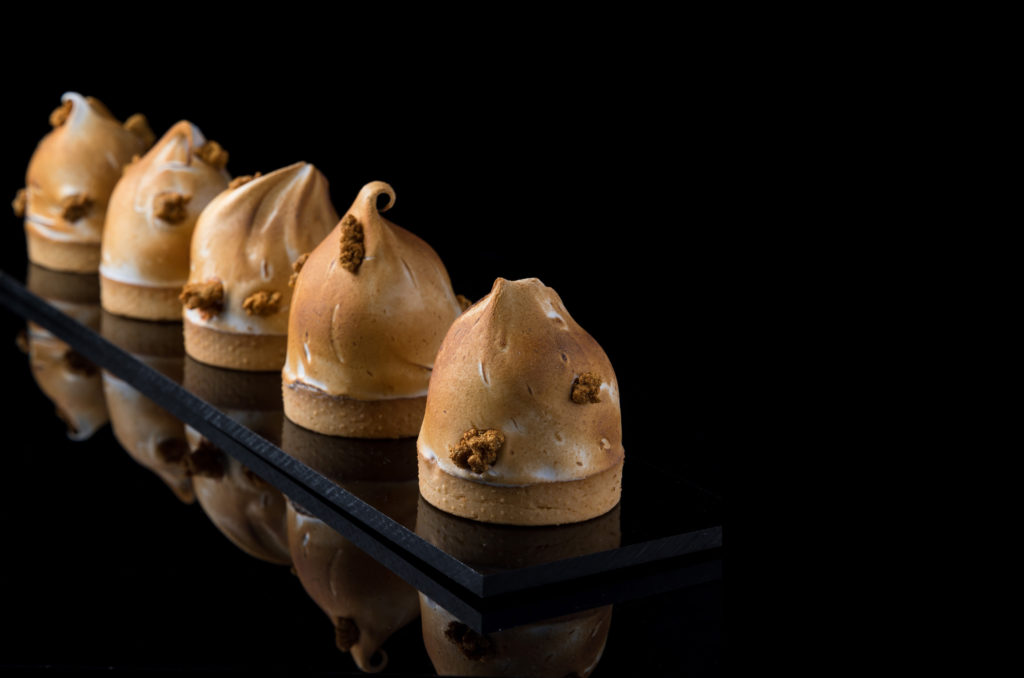 Would you consider yourself as an artist? Are you inspired by artists when you create your pastries? When you create different products everyday where do you get inspired from?
Dessert is primarily created on paper. I always carry a notebook and colored pencils in my purse; color is important to me. Ideas come everywhere – in the subway, in a cafe, during work and even sleep. I can wake up at night, schematically sketch my imagination, describe the composition and continue to fall asleep. And in the morning I will draw in more detail, painting and prescribing all the layers. After the image is ready, I begin to think about all the combinations that I outlined. I don't know how, but I taste even just thinking about it. I can vividly imagine how much it will be soft or sharp, harmonious or "challenging". I like to experiment and sometimes "play" with seemingly incompatible products – yogurt, honey and wine; saffron and chocolate; vegetables and herbs, combined with berries and fruits.
For me, the sketchiness of the dessert is important to such an extent that I always lay it's "drawing" inside. To make the cake look beautiful, not only externally, but also necessarily be interesting in the context. Often I compose desserts in airplanes. Having 6 flights of different lengths per month, a lot of free time appears in a limited space. And increasingly, it is precisely at such moments that images, visions, and the transformation of thought into an idea comes.
Have you ever considered being a vegan chef? How practical is it being a pastry chef?
No I don't produce only vegan products.  But in my menu I always have some vegan desserts. For me it is very important to work with all spheres of my profession and I like to make new experiments with textures and recipes.
 What's your signature dish?
Honey cake and Blueberry-lavender Opera cake.
How has the current pandemic affected your work?
After a long time I am at home with my daughter. We spend a lot of time together and it's our time. I work out a lot of new recipes, creations, with new books and for my online school "Pastry is magic". We can upgrade our experience in our kitchens later with more concentration on details.
When the lockdown is over, what is the first restaurant you'll be heading to and what will you order?
I will go to a steak house and will order good steak "medium rare" roasted.
Which is the dish you've created that you are most proud of and why?
My "Blueberry-lavender Opera". It was the first my recipe that was represented at a Michelin Star Restaurant in Strasbourg.
Russian Honey cake
 Cream:
1300 g sour cream 20%
300 g sugar
250 g butterImportant: Sour cream. Sour cream is boiled with sugar for an hour and a half. Not stratified! It is very important to cook it in a water bath, stirring often enough. After an hour and a half, your cream becomes silky, delicate, of medium density and traces from the corolla remain on the surface.

Put sour cream in a bowl and put in a hot water bath. Stir occasionally, boil the cream with a slight boil of water for about 60-90 minutes. At the end, add soft butter and mix well until it dissolves. Cool the mass for several hours, maximum a night in the refrigerator.

Honey dough:
3 eggs
50 g of flower honey
300 g sugar
400 g flour
2 tsp soda
4 tsp vinegar or lemon juice (for quenching soda)
50 g of melted butter

From this amount of dough and cream, I get two small cakes of 10×18 cm, 5 short cakes in height.

Beat eggs lightly with sugar. Transfer to a deep pan, add honey, slaked soda, melted butter and all the flour at once. Stir with a wooden spatula. Set the pan in a water bath and stir from time to time, cook for about 40 minutes.

Preheat the oven to 220C.

After the time has passed, reduce the fire under your water bath to the minimum and start working with the dough.

Take a small amount of honey custard dough and, very often wetting your hands, distribute it as thin as possible on a baking sheet covered with parchment paper. The layer should be as thin as possible – about 1 mm.

Each cake individually bake for about 4-5 minutes. Then, right away, still hot, trim to the size you need.

Let the cakes cool. Make the crumbs out of the scraps. Layers of honey with sour cream. Cover the sides or the entire surface with crumbs. And put in the refrigerator overnight.