Pastry chef Luca Arguelles has worked in France, Italy, Austria, Portugal, Maldives, Norway, Bahamas, UK and Saudi Arabia. He has trained in modern patisserie while updating his skills at training schools. He has worked with Michelin Star Restaurants and international hospitality brands. Chef Luca is highly skilled both in Ice Creams and Sorbets, Vegan, Gluten Free, Plated desserts, Buffets, Petit fours, Viennoiseries, Breads, Food cost control and Budgeting. With an extensive experience in pre-openings, teaching in pastry schools, luxury destinations and remote locations, he has also been a judge in the TV show "Best Bakery – Portugal" and he is pastry chef ambassador of Pavoni Italia for 7 years now.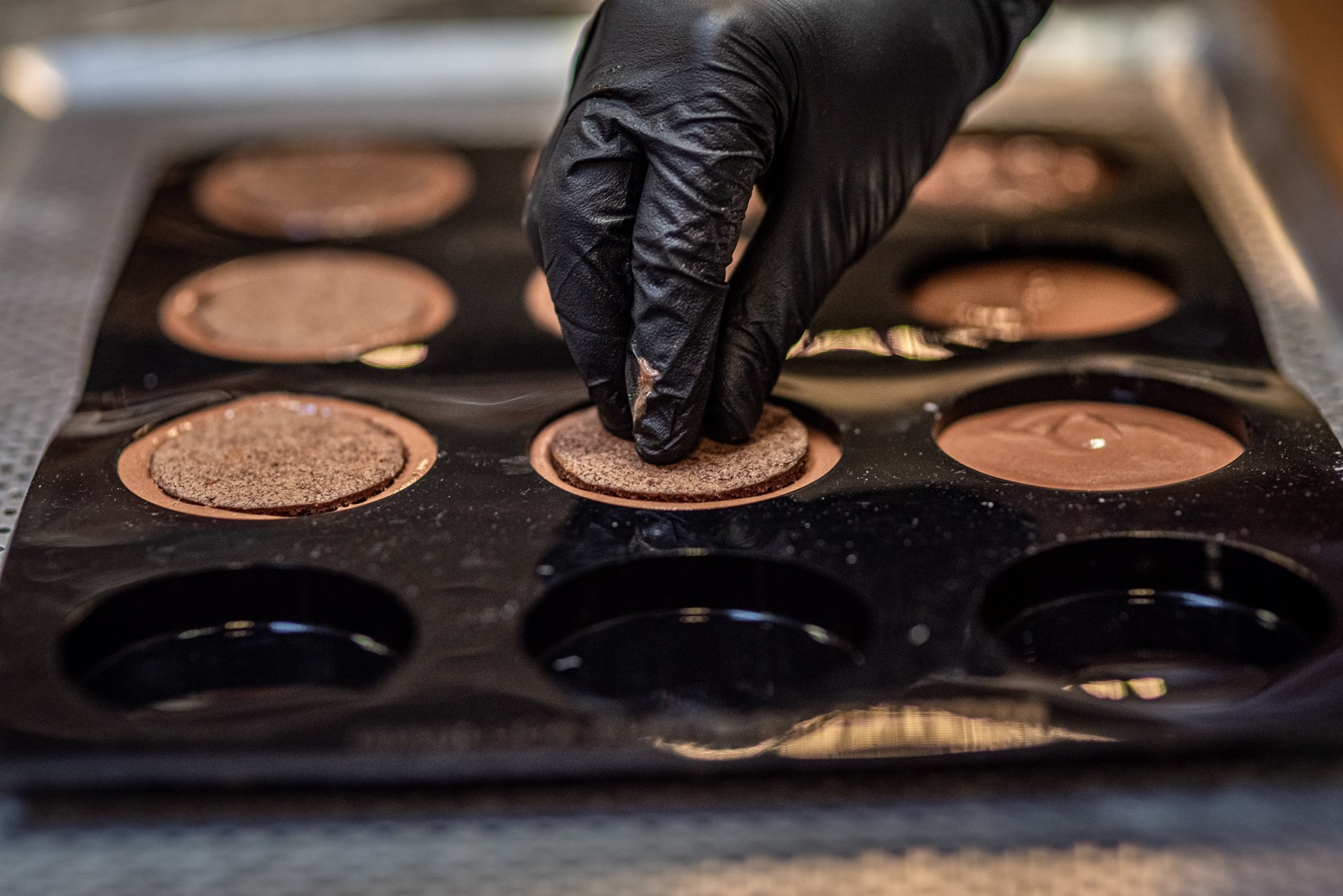 He has opened a Portuguese Restaurant in Dubai and is currently working with some hotels in Portugal, Saudi Arabia by conducting pop up training. He helps with hirings, training staff, creating standards, food costs and new techniques. He has also performed a modern Patissserie Masterclass in Bulgaria and has been teaching in culinary schools in Portugal.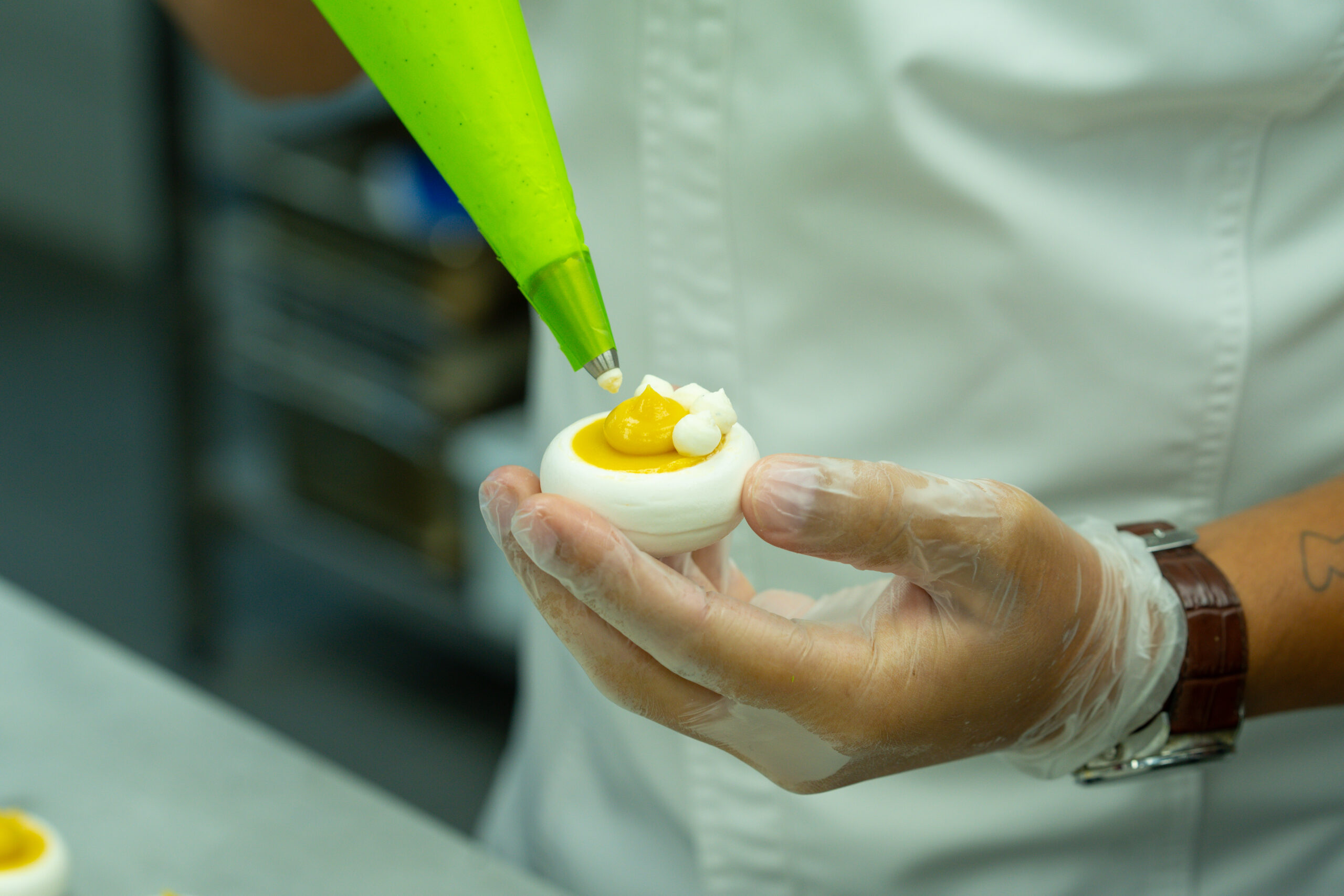 What inspired you to become a pastry chef? You've been in the industry for quite some time. Would you have done anything differently when first starting out?
My parents had a small bakery in our hometown in Portugal, named Arronches. My father was working in the bakery side of the business and my mom used to bake cakes, cookies etc to sell in our grocery shops. I was pretty much born on top of the piled flour bags and from a very young age, when i was around 9 years old, i knew that pastry and bakery was going to be an integral part of my life.
I would not change a single thing or decision i have made during my 24 years of experience. All those choices led me to where i am today and i couldn't be happier and/or prouder than i am today.
What is the philosophy and ethos behind the food you create?
Think Outside the Box is a motto that i try to live up to. That said, it doesn't mean that i have to create funny or quirky flavor combinations. It means that i can create something that is classic to my customers with a twist, something unexpected. Combining local and seasonal products with a modern look, some unexpected flavors from the surroundings and always respecting traditions and their cultures. Always work from the heart and give your very best on a daily basis, respecting your craft, respecting the products and their seasonality, respecting others around you and respecting yourself too.
What's the latest trend when it comes to baking and patisserie? What is one food (pastry) trend you wish would just go away?
People are more and more concerned about good quality products, their seasons and Kilometer Zero philosophy. Also Vegan, gluten free and sugarless baking is a huge trend. There's nothing exactly i wish that could just go away, every creation from other chefs, is an inspiration for someone else's creativity and innovation. Although, i'm really not a fan of too much glazing and colorings using those high sweet and gummy condensed milk, gelatin and chocolate glazes….
What is your baking style and the philosophy behind it?
Taste, Taste and Taste is my main focus. Flavor combination and textures comes next. I love to combine unexpected flavors but not just to mix them, they have to make sense and you have to be able to identify them. 3, maximum in some cases i can use 4 flavors. More than that our human palate can't identify at a time.
 What's your favourite comfort food? What's your favourite pastry or cake or baked product ?
There are so many and most of them, depend on the mood, time of the day or the location. But can never say no to a freshly baked Butter Croissant, Tiramisu, anything with chocolate, fruit pies, ice creams, Black Forest, Italian Sfogliatella. I could eat wood fire pizza anytime of the day,  I am a huge fan of sourdough bread, Portuguese food and Lebanese food. There are way too many.
 Who or what was your inspiration to become a pastry chef?
My first inspiration was my mom. Then all the chefs that i've worked with. Those who i admire the most in the World Scenario are: Francisco Migoya, Jordi Bordás and Ramon Morató. In the Portuguese scenario i'm a huge fan of Francisco Moreira who works in Barry Callebaut Belgium and Marco Ferreira, who owns his own pastry shop in Portugal.
What is your advice to aspiring pastry chefs?
Don't be afraid to fail. Never stop dreaming, but dream and keep working for your dreams, nothing comes to your doorstep without hard work. Never stop learning. Respect yourself, respect others, be humble, be teachable. Always think you know nothing. If those you look up to can do it, so can you.
 Future Plans?
For now i wish to continue working hard has a consultant. Work with good people, good projects where i can actually make a difference and that my experience and knowledge are appreciated and valued. Hopefully to have the opportunity to also conduct masterclasses around the world and share my vision, expertise and culture with others.
Soon enough i plan to open a small pastry shop/ pastry academy to be able to pass on my knowledge and experiences to aspiring or amateur pastry chefs. I would love to partner with good quality brands for pastry ingredients, to continue being an ambassador for Pavoni Italia and most of all, TO BE HAPPY and enjoy the process.
Would you consider yourself as an artist? Are you inspired by artists when you create your pastries? When you create different products everyday where do you get inspired from?
I think pastry chefs are artists, we create delicacies out of few ingredients and we are able to touch people's lives and souls just with our work. That by itself is inspiring and not many jobs can achieve that i believe. I'm inspired by anything and anyone that comes across my life. I have seen that every job or profession has an artist who is adept in their own craft. Doesn't matter if they plant flowers or they build a car or they paint on a blank canvas. Every person, every common daily situation, every news, every feeling, every culture. anything can inspire us. One of my favorite things in my craft is brainstorming. I love to talk with people and mostly my team, clients or bosses so as to understand their visions and try to combine them with mine.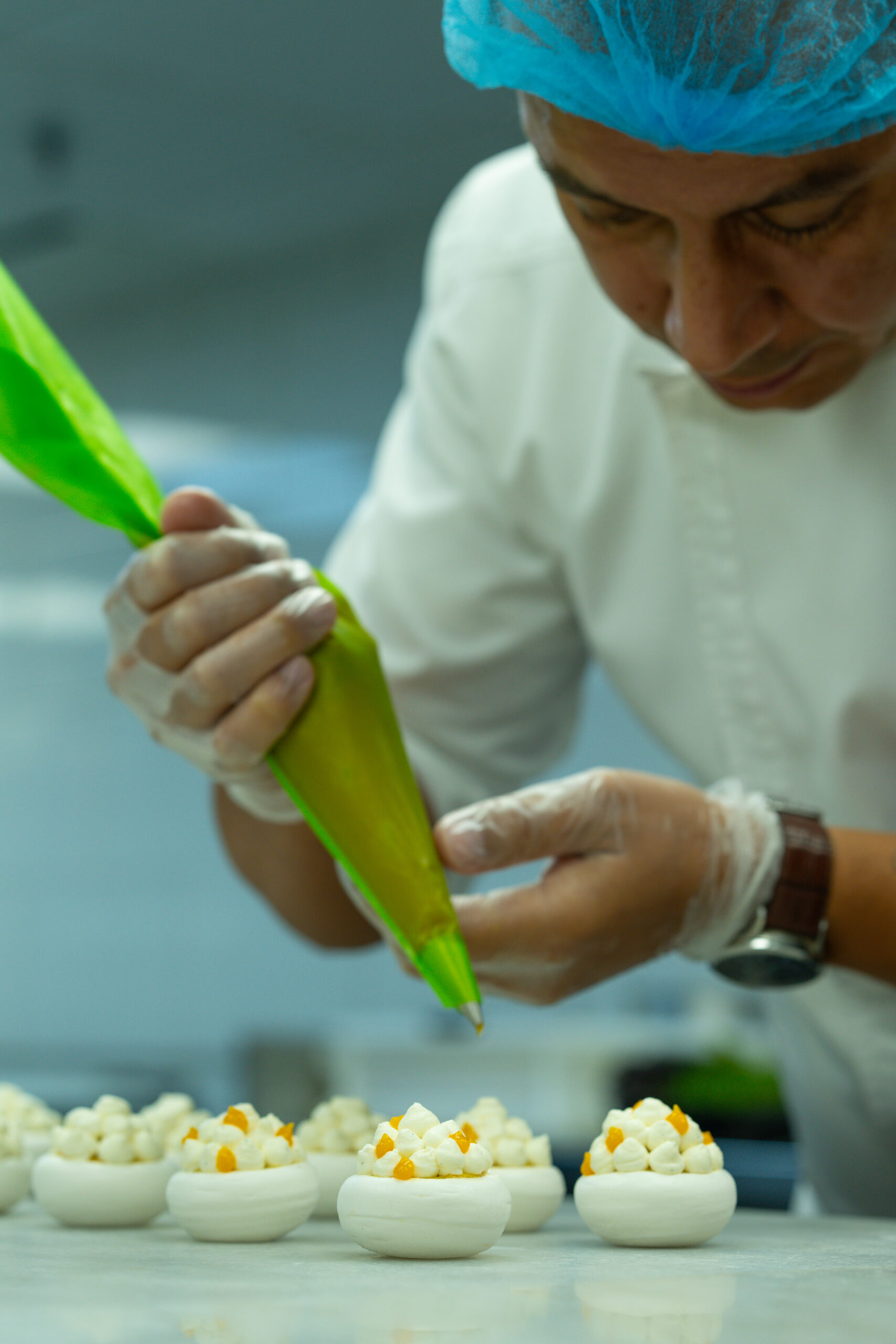 The topic of local food, from smaller, specialized and personally known producers, is becoming more important. What are some of your local partners from whom you source?
For a really long time i tried to use as much local and Kilometer Zero as possible. I source milk from Serraleite, Coffee from Delta Cafés, Fruits, Nuts and Cheeses from several local producers, Acorns and Chestnuts from Terrius, Seedless Grapes from Vale da Rosa, all these are at my doorstep with a car drive of not more then 30 minutes. Bean to Chocolate from Chocolataria Equador from Porto is the farthest one in the north of Portugal. I love to create synergies with local producers so we take care of the environment and we all grow together.
What would you say is the key/winning feature of your creations ?
I've been known in the industry because of the fresh and clean taste of my desserts. Reducing sugar and fats to enhance the real flavors of the main ingredients is my forte.
What are the most important considerations when crafting your menu?
Local and seasonal products as much as possible. Adapt the menu to your customer needs and the market. Consider the fact that if it's a full menu or for a tasting menu and the amount of dishes that the customer may have tasted before your desserts. Efficiency, Cost and Profitability. Don't use more than 3 to 4 flavours in one dish. Less is more.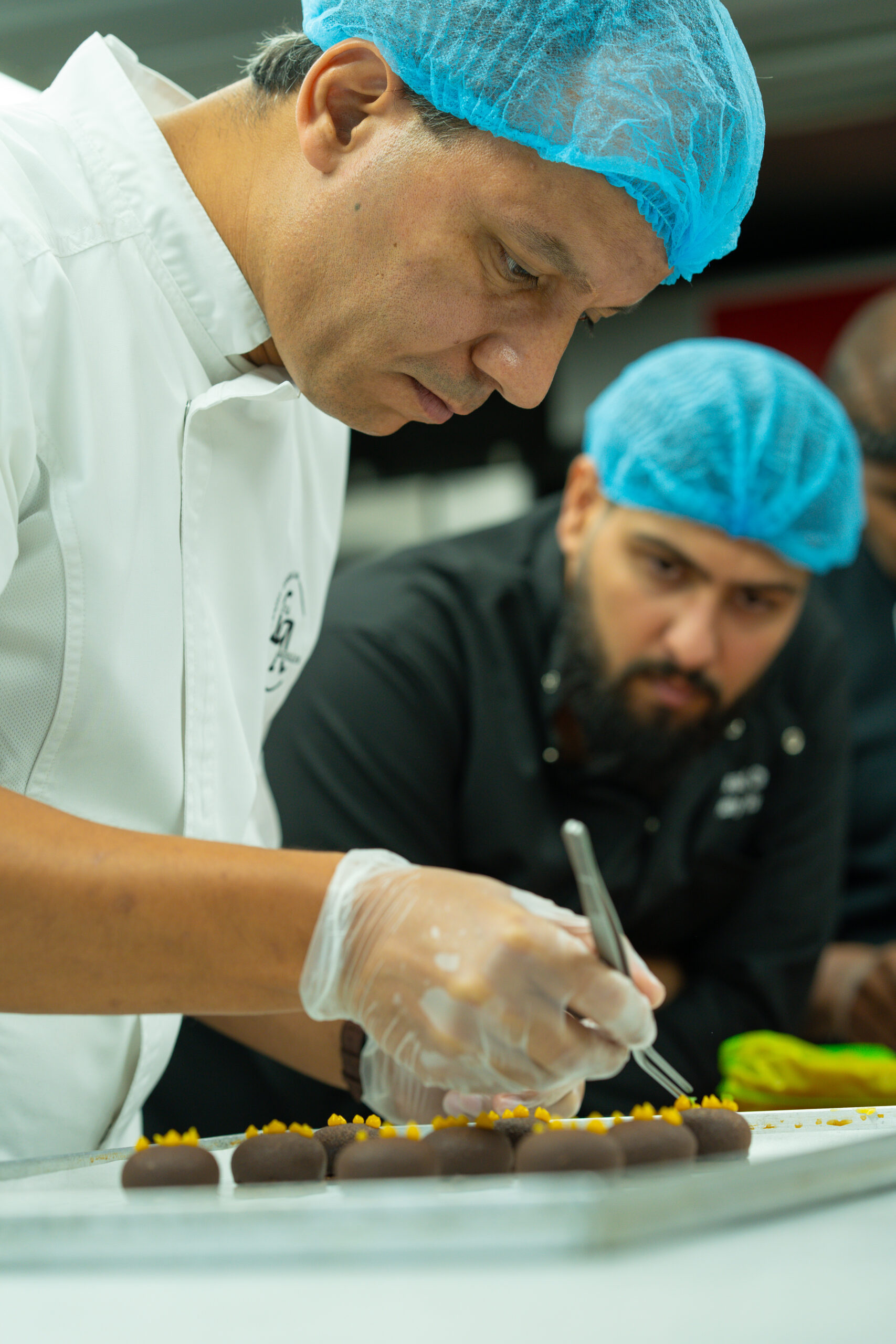 Have you ever considered being a vegan chef? How practical is it being a pastry chef?
To focus just on veganism is something i have never considered, i feel it's too much of a restraint to a pastry chef and too extremist. I like balance in life. But i've focused more on vegan options due to the high demand of such products. I have come across special ingredients and new ways of creating desserts and that is a challenge because most of this is uncommon to us on a daily basis. I found this aspect challenging and not so practical at first due to the lack of knowledge but, nowadays, i love it exactly because of the challenge that it brings to my daily life. I love challenges, i love to learn and to have a feeling that i'm evolving as a professional and as a human being.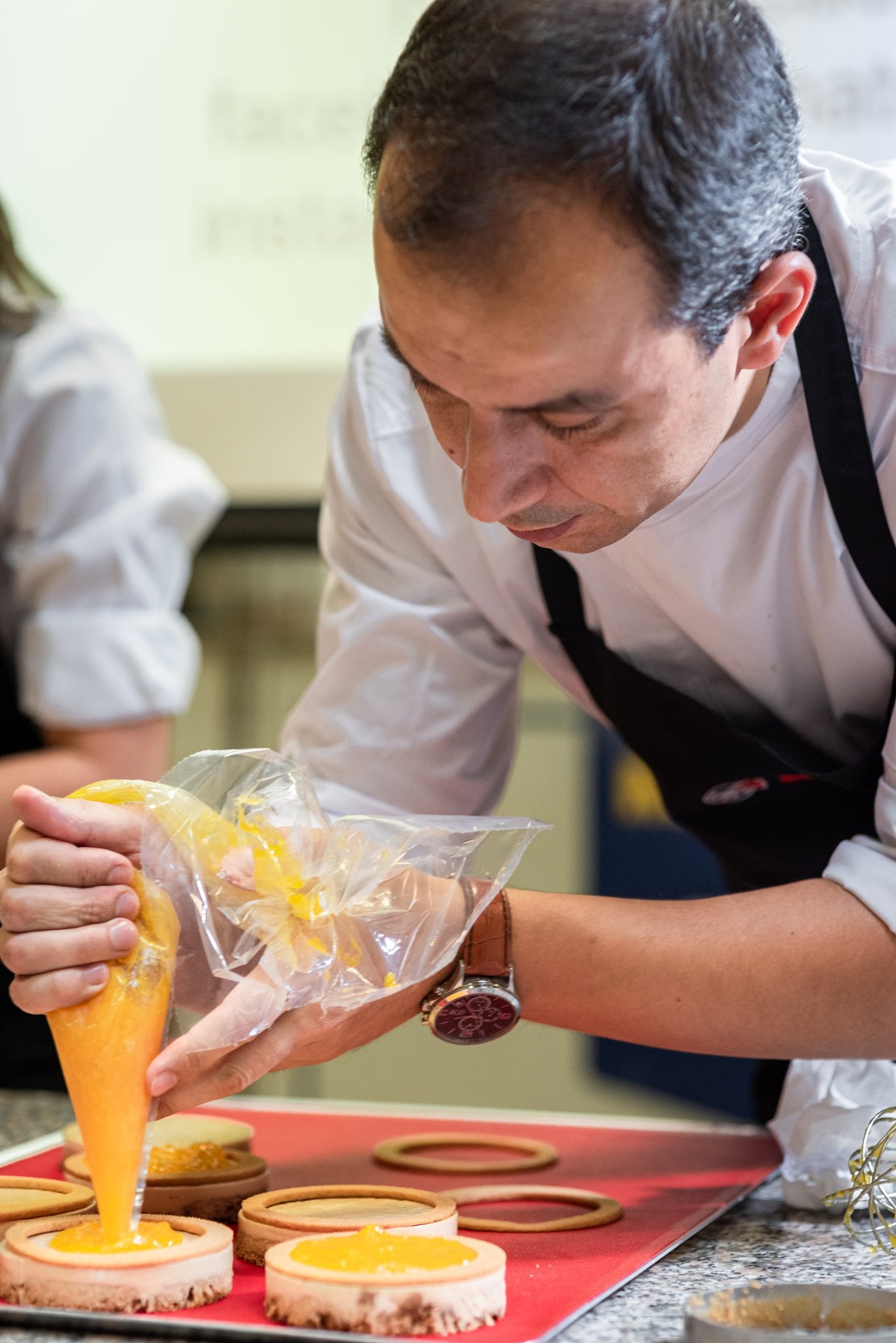 How can restaurants/ hotels/ chefs communicate the approach of innovative sustainable plant-based food/ food chains to others?
I believe that before we communicate with others, we should begin that change in ourselves and within our teams and surroundings. If we don't do it or understand it, we won't communicate in the right way which will lead to more step-backs then actually moving forward. Educating your teams and your customers that we have seasons around the year and we should respect them is essential.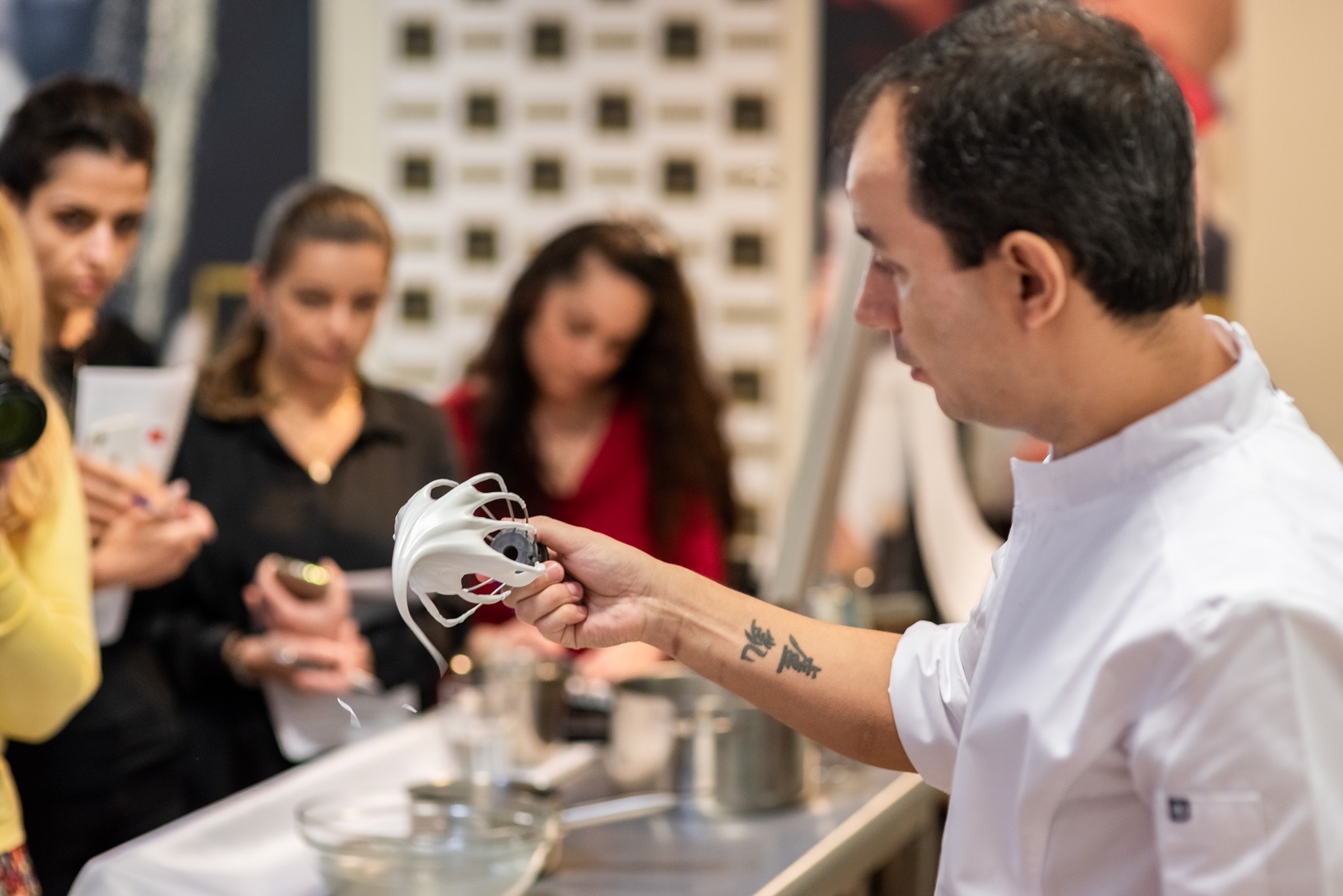 Which is the dish you've created that you are most proud of and why?
I'm fortunate to have created some signature and iconic dishes for my customers but i would like to mention that it became the dessert from my hometown. It's called QUEIJINHO D'ARRONCHES, which when  translated means cheese from Arronches-my hometown. A classic dish/ dessert in Portugal is eating cheese with bread and jam and i tried to replicate that into a dessert. I've created that dessert in a special event that all the chefs had to create a dish highlighting the local sheep's cheese. Being a tasting menu it wasn't easy to think of a dessert which will highlight the cheese and especially when customers had already tasted 7 dishes prior to mine.
So i created the dessert, looking like a cheese with the cloth around it and served on top of dried grass (to resemble the sheep's bed) and with a Thistle that is used to produce cheeses.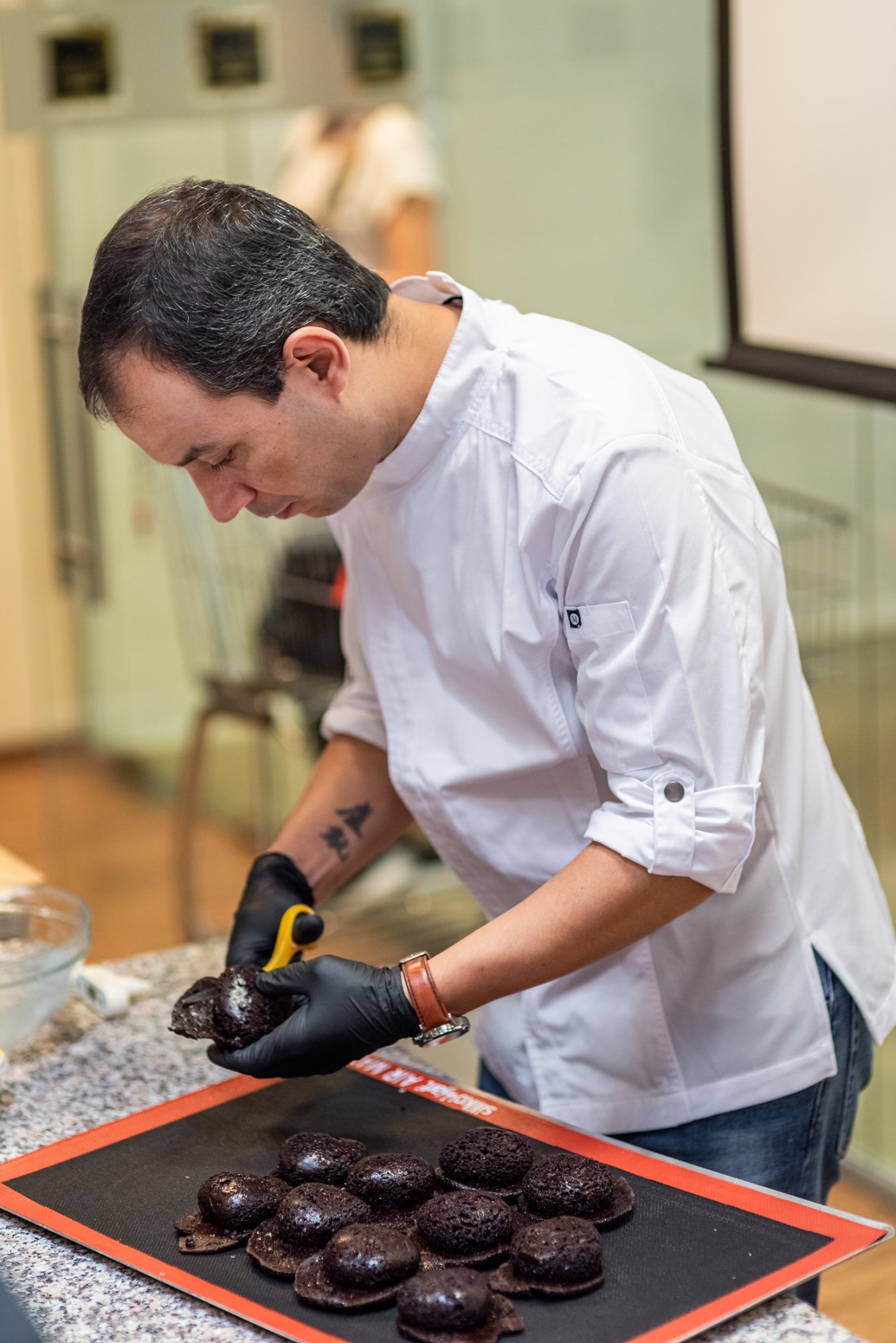 The dessert was composed of a lemon Madeleine (to resemble the bread) an apricot confit (to resemble the jam and to cut off the fat from the cheese) and a soft sheep's cheese mousse. All encased in a caramel chocolate glaze to resemble the outer-shell of the cheese. All this was served with a very cold Eucalyptus Iced Tea on the Rocks, because the location was in the woods, packed with Eucalyptus. It was a huge success and it eventually became the dessert of my hometown.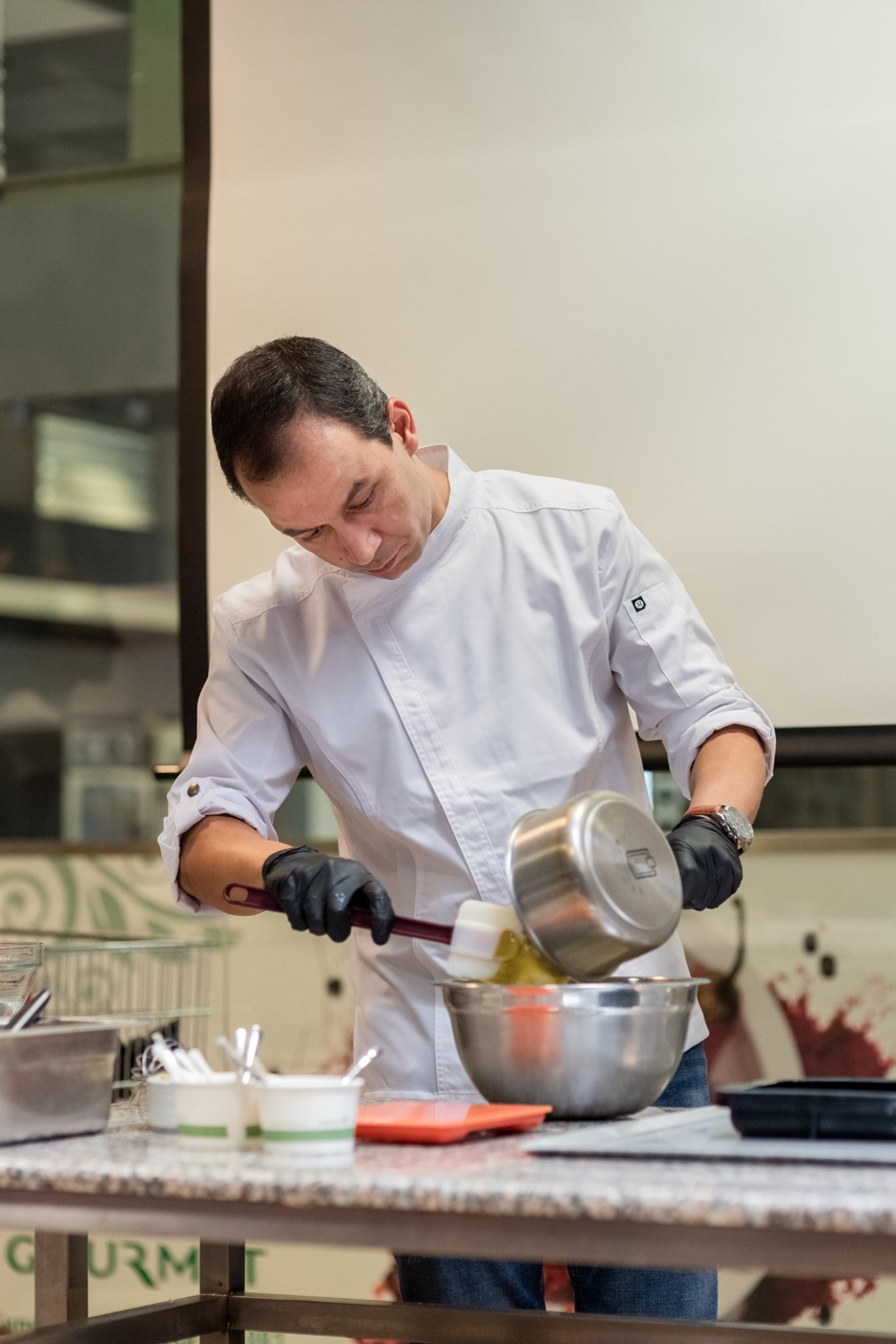 Recipe of Banana, Lime and Salted Caramel Chocolate
Lime and Banana marmalade (recipe for 15 banana inserts, approx)
105g banana puree, frozen bananas into puree or frozen brand
75g granulated white sugar
15g water
8.2g bloom bronze gelatine Gelita
210g fresh banana, dices
15g lime puree or fresh juice
0.3g lime zest, no white
Heat the puree with the water and sugar to 40ºC and dissolve the gelatine.
Separately, mix the banana cubes with the juice and zest of the lime and mix in the puree.
Freeze in the banana mold.
Caramel chocolate whipped ganache (recipe for 40 bananas, approx)

250g whipping cream 35% (1)
25g invert sugar, trimoline
25g glucose syrup
220g Caramel chocolate Cacao Barry/ Callebaut/ Valrhona, melted
375g whipping cream 35% (chilled)
In a small pot, bring cream (1), inverted sugar and glucose to a boil. Place chocolate into a bowl. Pour hot cream mixture over chocolate and whisk until smooth. Add chilled cream and process with a hand blender until smooth. Refrigerate overnight to set. Before using, whip ganache to a medium peak.
Banana Glaze (recipe for 50 bananas, approx)
600g White chocolate Cacao Barry/ Callebaut/ Valrhona
600g deodorized cocoa butter Cacao Barry/ Callebaut/ Valrhona
5g fat soluble yellow colorant Pavoni Italia
Black Truffle coating mixture from Black Truffle dessert
Green chocolate coating mixture, use White spray mixture from the Pebbles and color with Green fat soluble colorant from Pavoni Italia to desired color
Baby Banana mold Pavoni Italia GG035