Alexis Jiyoung Lee is the Executive Pastry Chef of The Peninsula London overlooking the hotel's pastry, chocolate and bakery operations. A 30-year-old chef, originally from South Korea, Chef Alexis grew up in Vietnam and went to Switzerland and Australia to obtain Pastry and Chocolate Diplomas. Chef Alexis has an abundance of experiences working over the world in countries like France, Vietnam, United Kingdom, Australia and Switzerland in various operations ranging from patisseries, Michelin star restaurants to five star hotels.
Her recent achievements include launching the first Chocolaterie at five-star hotel in Vietnam at Park Hyatt Saigon, involved in re-opening of all day dining restaurant and kitchen The Cliveden at Pullman Melbourne, and of course the recently opened The Peninsula London where Chef Alexis opened the Peninsula Boutique and Café with other hotel outlets. Chef Alexis has worked and trained with industry's top chefs like Thierry Marx and Adrien Bozzolo, Yann Couvreur, Sheldon Fonseca and Nicole Beckmann.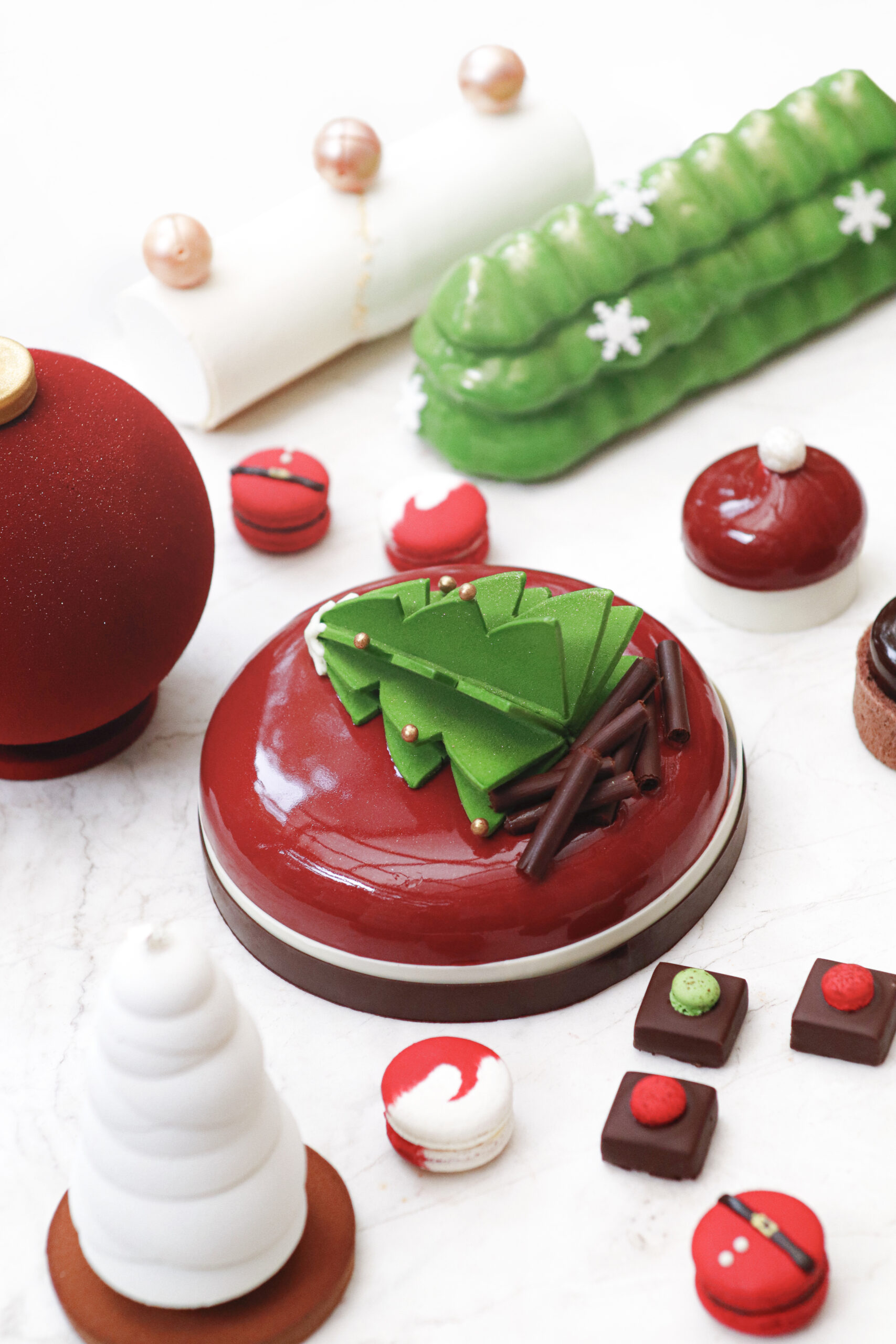 Chef Alexis speaks Korean, English, French and Vietnamese and is highly skilled in all aspects of pastry, bakery and chocolate arts with experiences ranging from small to large operations. She has also extended her knowledge in wine, having obtained WSET level 2 passed with distinction.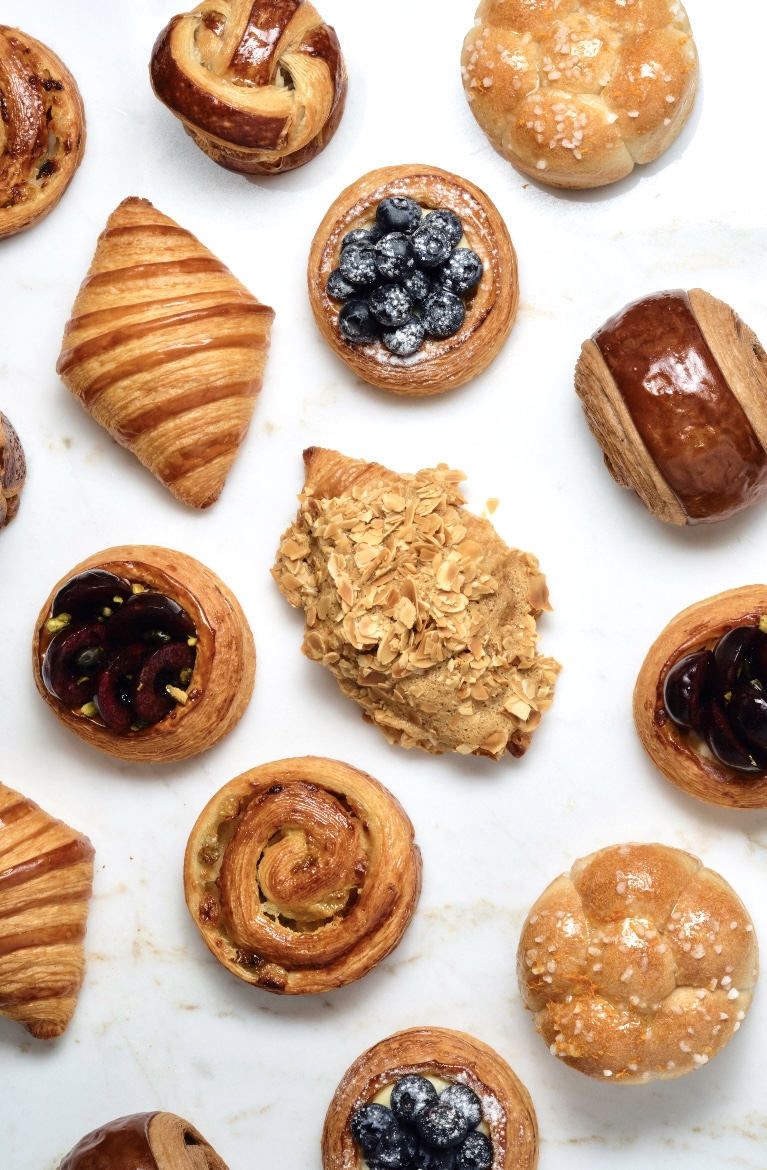 What inspired you to become a pastry chef? You've been in the
industry for quite some time. Would you have done anything differently when first starting out?
Simple pleasures to cook and serve dishes to family and friends and then enjoying their feedback led me to become a chef. Then the interest in dreaming to become a pastry chef grew bigger with all the TV shows and celebrity chefs at the time. I just found chefs very cool and charismatic and knew that was also who I wanted to become.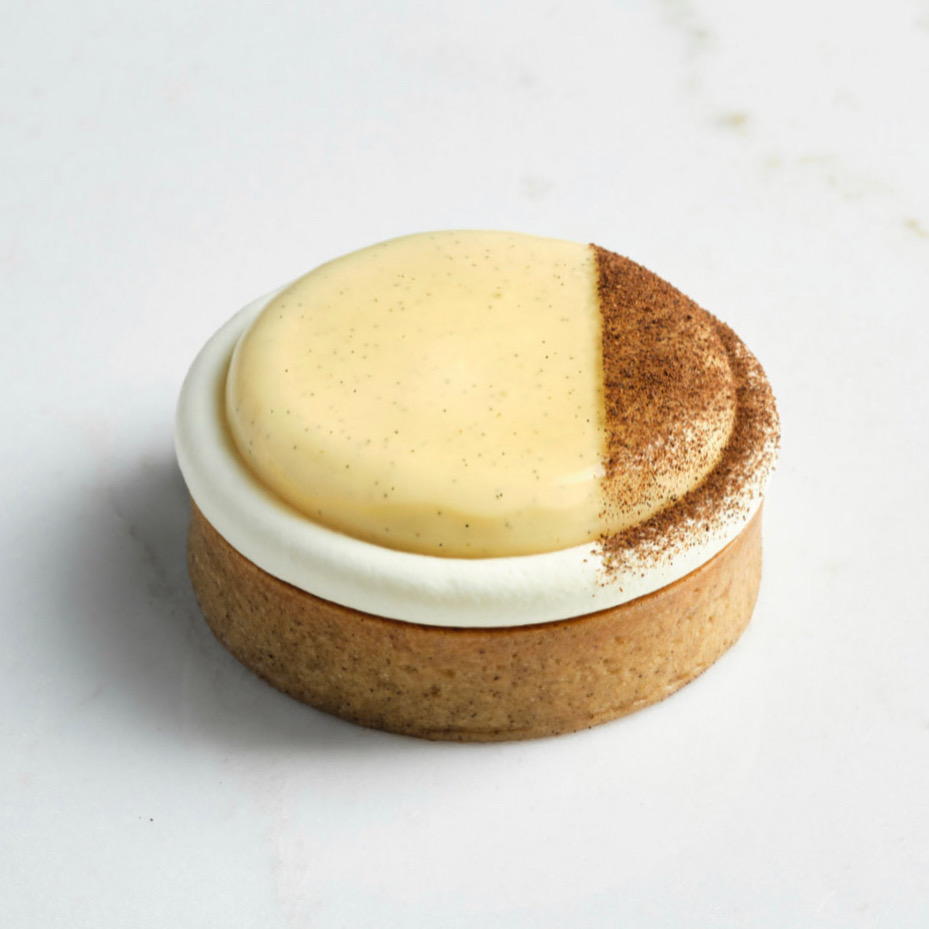 More so, I've always been involved in the artistic side growing up with activities that allowed me to express myself in different forms like playing violin solos and being involved in orchestras, I was a bassist in a band, performed at musicals and even participated in a small movie when I was young. Always enjoyed art classes too.
I would not have done anything differently. Every journey regardless has added value to who I am today. I believe that everything happens and happened for a reason and all are just beautiful, precious memories that I needed.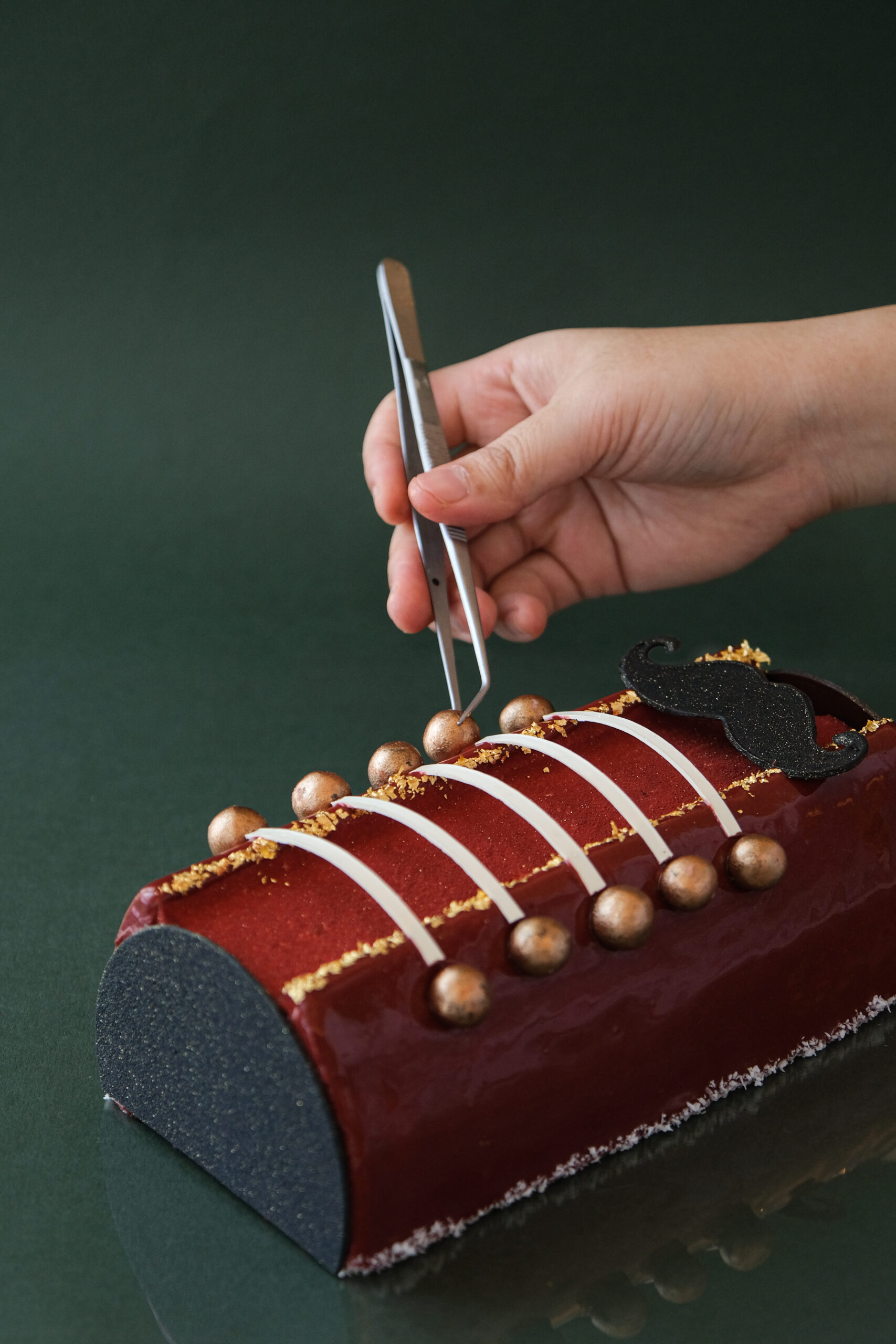 What is the philosophy and ethos behind the food you create?
I focus on using local and seasonal produce, avoiding food coloring as much as possible by using natural colours to create balanced flavours and textures. Some countries I've worked in do not have an abundance of local produce but it is also my responsibility to know where each ingredient is from and how it's been sourced. I also believe that a pastry chef's job is to create something fun and eye-catching together with creating something very delicious, that's also the reason why we exist – for all the exciting moments and to provide a memorable experience for people.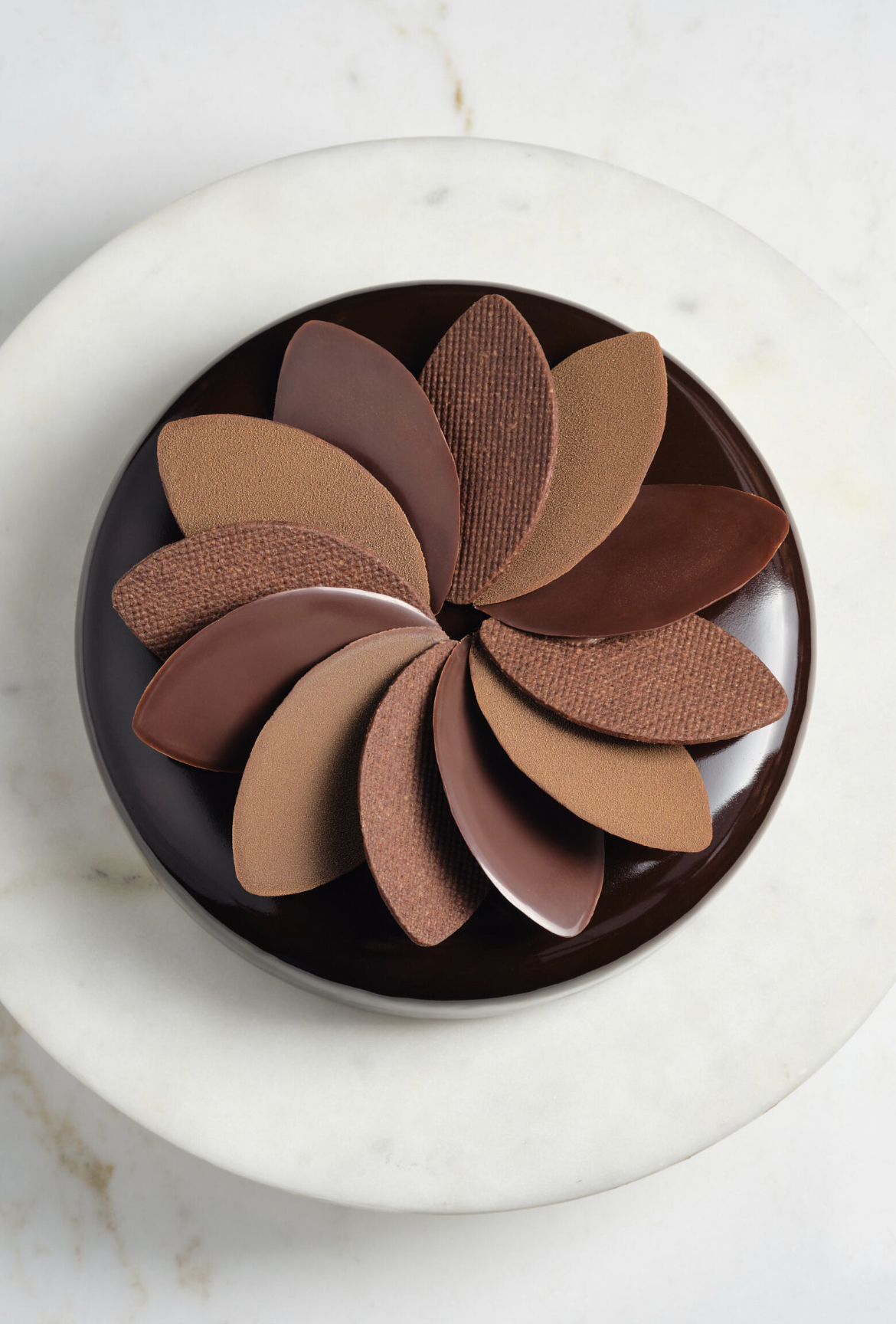 Moreover for me, food hygiene is extremely important. We are not doctors and we don't do this for a living to save people but to give pleasure – it's a want but not a need. Therefore as a food handler, it's our utmost responsibility to make food that is safe to eat that I will be able to give my grandma and my family as an example.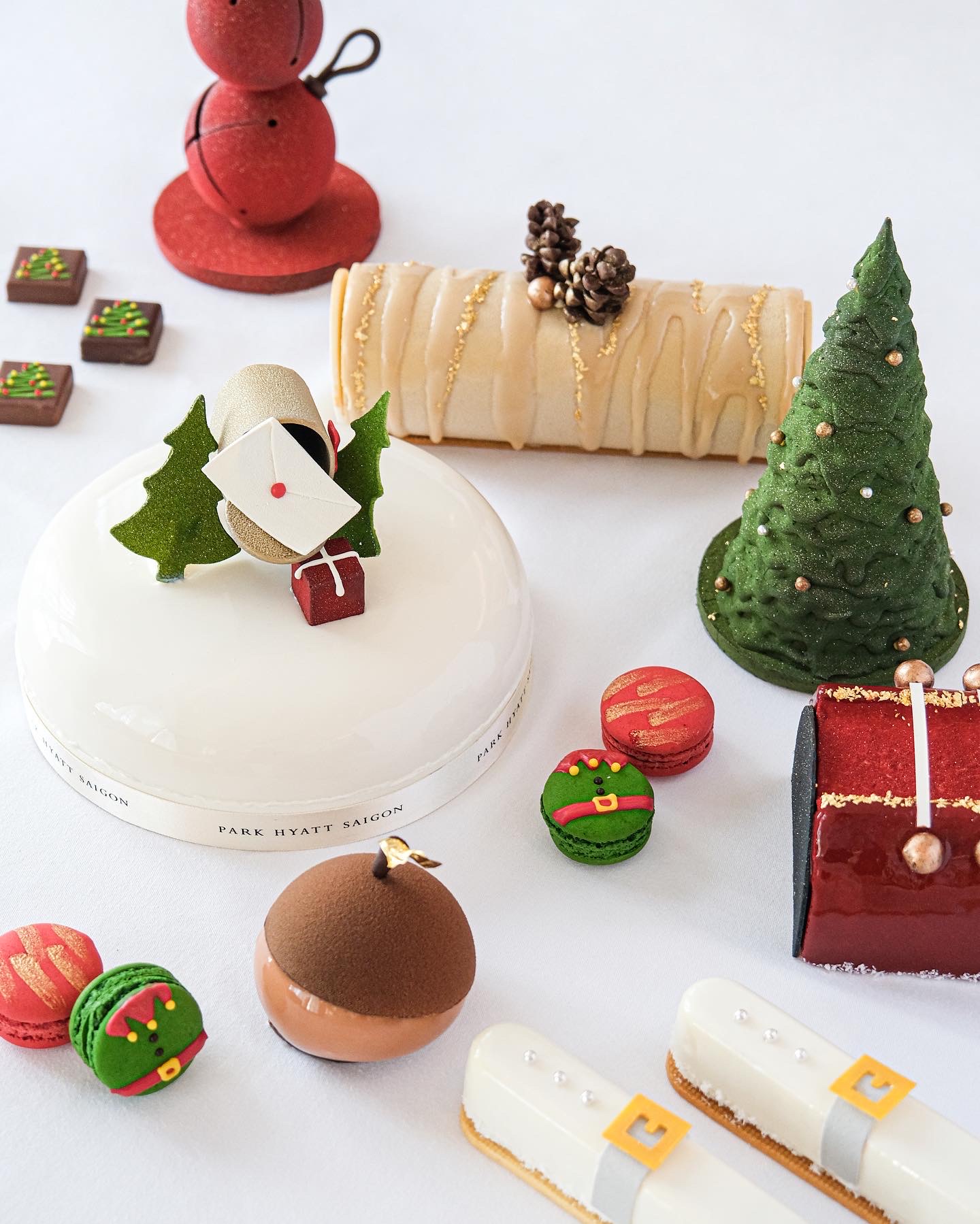 What is one food (pastry) trend you wish would just go away?
I don't pursue trends but much prefer to do my own form of pastry and what I believe in. After all, we need to create desserts and need the demand for it so we can't go all Picasso too so it's important to create items which fit the market where we work and i believe that cannot happen while chasing trends and losing our originality and identity.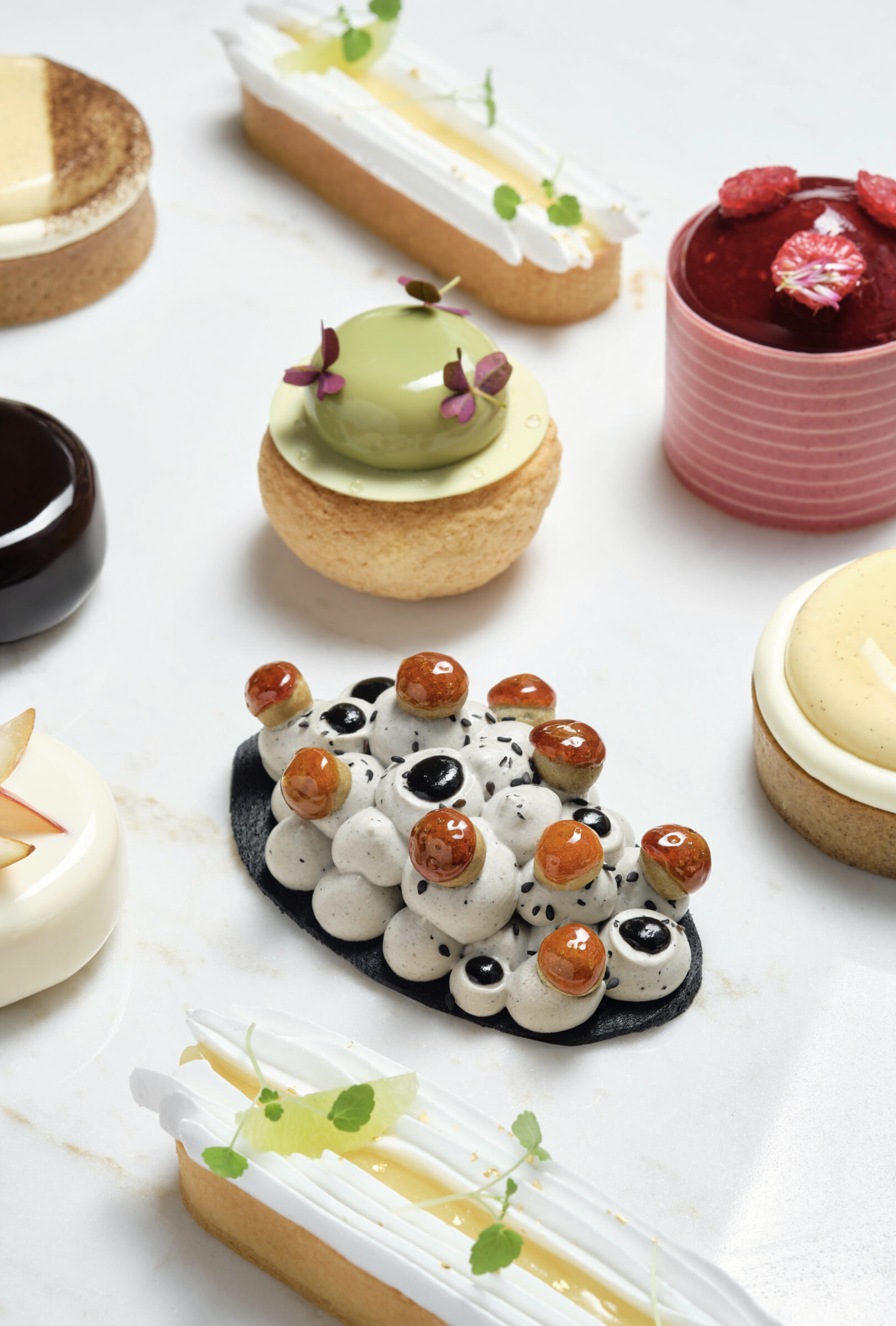 What's your favourite pastry or cake or baked product ?
My favourites actually are the most classic French patisserie like Paris-Brest, St Honoré, warm tarte tatin with vanilla ice cream on top, crème brûlée, baba au rhum … you name it ! I very much in love with the classics.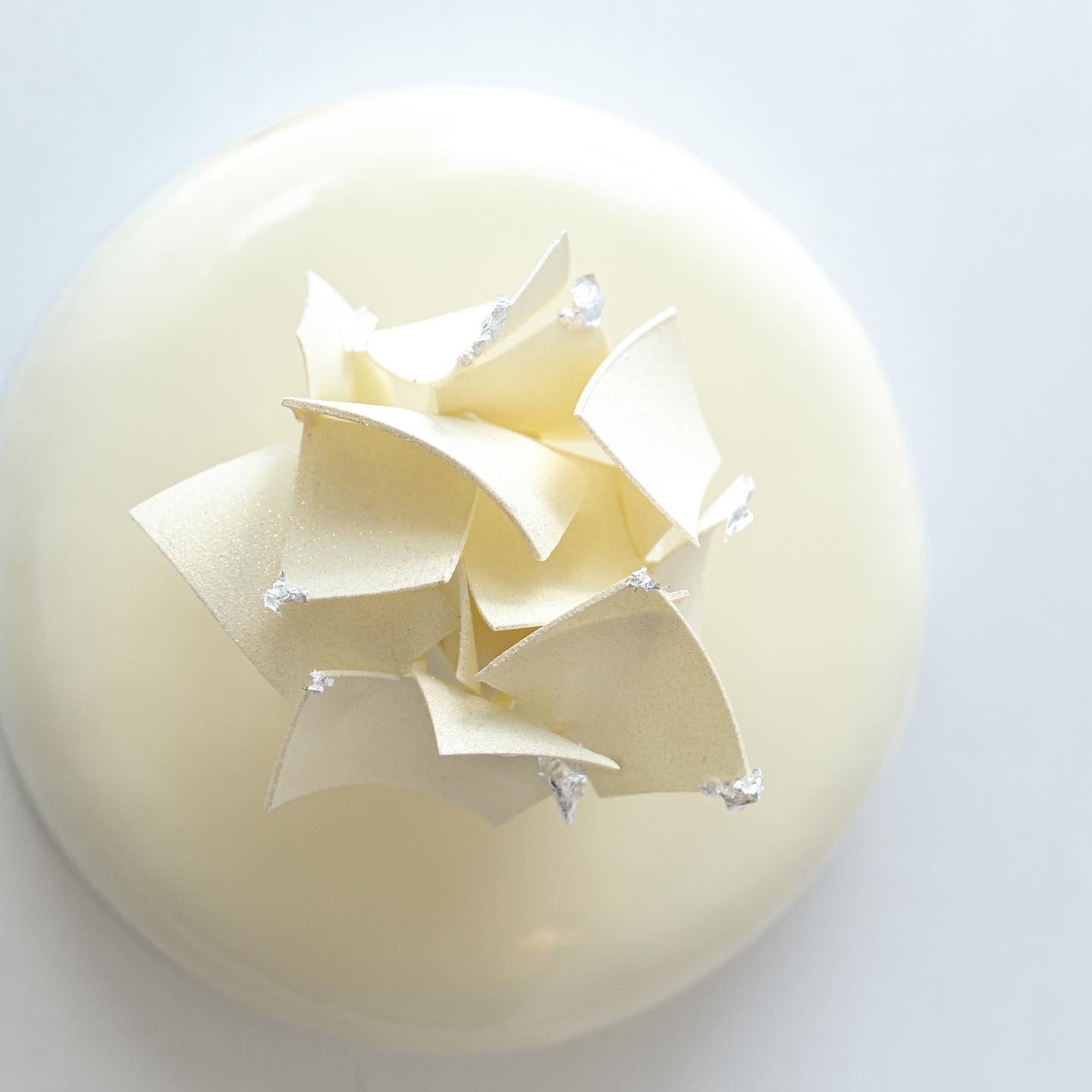 Who or what was your inspiration to become a pastry chef?
My dad because he's an artist himself too, he's a TV producer and a specialist in the field. He's always been my inspiration to be a specialist though he's not a chef.
What is your advice to aspiring pastry chefs?
To master the craft, which I am far from, and this is a long journey. What you see on social media and on the internet are probably the edited photos of beautiful final products but to achieve that involves a lot of mistakes, hard work, dedication and passion… maybe a few tears too but do not give up!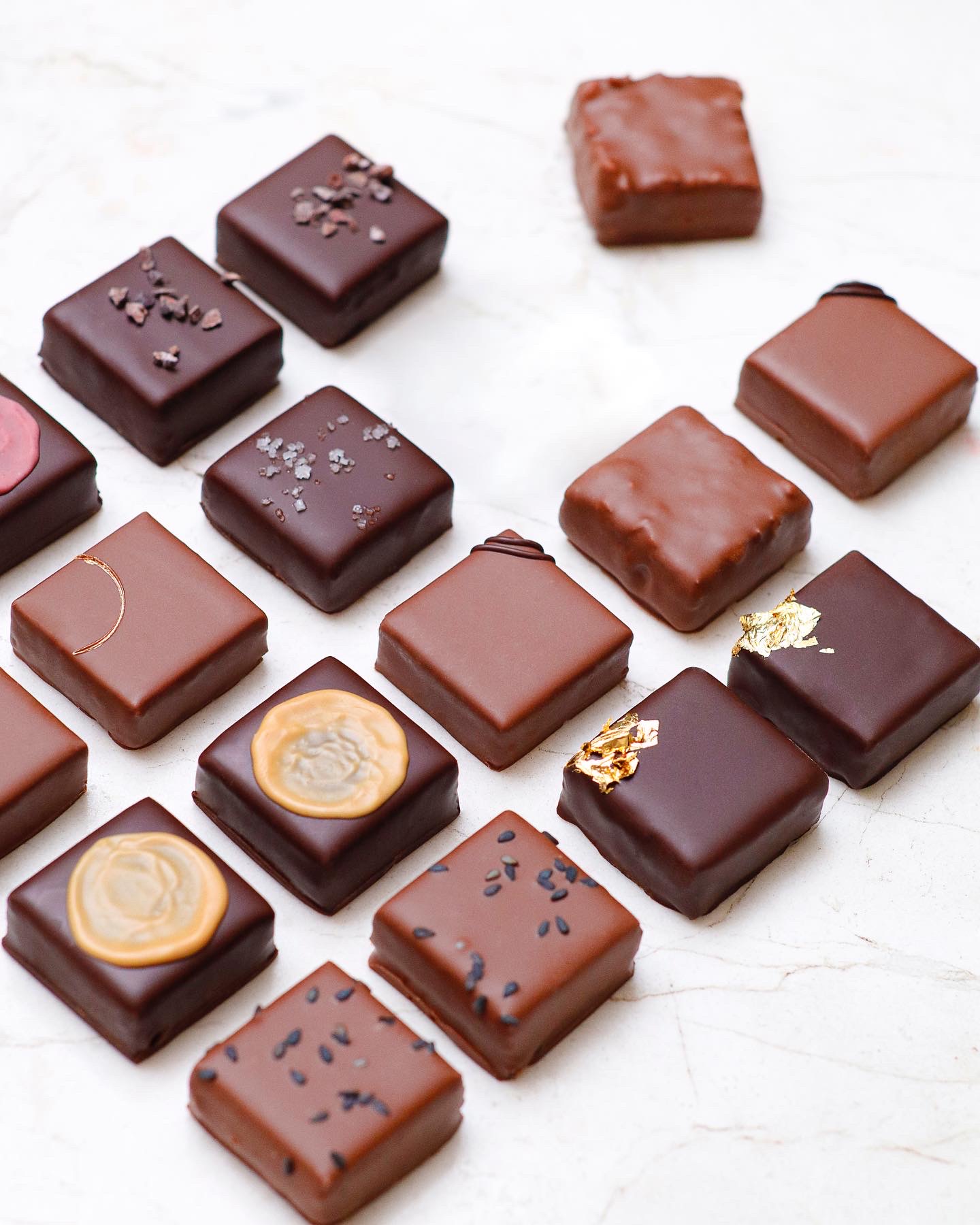 Future Plans?
I have various future plans which I cannot share for the moment but one of them involves doing something of my own.
Would you consider yourself as an artist? Are you inspired by
artists when you create your pastries? When you create different
products everyday where do you get inspired from?
I would humbly consider myself an artist..I hope the real artists don't laugh at me. I really try my best to avoid putting other pastry chefs' work into my mind when I create. Of course, it's hard because I've seen it so many times so I try to look at works of sculptures, artists in other fields who are not chefs, contemporary arts and usage of colours, patterns and shapes. Many times ideas pop up before I go to sleep or during my sleep which is quite crazy but true.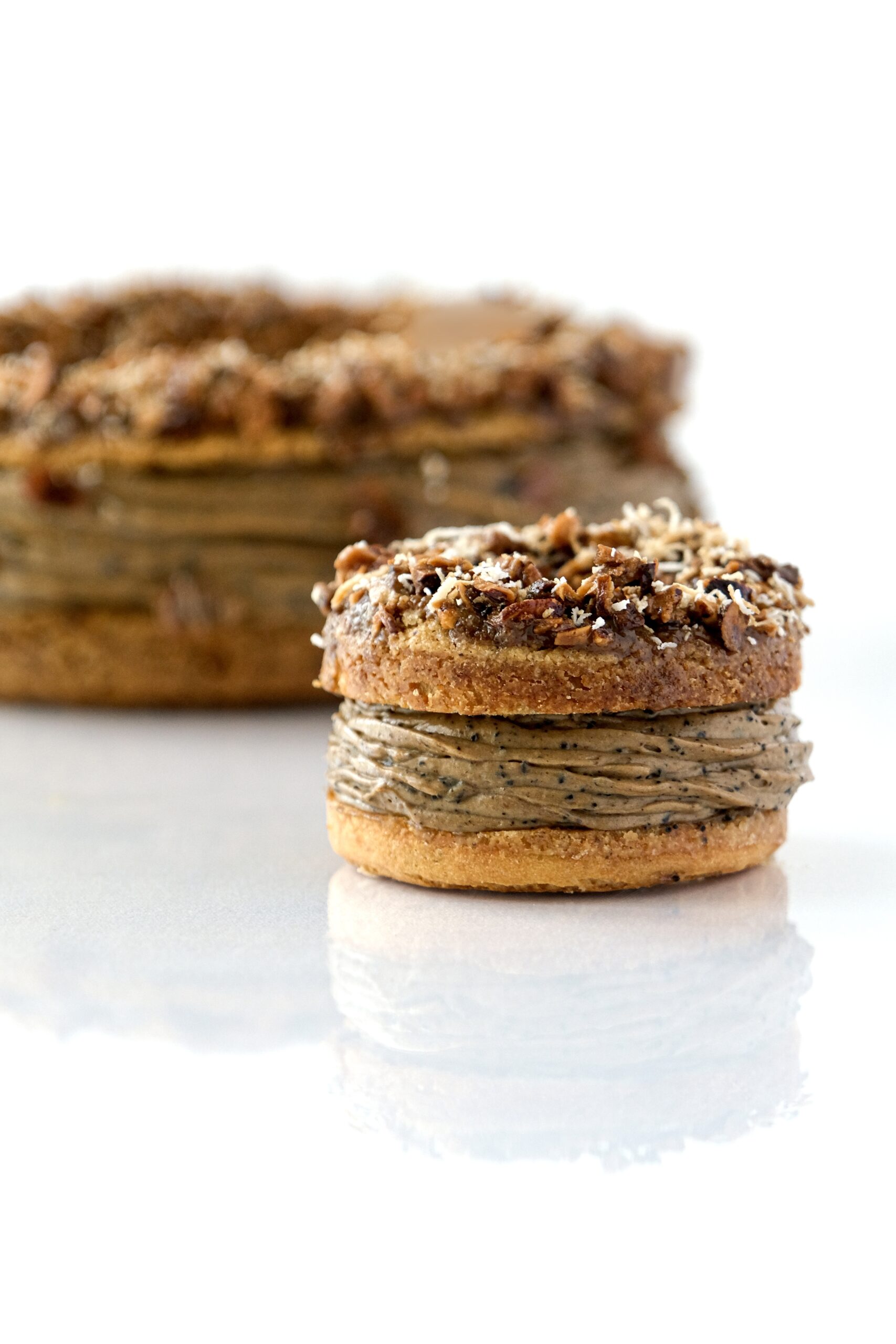 What would you say is the key/winning feature of your creations ?
It's originality and techniques involved. My desserts are usually simple visually but quite technical to make. Also with my social media pictures, that's exactly what you would get at the shop too – what you see is what you get.
What are the most important considerations when crafting your menu?
The season and the clientele/target market.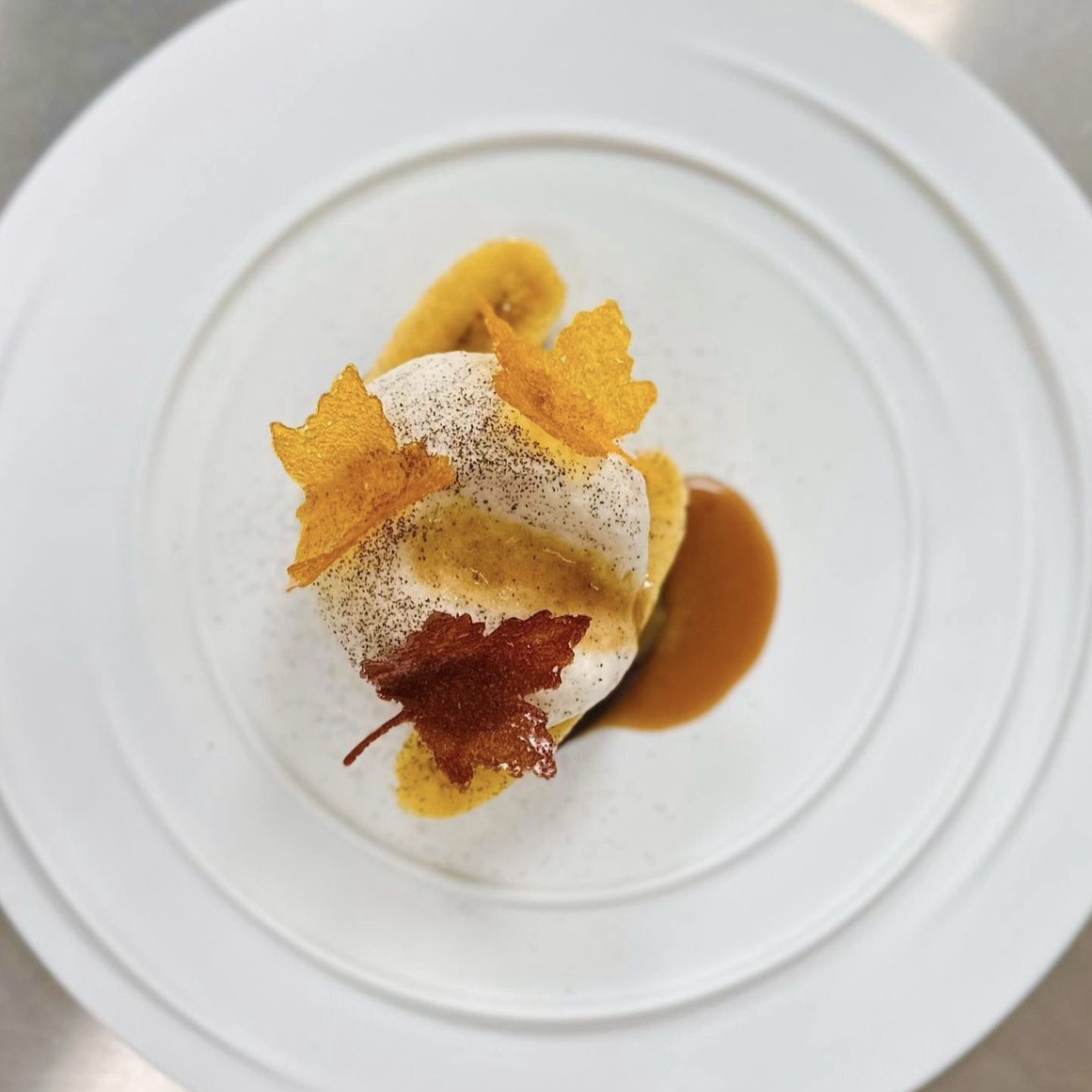 What's your signature dish?
Memil Chocolate cake, Honey and Pear cake, Triple Vanilla Tart, Framboisier, Yuzu Peanut Cheesecake, Paris-Saigon… for cakes
And the bonbon selection I created for the opening of Chocolaterie at Park Hyatt Saigon are my signatures too with recipes that took months to develop…
Which is the dish you've created that you are most proud of and why?
I'm always never really satisfied with my work but at the same time I'm proud of all my creations because there's been so much work gone into it from myself and my team.
Recipe of Framboisier
+raspberry slice x 3, daisy flower, nappage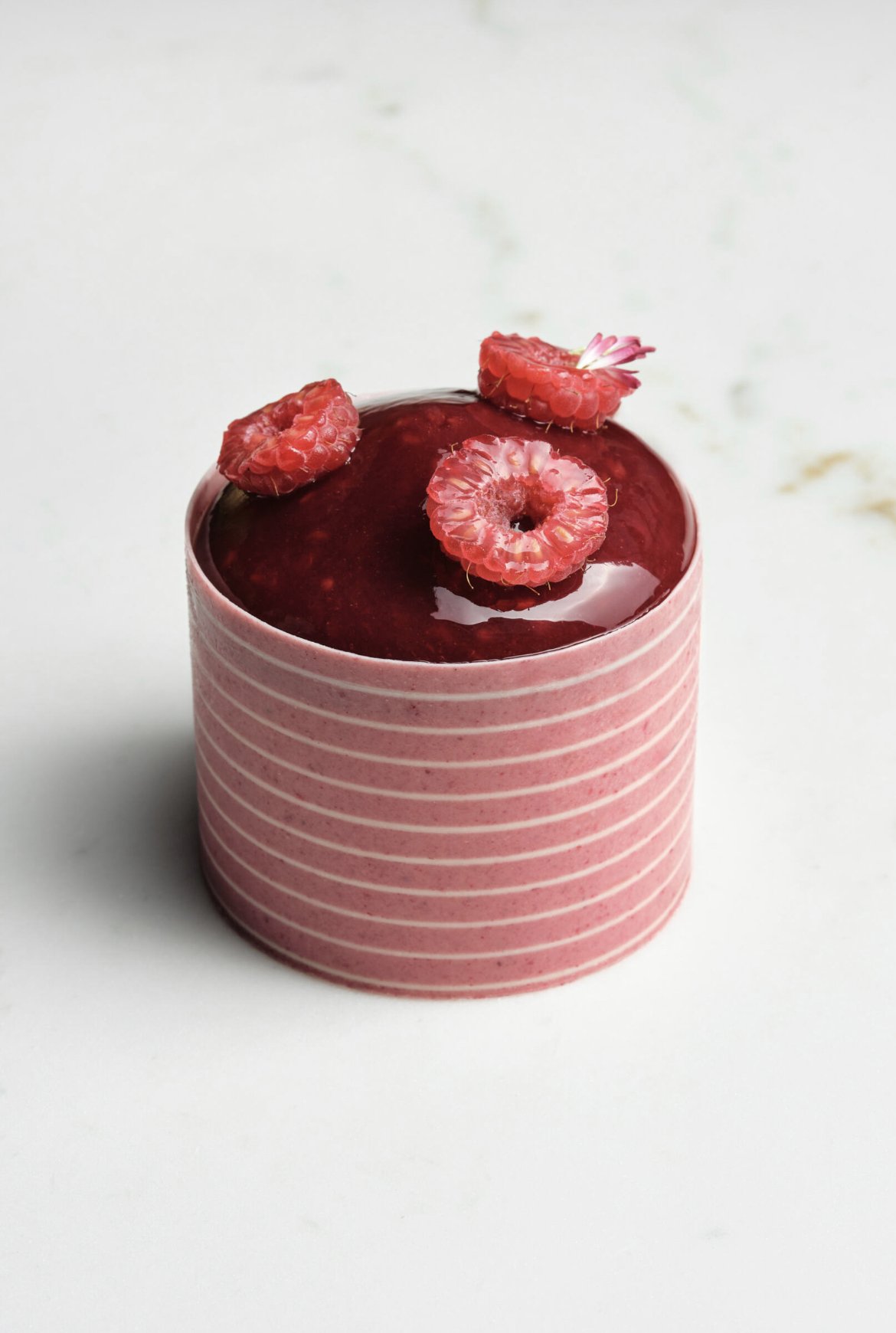 Framboisier
+raspberry slice x 3, daisy flower, nappage
Rolling Sponge
Ingredients:
468g egg yolks
236g sugar (A)
236g oil
½ tsp  vanilla bean
628g flour T45
1252g egg whites
468g sugar (B)
Procedure:
Whip the yolks and sugar (A) with vanilla until fluffy
Whip the whites and sugar (B) until fluffy
Gently fold in the egg yolk mixture
Add the oil,
Weight 530g per tray 60×40, and bake at 190℃ for around 5 minutes
Cut 17cm long – 4.5cm wide
 Pistachio Pain de Gene
Ingredients:
720g marzipan
980g eggs whole
260g sugar
2pc orange zest
2pc lemon zest
330g butter
160g pistachio paste
200g flour T55
16g baking powder
140g pistachio chopped
Yield 3 trays
Procedure:
On the bain marie, warm marzipan, eggs, sugar, zest and salt to 50C then whip in the mixer until cold
Take 1/3 of the marzipan mixture and add the melted butter and pistachio paste, combine well and incorporate with the remaining marzipan mixture
Fold in the flour and the baking powder
Spread 750g of the mix on the 60×40 tray
Bake at 180C for 7-8mins
Raspberry Yuzu Gelee
Ingredients:
1155g raspberry puree
33g yuzu puree
165g frozen raspberries
180g gelatine mass
Procedure:
Bring raspberry puree just up to the boil
Add the frozen raspberries and cook for another 1 minute
Add the yuzu puree to bring back the colour
Add the gelatine mass off the stove
Vanilla Bavaroise
Ingredients:
2500g cream
500g egg yolks
500g sugar
4pcs vanilla bean
170g gelatine mass
500g cream
Procedure:
Make crème anglaise with the first 4 ingredients
Add the gelatine and melt
Fold in the semi whipped cream
Raspberry Confit Topping
Ingredients:
2700g raspberry puree
900g frozen raspberries
675g sugar
90g honey
90g gellan
Procedure:
Heat the puree with the raspberries
Mix the sugar and the gellan and add to the mix
Bring to the boil and fill the moulds
Pistachio Crunchy
Ingredients:
900g pistachio paste
900g Opalys 33%
800g feuilletine
2pinch salt
2 frames – Orange mats
Procedure:
Melt the Opalys 33% and combine with pistachio paste, feuilletine and salt.
Spread on the mat, refrigerate and cut