Sangeeta grew up in the South-East coast of Spain where she completed her formative and higher education. She has meshed the cultures of India and Spain in her paintings and has exhibited her paintings at the prestigious and iconic Jehangir Gallery in Mumbai in addition to shows in India, London, Paris and Dubai. She is very well known for her vibrant palette and has brought a unique dimension to art by being amongst the first to use cars as her canvas. Babani also showcased her versatility be taking art outside the traditional gallery space and showcased an 18 feet Installation called The Lost Art at Palladium.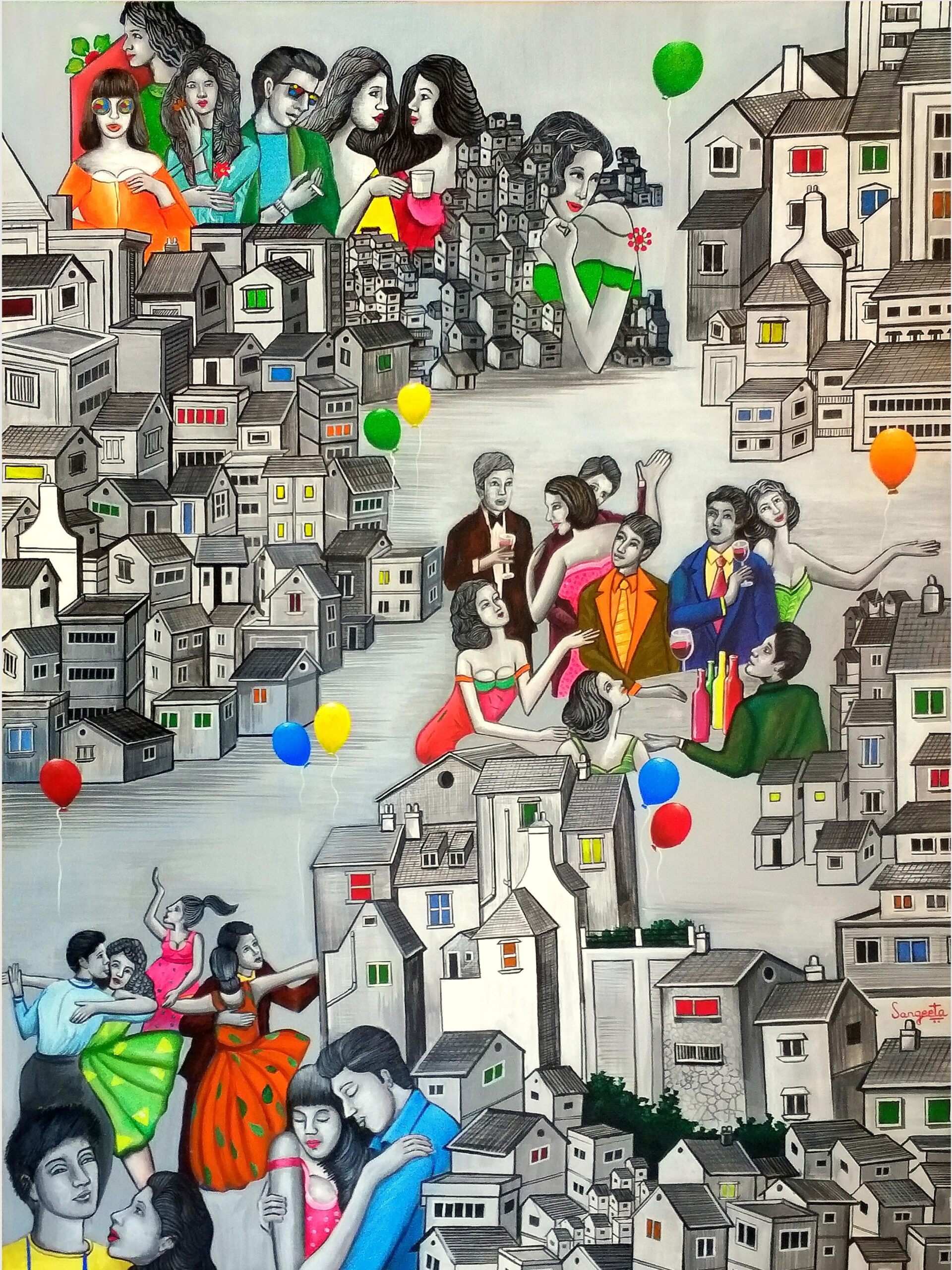 Recently approached to 'artyfy' areas in Mumbai, as part of the BMC Beautification Project, she painted a 150 feet long mural along the Bandra Reclamation is no small feat. She says it was a challenge as we were working at a high-traffic area. A public display of art creates a sense of belonging amongst the people of the city. The second project with the BMC was a sculpture that was installed at Pali Hill, Bandra in February 2023, titled Quest for Knowledge and unveiled by actor Dia Mirza. The third project done recently with BMC, Sangeeta painted a 900 feet long wall Mural at Milan Subway Flyover in lieu for G20 happening at that time art brings attention to often neglected space and encourages people to appreciate their environment. Sangeeta is a recipient of many awards in India and was awarded in Paris ( France) for her contemporary work in 2017.
What's your artistic background?
As artists and creators we are continuously evolving our work. Not satisfied to remain static; we explore and experiment. I believe we move through development cycles much like the stages of human development. I started as a teenager and then studied in Spain. Then my mother enrolled me in drawing classes and it created the foundation for my interest in art. I felt with every stroke and every line I was stepping into a different world- one which did not have boundaries. And that is what excited me then and still excites me now. Thus, the journey and the process has been continuous.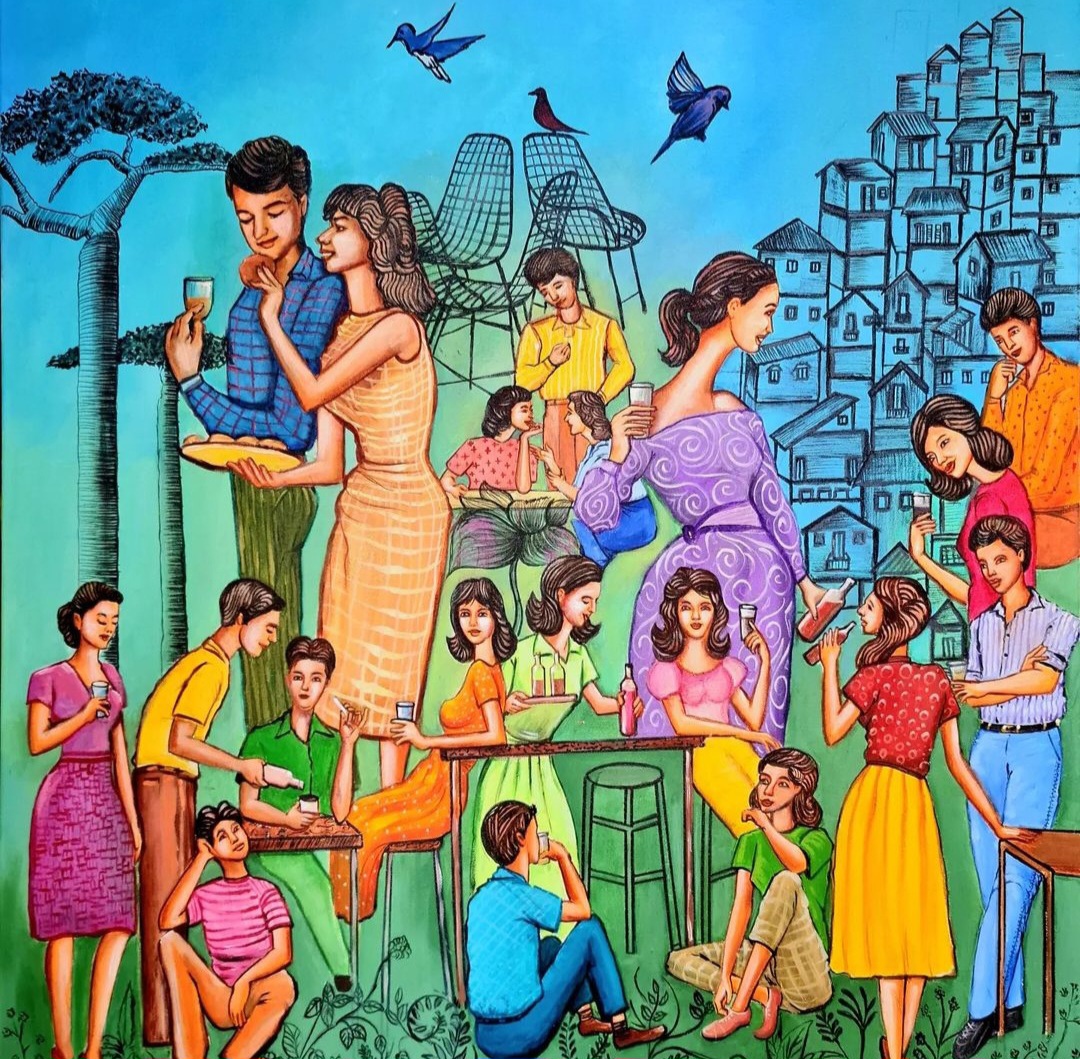 What's integral to the work of an artist?
The ability to intuitively communicate complexity through your chosen medium. A very personal, intimate knowledge of your medium, expressing a language which is close to an artist's sensitivity is a very personal sentiment
What role does the artist have in society?
Every artist plays a different and necessary part in contributing to the overall health, development, and well-being of our society. Creative thinkers and makers provide their communities with joy, interaction, and inspiration, but they also give thoughtful critique to our political, economic, and social systems — pushing communities to engage thoughtfully and make steps toward social progress.
As artists, our role is critical. Creative expression is vital to a healthy and open-minded society. Artwork inspires people, gives them hope and can touch a soul in a way that words cannot.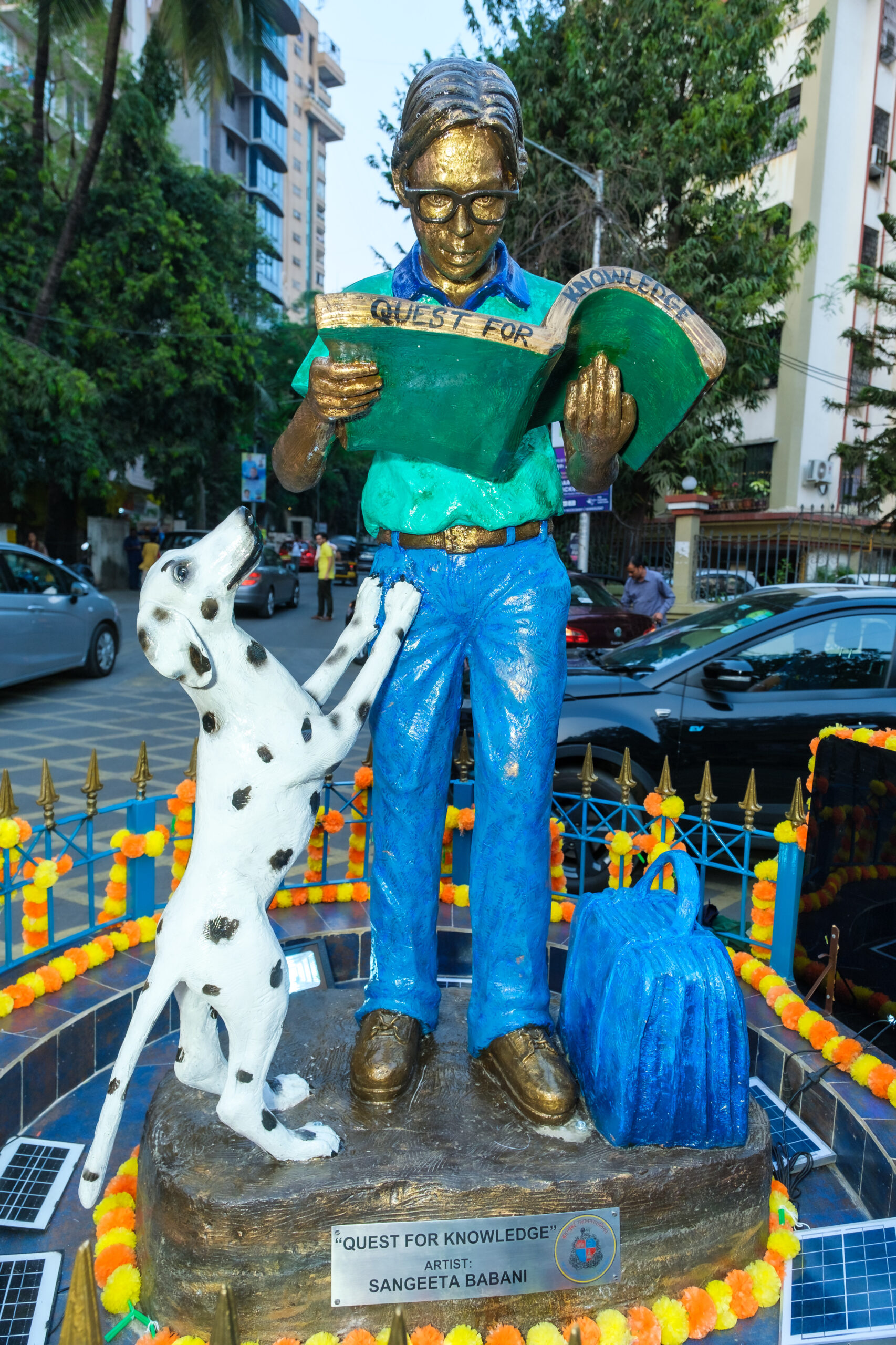 What art do you most identify with?
Surreal Art
What themes do you pursue?
I feel life itself is the most wonderful fairy tale! I create landscapes and urban settings in a surreal and fairy like manner. The images are from my visits to many lovely areas of the globe and I manifest the image with an infusion of bold and vibrant colours to create a mood of happiness and calm. I try to paint happiness because I believe art should leave a viewer with a positive feeling. My art can be viewed many times and the viewer will see something new each time.
In my paintings, I try to create a feeling of joy for the viewer which in the moment frozen in time depicts a place of wonderment. Perhaps, the moment the viewer connects with my painting is one of silence. A silent sanctuary in a world which does not have any boundaries and transcends time and space. My art is all about celebrating daily life and a desire to create a better World, which has no boundaries and it convinces people to enter in this new World.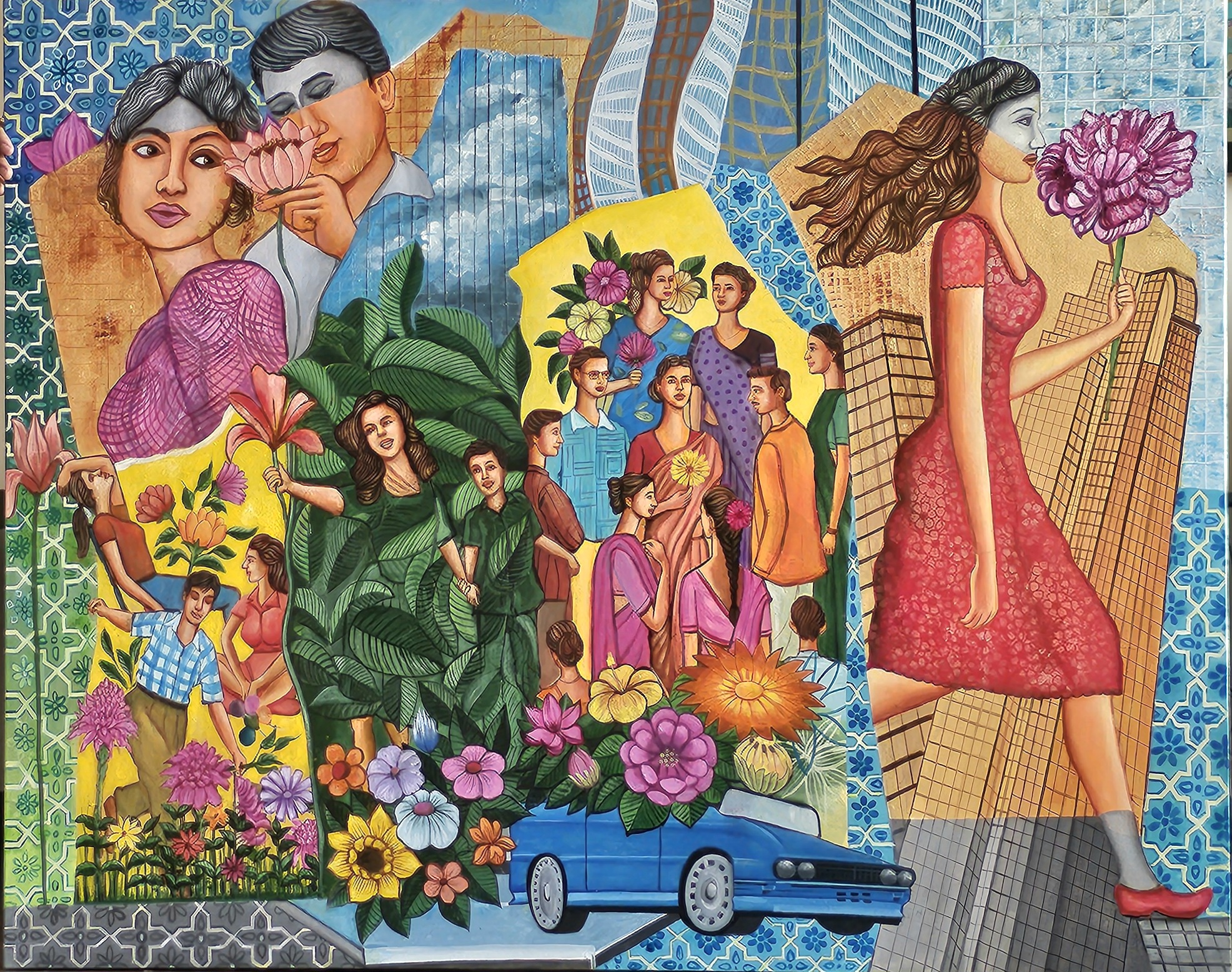 What's your favourite art work?
It is very difficult to have a favourite artwork, and artists are moody so I feel it depends on your mood and which artwork is your favourite at that point of time.
Describe a real-life situation that inspired you?
A real-life situation that inspired me was the right of education for all in our country. The youth of our country is the future and providing quality education to them is what will result in a brighter tomorrow. Taking inspiration from the same, I have used this as a concept for my art installation (sculpture) done recently as well.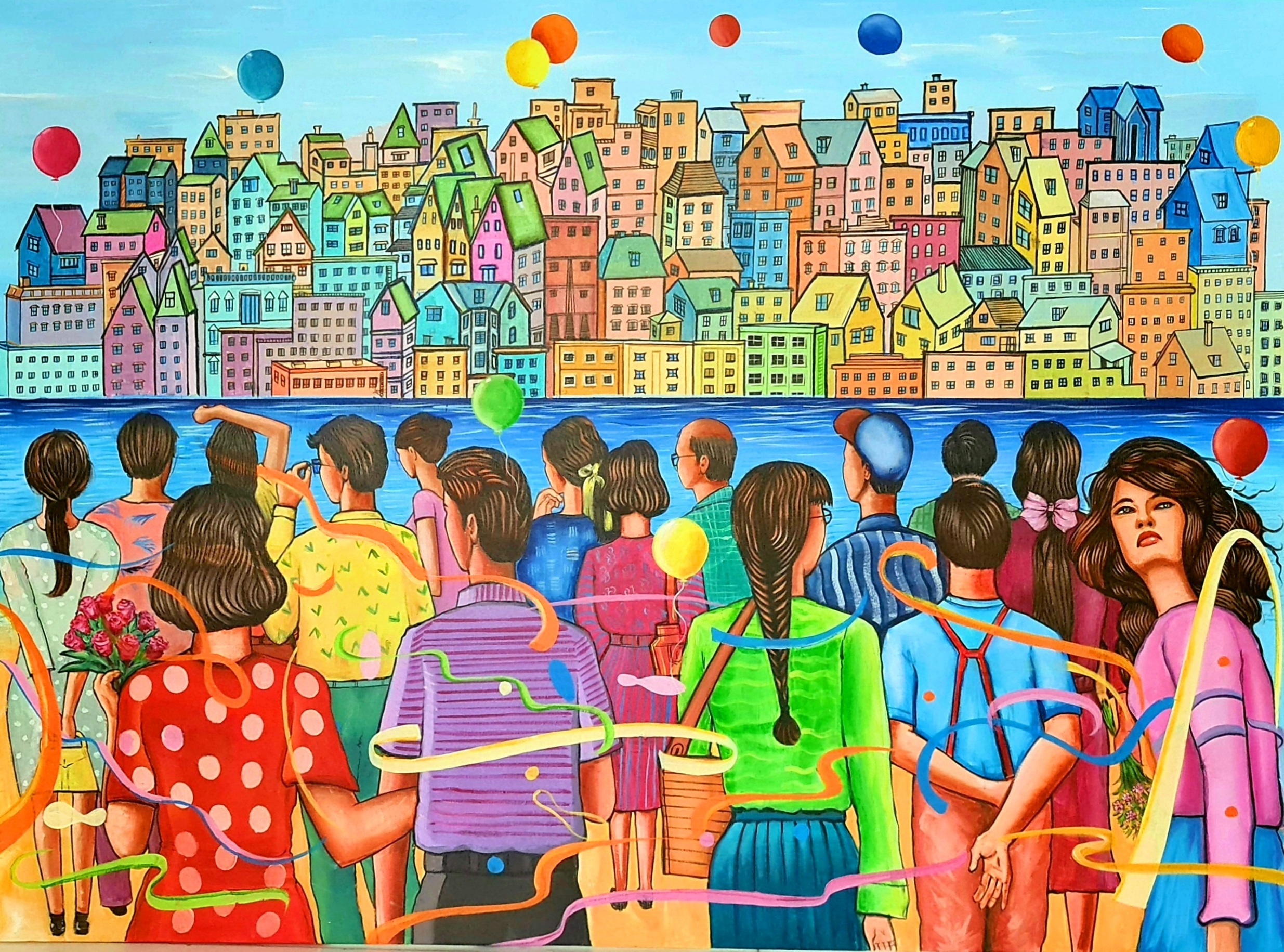 What jobs have you done other than being an artist?
Art has been my passion since I was 13 years old and then fortunately became my career growing up. Other than this I have always been interested in the creative space and utilized an opportunity that came my way by directing a short film named "Alfaaz" last year in which I acted as well. Other than this it has been art through and through.
Why art?
As I mentioned earlier, when I was enrolled for drawing classes as teenager, I felt that with every stroke and every line I was stepping into a different world – one which did not have boundaries. I felt a sense of power in creating whatever I desired and a sense of freedom and that encouraged to move towards art.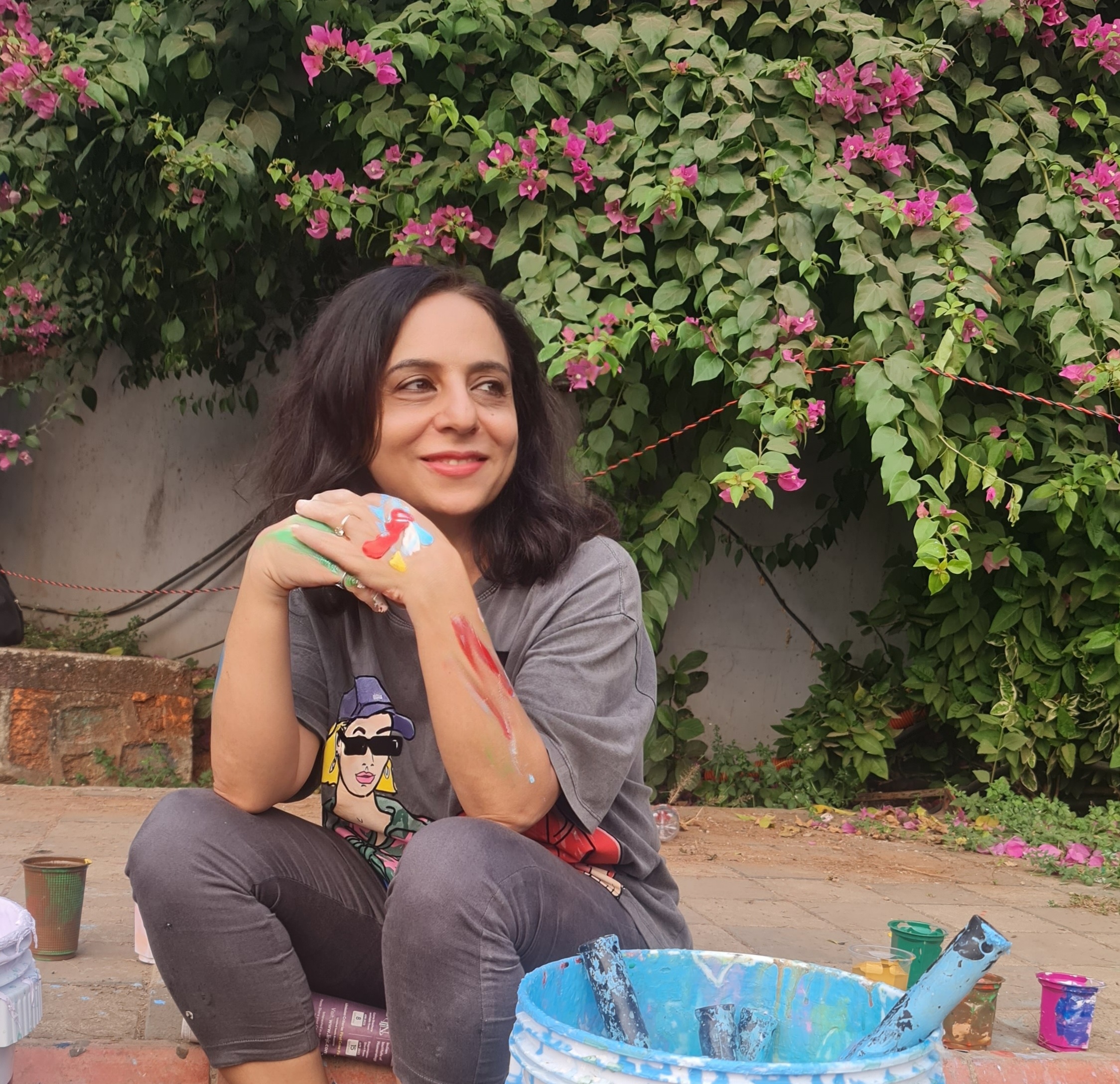 What is an artistic outlook on life?
Look around you at all the buildings with unique architecture, all the street murals, all the parks, mostly everything in your everyday life you can see. This is all art. Art is creative self-expression, and the people who create these things are all expressing themselves, be it by building things, drawing, writing, singing, or anything. All of the things you can see in everyday life are art.
What memorable responses have you had to your work?
When someone viewed my paintings they said they could forget their worries and immerse themselves in the world I have created which would hopefully give them a feeling of contentment, peace and happiness and bring feelings of joy into their lives.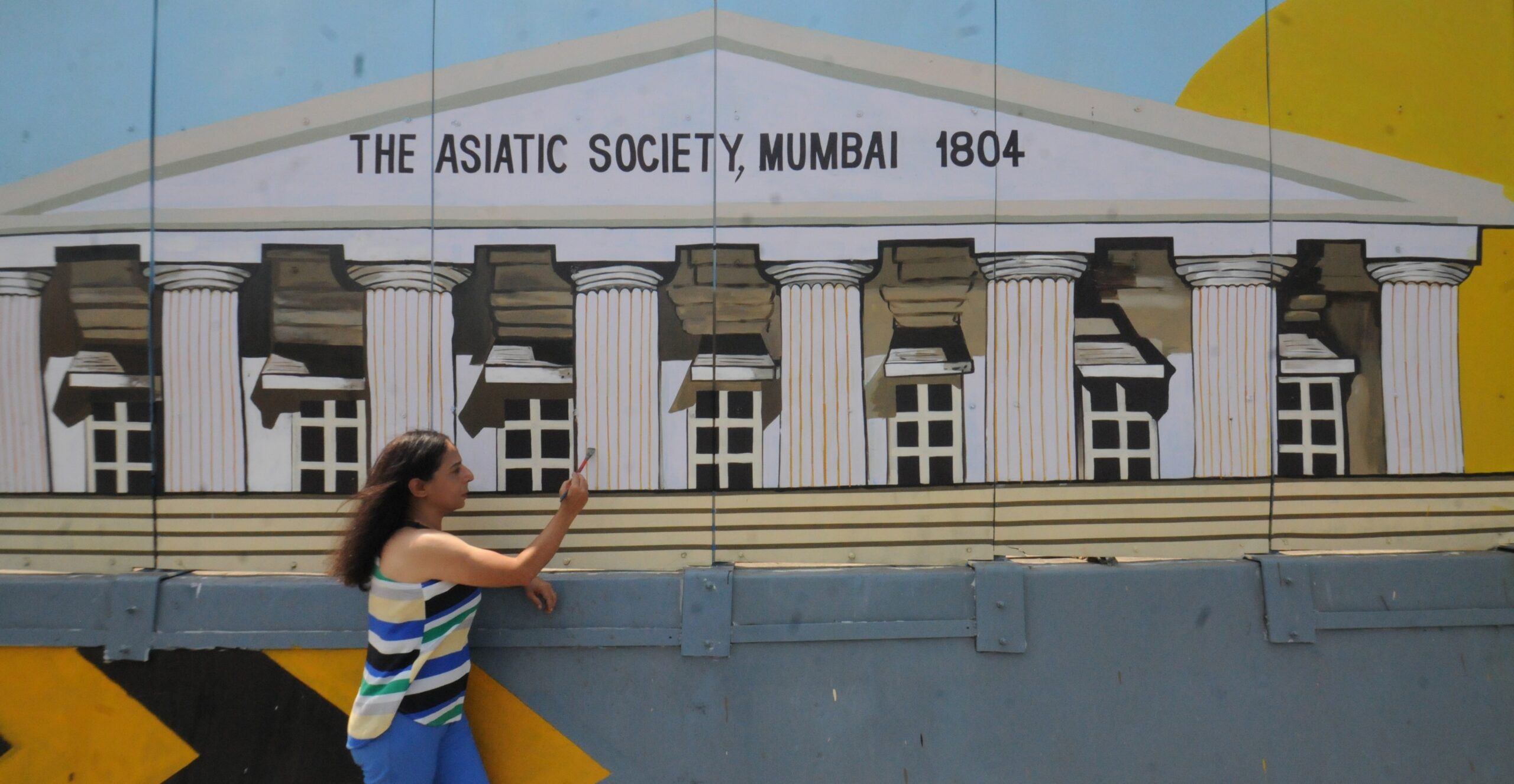 What food, drink, song inspires you?
One song that inspires me is Laapata, from Ek tha Tiger…as an artist sometimes I like to disappear and travel to a new place and eat drink and break free
Is the artistic life lonely? What do you do to counteract it?
By nature, we human beings crave a sense of belonging," "When forced to be alone, a creative person can forge a connection with others through their feelings in paint, sculpture, written word, song, dance, etc."
It doesn't happen automatically. But think about when you're surrounded by others: You're constantly looking for approval, trying to fit in, and are avoiding criticism for your thoughts or actions. That's part of being in society. When you're alone, you're more easily able to tap into your intuition, unique perspective, or vision, "We are less concerned about others'. "This allows for more freedom and out-of-the-box thinking that creativity thrives on."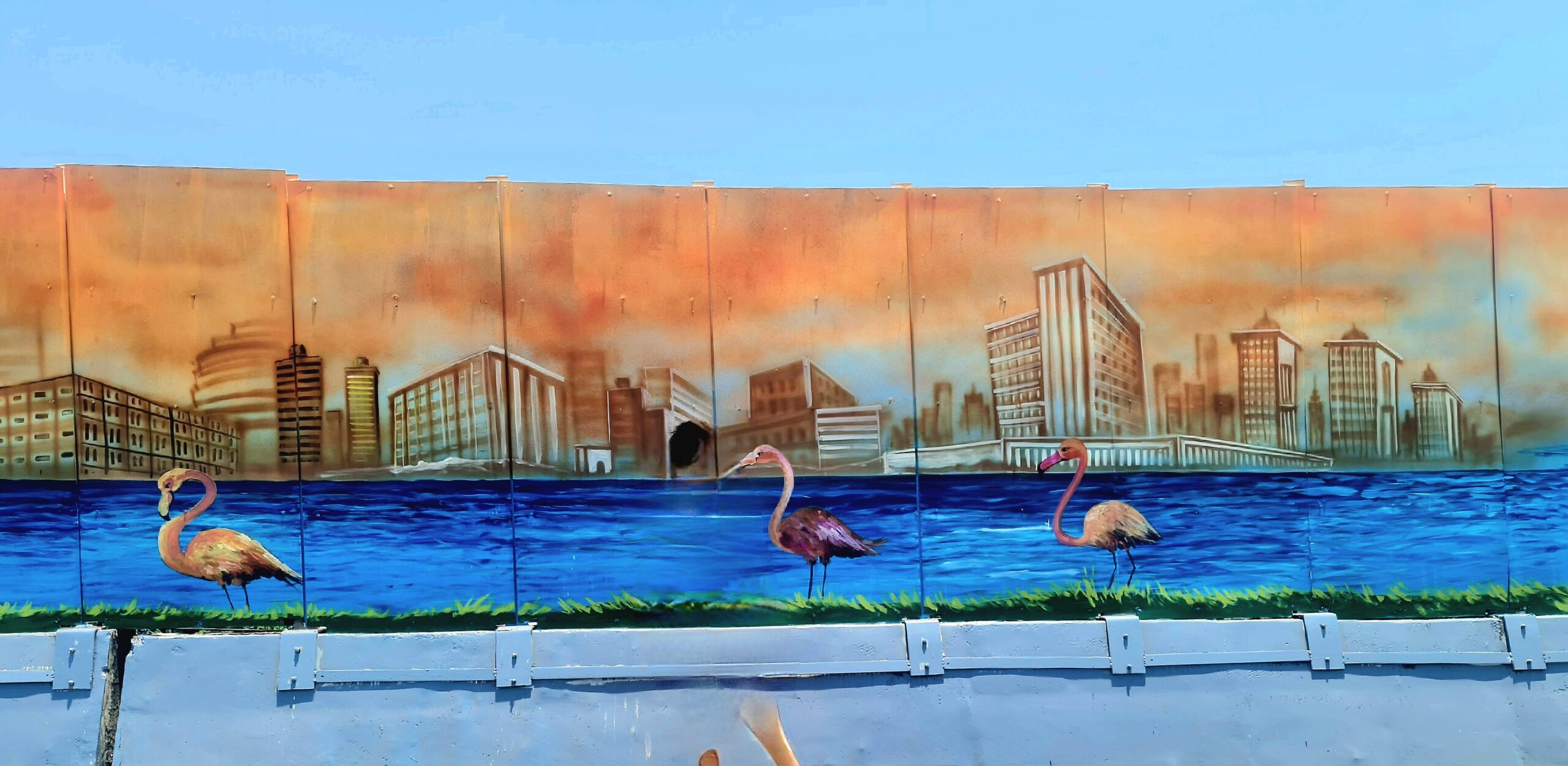 What do you dislike about the art world?
Honestly, I've learned to respect all aspects of the art world, even the elements that some may describe as dark or ugly. It's like a fragile eco-system, you can't just remove the dangerous tigers from the jungle and not expect the whole thing to fall apart. We can visualize and have a clear picture of what we are going to create beforehand and if the final result doesn't match that visualized image then we don't feel satisfied with it regardless of what others think
What do you like about your work?
Being an artist allows me  to share my art with the world. I enjoy full or at least partial autonomy over my work, in the sense that I can decide what to create and how to approach my work. This is particularly true for self-employed fine artists and artisans who primarily create work based on their own ideas.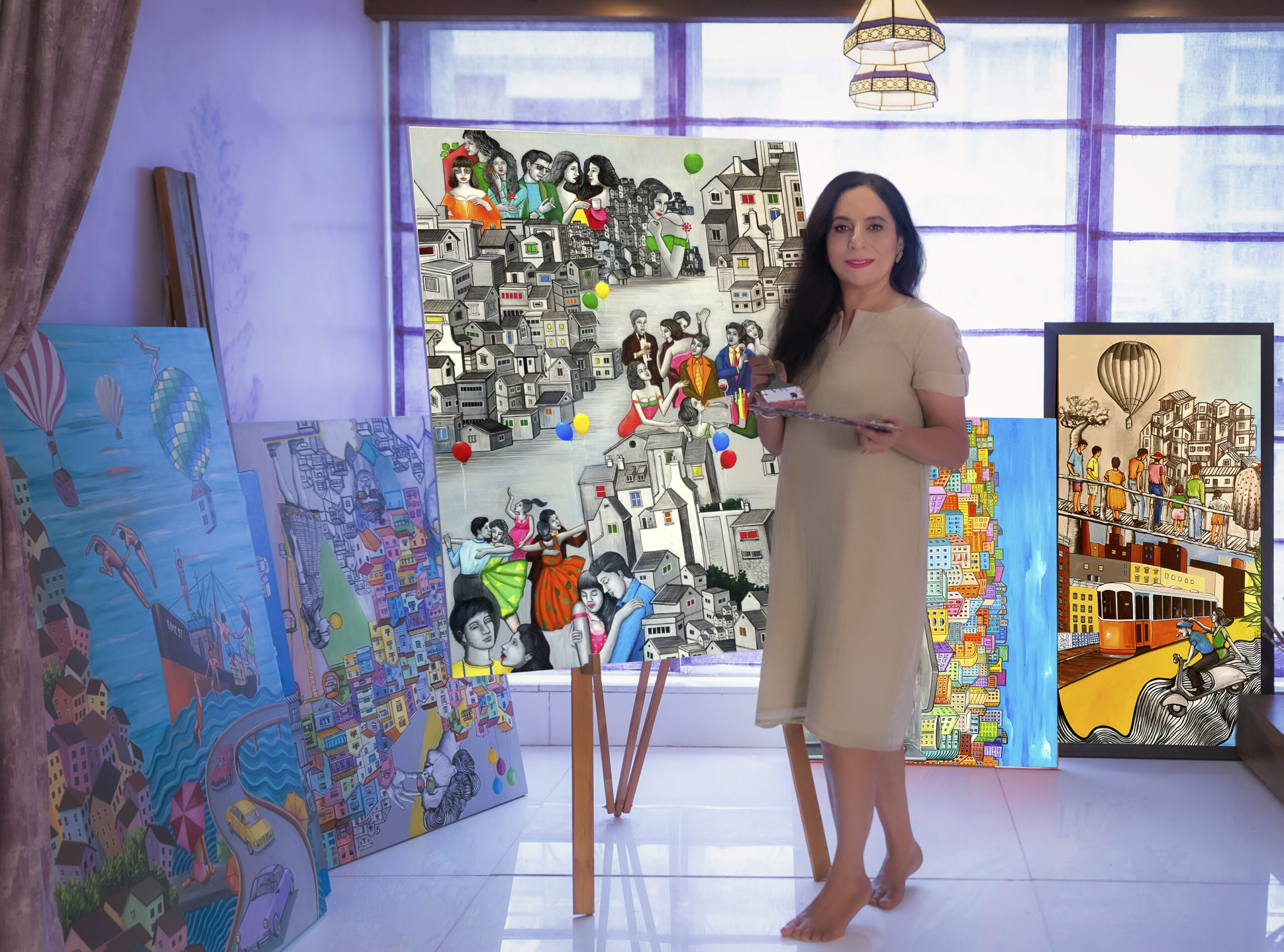 Should art be funded?
Public funding of the arts is necessary despite other priorities, as the arts allow individuals to communicate thoughts which are not able to be put in words. This is necessary for society as people always need the sense of release and joy which is found in the arts, which in turn benefit the nation's overall well-being.
What role does arts funding have?
Art is good for the economy. Creative industries provide jobs, encourage tourism and boost revenue to local businesses. To conclude arts play a major role in development of any nation therefore the government should contribute towards its development by taking the funding of arts as its moral responsibility. This funding will stimulate the growth of the industry hence economic growth and development.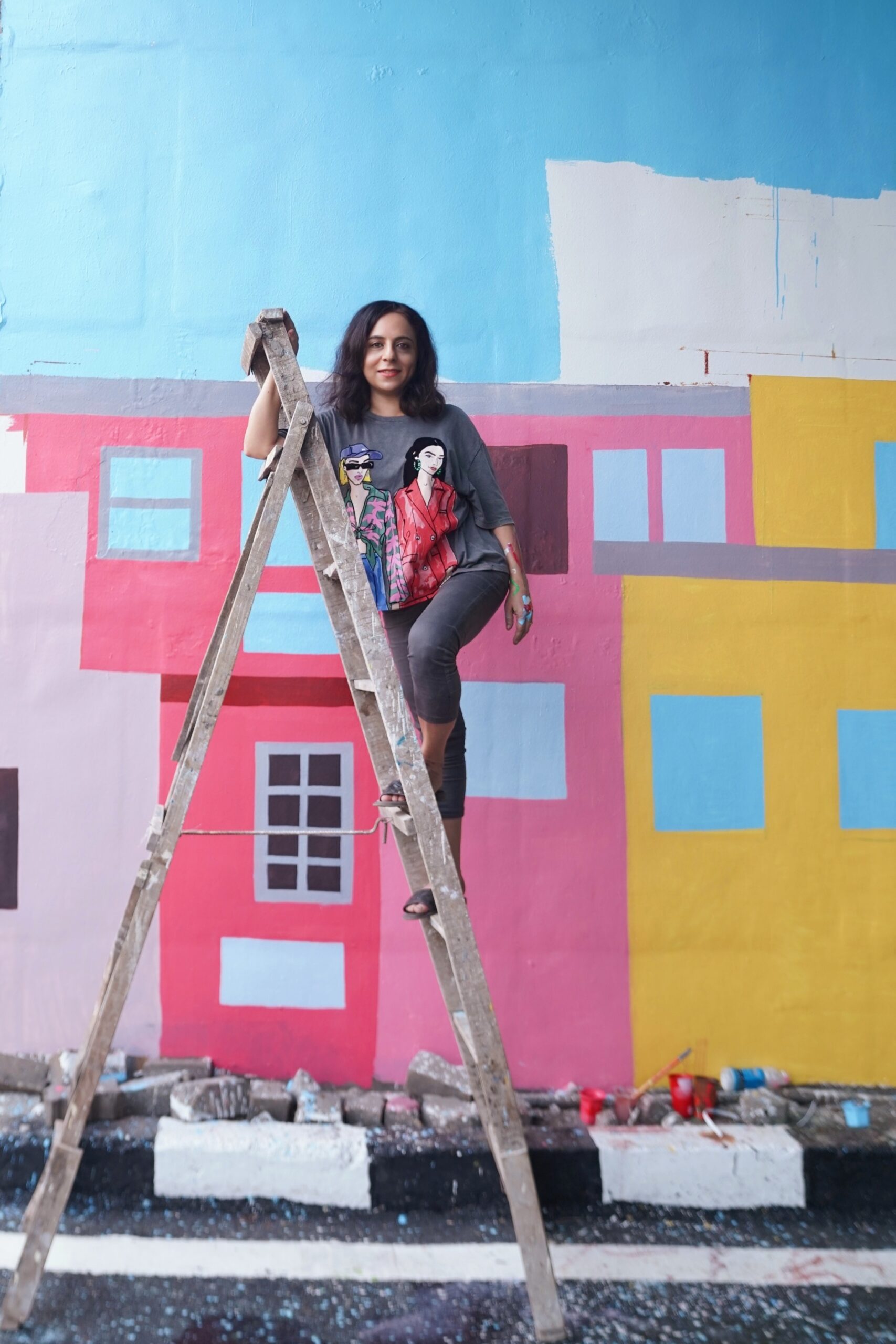 What is your dream project?
My dream is to do murals all over India
Name three artists you'd like to be compared to. 
I would like to give 5 names, One is the Mexican artist Frida Kahalo who was a master of canvas and paint and one of the most iconic symbols of the feminist movement. Secondly, Spanish artist Salvador Dali who continues to be widely recognized as one of the most "odd" artists of all times and I would also add the most loved. Third would be Anjolie Ela Menon because she has regularly re-envisioned her role as an artist. Fourth would be Paresh Maity because whatever surface he may choose be it paper, canvas or any other medium he creates magic. His colours are vibrant. His paintings are bold and have a graphic quality with strong colour and unusual cropping. Fifth I would select Maya Burman.  She is another painter from India who has paintings with a tapestry like effect where everything is subordinate to patterning which is something like the French nouveau tradition which I love.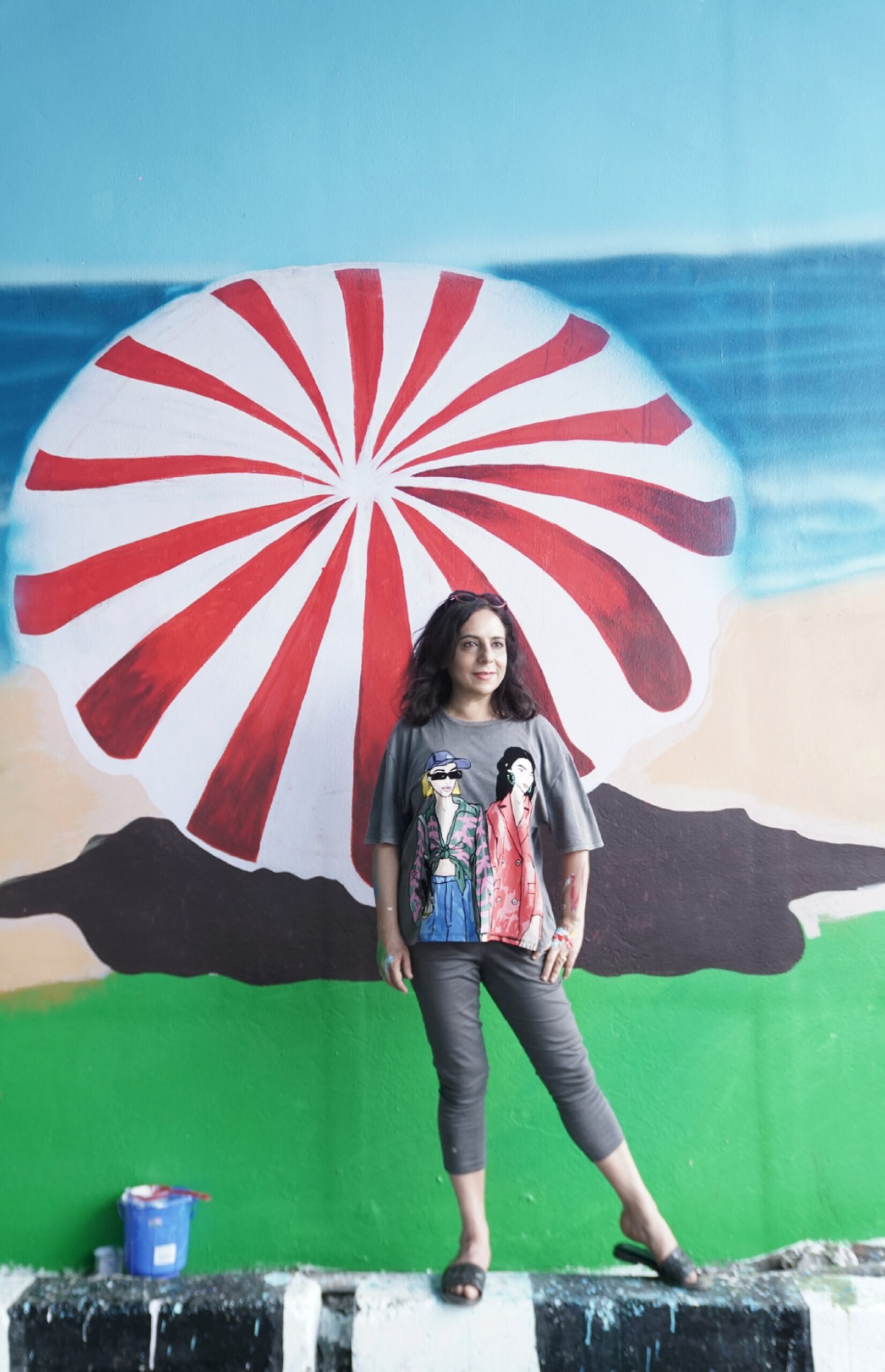 Favourite or most inspirational place ?
For me it will always remain the city of Paris . When I visit Paris, just walking around the city and listening to the sounds — pedestrians, cars, motorbikes, laughter and chatter spilling from the many street cafes — brings me inspiration. The feeling of being in a different environment than home is enough to spark new ideas for any traveler, but this is especially true in Paris, where there's so much art, history, and literature on every corner. It's therefore no surprise that the French capital has proved to be a fertile source of inspiration for artists, from Renoir and Van Gogh to Picasso.
What's the best piece of advice you've been given?
Keep painting no matter what the critics say. It's the process of doing that makes you evolve into an artist.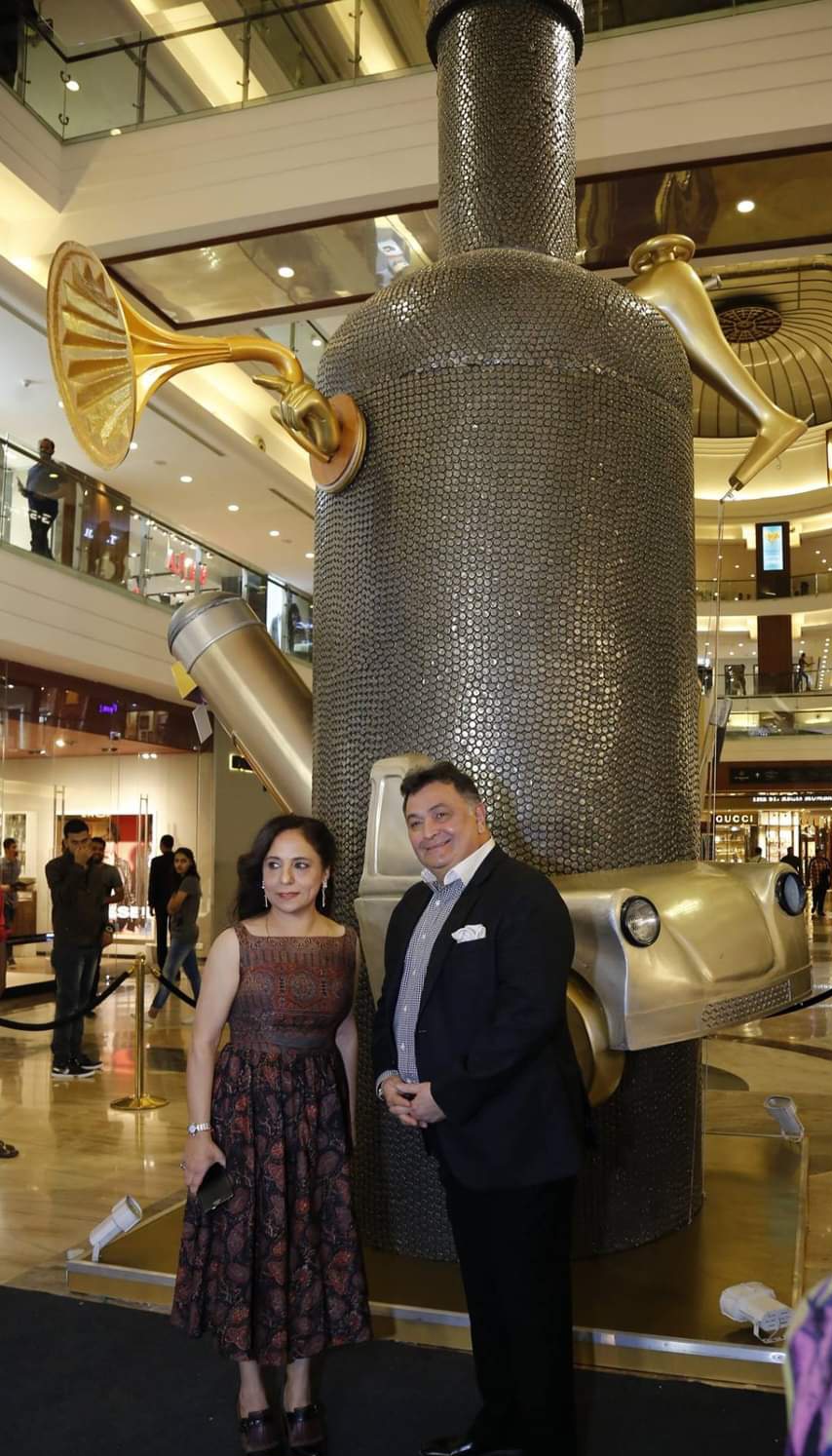 Professionally, what's your goal?
As an artist, you hope your work is collected by people and institutions who will protect and honour it. With an archiving system, you can track where your art ends up and who owns it, so that future generations can understand the life of your artwork. Your work can continue to provide a message after you are gone.
Future plans?
To be part of many more public spaces, where my art is reached and appreciated by everyone