Chef Chathura Dissanayaka, the Executive Pastry Chef at Banyan Tree Doha by Accor, since 2021, loves to create classic yet modern twist art pastry. Chathura came from humble beginnings, he spent most of his time in his mother's kitchen, where he was constantly cooking up new savory dishes and soon developed a love for different techniques, he used to roll out soft pastry dough from his homeland in Sri Lanka and he began his career at the age of 19. He attended Culinary School in Sri Lanka, with special certificates in pastry. He started working as a Commis 2 Chef at The Grand Hotel in 2005, afterwards he spent his professional years overseas and fine-tuning his skills at Kempinski Hotel, Mall of the Emirates in Dubai. In 2010, Chathura moved to Crowne Plaza in Dubai, Rixos in Saudi, and various luxury properties.
In 2016, Chathura eventually continued to explore his career and moved to Doha Qatar. He won Gold and Silver Medals from several Culinary Competition and continued his hand craft art work with magical taste of cakes and pastries to success.  As Executive Pastry Chef he manages the day-to-day operations of the kitchen and ensures that the best quality products are used throughout the property and ensures that all guest expectations are exceeded during every dining experience with his exquisite work and passion of luxury. Today, as his career moves forward his passion for cooking and baking continues to offer his services near and wide as well as how it brings people the dedication of nourishing food along with his heritage.
What inspired you to become a pastry chef? You've been in the industry for quite some time. Would you have done anything differently when first starting out?
My desire to become a pastry chef was sparked when I spent many hours in the kitchen with my mother as a child. She was an excellent home cook, and our time together taught me a great deal about the skill of making exquisite pastries and desserts. I would say I wouldn't have done anything differently from what I did.
What is the philosophy and ethos behind the food you create?
In that I believe that food should not only nourish but also inspire in every detail of my creation. I would always focus on the beauty and intricacy of minor elements. In every detail it recognizes the expertise and precision required to create something so little and delicate, as well as my artistry. I am a huge fan of simplicity and minimalism, as well as the utilization of high-quality ingredients to produce something little but exquisite. It gives significance of balance and harmony in the overall composition of my pastry or even the smallest piece can have a huge impact on the overall aesthetic.
What's the latest trend when it comes to baking and patisserie? What is the food (pastry) trend you wish would just go away?
The latest pastry trend in modern twist baking and patisserie art takes the basics from old books and develops new modern pastry art that will be not only flavor and taste but also eye-catching presentation and the experience that you will provide to your guests.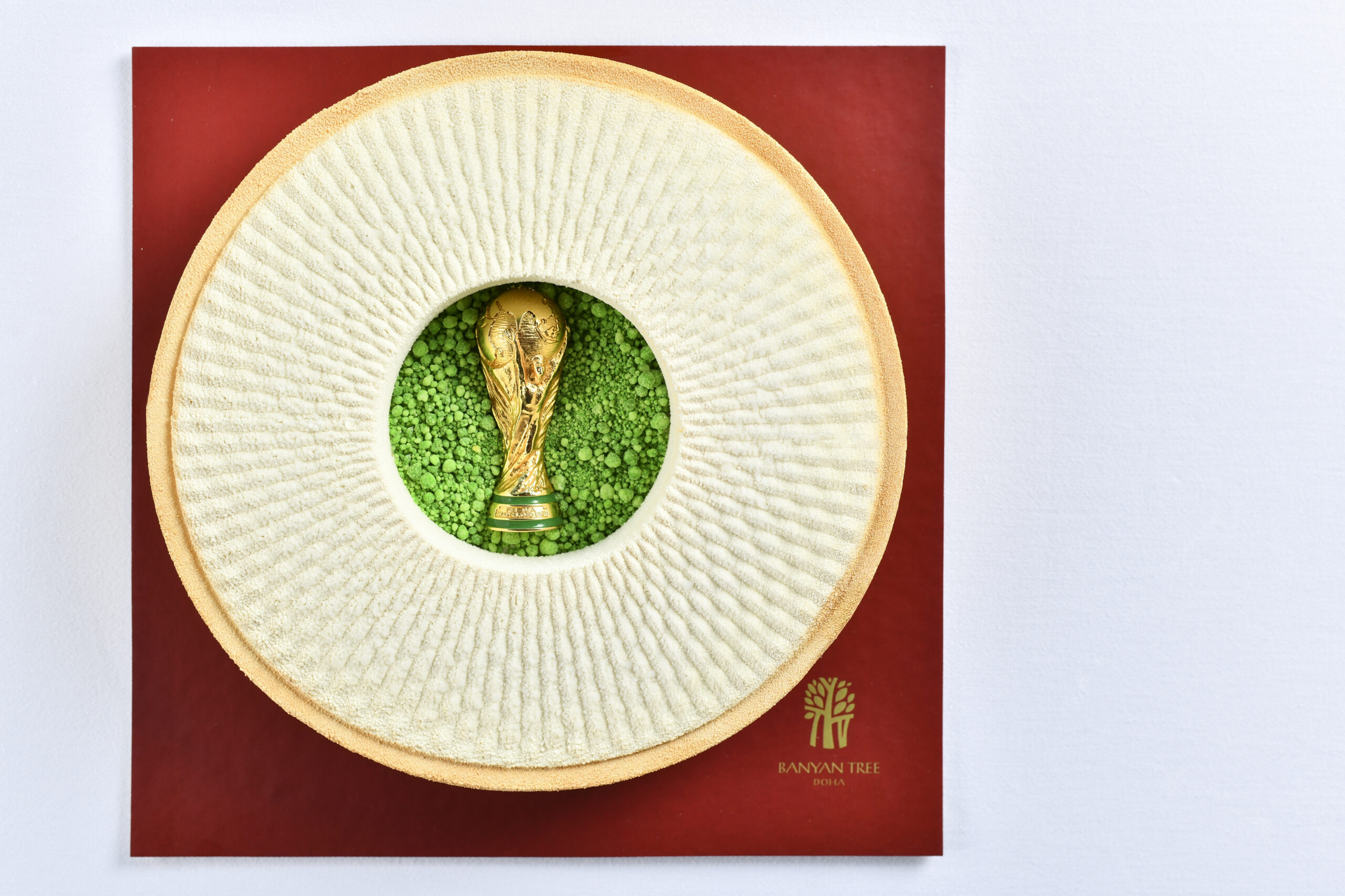 What is your baking style and the philosophy behind it?
There are no rules in my baking. I enjoy creating classics with a modern twist art combining local and foreign flavors from throughout the world, from Asia to the Middle East, Europe to Latin America. When it comes to baking, decorating and creating patisserie, I don't have any rules. I always enjoy creating special experiences for my guests.
What's your favorite comfort food? What's your favorite pastry or cake or baked product?
Ice cream is definitely my favorite comfort food, which I can consume in a large tub in one sitting.
Who or what was your inspiration to become a pastry chef?
Art is what inspired me to become a pastry chef. I love artwork. When I discovered that pastry is all about art, I fell in love with it. I took on my artistic talent from my mother, who constantly created the best drawings and artwork for my school. I began to learn from her and create the art world, which led me to choose my job as a pastry chef. To be a creative pastry chef, you must have artistic talent that allows you to create memorable moments for your guests.
What is your advice to aspiring pastry chefs?
Stay outside the box. Don't be afraid to experiment with your creativity. In the food realm, there are no rules; you can potentially create new recipes and ideas.
Future plans?
To eventually train a great deal of junior chefs, share my knowledge of what I've learnt, and produce new recipes in order to keep my pastry enthusiasm alive and to show others what I do as a pastry chef.
Would you consider yourself as an artist? Are you inspired by artists when you create your pastries? 
Certainly, I consider myself an artist. Pastry is an art form, and being artistic with pastry is a unique experience. I need to be a creative and artistic pastry chef, not just a pastry chef. All of the Patisserie that I have developed have art in them, from the Chocolate to the single bread. This is what I do, and I will continue to do it.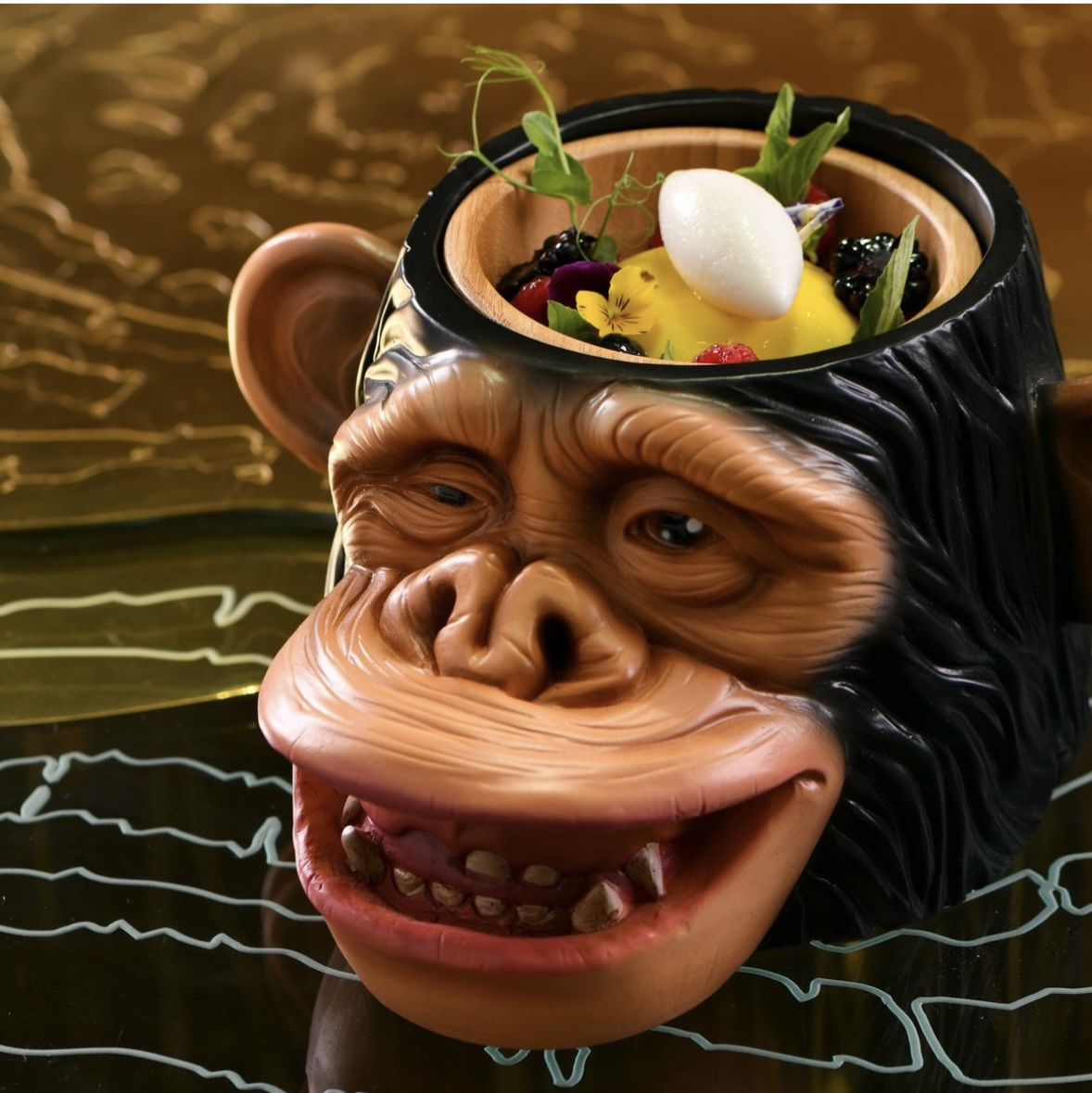 When you create different products everyday where do you get inspired from?
I've been influenced in a variety of ways, including media, cookbooks, and renowned chefs from all throughout the world. First and foremost, my favorite and excellent teacher, friend and mentor, Emmanouil Adam, for inspiring me and teaching me numerous fresh ideas and concepts. And inspired by Chefs Antoine Guichon, Antonio Bachour, Jordi Roca, and Ferran Adria.
The topic of local food, from smaller, specialized and personally known producers, is becoming more important. What are some of your local partners from whom you source?
Good quality products are very crucial in the food chain process to keep the best patisserie and I am a chef who likes to use all ingredients from around the world thus I am always looking for the best source. I'm keeping myself busy by researching new products. To obtain fresh and distinctive local ingredients, I spend time strolling around the local market and talking to suppliers to learn about new resources and keep myself updated.
What are the most important considerations when crafting your menu?
The golden rule in crafting menu ingredients is to provide a balance of distinctive products you wish to serve as well as enough classic dishes that will satisfy all palates. I also consider these factors, the type of guest and who is coming to your restaurant? How will you impress them? How to create an unforgettable experience for them. How can you keep them coming back? The cost of your dish and the standard of your food.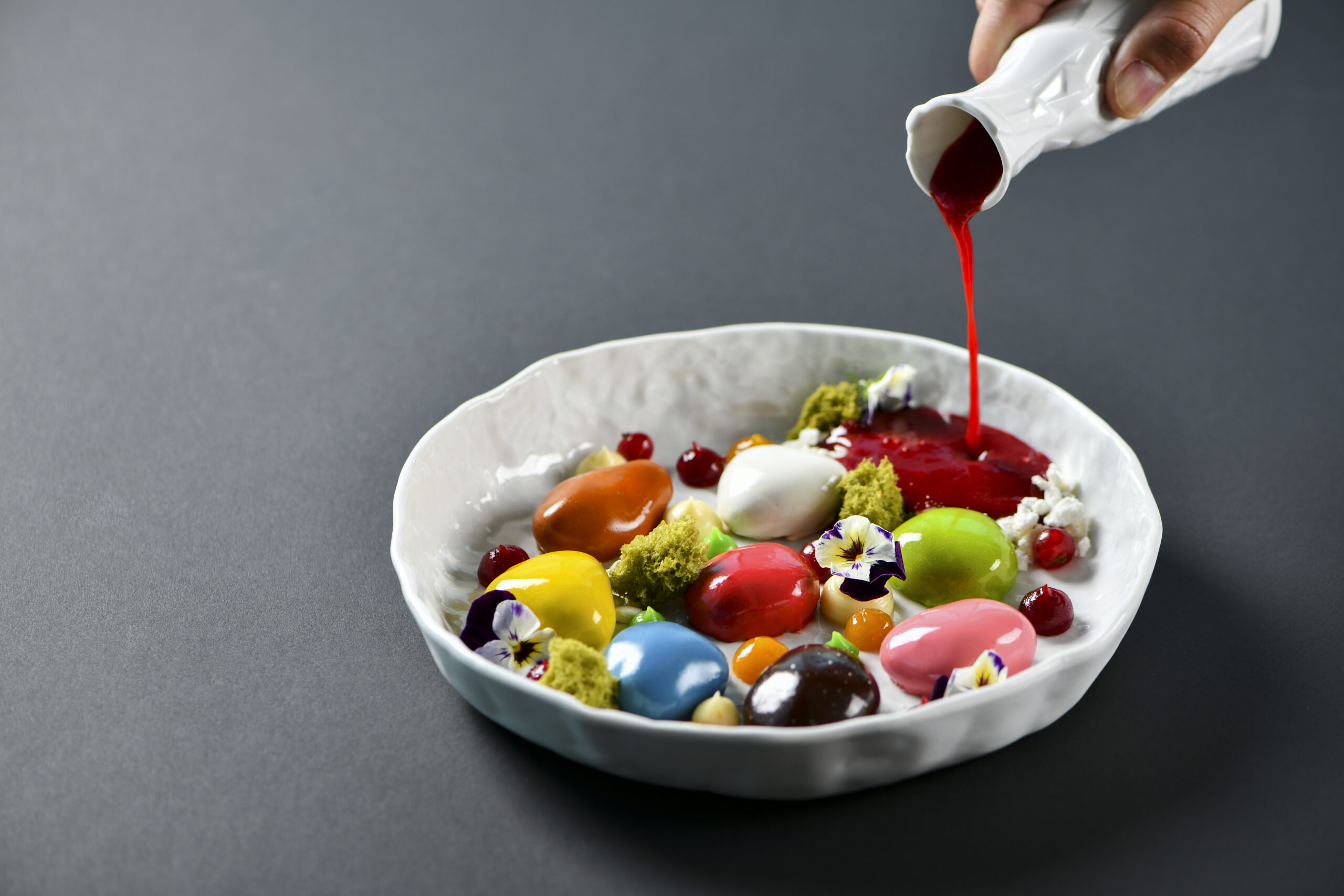 Have you ever consider being vegan chef? How practical is it being a pastry chef?
No, I don't think of myself as a vegan chef. With the current lifestyle trend of vegan or healthy pastries being requested by guests, you must have good knowledge and ideas for vegan and healthy creations to meet the needs of the guests. I've created a lot of vegan patisserie and nutritious products, and there are a lot of them on the market right now.
What's your signature dish?
The Rainbow River
With a variety of flavors including chocolate, Yuzu, raspberry, pistachio, orange, cardamom, green tea, coconut, and raspberry coulis as the river.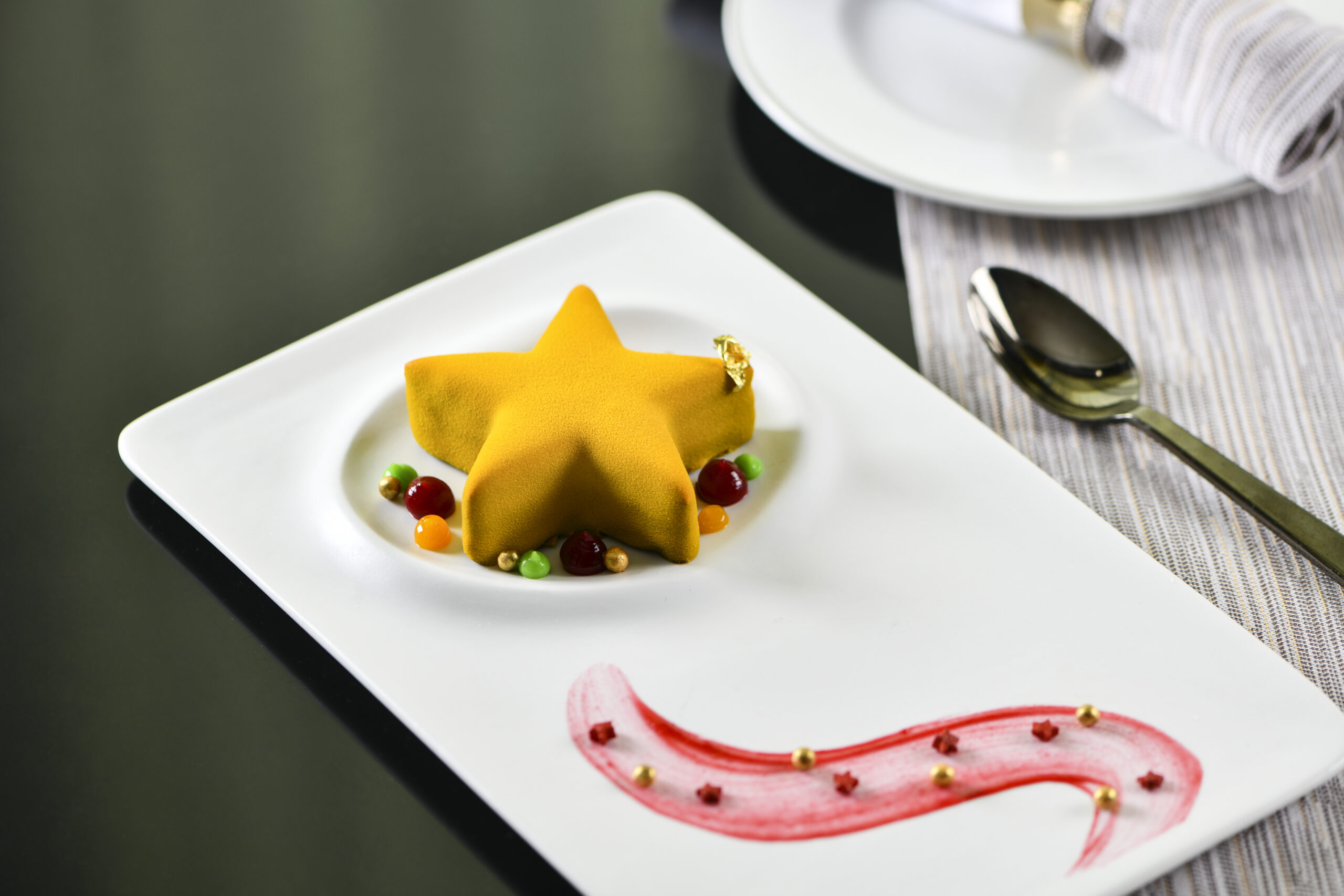 How can restaurants/hotels/chef communicate the approach of innovative sustainable plant-based food/food chains to others?
Restaurants assess sustainability by tracking water consumption, electricity consumption, food waste, and non-food waste. All of these can be reduced to make a restaurant more sustainable. That is why local food sourcing and serving plant-based dishes can also help a restaurant's sustainability.
Which is the dish you've created that you are most proud of and why?
The dessert that I am most proud of is the Lusail Stadium Cake. I enjoy creating new recipes with local flavors since they allow me to express my creativity and technical skills as a pastry chef. The process of creating The Lusail Stadium encourages me to think about how each component complements the others in terms of the taste, texture, and presentation that will create a lasting impact for the Fifa World Cup 2022.
Gulab Jamun Cream Brûlée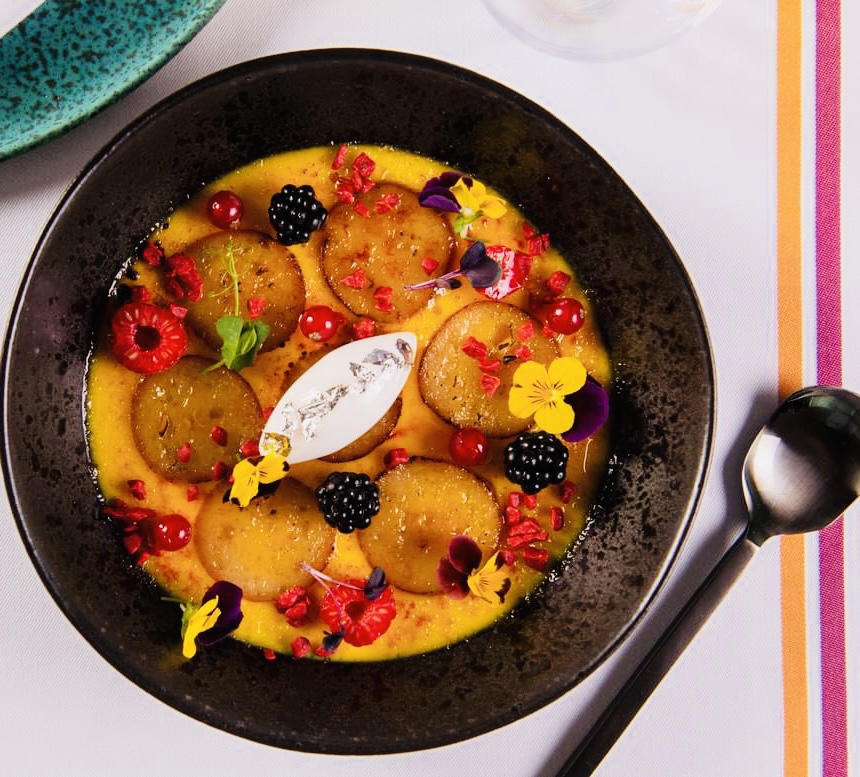 Ingredients
Cream brûlée
1L Double cream
150g Sugar
14pcs Egg Yolk
2g Saffron
Sugar Syrup
 200g Sugar
200g Water
1g Saffron
1g Cardamom
1tsp Rose water
1tsp Lemon juice
Gulab Jamun
100g Evaporated Milk
60g Plain flour
1/2 tsp Baking powder
20g ghee
1g Cardamom powder
1g Saffron
Sunflower oil for frying
Vanilla Ice cream
 250g Double cream
250g Whole milk
1pc Vanilla pod
100g Castor Sugar
6pcs egg yolk
Garnish
Fresh berries
Wet-proof strawberry crispy sosa
Wet-proof passion crispy sosa
Silver leaves
Edible flower
METHOD
Cream brulee
Add Double Cream in the saucepan.
In a bowl, separate the egg yolks from the egg whites
Whisk together the egg yolks, 150g of sugar and 2g saffron.
Strain the cream mixture through a fine-mesh into a bowl.
Slowly mix the hot cream into the egg yolks
Place the ramekins in a baking dish and pour very hot water into the baking dish until it fills the dish by about a third.
140 degree celsius Oven bake for 20 minutes and add the slice gulab jamum on the top and bake 15 to 20 minutes more until the custard edges have set, but the center wobbles slightly.
Remove from the oven and let cool completely before chilling.
Sugar Syrup
In a saucepan, slowly heat the cardamom, sugar, and 200g water to make the syrup. Allow the water to come to a boil before adding the sugar. Simmer for 10 minutes, then remove from heat.
Gradually add the rosewater, saffron, lemon juice and a little of its soaking liquid until you have a subtly flavored syrup. Set aside.
Gulab Jamun
In a mixing bowl, combine the evaporated milk, flour, and baking powder.
Stir in the cardamom and sugar mixture.
using your fingertips, rub in the 20g ghee until the mixture resembles coarse crumbs.
Add enough milk if needed to form a soft dough, make sure not to overwork the mixture.
Using a little sunflower oil, coat your hands and shape small portions of the dough into walnut-sized balls, about 3cm in diameter and 20g each. Make sure the dumplings are smooth and free of cracks and folds.
In a saucepan, add the sunflower oil and make it hot, keep stirring carefully using spoon and add the gulab jamun one by one if the gulab jamun settle down then it will burn. Use a slow flame, and slowly and patiently fry them out until it gives a golden color.
Remove from the oil and dry with oil paper.
Vanilla Ice cream
Pour the cream and milk into a pan
Add both the vanilla pod and bring to the boil
Meanwhile, whisk the sugar and yolks in a bowl. As soon as the creamy milk bubbles up the side of the pan, remove from the heat and slowly trickle the liquid on to the sugary yolks, beating well.
Pour the mixture into a clean heavy-based pan and stir over low-to-medium heat until the mixture thickens and a coating forms at the back of the spoon.
Leave to cool completely, stirring occasionally, then pass through a fine sieve.
Pour into the bowl of an ice-cream machine and churn until the ice cream is softly set.
Transfer it to a freezer proof container, cover and freeze for a few hours or overnight until firm.
Assembling
Sprinkle sugar over the cream brûlée and caramelize it with the cooking gas torch.
Quenelle the vanilla ice cream and place in the middle of the cream brûlée and garnish with the silver leaves on top of the ice cream
Decorate the dessert by sprinkling the crispy strawberry and passion sosa, fresh berries and edible flowers over the cream brûlée
Serve cold and enjoy!