Originally from the northern Philippines but now settled in British Columbia, Canada Chef Carl has been in the industry for 15 years and has worked in all the restaurant stations ultimately finding true passion and joy in the pastry section. He graduated with a degree in Hotel, Restaurant, and Institution Management major in Culinary Arts at the De La Salle – College of St. Benilde in Manila, Philippines. Chef Carl started his career in an Italian restaurant in the Philippines as a pizza cook and while also venturing on an online cupcake business with a couple of friends. Shortly after, he went on to work as a manager for a French restaurant and bakeshop to learn the business aspect of the operation and only to realize that the fulfillment truly comes from the creative side. He then traveled overseas to the Middle East in Kuwait to work for Fauchon and worked his way to a chef de partie position before he left for the US to continue my career with the Westgate Hotel in San Diego, California.
He also did a quick cooking stint in Gulf Shores, Alabama as he waited for a move to Canada.  Initially he worked for The Keg restaurant as a line cook as part of the immigrating process of a worker's permit. While the job specifics wasn't a personal choice as the permit requires to be partnered to a sponsoring company, he still enjoyed the time he had cooking in all the stations of the line. Upon receiving his residency he then hurried back to pastry and baking and worked for The Banff Centre for Arts and Creativity in Alberta where he had a good introduction of the Canadian and north American pastry scene. After that he went on to move to British Columbia to take the pastry chef position at the Spirit Ridge by Hyatt in Osoyoos where he has learned about indigenous culture and cuisine. This exposure taught him a great deal of appreciation for quality ingredients, seasonality, foraging, and respect for the land. Currently, he works as the pastry chef of the Wickaninnish Inn in Tofino, a Relais & Chateux member. He overseas the daily operations of the pastry and bakery department of the resort and the Inn's restaurant, The Pointe Restaurant.
What inspired you to become a pastry chef? You've been in the industry for quite some time. Would you have done anything differently when first starting out?
My mother was a home baker. Growing up witnessing her make occasion cakes and pastries just seemed magical to me and I thoroughly enjoyed the task of taste sampling any chance she allowed me. I believe in destiny and divine timing, but if I were to do something differently it would be to put the craft ahead of the journey. For the longest time, it was immigrating that was in the forefront of the plans and that meant setting aside opportunities to make way for the long-term goal. I would've probably sought out mentors to guide me when I was starting out.
What is the philosophy and ethos behind the food you create?
I don't have a specific philosophy when I conceptualize and draft ideas. Sometimes, the inspiration comes from a design perspective, other times from an ingredient in season, and other times personal and or childhood favourites. Ultimately though I like creating aesthetic and flavour balanced dishes.
What's the latest trend when it comes to baking and patisserie? What is one food (pastry) trend you wish would just go away?
Lately, I've been seeing a lot of cultural driven inspirations when chefs create their dishes. Which I think is great because we are able to put indigenous ingredients to global exposure and appreciation. The pastry trend I'd wish away would probably be realism cakes. Realistic fruit entremets are great but when you turn cakes into shoes or an oven or pizza or a steak is creative for sure but can also be borderline ridiculous at times.
What is your baking style and the philosophy behind it?
I would say quite French in technique as most pastry chefs are but I believe in trial and error philosophy where really there aren't any failures in the process just developmental learnings and progress.
What's your favourite comfort food? What's your favourite pastry or cake or baked product ?
Fried chicken and Filipino-style Spaghetti and NY Cheesecake and Tiramisu are my favourite baked products.
Who or what was your inspiration to become a pastry chef?
I come from a family of great cooks, my grandmother was a town's cook back in the day where she and a group of elderly women would be summoned for any and every occasion. My aunt who raised me was also an  amazing cook whose soulful meals are hard to beat. They are my cooking heroes but the inspiration to pursue baking came from my mother who was a self-taught home baker. She never made elaborate pieces or conceptualize any plated dessert dishes but everything she's ever baked for me had heart.
What is your advice to aspiring pastry chefs?
Don't be fooled by the 5 second reels and glossy photos you see on social media. It's a demanding job and you have to ground the work in passion and dedication. There is so much technique and skills to develop and fundamentals to master so have a good base knowledge of everything and don't be intimidated to learn.
Future Plans?
Ultimately, I would love to open a quaint bakeshop/cafe and also to become an instructor someday soon.
Would you consider yourself as an artist? Are you inspired by artists when you create your pastries? When you create different products everyday where do you get inspired from?
Yes, I believe cooking, pastry & baking is an art and craft. I feel that it demands passion and soul to find great fulfillment in pursuing it. I am always inspired by a lot pastry chefs around the world but I also derive inspiration from architecture, even music at times, and also nature and it's seasonality.
The topic of local food, from smaller, specialized and personally known producers, is becoming more important. What are some of your local partners from whom you source?
I am quite privileged to be living and working here in British Columbia and are home to a bounty of resources that produce season's best ingredients. Specifically here in Vancouver Island we work with an organization called Tofino Ucluelet Culinary Guild that sources out the seasons harvest from the Island's farmers, fishermen, foragers and food producers in west coast.
What would you say is the key/winning feature of your creations ?
I think the winning feature is of  this chocolate dessert is that upon tasting, it provides guests with complexity in texture and flavour in that although chocolate is familiar the combination of a cheesecake, a mousse, fudge brownie and crunchy velvet flock allows them to experience chocolate in another facet.
What are the most important considerations when crafting your menu?
I would say much more recently it's the seasonality of ingredients. I've been fortunate enough to be able to have a variety of products that I get to utilize when it's at it's peak potential and it can just be magical especially when perfectly paired in contrast and or compliment and you are rewarded with a delicious tasty plate.
Have you ever considered being a vegan chef? How practical is it being a pastry chef?
I have never considered becoming a vegan chef but admittedly there has been an ever growing demand for sustainable and "healthy" alternative in the guests' choices. It allows for careful and innovative creativity in producing menus that cater to the lifestyle but in my humble opinion there are just some ingredients that are just straight up irreplaceable, like really good butter.
What's your signature dish?
I don't know if I can really say it's my signature dish, but I have always had "Chocolate Damnation" in my tool box. I try and update it to look and be presented differently but the the key components keep still. It's always a hit.
How can restaurants/ hotels/ chefs communicate the approach of innovative sustainable plant-based food/ food chains to others?
I think awareness is key in the way we market our ingredients and how we effectively present them to our clientele as not just a trendy choice but also a great way to balance our resources.
Which is the dish you've created that you are most proud of and why?
The dish I am most proud of is the "Building Blocks" dessert I created. It got picked up for a column on an online magazine. It featured the fundamental ingredients of a pastry shop, flour, dairy, chocolate, acid, and sugar. I was also able to sneak in some heritage components to it making it close to heart.
CHOCOLATE DAMNATION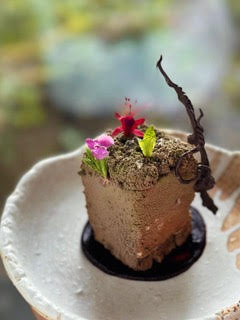 Caramel Sauce
Ingredients:
1 cup heavy cream
2 tbsp unsalted butter
¼  tsp salt
2 cup granulated sugar
½  tsp fresh lemon juice
Procedure:
Heat cream, butter and salt in a sauce pan.
In a separate sauce pan combine the sugar and lemon.
Mix until it resembles coarse sand. Cook over medium high heat for 7 to 8 minutes until a caramel colour is achieved stirring constantly to dissolve lumps.
Add cream to stop the cooking and stir to incorporate.
Yield 2 cups.
Caramel Chocolate Cheese Cake
Ingredients:
1 tsp unsalted butter
1 cup finely chopped toasted hazelnuts
½  cup hot brewed coffee
½  cup caramel sauce from above
4 oz. semi sweet chocolate, cut small
2 oz. bittersweet chocolate, cut small
1 lb. cream cheese, softened
½  cup Granulated sugar
¼  tsp salt
3  ea. eggs
½  tsp vanilla extract
Procedure:
Spray pan with coating, line with parchment and spray parchment with coating and lightly flour.  Coat the bottom of the pan with 1C chopped hazelnuts.
In a double boiler melt the coffee, caramel sauce and both chocolates.  About 6 minutes.  Remove from the heat and stir until smooth.  Reserve.
Place the cream cheese, sugar and salt in the mixer and beat on low for 1 minute.  Scrape down sides and beat on medium for an additional 2 minutes.  Scrape down bowl and add the eggs one at a time while beating on medium allowing each egg to fully incorporate.
Add the vanilla to the chocolate caramel mixture and mix thoroughly.  Slowly add the chocolate mixture to the cream cheese on medium speed.  Scrape down sides consistently to avoid lumps.
Continue to mix on medium for 2 minutes.
Pour batter into pan over the hazelnuts and set to bake in a water bath in the center of the oven.  (Convection low fan in the center!!)  Bake until an internal temperature of 170 degrees is reached. Turn the oven off and let the cake stand for an additional 20 minutes.  Remove and let stand at room temperature for 20 minutes.  Transfer to the cooler for 20 minutes then place in the freezer before trying to remove from the pan.
Chocolate Fudge Cake
Ingredients:
2 ¼  cup all – purpose flour
3 tbsp cocoa powder
¾  tsp salt
1 ½  cup un-salted butter
15 oz. semi sweet chocolate
2 ¼  cup sugar
¾  cup light brown sugar
9  ea. large eggs, room temperature
3  tsp vanilla extract
Procedure:
Pre heat oven to 350 degrees F.  Butter pan and line with parchment paper, spray with pan coating.
In a medium bowl sift flour, cocoa and salt; set aside
In a large sauce pan heat the butter on low until melted.  Add the chocolate and stir constantly until smooth.  Remove from heat and stir in both sugars until combined.  Cool slightly.
Pour batter into prepared pan and even.  Bake until a toothpick inserted into the center comes out just slightly moist 20 to 30 minutes.  Let cool completely before un molding.
Chocolate Mousse
Ingredients:
384 gm semi sweet chocolate (for white 339g white chocolate)
3 ea. whole egg
15 gm rum
15 gm cognac
4 cup heavy cream
4 ea. gelatin sheets (for white 5ea gelatin sheet)
Procedure:
Bloom gelatin in rum and cognac until pliable.
Place chocolate over a double boiler until melted.  Set aside to cool slightly.
Place gelatin over heat to melt.
Whip eggs in mixer until aerated and thick.  (apply heat to assist the process)
Add the gelatin to the egg mixture.
Whip cream to stiff peaks
Fold egg into melted chocolate then fold in the cream.
Place in desired molds and refrigerate.