Chef Jonathan Negre trained in the most prestigious Parisian establishments, from Ducasse à Robuchon by way of Arnaud Larher MOF pastry chef, he moved to London and became pastry chef for Joel Robuchon. In 2012 he decided to create his own brand near Bordeaux and opened a pastry and chocolate shop. He decided to complete his professional activities and planned to offer training courses dedicated to professionals in the bakery and chocolate industry.
What inspired you to become a pastry chef? You've been in the industry for quite some time. Would you have done anything differently when first starting out?
It was my destiny. I helped out a family's friend in his pastry shop when I was 14-15 years old. More than a pastry itself, I was drawn by this sense of finding my purpose in life. Besides starting at quite a young age, I was a very shy teenager, I was more communicative and open only after i became a party chef.
 What is the philosophy and ethos behind the food you create?
Taste is my focus throughout the whole process. From the produce, to the way you decide how to work with it and the combinations, I keep tasting, assessing and refining. Building a clean structure of flavours is key so the palate can read all the flavours, understand and appreciate them.
What's the latest trend when it comes to baking and patisserie? What is one food (pastry) trend you wish would just go away?
I see that piping has become a real trend. Each pastry chef likes to showcase their skills and creativity through it. It is technical and artistic. The mousse kind of cakes are definitely not my piece of cake. Usually made only of a standard sponge and some mousse, they are tasteless. Therefore unable to provide any pleasure or emotional satisfaction.
What is your baking style and the philosophy behind it?
I believe in a technical yet effortlessly enjoyable dessert. Being technical is a must, yet it should not overshadow the genuine happiness that a cake can bring. Flavours should be worked and structured in a harmonious way.
What's your favourite comfort food? What's your favourite pastry or cake or baked product ?
For a savoury dish, i would say a roasted fee-range chicken with French fries. I love cooking at home for the family and my son usually joins me. For sweets, I love a good Saint-Honoré. Although, it is changing with the season, then the mood and so on. During summer I'd rather go with fruits, when it's cold i prefer something more generous with chestnuts.
Who or what was your inspiration to become a pastry chef?
Working for world-class chef Joël Robuchon, has taught me some of the most important lessons. I truly enjoyed working with him and agree with his vision. I embrace his culinary philosophy to the fullest.
What is your advice to aspiring pastry chefs?
I believe in 2 qualities: working tirelessly will pay back and one needs to accept that it will take time to go where you need to be.
Future Plans?
For the time being I am strongly focusing on the school I have founded with friend and renowned chef, Joakim Prat: The French Culinary School. We are looking to enrich our offer of trainings and masterclasses, providing high-standards, curating professionals from all over the world, helping the next generation. For the rest, I trust destiny.
Would you consider yourself as an artist? Are you inspired by artists when you create your pastries? When you create different products everyday where do you get inspired from?
It is up to others to consider someone as an artist. I am naturally attracted to the arts, painting in particular. It must play a certain part in the creation process. Nevertheless, I follow the same path: working on flavours, textures and contrasts. I do build the pastry in my mind, then experiment and finally design the visual.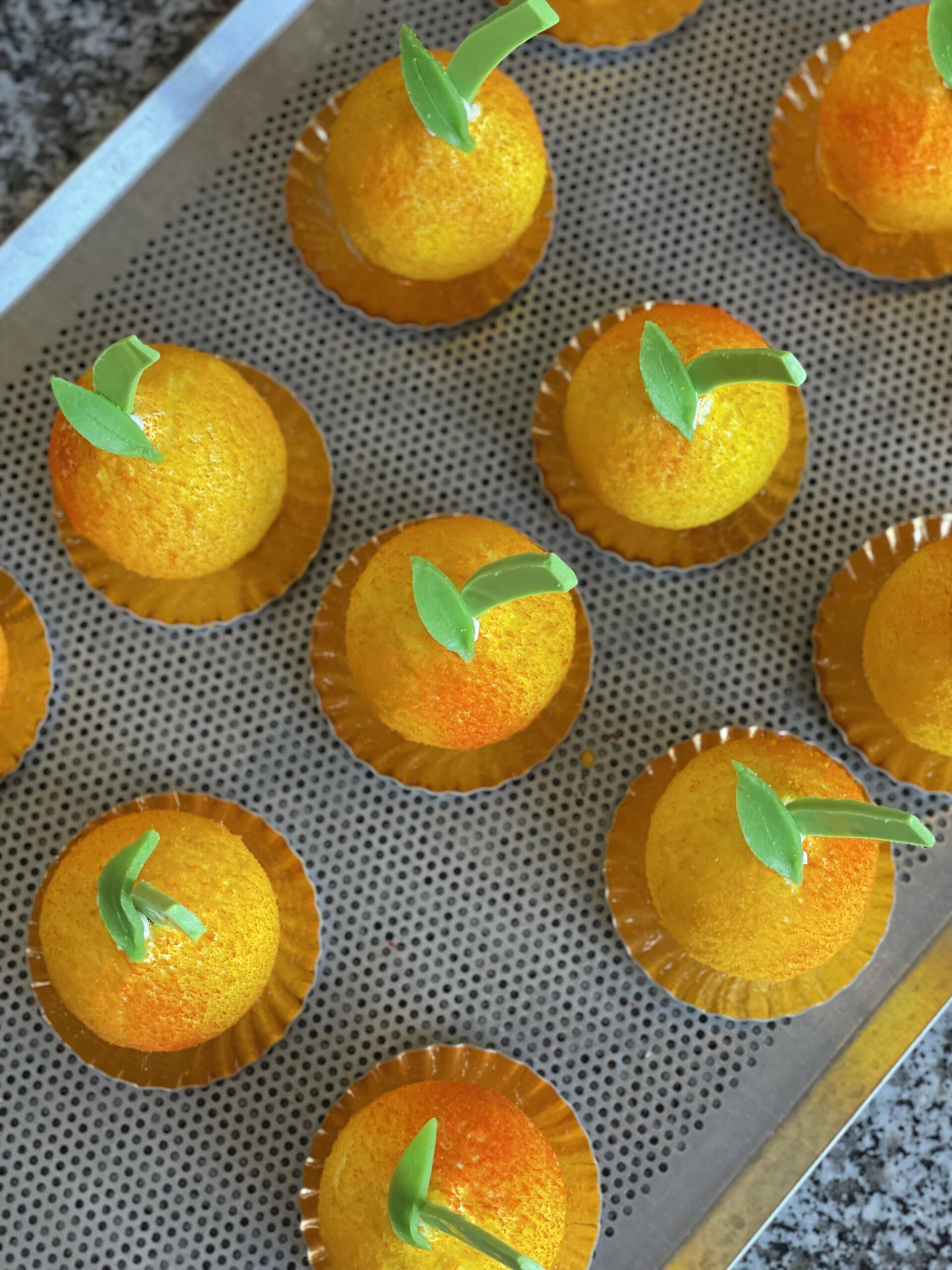 The topic of local food, from smaller, specialized and personally known producers, is becoming more important. What are some of your local partners from whom you source?
I do enjoy to have this experience and dialogue with local suppliers. Two of them being 'Moulins Belot', a family company that works on providing flours featuring not only quality but consistency. The second is more original in our field: Guillaume Giais truffle from which I have developed some bonbons and spreads.
What would you say is the key/winning feature of your creations ?
Balance in flavours and in textures is key when it comes to creating a fantastic dessert.
What are the most important considerations when crafting your menu?
First and foremost, crafting a menu has to be respectful of the seasons. There is no way around it if you are looking at providing the best. Then, I like to play with the various range of pâtisserie offering, whether it is a cake, a tart, a chou. In a restaurant, you can experiment with more freedom to suggest cold and hot plated desserts, ones that can be shared with family and friends.
Have you ever considered being a vegan chef? How practical is it being a pastry chef?
I do believe that vegan options should be offered, although I like keeping my mind open.
What's your signature dish?
Paradis Blanc is a signature cake and once it became a part of my pastry shop, I just could not remove it. It was back by popular demand. Even for Christmas I would have it as the log cake!
Which is the dish you've created that you are most proud of and why?
Might just be the next one! Our world is changing so fast providing new tools and techniques that it keeps the enthusiasm and creativity flowing !
Recipe of DUALITÉ by Chef Jonathan Nègre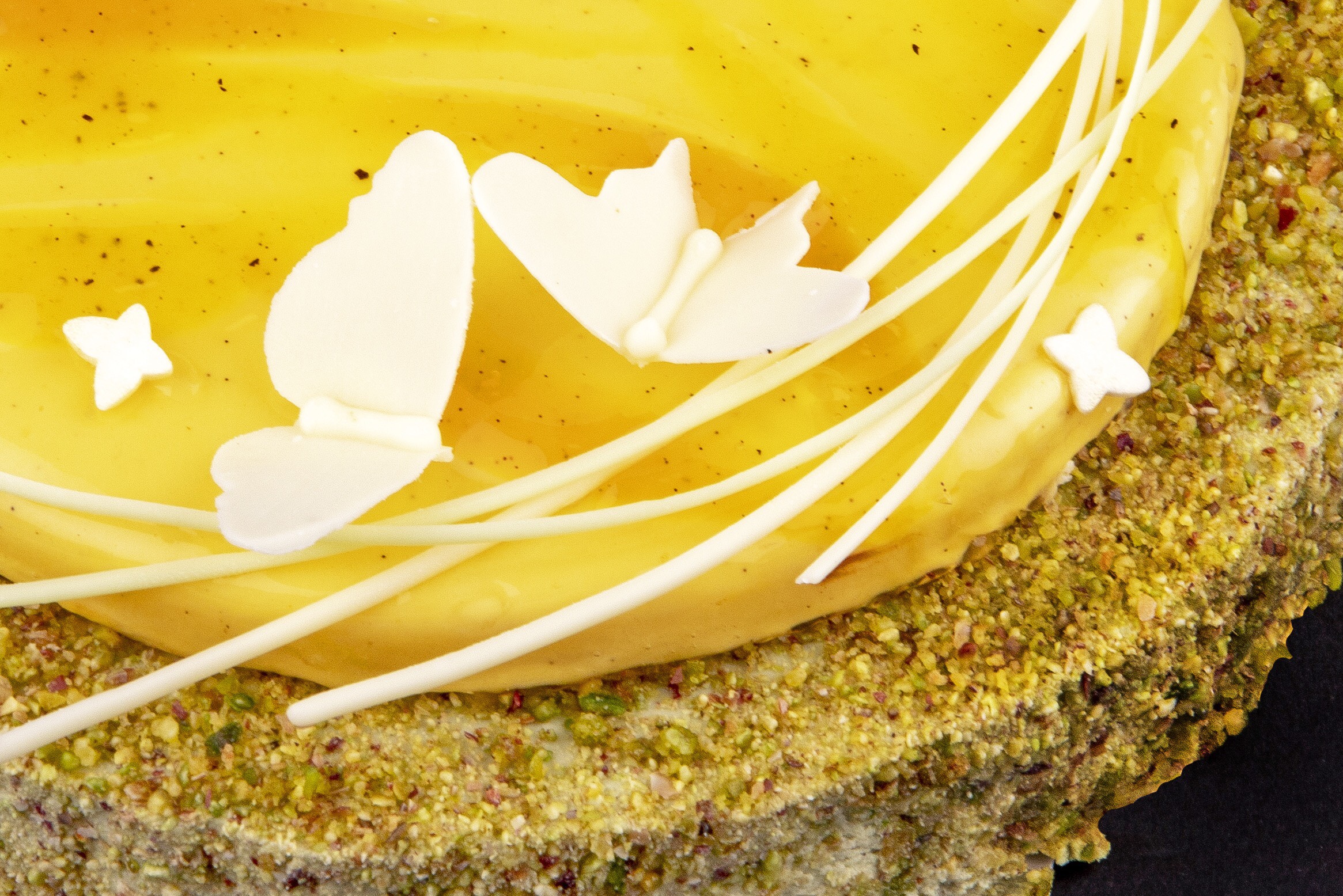 Marzipan-pistachio sponge cake
Marzipan paste 370 g
Whole eggs 480 g
Flour 95 g
Potato starch 35 g
Pistachio paste 70 g
Crystal sugar 55 g
Grapeseed oil 160 g
In the bowl of an electric mixer, combine the marzipan paste with crystal sugar and pistachio paste.
On speed 2, add gradually the whole eggs.
Sieve the flour and potato starch.
Gently fold the into the first mix and beat using a spatula.
Finish by pouring the grapeseed oil.
Spread 1kg on a sheet pan, then bake in a convection oven with the damper closed at 160°C for 12 minutes.
Smooth pistachio cream disc
Semi-skimmed milk 400 gr
Vanilla bean 1/4
Crystal sugar 45 gr
Pectin NH 4 g
Egg yolk 60 g
Corn flour 32 g
Butter 100 g
Pistachio paste "cresco": 80 g
Salt 1 g
Whipped cream 100 g
Make a classic pastry cream, then add the pistachio and bring to a boil for 4 minutes.
Add in the gelatin and cook to 34°C and combine with the butter cut into pieces using a had blender to emulsify.
Kumquat marmalade
Slice fresh kumquats to 2mm thick (remove the pit) 1000g
Sprinkle over the kumquat slices, wrap un cling film and refrigerate overnight. The following day, drain using a sieve.
Crystal sugar (1) 500 g
Filtered water 500 g
Crystal sugar (2) 200 g
Yellow pectin 40 g
Vanilla bean 1 pc
Lemon juice 40 g
In a pan, heat water with sugar (1) to 40°C, then pour the remaining sugar (2) previously mixed with the yellow pectin.
Bring to a boil, add the grated vanilla bean, and boil again 4 minutes.
Add the sliced kumquats, cook for 15 minutes on medium heat and add the lemon juice.
Exotic cream
Eggs 400 g
Crystal sugar 150 g
Pectin NH 6 g
Passion fruit purée 100 g
Mango purée 200 g
Lemon juice 40 g
Butter 500 g
Vanilla bean 1/4
Combine the sugar with the pectin.
In a double boiler, cook the eggs, purées, lemon juice and vanilla bean to 40°C.
While whisking, gradually add pour the sugar-pectin. Cook for an hour, then lace in a blast-freezer.
Once at 37°C, add the butter cut into pieces and mix using a hand blender.
 Make a good emulsion, then pour into cake rings or moulds of 14 cm in diameter and 1 cm height.
 Place again in the blast-freezer for 30 minutes and unmould. Store in the freezer.
Passion fruit glaze
Filtered water 200 g
Passion fruit, mixed 100 g
Pectin NH 12 g
Crystal sugar 15 g
Citric acid 2 g
Glucose 50 g
In a small pan, place all the liquids.
Separately mix the sugar and pectin.
Then gradually pour in while whisking. Bring to a boil for 4 minutes and finish by adding the citric acid.
Mango glaze
Mango purée 250 g
Filtered water 100 g
Pectin NH 10 g
Crystal sugar 30 g
Citric acid 2 g
Glucose 30 g
Vanilla powder 1 g
In a small pan, place all the liquids.
Separately mix the sugar and pectin. Then gradually pour in while whisking.
Bring to a boil for 4 minutes and finish by adding the citric acid.
Assembling and finishing
Cut 2 circles of pistachio sponge cake of 18 cm in diameter.
Spread a very thin layer of white chocolate and proceed to a reverse assembly.
Spread 200 g of pistachio cream using a palette knife, then arrange the sponge cake (not layered with white chocolate), press down slightly.
Spread again more pistachio cream (350 g) and finish with the second sponge cake, press down and place in the blast freezer for 10 minutes.
Sprinkle over with pistachio powder to give a velvet effect.
Place the pistachio ensemble on a gold cardboard, pipe 200 g of kumquat marmalade in the centre, then slightly spread with a palette knife.
Onto the exotic crémeux glaze using both the passion fruit and mango crémeux. Cover with neutral glaze and arrange on the pistachio disc.
Finish with the white chocolate decor: the small butterflies made with a cookie-cutter and thin stems made with a chocolate serrated comb.