Heinrihs Erhards is an award-winning chef with extensive experience in the realm of hospitality and gastronomy. With a remarkable track record of overseeing hospitality operations for high-profile events, propelling deluxe global five-star hotels and Michelin-starred restaurants towards success, and providing new and unique customer experiences, Heinrihs is a seasoned maestro in the culinary world. His commitment to delivering extraordinary service is unparalleled, as is his expertise in planning and executing large-scale gatherings, from lavish affairs for thousands of guests to intimate private social and charitable functions. In his most recent role as Sous Chef at Dinner by Heston Blumenthal Dubai, at Atlantis The Royal, his primary responsibility was to ensure that brand standards were met and that the culinary offerings remained uncompromised despite the company's ongoing expansion.
He consistently pushed the boundaries of quality and operational excellence to enhance the offerings, all the while aligning new innovations with the core concept. His relentless drive for improvement consistently elevated the business, both in terms of its commercial success and qualitative aspects, thereby further enhancing the value of an already thriving restaurant group. Prior to joining Atlantis The Royal, Heinrihs had held roles at Kempinski Hotel Group at Grand Hotel Kempinski Riga as Executive Sous Chef, and Task Force Executive Sous Chef at Kempinski Hotel Das Tirol Austria, spearheading all operational aspects with an emphasis on the seamless running of daily operations.
 Do you have a favourite time of the year or set of ingredients that you look forward to working with?
My favorite time of the year is during the autumn season when a variety of fresh ingredients, such as pumpkins and mushrooms, are available. I enjoy incorporating them into my dishes. One of my go-to recipes during this time is a hearty pumpkin soup. I love the rich and earthy flavors of the roasted pumpkin combined with fragrant herbs and spices.
Another dish that I love to make is a mushroom risotto. The earthy and umami flavors of the mushrooms pair perfectly with the creamy and cheesy rice. Additionally, I like to experiment with different pumpkin desserts, like pumpkin pie or pumpkin bread. The natural sweetness of the pumpkin adds a delicious flavor to these treats. Lastly, I can't forget about pumpkin spice lattes. The warm and comforting flavors of cinnamon, nutmeg, and cloves make it the perfect autumn beverage.
What would you do if you weren't a chef?
If I weren't a chef, I would most likely be involved in the field of hospitality or culinary education. I have a passion for sharing my knowledge and skills with aspiring chefs. In particular, I would love to teach others about the art of creating delicious and visually appealing dishes. Additionally, I would enjoy mentoring and guiding young culinary professionals in their career paths. Furthermore, I would also be interested in working with restaurants and hotels to help them improve their menu offerings and overall dining experience. Moreover, I would relish the opportunity to organize culinary workshops and events to promote culinary appreciation in the community.
Do your personal preferences influence the menu at all?
Yes, my personal preferences do influence the menu to a certain extent. I believe that a chef's identity is reflected in their culinary creations, and it is important to stay true to one's style and taste. However, it is also crucial to consider the preferences and dietary restrictions of the customers. By striking a balance between my personal preferences and the
customers' needs, I aim to create a menu that satisfies both parties. This allows me to showcase my culinary expertise while ensuring that everyone can enjoy the dining experience. Additionally, I believe that constantly evolving and experimenting with new flavors is essential to keep the menu fresh and exciting. Therefore, I am open to incorporating new ingredients and techniques into my dishes, while still maintaining my unique style.
 What do you think is the most over-hyped food trend currently?
In my opinion, the most over-hyped food trend currently is the obsession with avocado. While it is a nutritious fruit, its excessive use in various dishes has become somewhat cliché. However, there are other exciting food trends that deserve more attention. One such trend is the rise of plant-based meat alternatives. With advancements in technology, these alternatives mimic the taste and texture of real meat, making them a popular choice among vegans and meat-eaters alike. Additionally, the growing popularity of fermented foods, like kimchi and kombucha, is another food trend worth exploring. These foods not only provide unique flavors but also offer numerous health benefits due to their probiotic properties.
Furthermore, the concept of farm-to-table dining has gained significant traction in recent years. This trend emphasizes the importance of locally sourced, fresh ingredients, promoting sustainability and supporting local farmers. Lastly, the resurgence of ancient grains, such as quinoa and amaranth, has been a refreshing change in the culinary world. These grains are not only rich in nutrients but also add a delightful texture to dishes. Overall, while avocado may have had its time in the spotlight, there are plenty of other food trends that are worth exploring and embracing.
When are you happiest?
I am happiest when I see my guests enjoying the food that I have prepared. Their satisfaction and appreciation drive me to constantly improve and innovate in the kitchen. I take their feedback seriously and use it as a motivation to experiment with new flavors and techniques. It brings me joy to see their smiles and hear their compliments as they savor each bite. Creating memorable dining experiences for my guests is my ultimate goal, and their enjoyment is the greatest reward I could ask for.
When you're not in the kitchen where can you be found?
When I am not in the kitchen, you can often find me exploring local food markets or trying out new restaurants. I believe it is important for chefs to stay updated with the latest culinary trends and flavors. This allows us to constantly innovate and bring new experiences to our customers. Additionally, exploring different cuisines and ingredients helps expand our knowledge and creativity in the kitchen. It also allows us to discover new techniques and flavor combinations that we can incorporate into our own dishes. Keeping up with the latest food trends ensures that we are able to cater to the evolving tastes and preferences of our customers.
Where is your favourite place to dine?
My favorite place to dine is a small family-owned restaurant that serves authentic local cuisine. I appreciate the simplicity and homely atmosphere that such establishments offer. The menu is filled with traditional dishes that have been passed down through generations. The flavors are rich and comforting, bringing back memories of home-cooked meals. The staff is friendly and attentive, making me feel like a part of their family. I always leave feeling satisfied and content, knowing that I've experienced a true taste of the culture and traditions of the region.
What's your favourite takeaway or comfort food?
When it comes to takeaway or comfort food, I have a weakness for a well-made sourdough pizza. Its combination of flavors and textures never fails to satisfy my cravings. The tangy and slightly chewy crust, topped with a generous amount of gooey melted cheese, is simply irresistible. The smoky and savory notes from the perfectly charred vegetables and cured meats add another layer of deliciousness to every bite. Each slice is a symphony of flavors, with the sourness of the tomato sauce balancing out the richness of the cheese and toppings. Whether enjoyed hot out of the oven sourdough pizza always hits the spot.
What makes the local food scene so exciting?
The local food scene is exciting because it offers a diverse range of flavors and cuisines. It reflects the cultural richness and culinary heritage of the region, making it a delight for food enthusiasts. The fusion of traditional ingredients with modern cooking techniques creates unique and innovative dishes that satisfy both locals and tourists alike. From street food stalls to high-end restaurants, there is something for everyone's palate. Exploring the local food scene not only tantalizes the taste buds but also provides a glimpse into the history and traditions of the area.
Which is the dish you've created that you are most proud of and why?
The dish I am most proud of creating is my signature dish, "Local sturgeon with butternut squash purée and American crayfish sauce." It is a harmonious blend of flavors and textures that truly showcases my culinary expertise. The delicate and succulent sturgeon is perfectly complemented by the creamy and velvety butternut squash purée. The rich and flavorful American crayfish sauce adds a delightful complexity to the dish. Every element has been carefully thought out and executed to create a truly memorable dining experience. I take great pride in presenting this dish to my guests, knowing that it represents the pinnacle of my culinary creativity.
 You're having friends over for dinner tonight. What's on the table?
If I were hosting friends for dinner tonight, I would prepare a three-course meal. For starters, I would serve a refreshing oysters with glass of champagne. The main course would be a succulent "Dover Sole a La Meuniere" with seasonal vegetables. Finally, for dessert, I would present a decadent chocolate Tiramisu. As a finishing touch, I would garnish the
tiramisu with fresh berries and a dusting of cocoa powder. To accompany the meal, I would offer a selection of fine wines chosen to complement each course. After dinner, we could enjoy a leisurely stroll in the garden and savor the lingering flavors of the meal.
Name your favourite city that has it all: food, culture, and nightlife.
My favorite city that encompasses food, culture would be Paris. The city offers a vibrant food scene with its famous Michelin restaurants, rich cultural heritage. The diverse culinary options in Paris range from traditional French cuisine to international flavors, making it a paradise for food lovers. The city is also known for its exquisite pastries and bread, with numerous patisseries and boulangeries dotted around every corner. The food culture in Paris is deeply rooted in tradition and quality, with locals and tourists alike indulging in the pleasure of good food and wine. The city's streets are filled with art galleries, theaters, and music venues, offering a constant source of entertainment and cultural enrichment. Paris truly embodies the perfect combination of gastronomy and culture, making it a dream destination for anyone seeking a sensory and intellectual feast.
Can you tell us more about the cuisine at your restaurants?
At my restaurant, we strive to offer a unique dining experience by blending traditional and contemporary flavors. Our menu showcases seasonal ingredients, highlighting the freshness and quality of each dish. Taking inspiration from facts, events, and recipes dating as far back as the 13th century, the cuisine at Dinner is a modern menu of dishes inspired by British history. Our culinary team meticulously researches historical recipes and techniques to create innovative dishes that pay homage to the rich culinary heritage of Britain. Each dish is carefully crafted to incorporate traditional flavors and cooking methods with a modern twist. Our goal is to take diners on a culinary journey through time, allowing them to experience the flavors and aromas that have shaped British cuisine throughout the centuries.
Local sturgeon with butternut pumpkin purée and crayfish American sauce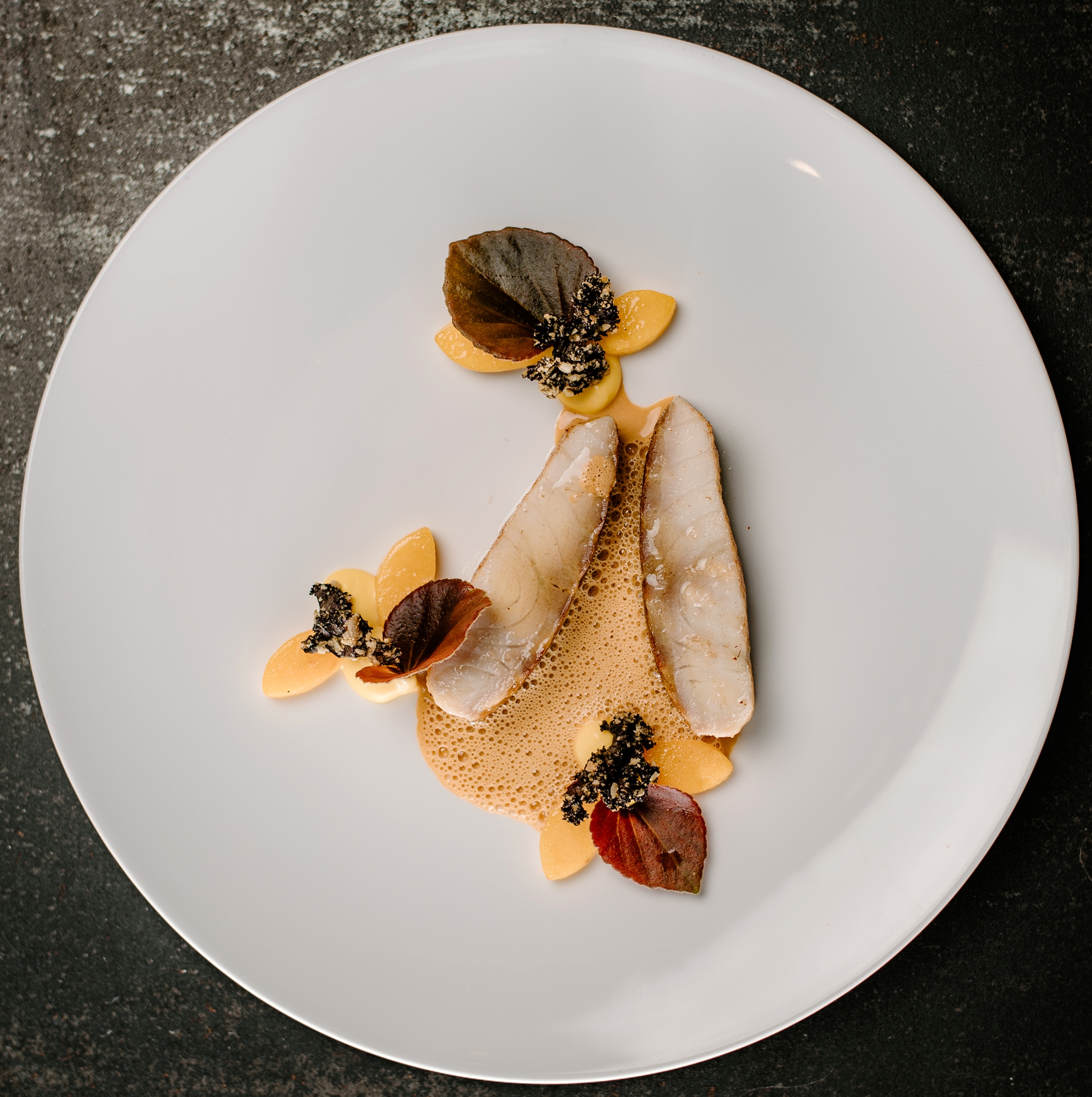 Main course, Serves 4
Ingredients:
Local sturgeon:
1.2kg sturgeon, preferred local
150g coarse salt
100g citrus fruits – orange, lime, lemon
Butternut pumpkin purée:
500g butternut pumpkin
10g spices
30g onions
10g garlic
150g orange
250ml vegetable broth
Pinch of sea salt
50g butter
Kale cabbage chips:
250g kale cabbage
Pinch of sea salt
50g linseeds
Crayfish American sauce:
8 pieces crayfish
100ml rapeseed oil
100g shallots
20g garlic
Few pepper grains
60g tomato paste
150g tomatoes
100ml brandy
100ml dry vermouth
100ml heavy cream
500ml shrimp or fish broth
10g basil
10g tarragon
3g sea salt
Few pepper grains
Pinch of ground white pepper
Some flower leaves, for serving
15 g butter, for caramelizing
Method:
Local sturgeon:
Clean the fish, remove the skin to prepare smooth filets.
Peel citrus fruits to get the zest, combine with salt.
Rub the fish with salt and citrus mixture and allow to marinate in cool place for about 7
minutes.
Rinse and put on a pepper towel to dry.
Butternut pumpkin purée:
Remove the hard peel of pumpkin, cut into ovals and put aside for serving.
Dice the rest of the pumpkin in regular cubes.
Slice the onions and chop the garlic.
Then put pumpkin in a pot to sauté together with vegetables, vegetable broth, orange and preferred spices till soft.
Recommended spices are star anise, vanilla, cinnamon, juniper berries, coriander, cayenne pepper, orange juice and zest.
Blend using blender or food processor together with butter until creamy consistency.
Put aside, but keep it warm.
Kale cabbage chips:
Separate cabbage leaves and cut off the stems.
Soak seeds in warm water, then combine with salt and cabbage leaves. Preheat the oven to 130oC and cook until crispy.
Crayfish American sauce:
Preheat a large, shallow saucepan over medium-high heat, add the rapeseed oil.
Cook crayfish for 5 minutes, stirring occasionally. Add sliced shallots and chopped garlic, sauté for 1 minute.
Then add pepper grains and tomato paste, cubed tomatoes, reduce heat to medium and cook for 1 minute, stirring constantly. Stir in brandy and vermouth and cook until liquid is reduced by half, this will take about 5 minutes.
Then add two cups of shrimp or fish broth, bring it to boil.
Reduce heat to low and simmer for 10 minutes.
Add cream, basil and tarragon, then simmer for another 5 minutes.
Strain mixture through a fine sieve. Season with salt and pepper. Put aside, but keep it warm.
Serving:
Fry the fish on preheated pan and brown on a charcoal grill or simply into oven, let rest.
Meanwhile, add the butter to the hot pan to melt until caramelised.
Then cut the fillets in half and rub them with caramelized butter.
Blanch oval or other shaped pumpkin pieces in salted boiling water.
To assemble, arrange salted pumpkin pieces on the plate, putting butternut pumpkin purée next to it, garnish with kale chips and some flower leaves.
Pour over crawfish American sauce.
Tip:
Instead of crayfish, can use whole shrimps or lobster.