Gaurav Bathla is the Executive Chef of Farzi Dubai. It has taken Farzi Dubai's talented new Executive Chef just over a decade to achieve the kind of culinary success that most chefs take their entire careers to achieve. Known for its boundary-pushing, modern Indian comfort food dishes, the forward-thinking restaurant group wanted a young and innovative chef to take charge of Farzi's culinary vision when he was hired.
He says, "My love of cooking comes straight from my mother's kitchen where, even as a kid, I used to relish in helping her with the smallest of tasks. My passion started to grow at that first moment and has been growing ever since." Born in Bengaluru, Gaurav gained a Bacherlor's Degree in Hotel Management at Christ College before quickly getting his first role as Kitchen Executive at The Park Hotel in his home city. He remained there for two years, absorbing the secrets of a well-run establishment before moving up to Junior Sous and Sous Chef posts at Movenpick Hotel & Spa Bangalore and Sofitel Mumbai over the next few years.
In 2017, his budding talent caught the attention of the team at Sofitel Hotel Zallaq Thallasa Sea and Spa Bahrain who asked him to join the team as Senior Sous Chef. This was Gaurav's first taste of cooking for an international audience and overseeing a team of sous chefs underneath him. It was here he become known to House of Jiggs Kalra who quickly snapped him up to launch and run Farzi in Kuwait City where he started to speak the culinary language of #TeamFarzi and wow Kuwaiti locals with the restaurant's contemporary take on traditional Indian dishes.
 Do you have a favourite time of the year or set of ingredients that you look forward to working with?
My favorite time of the year is definitely autumn. I love the abundance of seasonal ingredients like pumpkins, apples, and root vegetables. Working with these ingredients allows me to create comforting and hearty dishes that are perfect for the cooler weather.
What would you do if you weren't a chef?
If I weren't a chef, I would probably be involved in some form of creative work. I've always had a passion for art and design, so perhaps I would explore a career in graphic design or photography.
Do your personal preferences influence the menu at all?
Yes, my personal preferences definitely influence the menu at my restaurant. I believe that as a chef, it's important to showcase your own style and preferences through the dishes you create. However, I also consider the preferences and tastes of my customers to ensure a well-rounded menu that appeals to a wide range of palates.
What do you think is the most over-hyped food trend currently?
I

n my opinion, the most over-hyped food trend currently is probably avocado toast. While it can be a tasty and nutritious option, it has become so popular that it's often seen as a cliché or an overpriced menu item in many cafes and restaurants.
I am happiest when I am in the kitchen, creating and experimenting with new flavors and techniques. The joy of seeing people enjoy the food I've prepared and the satisfaction of pushing my culinary boundaries brings me immense happiness.
When you're not in the kitchen where can you be found?
When I'm not in the kitchen, you can often find me exploring local food markets, visiting farms and suppliers to source fresh ingredients, or spending time with my family and friends.

Where is your favourite place to dine?
It's hard to pick just one favorite place to dine, as there are so many incredible restaurants around the world. However, if I had to choose, I would say that a small, cozy neighborhood bistro

– 'Bombay Bunglow' here in Dubai

with an ever-changing menu and a focus on seasonal ingredients is my ideal dining experience.
 What's your favourite takeaway or comfort food?
My favorite takeaway or comfort food is a classic burger with all the fixings. There's something incredibly satisfying about biting into a juicy burger with melted cheese, crispy bacon, and a perfectly toasted bun.
What makes the local food scene so exciting?
The local food scene is exciting because it offers a unique opportunity to explore and celebrate the culinary traditions and flavors of a specific region. It allows chefs and food enthusiasts to connect with local farmers, artisans, and producers, resulting in a vibrant and sustainable food culture.
Which is the dish you've created that you are most proud of and why?
The dish I am most proud of is my signature

Smoked Sea Bass with raw mango chimichurri

. It combines the flavors of a rich and flavorful

chili & apple wood smoked

fresh local sea bass

, and it's a dish that always brings people together. I take pride in the balance of flavors and the attention to detail required to create a perfectly

smoked sea bass.
You're having friends over for dinner tonight. What's on the table

?
If I were having friends over for dinner tonight, I would create a menu that highlights seasonal ingredients and incorporates a variety of flavors.

To begin with

, I might serve a fresh

alphonso mango & feta

salad with locally sourced

kale leaves

and a tangy vinaigrette. As the main course, a

Tandoor

slow

–

roasted leg of lamb

( Raan )

with

some home baked Khameeri Naan

accompanied by roasted vegetables and

pan tossed Jeera Aloo.

For dessert, a warm

Chocolate Fondant Cake

with a scoop of

cardamom

vanilla ice cream.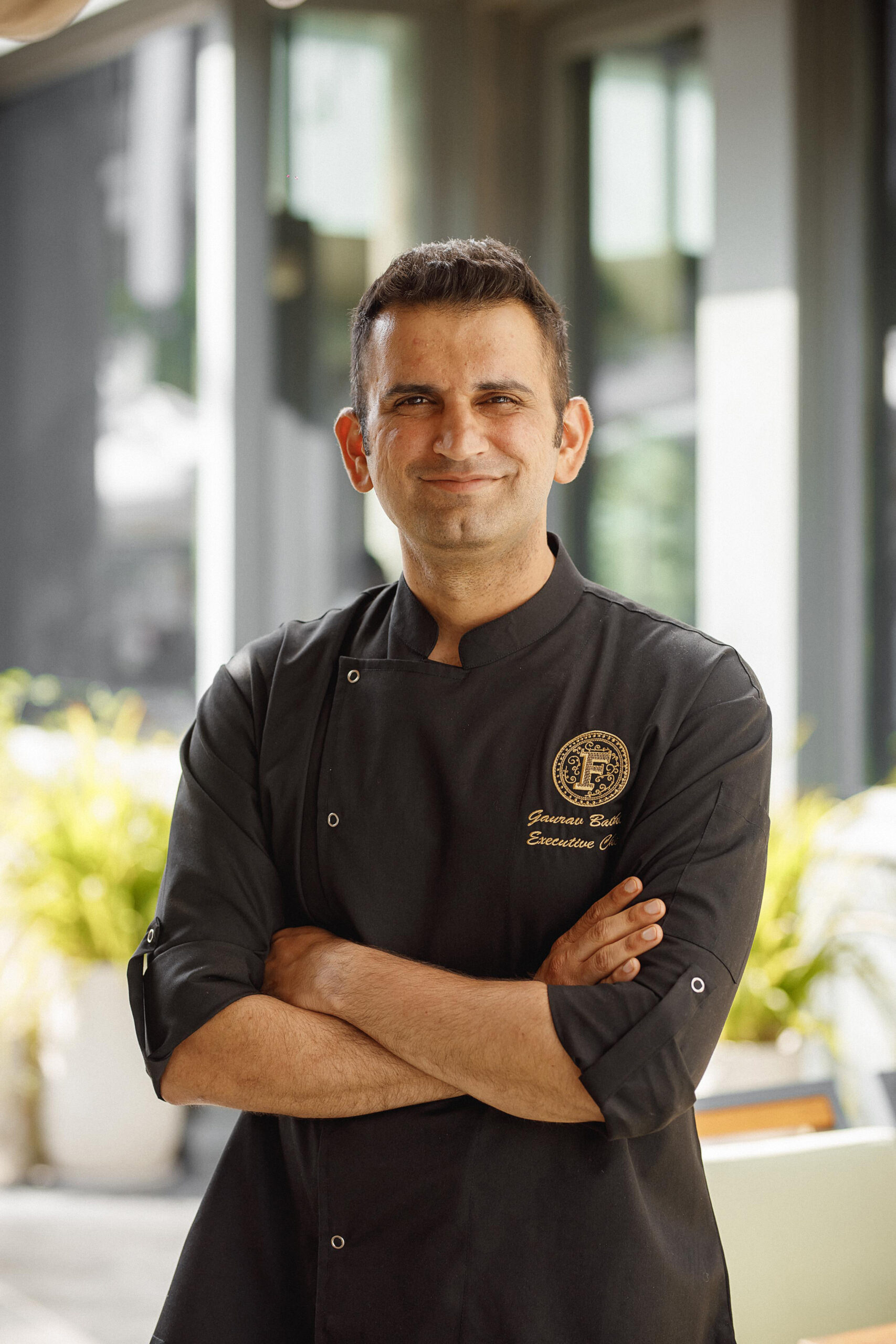 Name your favourite city that has it all: food, culture, and nightlife.
One of my favorite cities that has it all in terms of food, culture and nightlife is

Tbilisi

,

Georgia

. The city is known for its vibrant food scene, offering a wide range of culinary experiences from traditional tapas to innovative Michelin-starred restaurants.

Tbilisi

also has a rich cultural heritage, with stunning architecture, museums, and art galleries. When the sun sets, the city comes alive with its vibrant nightlife, from cozy wine bars to bustling clubs.
 Can you tell us more about the cuisine at your restaurants?
At my restaurants, we focus on creating m

odern Indian

dishes that are inspired by global flavors while incorporating local and seasonal ingredients. Our menu reflects a balance of classic and contemporary culinary techniques and we strive to provide a memorable dining experience for our guests.
Afghani Pista Korma
Ingredients for Murgh Malai Tikka:
1 lb boneless chicken thighs dices
1/2 cup plain yogurt
1 tablespoon ginger-garlic paste
1 tablespoon lemon juice
1 teaspoon garam masala powder
1/2 teaspoon turmeric powder
Salt, to taste
2 tablespoons heavy cream
1 tablespoon oil
Ingredients for Afghani Pista Korma:
2 tablespoons oil
1 onion, finely chopped
1 tablespoon ginger-garlic paste
1 teaspoon cumin powder
1 teaspoon coriander powder
1 teaspoon cardamom powder
1 teaspoon turmeric powder
1 teaspoon paprika powder
1 teaspoon garam masala powder
Salt, to taste
1 cup heavy cream
1/2 cup unsalted pistachios, soaked in hot water for 30 minutes and ground into a paste
Pista slice , cream , chili oil – for garnish
Instructions:
In a mixing bowl, combine the yogurt, ginger-garlic paste, lemon juice, garam masala powder, turmeric powder, salt, heavy cream, and oil. Mix well to form a paste.
Add the chicken cubes to the paste and mix well to coat them evenly. Cover and marinate in the refrigerator for at least 1 hour or up to overnight.
Preheat the oven to 375°F (190°C). and cook the chicken until golden brown for 8-10 mins
In a pan, heat 2 tablespoons of oil over medium heat. Add the chopped onions and sauté until golden brown.
Add ginger-garlic paste and sauté for a minute.
Add cumin powder, coriander powder, cardamom powder, turmeric powder, paprika powder, garam masala powder, salt, and mix well.
Pour in the heavy cream and stir until everything is combined.
Add the ground pistachio paste and mix well.
Add the baked chicken pieces to the pan and let it simmer for 5-10 minutes or until the sauce thickens and the chicken is well coated with the sauce.
Garnish and serve with mabooch naan