Gunawan Wu is the Chef Owner at Gazoz Cafe & Restaurant in Batam island, Indonesia. He was born and raised in Indonesia, later he moved to Australia in 2013 when he fell in love with the city of Adelaide, South Australia. Gunawan has been working with many great chefs while in Australia namely, Simon Bryant, Cheong Liew, Mauro Gulli and even Marco Pierre White. Gunawan's creations have been featured in a few cookbooks and magazines.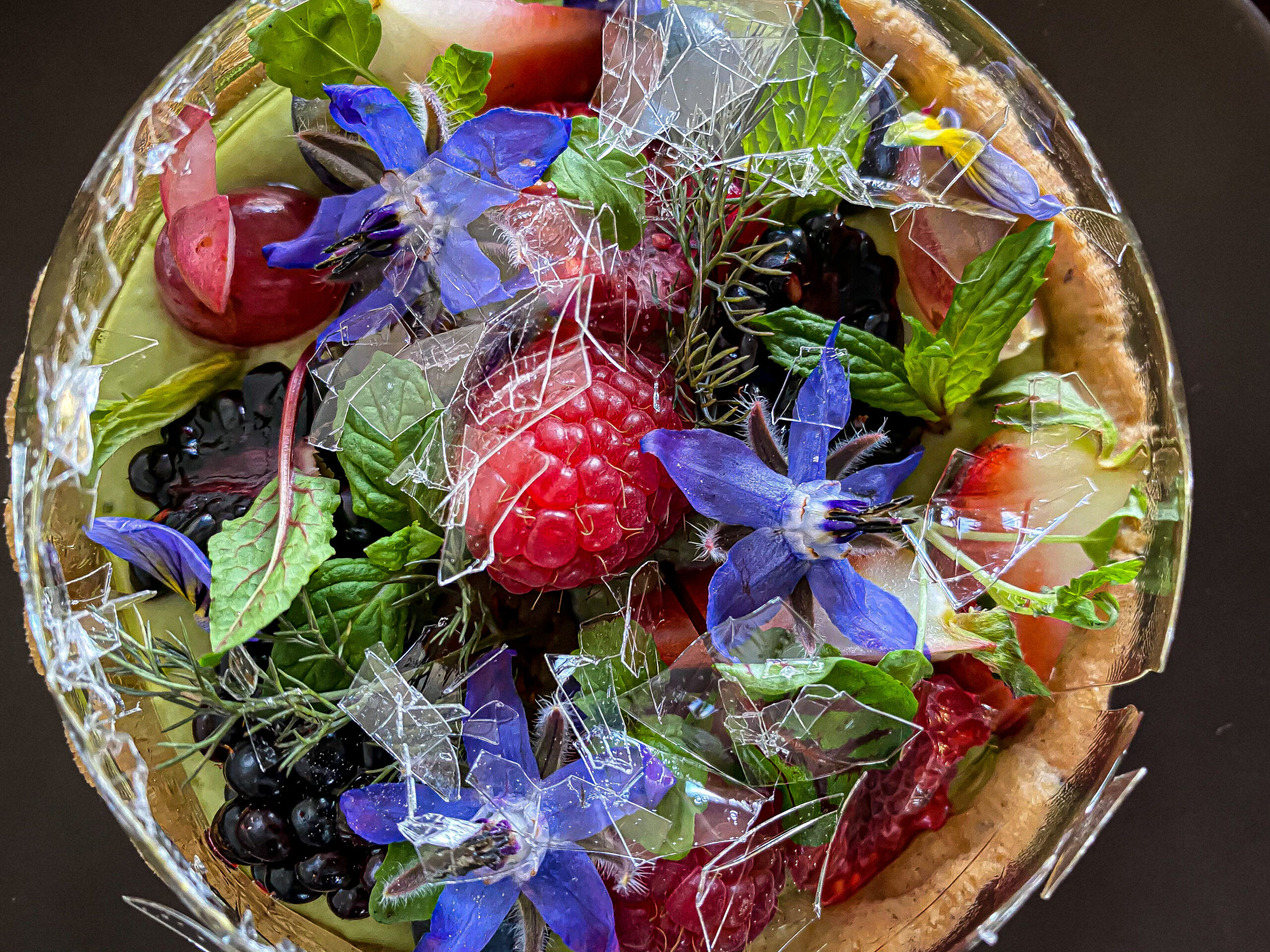 Awarded as Lakanto Australia Most Outstanding Pastry Chef 2020 and People Choice Best Tart Winner during Savour Patissier of the year 2016, Gunawan has been known for his signature Matcha Pistachio Terrarium Tart and Forbidden Tree. In his busy time in the kitchen, Gunawan loves to share his knowledge and skills to culinary students by conducting masterclasses Internationally in culinary schools around Australia, Indonesia and Malaysia. This talented chef is always being invited as a judge in International Cooking competitions as well. To him being a judge in various competitions is a matter of great honour where he can get inspiration from the contestants and also give young aspiring chefs the inspiration to progress in the culinary industry.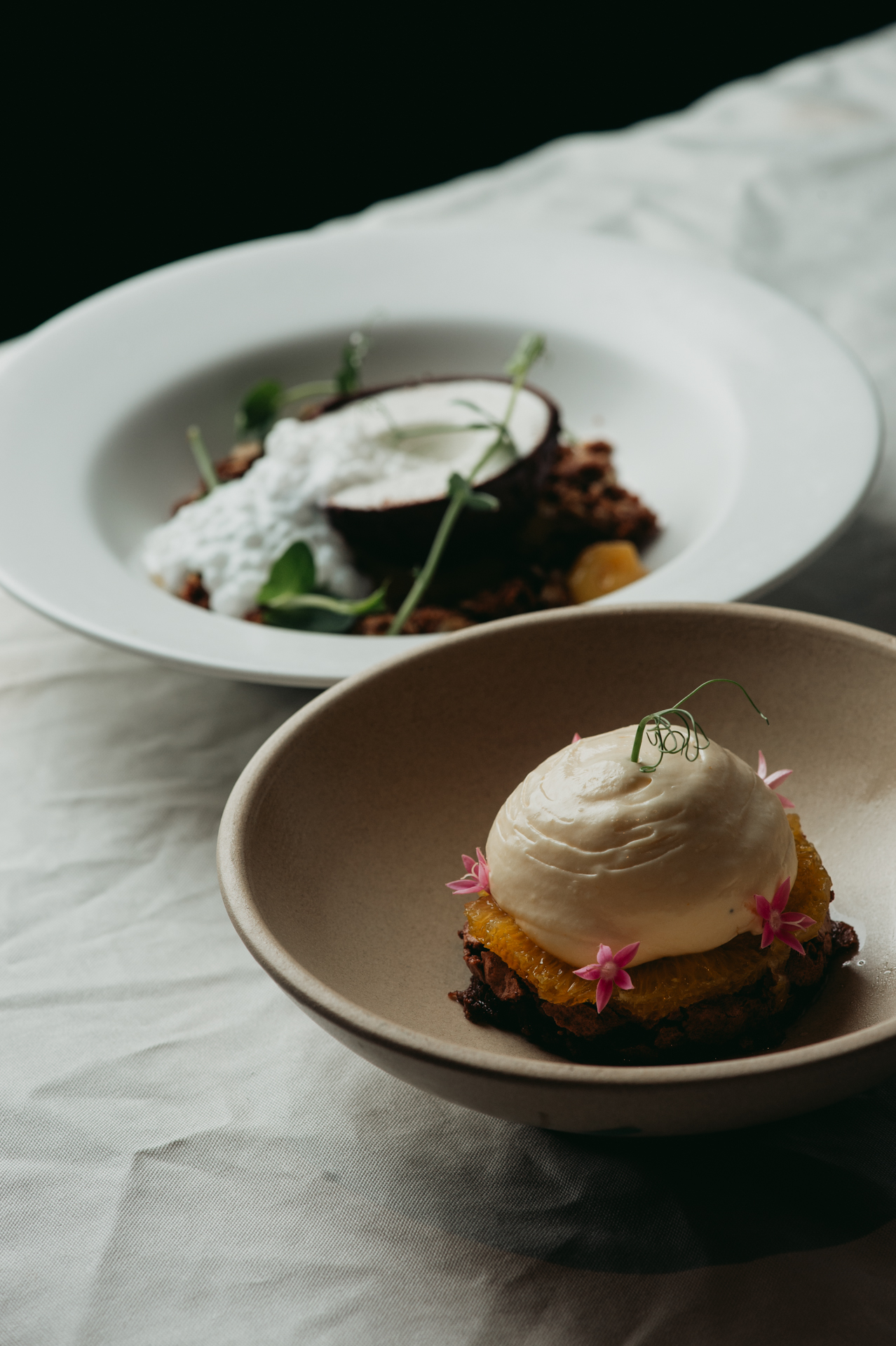 What inspired you to become a pastry chef? You've been in the industry for quite some time. Would you have done anything differently when first starting out?
The love of arts and sweets inspired me to become a pastry chef. I love to draw and eat sweets since I was a kid. I wasn't allowed to study in art school by my parents, and then I decided to go for hospitality school. That's when I started to find out that I can draw my arts onto a plate and best thing is I can eat all my creations too. No, I would not have done anything differently as whatever I have been through is shaping me towards who I am today.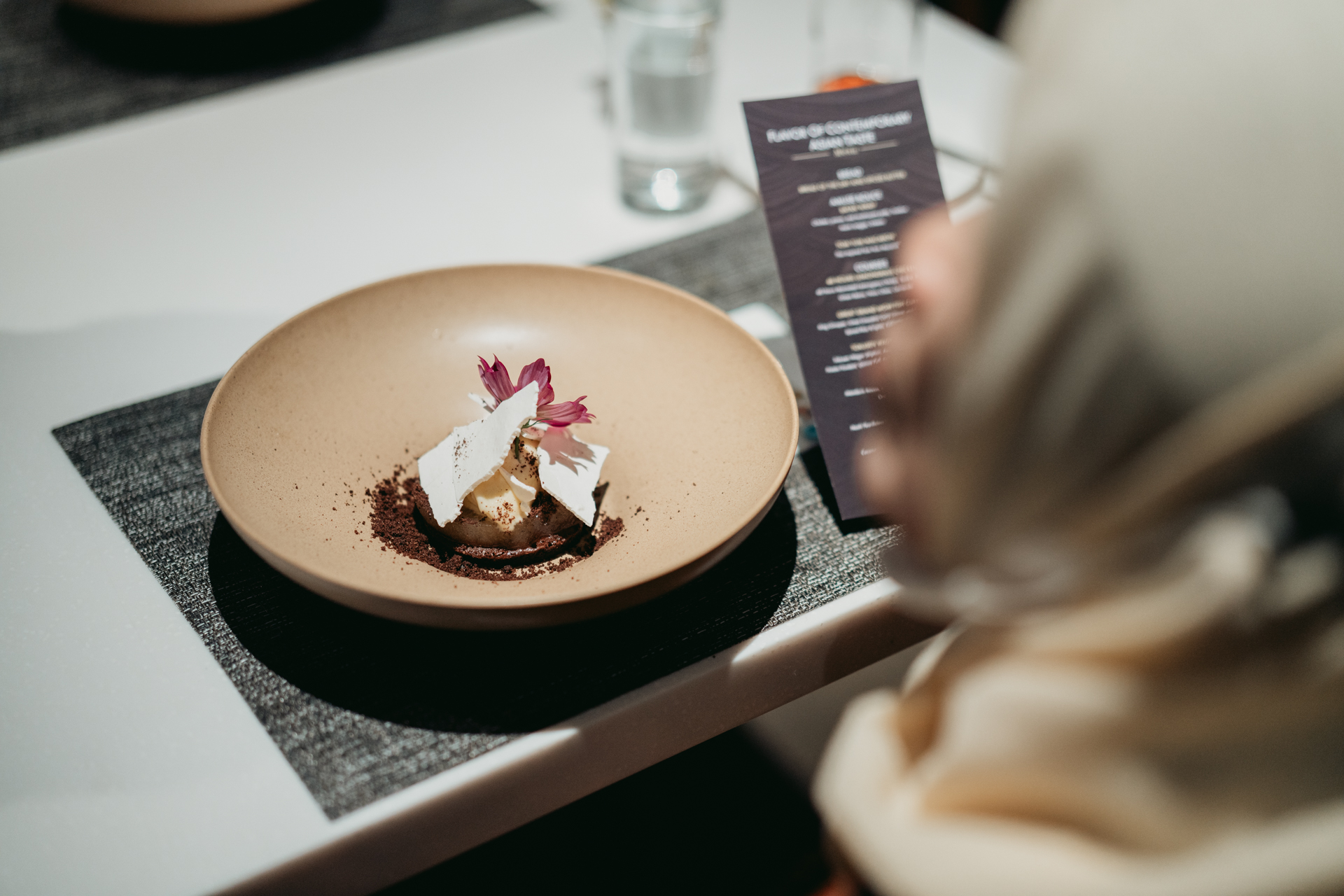 What is the philosophy and ethos behind the food you create?
I like to create food outside the box that has harmony of flavour and texture yet looks good in the eye. My creation influenced a lot by people around me that I met throughout my time in Australia. I've learn from different people about flavours and different culture that  inspired me to come up with different flavour combination.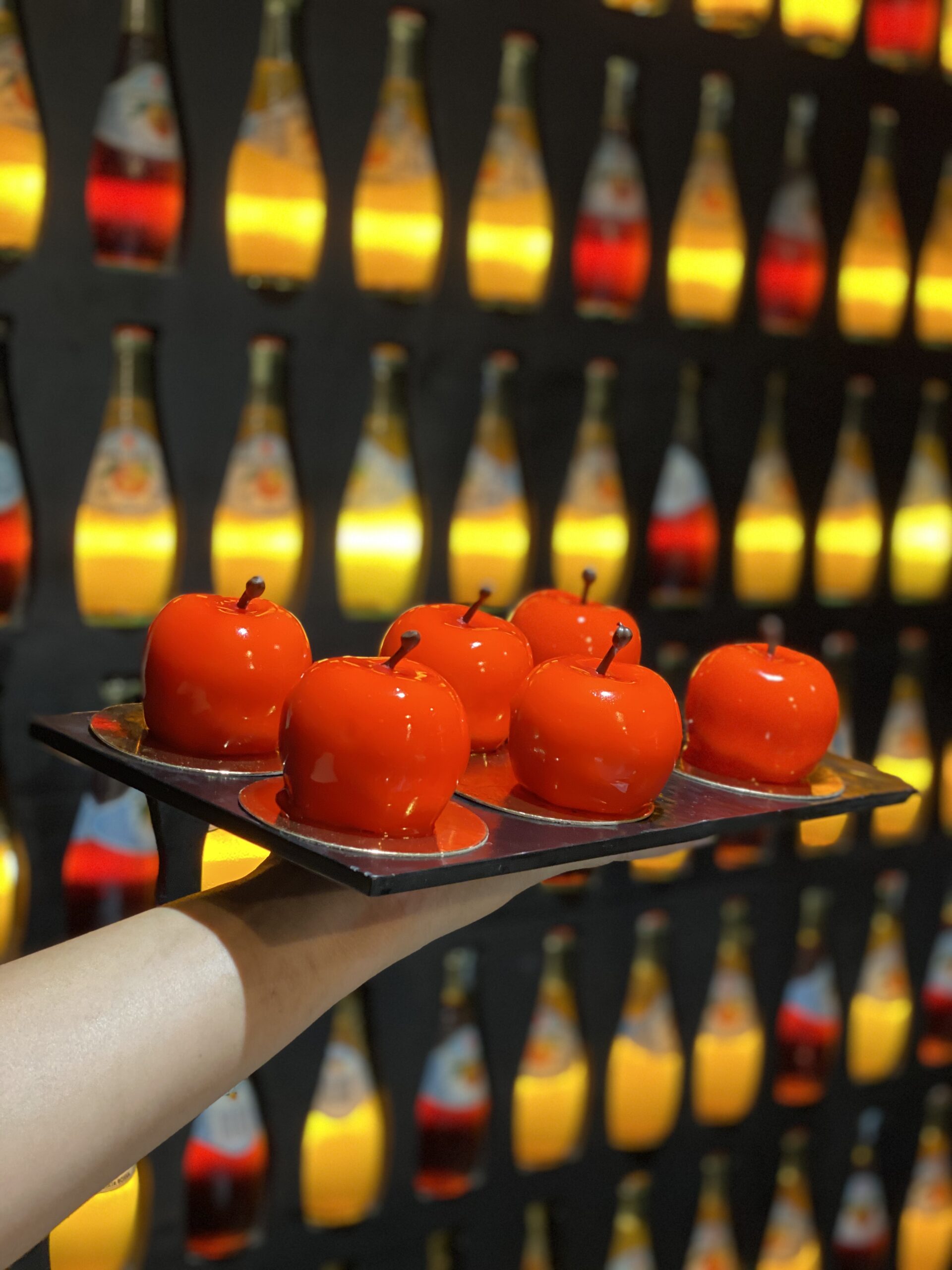 What's the latest trend when it comes to baking and patisserie? What is one food (pastry) trend you wish would just go away?
The flavour and looks that one sees outside the box is the latest trend to baking and patisserie. As social media platforms gained huge popularity among people, people started to demand more creativity. I dont wish any food/pastry to just go away, because every creation is the root and inspiration for another invention and creativity.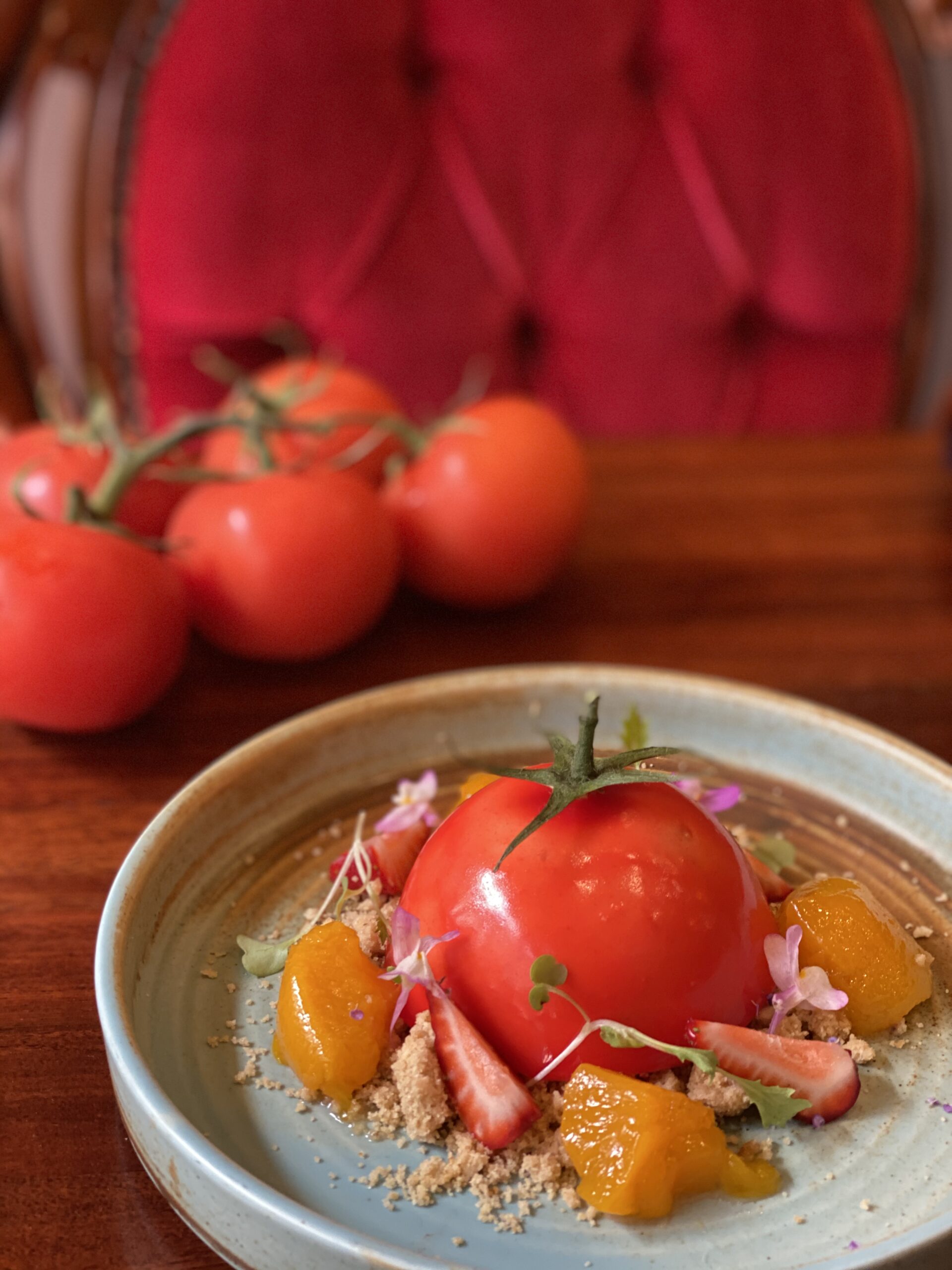 What is your baking style and the philosophy behind it?
My baking style is a modern take on classic techniques and bringing outside the box flavour combinations, such as Tom Yum Macaron, Fried Chicken Macaron, Instant Noodle (Indomie) macaron, and many more. My philosophy while creating my desserts is the need to have a harmony of flavour when you combined few element from the dessert. You can have many elements with a great flavour to it, but if you can't combine those flavours into one, to me that is a failed dessert.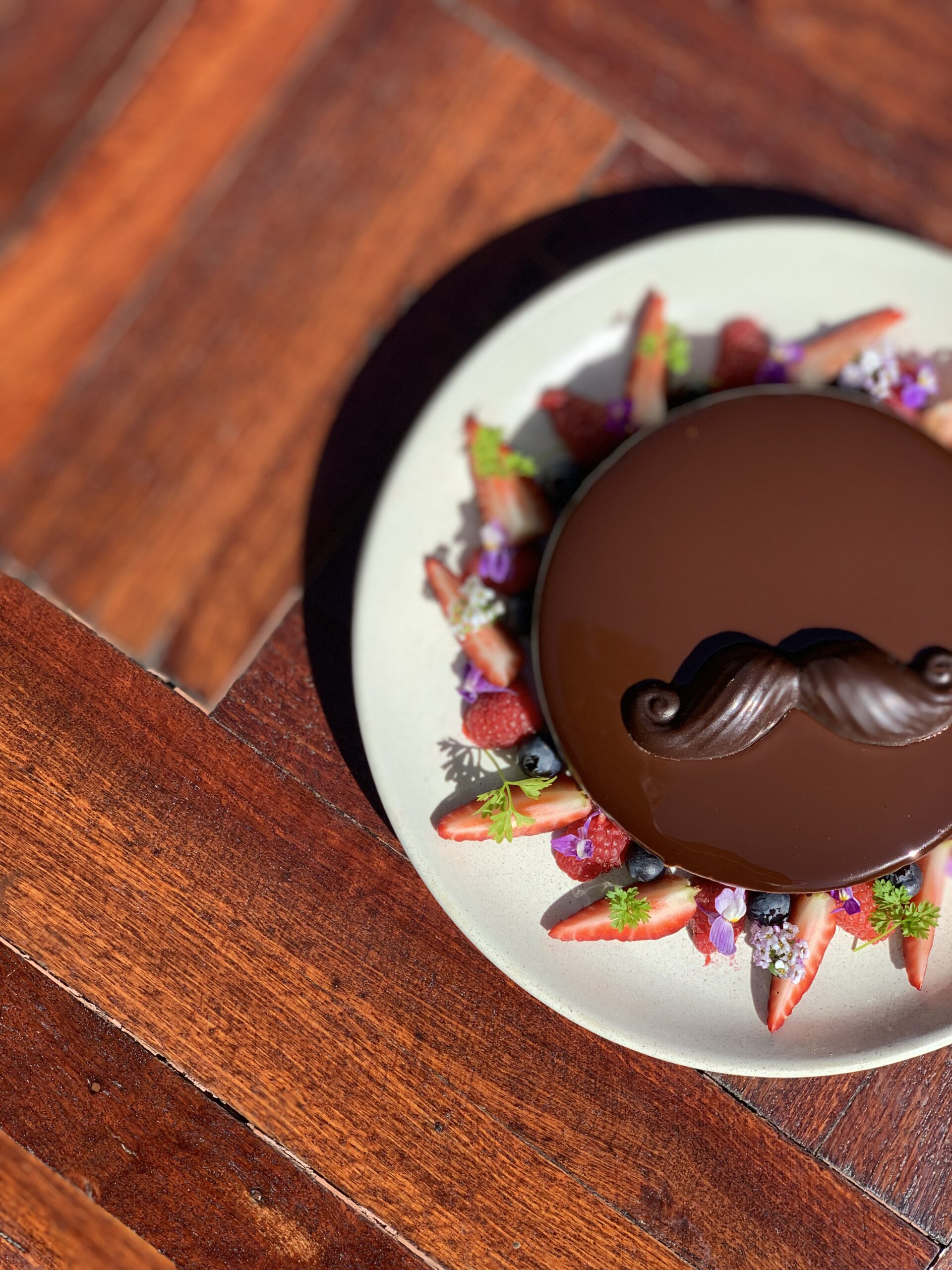 What's your favourite comfort food? What's your favourite pastry or cake or baked product ?
My favourite comfort food is Banana Fritters and my favourite cake and baked products are Indonesian Roll cake and Apple Pie.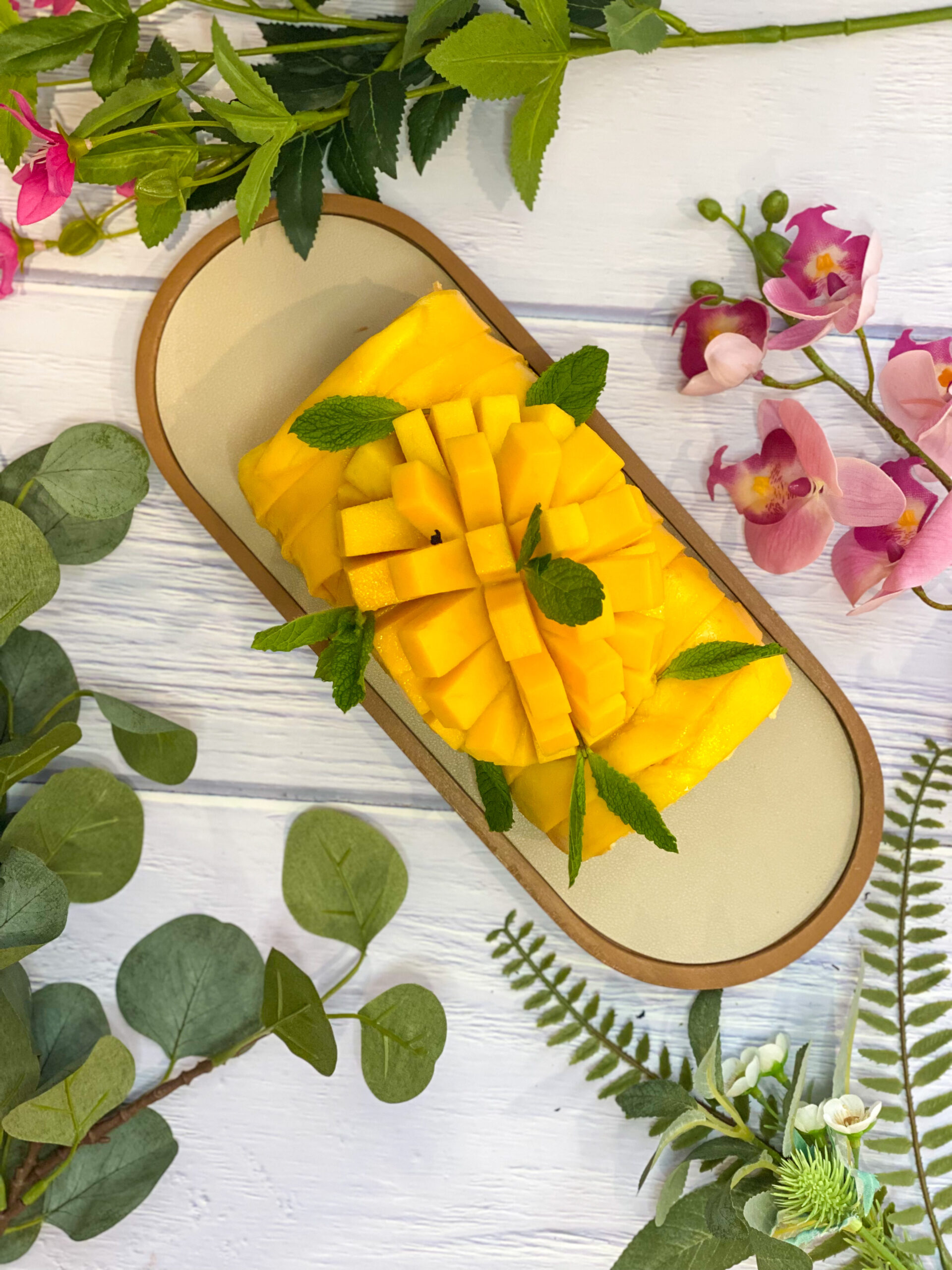 Who or what was your inspiration to become a pastry chef?
My inspiration to become a pastry chef is basically arts. Pastry is where I can express my arts in the form of desserts or cakes that I made. My first inspiration to become a pastry chef was Christophe Michalak.
What is your advice to aspiring pastry chefs?
My advice is to always be curious, try to experiment with your idea and keep learning. Be who you are, and showcase your personality through your creation.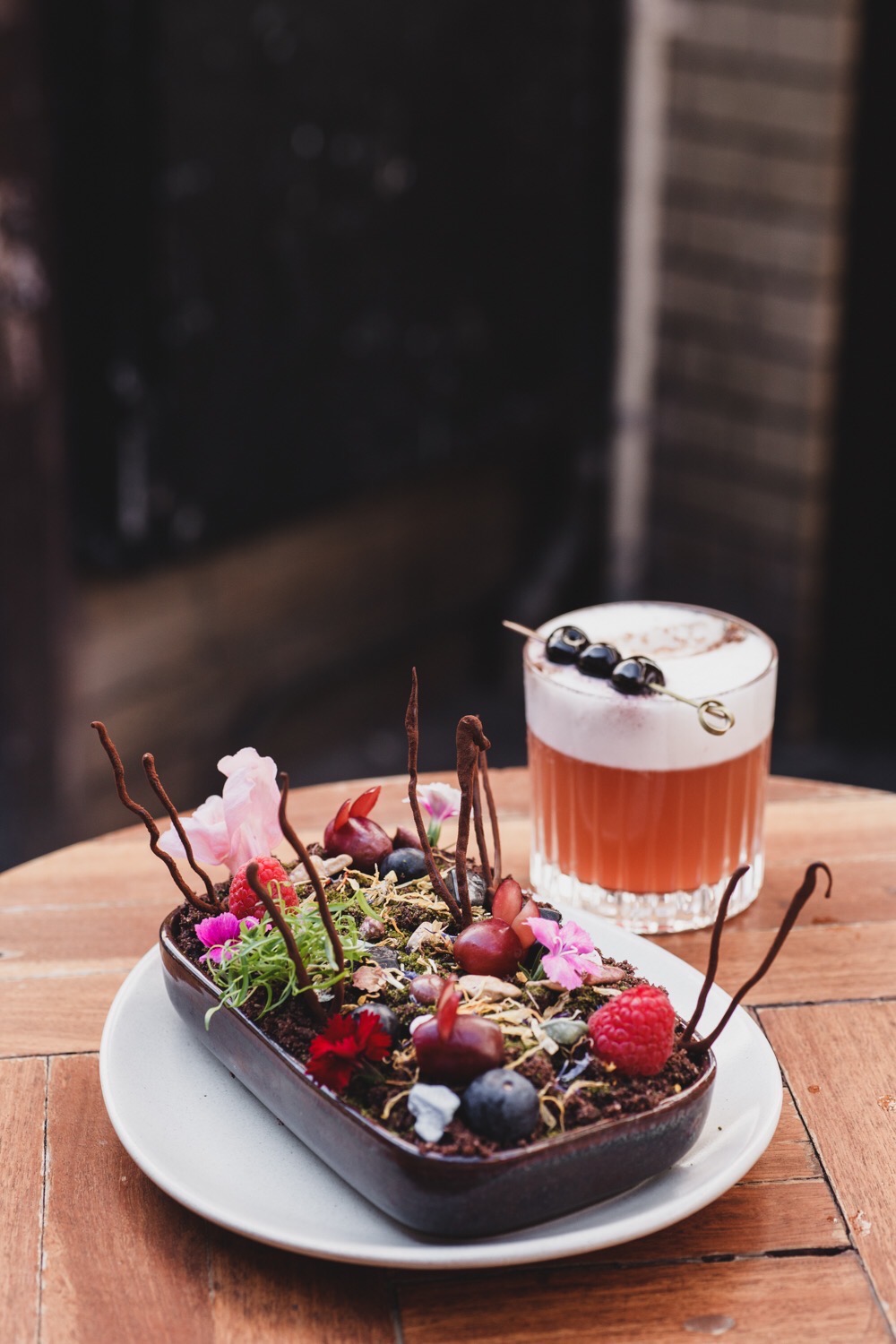 Future Plans?
My future plan is to travel the world and keep doing masterclasses to inspire more people.  My goal is to be inspired by the very people who I inspire.
Would you consider yourself as an artist? Are you inspired by artists when you create your pastries? When you create different products everyday where do you get inspired from?
I do get inspired by many form of arts from various artists, from drawing, music and chefs. When I create different products everyday I get it from the people and community around me. By talking to different people and understanding their culture during each of my travels actually inspired me a lot in creating different foods.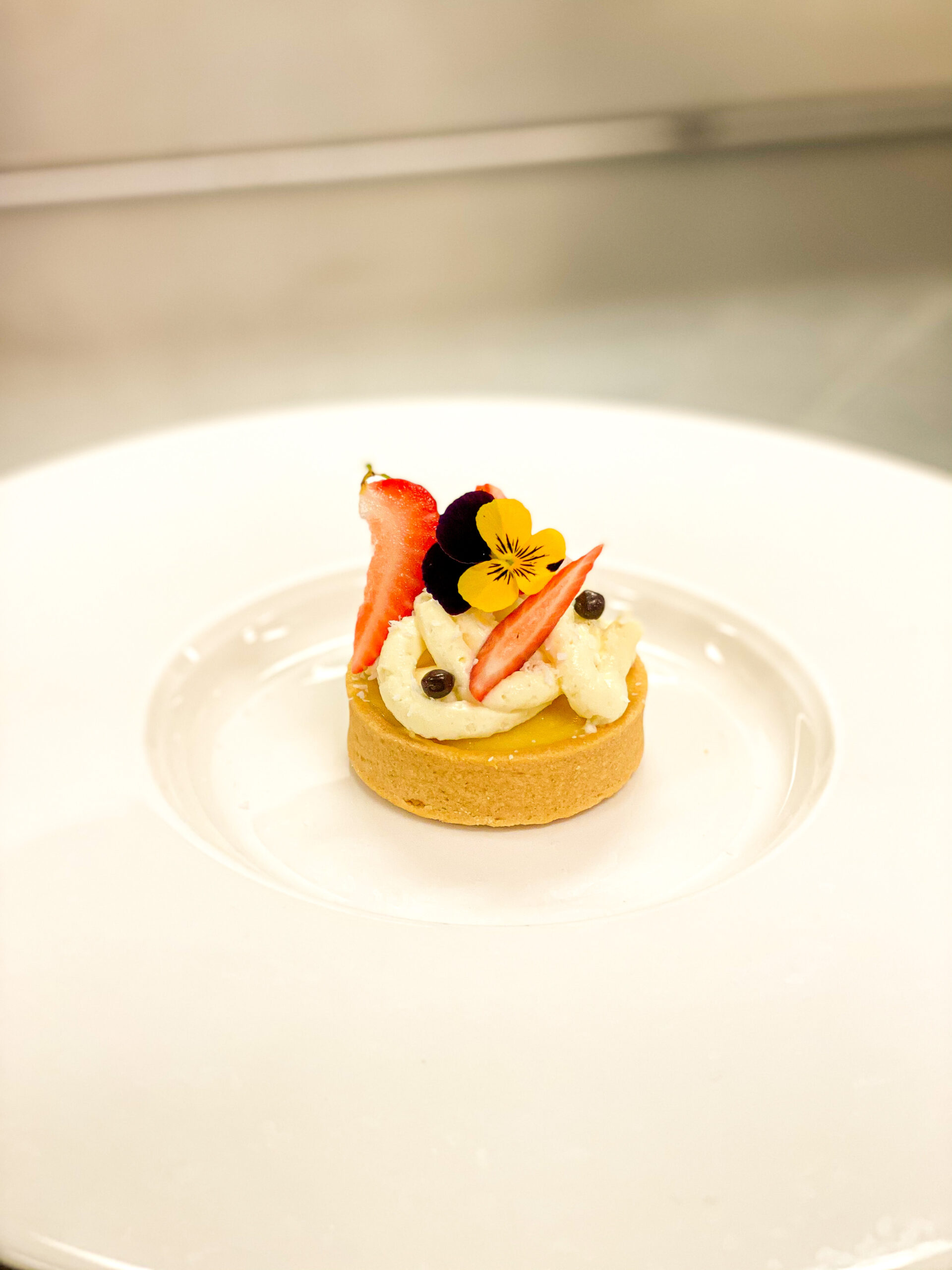 The topic of local food, from smaller, specialized and personally known producers, is becoming more important. What are some of your local partners from whom you source?
Local produce means the ingredients have not traveled too far, it is important to keep the freshness of the ingredients. And yes it is very important to support our local produce and local producers, as they are actually the heart of our community. I source my fruit and vegetables from the local market and also fresh bread from the local bakers.
What would you say is the key/winning feature of your creations ?
The key/ winning feature of my creation is being 'different' and consistent.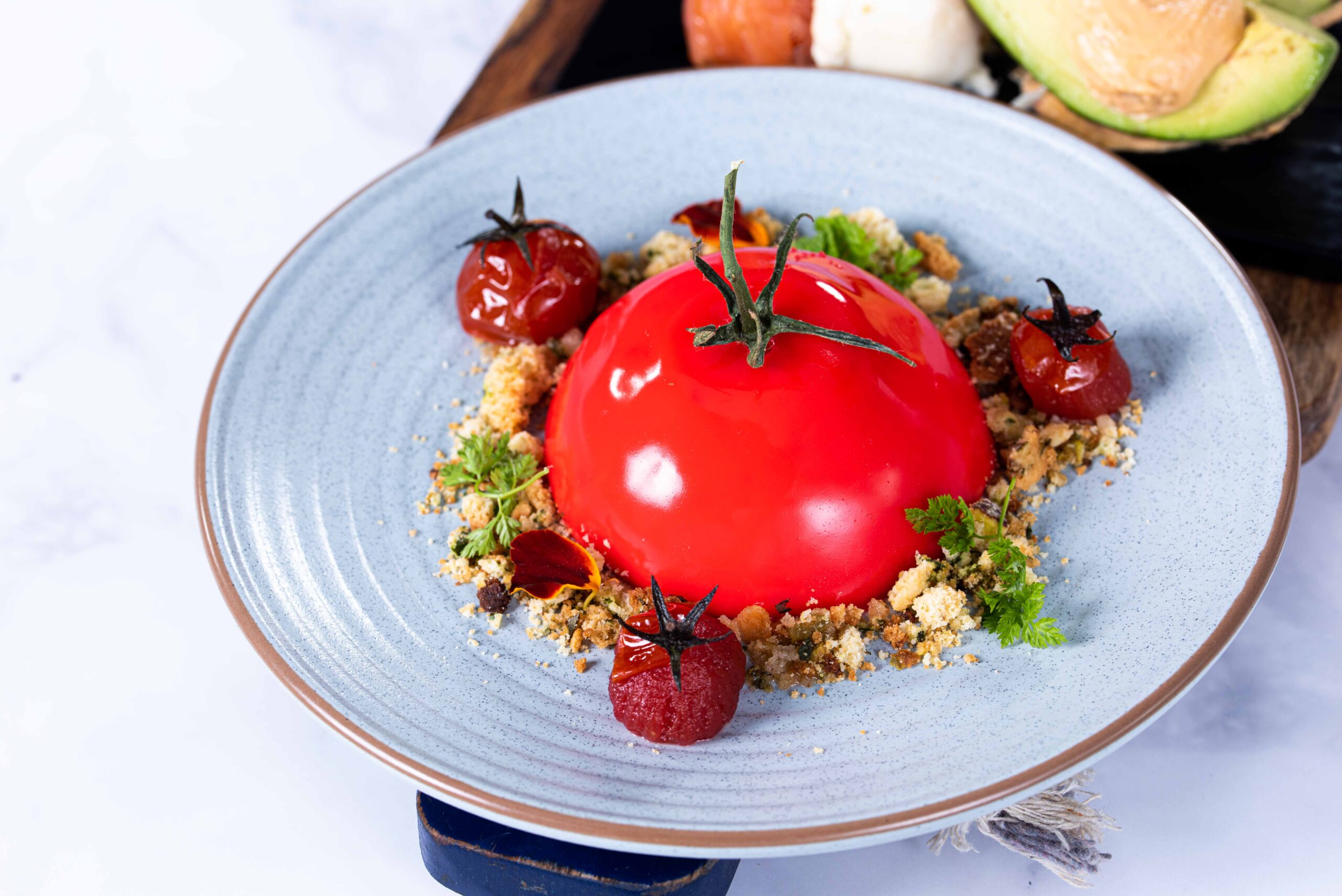 What are the most important considerations when crafting your menu?
Most important consideration when crafting my menu is that all my dishes need to look good and attractive, but most importantly all the dishes should have great flavours, shape and colours.
Have you ever considered being a vegan chef? How practical is it being a pastry chef?
Vegan is a new lifestyle trend, as a chef i am always trying to find an opportunity to learn new things and trying to get away from my comfort zone. But I never considered being a vegan chef.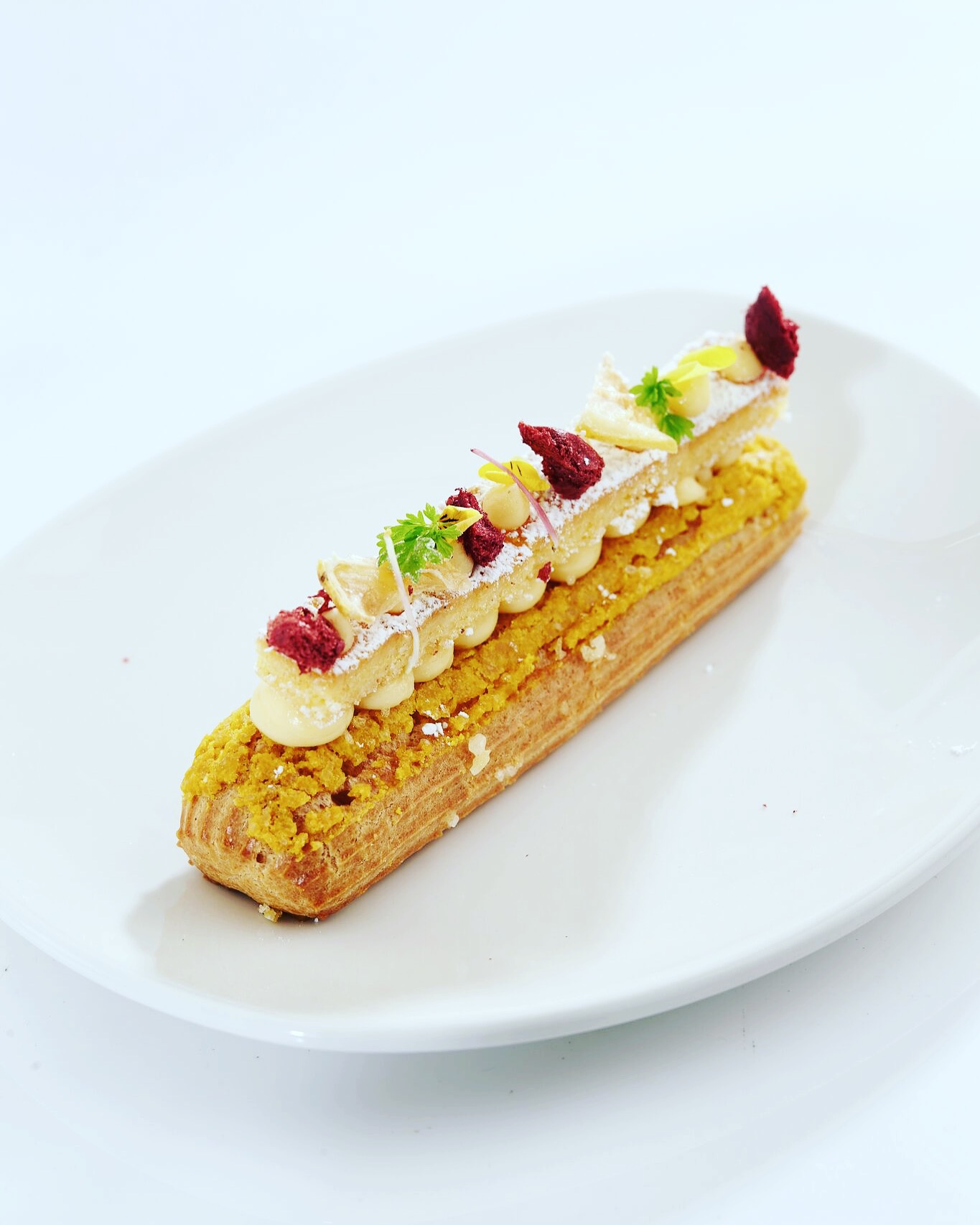 What's your signature dish?
My signature dish is Watermelon Taco. A very fresh watermelon infused with rose syrup, paired with creme patissier, chantilly cream and crunch from toasted pistachio are a combination that will freshen you up in the summer.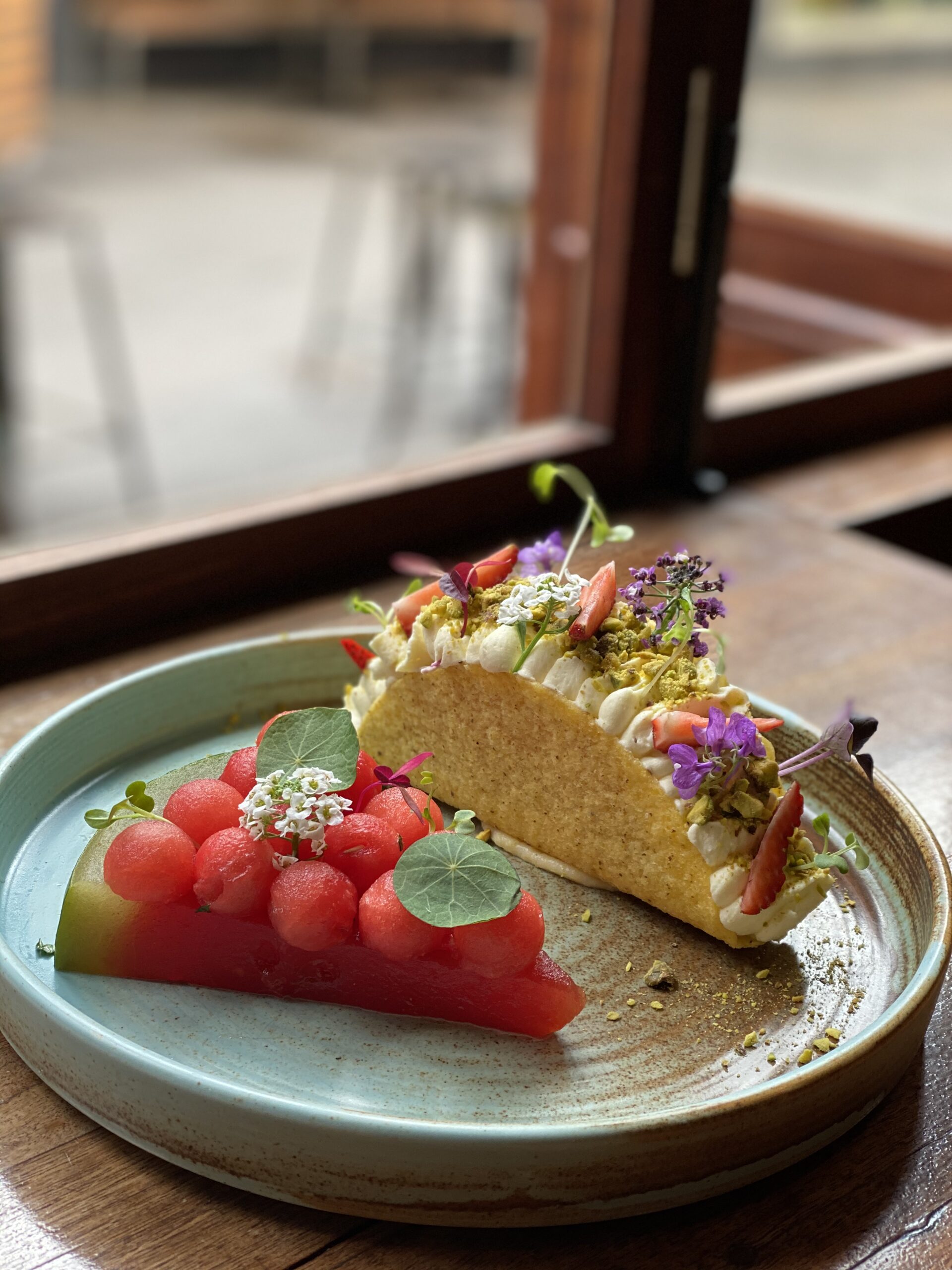 How can restaurants/ hotels/ chefs communicate the approach of innovative sustainable plant-based food/ food chains to others?
By developing a creative menu of sustainable plant-based foods, you are directly educating your staff member (who might move and take these skills to other establishment ) and indirectly educating your customers that will demand more in the industry.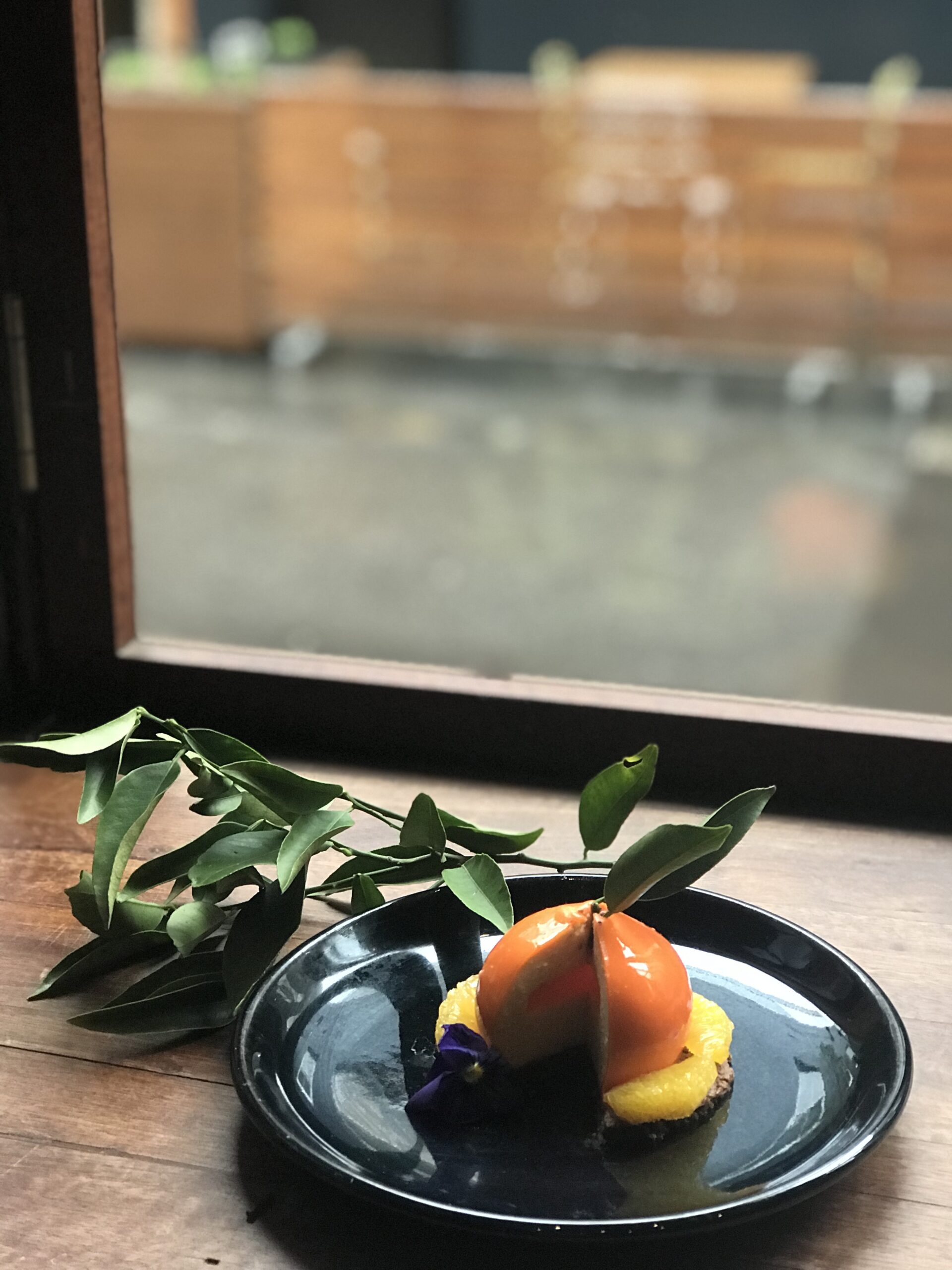 Which is the dish you've created that you are most proud of and why?
The dish I have created and am most proud of is the Terrarium Tart because the skill and hard-work I put into this dish paid off during competition and won People Choice Award for Tart Category in Savour Patissier of The Year 2016.
This is the recipe I made while I was competing in Savour Patissier of The Year 2016 in Sydney, Australia. The Sugar dome is a very technical preparation to create.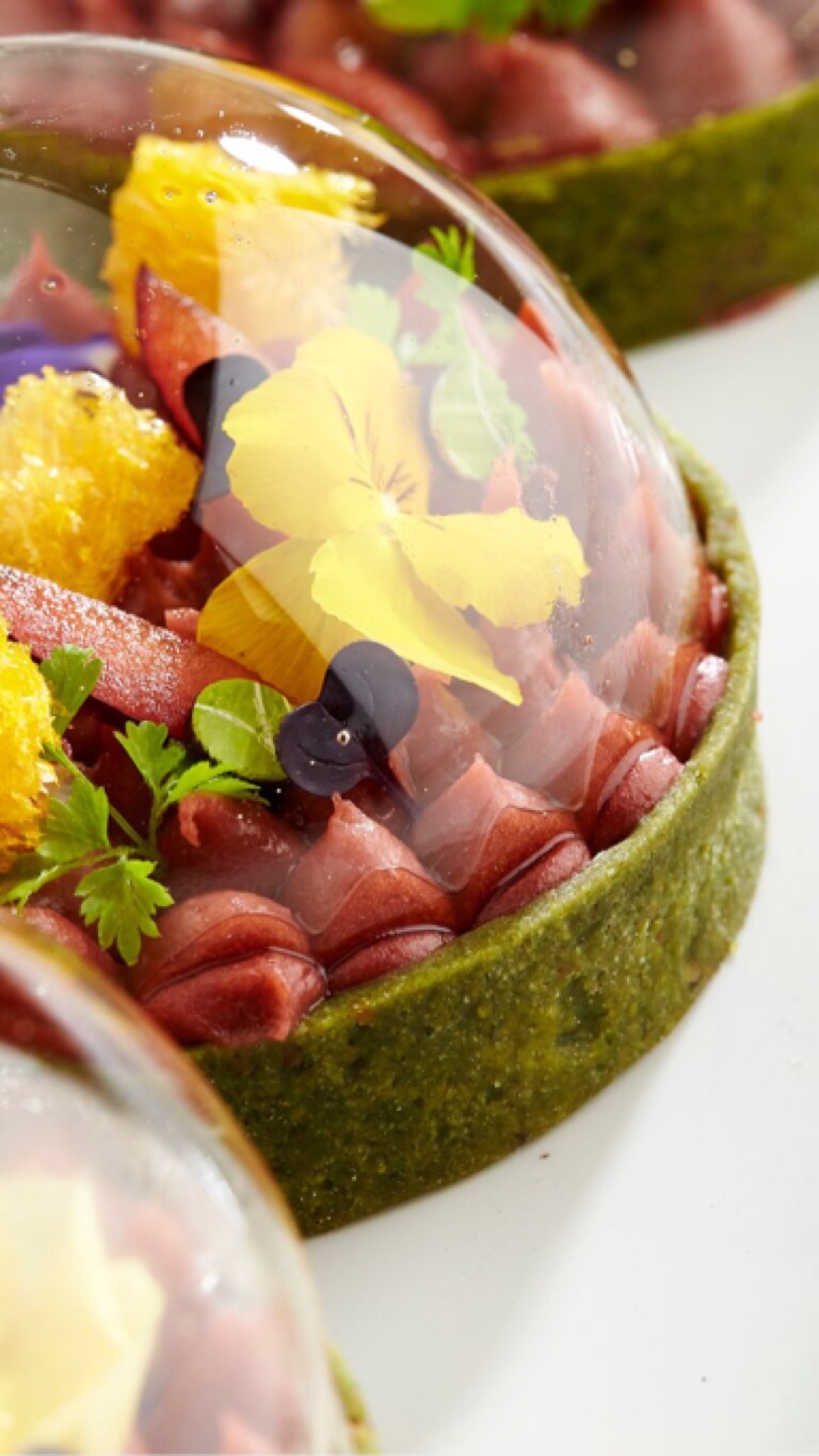 Terrarium Tart
Matcha Pistachio Tart Shell
125g plain flour
10g matcha powder
65g caster sugar
65g butter
20g pistachios
15g hazelnut
1g salt
1/2 egg
Method
Place all ingredients except the egg into food processor then blitz until it form a dough.
Wrap the dough and let it rest in the fridge for at least 1 hour.
Then roll the dough to 2mm thickness and place to tart ring.
Bake for 20 minutes at 180c
Blood Orange Curd
125g Caster Sugar
150g Whole eggs
500g Blood orange puree
5g gelatine
200g butter
Method
Place the blood orange puree into medium saucepan and heat until reduced to 125g
Add the sugar and bring to boil. Once it has boiled, add in the eggs and boil again.
Remove from the heat then add in the soaked gelatine. Cool to 60C add the butter and emulsify with a stick blender.
Red bean cream diplomat
3 egg yolk
25g caster sugar
10g cornflour
125ml milk
125g red bean paste
100g cream
Method
Combine the egg yolk, sugar and cornflour in a bowl and whisk until the sugar dissolves.
Bring the milk and red bean paste to a boil
Whisk the hotel milk mixture into the egg yolk mixture
Return the mixture to the saucepan and cook over medium heat, whisking constantly, just until the pastry cream thickens.
Remove from the heat and place the pastry cream in a bowl to cool.
In another bowl, whip the cream until firm peak, then fold into the pastry cream
Sugar dome
300g caster sugar
200g glucose
75g water
Method
Place sugar, water and glucose into saucepan, bring it up to 150°c let it cool to 120 C then pour the mixture to wrapped bowl, press using a cake ring and allow to set.