As one enters the luxurious Aish, one can't help staring at the beauty and opulence of this gorgeous restaurant located at The Park Hyderabad. I was invited by the hotel in October to visit and write and kept going back to eat in this restaurant whenever there was an opportunity during my three night stay. The Mother of Pearl bowl, floor inlay, crystal chair bought from Nizams, marble jar, crystal fountain, crystal chandelier and the first copies of photographs by Lala Deen Dayal, the official photographer of the Court of Nizam are striking elements at Aish that transport you to a bygone era when Indian royalty lived and ate luxuriously. The quality of food eaten was symbolic of their prosperity and position in society.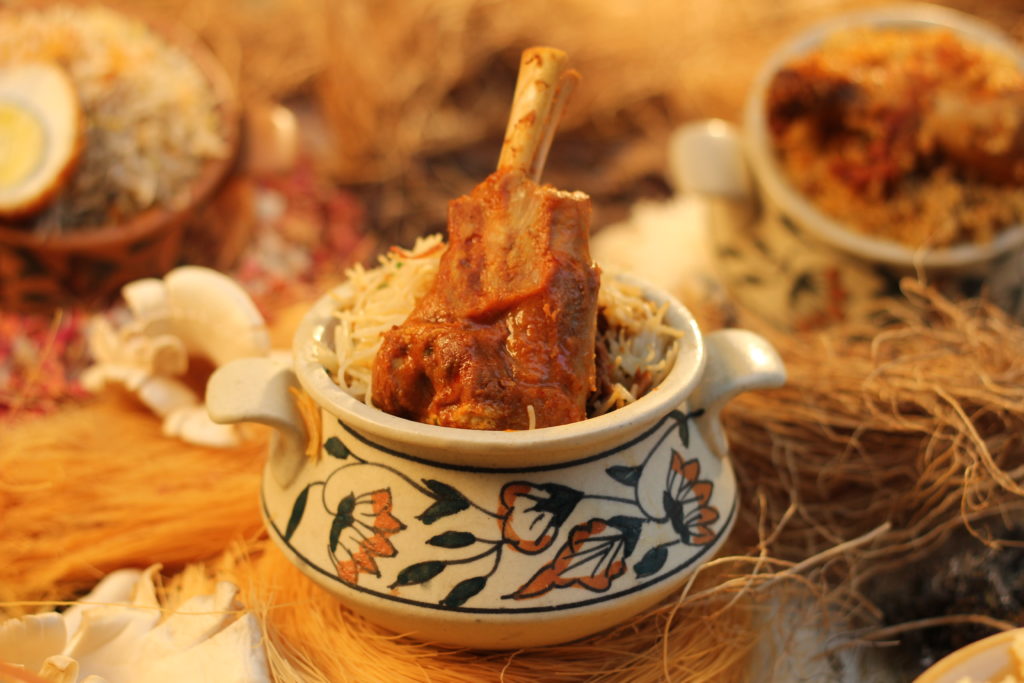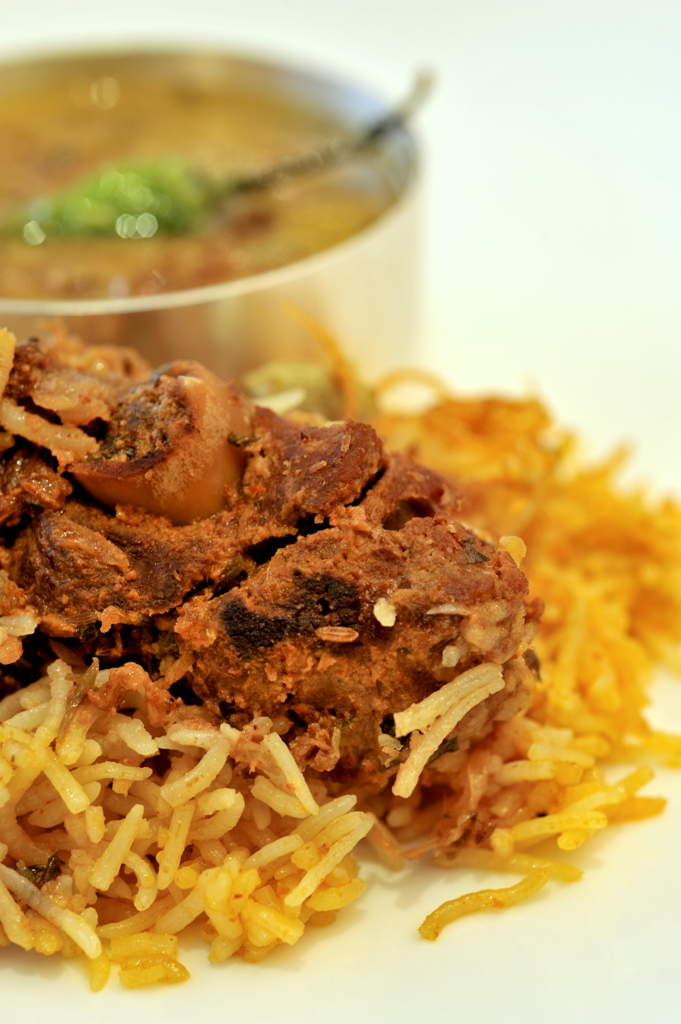 The menu at Aish showcases the subtle nuances of Hyderabadi gastronomy as well as the robust punch of spicy Andhra fare. An elegant restaurant both in terms of it's ambience and cuisine Aish has been designed by the renowned Tarun Tahiliani,a respected personality in the Indian fashion industry. The interiors depict the opulence of the ancient palatial houses of India. Most of the décor such as the silver door, marbles etc is created by skillful craftsmen from Jodhpur. Apart from marble the restaurant showcases beautiful crystals and glass mirrors used across the restaurant that add an element of allure, romance and mystery.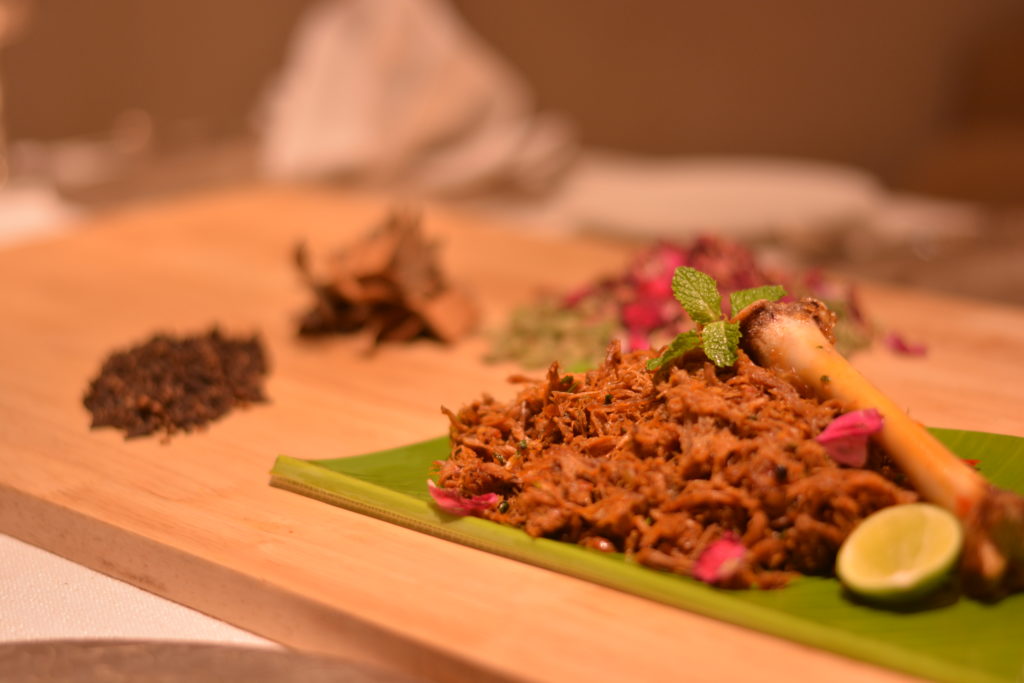 A traditional welcome is offered to guests with a pearl garland (Hyderabadi Cultured pearls) and with Ittar (in Urdu it's called Attar and is a fragrant concoction of essential oils derived from botanical sources). These extravagant and luxuriant gestures offer an insight into the Nawabi style of living. The prosperous and royal Nawabs were fond of fragrances and they had blends curated for themselves which were not available easily in the market. The Swarovski crystal chandeliers are designed in such a way that they have inverted bulbs to match those used during the Nawabi era in which Candles / Diyas are used to light these gorgeous chandeliers. The design is created so as to transport guests to a royal era in order to for them to experience the dining extravagance of the Nizams and their cuisine.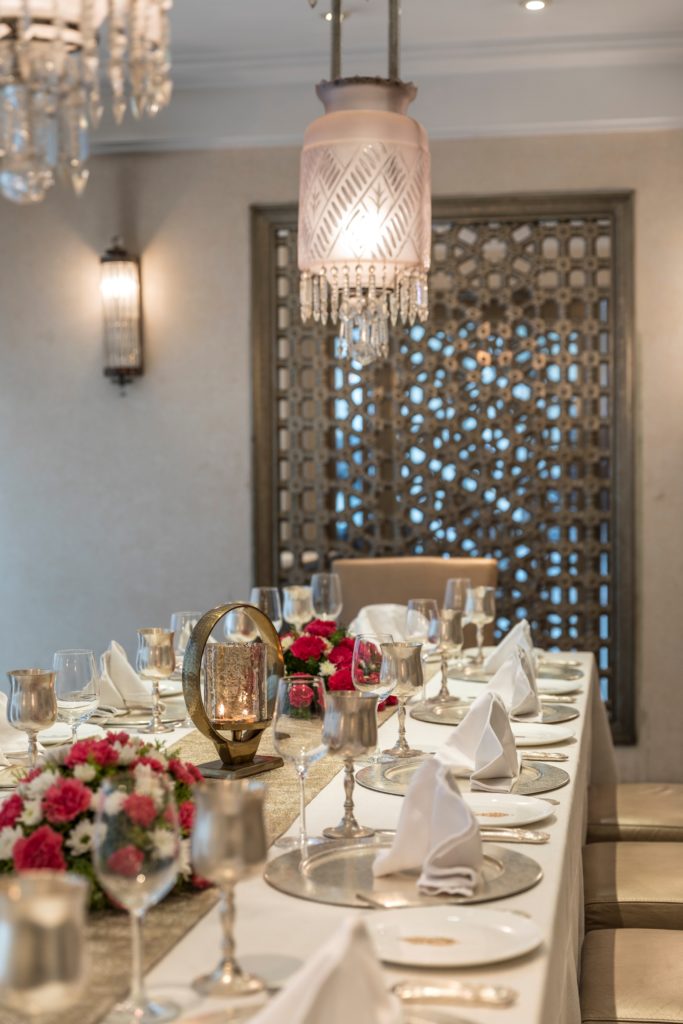 Aish has been winning several awards for the best Haleem and Biryani for three consecutive years. This luxurious restaurant has been the center of attention since the opening and the entry of Master Chef Mohsin has only added to the restaurant's popularity. The expansive and authentic menu ranges from starters to desserts, showcasing Nizami cuisine at it's best. The menu is influenced from the royal kitchens of Nizams and even the process of cooking reflects how the food was cooked in earlier times.
The popular restaurant in Hyderabad has recently introduced a nine course tasting menu which has all the signature dishes from a welcome drink, starters, main course (haleem and biryani) and dessert. This menu comes in small portions where guests can indulge in all the dishes during a single meal. Aish has been evolving itself by introducing different dishes with a modernized twist. The main focus however remains towards retaining the authentic taste of Hyderabadi cuisine. The chefs have designed an interesting menu which consists of Gur aur nimbu ka sherbet, Amuse Bouche, Mirch matar aur nariyal ka shorba, Achari masale ka paneer, Kathal haleem with sheermal, Paneer khada masala, Chowgra-Dal e aish served with Breads, Subz Biryani, Khubani ka meetha and tea or coffee. Lovers of meat have equally interesting additions to enjoy such as Gosht ka marag, Teekhe murg ke panje, Mutton haleem with sheermal, Zaffrani dum ka murgh, Chowgra-Dal e aish and Kacche gosht ki biryani.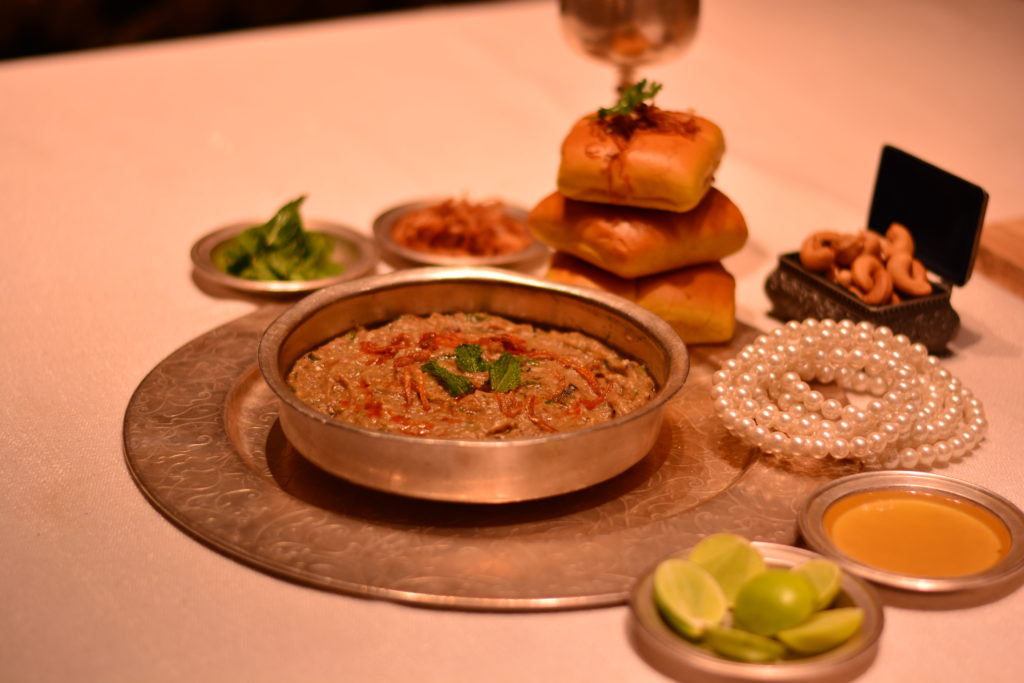 "Aish is probably the only restaurant serving authentic Hyderabadi cuisine in an environment as royal as Nizami palaces. Each ingredient that goes into the dishes is carefully selected for high quality and each recipe has undergone immense trials to feature on the menu. The team of chefs is well trained by Hyderabadi cuisine experts who have been cooking this food for ages. Begum Mumtaz was one of the cuisine experts," says Executive Chef Thimma Reddy.
Aish is definitely one of my favourite restaurants in Hyderabad for it's grandeur, delicious albeit heavy food, warmth of the service staff and the allure of Nizami royalty as I am a big advocate of retaining our incredible culture and ethos through the medium of our amazing Indian cuisine. Definitely worth several visits!