Artist Veronika Yngwe is an oil and watercolor painter born in Gothenburg, Sweden. She lives partly in Gothenburg and in a small, idyllic city called Falkenberg. She is a member of the Swedish Artists´association and a Senior high school teacher; teaches in the subjects of Swedish, aesthetic communication and religion. Veronika is currently studying didactics for visual arts at HDK/Valand Academy of Art and Design in her hometown Gothenburg.
What's your artistic background?
I come from a musical family where my grandfather was the one who encouraged to paint in my childhood. My parents always told me to get a real education though, and that´s why after studies in art history and media education i became a senior high school teacher. In my teens and twenties I was more interested in making music in my spare time; I was a guitarplayer and a singer in a couple of bands so I didn´t paint so much until I turned 30.
What's integral to the work of an artist?
I think personal freedom is very important. And courage. You have to be bold and open minded since making art also means exposing yourself and not all artists are comfortable with that. Painting means that you have a broad palette of not only vibrant colours but also mixed emotions. You also have to realise that simplicity and spirituality – more than materialism – are your guides in life.
What role does the artist have in society?
The role of the artist is, according to me, on the one hand to bring light and joy in difficult times and on the other to continue breaking taboos, crossing boundaries and examining inconvenient questions.
What art do you most identify with?
Right now I most identify with the abstract realism. I love colours. And figurative painting. But I might as well listen to the dark side of the force soon, I switch my mood very easily. If all is sweetness and beauty I get bored and want to rough things up a bit! Imperfection is more interesting and memorable.
What themes do you pursue?
The themes I pursue right now are quite different; animal portraits, the muppets (!) and nature's beauty. My latest series, 'Impressions från Wyoming', will be exhibited next year. I get a lot of inspiration from travelling and nature. Painting is travelling (in one's mind) and with this series I relive a road trip to three national parks in the US, 2018. I created the paintings as a tribute to the fantastic and spectacular landscape of Wyoming.
What's your favourite art work?
I don´t have one favourite artwork, I have many. 'The Garden of Earthly Delights' by Hieronymus Bosch is among my top 5, though. By far the best surrealistic painter, if you ask me.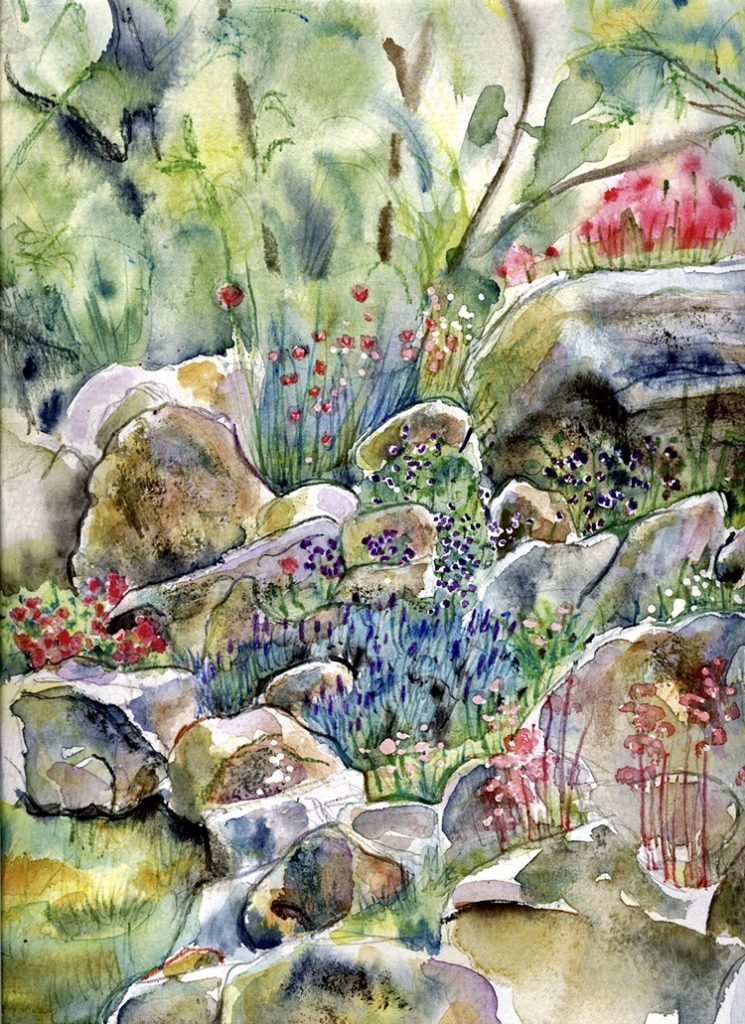 Describe a real-life situation that inspired you?
A real-life situation that inspired me was when I got an old, framed oil painting from a teacher colleague. The painting was made in dark colours and depicted his grandmother who was a somewhat austere principal at a school in Finland, many years ago, and my colleague told me he first thought of getting the rid of her after renovating his house. Then it struck him that the golden frame might interest me and maybe I could reuse it in some way.
– Do as you please with that stiff lady, he said. The frame is worth some money, though.
I gladly received the painting and became further curious of his grandmother. After overhearing the story of her life I simply couldn´t unframe her. The painting looked like it was made by a portrait painter from the renaissance and I decided to pimp her out. After a while she was transformed into a glittering Dame Edna! And I thought of recycling other old paintings in the same way so I became a very frequent visitor at flea markets, searching for framed, old and dull paintings to repaint.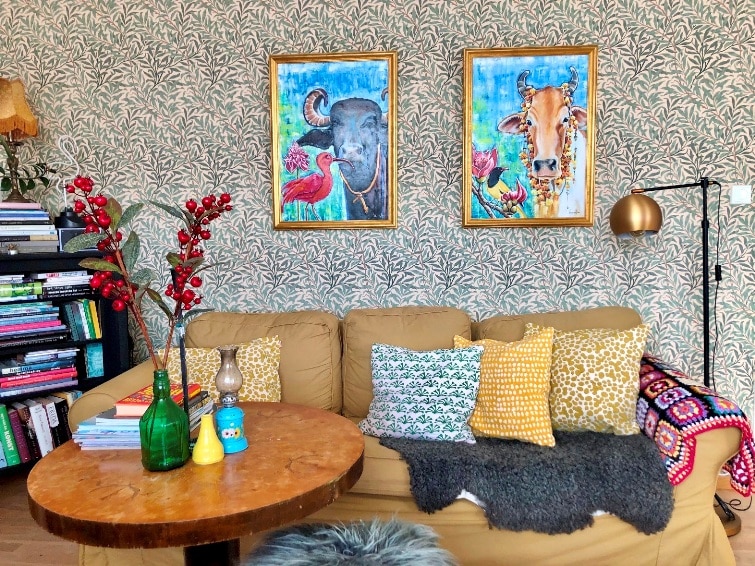 What jobs have you done other than being an artist?
I have been sort of a nomad in my professional life but as a senior high school teacher I have mostly worked with teaching teenagers, young adults and immigrants during Swedish grammar and religious studies. As a young student I was selling Dutch tulips at markets as well as teaching teenage girls how to play the electric guitar. I have also worked at a café in London and as a postal carrier.
Why art?
I have asked myself that question so many times. Maybe art is a selfish act which  is only about my own well-being and mindfulness? I feel good while painting. I feel good while exercising and doing yoga too.
What is an artistic outlook on life?
According to me, an artistic outlook on life includes simplicity, humility and care for the planet and every living creature. I think we all have to slow down a bit and realize that our health is the most important thing of all. We are all connected in some way but sometimes we are to stressed to reflect upon that. As an artist you are in deep contact with your emotions, you´re often a very highly sensitive person with no filter' between you and harsh reality. Impressions can be overwhelming. If you think of this as a gift more than a curse, you can inspire others to appreciate the small things in life too. Art and beauty is everywhere.
What memorable responses have you had to your work?
The most memorable responses I have had come from children and some of my students. Since I have no children of my own I have often been babysitting other kids and they have loved our painting sessions. Kids are wonderful since they are so honest, natural, curious and creative. My home is a playhouse!
What food, drink, song inspires you?
Food is another way to express art. Music too, of course. I love cooking and here I think in themes too. When I painted my cow from India I made daal in the kitchen and listened to some sitar music. When I painted my cow from Trinidad I directed that painting session in the same way; I googled a food recipe and some popular artists from Trinidad and Tobago. I had a lot of fun while painting these cows and I will never sell them, they will always be watching over me from the wall in the living room.
Is the artistic life lonely? What do you do to counteract it?
The artistic life is sometimes lonely, yes. It´s the perfect life for an introvert. I have absolutely no problems with solitude but I also love and need certain people and animals in my life and I would become depressed if I don´t get to see them.  I don´t believe in putting all your eggs in one basket; you have to do something else in life besides making art. I think you can find the perfect balance if you combine artistic work with social work, for example. All humans are in need of privacy/integrity as well as social interaction.
What do you dislike about the art world?
I don´t consider myself being a part of the art world. I neither like prestige nor want fame. Of course I´m happy when I sell a painting now and then, or when I´m invited to biennials or art fairs, but exhibitions and art fairs are mostly exhausting and often causes stress and migraine. I am a quite bad ambassador for my own art, I am better at speaking for other artists.
What do you dislike about your work?
I think I dislike the same things as the art world dislikes about my work; it´s perceived as fragmented, eclectic and sometimes overworked. My art is unpredictable and has no clear characteristics since I´m interested in exploring so many techniques and themes. That´s why I am bad at doing commission works too.
What do you like about your work?
I like the playfulness in my art work. I actually sometimes even like the fact that the themes are unpredictable since I never really know which turns they will take.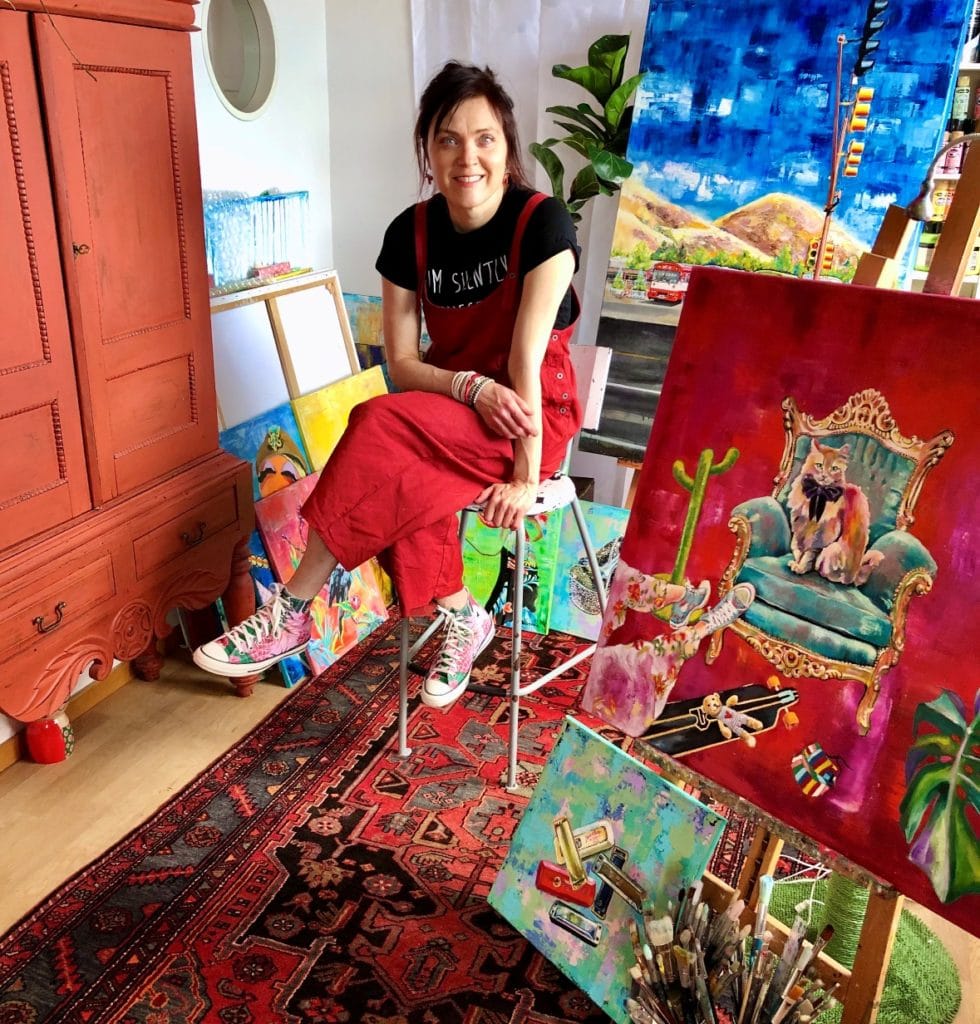 Should art be funded?
I have no problem with art funding although I´m personally far too proud (or shy) to beg. Michelangelo had his patronages who financially supported him and his amazing art, so yes, art should still be funded. (No art funding – no greatness of Michelangelo, right?)
What is your dream project?
My dream project is to publish a book with combined lyrics and paintings. Hopefully, I can publish my Impressions from Wyoming one day in the future.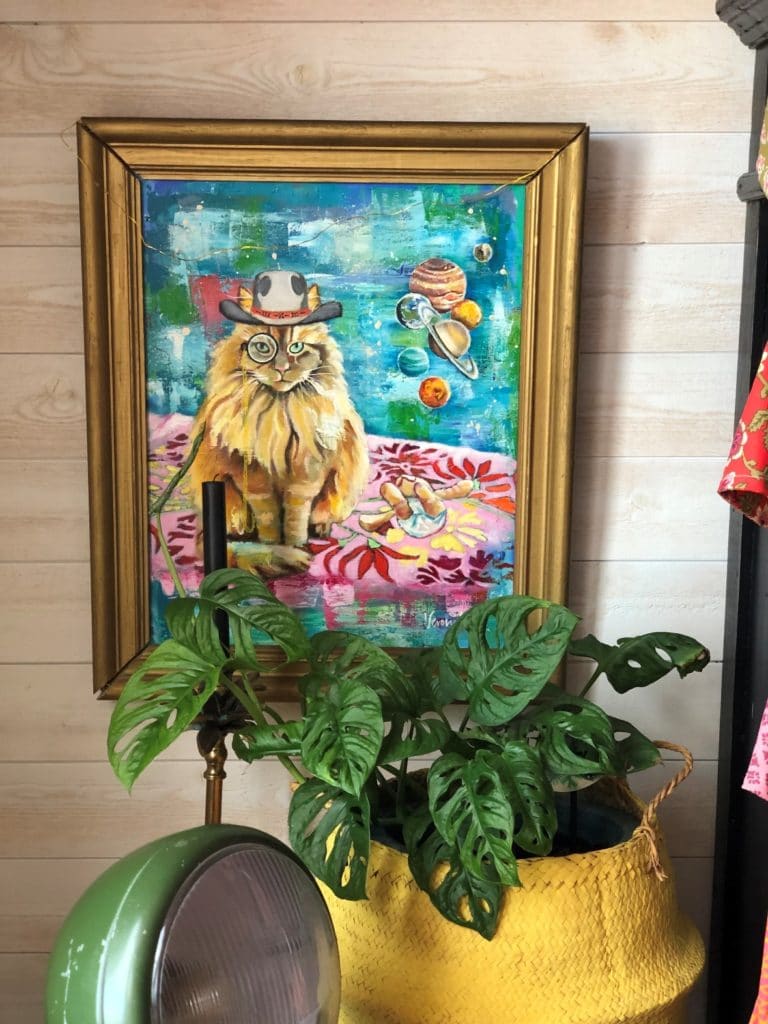 Name three artists you'd like to be compared to.
Three artists I like to be compared to: the German painter Emil Nolde, the Swedish painter Sigrid Hjertén and – whenever I will devote myself to the dark side of the force – the British/Irish painter Francis Bacon!
Favourite or most inspirational place?
The most inspirational place I have ever visited is the city of Havanna, Cuba. The colours, the classic cars, the houses, the nice people. I will never forget the daiquiri we had at the bar La Bodeguita del Medio and the lobsters we ate together with black beans and rice. I wish to return there someday.
Professionally, what's your goal?
My professional goal is to paint and write more and teach less. A big investment in health.
Future plans?
Right now I am planning more inspirational trips and travels when the last restrictions owing to the pandemic are repealed.  In 2022 I will exhibit my art at several places here in Sweden so there are some large paintings I must prepare until then. Since I also teach in the subject of aesthetic communication (a subject that aims at helping students develop knowledge of communicating using all aesthetic forms of expression) I am very thankful to my employer who gave me the opportunity to once again become a student myself and broadening my teachers´degree with freestanding courses at HDK/Valand Academy of Art and Design in my hometown Gothenburg.