Shrutika Gosavi was born in India and is an award winning artist living in Dubai, UAE since 2011. Her latest achievements are her selection by the Sikka Art Festival Dubai Culture 19-2020 committee to participate with her series of artworks 'The Leftover' as well as awarded with 'Rove Emerging Artist Prize 2020' at World Art Dubai UAE. Shrutika's art is intuitive as well inspired by the human body, nature, spirituality, identity and perception matters. Her observations and experiences of her surrounding environment contribute to the development of a series of works, where she processes the significance of the external world to the human behavior and body.
Shrutika grow up in Gwalior, Madhya Pradesh, India, where she completed her Masters in Visual Arts (Painting) at the Government University of Raja Mansingh Tomar Music and Art. She received the Young Artist Scholarship from the Ministry of Culture and was nominated for the prestigious State Artist award. After working as a lecturer for a year, she moved to Dubai and opened her studio in 2012 to dedicate herself to her art practice.
Human forms are the main element in Gosavi's artworks, characterized by their exaggerated gestures and body parts, are mostly faceless: "The expression in my paintings comes from the gestures of the full body. And I always connect the theme with the general atmosphere. Hence for me, facial features are not that important," she says.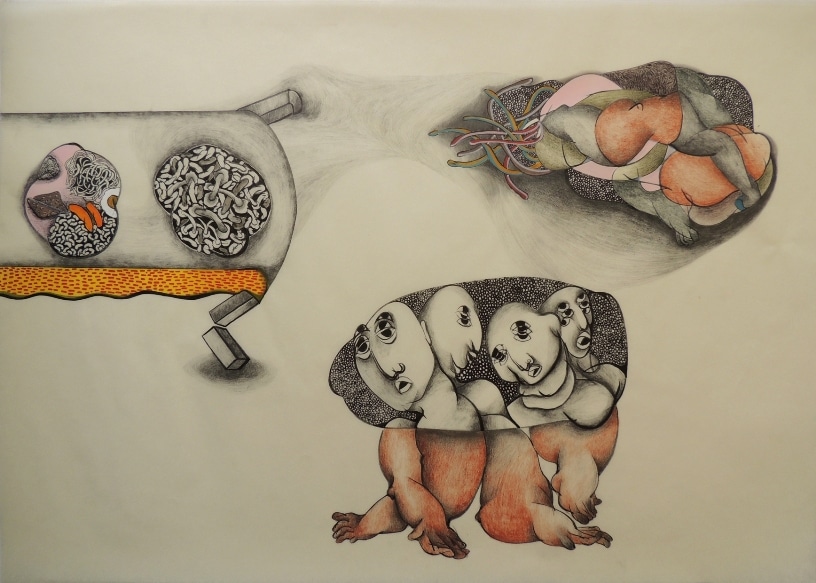 What's integral to the work of an artist?
For an artist, his / her emotions and thought process is an integral part of his / her work. The     discovery of one's own self and his or her existence should be the fundamental thought for each artist. If the objective is visible, one will not stray in any other direction. If the intention of creation is to find absolute reality and internal happiness then the viewer will also feel the connection with your soul; and this is the absolute intention of any art.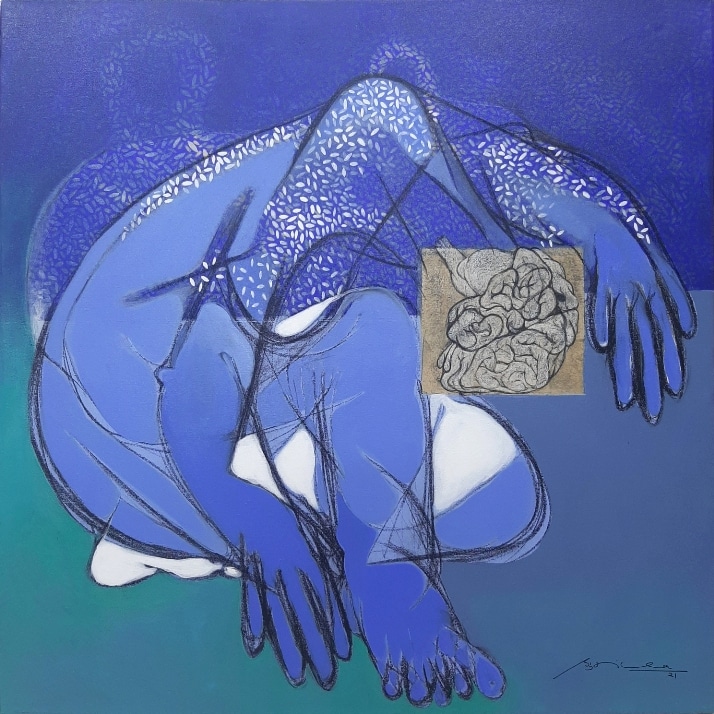 What role does the artist have in society?
Artists are the foundation of any society. Culture and tradition propagate through art. The lifestyle, tradition and cultural records of all past civilizations found till now have been understood through the remains of the artistic works from the era – architecture, sculptures, literary works and paintings. The artist, whether she/he be a painter, sculptor or author always works towards awakening and giving a direction to society. Even in today's fast paced and modern existence, if the purity of the soul of society is visible and kept alive, it's because of the artist's efforts. If one notices, since the pandemic has started, the interest and focus towards art has increased because it is a successful way of keeping one's self composed and grounded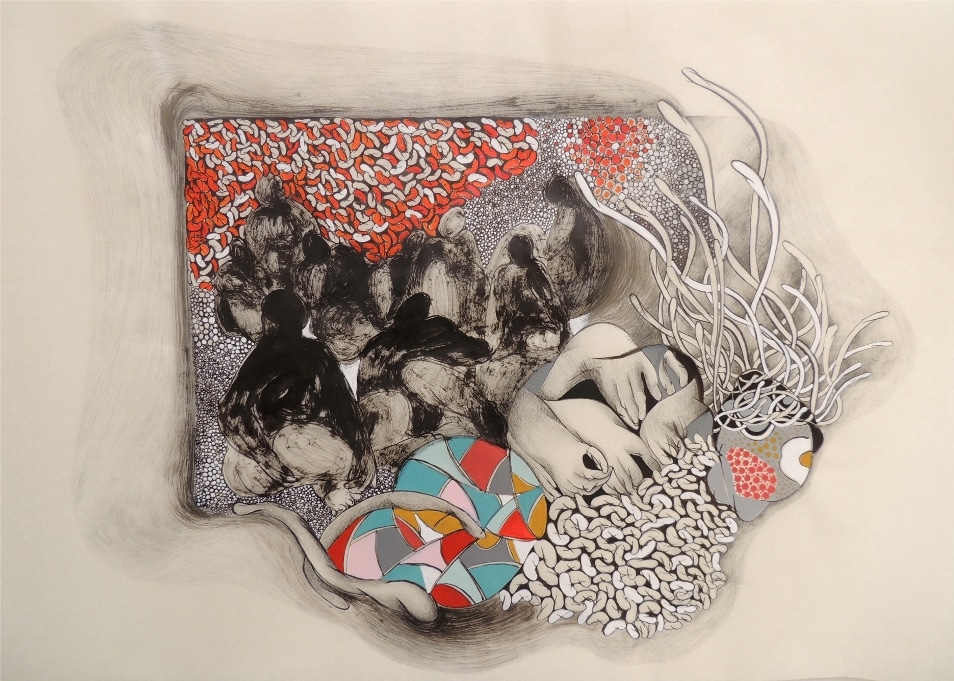 What art do you most identify with?
I enjoy seeing all kinds of art, however the works I really connect with or the elements that are a part of my works, come from the environment around me – that which has life, people, emotions, spirituality and social thought. For many years I was inspired by Picasso, Tyeb Mehta, Salvador Dali and Francis Bacon. I can connect easily to those art movements who gave precedence to the line and form.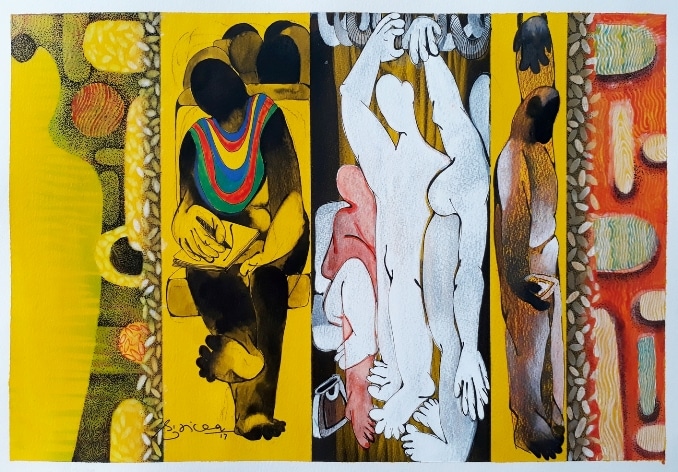 What themes do you pursue?
In my works you will notice that there are people in constant movements, their arms and legs are big and flexible and in a position as if they want to communicate through it. They do not have faces, clothes or color as my intention is for you to see a human being in their purest form. The elements and objects I use in my paintings are parts of everyday life – mats, table, glass, cup, pots, food; these things give a sense of a culture.
I don't decide any theme in advance, instead, as I sit down to work, my intuition guides me at each step of the way on what I should do next, how a line is to be drawn, which form is to be created and how this is to be developed further.
Some concepts which I have worked on were chosen in advance, like 'the leftover', a project for Sikka Art Festival for which I had made 40 full size drawings. The concept is linked to the situation where some nations of the world are struggling with poverty and try to recycle half-eaten food by collecting food from garbage, cleaning, re-frying and then selling it for consumption. There are some conceptualized series of work like 'When I travel in dreams', 'Life in a metro' which are inspired by the landscape and infrastructure of U.A.E. and the people here.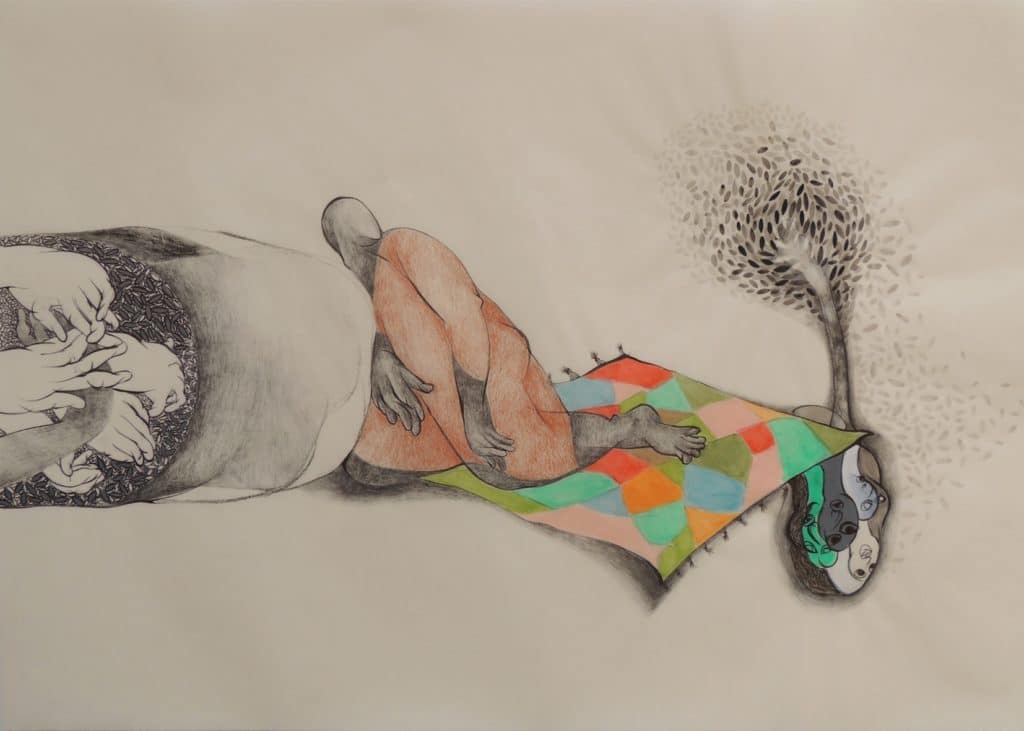 What's your favorite art work?
My own favorite painting is 'Overlapping Thoughts'. As far legendary artists are concerned, I like Picasso's 'Guernica' and Tyeb Mehta's 'kali'.
Describe a real-life situation that inspired you?
The pandemics experienced previously were probably restricted to certain regions due to the lack of connectivity and lack of transport options and could not evolve into such a tremendous tragedy. As I have shared, my work is related to people, their circumstances and situations, and so this pandemic situation could not stay untouched by my art. I have also been affected with Covid-19 and through my struggle with it I have realized a few realities of life and have brought this into my work with the series 'a dialog with substance'. An artwork from this series is going to be in a permanent collection of Haegeumgang theme museum, South Korea.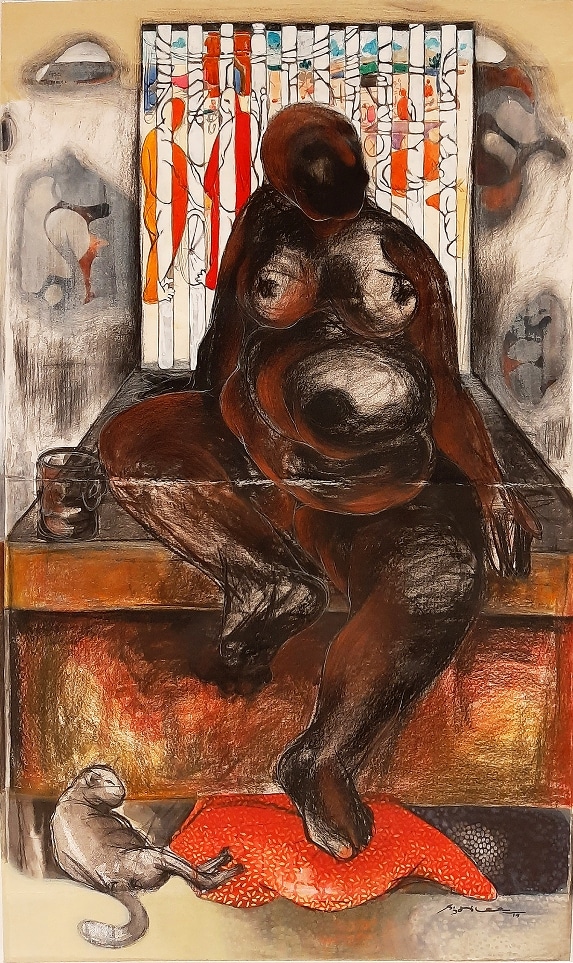 What jobs have you done other than being an artist?
As far back as I can remember, I always wanted to be an artist and that's the reason any work I have done has been connected to art. I have worked as an art lecturer in my college; have conducted art classes, art workshops, art apprenticeship and art teacher in school.
Why art?
I never considered any other career choice. My mother had a great influence in allowing my childhood hobby of painting to develop into a career. My mother is a Hindustani Classical singer which is why she understands the importance of art in one's life. I have learned singing from her and if I was not a full time visual artist, I would have been a full time singer, but would never have chosen any technical field.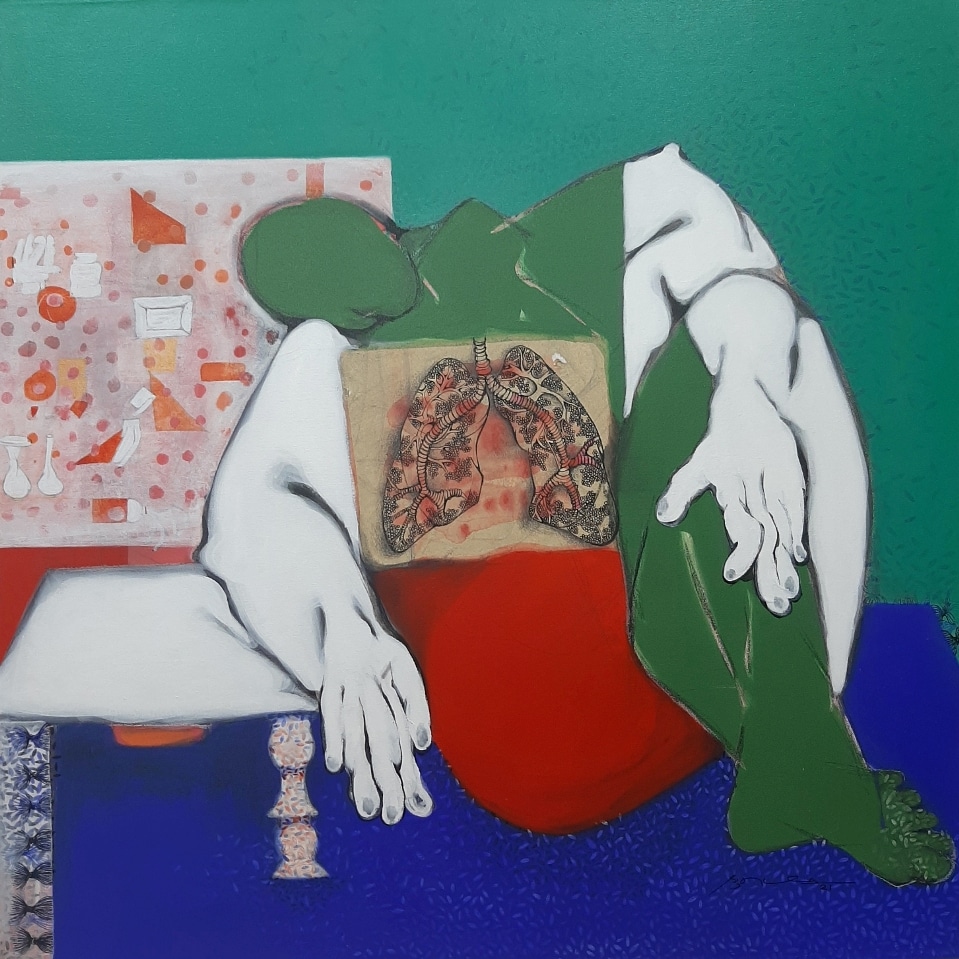 What is an artistic outlook on life?
My life and art are unified as a whole. The artistic approach used for art is also used for life. A fundamental ideology in Indian culture is 'Satyam Shivam Sundaram' – that which is true is immutable and within that is beauty. Instead of looking for the beauty or ugliness in life and art, one should maintain a focus on the truth which you feel, see and accept is the most beautiful thing.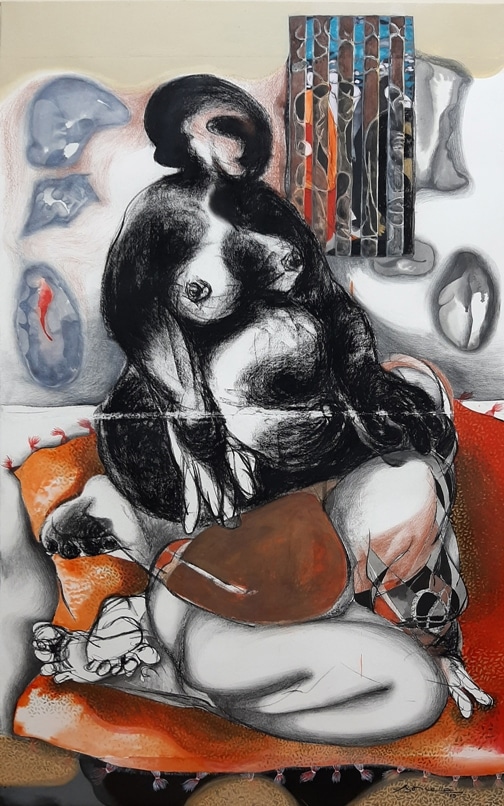 What memorable responses have you had to your work?
There have been many positive responses; however there are 2 which standout for me. The first was during graduation when I had made some intuitive paintings. A few artists were visiting from Australia and while purchasing my works they said ' You are Lady Picasso'. At the time, this was the highest possible praise for me. The second incident was during an exhibition in Dubai, when a visitor spent a long time looking at my painting and her eyes were flowing with tears. There is no greater appreciation than this for me.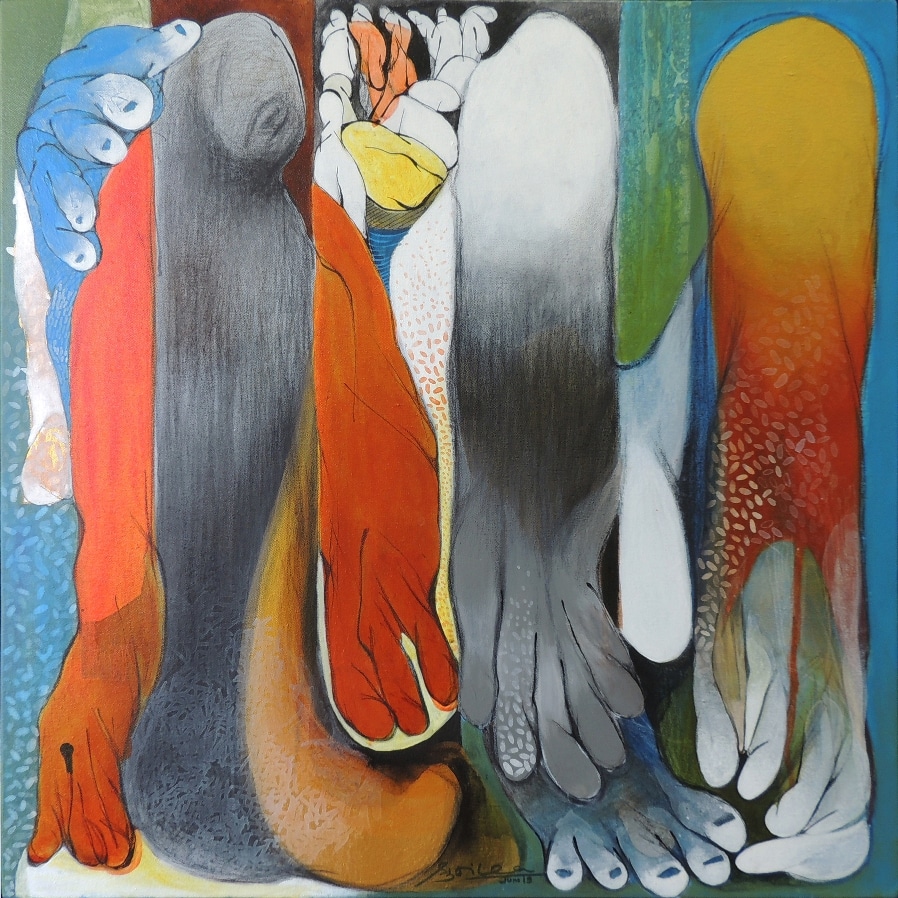 Is the artistic life lonely? What do you do to counteract it?
Not at all. We are very social and like solitude just as much. However, there is no loneliness in the solitude, but a sense of completion because this is when we communicate with our creativity.  Thoughts take us into deep inside and that is where art comes out from. There is no better feeling of fulfillment and this is why I do not agree with the question.
What do you dislike about the art world?
I feel the lack of art connoisseurs and people who can appreciate true art in the society. Though the world is changing and things are getting better but still the artist and his/her art are not getting enough importance and value from society. The opportunities are less. In many countries, within the education system, art has a very limited role. This should change – love for the art must be cultivated within children. They have to be made aware of art appreciation and history of art, which will bring a major change in thought process of future generations and they will be more aware and sensitive towards art.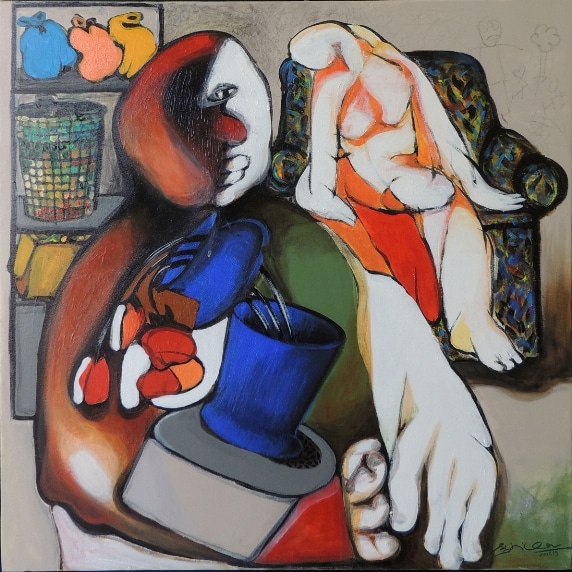 What do you like about your work?
If there is any one element I like the most about my work, it is the line. I always think that my contemplation on line should be such that it evolves and becomes more powerful on it's own.
Should art be funded?
Yes, it is important considering that full time artists do not have any other source of income. Whether you sell paintings or run workshops, but to progress as an artist, exhibiting works overseas is a necessity which requires funding. Many galleries and museums host open calls through which they may support artists. There are many private and government grants which are helpful to artists. This interview that you are publishing is also helpful and a way of funding for the artists. This is the type of social assistance and support that an artist should receive because the artist is also working for the benefit of the society.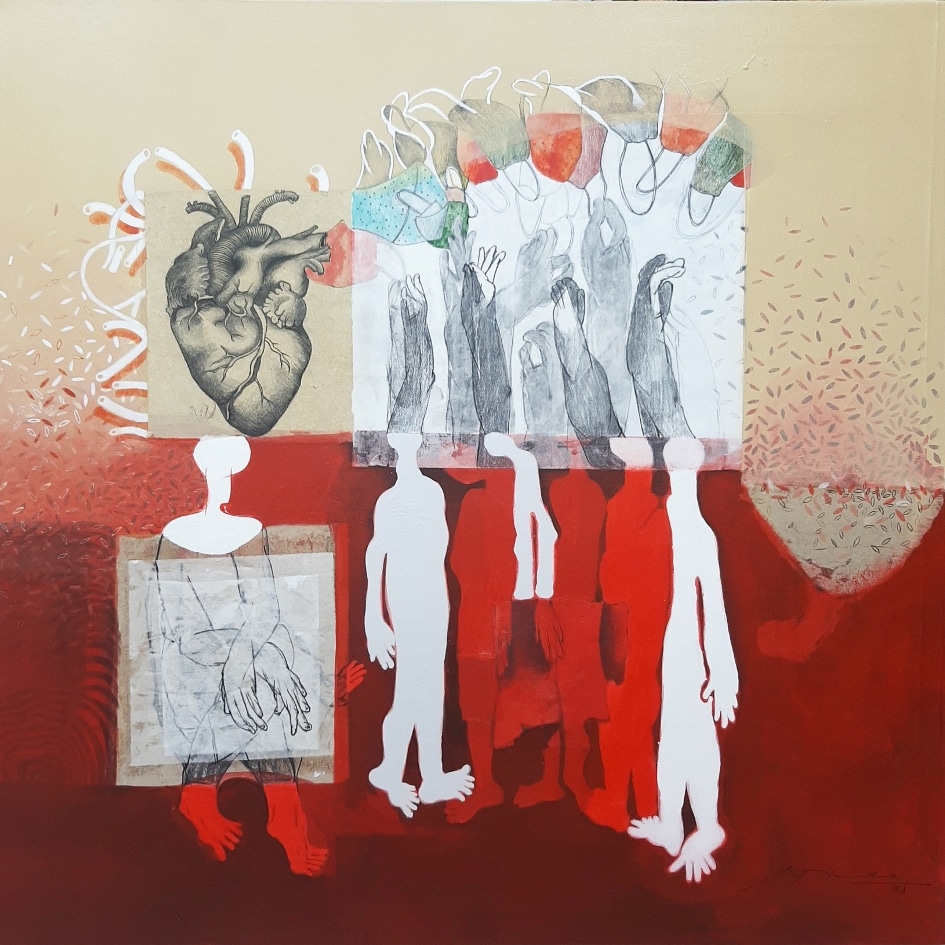 What role does art funding have?
As I have mentioned previously, this type of support is necessary for the artist to continue his work. I would like to add one point to this – there are many projects or concepts that the artist may want to work on such as an installation art or any public art but there may be a high production cost for these and self-funding may not be possible, at this point funding will help the artist to work on such projects.
What is your dream project?
To create a body of work which contributes in the future development of UAE. Also to I would like to be a part of Venice biennial and to get into a collaboration with MOMA someday.
Name three artists you'd like to be compared to?
It is not necessary to compare but with due respect, if I take three names, they will be Picasso, Francis Bacon and Tayeb Mehta.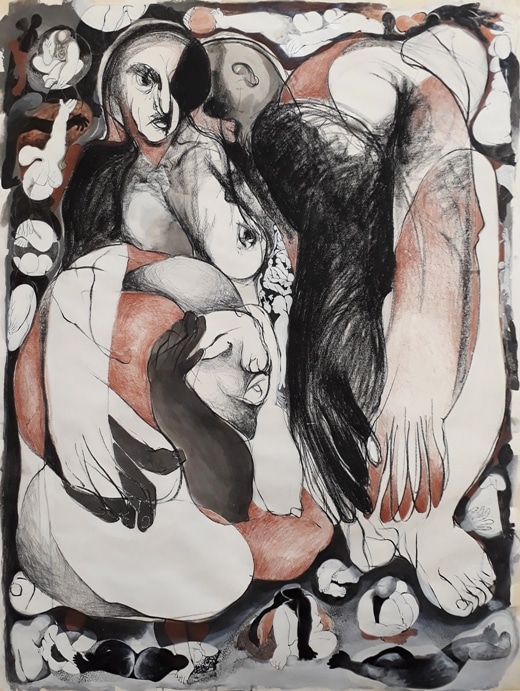 Favorite or most inspirational place?
These inspirations will change in the future, but for now in UAE it is Rab Al Khail Liwa desert, in India it is the Himalayas and nearby states, and in Paris it is the neighborhood of Pigalle, with the streets going up and down, restaurants, museums and old artists' hang-outs and studios.
What's the best piece of advice you've been given?
Do your work honestly, look for no shortcuts and keep your eyes wide open.
Professionally, what's your goal?
To have ceaselessness in my work, to develop it further, learn to understand and adopt new dimensions, experimenting with new mediums and being progressive and relevant.
Future plans?
I usually go with the flow. I don't like getting tied up in my own plans, but I do dream and believe the most in hard work. My plans for my work are exploring different mediums one of which is NFT art also I am working on an idea to incorporate contemporary mediums like digital media, audio and visuals, augmented reality in my works.