Stephanie Neville is a contemporary conceptual artist born in Pretoria, South Africa and a UAE resident since 1999. With an interest in textile arts, Neville employs traditional handmade techniques to express a feminine approach to conceptual art. Neville's work is an investigation into themes of diaspora, memory, absence. Her growing interest in sustainability is examined in terms of the environment and interpersonal relationships influenced by the transient lifestyle of the UAE. Neville holds a Master of Visual Arts and has won various awards. Having exhibited internationally, her works appear in personal and public collections.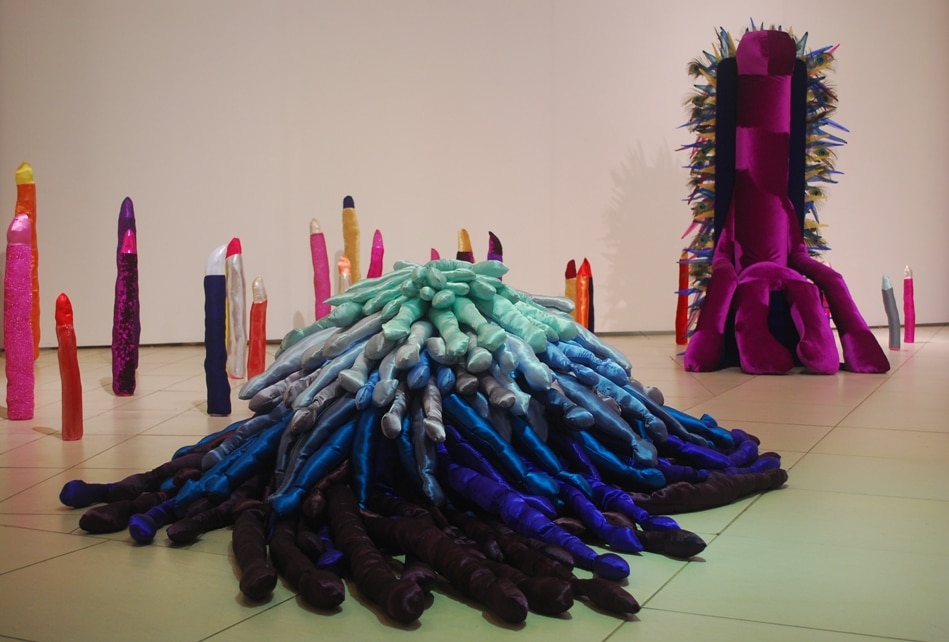 What's your artistic background?
I majored in art in high school, but went on to study B.Com Communications at university while continuing painting as a hobby. In 2009 I enrolled in a Bachelor of Visual Arts and completed a Master of Visual Arts (Cum Laude) in 2019.
What's integral to the work of an artist?
I believe art comes from personal connections and experiences. No matter what the subject, theme or concept one works with, there has to be an emotional or intellectual connection. This is followed by a process of research and development, experimenting and playing with various techniques and mediums.
What role does the artist have in society?
Art comments on society. It has an interactive relationship with the zeitgeist: current societies inform and inspires art making and art can in return carry messages / comment on current affairs that can influence or change views and outcomes. Artist can be activists.
What art do you most identify with?
Currently I have a great interest in textile art, where I am exploring techniques and various fibers, experimenting and pushing boundaries of these delicate mediums.
What themes do you pursue?
I tend to work from a very personal perspective, dealing with my personal relationships – particularly working with absence. My husband travels a great deal for work and as an expat removed from close relatives, I explore the emotional effects of absence and how to sustain relationships, looking for connections and belonging. A secondary theme deals with environmental issues by highlighting the preservation of the local UAE mangroves and Ocean Protection.
What's your favourite art work?
Now this is an unfair question and it changes every day.
Describe a real-life situation that inspired you?
My art draws mostly from my personal experiences. My real life situation is living with a partner that travels frequently for work. This short-term work-related separation really kick started my larger main bodies of artworks, dealing and examining the effects of absence in relationships.
What jobs have you done other than being an artist?
I worked in hospitality for a long time. It allowed me to travel and live abroad in various locations and brought me to the UAE. (waitress/ restaurant supervisor). I also worked in media and advertising for a few years before becoming a full time artist.
Why art?
Beauty. Expression. Sole-searching. Nothing else compares.
What is an artistic outlook on life?
I think it comes down to observation. Really looking at life surrounding you. Examining anything that is of interest to you by dissecting it into shapes, forms, colours, trying to find an understanding of the world around you and how you belong and fit into this space.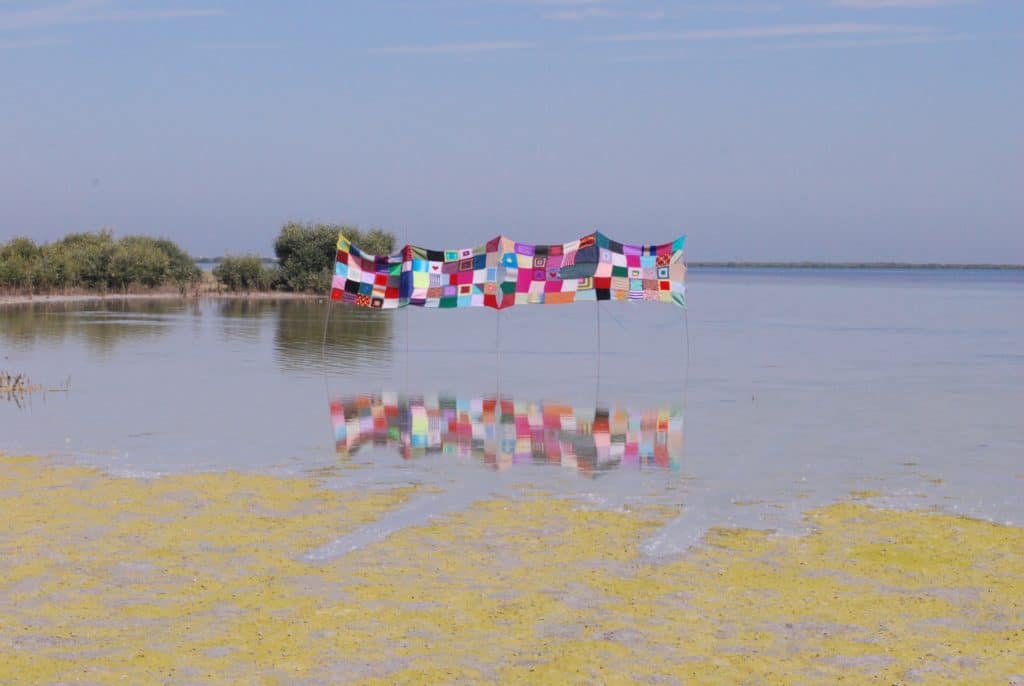 What memorable responses have you had to your work?
Because a lot of my work is of such a personal confessional nature, I particularly enjoy it when someone can completely identity with my message. Each relationship is different; however, it seems most people have certain personal moments which are actually pretty universal experiences.
What food, drink, song inspires you?
It definitely depends on my mood, but music has a strong influence in my art making. I do tend to listen to a lot of hard rock/ heavy metal music as for some strange reason it seems to calm me down, drowns out the voiced of doubt in the head. Lately I listen to a lot of Mexican music I came upon during my travels there in 2019 – probably just the lock down travel daydreaming!  Yet, I also really appreciate silence at the moment, especially being able to hear birds in the garden.

Is the artistic life lonely? What do you do to counteract it?
Yes, I do find it quite isolating. I live and work at home in Sharjah and once I am in production mode, I do not tend to see the outside world for quite some time. It is important to reach out and meet up with like-minded people for inspiration and just having fun and get some sanity back.
What do you dislike about the art world?
I feel it can be 'clicky' of course. It also seems to be some kind of pressure to look and act a certain way in order to be taken seriously, and it can be quite pretentious. Art is not only for the elite, and I feel a lot of good artists are eliminated or overlooked because of certain unspoken rules.
What do you dislike about your work?
I am not the most tidy person and wonder sometimes if everything is really finished the way it should be.
What do you like about your work?
I love textiles so I love the tactility of my work. I always invite people to touch my work. I do think my work is quintessentially 'me' and it is lovely when people start to recognize my style.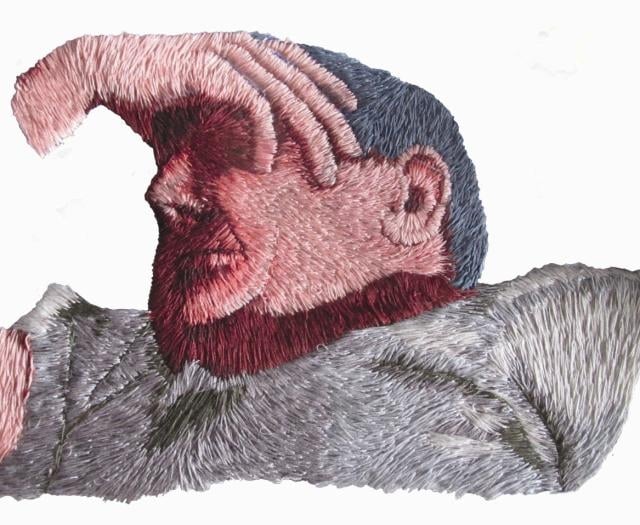 Should art be funded?
I do think there should be aids or funds, sponsorships and grants of some sort to support artists more.
What role does art funding have?
It can give artists the space, ease and opportunity to experiment and grow as artists. It can allow for important works to be done. I think for most artists, limitations to funds/space/materials restricts us from going bold and making those dream artworks. I think the possibilities can be endless if there is enough support.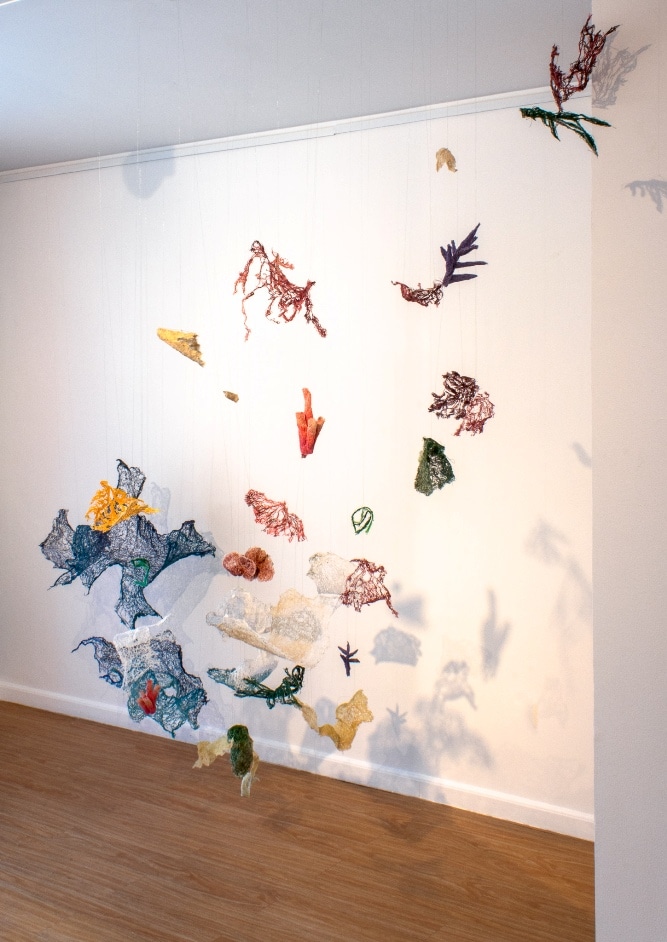 What is your dream project?
I would most definitely need space and funds. My dream project is an extremely large-scale installation of textile/fibres – creating a whole fantastical world of soft sculptures completing engulfing a space and visitors.
Name three artists you'd like to be compared to.
I wouldn't say I would like to be compared to them, but I do admire these artists and I am greatly inspired by them: Tracey Emin, Joanna Vasconcelos, Chiharu Shiota.
Favourite or most inspirational place?
The quiet desert is pretty awesome, and I love going back to South Africa, but I keep thinking about the Mexican city San Cristobal De la Casas which I fell in love with in 2019 for it's vibrant colourful houses, the Mayan tribes with amazing colours and textiles, the food and music.
What's the best piece of advice you've been given?
Fear is the enemy of creativity. And do not be sentimental about your work: if you spent days making something and it's not working, just tear it up, cut it out, reshape it and start over.
Professionally, what's your goal?
To be invited for a solo show at a reputable gallery.
Future plans?
I would like to develop and get better. Bigger and better.