I see the mirror
No picture appears
I erase everything
With utmost care
Nowhere will you see
A spot of nothing
—from "SOAS se ek kavita" (A poem from SOAS, London)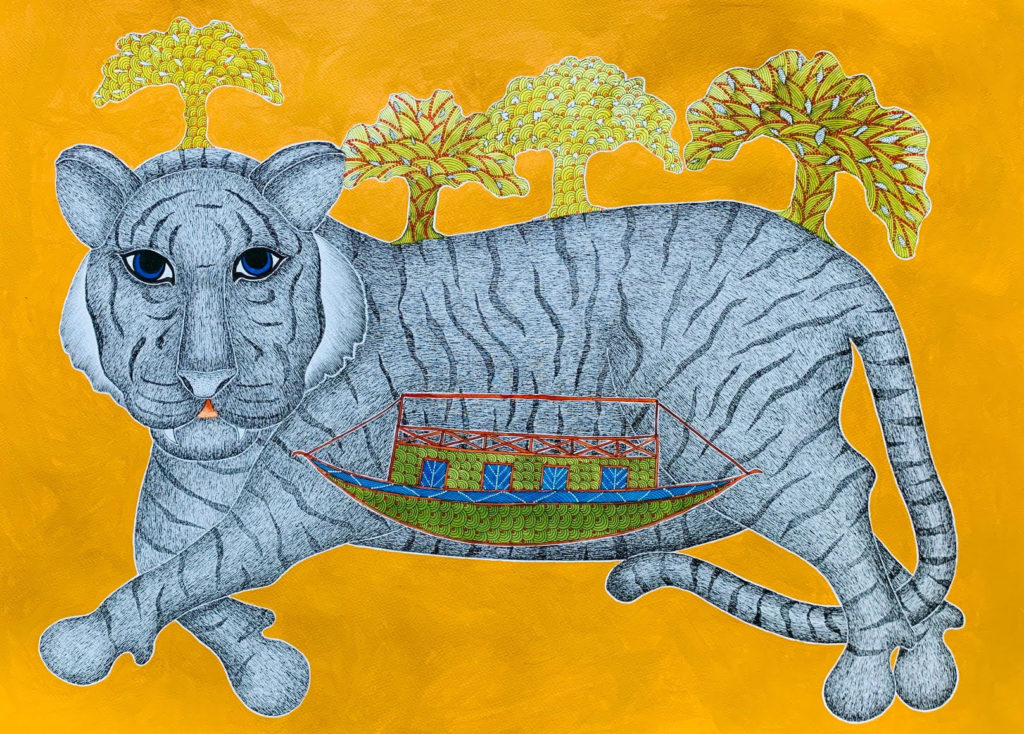 Venkat Raman Singh Shyam belongs to the tradition of Pardhan Gond art inaugurated by the legendary Jangarh Singh Shyam, his uncle. After apprenticing with Jangarh in the 1990s, Venkat worked a range of jobs—including as house painter, screen printer and signboard artist. He also was fortunate to be guided by the pioneering Jagdish Swaminathan. Since Jangarh's death in 2002 hi, Venkat has pursued a full-time career in art despite several hurdles. Having travelled and exhibited widely in India, the US, Canada, Australia and Europe, Venkat has been exposed to a wide range of arts practices which have influenced his sensibilities.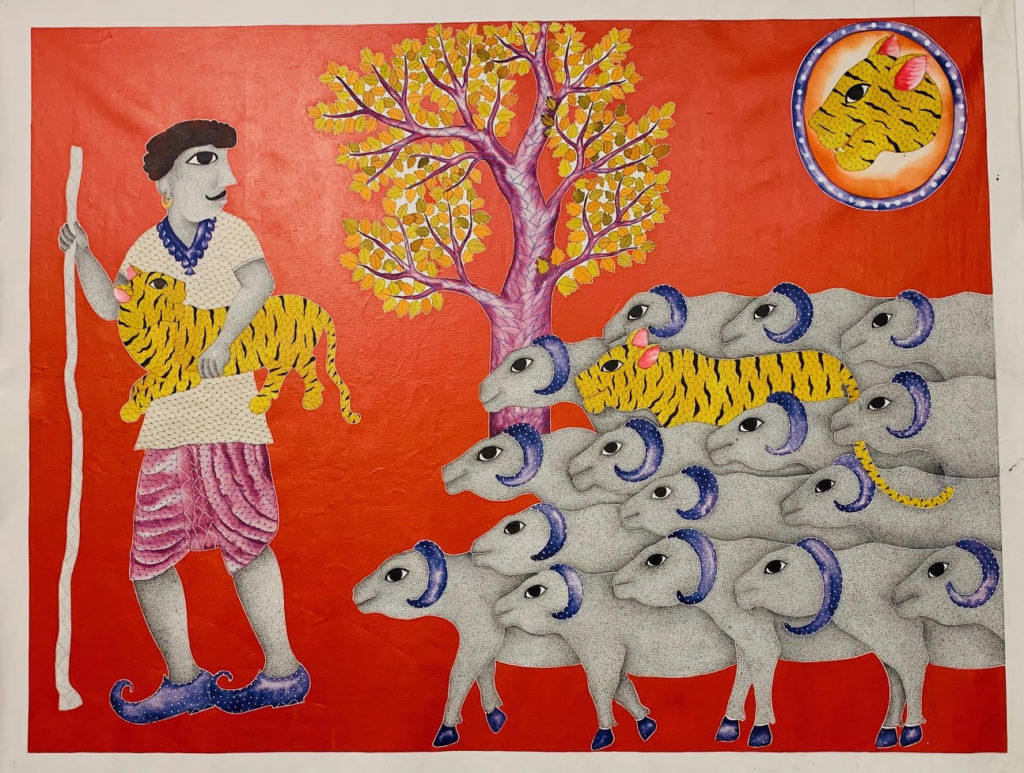 While continuing to harness the Pardhan Gond method of pointillistic detailing established by Jangarh, Venkat also has honed the ability to draw figures that aspire to realism: the elephant may look quite real, but drunk on mahua, it flies, and it is adorned with flowers. In him, the contemporary global world and the demands it makes have learnt to cohabit with a sensibility that invokes a primitivism that is at once modern, and reminds us of the world we all come from. Art for Venkat, is both an escape from and a grappling with the harsh realities that become a part of our existence. Even as he remembers myths and legends that are being overrun by the surfeit of information in this electronic age, he reminds us that the world has barely changed, that time is not linear, that art can still produce magic.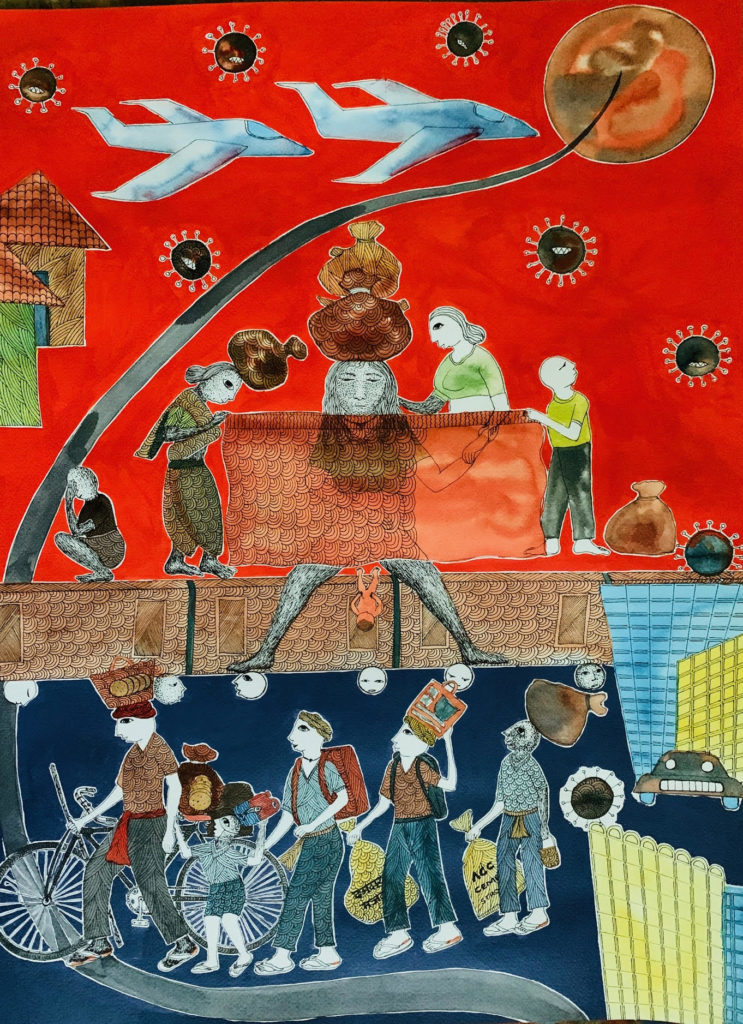 Speaking of how he came to art and art came to him; Venkat says "When I was a year old, I did not know what I was seeing. And when I was five years old I still did not know what I was seeing. But when I was seven years old, I noticed something from our tradition for the first time—I saw that men and women painting auspicious designs on the ground and walls laced with fresh mud paste and cow dung. This is called Digna and Chauka. This is where Pardhan Gond art begins. This is where my journey begins.' Even as his art commemorates his community's myths and legends that are being overrun by the surfeit of information in this electronic age, he reminds us that the world has barely changed, that time is not linear, that art can still produce magic like it did in Bhimbetka and Lascaux.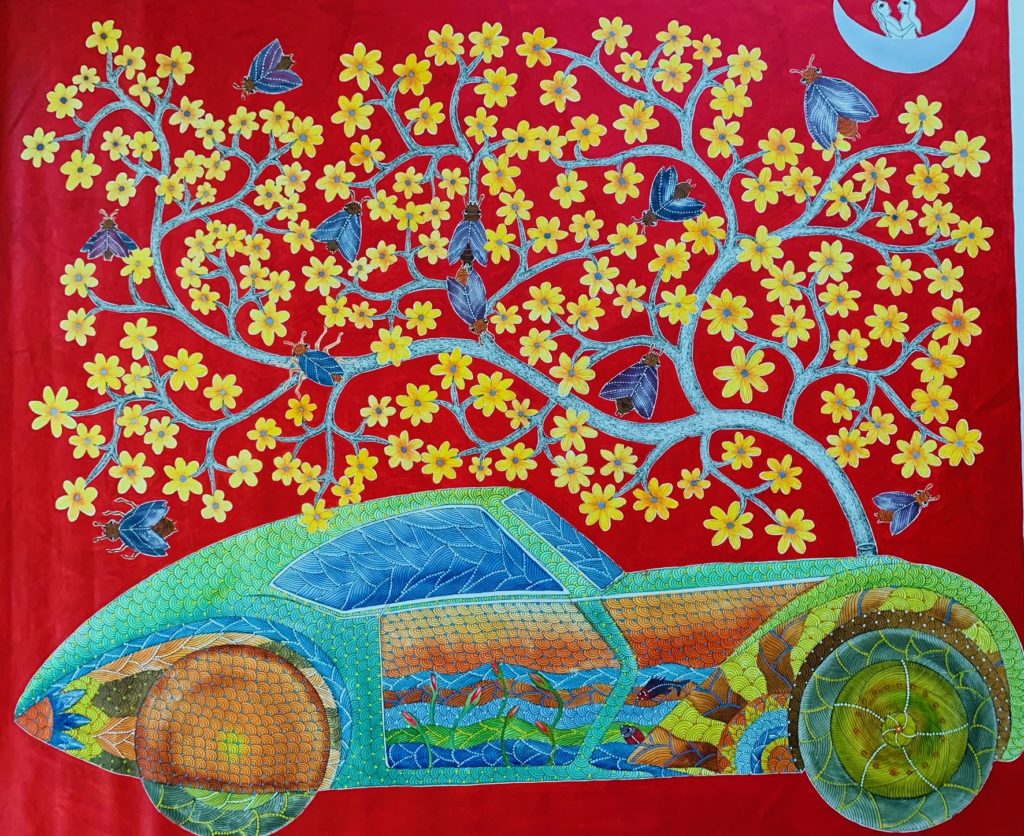 Venkat was awarded the Rajya Hasta Shilpa Puraskar by the Government of Madhya Pradesh in 2002. He is the coordinator for an animated film on a Gond folktale made by Tara Douglas, which won the Tallest Story Competition Trophy at the Inverness Festival in Scotland, 2007. In 2013, Venkat's works were exhibited at Sakahàn: International Indigenous Art at the National Gallery of Canada, in Ottawa. Called the 'largest-ever global survey of contemporary indigenous art', Sakahàn, meaning 'to light [a fire]' in the language of the Algonquin peoples of Canada, featured artworks by more than 80 artists from sixteen countries and six continents who interrogated the theme of what it means to be 'indigenous' in the present world. In 2015, Venkat was one of the artists who participated in the Kalpa Vriksha: Contemporary Indigenous and Vernacular Art of India project at the Asia Pacific Triennial of Contemporary Art (ATP8) at the Queensland Art Gallery. Venkat's graphic autobiography, Finding My Way, coauthored with S. Anand, was published in 2016 to critical acclaim.
What's your artistic background?
When I was 10 I picked up pieces of charcoal and adorned every inch of the walls of my home and scraps of newsletter with sketches of all that I saw in my village. I have entrenched myself in the world of art for the last four decades.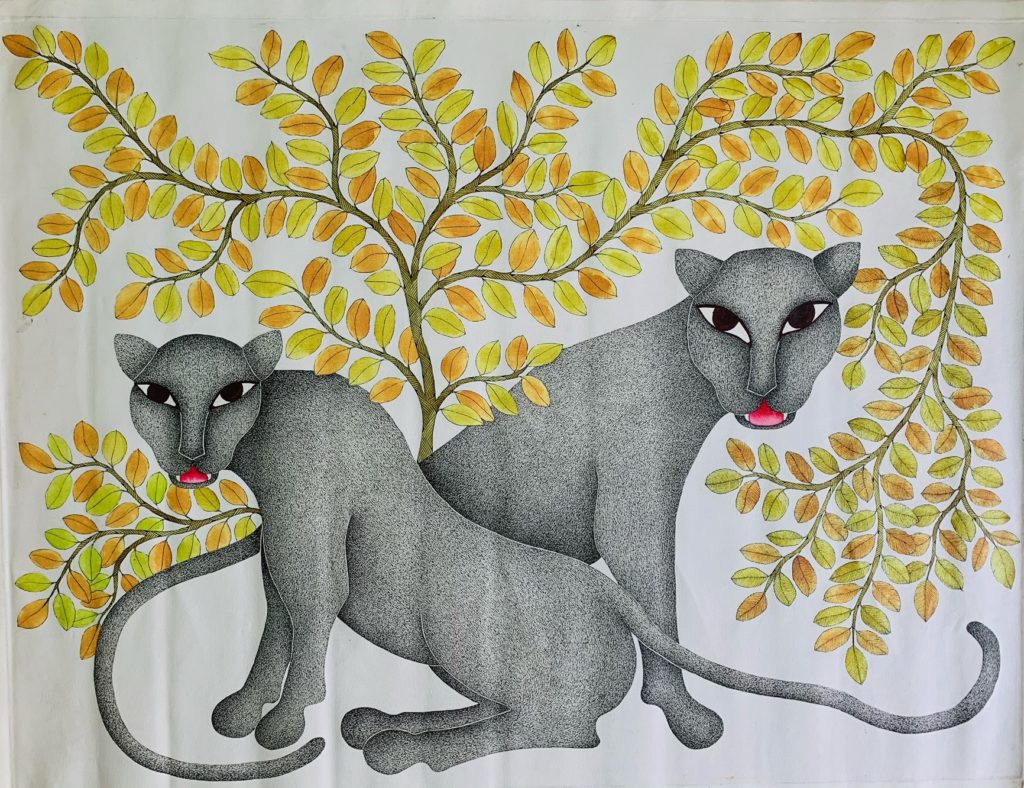 What's integral to the work of an artist?
My paintings are different from other gond artists. Because I often use wash techniques and reverse work but many artists are still working with old techniques. So according to me developing a unique style of his/her own is integral to the work of an artist.
What role does the artist have in society?
I taught more than 50 young newcomers in 2017, to help them earn a living and today they are working individually in their fields.  I represented my culture and traditions to the world. So an artist can help other artists become financially stable and also represent their culture all over the world through their artworks.
What art do you most identify with?
Gond art! But actually its 'Pardhan art'.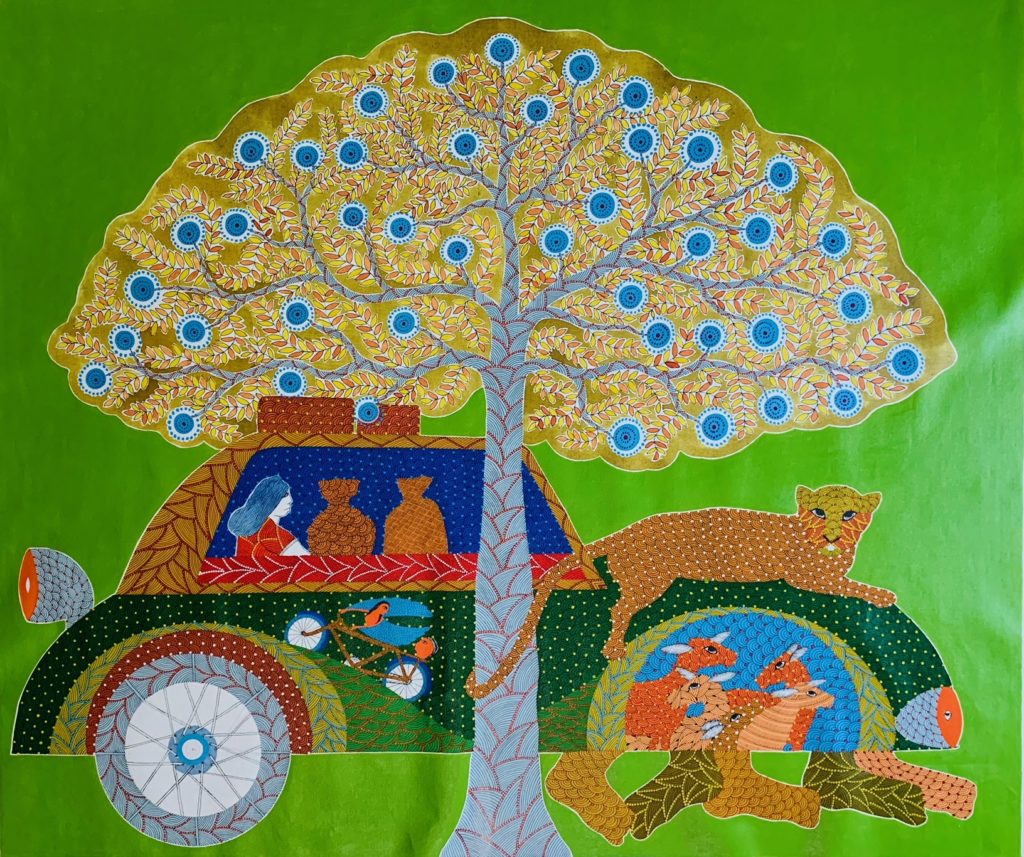 What themes do you pursue?
The themes which I pursue are nature, current affairs, human life and mythical stories.
What's your favourite artwork?
All my artworks are my favorites, but some of the most favourite artworks are Mother Earth, Story of creation and Viral world.
Describe a real-life situation that inspired you?
When I was child, I saw some paintings on papers which were drawn by my late maternal uncle 'Jawahar Singh Uikey' and I was so curious to draw and sketch my own works, so I did my first sketch with charcoal on the wall and that's how my artistic journey began.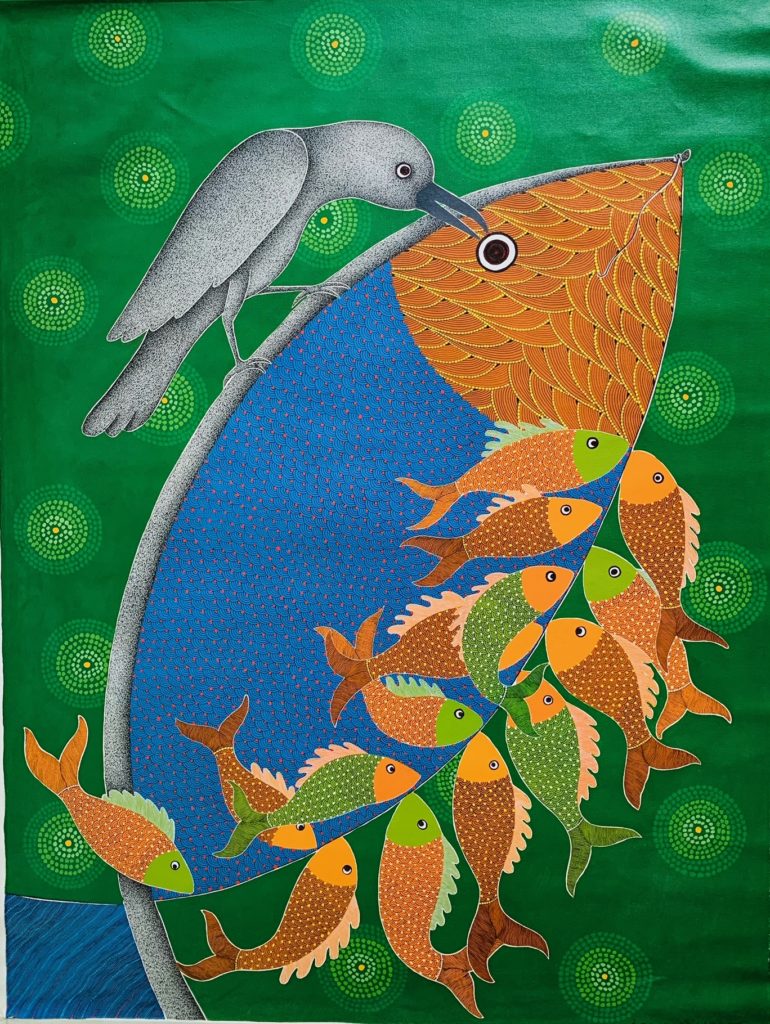 What jobs have you done other than being an artist?
I have been a Mechanic, a Cook, a Rickshaw puller, a Billboard worker and barber too.
What is an artistic outlook on life?
The artistic approach has a profound effect on life, as the way artists think differs from the common man, to say something can also be presented through art so that ordinary people can understand it easily.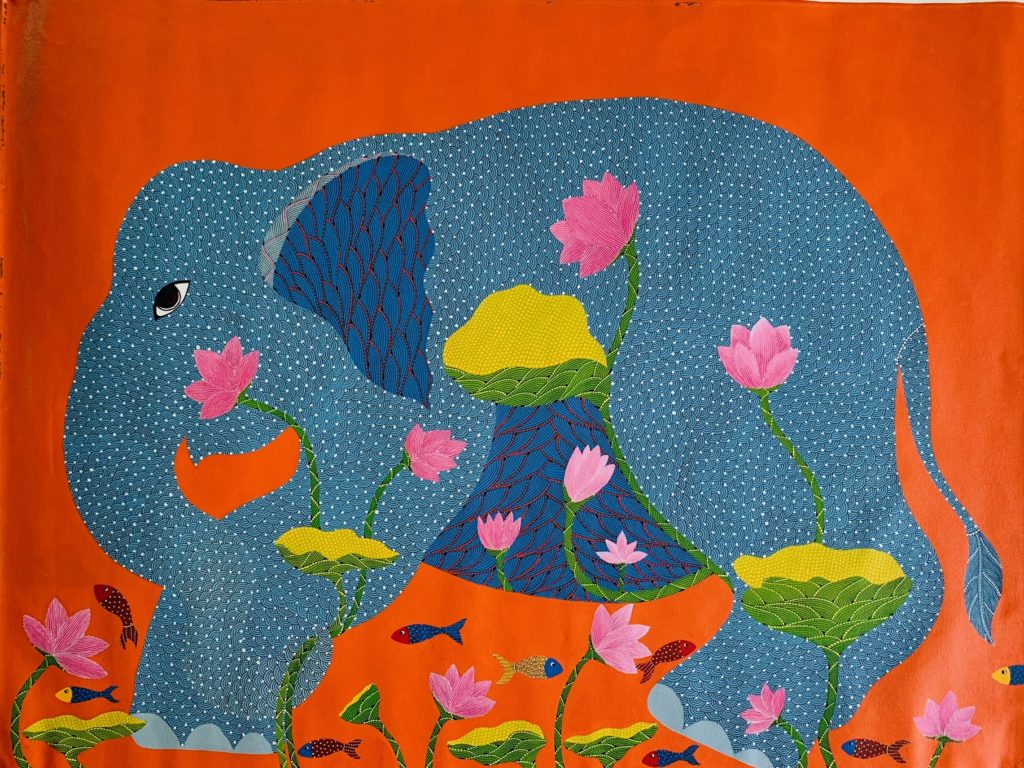 What memorable responses have you had to your work?
The first time I got a chance to go abroad, when I received the first prize from the government of Madhya Pradesh. Subsequently working for an animation film, my autobiography which was the most important moment in my life which was published in 2016, because of that they invited me to speak at literature festivals in India, apart from India writer's festival in Australia & Asia Pacific Triennial Queensland and an experience that was most important was an special invitation for the performance and arts discussion at Tate Modern London in 2016.
What food, drink, song inspires you?
The food, drinks and songs that inspire me are cultural foods which includes millets (kodo, kutaki and sawan) split and skinned black gram pulses and a drink which is specially made from Mahua flower and it is only made and served by our community. When people have the Mahua drink they sing and dance on our folk songs which are (karma, dadariya, reena songs and saila dance).
Is the artistic life lonely? What do you do to counteract it?
No! The artist's life is not lonely as he finds himself in the midst of all that he has created, along with his experiences, untold-unheard-unseen saga, all of which are his lifelong allies. So the artist doesn't need anything to counteract his/her loneliness.
What do you dislike about the art world?
The only thing I don't like about the world of art is that the moment an artist becomes famous, they become a brand and people give priority to them everywhere. Whereas even better artists tend to struggle for recognition, they have to live a life of anonymity which should not happen.
What do you like about your work?
There is nothing that I don't like about my work, but I can say that I do not like it if I do not get time to work. I like the color or the execution of every aspect of it according to the plot or the subject matter so that I can make people feel better without explaining it.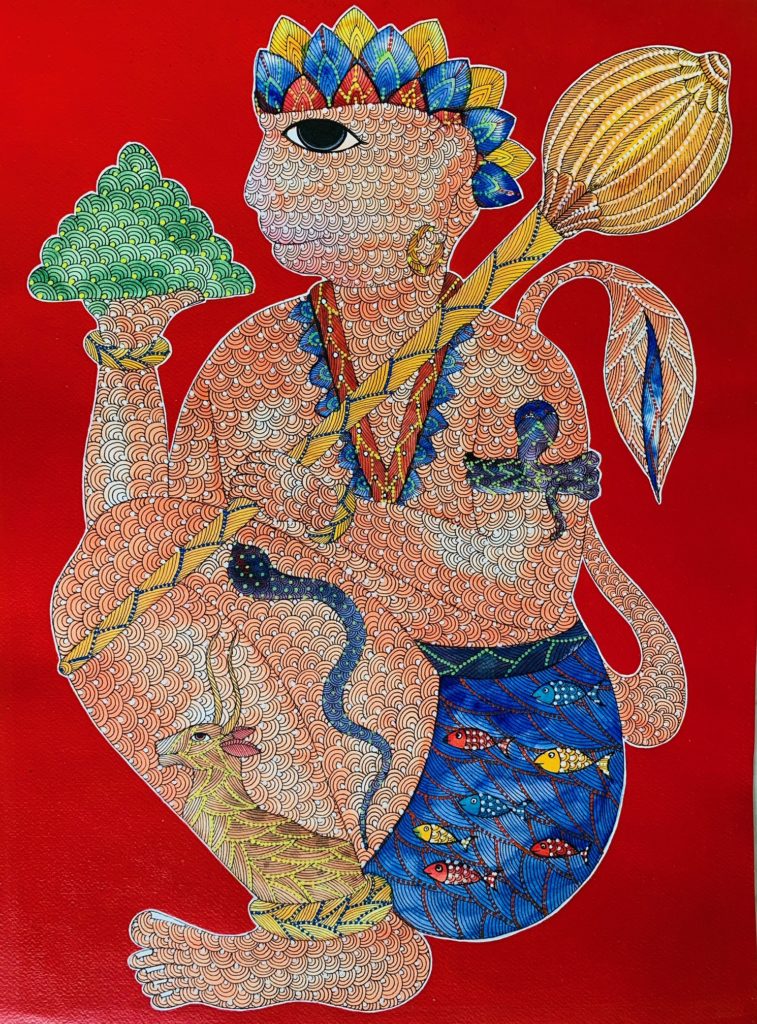 Should art be funded?
Yes, because the art produced by an artist is nothing less than a heritage.
What is your dream project?
My dream is to open an art school in which all the disciplines related to Gond art can be taught better so that people get the right information about Gond art or ancient art.
Name three artists you'd like to be compared to.
I cannot compare myself with any artist, as every artist has their own personality and visualization.
Favourite or most inspirational place?
Amarkantak (the source of Narmada River) is the most favourite place of mine as it inspires me in so many ways. The river Narmada is the stream of our life which is connected to us from birth to death. It is a Holy River that shows us the way of living which I try to present through my art.