Suman Kabiraj is a contemporary artist based in India. He was born in Suri near Shantiniketan, West Bengal, India and has pursued his MFA with and BFA with 1st class from Govt. College of Art and Craft, Calcutta University in the year of 2006 and 2004 respectively.  He visited London and Paris while doing his masters and studied international modern and classical art scenes through museums visits. Kabiraj's work includes paintings, drawings, large scale murals, photography, installation, art videos and multimedia works. His works are represented and exhibited in several international galleries, festivals art events and film festivals.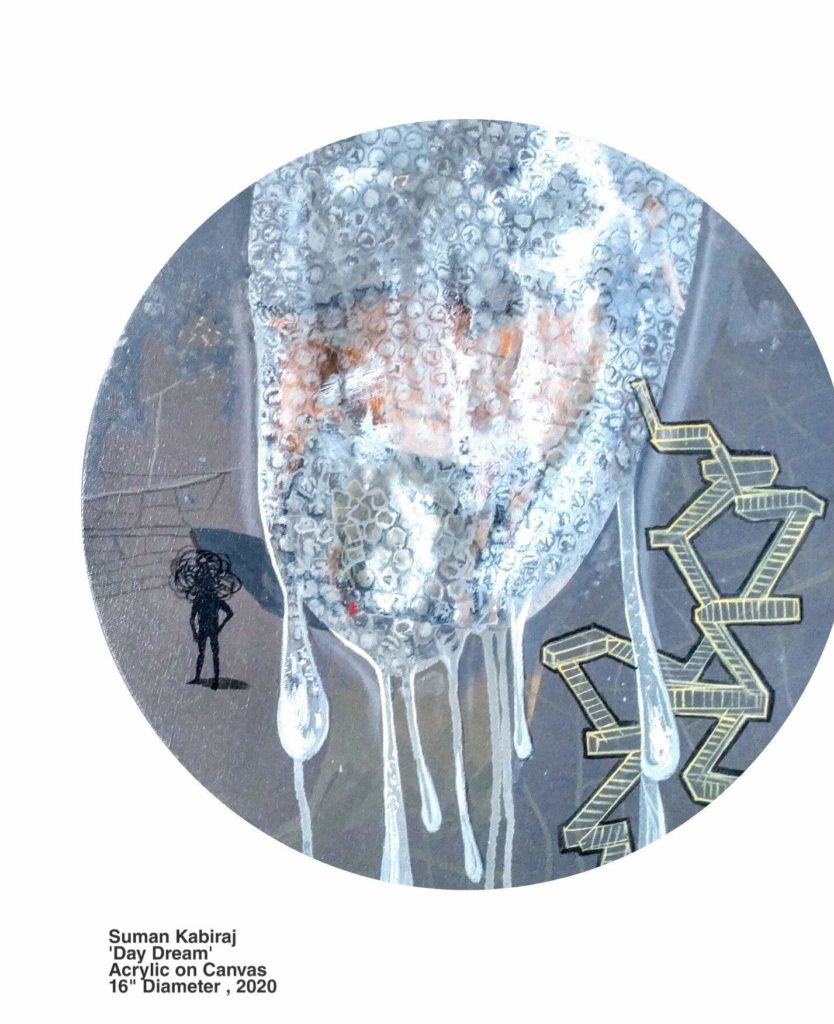 What's your artistic background? 
I have pursued my MFA and BFA in painting and drawing from Government College of Art and Craft, University of Calcutta in 2006 and 2004 respectively. When I was studying Masters in Art College, I got an opportunity to visit Europe. I visited different museums and art galleries in Paris and London and that visit was an important art academic and aesthetic resource for me. I started my artistic career with teaching in an international school in Dehradun and later as a freelance illustrator and portrait artist. Now I am involved full time in my art practice and projects.
What's integral to the work of an artist?
I think an artist's identity, roots, his/her own mind's reflection and very own visual representation are integral to the work of an artist. It's very natural that an artist's surroundings, his/her life journey, philosophy and vision towards society and people will and must reflect in artworks.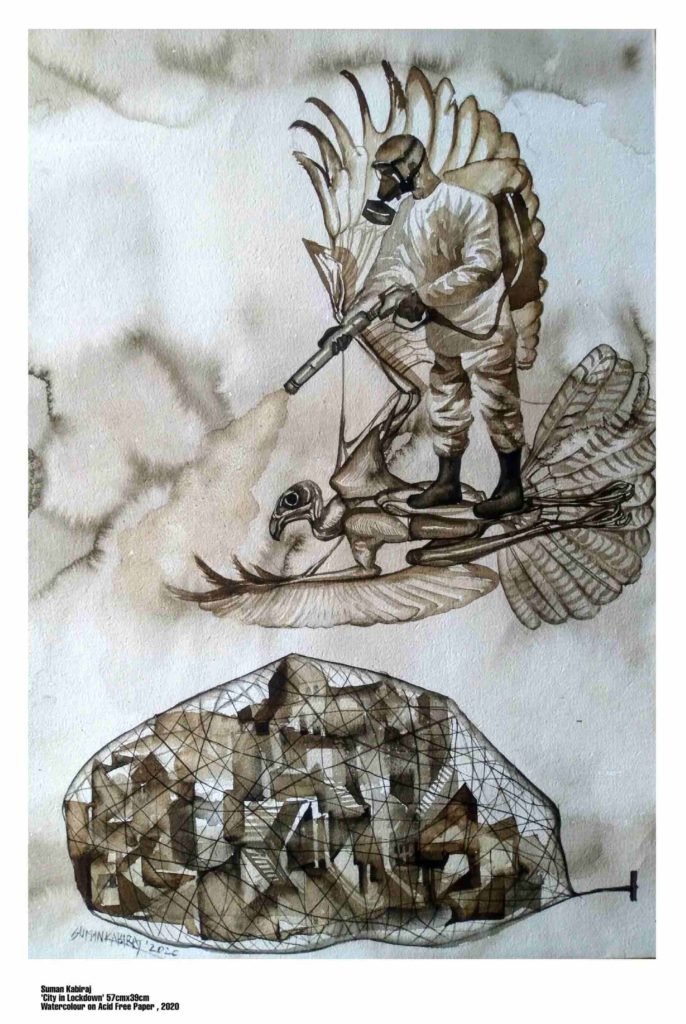 What role does the artist have in society?
Besides developing an aesthetic and creative sense in society, I believe that the role of the artist in modern society is to constantly question the things we take for granted or think, decide in a general way. It's the artist's job to think critically about their world, society, politics and help their audience look more closely at the society they live in.
What art do you most identify with?
Paper works and paintings.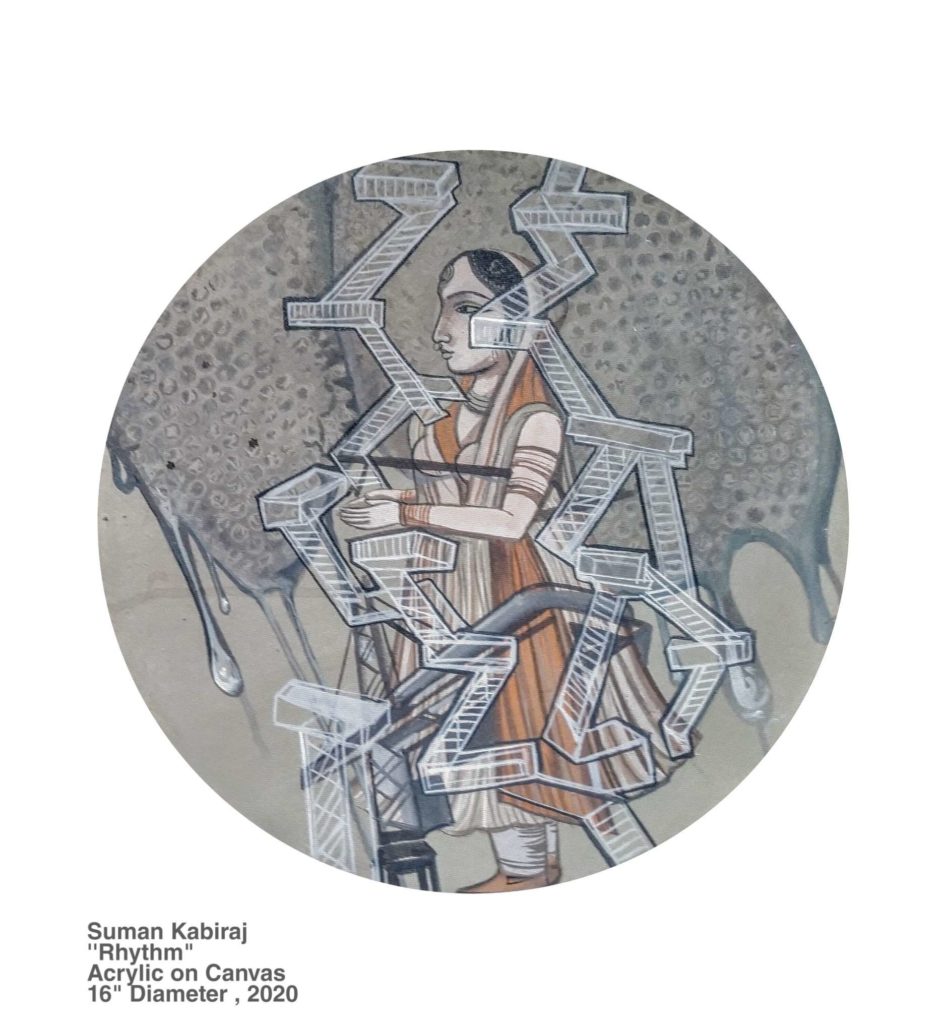 What themes do you pursue?
The things I paint, or draw, originate from my everyday engagement with reality. This is a reality which, for me, is made of mundane happenings and uncanny images which penetrate into each other regularly often unexpectedly leaving me bewildered yet fertile with images that keep appearing onto my works.
What's your favourite art work?
My favourite art work is The Great Wave by Japanese artist Hokusai.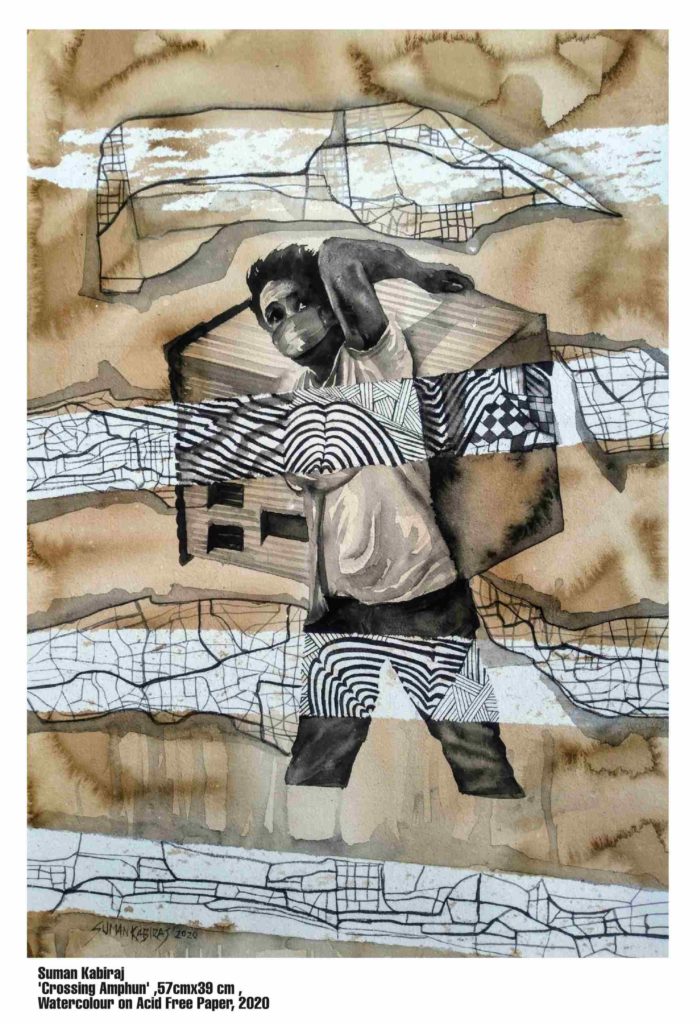 What jobs have you done other than being an artist?
I started my art career as an art teacher (HOD) in Selaqui International School in Dehradun. I have a great fascination for photography and also experimental short films, some of them are represented internationally too.
Why art?
For me, art is the easiest and most flexible medium to express my thoughts, emotions, visions. This is also my medium to criticize or question the ground of social and mass perception.  That's why art is in my subject.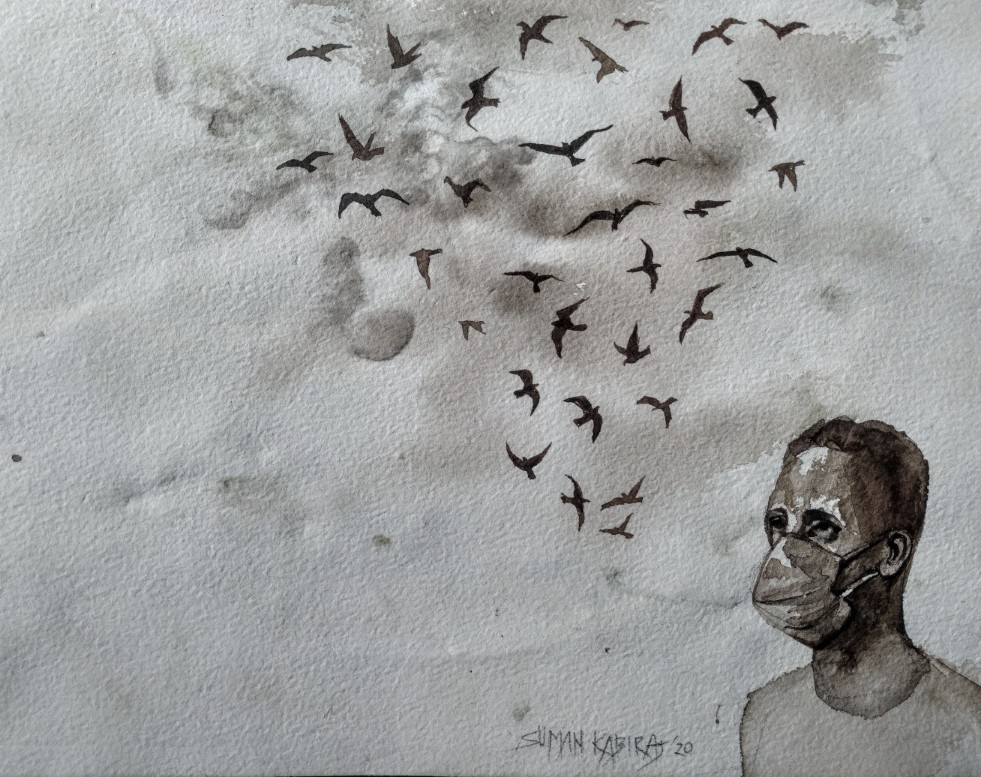 What is an artistic outlook on life?
Life is very short and unpredictable so spread love, joy and laughter. Life is beautiful; we should live life to the fullest. Life is not smooth, it's full of obstacles. But we should not be stopped by them; in fact we should be strengthened by them.
What memorable responses have you had to your work?
In my first solo exhibition in Kolkata in 2006 there was an art lover and art connoisseur who visited my exhibition space and he spent his entire day on the 3rd day at the exhibition hall. He appreciated my practice a lot; he noted all details of my journey and artistic statement. He collected three paintings from the exhibition. That was also the 1st time that my paintings were sold.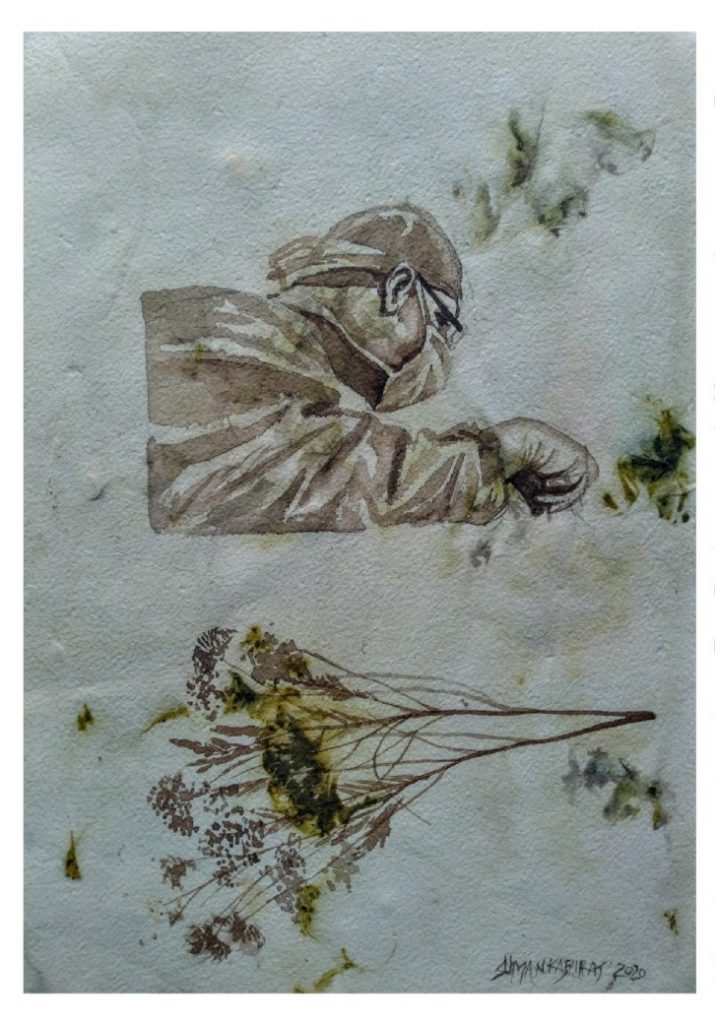 What food, drink, song inspires you?
I am fond of Ghazals, Indian classical and fusion which I listen to when I am working in my studio.
What do you dislike about your work?
What I really dislike about my work is I rapidly change or reconstruct the language and content too. Probably it is also a way of self-improvement and a goal to reach a prolific zone of creative language.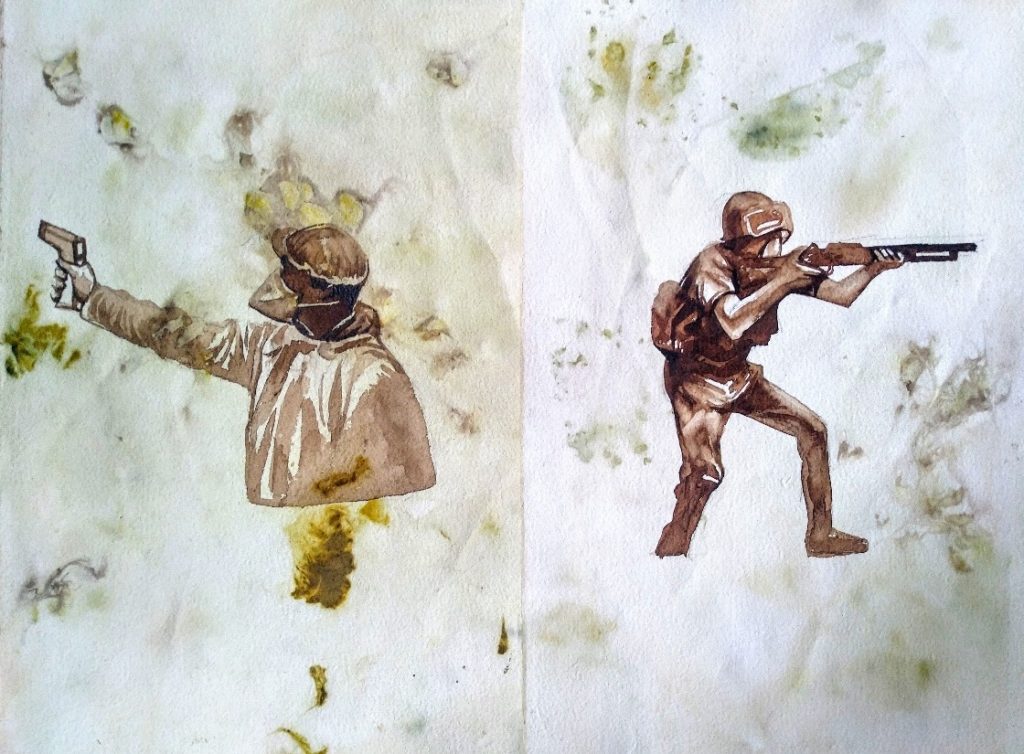 What do you like about your work? 
Probably each and every artist loves his/her own works. I love my practice, but it's true that I can't be satisfied with most of my works. Most of my works reflect an everyday engagement with reality. My surroundings, society, people and time are my influences. I think this easy connection is what I love most about my work.
Should art be funded?
Yes, art should be funded for several reasons. I think different organizations and foundations should be more active in art funding.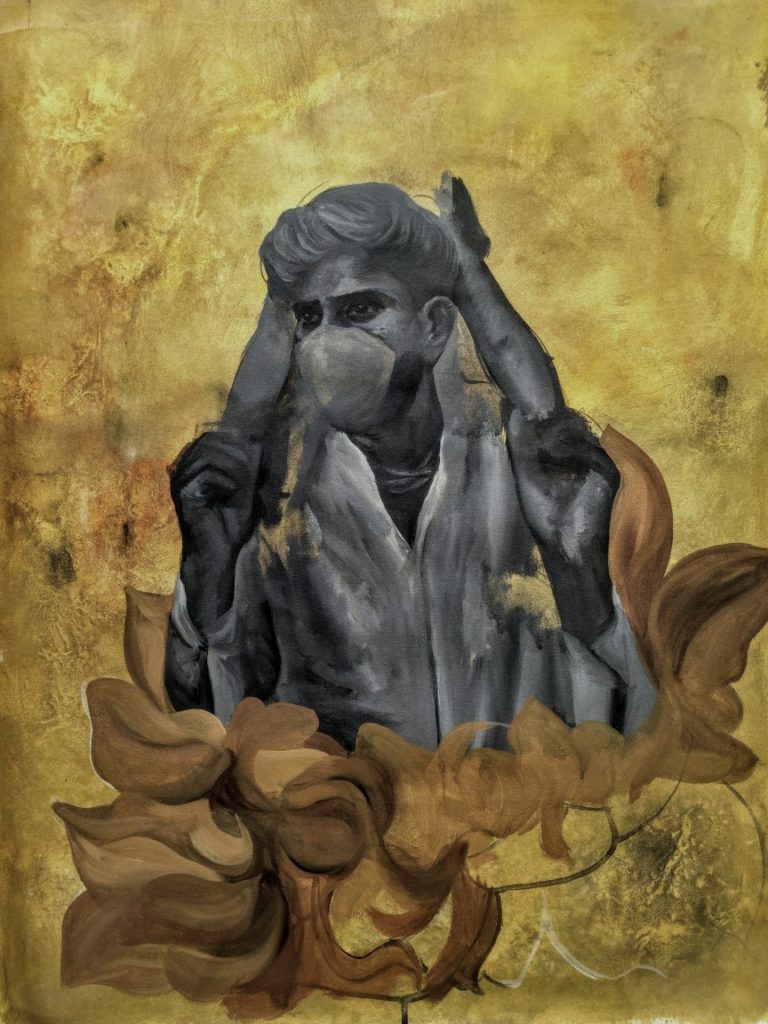 What role does arts funding have?
Art funds play an important role for art practice. It's very true that for an artist engaged in full time art practice and self project based work, any funding and financial supports will help him/her reach their goals with proper art materials, mediums, research and other expenditure.
What is your dream project?
I have a dream project to make a body of works in multidisciplinary paths of visual language. It includes paintings, drawings, art videos and sculptures. I am still in the process of creating a new iconic visual character to represent in multidisciplinary visual language. This is my dream and I am working hard to represent it with proper research work and visual strength.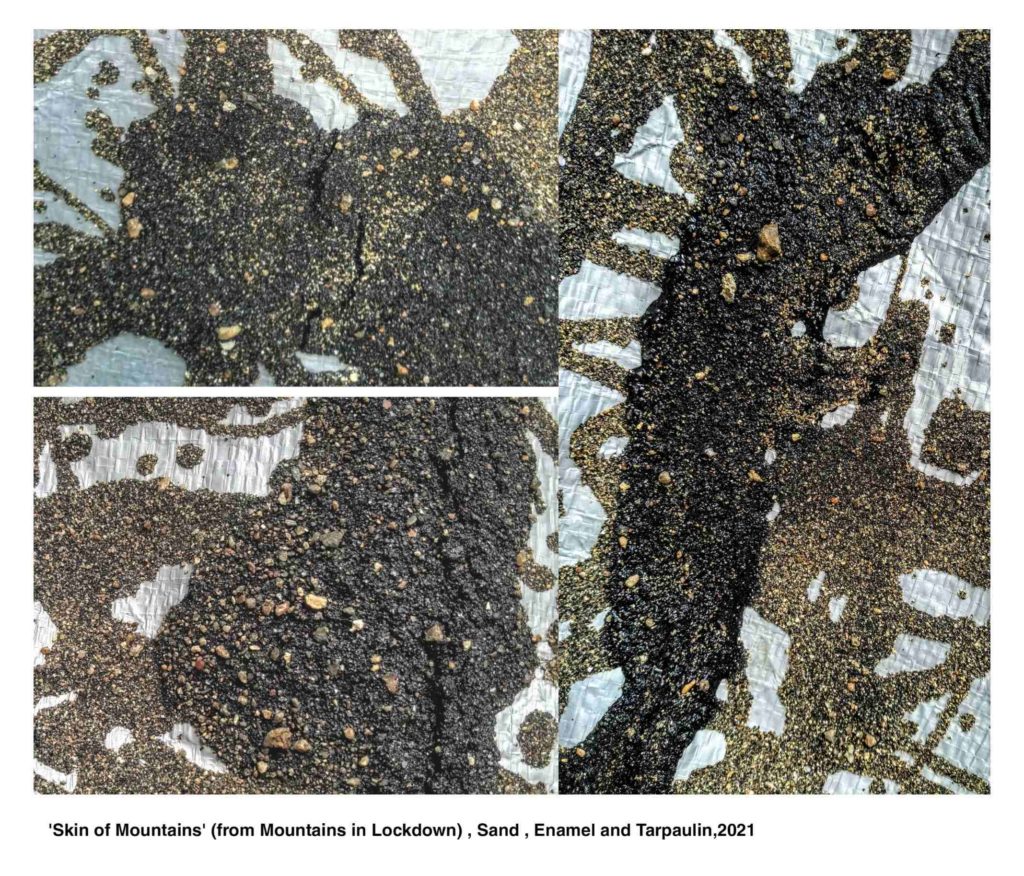 Name three artists you'd like to be compared to.
Atul Dodia , Bharti Kher and Jitish Kallat are three names (from contemporary Indian art ), I love and respect their creative journey.
Favourite or most inspirational place?
Most inspirational place for me is Paris which I have visited a few years ago. Besides the beauty and the charm of architecture, this city has ample classical, modern, contemporary museums and art galleries. Twang and it's surroundings in Arunachal Pradesh which I visited two years ago and it was a fantastic zone for enhancing the emotional well being and alleviating feelings of social isolation.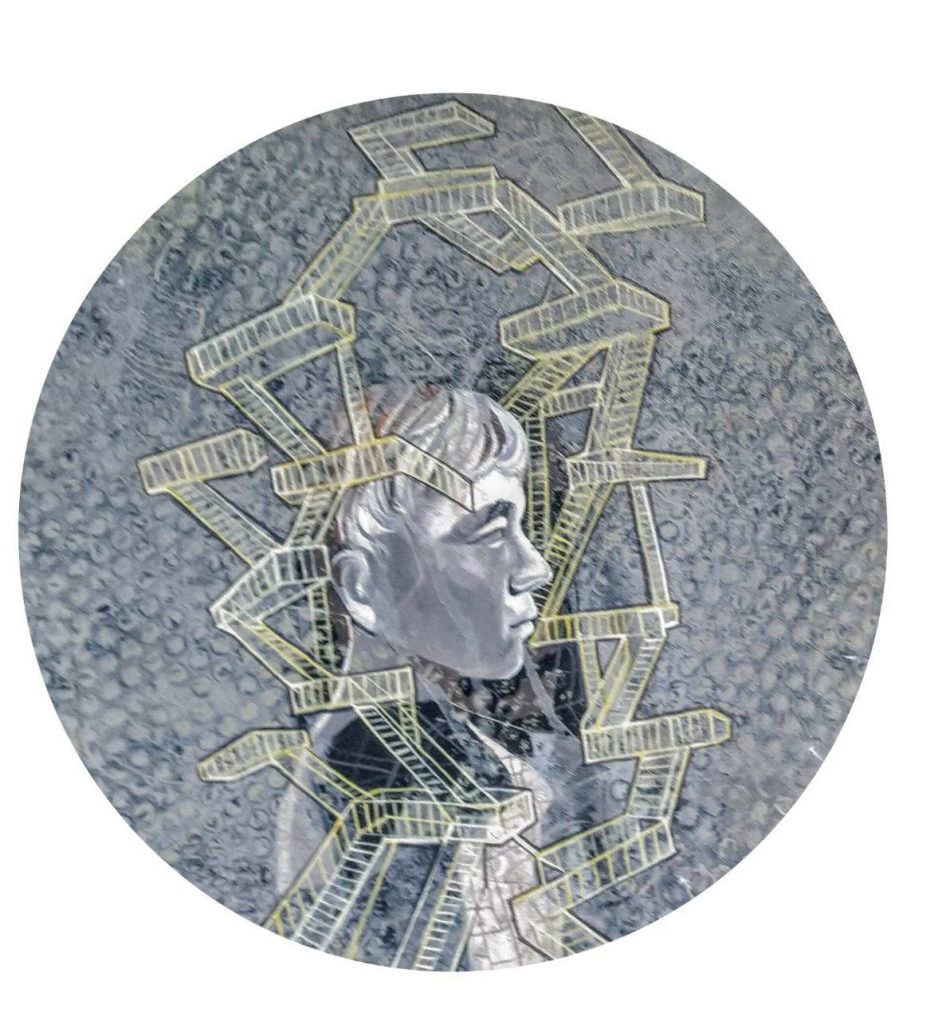 What's the best piece of advice you've been given? 
'Nothing is impossible in this world if you just put your mind to it and maintain a positive attitude.'
Professionally, what's your goal?
As my profession is related to the creative field, my goal is to work harder with my own content-visual language with proper research works.  I want to attain a flexible and productive zone to create a body of works such as paintings, drawings, multimedia works and experimental films.
Future plans?
I am not much of a believer in planning for the future. I always try to be serious and productive in my field and like to represent these in proper spaces and to the right audience.  I just want to improve my creative and professional output and like to conduct research for my projects.