"Life without rhythm and flow, colour and theme is meaningless. My quest is to delve into this eternal rhythm and find meanings that give clarity to shapes and form. In that lucid moment I paint my paintings and capture rhythm and flow of colours with meanings. My paintings are like natural textural music set on a beat. Each one of them promises to take on a rhythmic colourful life story. Ever since i was a little boy i had a liking towards painting and art. Growing up i saw my father paint wonderful pieces of art and sitting there beside him painting my own little piece of art with his colours and brushes always acted as a moment of bonding between us and this changed my likeness to love towards art. My journey of art started from there holding my father's hand. This love for art made me dedicate myself to art for the rest of my life. Art is not only my profession but also my passion and my dream,' says artist Soumen Saha.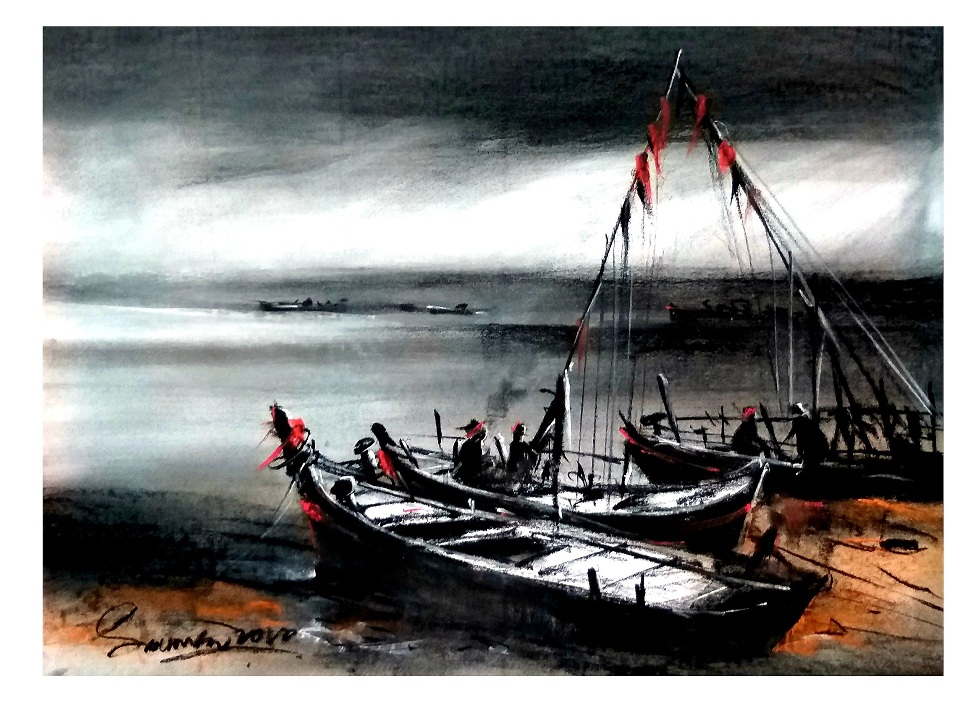 What's integral to the work of an artist?
Experience, skill, imagination and honesty towards art. I feel that these elements are the integral part of an artist's work. To bring alive the image of an imagination one needs skill which comes with experience and to put the skill to it's best form one needs pure devotion and must have an honesty towards art.
What role does the artist have in society?
Artists play a great role in society.They bring about social changes by challenging the status quo of the society with their art. They are the real movers and shakers of a society. They push the society forward and have the power to motivate and strengthen an individual with their art.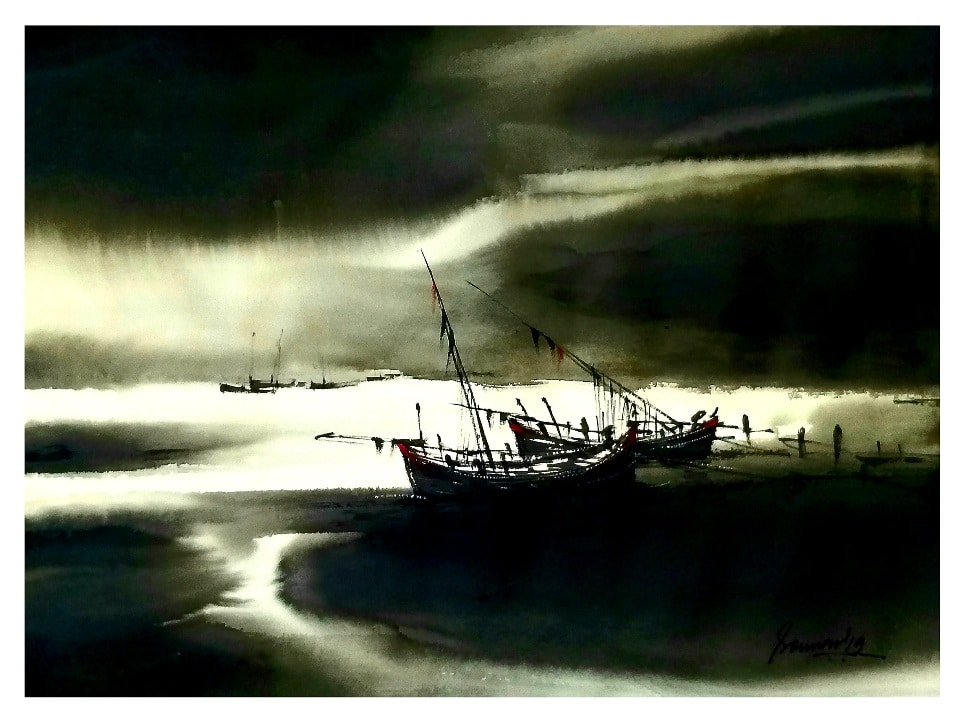 What art do you most identify with?
I can be most identified with the impressionism form of art which revolves around city life, seascape, landscape and various views of nature.
What themes do you pursue?
A few lines from Rabindranath Tagore resurface in my mind as I pen down my thoughts about my creation- "The Bird of the fairyland resting in my childhood dream, Is captured in my lines. A strange face uninvited Hovers before my brush …" In order to touch the tangible distant dream I keep on painting. My canvas becomes vibrant with hues just like God paints the firmament at his own whim. In my painting there is neither social or political complication nor the reflection of starvation or deprivation. I usually take topics like rain washed city, trams, trains, etc. I portray the beauty of landscape and cities through my paintings. My thoughts and reflection are transformed into an abode of peace in my canvas.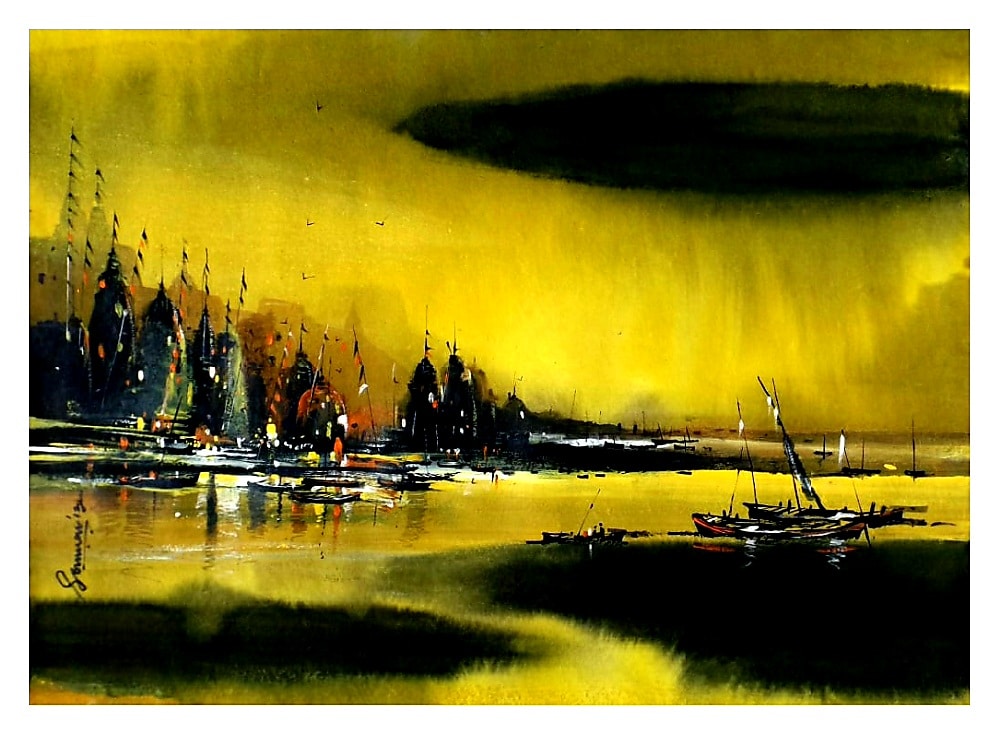 What's your favourite art work?
Turner's Rain, Steam and Speed and The Fighting Temeraire, Snow Storm and Fisherman at Sea are some paintings that inspire me a lot. Also Abanindranath Tagore's Ullapara Station and Gaganindranath Tagore's Pratima Bisorjon are also one of my favourites.
Describe a real-life situation that inspired you?
I began painting watercolor landscapes with the guidance of my father at a very early age, but it wasn't until I saw some watercolors by Abanindranath Tagore in the Bengal magazine which made me become hooked forever. Later I became inspired and learned a great deal from many Indian and Western artists like Turner, etc through their works.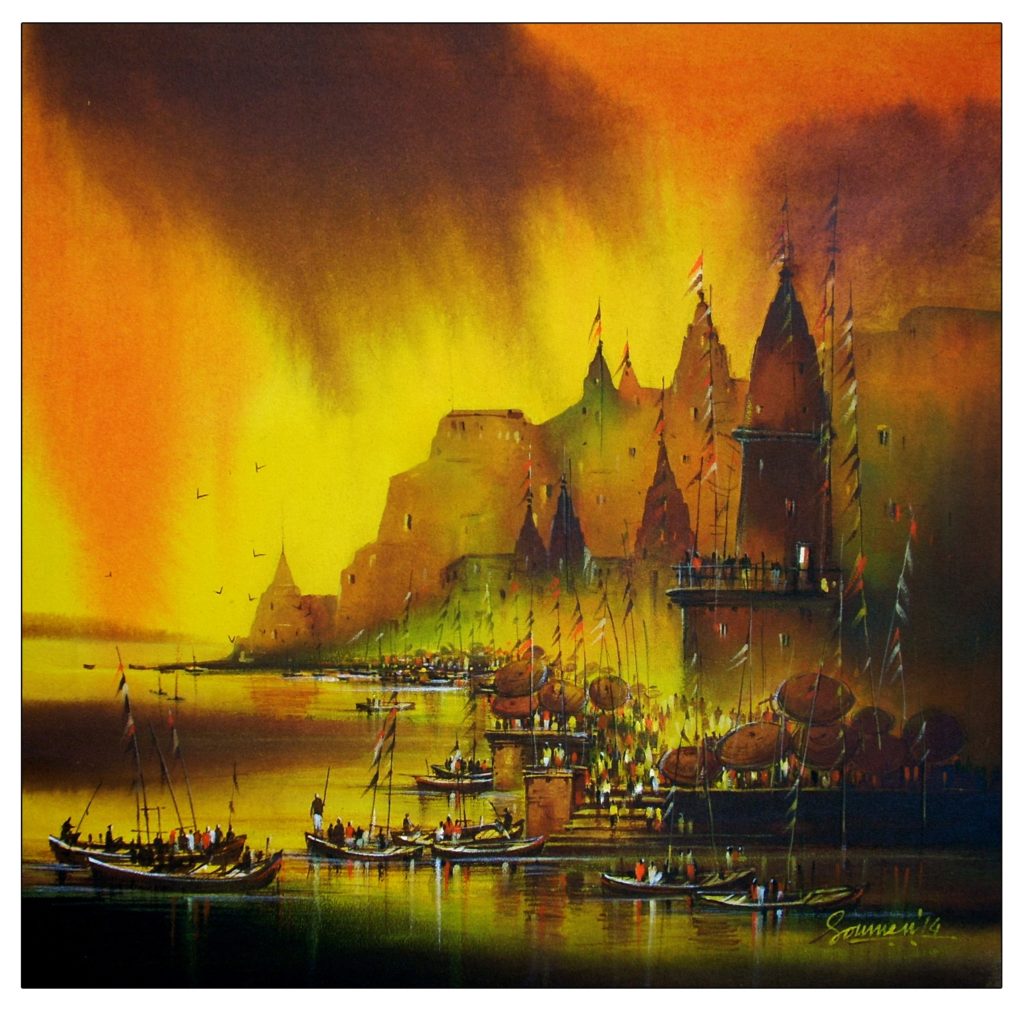 What jobs have you done other than being an artist?
From my childhood days I always had an interest towards art. My father was an artist which acted as a constant source of inspiration to this interest. I have done various types of jobs which were all art related like fashion designing, web designing, graphic designing, book illustration, book cover designing, textile design. Apart from the painting form of art, I've also been a part of other forms of art like music, dance and poetry. But for the last ten years I've put all my focus on my paintings, just me, my canvas and my brush.
Why art?
When I sketch or paint, a sensation arises as if I am watching a movie or dreaming. I get fully involved with the scene. It is a very pleasing feeling and I think it is one of the best gifts of being an artist. These are the reflections of social confinement in my mind. Thus I create with my brush, colour, canvas and imagination – a marriage of fact and fancy.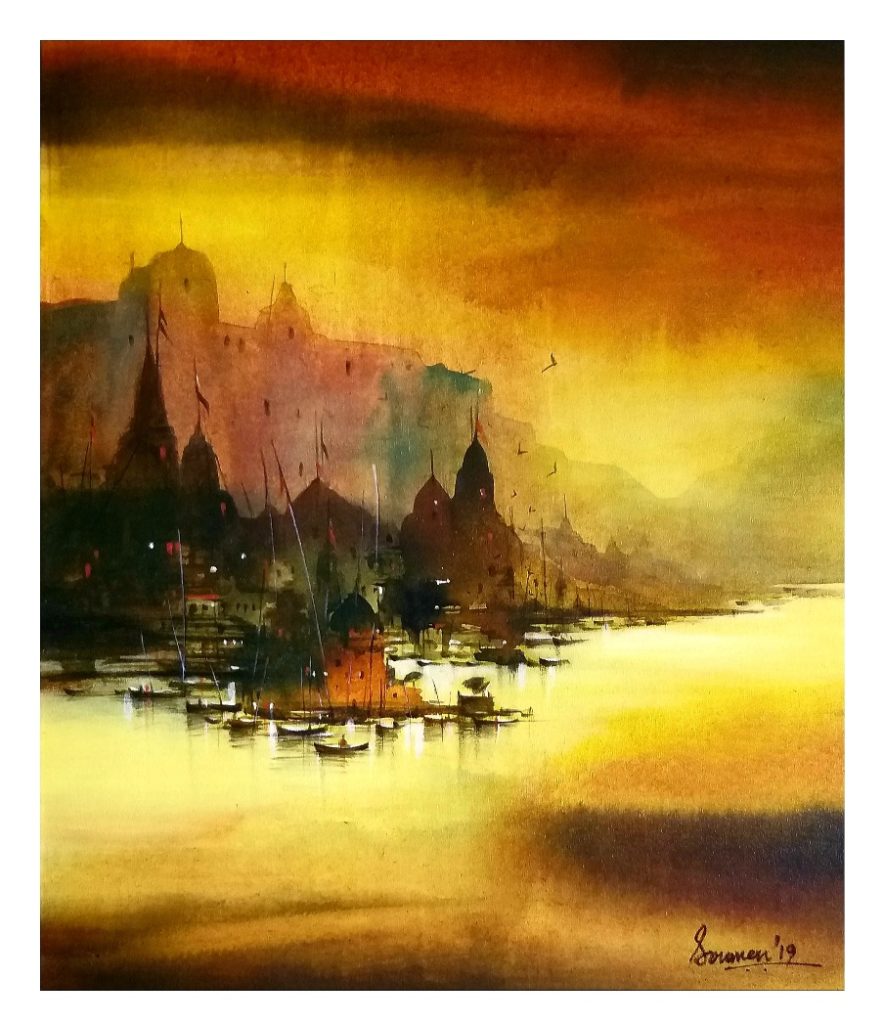 What is an artistic outlook on life?
Art is discovering the colour of life in every aspect of it.
What memorable responses have you had to your work?
People often say that my paintings have a dreamy quality.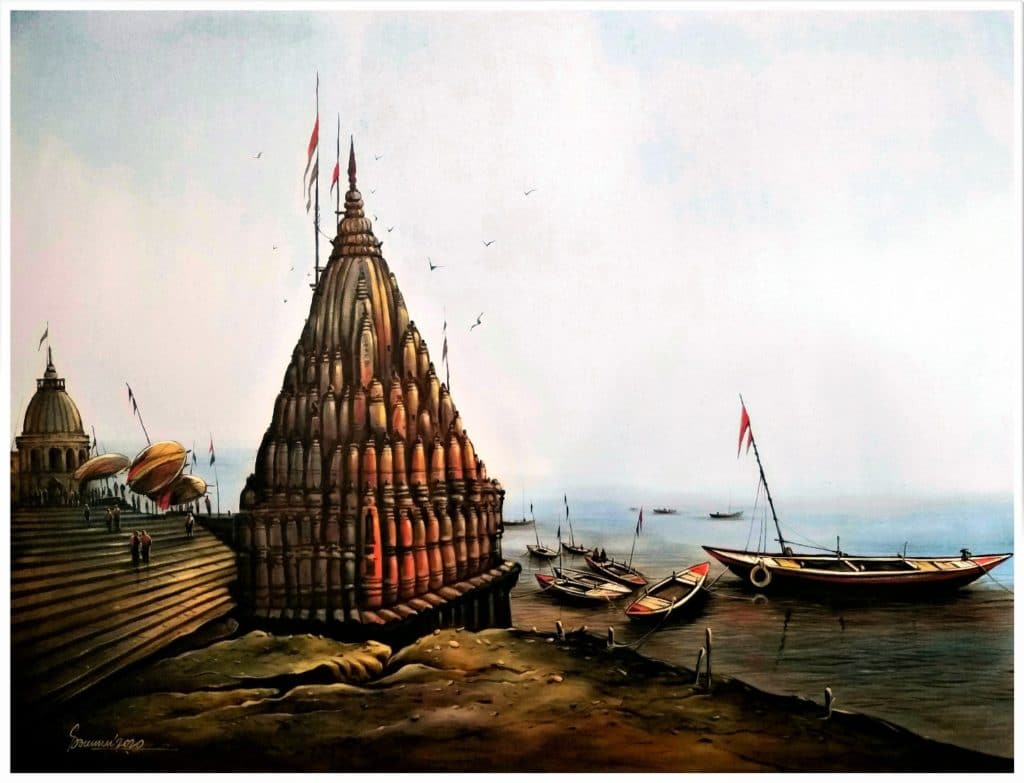 What food, drink, song inspires you?
Rabindra sangeet never fails to inspire me. Apart from it Indian classical music also inspires me a lot.
Is the artistic life lonely? What do you do to counteract it?
Every artist has a world of their own which completely belongs to them. Creation of every art requires time and patience which leads the artist to completely commit themselves to it and with this commitment comes a loneliness which the artist delves into.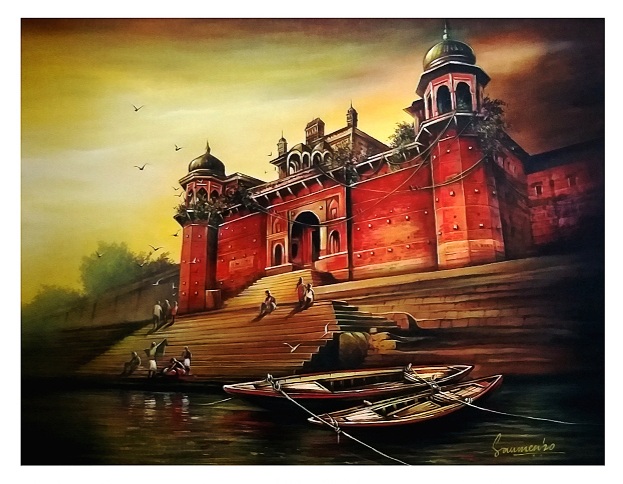 What do you dislike about the art world?
I have seen many artists who may have wonderful art pieces but are nowhere near to that beauty as a person from heart. I believe an art and it's creator should be like sandalwood no matter how one uses sandalwood it always gives out its same wonderful smell.
What do you dislike about your work?
I always try to impart the impression of dreaminess into my paintings but when I find it fading away, it disappoints me a little.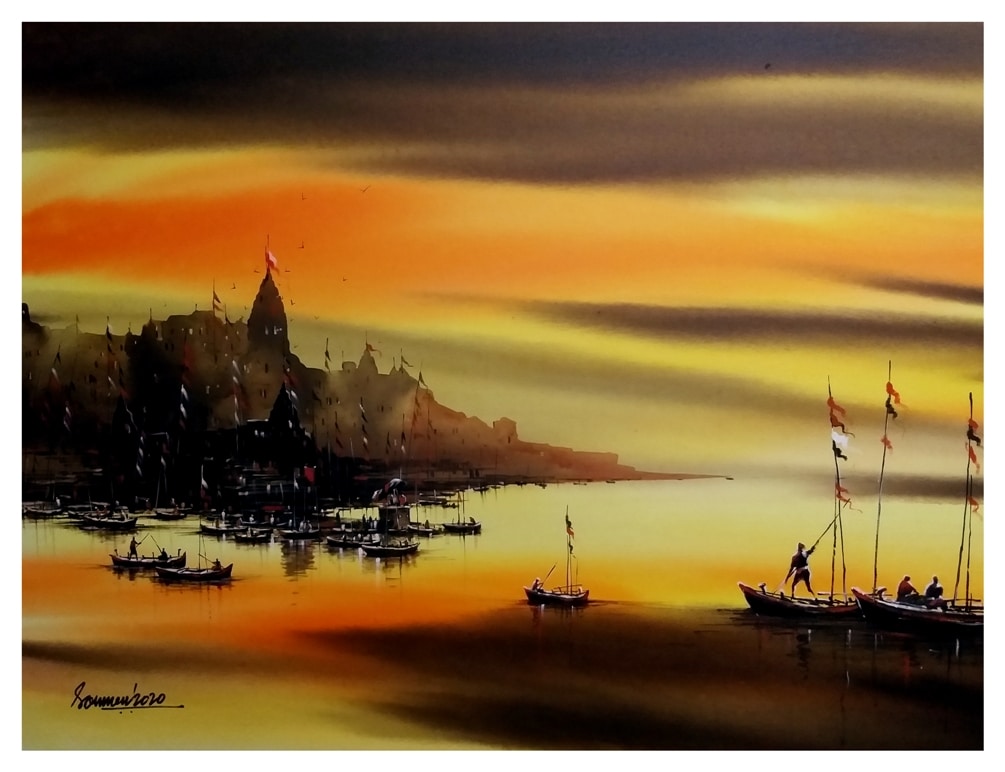 What do you like about your work?
The dreamy factor, the silence and the distant look in my paintings in which one can lose themselves is a favourite part of my paintings.
Should art be funded?
I believe art should be funded, promoted more and also should be restored properly as art acts as a way of introducing one generation to the next.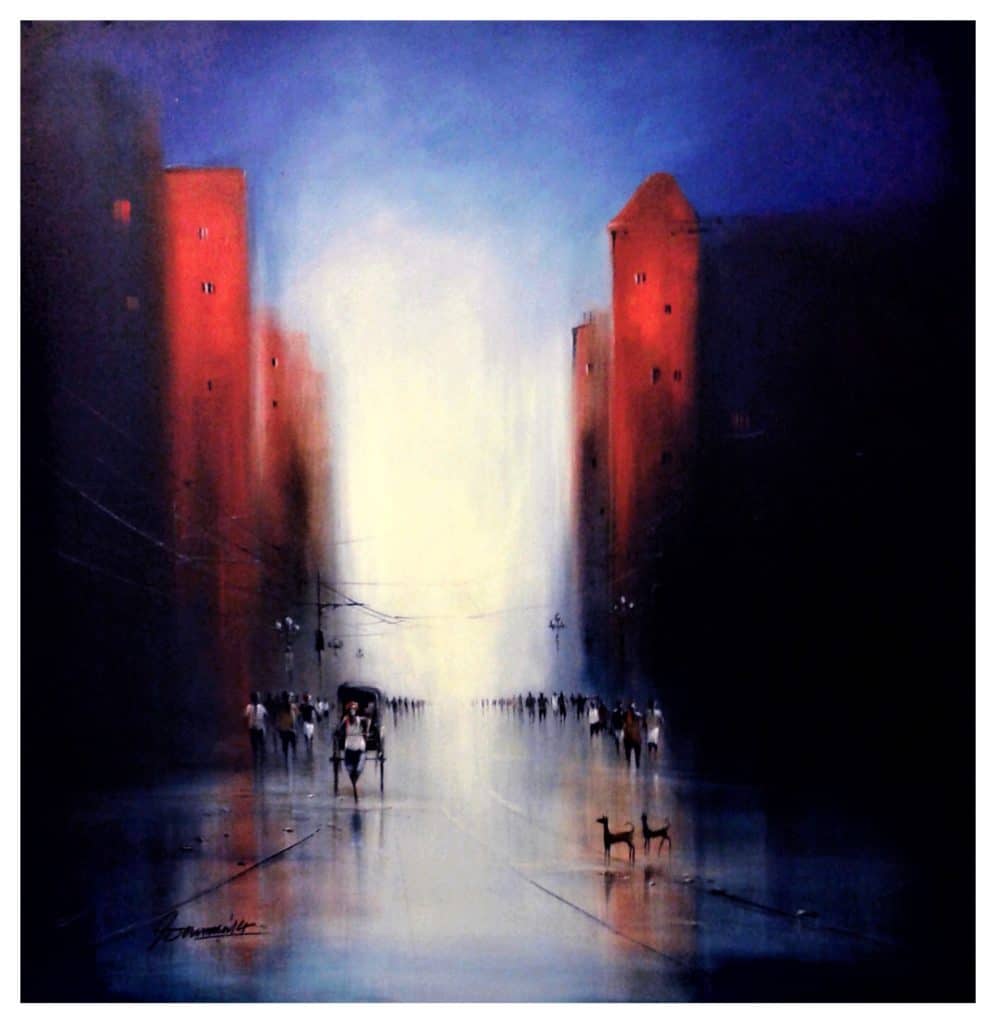 What role does art funding have?
Art funding is essential as it gives the opportunity to many young artists to participate in various programs and express themselves freely through their art.
What is your dream project?
I always have wanted to help other artists who are extremely talented but do not have the financial ability to promote their art. I have also always dreamt of visiting various places and seeing the masterpiece art of the regions and to learn from them and absorb their beauty in my heart.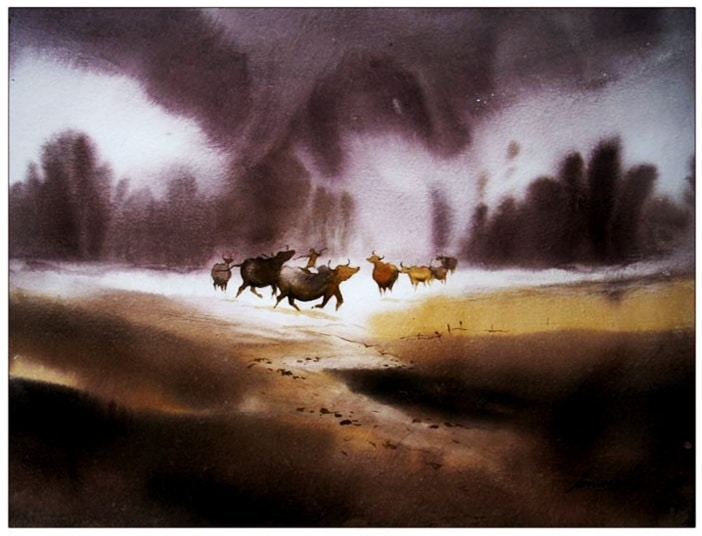 Name three artists you'd like to be compared to.
I believe every artist has their own individual style and form of expression which cannot be compared to others.
Favourite or most inspirational place?
My studio is my favourite and is the most inspirational place where I can sit and give life to my dreams and my imaginations.
What's the best piece of advice you've been given?
Give your paintings your time and they will give you everything and try to find yourself in your paintings. These are the best pieces of advice I've come across.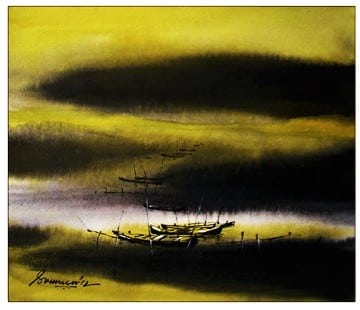 Professionally, what's your goal?
Professionally I aim to be an established and well known artist one day.
Future plans?
My only future plan is to paint more paintings and by God's blessings paint till the day i die.