Siddhartha is a sensitive artist who has been influenced very highly by the Western Art movements like Renaissance and Classism, Impressionism, Cubism, Surrealism and Abstract Expressionism. His works are born out of the mixtures and influences of all the above. He was exposed to Western Masters' art at a very early age of ten by his private art tutor, who made him practice and toil for long hours. The first yearly award that he received in school was in Art & Craft at the age of eight. This convinced his parents to get him coached privately in art along with academics in school. Here, with his first private tutor and other artists later, he got trained and tutored for about twelve years continuously.
Presently he is a free-lance artist based in Kolkata whose works and practices are based on surrealism and abstract expressionism in relation to reality and dreamscapes with people, society and nature.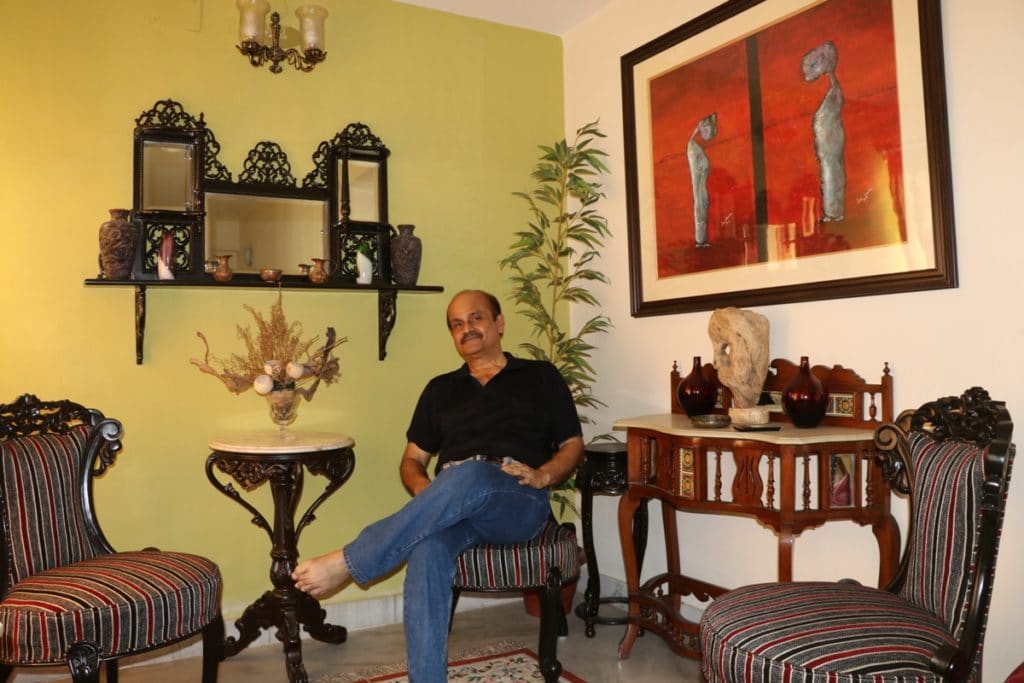 What's your artistic background?
I am primarily a self-trained artist, having started my journey in the field of art as early as my junior school-days, under the strict and vigilant guidance of a leading artist. Thereafter, I was lucky to have been very closely associated with some of the leading artists of India. The fruition of such close associations came in the form of my getting more and more firmly embedded on to Art. Having come from a conservative family, I had to continue with my formal studies and completed my Graduation in Physics with Mathematics and Statistics and then went on to do CWA. However, as the years passed by, Art, my passion, became my vision and mission. In spite of having a busy job and numerous other responsibilities, I prioritised and managed to hold numerous solo and group shows at different places and my first exhibition was a group show in the year 1979, as a teenager.
What's integral to the work of an artist?
I feel that an artist should be able to speak his heart out through his works of art. The more effective is his communication through his chosen forms, images, motifs, representational skill and colours, the more successful is he as an artist. I am very sensitive to all the social and political upheavals that are going on across the world. Hence, I feel that if an artist is moved by such human pathos, he should think deep and further into the depth of reality and portray his works with utmost passion, as if creating a whole new world of events and stories through his own world of dreams or reality.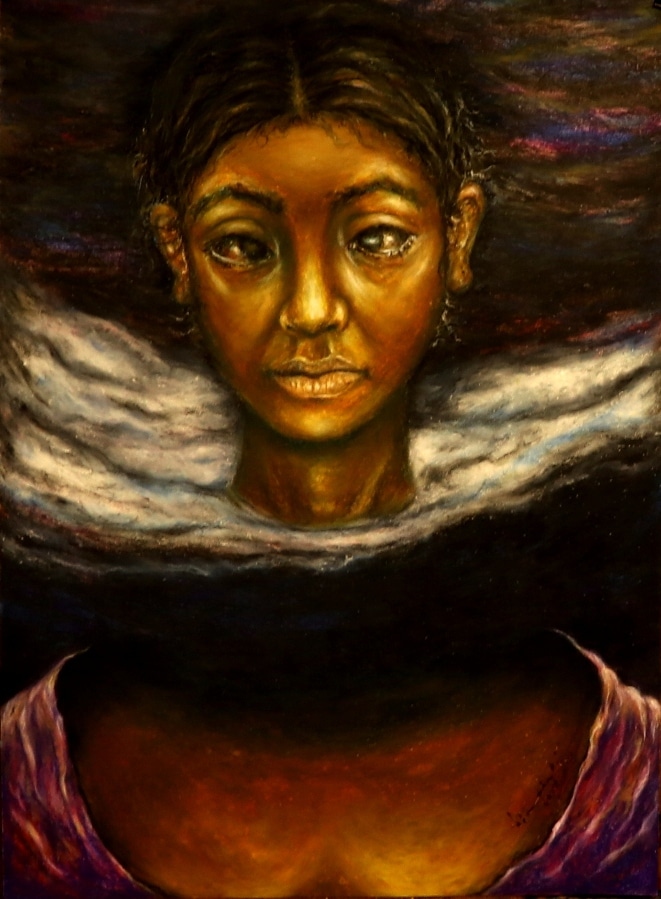 What role does the artist have in society?
I feel that an artist's role in the society is multifarious. He is essentially a person who inspires people and the society. An artist's spontaneous feeling should be that he is there to enhance peoples' lives. His essential roles are – a story teller, an educator, a presenter of his dreams and philosophies, a keen and unbiased analyst of the social and political scenario.
What art do you most identify with?
I mostly identify with surrealism and abstract expressionism. The media that I use therein, for representation of my vision are Oil Paint, Acrylic, Charcoal, Mixedmedia and sometimes Watercolour and Pastels.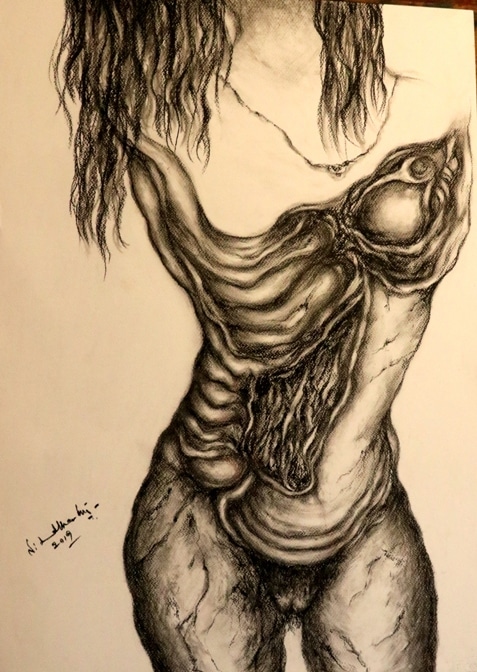 What themes do you pursue?
My themes usually range from human emotions, love, sentiments to social ostracism, deprivation or war; sometimes dreamscapes also. Quite often the landscapes that I produce are actually manifestations of the visual and mental impacts that Mother Nature would have had on me. I see nature as ever changing sometimes as rugged yet beautiful, at other times pristine and sometimes as hostile even. I ruminate on the glimpses or gazing of my eyes at nature and my mind processes the image. Having ruminated well enough, I try to represent the spirit contained in those actual landscapes, through abstract expressionism.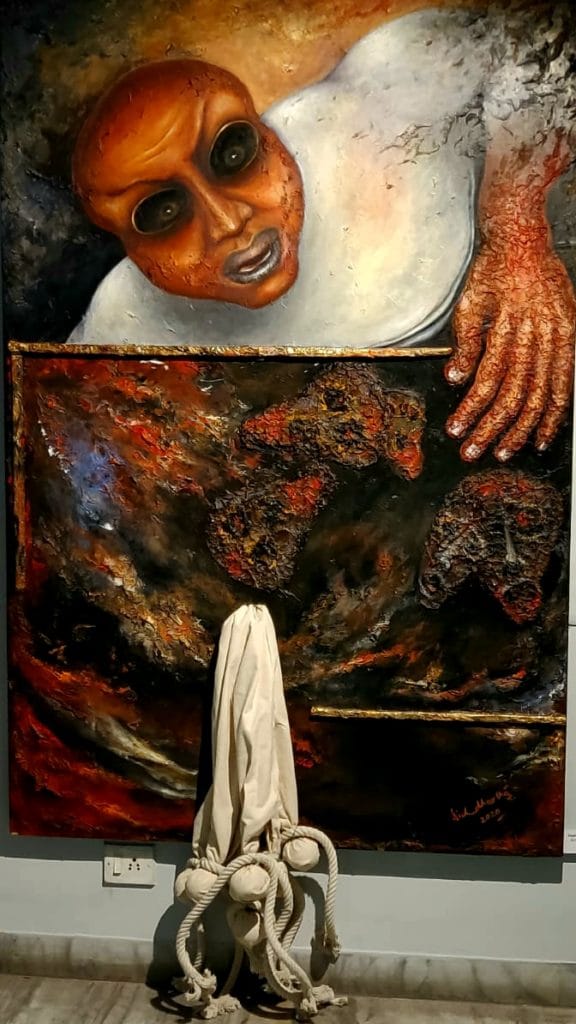 Describe a real-life situation that inspired you?
Many real-life situations have left deep marks on me with vibes of different nature. I feel an artist should be sensitive enough to allow such vibes work as inspirations for him and get them translated into his works of art. I have drawn many such inspirations from land and people, whether it is landscape at dusk or oppressed children or adults. In one such case I was so pained to learn that a small blind girl was forced into street begging by her parents as they felt she would neither ever be able to work and earn money for them nor would she ever be able to get married. I tried to represent that teen-age girl in my work Victim 1, a work done in oil pastel on Canson paper 300 GSM.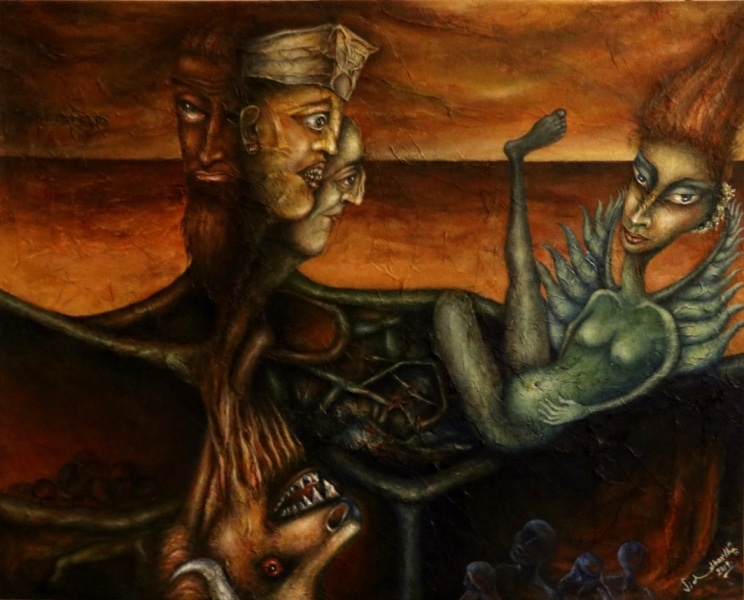 What jobs have you done other than being an artist?
I have been a Management Consultant. Other than that I have also been an art-educator for students of all ages and backgrounds.
Why art?
I feel every human being, especially one who is more emotional and sensitive to the environment, needs an outlet for expression. It should also be an outlet or a place where he gets to feel a realm of ease, comfort, refuge and love, just like cuddling-up in mother's lap. That I think defines a man's passion. I never deliberately walked into or was ever forced to walk into art. It just happened. All of a sudden at a point in time I realized art was an integral and indispensable part of my own being.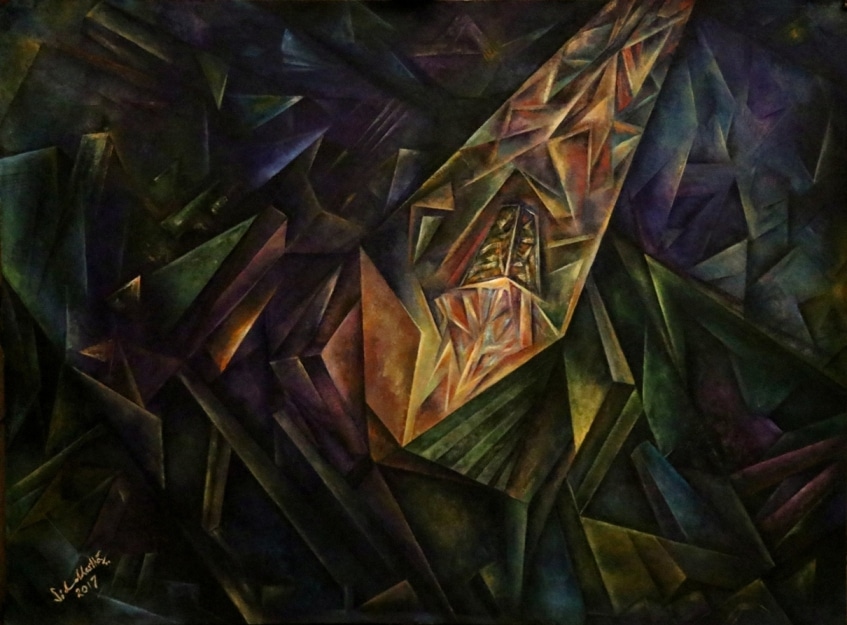 What is an artistic outlook on life?
I have often been confronted by this question within my inner-self. As such, I feel, we are continuously surrounded by different forms of art. It is for us to feel the impact of all forms of art through our five senses. Like Picasso said once – Does anybody understand what the bird sings? No! But still we listen to it and gradually start appreciating it. The same is applicable for any form of art. All kinds of art can affect our mood in a positive way, making us feel happier, calmer and inspired to do something worthwhile for the society. Everywhere you go art is evident.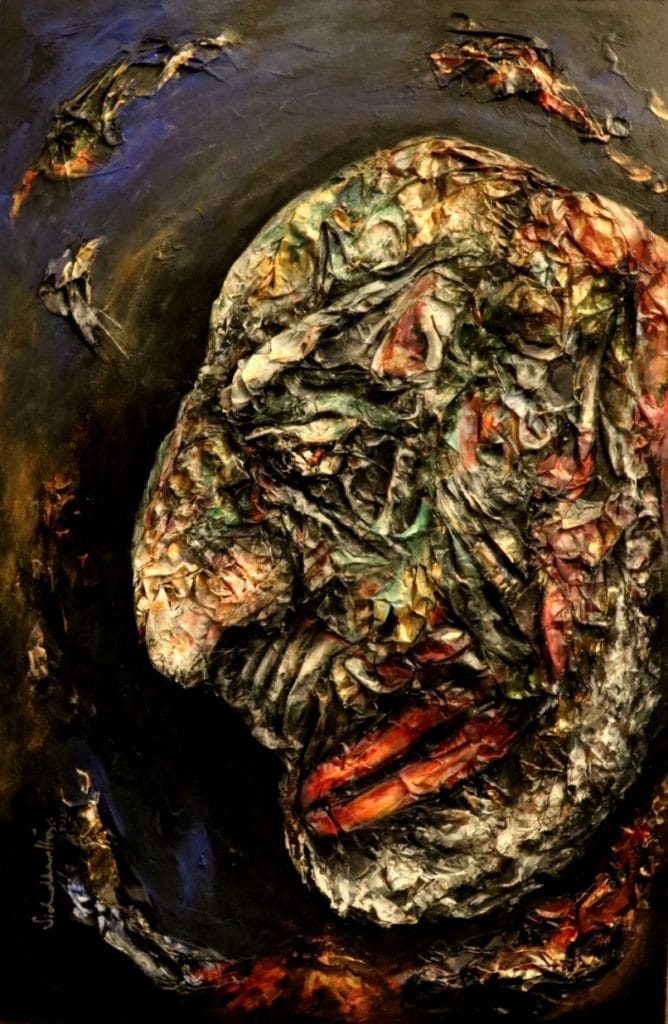 What memorable responses have you had to your work?
My first exhibition was a Group show in the year 1979, where I created a series of six works titled – 'Dancing with Flowers' and the seventh work had the title – 'Strife'. These works received good coverage in leading newspapers in Calcutta. Noted artists like Late Shyamal Dutta Ray and Sunil Das very highly appreciated the work Strife on the inauguration day itself. In my recently concluded solo show in Kolkata, just before the pandemic, I was again applauded by the likes of artists like Shri Shuvaprasanna and nationally renowned art critics.
Is the artistic life lonely? What do you do to counteract it?
I think what an artist needs is solitude. Loneliness is an emotion or a state of mind, which is unknown to artists. I feel an artist never feels lonely. There is no need at all to counter it as I feel that being alone never gives rise to loneliness. On the contrary such a state is bliss to me and very consciously I allow that state to flow in me, a state of solitude. Only then I am able to concentrate absolutely well with my own self and be with my infinite dreams and forms in a state of total emotional freedom. Amongst a crowd, there are human beings with flesh and blood similar to mine but they are non-congruent to my emotions and thought processes. They cannot understand how an artist's thought process works and therefore they cannot understand the need for the so called 'Loneliness'.  It is a perceived notion of the observers but a misnomer for an artist.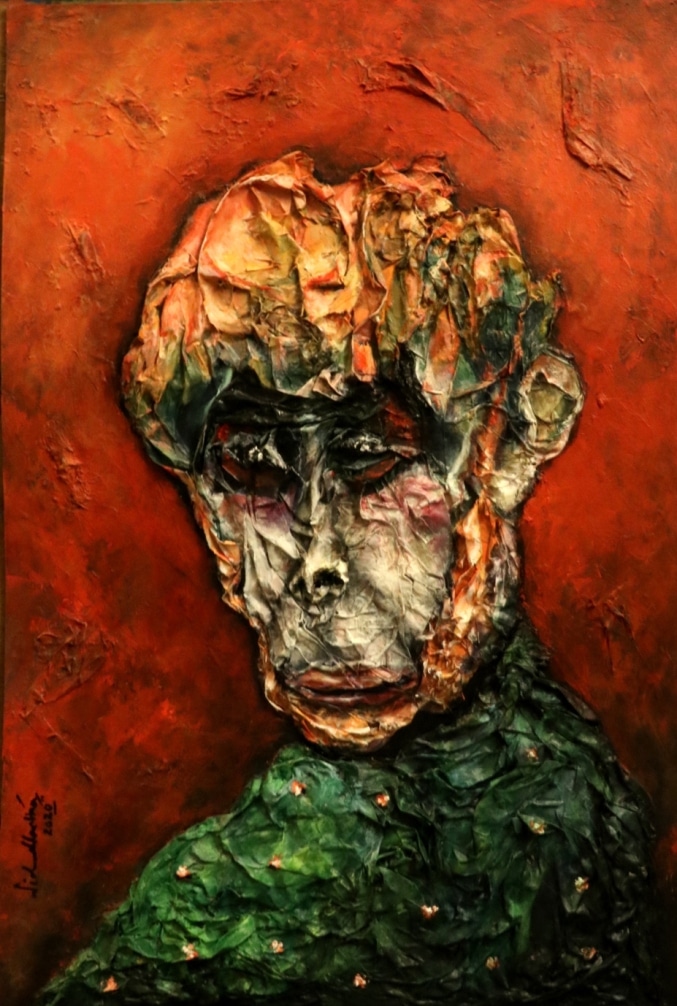 What do you dislike about the art world?
A lot of times I have felt that mostly works of art at the end of the day go into the hands of people who treat them as commodities. They evaluate the worth of a work of art based solely on the criteria of how much price would it fetch them in tomorrow's date. The works, especially in case of lesser known artists, do not get proper weightage with respect to its workmanship, skill, emotion, effort and strength of its story line. Falsehood, snobbery, group-ism, unhealthy competition, politics, economic exploitation are some of the acidic devalues in the art world.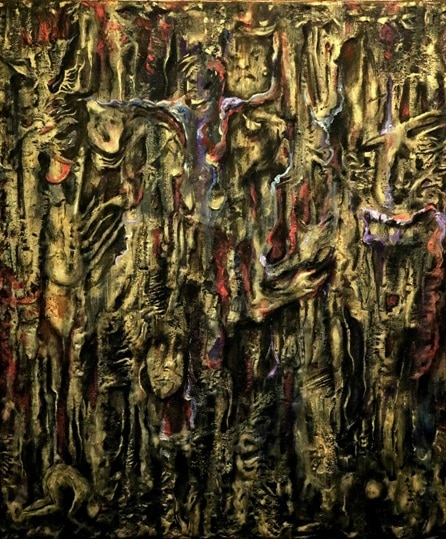 What do you like about your work?
I always try to translate my mind, my thought processes and my philosophies into my works. Fortunately, I have never slipped and fallen into a cocoon of producing works which the market likes. That is what I like about my work.
Should art be funded?
All humans need motivation and hope as indispensable parts of their beings and survival per se and an artist is no exception. Art needs true appreciators and lovers of art who would also have enough money to extend their patronage by buying works of art. Government, corporate houses and museums should have a major role in this. In fact it could be made as a KRA for the CSR activities of all corporate houses.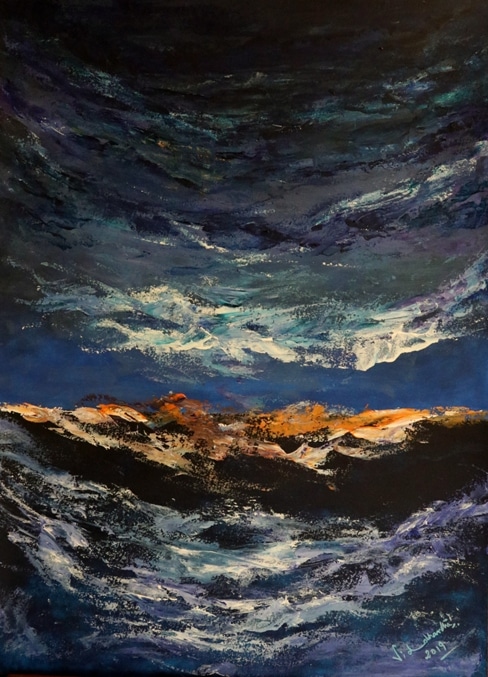 What role does art funding have?
Economic ease and independence are very important things in a human's life as, needless to say, we all need money to meet our basic needs. Once that is there, the mind is free and enables an artist to think better, without being oppressed, and as such also helps him to perform at his best.
What is your dream project?
Two dream projects in mind – One is to create an Art City and second is to depict Mahabharata and Bhagavad Gita in one very long and big canvas.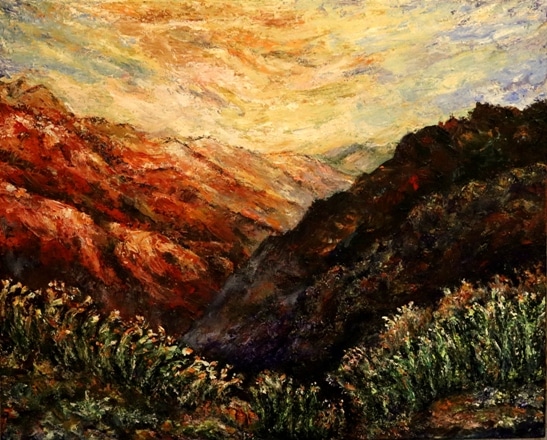 Favourite or most inspirational place?
Darjeeling and the different corners of Rajasthan and the lap of nature anywhere in the world; last but not the least, my workplace where I am able to sit and think and draw and paint all by myself.
What's the best piece of advice you've been given?
Try to see more than what you are able to see.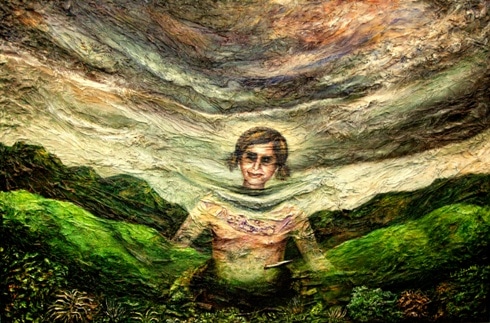 Professionally, what's your goal?
Create a new and unique idiom through my work and attract the attention of the world art market through it.