Artist Tamali Dasgupta was born and brought up in Kolkata. "I always wanted to be an artist since the time I can remember. In my childhood, for me, every available surface was a drawing space and all discarded materials I would transform into some object of art. My study books used to turn into sketch books. Margins of my text books and copies were full of scribbles and sketches. Art class was my favourite class and I was always the favourite student of my art teachers. I was always helping my classmates with their art projects.  I graduated in visual art with a first class from the Rabindra Bharati University, Kolkata in 1992. The teachers and the environment of the Jorasanko Thakurbari campus – the unused and neglected rooms of 'andarmahal' with their silent stories – which we loved to explore and which always used to awaken my imagination and curiosity shaped me into the artist that I am today,' she says.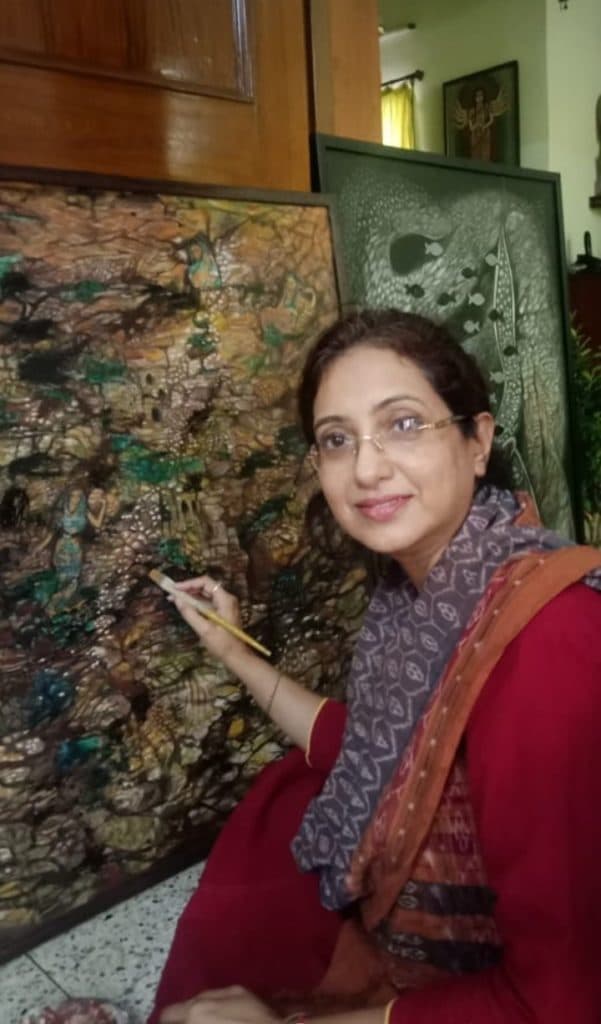 What's integral to the work of an artist?
An artist's vision is completely different from others. He may be seeing a tree, but not the way as others are seeing it. That image in his mind gets reflected in his canvas and that is what makes it unique. So this thought process and originality is an integral part of an artist's work.
What role does the artist have in society?
An artist, as any other individual is influenced, affected or disturbed by the happenings in the society or the world around him. These thoughts and emotions may or may not get reflected in his or her works. An artist's job is to give either pleasure or food for thought to his viewers which can be pleasant, or disturbing.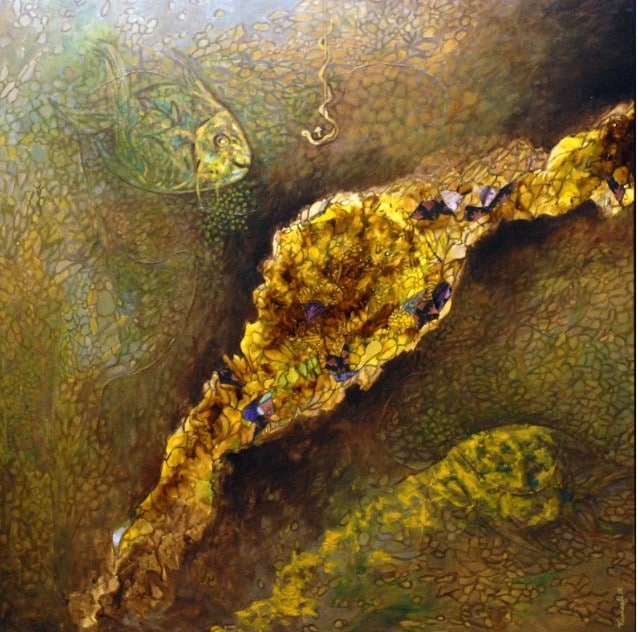 What art do you most identify with?
Mine are conceptual works. Over the years I have developed my own techniques, style and language of expression.
What themes do you pursue?
My latest series is 'And the search goes on…….' which portrays a common man's eternal quest for peace, love, happiness and security – to get away from war, hatred, cruelty and greed – from time immemorial to the modern times – all across the world. I use symbols and metaphors to give expression to my thoughts. My belief that there is always light at the end of the tunnel, that there is nothing called 'The End' – there is always something beyond that, – a hope, a way forward, manifests itself in my works.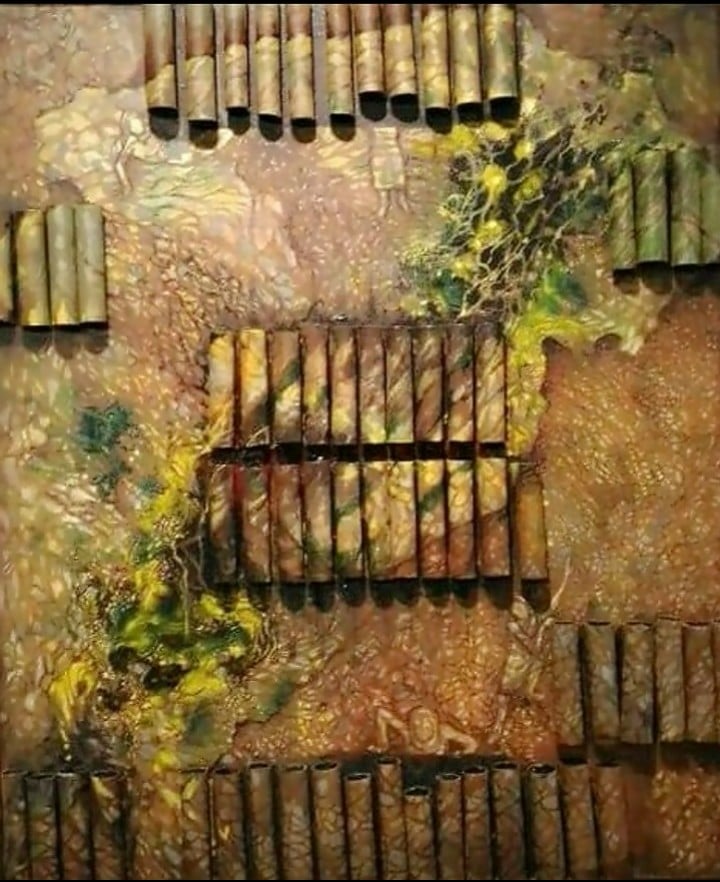 What's your favourite artwork?
It is really difficult to pinpoint one particular artwork, since I find so many artworks impressive and overwhelming.
Describe a real-life situation that inspired you? 
The plight of displaced people all over the world – from Myanmar to Syria – the wars and conflict, the sufferings of these people really disturbs me and inspires me to put my thoughts on canvas. I am also moved by the oppression of women all over the world in various forms.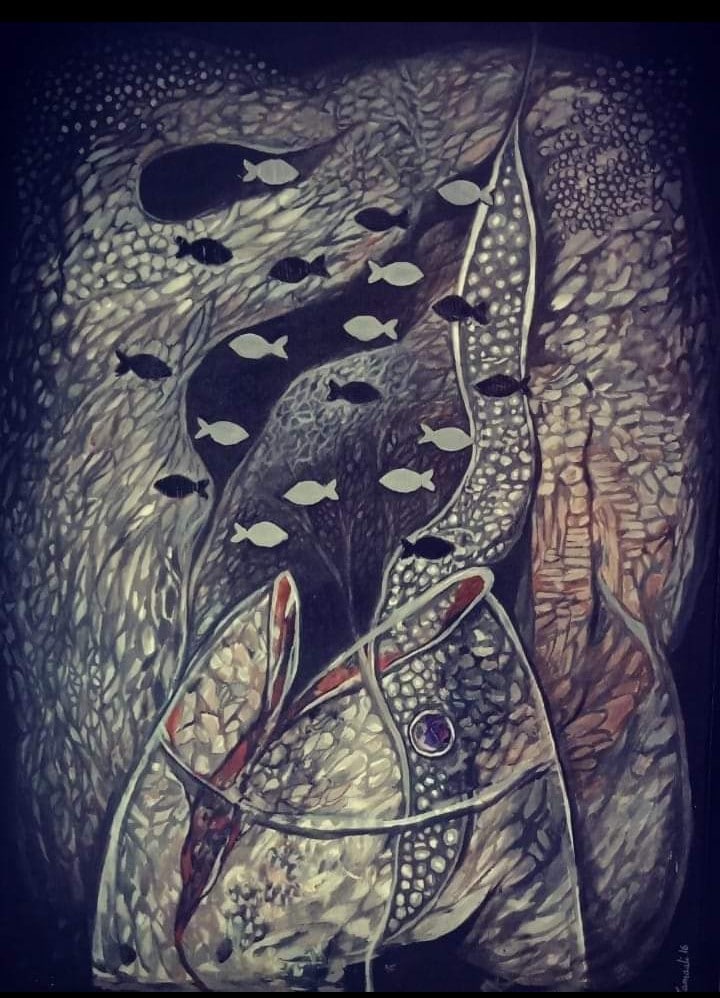 What jobs have you done other than being an artist?
I have been a teacher in a reputed school in Kolkata for the past eighteen years and am thankful to have the opportunity my school provides for me to be creative and to shape so many young minds.
Why art?
Art is the most powerful way of putting your thoughts and views forward.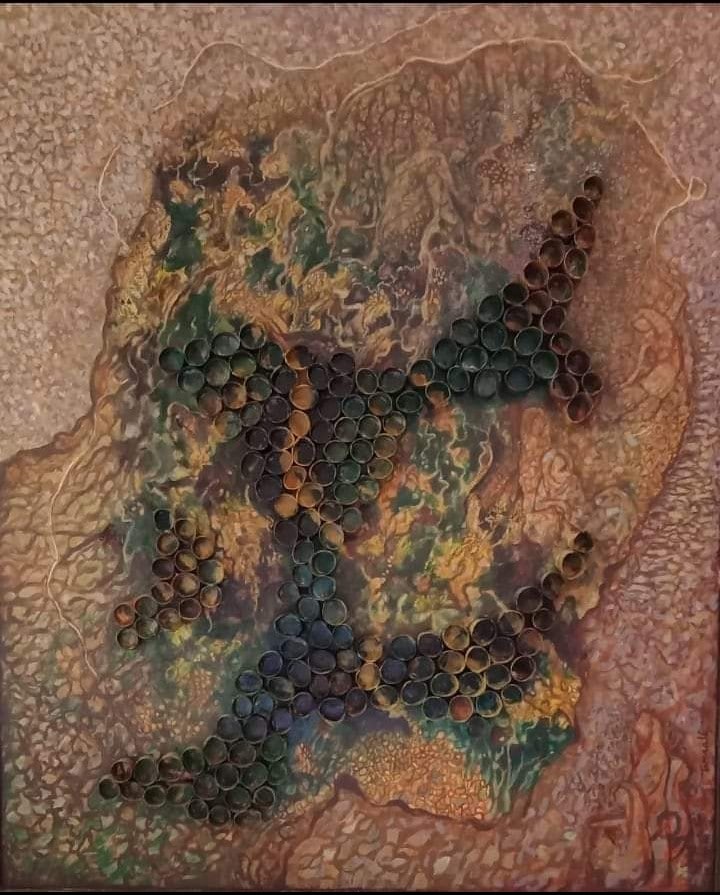 What is an artistic outlook on life?
Whatever we do in our daily life, all the mundane works, should be expressed as a form of art and beauty. It would make our surroundings and life in general, more harmonious and beautiful, which in turn would make the world a better place. That sense of beauty and perfection should be inculcated in the young minds as well, since they are our future, so that they are able to discern beauty and harmony in their surroundings and have an eye for perfection.
What memorable responses have you had to your work?
People have always been intrigued by my work, which I think every art should – making people think and look at it twice. So I often have people coming back again to check my work which I find very satisfying.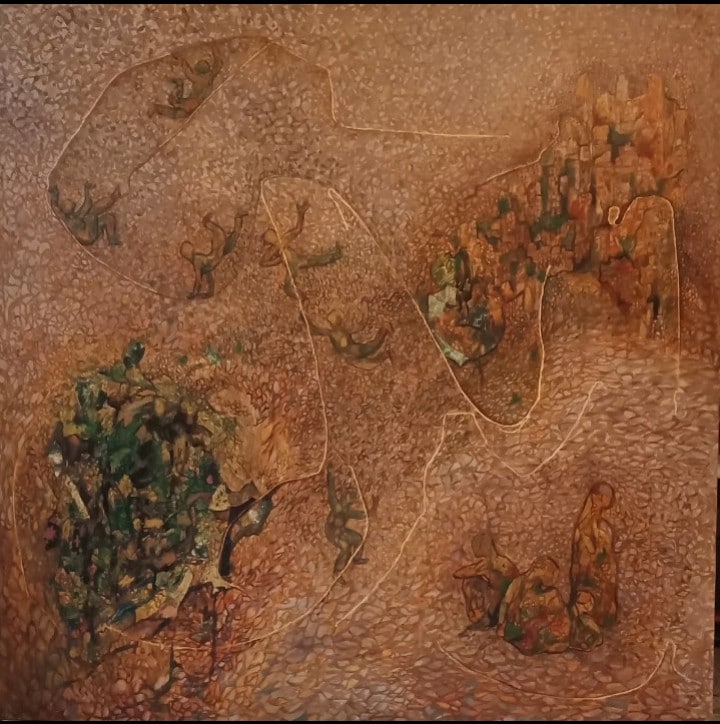 What food, drink, song inspires you?
I am adventurous about food in general and am always eager to try out new cuisines. It gives an idea about lifestyles, cultures and food habits of people of different regions. I also observe how it is presented. It tells a story of its own.
Is the artistic life lonely? What do you do to counteract it?
An artist is never lonely. One's work is the greatest companion. I am always conversing with my works, it is constantly giving me feedback and I can spend hours on end sitting and working in front of my work.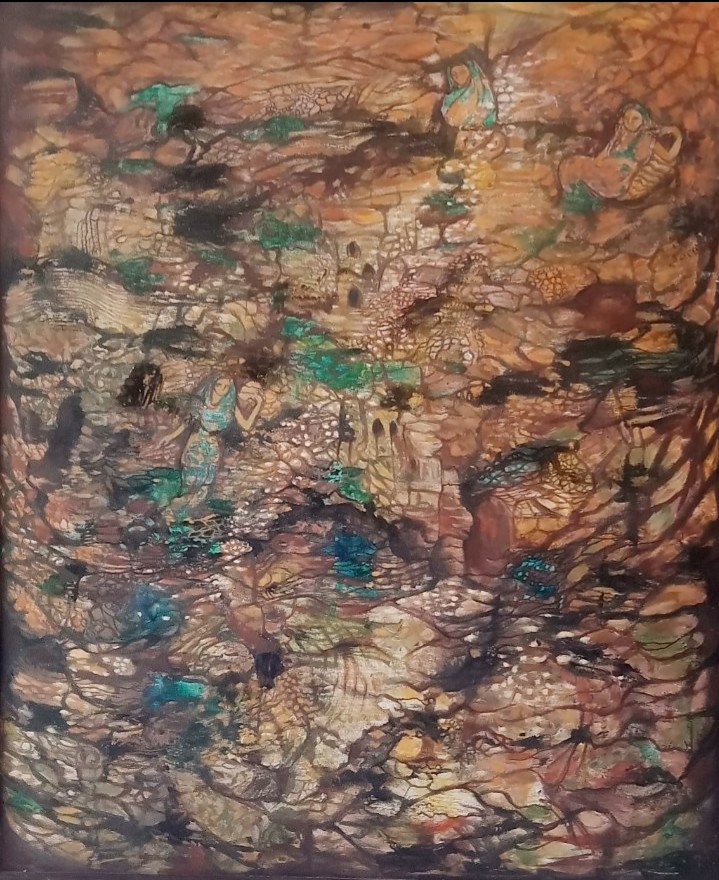 What do you dislike about the art world?
Groupism
What do you like about your work?
I like the textures and small details of my works. My work is always evolving and I am always experimenting with new materials, colours and mediums.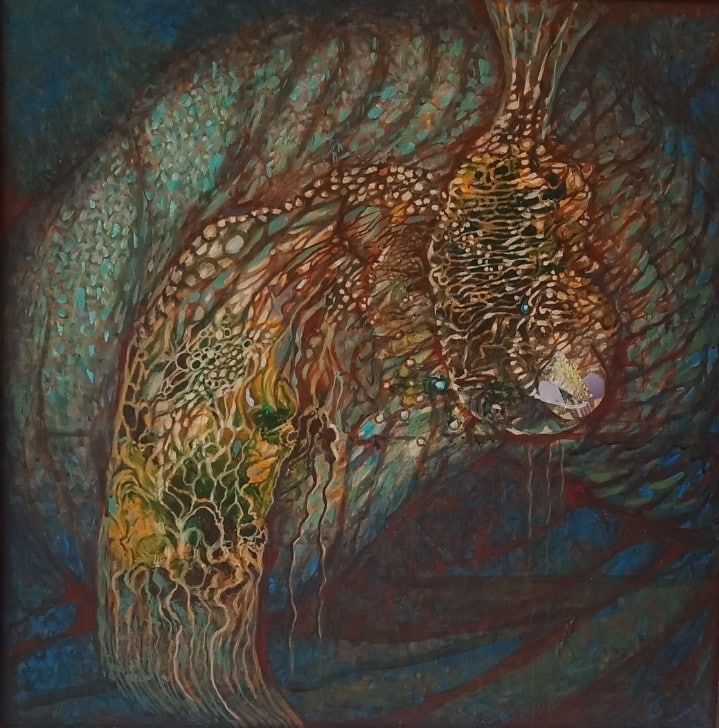 What role does art funding have?
It helps young artists to work without worrying about their bread and butter. It helps preserve our heritage.

Name three artists you'd like to be compared to.
Every artist is unique and incomparable.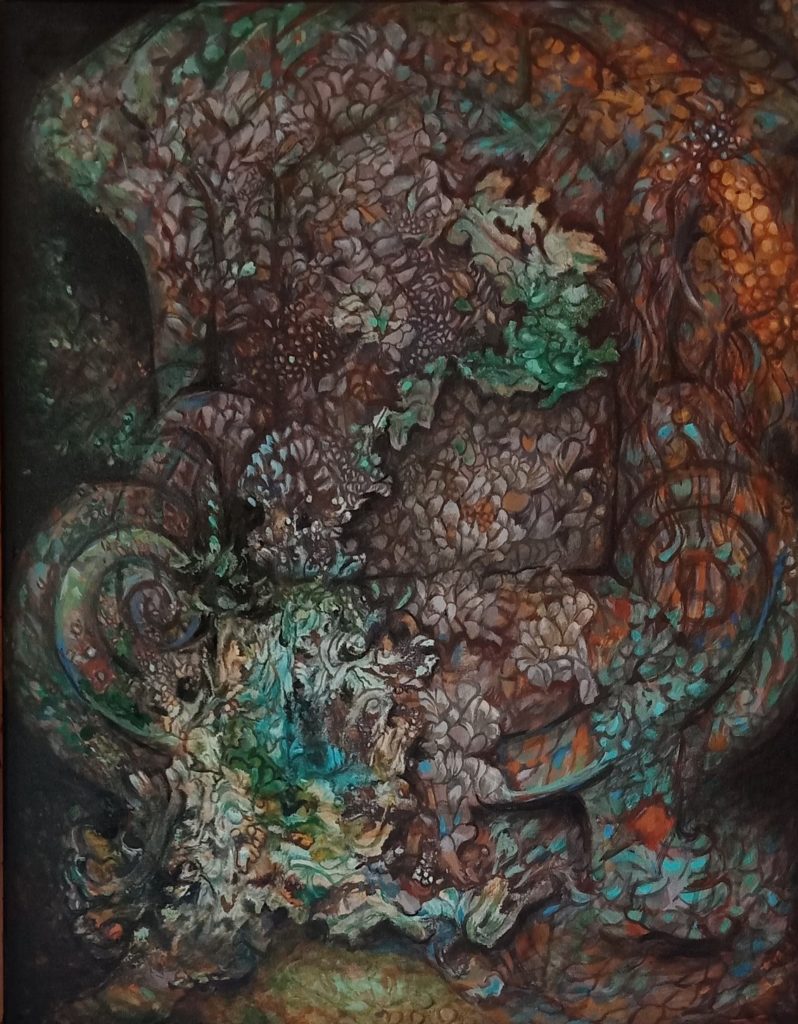 Favourite or most inspirational place?
Mountains – they hold surprises and revelations at every twist and turn. Each peak and valley is different and unique.
What's the best piece of advice you've been given?
'If you have money to spare, don't spend it on sarees, jewellery – instead buy canvas and colours'. And also – 'no matter how busy you are with your daily struggle for existence, find time to sit with your work each day – make it mandatory.' – advice given by our professors in art college which I still follow.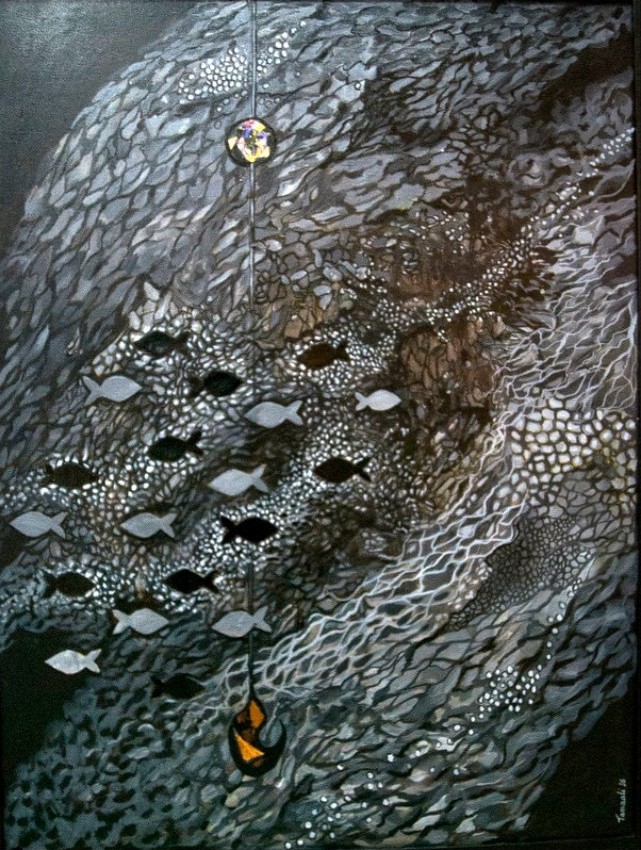 Future plans?
To be more active, to interact with a whole lot of minds- both young and old, be continuously on the lookout for fresh ideas.