Sassi Holford is recognized as one of Britain's most established dress designers. Celebrated for her couture bridal designs and red-carpet creations, Sassi has been dressing women for almost 40 years. It all began in 1981 when Sassi offered to design and make a wedding dress for an old school friend who had no budget. Requests for further wedding dresses came in and Sassi began designing from a small studio in North Devon later that year.
In 1992 Sassi moved to Taunton and set up a studio above a store, two years later that store became Sassi's first shop. Her designs were picked up by buyers and stocked at Liberty, Harrods and Tatters on Fulham Road, one of Diana, Princess of Wales' favourite stores. When Tatters closed in 2003, the owner, Missie, offered Sassi the lease which became her second store. Today, Sassi's designs attract clients from across the globe developing the brand into an influential fashion business. Alongside winning multiple awards including three times British Bridal wear Designer of the Year, Sassi has also hit the spotlight for dressing A-list celebrities and royalty alike.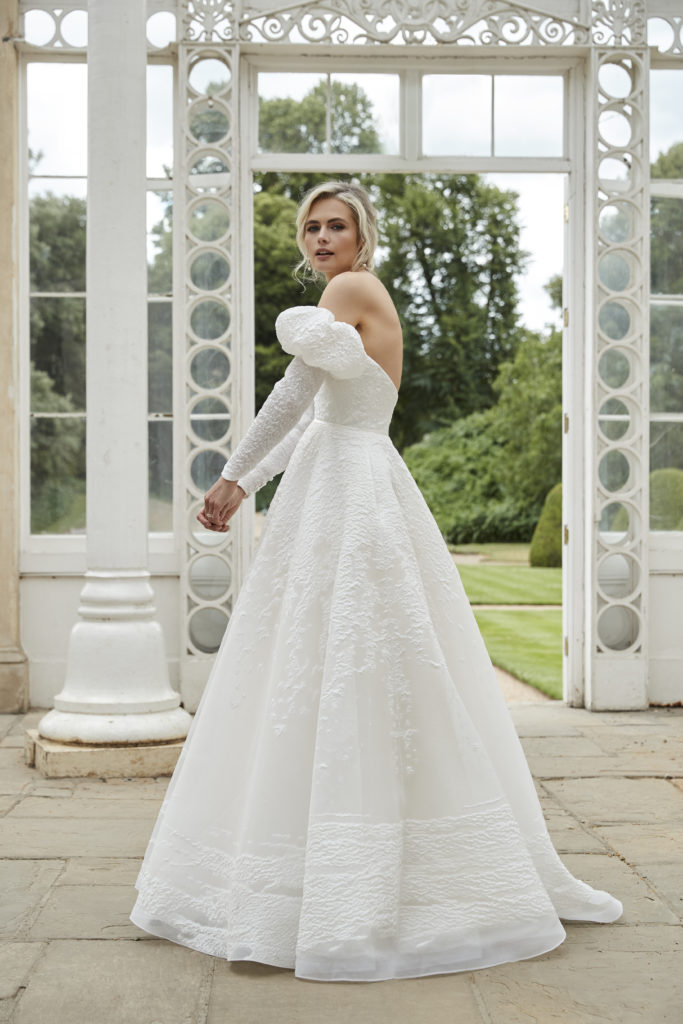 The launch of Sassi's ready-to-wear fashion collection in August this year has been an organic addition to the brand and was born from requests by her stylish brides wanting beautifully cut, timeless pieces. Designed at Sassi's Somerset atelier, the collection features transeasonal dresses, tailoring and separates. The colour base is neutral with highlights of flame, aubergine and indigo blue. Soft to statement silhouettes encompass the foundations of Sassi's self-taught, award-winning pattern cutting.
Dresses are belted or slip style, pleated skirts in foil georgette and devoré silk can be worn with strappy silk camisoles or silk blouses. Palazzo trousers in Italian crepe are teamed with delicate lace tops or cotton shirting for any occasion. Tailoring is structured with matching tapered tuxedo trousers or a colour-matched skirt for a relaxed look.  'Inspired by the confidence I see my evening and couture bridal dresses give to women; I have realised my vision of launching ready-to-wear. Every piece is ageless with details that define a woman's individual style," says the designer. The collection will be available via made-to-order in keeping with Sassi Holford's sustainable initiatives from Sassi's website and the Chelsea store. All fabrics are ethically sourced and packaging is environmentally friendly.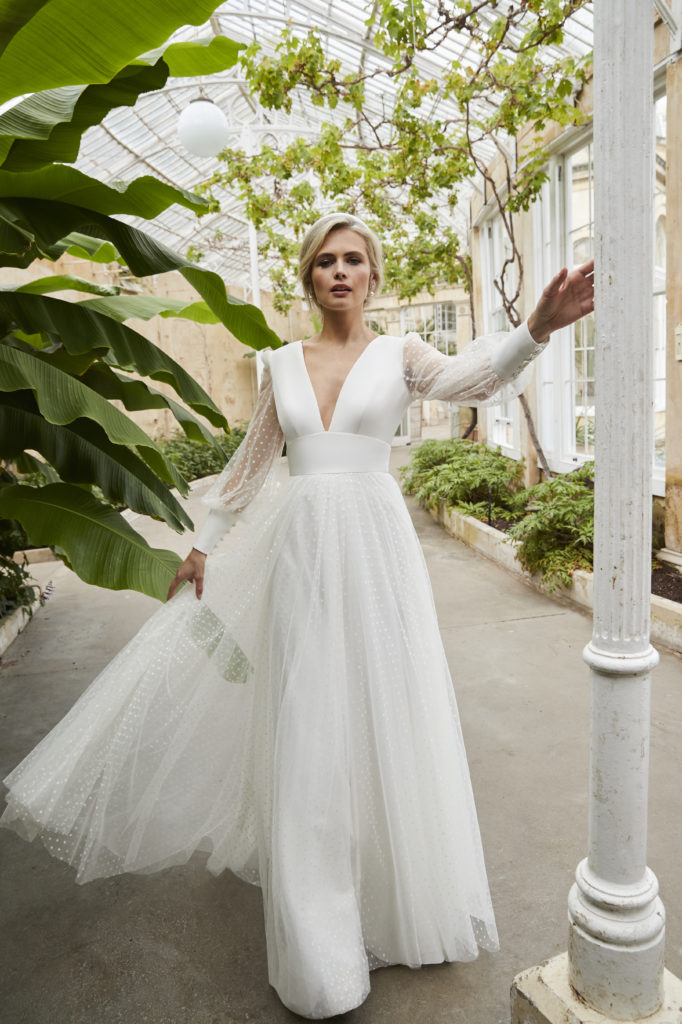 What made you decide to start a career in bridal design?  
I've always had a love for design, but it wasn't a conscious decision to start my own label. In fact, it all began after I agreed to make a wedding dress for a friend in need and requests for more dresses quickly followed.
How long have you been a designer?
It will be forty years next year! Where did the time go?! I can't wait to see what comes next now that we have launched ready-to-wear.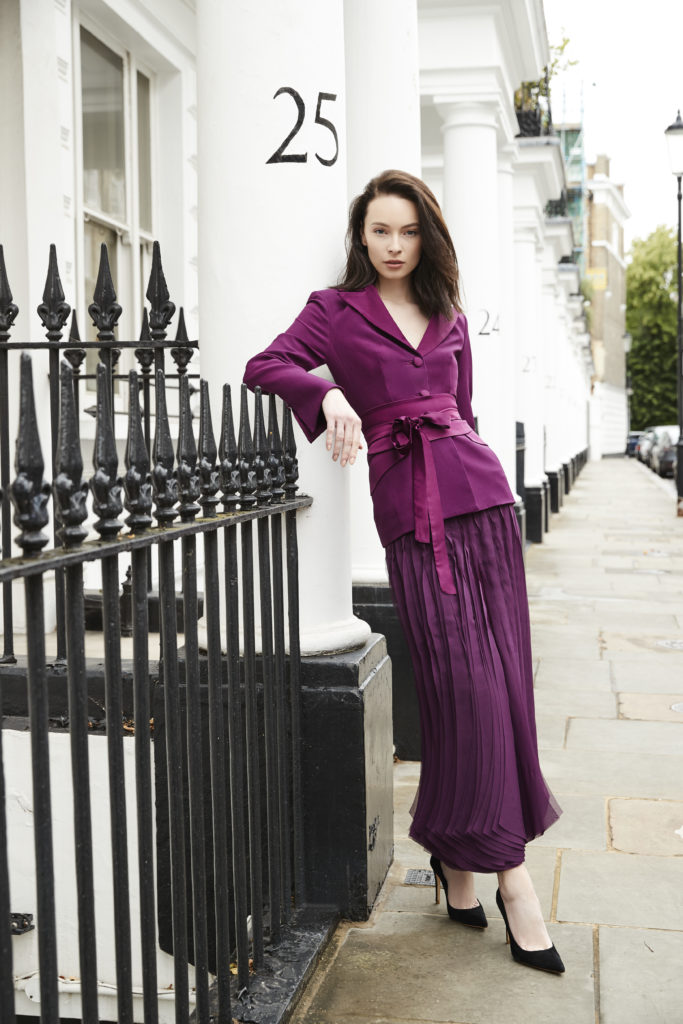 Why did you decide to launch a ready-to-wear fashion collection?
I have designed bespoke pieces for my clients for years and always had requests from my stylish brides and their mothers. They asked for beautifully cut, ageless pieces that make their wardrobe work for them, and that's what has driven the launch of my ready-to-wear fashion collection.
How would you define the style your ready-to-wear collection exemplifies?
I am passionate about designing beautifully cut, ageless pieces that can take a woman from coffee to cocktails effortlessly. Designed for the discerning, stylish woman, it's a collection that evolves with you and will work in harmony with the rest of your wardrobe and enhance your individual style.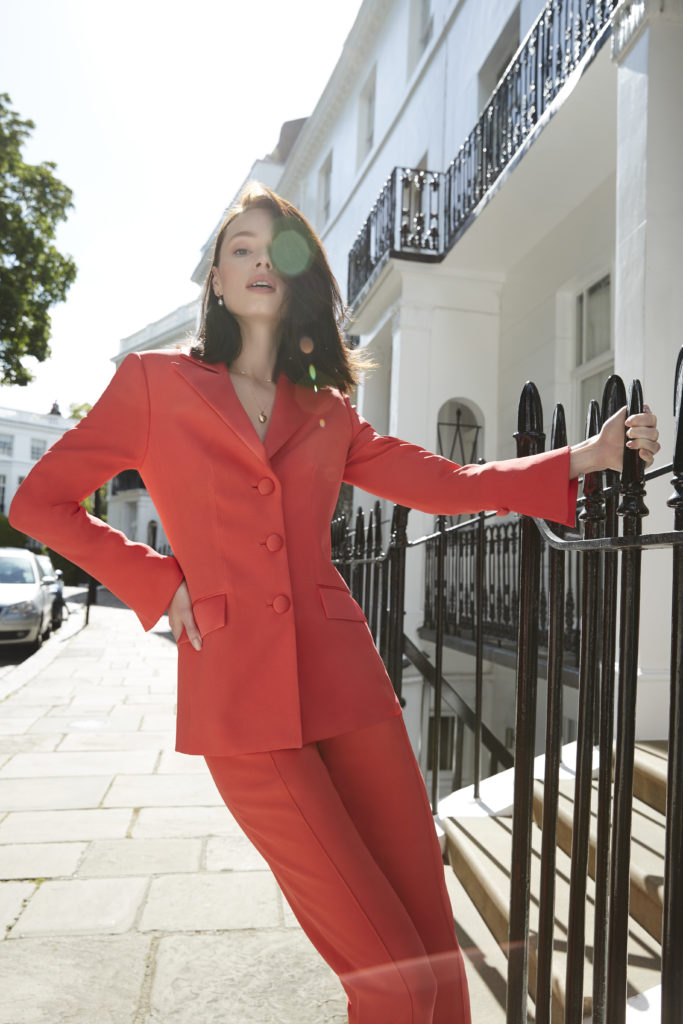 Tell me a little about yourself. Where are you from? What's your educational background? What are your general professional and non- professional interests?
I was born in East London but spent much of my childhood moving around the country due to my mother's job. We settled in North Devon when I was 15 but originating from a bustling city, I was soon devising how to go back. Designing allowed me to get my fix for the city, even more so when opened our Chelsea store. I try and do as much as I can to slow my pace down when I'm not working. Cooking feasts for friends (when we can), walking, reading and yoga – everything to balance out my hectic working day.
How would you define your personal style?
My style is built on sartorial staples that can carry me through every season. You'll always find a well-fitted white shirt, wide-leg trousers and statement shoes in my wardrobe. My current favourites are my Chloé Rylee cut out leather ankle boots; they go brilliantly with any outfit.
Who are some of your favourite designers?
Alexander McQueen – his tailoring, detail and innovation continues to be my inspiration. I have also always been drawn to the femininity and confident silhouettes that Dior showcases season after season.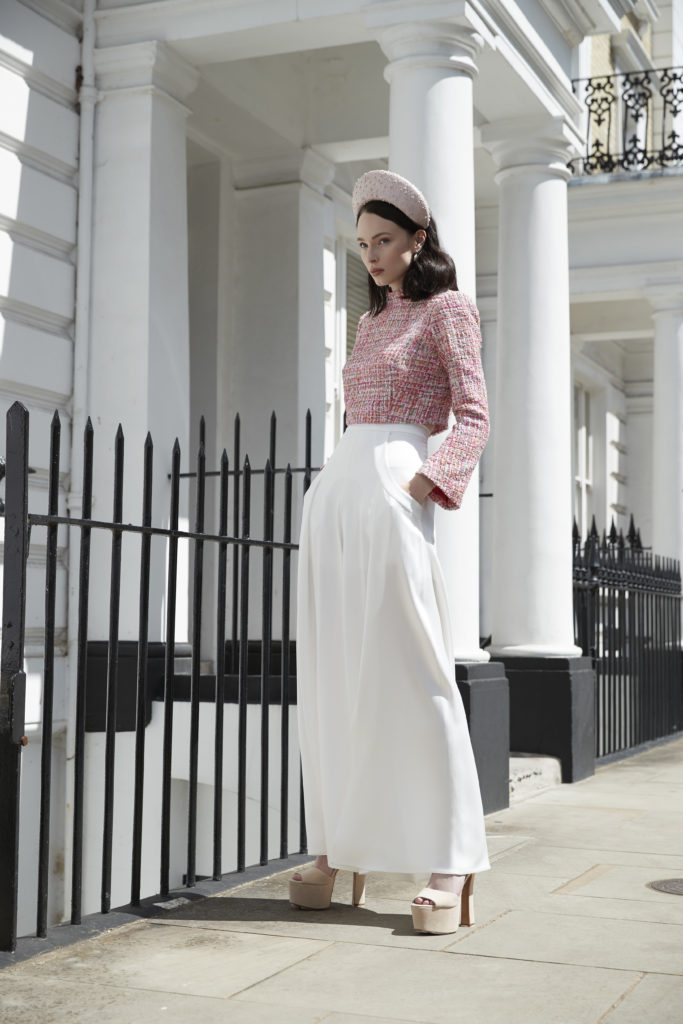 How long does it usually take you to construct a piece?
I'm passionate about making sure that the cut and fit is perfect. We'll spend a week refining every element, producing 2 -3 toiles per each piece before carrying out wear tests and then finally signing off for production. None of it would be possible without my talented and dedicated team who work at my Somerset atelier – many of whom have been with me for more than ten years.
What's your favourite part about conceptualizing a design?
I love designing pieces that showcase the cut, fit and craftsmanship that goes into producing timeless high-quality pieces. If you look close enough, you will see the details that refine a woman's effortless style.
Where do you find your inspiration?
I believe life should be inspiring! From the dynamic women I work with to the beautiful architecture we have here in the UK, and around the world.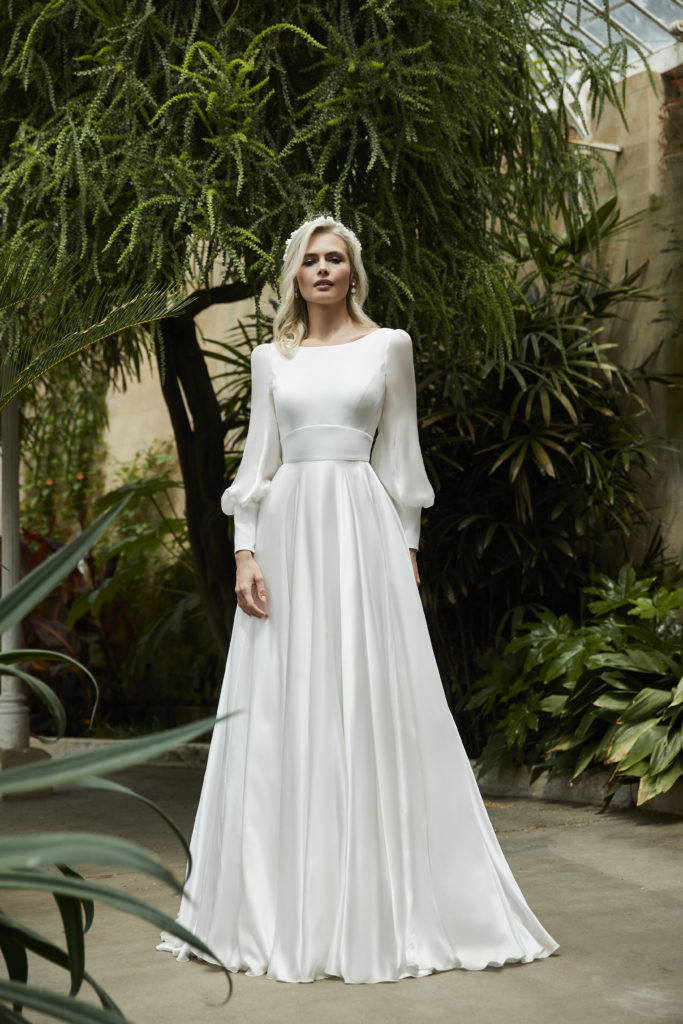 What are your favourite fabrics and colours to work with and why?
I adore working with Boucle tweed and crepes. They handle beautifully and have been part of some of my favourite pieces I've ever designed. Colour is dependent on my mood, but right now I love flame and primrose. I prefer a much richer palette of bottle green and aubergine for winter.
Where do you source your fabrics and other materials?
We source most of our fabrics from Italy and some in the UK. We have worked with the same family run suppliers for years. We're always on the lookout for new, innovative fabric technology as I believe every design starts with the fabric.
What do you believe makes a good quality article of clothing?
Without a doubt, every great garment starts with the quality of the fabric. As a designer you cut the pattern that brings out its beauty.
Do you consider yourself an artist?
To me an artist is someone who produces something pure like a painting. I see myself as a creative using garment technology to express my vision. Having started the business myself, I have learnt garment technology skills that allow me to bring my ideas to life and use fabrics that compliment them.
Where can readers find out more about you and your work?
My website! It's full of articles on my business as well as lifestyle and fashion, plus you can shop the collection. We've recently launched a brand-new Instagram account for our ready-to-wear (@sassiholfordrtw)
Where can readers buy your collections?
You can buy my ready-to-wear fashion from my website www.sasssiholford.com as well as in my Chelsea store. My bridal collections are available from my Chelsea and Taunton stores by appointment and our independent stockists.