Hailing all the way from Swanage, England, Chef Oli Harding has elevated his skills through years of experience as Sous-chef to Michelin-star chefs around the UK, including Michael Caines, Chris Eden and Hell's Kitchen prodigy Chris Wheeler. He's cooked for some of Europe's most highly acclaimed establishments (including Marina Villa Hotel in Fowey and Stoke Park Golf Club) where he won several awards for his craft. Inspired by his passion for discovering exceptional recipes and cooking practices around the world, Oli travels to as many places as he can. One of his favourite trips was going Truffle hunting with the BBC for a television show in the Alba region of Italy. So how did he end up in Montreal? Although his career abroad was nothing short of perfect, Oli decided to leave it all after meeting his Montreal-born sweetheart. He started working as Chef du Cuisine at Cavalli, and began to cook privately for UFC fighters, hockey players, actors, and Montreal's Elite. In 2014, he accepted the position as head day chef at Mercuri Montreal. In 2018 he became executive Chef at Slk Rd in Montreal.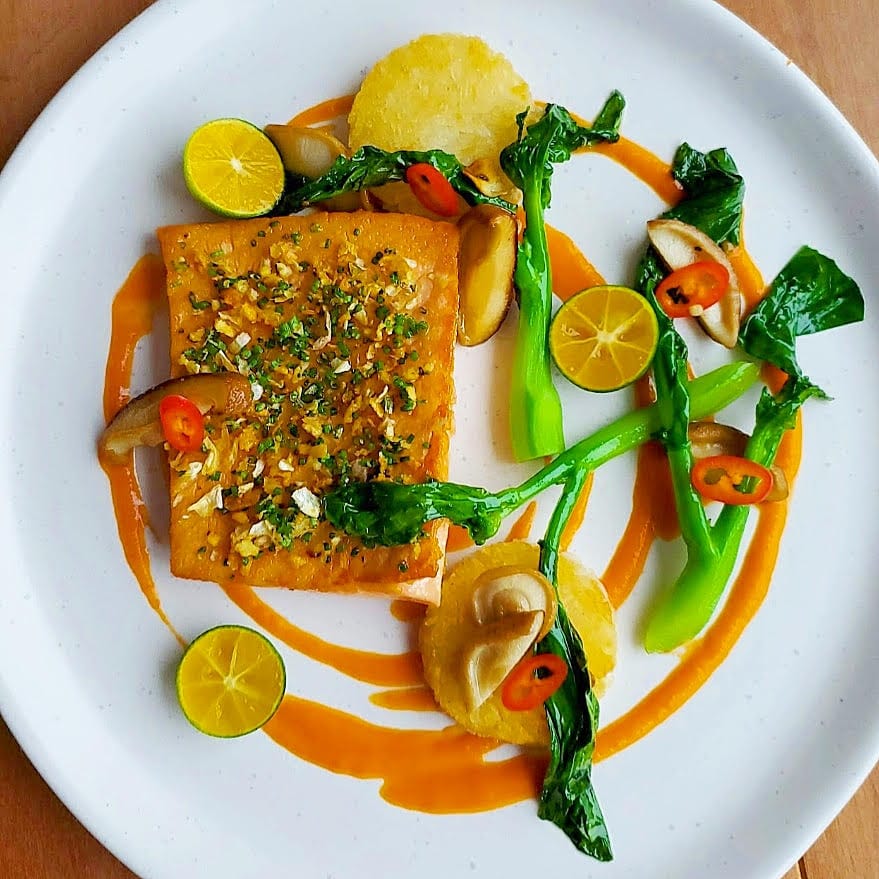 Chef Oli Harding these days is busy implementing all that he's learned and tasted working with restaurants and companies in Montreal and Europe helping to develop their menus and elevate their brands. And when he's not gracing kitchens? He's coaching future generations of talent at Pearson School of Culinary Arts in Montreal.
Which is your favourite ingredient?
That is a tough question! I would say potatoes. There are so many varieties all with different textures and flavours. In addition there are so many different cooking techniques to use with a potato too!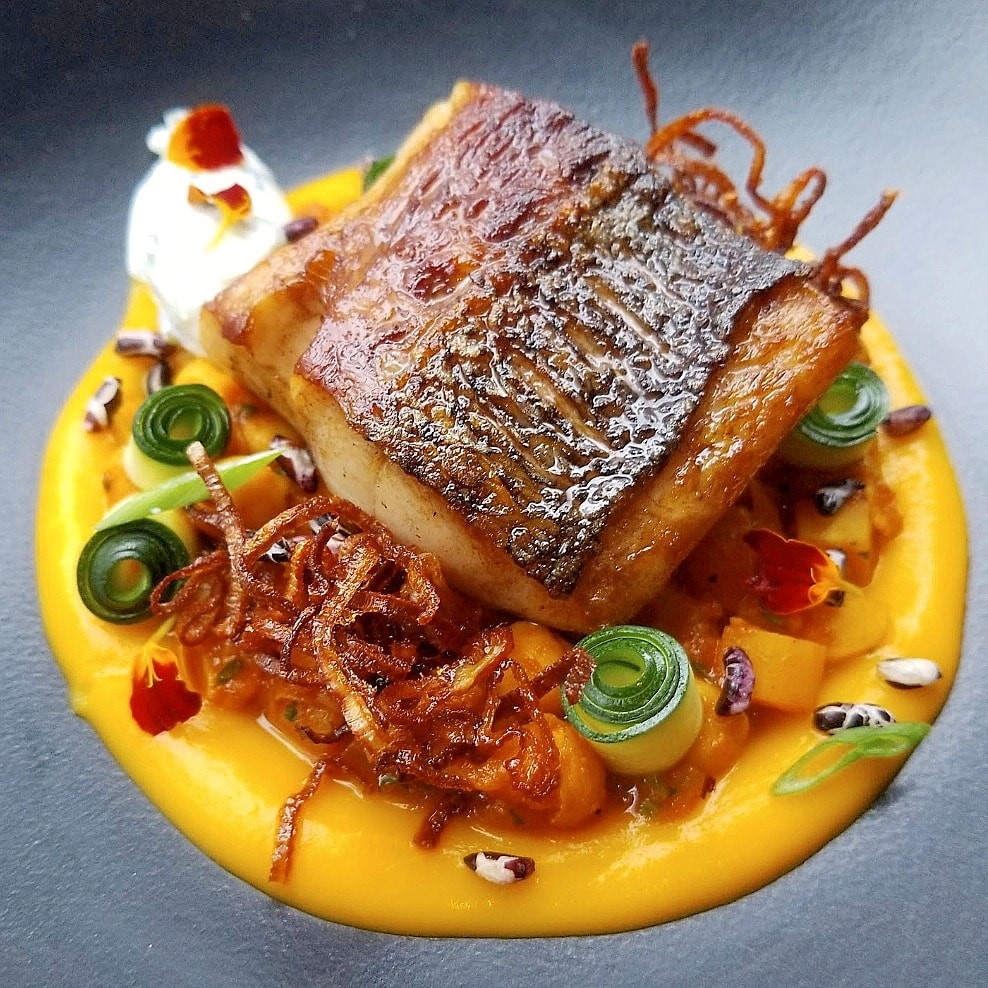 What is your advice to aspiring chefs?
My advice to aspiring chefs would be to be a cook that can be relied on by their team. Don't be late at work, be early, show enthusiasm and be positive. We work in a tough environment and a positive attitude is invaluable and contagious. Ask questions, practice your skills at home, and be proactive in the kitchen. If something needs cleaning, clean it before Chef has to tell you to.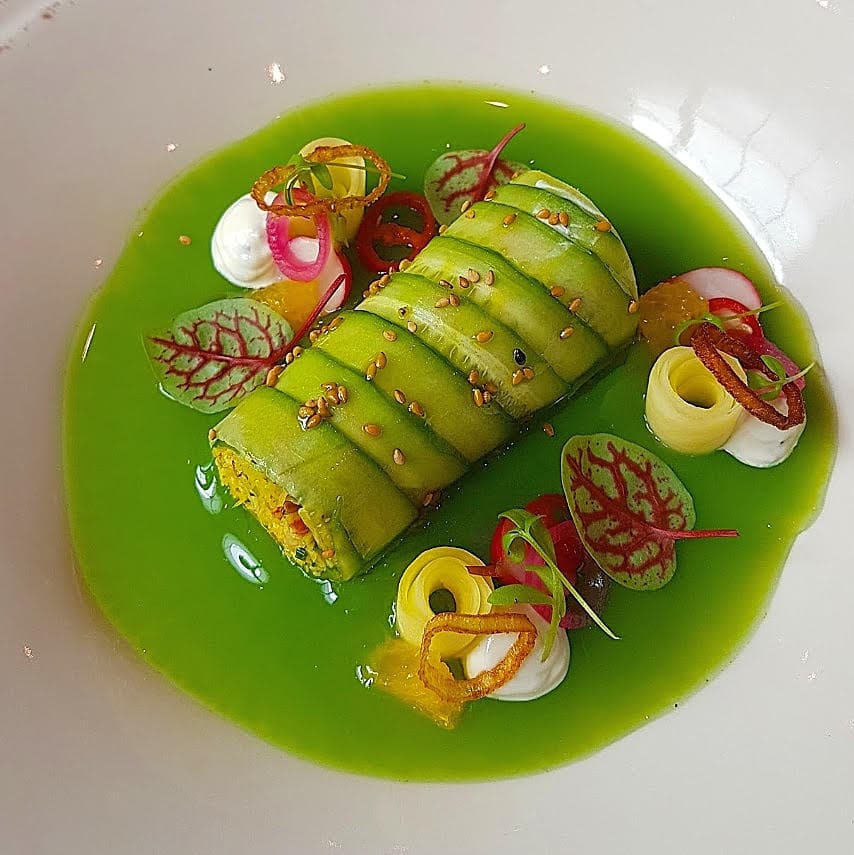 What's your comfort food and which is your favorite restaurant to dine at?
Since moving to Canada my comfort food is 'box chicken' which is Rotisserie chicken with home fries and a salad. My favorite restaurant changes but as of now it would be a restaurant called Damas in Montreal. It is a beautiful restaurant serving Syrian cuisine. The service is very personable and not 'fussy'. The restaurant is stunningly designed taking inspiration from Persian décor.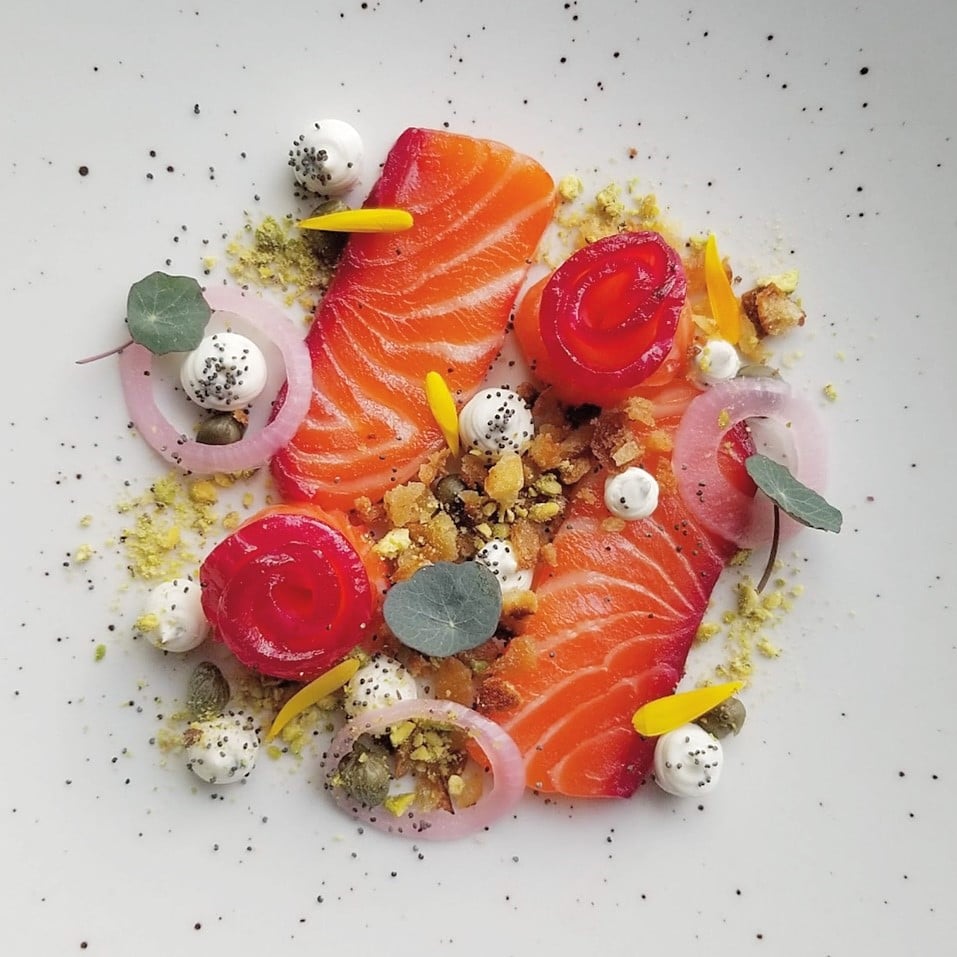 Future plans?
I am about to create my first cookbook. I put one together for Pearson School of Culinary Arts, where I am an instructor and I loved the creativity it involved. I will continue to consult with kitchens in Montreal and Europe and have some other projects yet to be announced. I will also continue to develop and photograph recipes/dishes for companies to use for their products.
Who is your inspiration?
My inspiration would be my mother. I come from a large family with six sisters and my mother used to always cook for us. I enjoyed helping her in the kitchen and cooking with my sisters from a young age. Inspirational chefs would be Anthony Bourdain and Keith Floyd. My family and I used to sit round the television to watch Floyd around the world and I love pulling out the DVDs and watching those again now. I was beginning my career in kitchens when Anthony Bourdain released 'Kitchen Confidential'; after I read his book I knew I wanted to live life as a cook.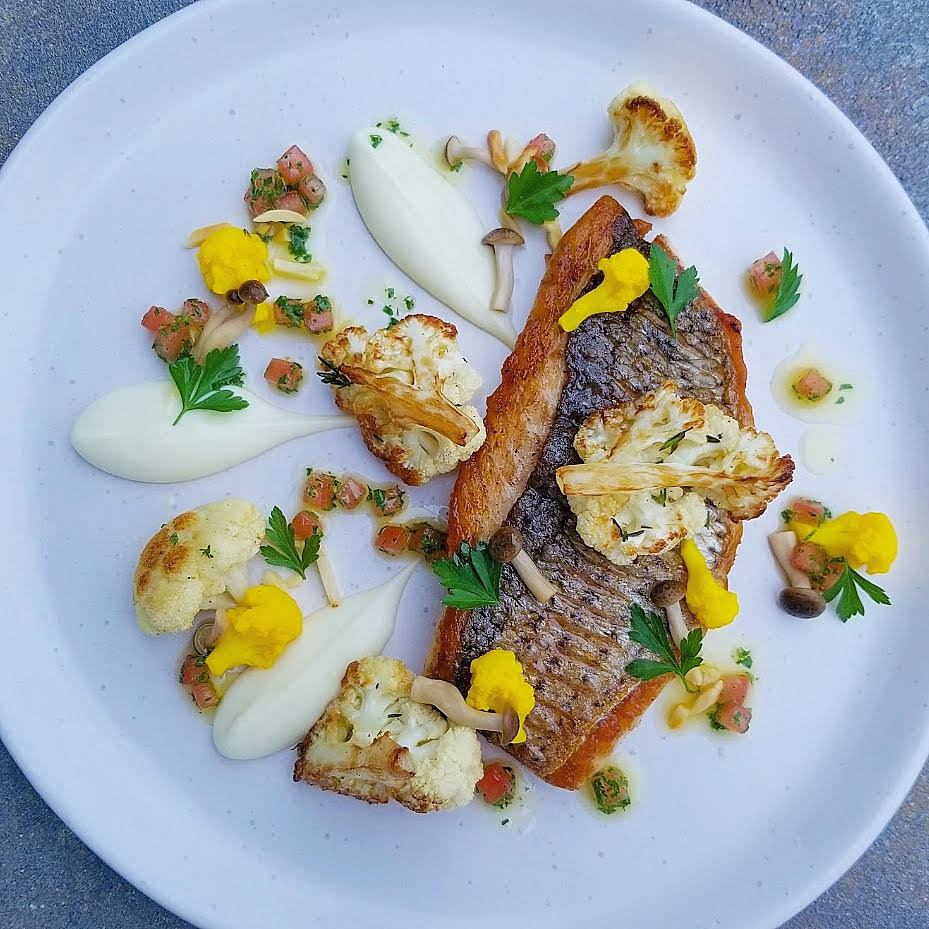 Which is your signature dish/dishes?
One of my signature dishes would be my Thai inspired Shrimp curry with sticky black rice and mango. I have taken this off menus earlier but had to put it back on our menu due to requests from clients! Another dish could be my beet and goats cheese risotto. I love colors and textures and these dishes have both of those.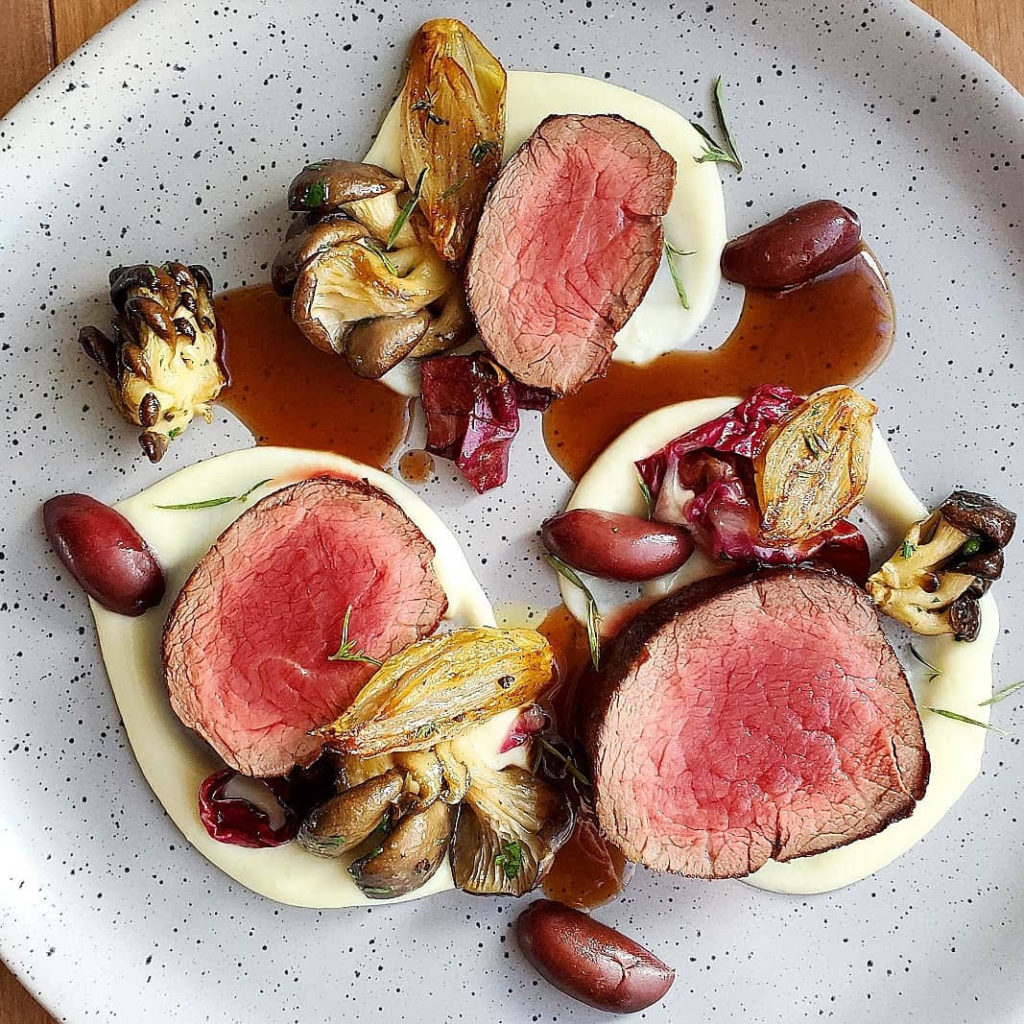 What is the philosophy and ethos behind the food you cook?
Seasonality. It is so important to use fresh and local ingredients where ever possible. The flavor comparison of an ingredient in it's prime is so completely different compared to ingredients that are being 'forced' to grow. I like my food to be recognizable for what it is. I believe in the skill of cooking. I like to use traditional cooking techniques and knife skills to transform produce rather than using kitchen gadgets. I also like colors and believe that different color palettes on the plate can create different moods.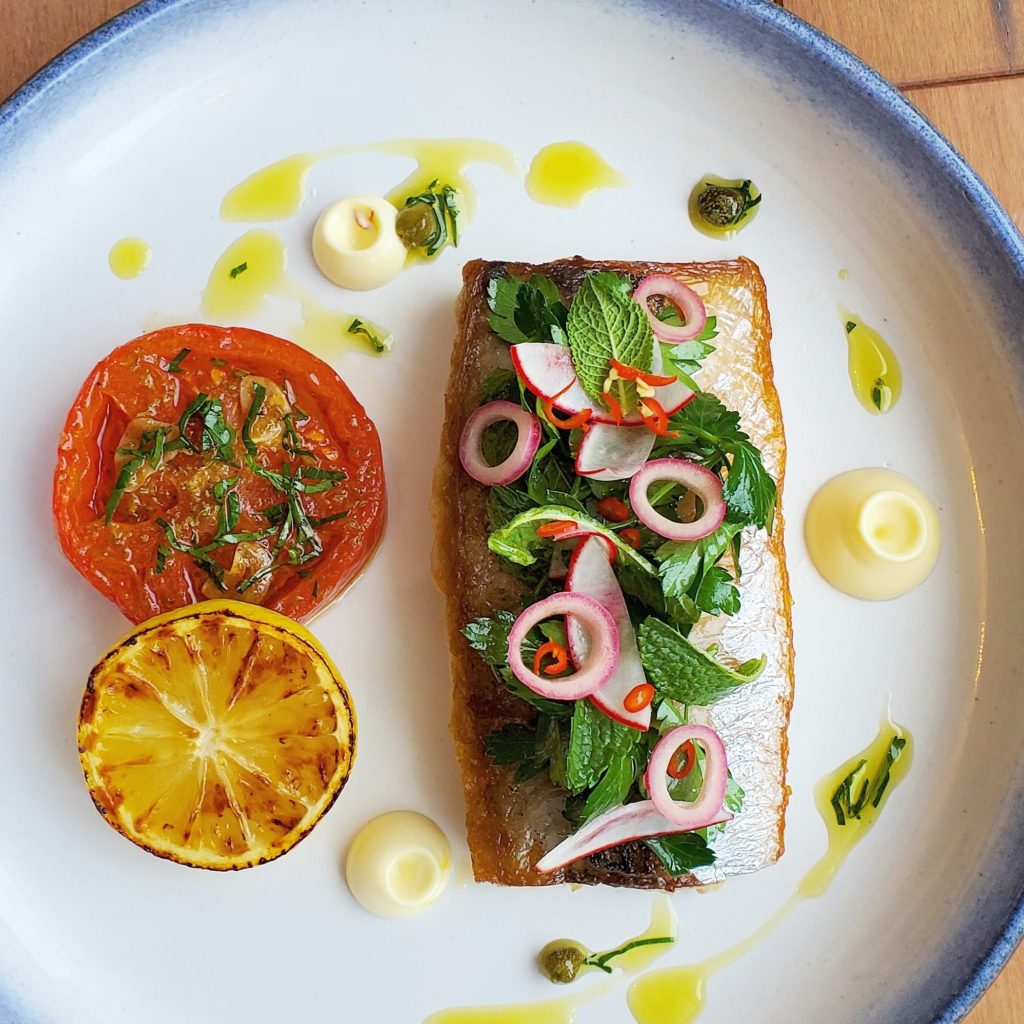 Which is the dish you've created that you are most proud of and why?
I would say my spiced seabass with chana masala, raita and tandoori onion are dishes I am most proud of creating. I love Indian flavors and really enjoy playing with various spices. This dish is completely influenced by my love of Indian cuisine. It has great flavours, varying textures and looks really nice for a 'curry'.
How has the current pandemic affected your restaurant?
Before the pandemic I had just left a Chef's job and was about to embark on a new project in Montreal. That is on hold for now. Restaurants are now starting to re-open with restrictions and my Chef friends have to think outside the box to come up with novel ways to serve clients and to keep their businesses afloat during these tough times.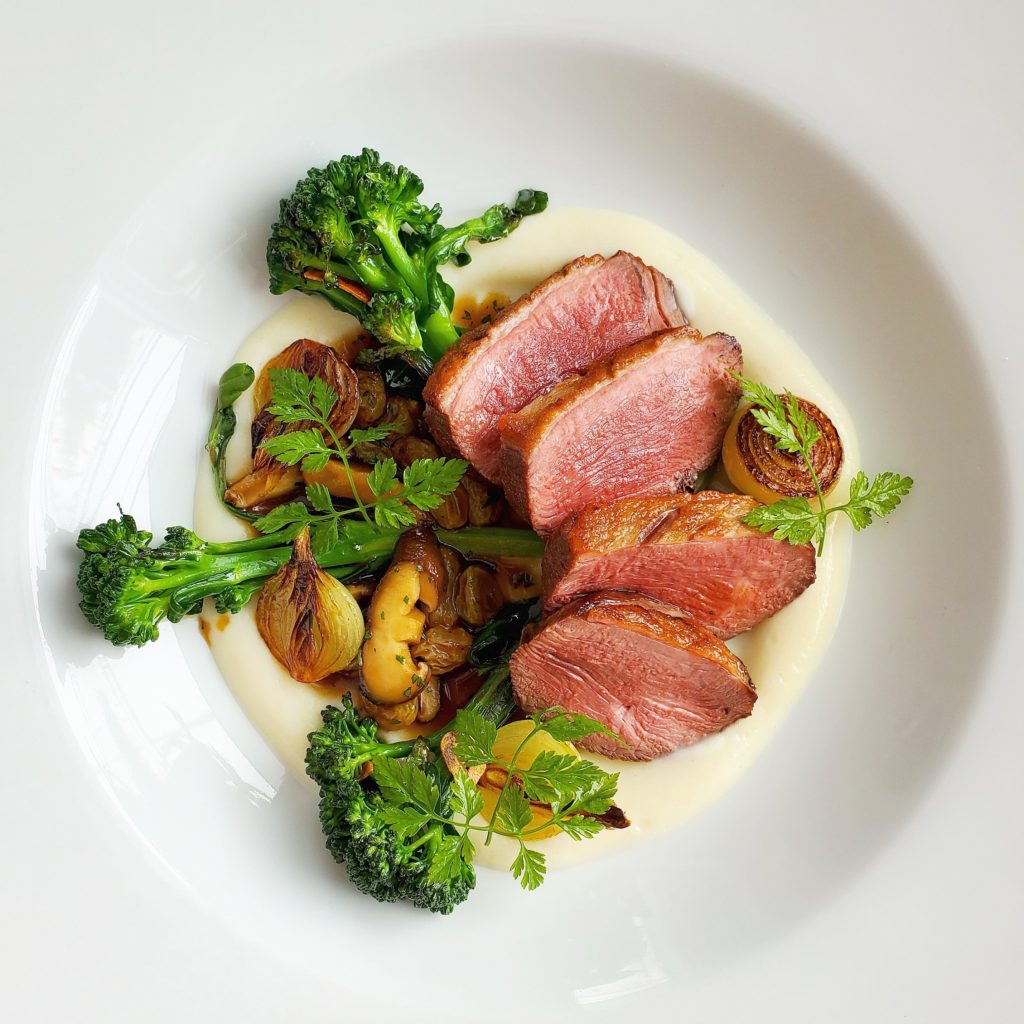 What is the one food trend you wish would go away?
Foams! I've never been a fan of the texture. Sometimes a foam can look alright but I would be happy if I never saw one again!
When the lockdown is over, what is the first restaurant you'll be
heading to and what will you order?
The first restaurant I would like to go to would be the restaurant mentioned above, Damas in Montreal. I would order their tasting menu. It is a lovely way to eat, sharing a variety of dishes that the Chef chooses. The variety of flavors and textures is mind blowing, especially if you have never had the chance to taste Syrian food before.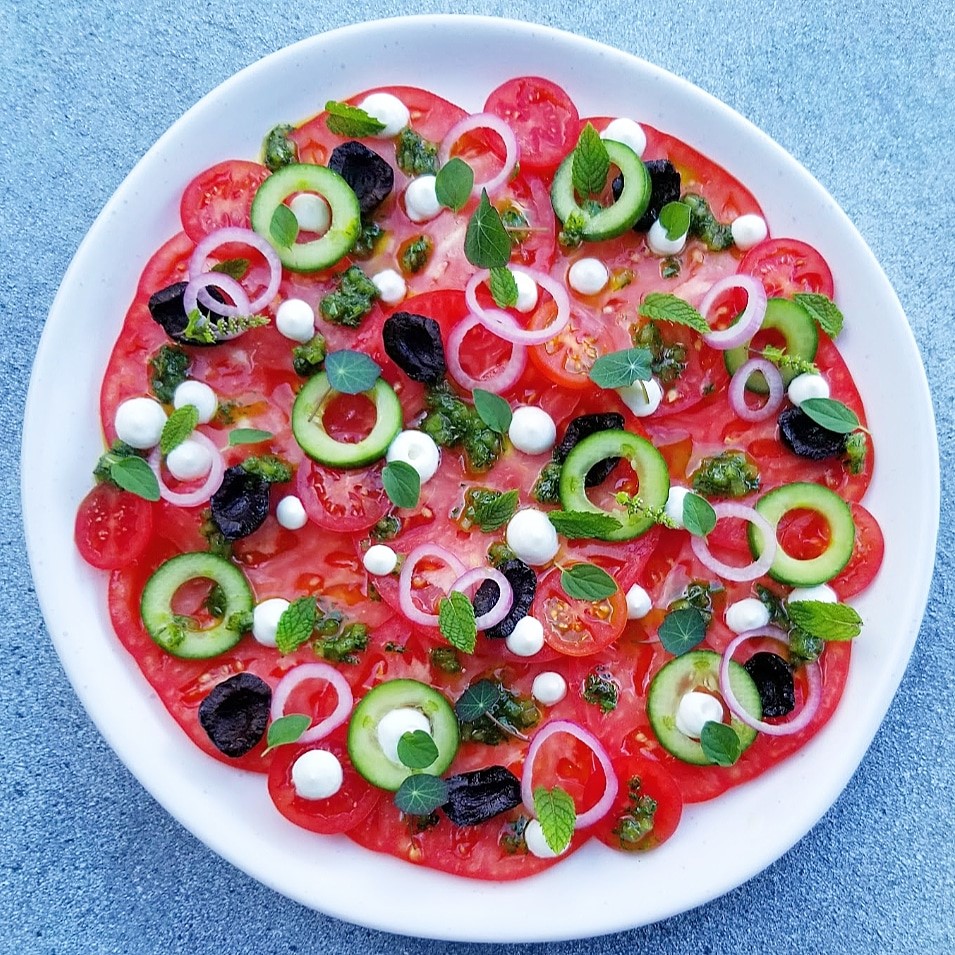 What are the most important considerations when crafting your menu?
The most important considerations when crafting my menu would be firstly the clientele in the area. You need to cater to your audience if you want to be busy; the client is my number one consideration. After that I would look at what is in season and how long will it be available for. The menu needs to be balanced and offer something for everyone. I often tell my students when we start planning menus that if a group of eight tourists were to walk past your restaurant and read the menu; you would ideally want to list something on your menu suitable for the whole group.
What is your favourite dish to cook at home?
I love making fresh pasta from home. I make a good Cavatelli with Italian sausage and Arrabiata sauce. My wife is 1/3 Italian so this makes her happy too!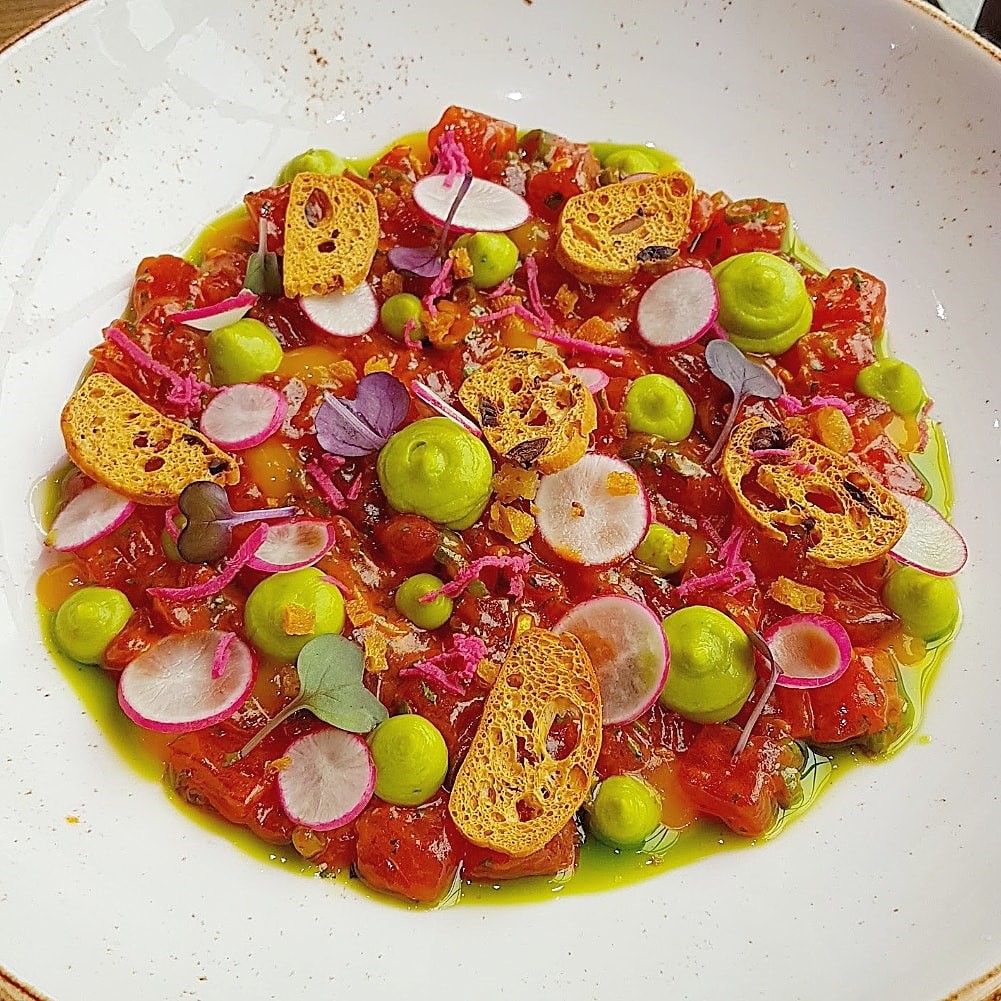 What is your favourite dish on the menu right now?
My favourite dish that was on the menu before the pandemic would be my Tuna Tartare with kimchi, crispy wontons, pickled ginger and avocado cream. This preparation has lots of textures and tastes. It has been a dish I've been working on for a couple of years and am very happy at where it is now.
What is your favourite childhood dish and why?
My favourite childhood dish would be a Sunday roast. My father used to cook the roasts on Sunday and we would all eat together. The main reasons would be the roast potatoes! He would sometimes make his 'roasties' like a Hasselback potato, with scores in the flesh to create lots of extra crispiness and flavor! It really didn't matter which meat was cooked, just wanted lots of potatoes and gravy! Our parents are no longer with us but the dishes they cooked for us continue to evoke happy memories for me.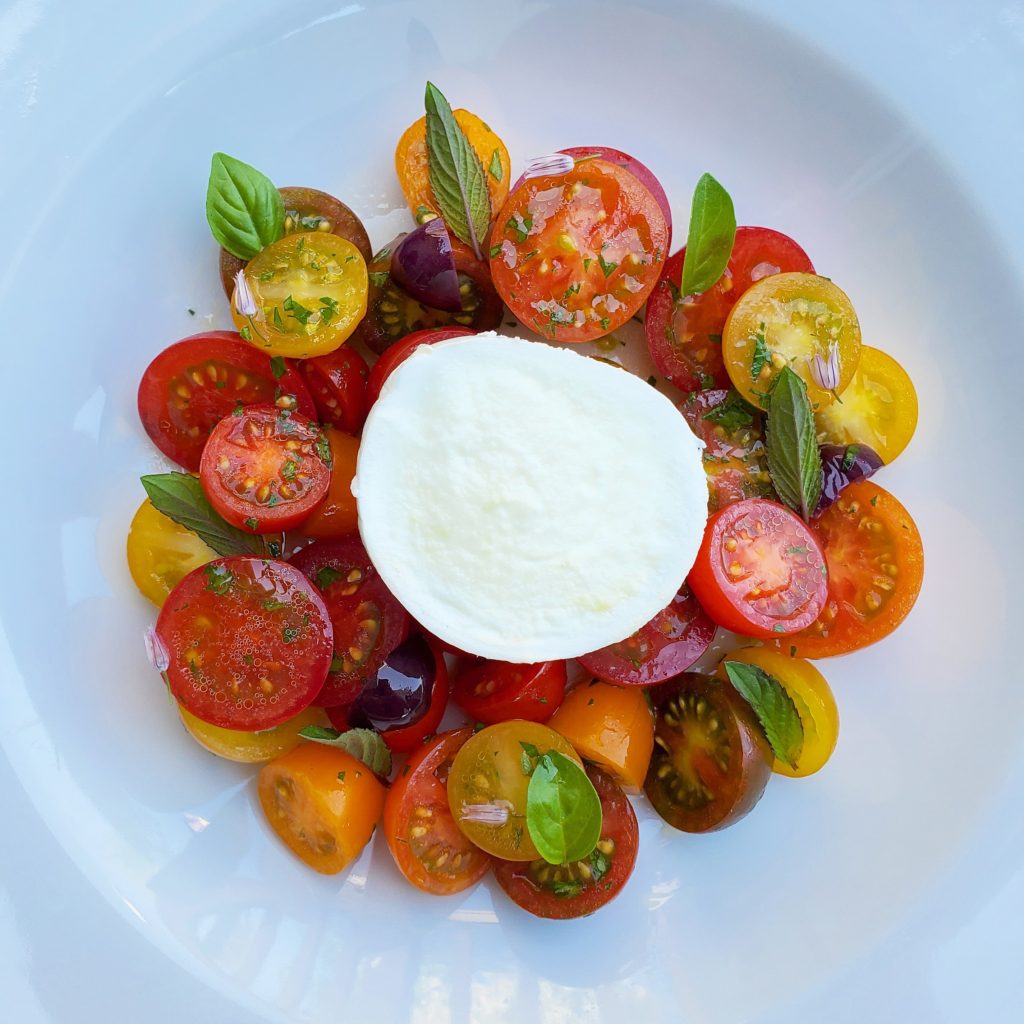 Recipe of Ricotta cavatelli with tomato sauce and Italian sausage
 Ricotta cavatelli – 2lb dough – 8 portions
Ingredients:
1 lb ricotta
1 lb '00' flour
2 large whole eggs
Method:
Combine all ingredients together.
Rest at room temperature for 30 minutes.
Tomato sauce:
Ingredients-
1 large tin whole tomato
1 large tin crushed tomato (San Marzano are the best)
4 crushed garlic cloves
1 pinch chili flakes
Parmesan rind
2 basil stems (with leaves)
Method:
Gently fry the garlic in olive oil till very light brown.
Add the tomatoes, basil and Parmesan rind.
Gently simmer for 10 minutes then add the meatballs. Continue simmering very gently till the sauce looks like how you want it.
Add chopped basil, parsley and grated Parmesan to taste.
Italian Sausage balls
Ingredients:
2 large Italian sausages
Method:
Remove skin from sausage.
Roll into small, irregular balls.
Sauté till crispy in a little olive oil.