Artist M.G.Doddamani's parents were both creative in their own ways, his mother was a very good folk singer and his father was a farmer. Interestingly his father, apart from his routine duties, was good at creating handmade ornaments for the bullocks. He used to artistically weave the ropes with embedded bells and even prepare traditional woven bed frames which were artistically braided with cotton. "He would satisfy the demand of the villagers for these crafty items especially during seasonal festivals during which the bullocks were decorated and worshipped. Watching my father and observing his art while growing up had a huge influence on me from childhood. It very soon became my dream – to become an art teacher. Very little did I know about being an artist back then but the background I had set me into the path of what I am today," he says.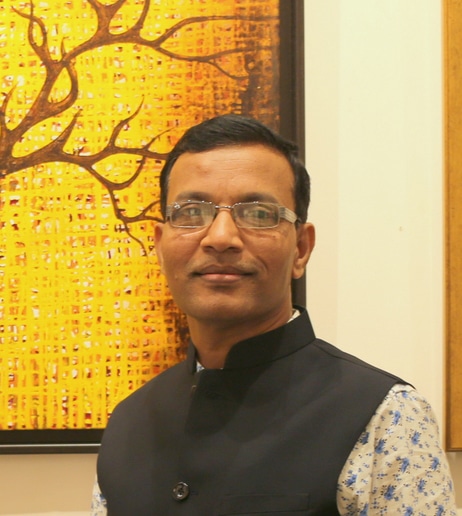 What's integral to the work of an artist?
At the very core it is the artist's real-life internal experiences which shape up into his art. It could be the joy or pain he/she has experienced or it could be simple observations from his/her own life. It could be very well be a situation or influence of the society that he/she has lived in.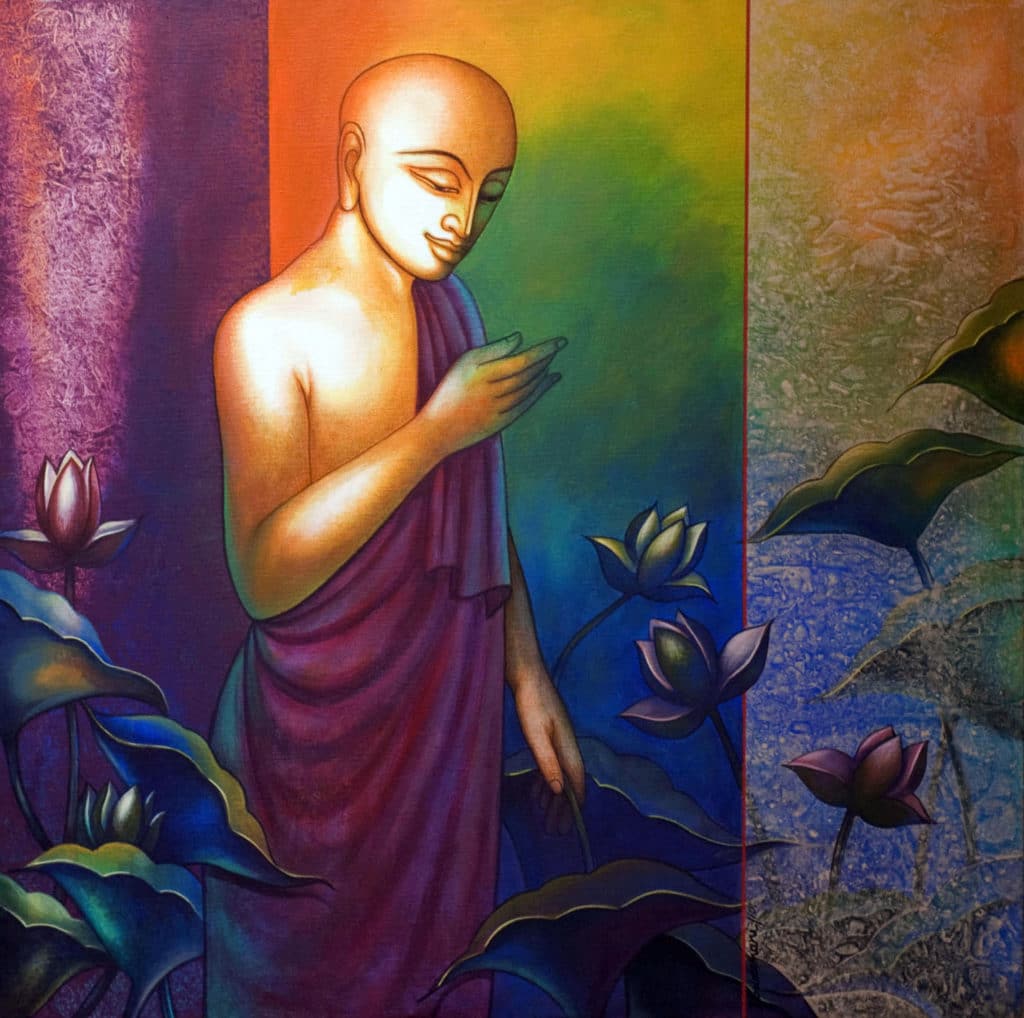 What role does the artist have in society?
An artist has a very big role and responsibility in the society. It is the job of an artist to bring forth the experiences in life, social issues, current matters through meaningful art which not only is creative, interesting, inventive and visually appealing but also has a positive influence, has the transformational quality which can touch, move and inspire people.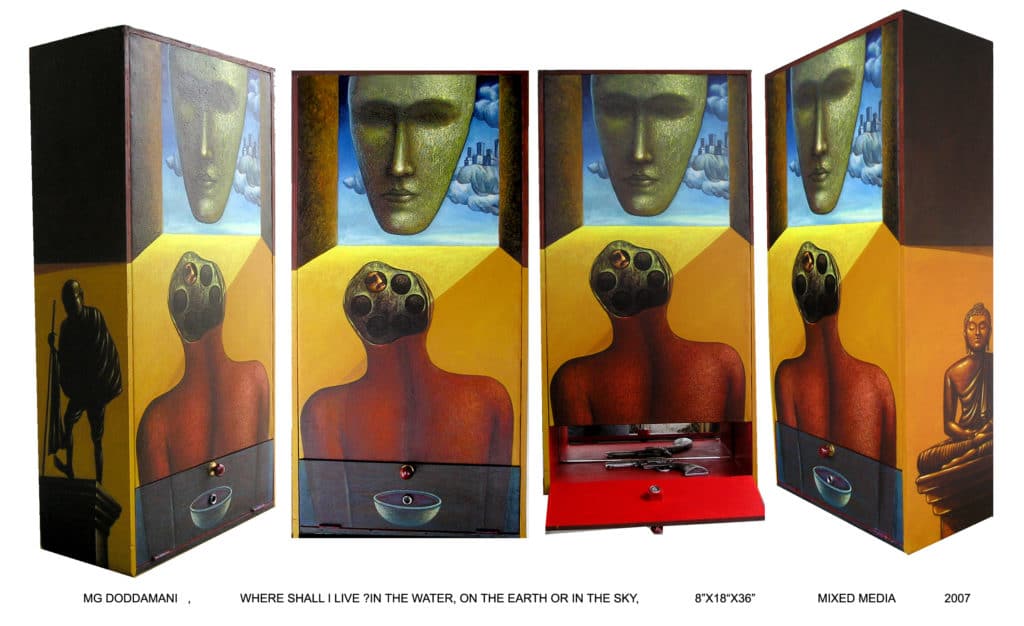 What art do you most identify with?
My art conveys peace and harmony. My figurative paintings where I play with light and shadow, my Buddha series which intend to bring out serenity, convey what I identify with and what I am drawn towards.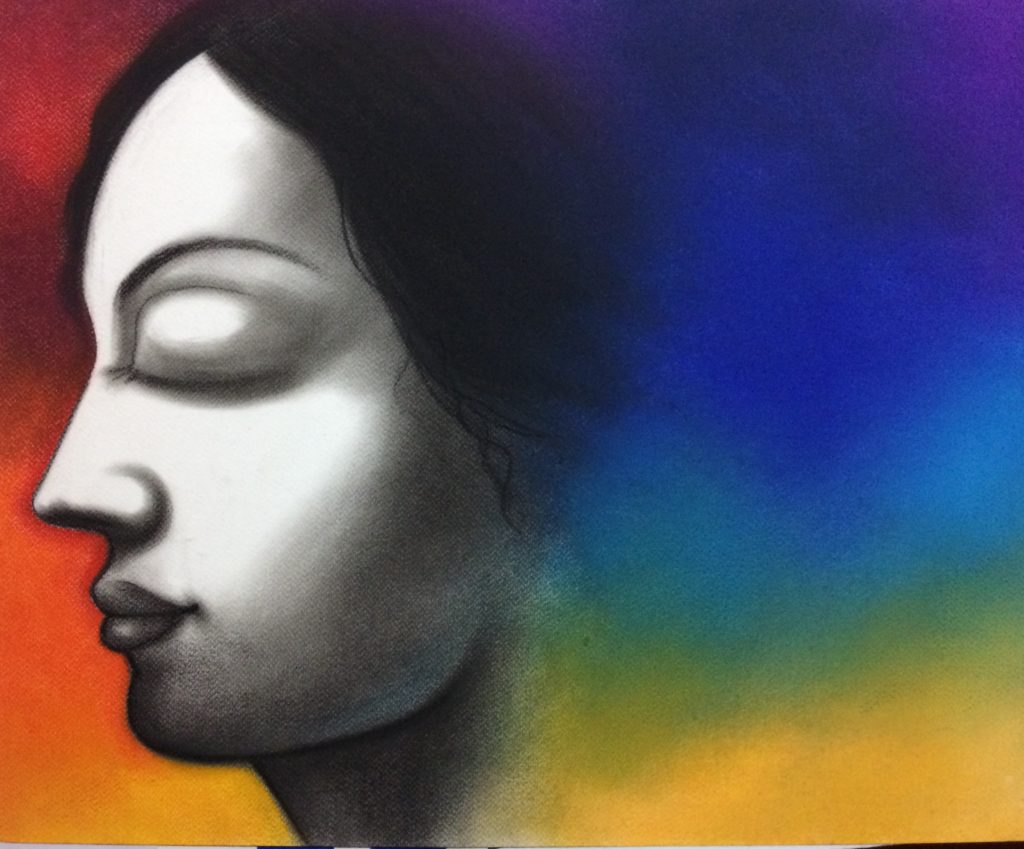 What themes do you pursue?
My themes keep evolving with my own personal life experiences. They get manifested from my concerns about issues from day-to-day life, changing environment and evolving science and technology.
In the early 90's I did a series on the human head, which was about societal influences on one's mind. Later in 2000 I worked on a Buddha-series as I wanted to bring out positivity through my work.  I continued the Buddha series with different play of light – golden light being one of them, where I play with light and shadow to illuminate as light is an essential positive energy which we all need to kill negativity.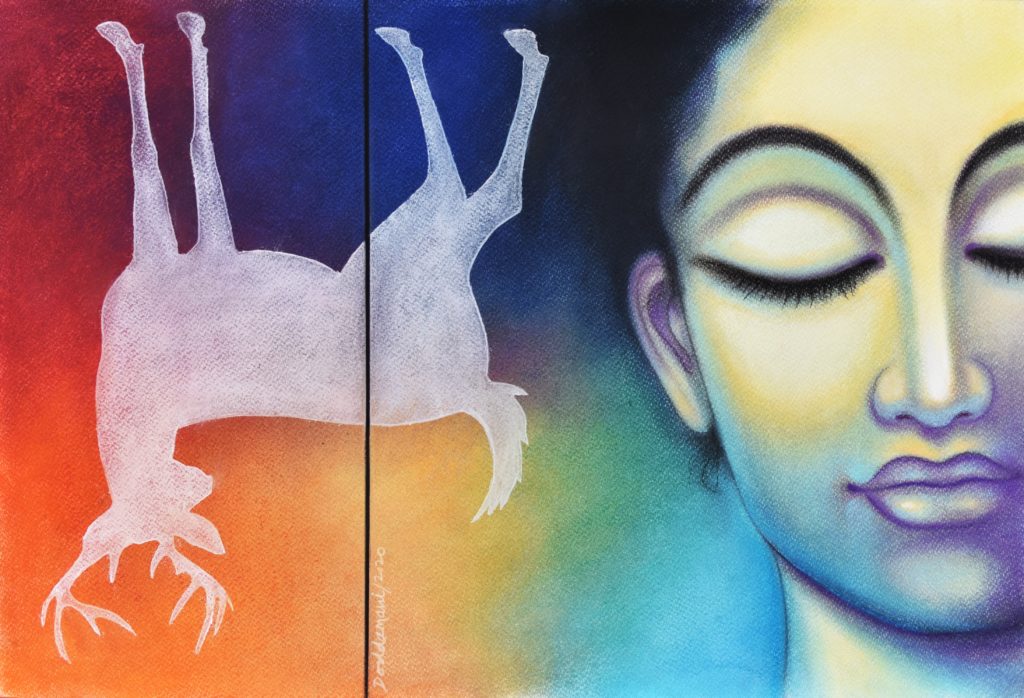 What's your favourite art work?
My favourite art work is Guernica painting by Picasso which is about Second World War. Picasso said very little about the meaning of the painting, leaving it to the interpretation of the viewers, critics and art historians. However, it's very clear that it's an emotional response to war's senseless violence.
Describe a real-life situation that inspired you?
The Buddha series sprouted after watching an incident where one of the Buddha statues in Afghanistan was destroyed by terrorists. They didn't even spare a stone to show cruelty and that's when I felt the need to instill positivity in society.
In mid-90 s there was one more incident near Kolar district where 9 people belonging to the lower caste were burnt alive by the so-called upper caste. It was heart-breaking and sad for me to watch this kind of inhuman act, at the same time; it urged me to do something about the situation through my work.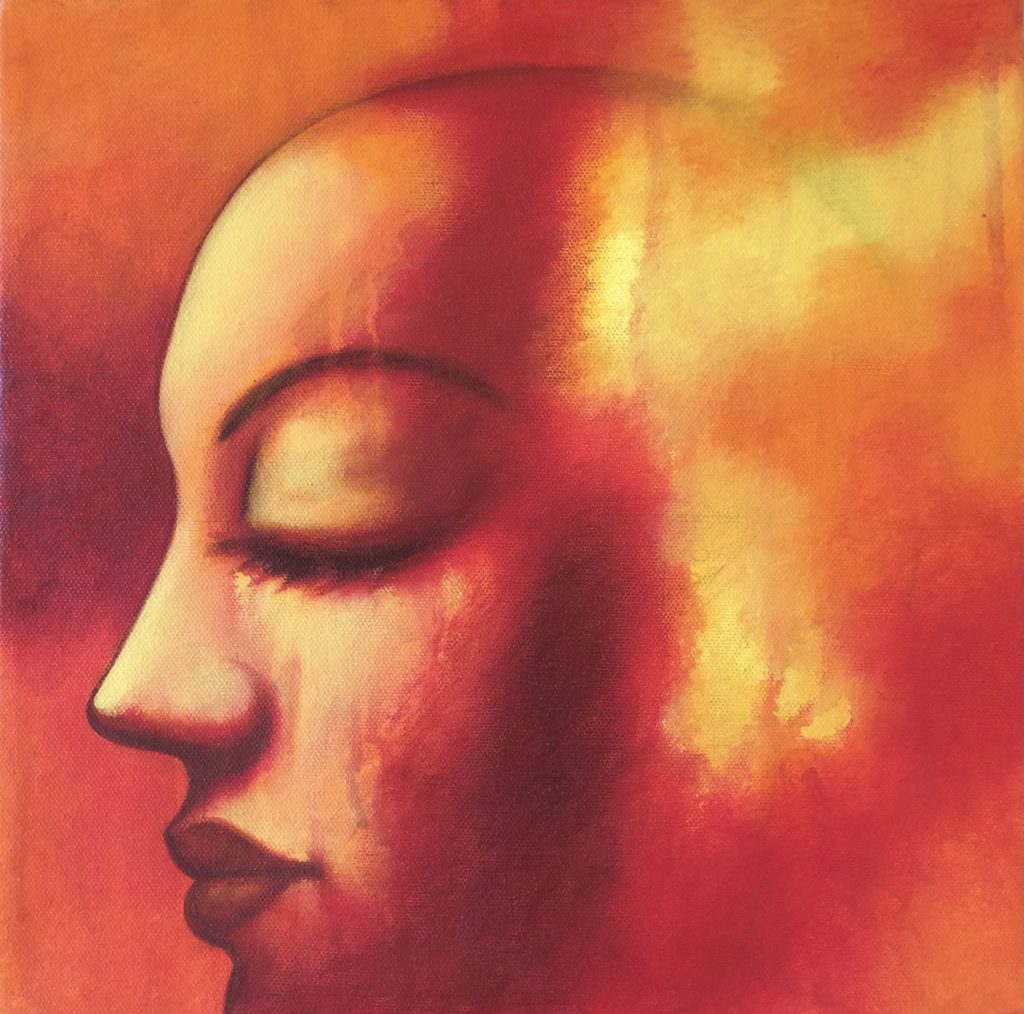 What jobs have you done other than being an artist?
Nothing I would say, art has been my only job. After completion of a Post Graduation from Viswa Bharati University Shantiniketan in 1992, I started working as a designer in a multinational company for about 3 years. Later I worked as a Curator (Managing the Gallery) at Images Art Gallery in Bangalore. That was a mile stone for me, as I got to connect with both young and senior artists from all over India and I started curating many art shows by collaborating with them. I held art camps, workshops, seminars and promoted many artists and provided them a platform, to pursue further. Many of those artists are nationally and internationally known today making me proud and happy.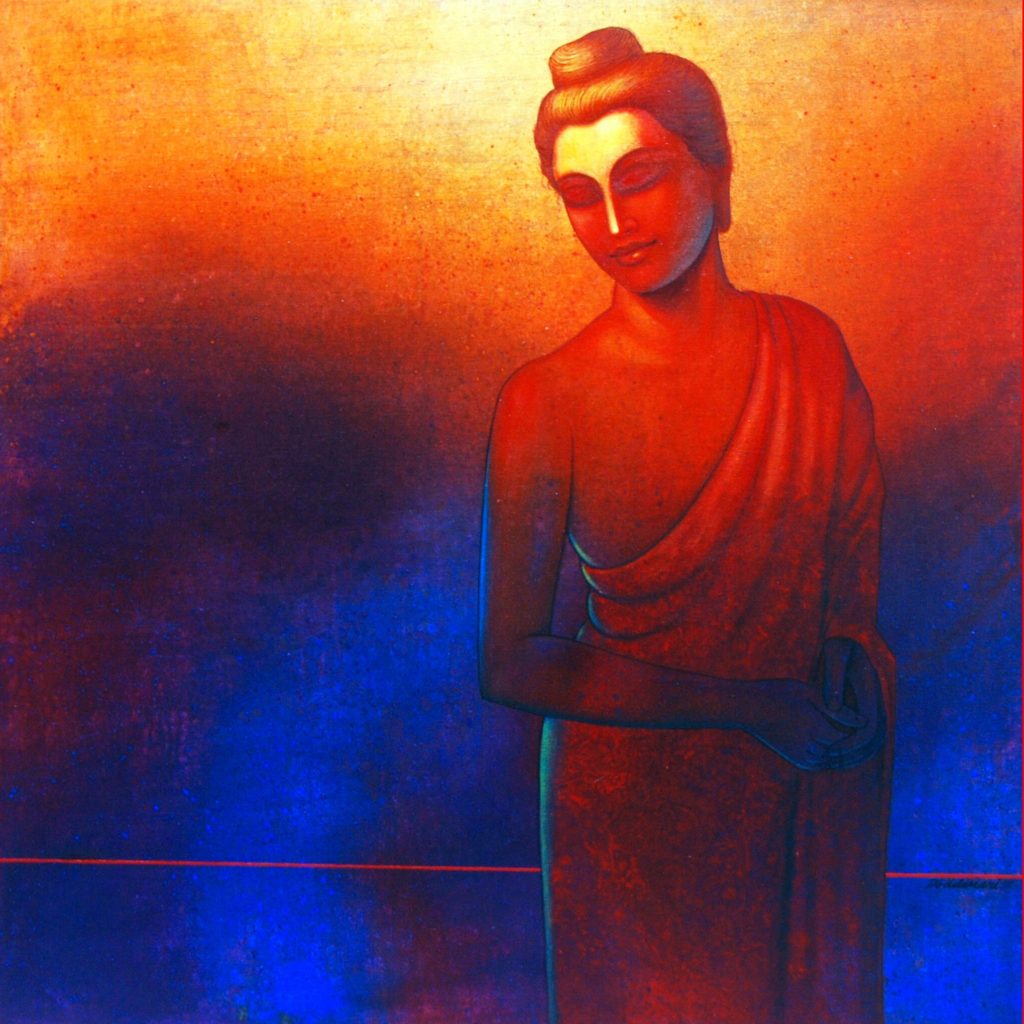 Why art?
Art is my passion; I enjoy the freedom of expression that it provides and feel joy n happiness through it. No other job can give me this kind of satisfaction and fulfillment.
What is an artistic outlook on life?
Life is full of colours and unpredictability; it's up to you to create the best for yourself out of those colours just like how an artist would appropriately choose the colours to bring out a beautiful painting. Life itself is a painting where you go with the flow of changes and get to the end to convey a message that speaks about your time and journey.
​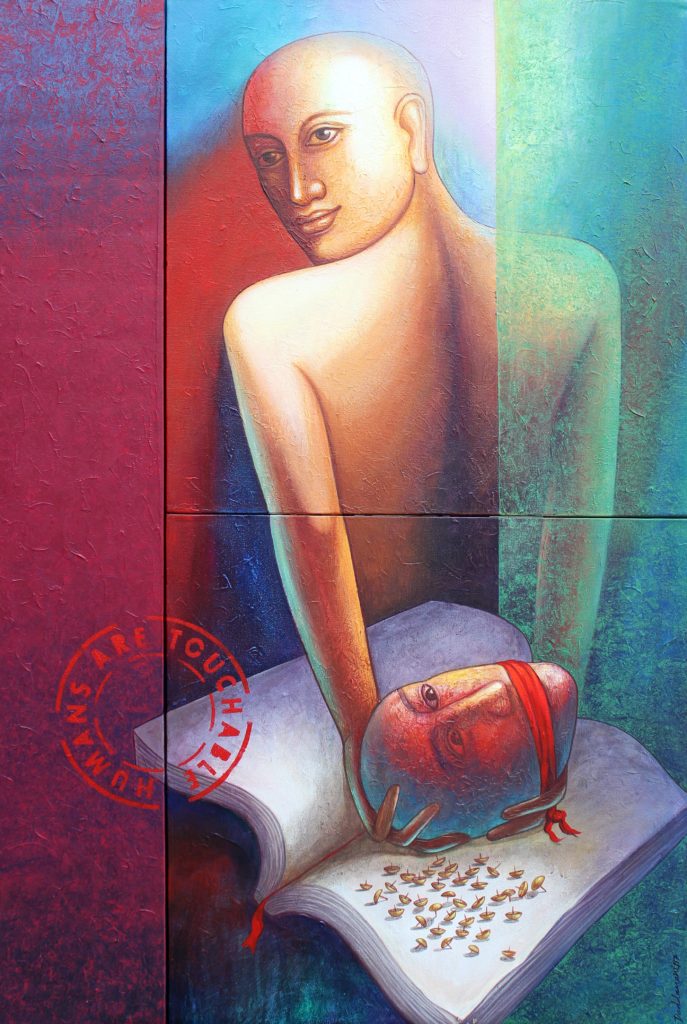 What memorable responses have you had to your work?
During my student days at Shantiniketan there was an art dealer who was visiting to check out many artists and students and once she saw my works, she immediately bought 5 works. More than money the appreciation she had for my work was priceless.
In 1995 National kala mela held at Bangalore, I had displayed my artworks in a stall and a gentleman named Kamal Kapoor who was then the owner of REX theatre visited my stall. He liked my work which was a painting of mother and child so much that he not only bought it right away that day but later tried searching for me for 3 years, in galleries and art shows to get in touch with me to buy more works. I am glad that he finally found me as he has been connecting me with many buyers since then. During my solo show in 2007, at right lines gallery, Nandini Alva booked my work by merely looking at a photo of it that was printed on the invitation. I was very touched by the influence that my work had on her.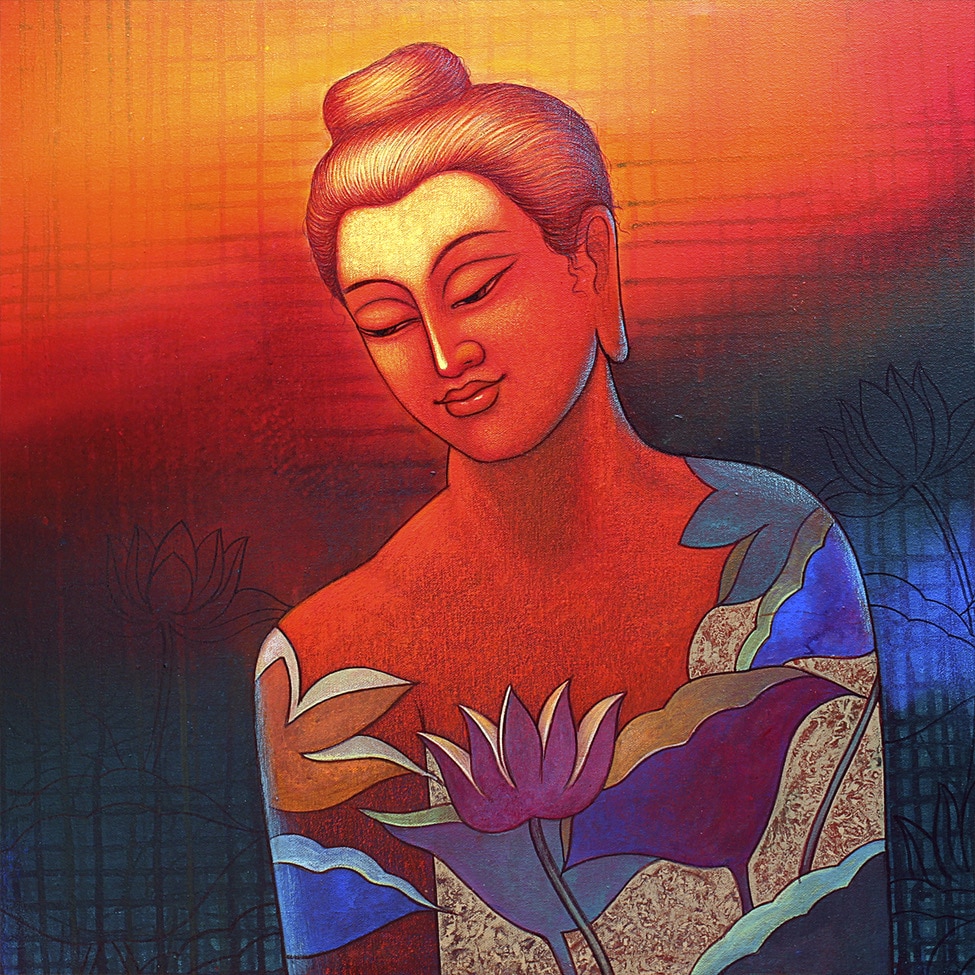 Is the artistic life lonely? What do you do to counteract it?
It seems as if an artist's life is lonely but that perception is not true. As an artist I feel as if I am in some other world and when I'm in front of the canvas, the colours and the various forms create a very dramatic atmosphere for me where there are a lot of conversations going on. I never feel lonely when I paint alone by myself.
What do you dislike about the art world?
Just like in other fields we come across bias, discrimination and unfairness in art world as well.  The truly deserving get side tracked which saddens me. I would like to see that an artist gets the unbiased recognition purely based on the quality of the work.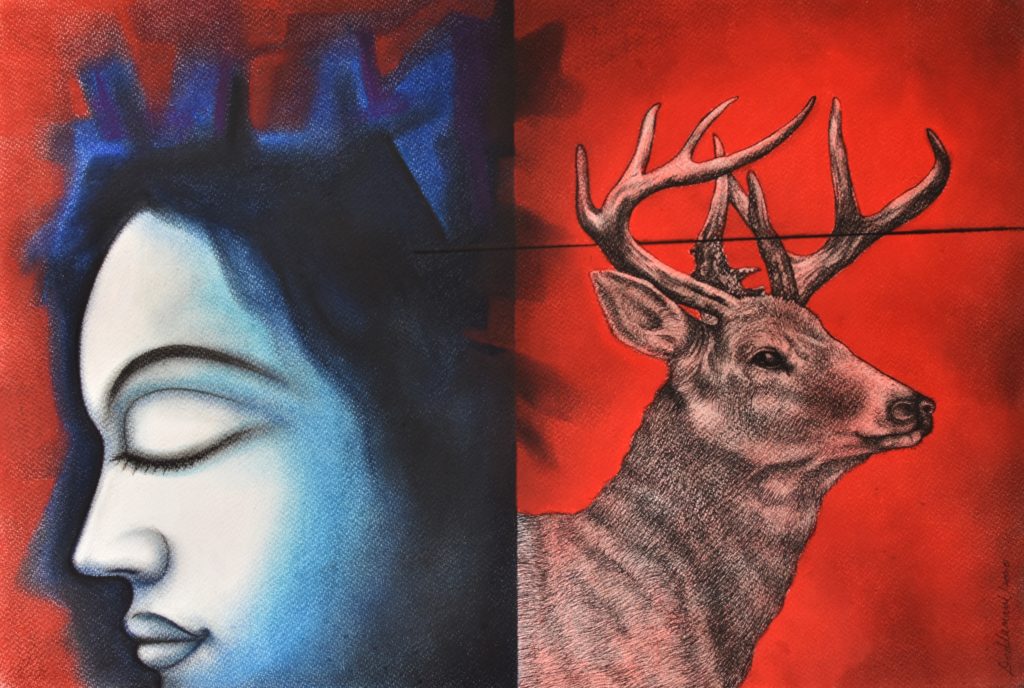 What do you dislike about your work?
At times it does take a toll on my body as it's draining to be painting long hours. The intense process of thinking drains the mind as well. Sometimes there are situations where you need to stop the work to take care of other errands or family needs. It's very hard to stop a work in between especially when you are in the heat of it and it's disturbing. The unpredictive nature of orders can keep you extremely occupied during which family time gets compromised.
What do you like about your work?
I feel very happy and relaxed to see my finished work. It's very satisfying and liberating to see my thoughts being expressed on canvas in a creative manner. The power of creating being exercised at your own will at your own time is a luxury compared to other jobs where you are coaxed and directed to do what you do.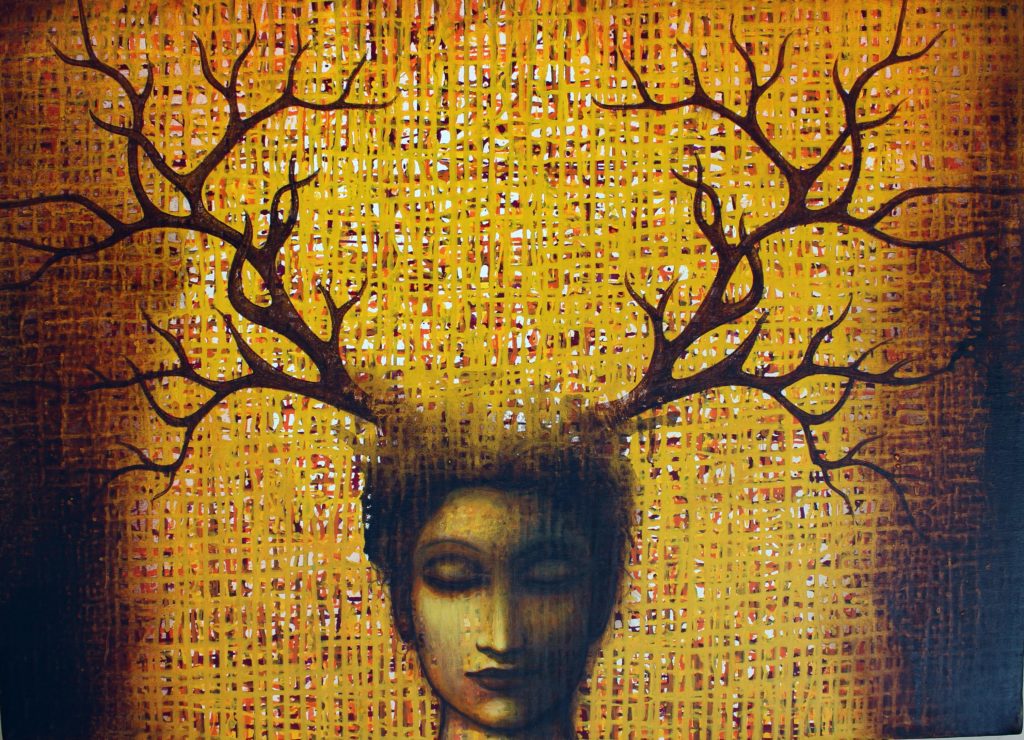 What role does art funding have?
Our government and private company sector must consider promoting art as a social and cultural responsibility and fund it in a way that various art forms can reach the common people as well as encourage talented artists who are less privileged as they are the backbone of our rich heritage.
What is your dream project?
I would like create installations which can be placed at public places outside the gallery space where everyone can easily view and enjoy the artwork.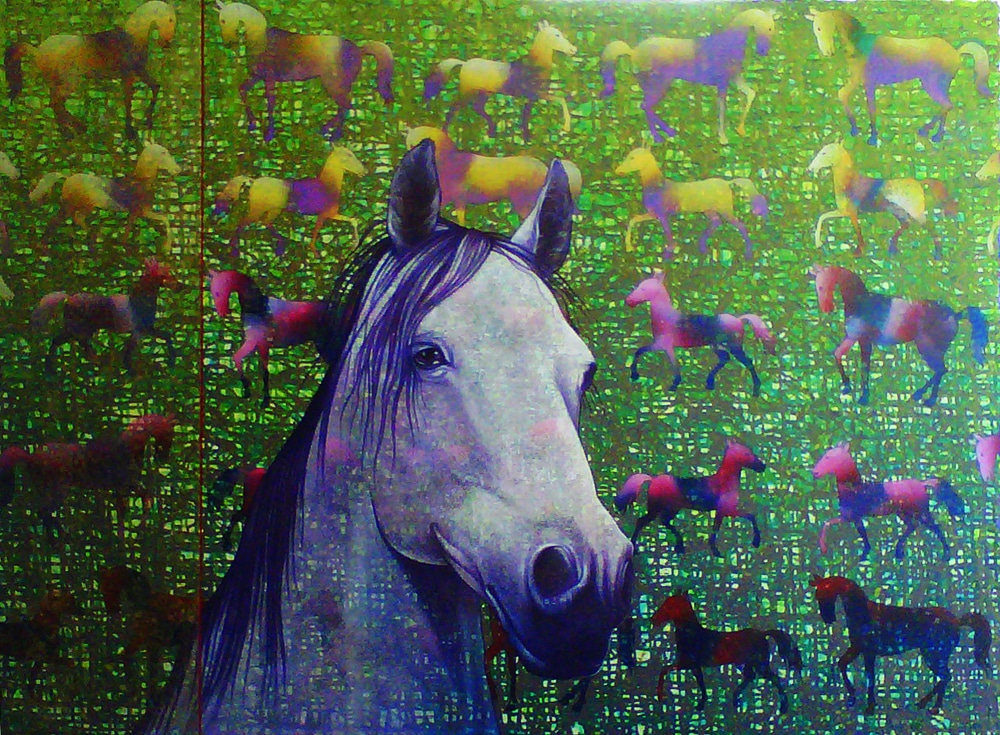 Name three artists you'd like to be compared to.
The artists whom I am inspired by are Picasso, Van Gogh and Tayyab Mehta. It would be pompous of me to say that I should be compared to them, but I want to have my own identity which is unique.
Favourite or most inspirational place?
My favourite place to get inspired would be my alma mater Shantiniketan and Parish Evan Kazakhstan. Hampi, Ihole, Pattadakal, Ajanta Ellora and all the historic places in our country which are rich with art are a great source of inspiration for all artists. Apart from that, my own society, the place I live in and my surroundings are few things that I derive inspiration from.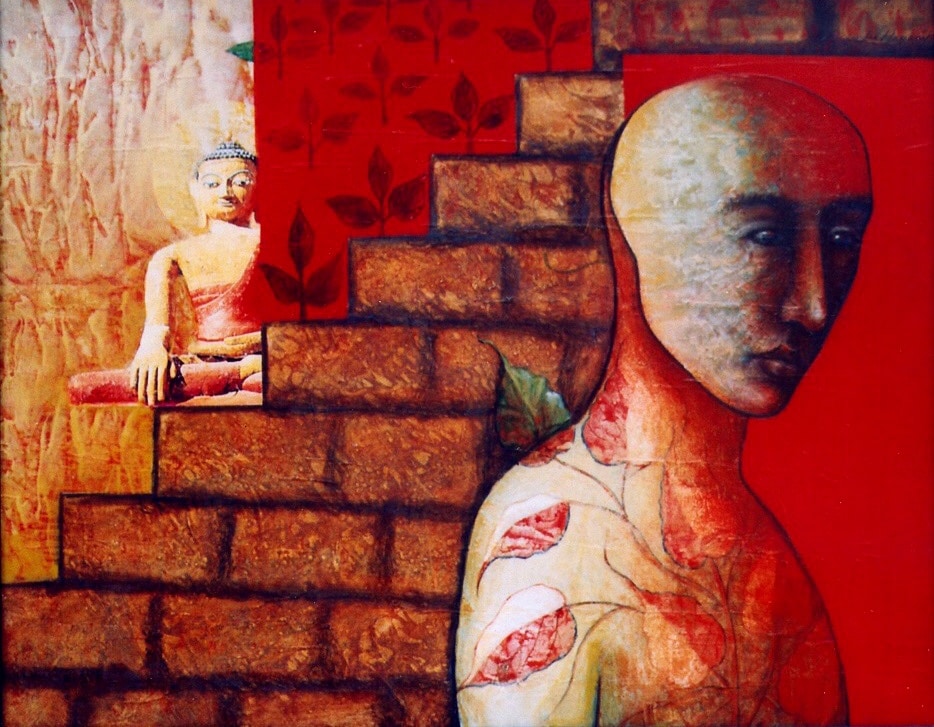 What's the best piece of advice you've been given?
My teacher at Shanti Niketan – K G Subramanian, Sanathkar was my best advisor regarding art; he gave me tips on how to study and evaluate art and how to maintain the balance.
I have been advising myself from my experience that I should maintain good relationships, uplift the family, keep learning from my own mistakes and never give up. Struggle should be part of your life's journey which you enjoy and I tell myself to be responsible and independent in every aspect.
Professionally, what's your goal?
My goal is work on installation projects, to reach more people, to be able to inspire common man and to make art accessible to each and everyone. Today we see lot of office spaces and public spaces which are just bricks and walls. They can be adorned with meaningful art for everyone to feel and enjoy. My goal is to get these public sectors to start encouraging art and artists and bring out the true essence of our country's rich culture.
Future plans? 
My future plan is to encourage talented artists from rural places, those who are less privileged and allow them to uphold and enrich the society through art. I am a teacher at heart and will always be as I continue to teach art to students of all ages. My students are as little as 6-year-old to 90-year-old and it's very fulfilling to see many of my students reaching professional heights with their work globally. I will also continue to conduct art shows for charity and giving back to the society and being socially responsible will always be a part of the plan.