Neelam Sethia is a passionate and self taught artist. She is known for her beautiful and vibrant artwork. Her love for Indian tradition, heritage and culture is evident in her paintings. Neelam Sethia's art has sense of defined symmetry like a sublime poem on canvas with pleasant vibrant colours and serene themes that attracts the viewer and cajoles them to think positively and gives sense of calm and peace. Google selected her paintings to be published in a book globally in 149 countries which can be downloaded at Google play book and Google Android Play Store.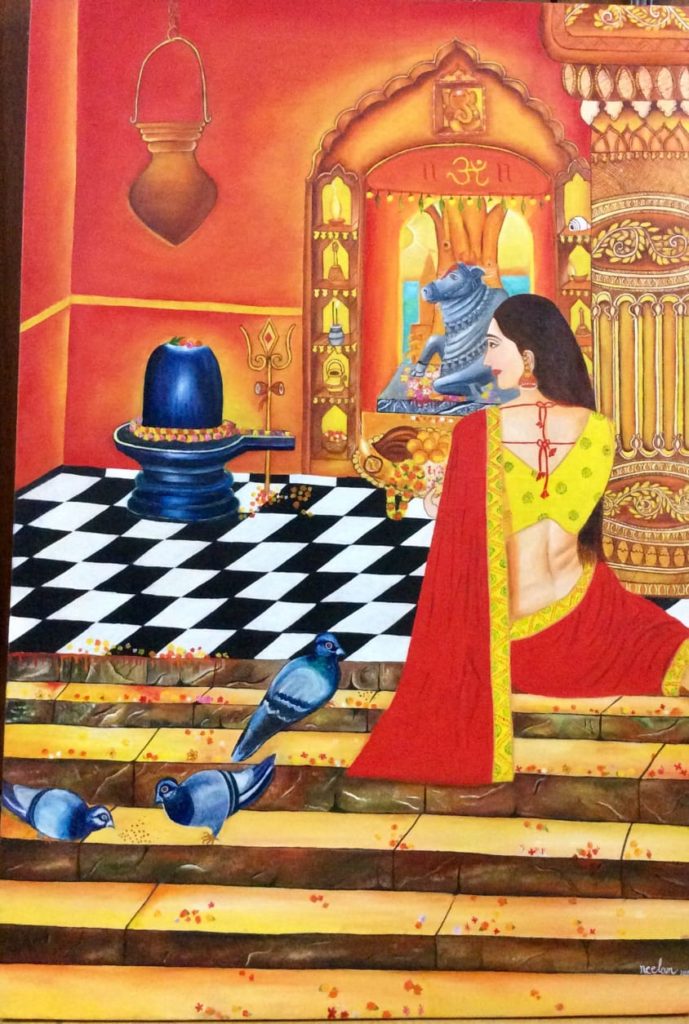 What is your artistic background?
I was interested in art from a very early age and started learning art from a very renowned teacher in Bikaner when I was 15. During college, along with studying for my M.COM degree I obtained a diploma in textile design too, but after my marriage due to family responsibilities and upbringing of my children my art journey stopped for 12 years.  I taught myself once I restarted painting in 2015 after almost 12 years. I had an affinity for oil painting since years.
What is integral to the work of an artist?
I think first and foremost it is the inner craving to create something beautiful and unique. I believe that an artist first paints for himself only, for the satisfaction of his own creative soul, from conception of an idea, to the first sketch, to the selection of colours, the evolution of the painting as it progresses and the final touches, it is a labour of love, it is not for praise or commercial gain, that is all secondary. I have really experienced that if we paint for ourselves, the end result is always beautiful!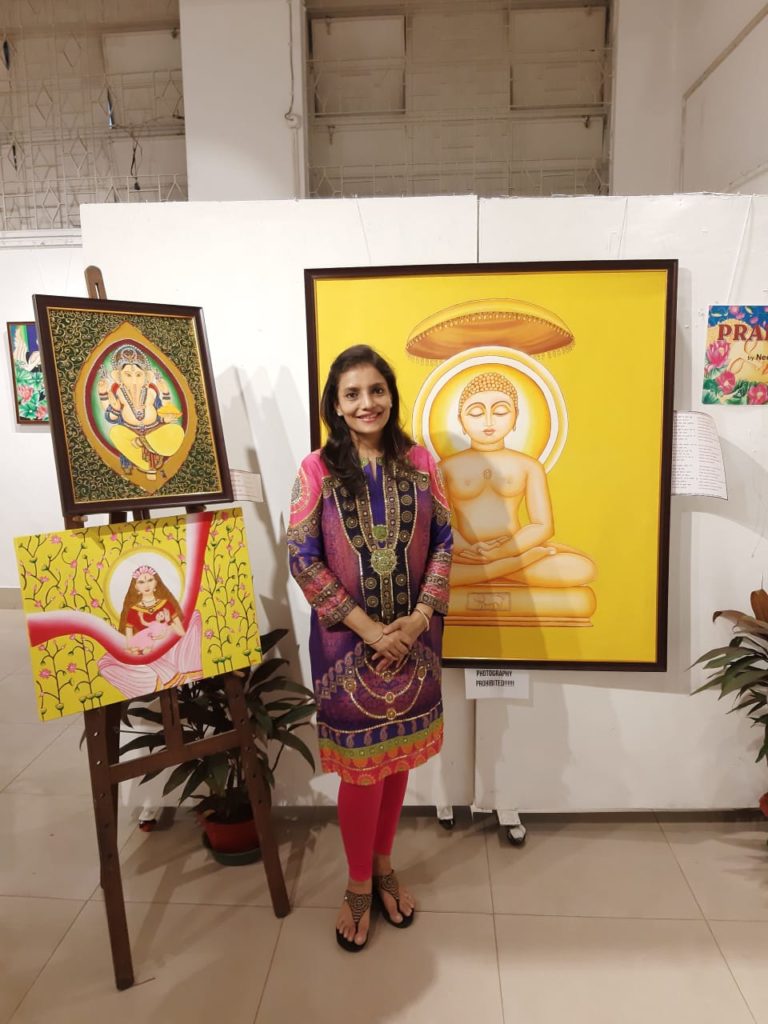 What role does an artist have in society?
An artist can through his art spread awareness about socially relevant issues. Protest against social wrong doings by creating strong visuals that send a direct message to society and help them to rally against social evils.   I have made several paintings with relevance to protection of our natural environment and importance of women and the girl child.
An artist can also take up and promote local, diminishing art forms and give them a new lease of life by learning them and incorporating them .I am presently learning USTA a 500 year old art form unique to Bikaner where gold leaf and organic colours are used on hard surfaces, but I have adapted the same and I am using the same on soft canvas as a fusion art.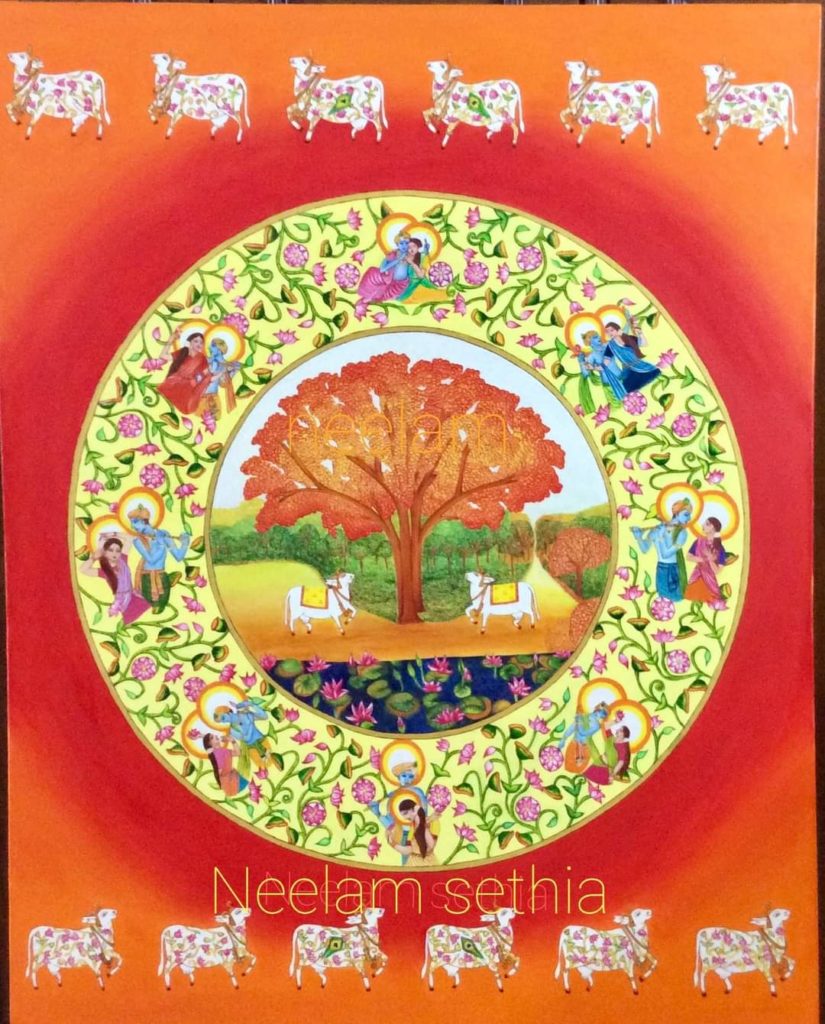 What's your favourite art work?
My favourite art work among all I have created till date would be my painting of Banaras Ghat and Parrots on a Mango Tree which have found their new home. The portraits which I have created for my close friends and family are also my favourite artworks.
Describe a real life situation which inspired you?
I wanted to dedicate something unique and exceptional to my Grandfather Mahamanishi Padma Shree Kanhaiyalal ji Sethia on his birth centenary .He was a person of international repute and the doyen of Hindi and Rajasthani Literature. It was the first time I was trying my hand at making a portrait, it took me almost 4 months to finish the work but whoever saw the painting thought that the portrait was a photograph. So I think my effort paid off.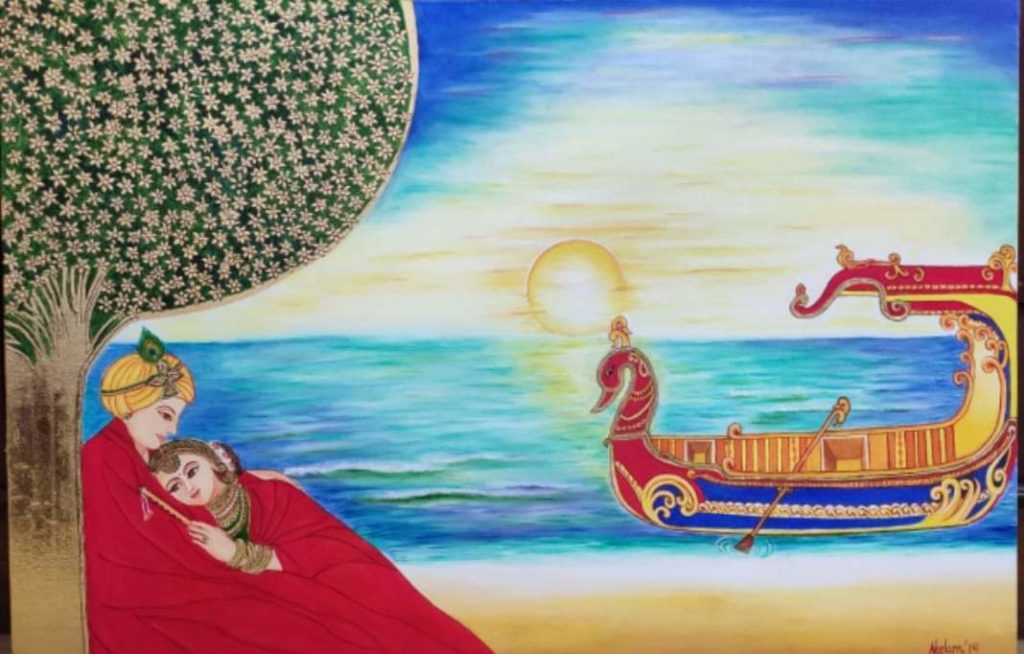 What jobs have you done other than being an artist?
I am a home maker.
Why art?
I loved art since I was a child, but academic and family responsibilities put my pursuit of art on the backburner. Once my children became independent, my husband suggested that I pursue art once again. I was not very confident as I was dormant for almost 12 years but his enthusiasm and confidence in me gave me wings and I took the plunge.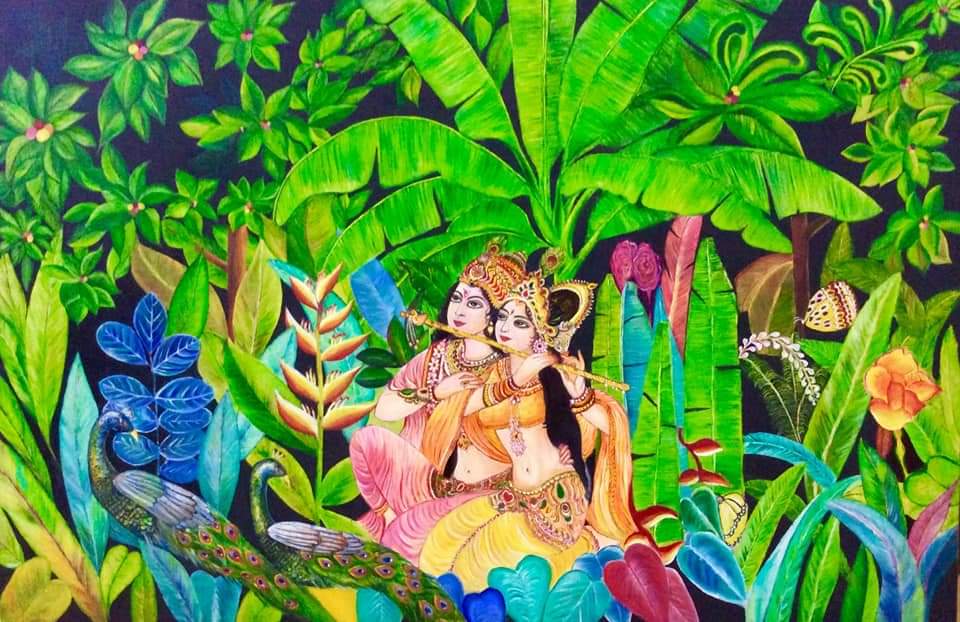 What is an artistic lookout on life?
Life is like a blank canvas and we fill the colours. Bright or dull   we create the images – beautiful or ugly, we paint the emotions – happy or sad, we create the Karma – good or bad. It is totally in our hands what we create of our lives. I totally believe in live and let live.
What memorable responses do you have to your work?
My first exhibition Prarambh was inaugurated by the Governor of West Bengal Hon'able Shri Keshrinath Tripathi. I was a nervous wreck, 10 minutes time was allocated for inauguration, the Governor was so impressed that he stayed for 45 minutes and even gave a speech praising my art. All those people who have bought my works on the basis of photographs sent have written to me that the real painting is more beautiful than they had expected. I think that makes my day, when my works have exceeded people's expectations.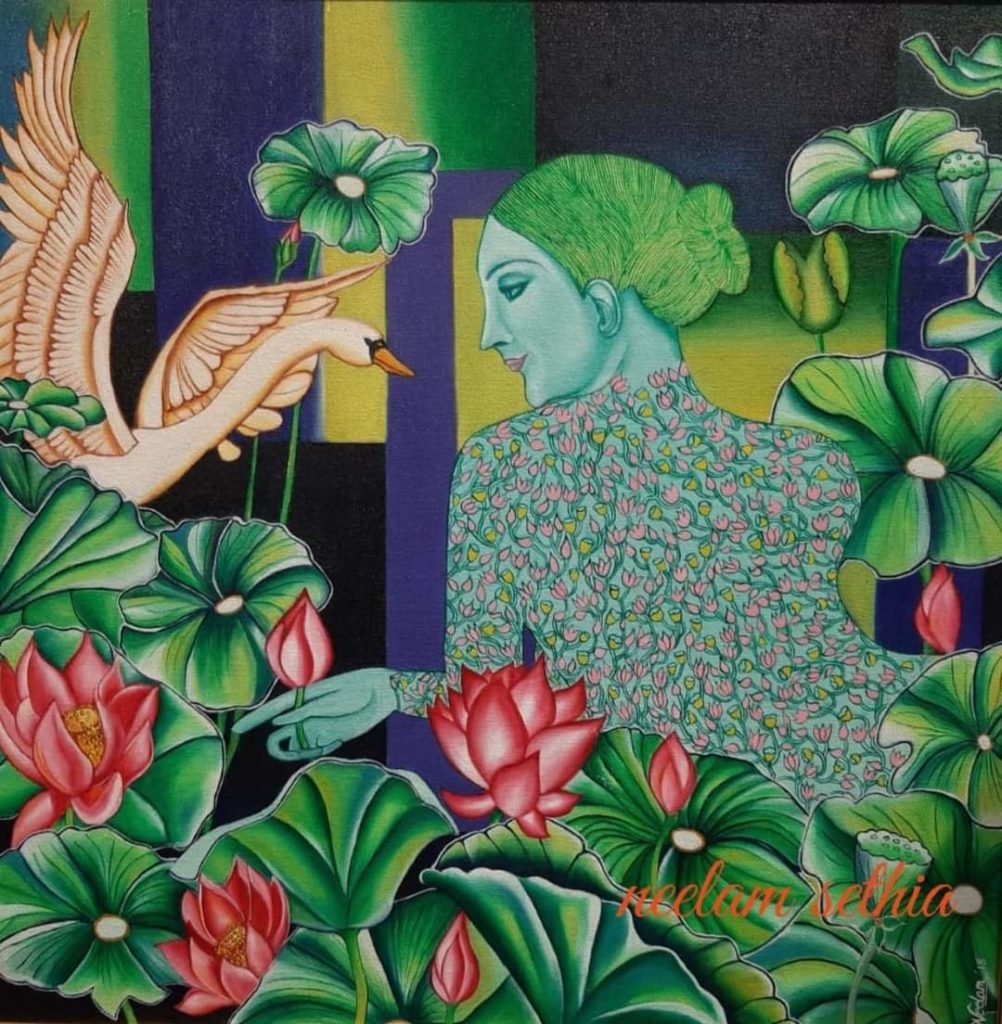 Is the artistic life lonely? What do you do to counteract it?
I feel creating art is like meditating. Once you start doing, it gives you inner peace. I live in a joint family, so my life is not lonely at all, in fact the whole family is so accommodating that they go out of the way to ensure that my pursuit of art is not impacted. I have a whole in-house team of critics, that gives me wanted and unwanted suggestions on every topic of art. I always feel that this whole proactive family involvement is what keeps me ticking , if my family had been aloof, I on my own would not have been be able to go forward with my pursuit of art.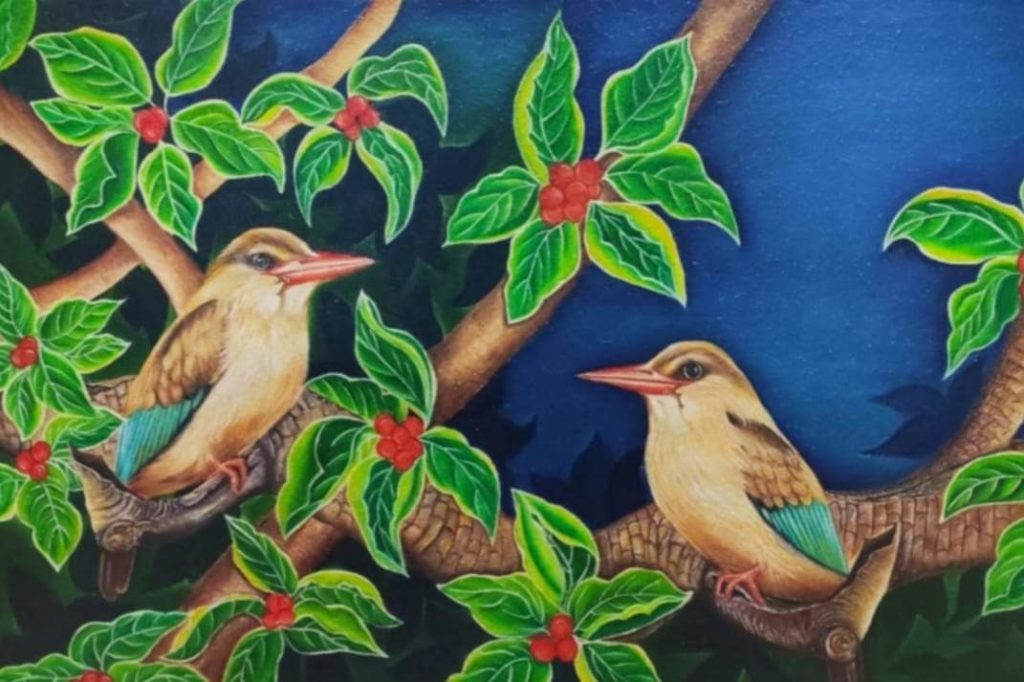 What do you dislike about the art world?
Firstly the compartmentalization of an artist, an artist like an actor should be versatile, he could excel in any type of art, why bind him to one art form. Secondly self taught artists are thought of as not capable, unless they have formal art education degree in some Govt/ Pvt College, I have faced this problem first hand.
What do you dislike about your work?
I feel that I am at an embryonic stage in my art journey and still growing as an artist, there is still so much to learn, I am not at a stage to judge my work, I just go with the flow, it is for the viewer to judge what he like or dislikes. However one thing that I dislike is that I cannot work on a time deadline and need my time to finish my work, I need to work on that and speed up without compromising on the quality of the finished work.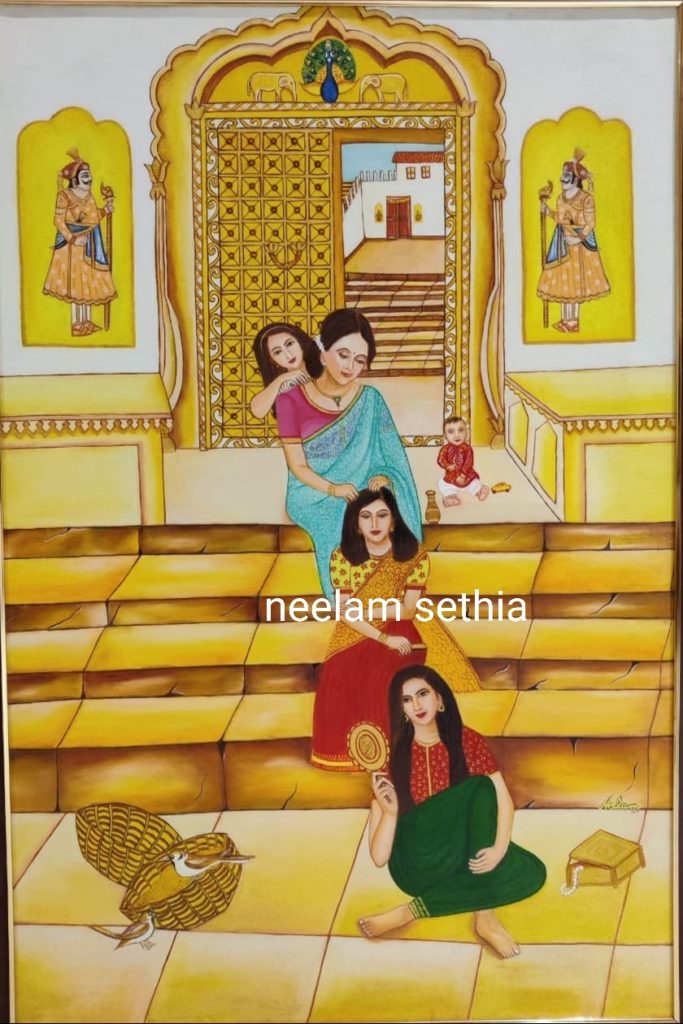 What do you like about your work?
Like I said earlier, I paint for myself and my satisfaction is paramount. So I like what I paint, as it is for my happiness and for my near / dear ones.
Should art be funded?  
My family has supported me as far as my art is concerned; I have had no dearth of funds.  For struggling artists funds would definitely be a God send but like other issues this too has a flip side to it. Creativity would be sacrificed for commercialization.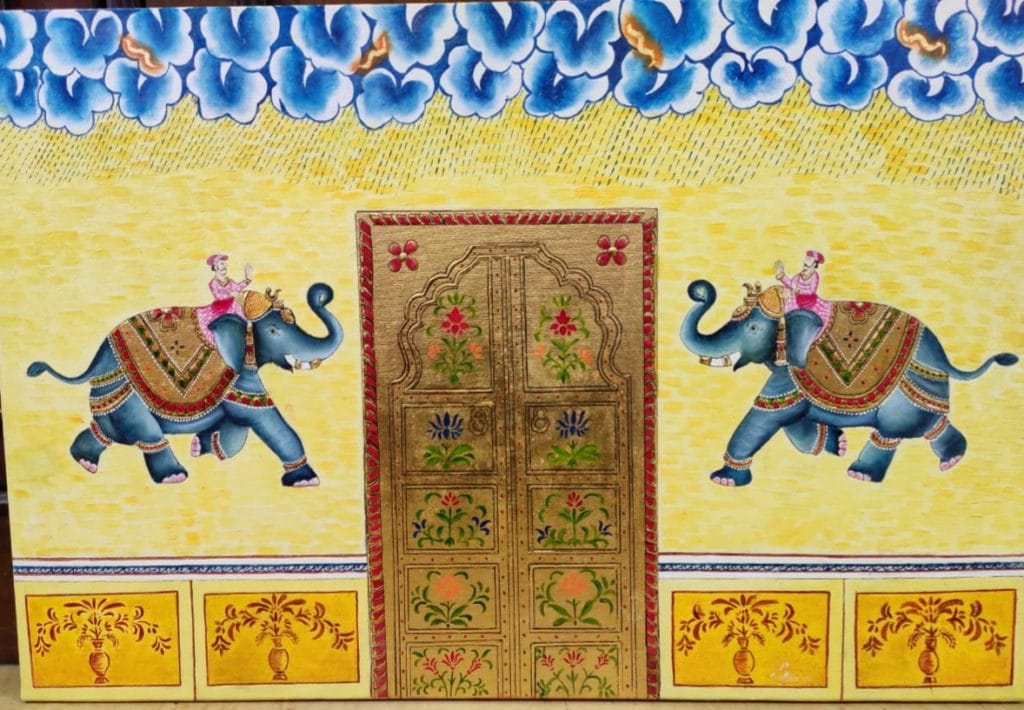 What role does art funding have?
I feel that funding if utilized correctly would give a deserving artist more visual reach as he would be able to participate in more exhibitions and art fairs. As today 'Out of Sight Is out Of Mind' repeated appearances would show that he is serious about art and might be 'discovered' by an Art Critic or Curator for commercial success. But then there is a limit to this also as continued funding will depend on the commercial viability of the funded artist.
Name three artists you'd like to be compared to?
Sakti Burman
 Senaka senanayake
Achutan ramachandran Nair
Favourite or most inspirational place?
Rajasthan is my all time favorite place.