"Pastry has always been my first and biggest love. Watching my family run a bakery in Goa since childhood, my fondest memories include waking up to the smell of freshly baked cakes and bakes. It was here that I discovered my passion and there has been no turning back… As a child I told my mum I wanted to be a pastry chef. I have always been curious about food and love experimenting and being creative in every way – in terms of taste, presentation as well as flavour combinations. Creativity is very important for me in the kitchen. I enjoy creating seasonal and concept based desserts and pastries especially working with chocolate, in particular dark chocolate. Chocolate is very versatile and it can be used to make so many desserts.. I also like to incorporate sculptures into my desserts which chocolate is great for," says pastry chef Lloyd Ralf.
Over the years Chef Lloyd has lived and worked in extravagant places and has experienced fantastic cultures. His culinary journey of over 18 years began in establishments such as the world's most luxurious hotel, Burj Al Arab in Dubai – United Arab Emirates and Harrods, a luxurious retail outlet store in London – United Kingdom. He also had the opportunity to work with several Michelin Star Restaurants, one of which was the Tamarind of Mayfair group in London, United Kingdom as a Head Pastry Chef which was led by Michelin Star British Chef Alfred Prasad where the team retained a Michelin Star in the year 2015. He has also had the opportunity to work as Head Pastry Chef with Fenwick in New Castle, United Kingdom which is a luxurious retail outlet. His roles in the middle east as Executive Pastry Chef have been with the W Doha Hotels & Residences and also at the JW Marriott Marquis Hotel both of which were in Doha, Qatar.
Chef Floyd's most recent role was as Executive Pastry Chef at the Conrad Cairo Hotel in Egypt. In his roles as  Executive Pastry Chef, he undertook full responsibility for the management and leadership of the pastry and bakery kitchen. He says he loves exploring and is on a constant high for more and more knowledge in the world pastry trends, food, culture and continue travelling for tastings and improvising his aptitude. He is currently in Goa, India on a private consultancy after which this talented chef has several interesting future projects in the pipeline.
What inspired you to become a pastry chef? You've been in the industry for quite some time. Would you have done anything differently when first starting out?
I was born into a family that has been into food business for years, the smell of freshly baked bread filled my house every morning. So, at a very very young age I was very interested and curious about desserts and baking. …. I baked my first cake at the age of 8, I wouldn't have it any other way.
 What is the philosophy and ethos behind the food you create?
The desserts I create look as good as it tastes ! I create desserts using the best of ingredients, superior locally sourced produce and quality is not compromised at all! I always aim for excellence in everything I create. I want to make people smile and transport them into a dessert universe with my creations.
What's the latest trend when it comes to baking and patisserie? What is the one food (pastry) trend you wish would just go away?
Pastry and baking is all things fabulous right now! In patisserie, single origin couverture Chocolate, the Classics such as tarts, pies and gateaux are back in fashion. Be it new flavours, origin specialty flour choices, various types of sourdough breads, perfectly laminated Viennoiserie such as disc croissants, bi-colour and duo flavour filled croissants, cross laminated croissants are also trending right now. I wouldn't want any pastry trend to go away. I believe that every trend was created by someone creative and we should respect every form of art.
What is your baking style and the philosophy behind it?
I create my desserts using top quality ingredients and the best of couverture chocolate. I love to experiment with designs, textures and a combination of key flavours to accelerate taste buds. I also draw inspiration from aromas (fragrances that are in the environment) natural surroundings, sound, movement etc. I have loved working in varied settings with different teams and there have been lots of people who have inspired me along the way.
 What's your favourite comfort food? What's your favourite pastry or cake or baked product ?
Tarte au Citron in the summers and jeweled English Cake in the festive season.
Who or what was your inspiration to become a pastry chef?
Honestly, being born in a bakery, my grandfather has been my biggest inspiration. He would take me for a ride on his bicycle every afternoon while I returned from school and we would explore different kinds of pastries, breads, savouries etc. Currently, I am a very big fan of Chef Jordi Roca.
What is your advice to aspiring pastry chefs?
My advice to aspiring pastry chefs would be to master the basics. Hard-work, dedication and knowledge is key to a successful culinary journey.
Future Plans?
I love exploring, researching, developing and I am currently in search of a new sunrise..
Would you consider yourself as an artist? Are you inspired by artists when you create your pastries? When you create different products everyday where do you get inspired from?
I consider myself an artist and am someone who is always looking for creative ideas to make magic.
The topic of local food, from smaller, specialized and personally known producers, is becoming more important. What are some of your local partners from whom you source?
Every country that I have travelled and lived in, I source local ingredients and products from vendors available to us. I also believe that in baking and pastry we cannot set boundaries to locally available produce or ingredients hence, I also source the best of ingredients especially chocolate, natural agents, emulsifiers, natural food colours etc  from the best of suppliers internationally. It is of utmost importance to know where your ingredients come from.
What would you say is the key/winning feature of your creations ?
Temperature, texture and taste. I create a dessert that is meant to capture the energy and electricity of the guest that in turn creates a WOW moment and royal experience.
 What are the most important considerations when crafting your menu?
One bite of the dessert will certainly send signals to your brain " a want for more" .. this has to be the most important consideration.
Have you ever considered being a vegan chef? How practical is it
being a pastry chef?
I have never considered becoming a vegan chef but I am not against vegan desserts either as they are trending at the moment. We do have some amazing ingredients available in the market to make vegan desserts and I do have some chef friends around the globe who are doing a fabulous job with vegan desserts.
What's your signature dish?
My signature patisserie varies and depends on the country, region, local flavours, culture, season etc.
How can restaurants/ hotels/ chefs communicate the approach of
innovative sustainable plant-based food/ food chains to others?
Sustainability without a doubt is the future of cuisine. I think it is important for our industry to sustain itself.
Which is the dish you've created that you are most proud of and why?
Every dessert I create has a story….
Most recently while I was in Egypt, I created the PARIS-CAIRO. Egypt has a very rich culture and heritage which is very inspiring for a creative chef like me. PARIS-CAIRO is a pastry that infuses both the Western and Egyptian culture along with an element of luxury.
Recipe of WHO SMASHED THE LEMON PIE!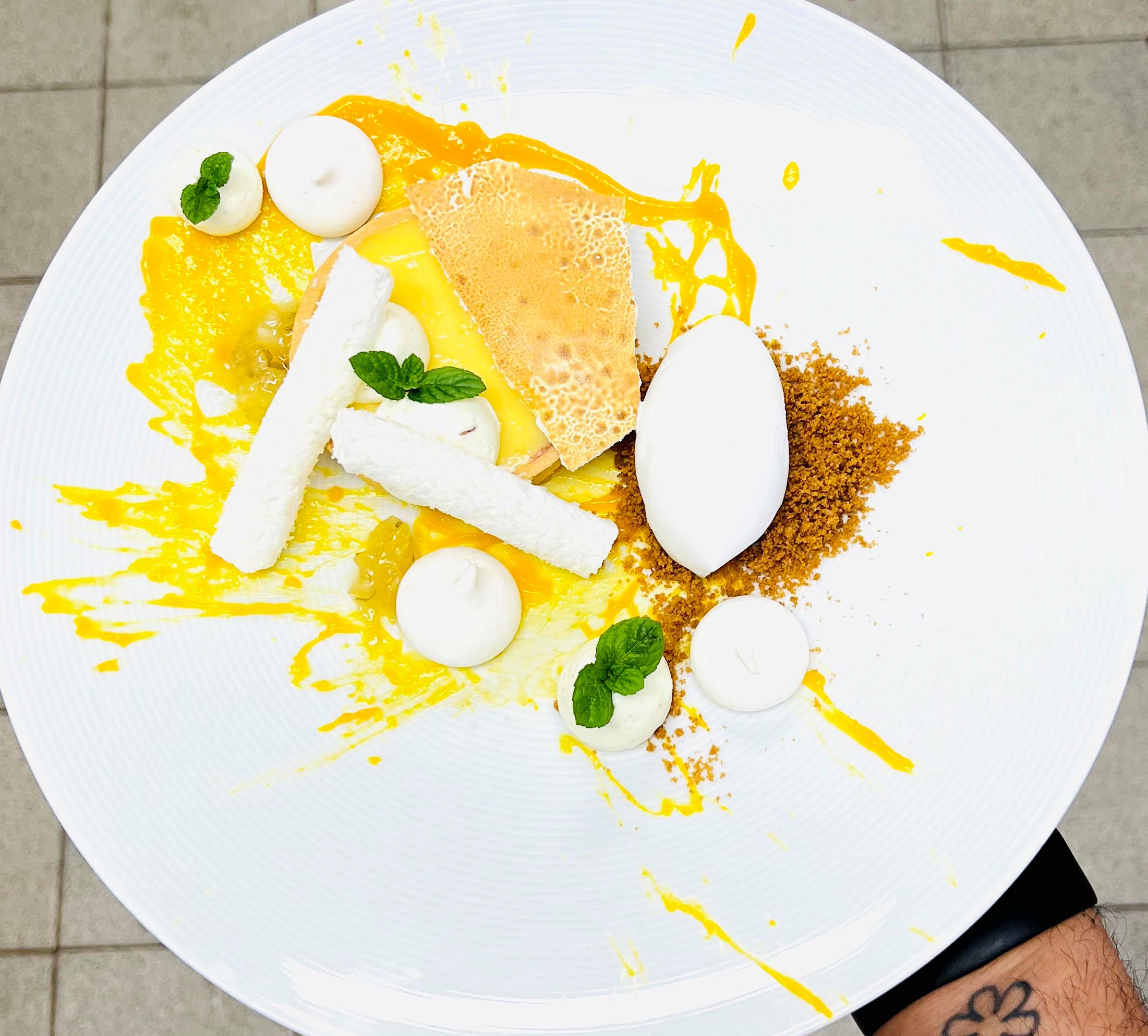 Shortcrust Pastry (Sweet paste)
Ingredients Grams
Unsalted Butter 120g
Icing Sugar 76g
Almond powder 24g
Whole eggs  50g
Salt 4g
Vanilla bean, cut & scraped 1 number
Plain flour 200g
Method:
Cream the butter in an electric mixer with a paddle attachment, and then add ingredients one at a time, adding the flour last.
As soon as the flour is incorporated stop mixing the dough. Press the dough into an even flat square and cover with plastic wrap and rest in the fridge for at least an hour.
Once the dough is rested, roll out to a 2mm thickness on a surface lightly dusted with flour then cut and line 6 x 80mm tart rings. Before trimming the excess pastry on top of the tart ring, place the lined tarts in the fridge for 10-15 minutes. Remove from the fridge and trim the excess pastry from the top of the tart rings with a small sharp knife.
Line the unbaked tart with either a piece of heat resistant plastic wrap or baking paper and fill with uncooked rice. Bake at 170°C for 6 minutes. Remove the lining and rice and continue to bake for 4 minutes or until golden brown.
Lemon Confit
Ingredients
Water 300g
Lemon juice 450g
Caster Sugar 75g
Agar Agar 12g
Poached lemons 425g
Fresh segments of lemon 100g
Mint leaves, chopped 2tbsp
Method:
The same day, heat the water with the lemon juice, then add the sugar mixed with the agar agar and let it boil for 2 minutes.
Place it on a tray in small thickness and store in the refrigerator until the preparation cools down.
Blend with a blender, being careful not to incorporate air.
Add the finely chopped poached lemons and the fresh segments.
Fill the cells with a semi-spherical silicone mould 3.5cm in diameter and freeze for 1 hour.
Poached Lemons.
Ingredients
Lemons 500g
Water 1000g
Caster sugar 1000g
Method:
Remove the skins of the lemon and cut them into 8, remove the inside leaving just3mm flesh.
Blanch them 6 times in a large pot of boiling water – start cold water by draining them each time.
Put the water and half of the sugar in a saucepan and bring to a boil.
Dip the fruit in this syrup and let it simmer covered, being careful not to exceed 70 degrees. Add the remaining sugar in several times in the syrup to concentrate it, while heating again to 70degrees.
When the fruits are tender, drain them.
Take the cooking syrup and bake at 103C and then allow to cool. Put the citrus back in and preserve until you use them.
Lemon Curd
Ingredients
Gold Gelatine leaves 3g
Lemon zest of 1 lemon
Lemon juice 75g
Caster sugar 75g
Unsalted butter 125g
Whole eggs 150g
Caster sugar 75g
Method:
In a saucepan, combine the lemon zest, the lemon juice, sugar and butter and bring to a boil.
Combine the eggs and second group of sugar and whisk together.
Soak the gelatine leaves by submerging them one at a time in a bowl of chilled water. Once they become pliable, remove from the water and set aside.
Pour the boiled lemon mixture over the eggs and sugar mixture and whisk to combine. Return to the mixture to the saucepan and place on the stove.
Set on a low heat and simmer for 3 minutes while gently stirring. Remove from the stove and add the pre-soaked gelatine.
Strain the mixture and deposit into the prepared baked tart cases. Refrigerate the filled tarts for 1 hour before piping the Italian Meringue on top.
Italian Meringue
Ingredients
Egg Whites 78g
Caster sugar (A) 7g
Cream of Tartar 3g
Caster sugar (B) 105g
Water 30g
Method:
Place the egg whites, caster sugar (A) and cream of tartar into a clean mixing bowl with a whisk attachment and start whisking on low speed.
Place the caster sugar (B) and water in a small saucepan and bring to 121°C. Once the boiling sugar syrup reaches the temperature pour it over the egg whites which have been whisked to a soft peak.
Continue mixing until the meringue reaches room temperature.
Speculose Soil (base for ice-cream)
Ingredients
Unsalted butter 500g
Light brown sugar 650g
Cinnamon powder 30g
Salt 5g
Egg 125g
Whole milk 225g
Plain flour 1000g
Baking powder  15g
Method:
Sieve all the dry ingredients together. Cream the butter and sugar.
Take the chill off the milk by putting in the microwave for 20 seconds . Add to the butter and sugar along with the eggs.
Add all the dry ingredients & roll on a baking tray and refrigerate for an hour.
Remove from refrigerator and bake at 170°C for 8 minutes. Cool down on the wire rack and robot coupe to form soil.
Vanilla Ice Cream
Ingredients
Milk 500g
Cream 150g
Egg yolks 225g
Sugar 110g
Vanilla bean, cut & scraped 2 numbers
Method:
Boil the milk, cream and the scraped vanilla.
Mix the eggs along with sugar and pour into the milk and bring to a boil.
Strain and cool on ice rapidly and churn in the ice cream machine until set.
ASSEMBLY:
Fill the prepared baked tart with the Lemon confit, top it with Lemon Curd and spread Italian meringue on one half of the pie and blow torch the meringue. refrigerate to set.
Splat the remaining lemon curd  onto a white plate using a table spoon.
Pipe Italian meringue drops as needed on the plate and add mint leaves.
Add the pie to the centre of the plate & place the speculose soil on the plate.
Add the Vanilla ice cream on top of the speculose soil and serve.