Lorenzo Sollecito is the Executive Pastry Chef at Four Seasons Hotel Jakarta, previously he led the patisserie and baking team at Regent Singapore, A Four Seasons Hotel, where in addition to providing breads and sweet treats for it restaurants, he also created bespoke cakes for the many weddings held at the Hotel. A native of Mezzocorona in northeast Italy – a region best known for apples – Sollecito credits his late grandmother for inspiring his foray into the pastry world. His first culinary memories revolve around "helping grandmother bake apple strudel and biscuits" as young as five years old.
The first dish he ever cooked at age seven is also his biggest kitchen disaster to date. "My grandmother broke her arm so I had to cook. And I ended up cooking, or over-cooking, one kilogram of pasta without salt. But my grandfather still ate it," recalls Sollecito fondly. That did not deter him from pursuing his passion, working his way up from a commis chef to chef de partie in the kitchens of several European hotels and restaurants. But it wasn't until he met his mentor Executive Pastry Chef Domenico di Clemente at the Michelin-starred Il Palagio at Four Seasons Hotel Firenze that he knew his heart lay firmly with pastry.
"Pastry is a science," explains Sollecito, who once trashed 100 to 200 soufflés just to perfect one. "It's technical and precise. And Chef Domenico taught me the art of perfection – that nothing should go in front of a guest if we don't love it ourselves." For Sollecito who counts mille-feuille ("I like the texture of the puff pastry with the Chantilly cream") and his mother's apple strudel among his favourite desserts, good pastry starts always with good quality ingredients. "I believe in keeping things simple and getting the basics right, whether it's a plain cornetto or torta di mele," says Sollecito on his pastry philosophy.  "Desserts are a little like the pampering from our spouses or mothers.  We may not get it every day but when we do, it makes us very happy. And I hope my desserts not only fill bellies but also bring happiness – even if it's just for a few minutes."
What inspired you to become a pastry chef? You've been in the industry for quite some time.
Like many other Italians, my passion for baking started at an early age. Back then, I spent countless hours with my beloved grandmother, who, along with my grandfather, operated a small restaurant and pizzeria in my hometown known as 'DA DEMETRIO.' During that time, I found myself in my true element, embracing even the simplest tasks with so much joy. For me, those precious moments were the starting points for my culinary journey.
What is the philosophy and ethos behind the food you create?
I believe that it is important to bring a memory or great story into my creations to create culinary experiences that go above and beyond. So, whenever I create a dish, I aim to create emotion and engagement with the guests with a great story behind the dish itself.
What's the latest trend when it comes to baking and patisserie?
I'm not a big fan of culinary trends. I came from a classic background and I love to stick to that. However, I acknowledge that not every trend is bad. In this industry, we can always learn something new, from presentation styles, flavor combinations, or concepts that may be very far from our own view of pastry.
What is your baking style and the philosophy behind it?
Classic and simplicity are the key – I would define a luxury rustic style – flavors that are distinct and recognizable, the pairing of ingredients that naturally complement each other within the dish without forcing or stretching in order to impress. I believe that simplicity is everything when it comes to food.
What's your favourite comfort food? What's your favourite pastry or cake or baked product?
 My favorite comfort food has evolved throughout my culinary journey through Italy and Southeast Asia. If you had asked me what my comfort food was 10 years ago, I would have said it was the pizza made by my uncle Franco at Pizzeria Da Demetrio. But now, it's undoubtedly the sweet and sour chicken created by my wife, Julia. As for desserts, my all-time favorite is my mother's apple strudel. I grew up with it, and it will always hold the number one spot on my list – it's truly unbeatable.
Who or what was your inspiration to become a pastry chef?
My culinary journey originally began in the hot kitchen as a chef. I was working at the Bvlgari Hotel in Milan, and I felt a desire to explore something new and different. So, I decided to go back to the basics and took a position as a commis 2 at the Four Seasons Florence, where I had the privilege of learning under the guidance of Domenico Di Clemente. Initially, it was supposed to be for a short period, no longer than six months, just to enhance my pastry skills before returning to the hot kitchen. However, 16 years have passed, and I never left the pastry world. Chef Domenico has unquestionably been a great mentor to me.
What is your advice to aspiring pastry chefs?
Be open-minded and travel as much as you can. When you travel, always remember to explore and savor the local cuisine. In addition, it's important to remain professionally humble in this field, as you can learn and expand your knowledge from everyone you encounter.
Future Plans?
I've been in Indonesia for 7 years, and much like my journey in pastry, this place was initially intended to be my home for just one or two years. Yet, here I am. I stopped making long-term plans a while ago and chose to embrace opportunities as they came by. In my opinion, some plans are made to be changed. For now, I don't have any specific future plans. I consider myself fortunate to work at the remarkable Four Seasons Hotel Jakarta, where I'm surrounded by a young and creative team of pastry chefs, making it a true pleasure to collaborate with them.
Would you consider yourself as an artist? Are you inspired by artists when you create your pastries? When you create different products every day where do you get inspired from?
I don't consider myself an artist, I haven't reached that level of self-identification. However, I hold a deep admiration for many renowned chefs who, in their own unique ways, can be seen as artists. I've had the privilege of collaborating with various artists, particularly those working in the realm of modern art, and these experiences have been incredibly inspiring. I've learned that artists often have a unique perspective in life, seeing and experiencing the world in a distinct way, and it's enlightening to work with them. In terms of pastry, my inspiration often comes from nature, history, the modern world, fashion, and, of course, art. Nowadays, we live in a very modern and dynamic world. By the help of technology we can easily explore and observe what's happening in the culinary world with a simple click.
The topic of local food, from smaller, specialized, and personally known producers, is becoming more important. What are some of your local partners from whom you source?
We hold a profound appreciation for our local partners and their exceptional dedication to their craft. When it comes to working with these producers, their passion and commitment shine through in every product they offer. I find it truly inspiring to engage with these farmers and listen to their insights and innovative product offerings. In Indonesia, we are lucky to be situated in a region of incredibly rich biodiversity. We collaborate closely with a variety of local companies that specialize in producing an array of products. These partnerships extend to sourcing honey, jams, fruits, a rich assortment of spices, various sugar varieties, artisanal chocolates, and many other locally cultivated treasures.
What would you say is the key/winning feature of your creations?
 The key or winning feature of my creations is the presentation and combination of flavors, which work together perfectly in harmony.
What are the most important considerations when crafting your menu?
When crafting a menu, there are several considerations that I have. I usually prioritize the inclusion of chocolate components, as chocolate is universally loved, and it's a personal favorite of mine, as well as our guests. Next is quality over quantity. Rather than having an extensive array of desserts, I prefer a more focused selection to highlight our signature creations and maintain the high quality. Visual presentation is equally important, as we strive to deliver desserts that not only taste exceptional but also aesthetically pleasing. In addition, storytelling behind each dessert in order to enhance the connection with the guests. I also like to give a final touch to our desserts in front of our guests.
Have you ever considered being a vegan chef? How practical is it being a pastry chef?
Nowadays, we've received increasing requests for vegan desserts. Personally, I find this quite exciting, a challenge to step out of our comfort zone to create something special, considering the limitation that not all the necessary products are readily available in a 100% vegan form. However, given the rich array of fruits and non-dairy products that Indonesia has to offer, we can find alternatives to create delectable vegan desserts to meet the demand. It's a practical and creative way to adapt and cater to changing culinary preferences while still delivering the quality and innovation expected.
What's your signature dish?
I would say "Alto Tiramisu", the signature dessert at Alto, our Italian fine-dining restaurant. It has consistently been one of our best-sellers and the most favorite among our guests. Other than that, our "Mango Mimosa Cake" that also becomes a big hit during the mango season, showcasing the vibrant flavors of fresh mangoes.
How can restaurants/ hotels/ chefs communicate the approach of innovative sustainable plant-based food/ food chains to others?
Communication of our innovative, sustainable, and plant-based approach in the culinary world is crucial. At our hotel, we believe that effective communication is key in encouraging others to adopt innovative, sustainable practices in the culinary industry. We took several actions to convey this commitment, such as by putting the required information on our menus and product labels. We also actively engage with our guests in person or through social media. This way, guests are well-informed and can make eco-conscious choices.
Which is the dish you've created that you are most proud of and why?
It's challenging to pick just one dish that I'm most proud of, as each creation has its unique story and charm. What excites me most is the prospect of continually pushing the boundaries to create something even more remarkable than before. So, I would say the next one!
Orange & Jasmine Chocolate Bonet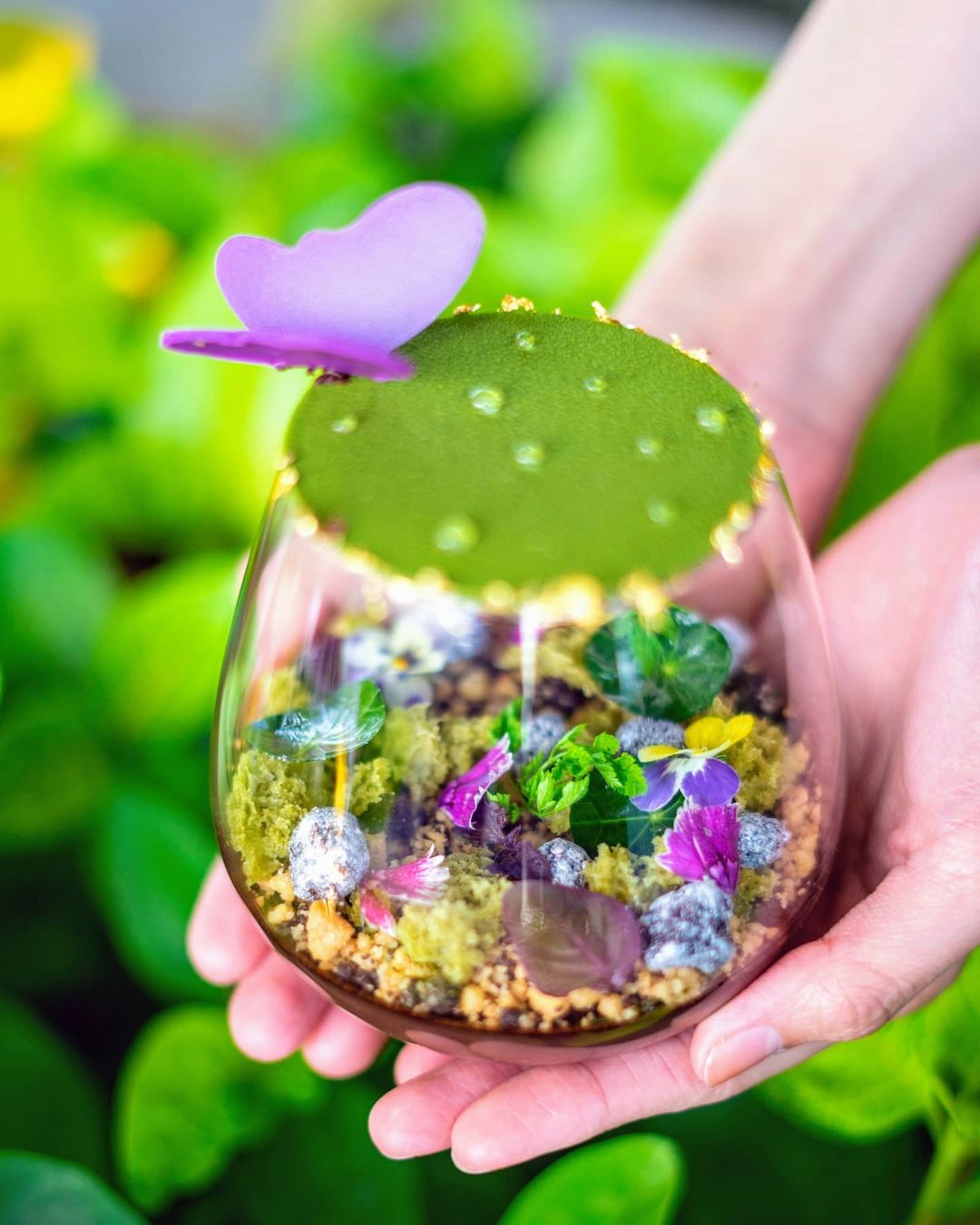 INGREDIENTS: (Suitable for 6 Portions)
Bonet
200 g cream (35% mg)
75 g milk
25 g cocoa
62 g sugar
80 g pasteurized yolk
3 grated orange zest
5 g jasmine tea
Bittersweet Cocoa & Fleur de sal soil
12 g icing sugar
10 g butter
3 g fleur de sal
12 g flour T45
2 g baking soda
2 g bittersweet cocoa
8 g 70 % dark chocolate
 Bitter Almond Soil
8 g Icing sugar
8 g almond ground
8 g butter
8 g flour T45
2 g salt
Pistachio Coral Sponge  
20 g toasted pistachio
32 g egg white
20 g egg yolk
20 g sugar
4 g cream (35% m.g.)
5 g water
4 g ground pistachio
Rock 5 Species     
19 g butter
2 g sugar
5 g gula jawa
2 g cajuput honey
1 g maple syrup
22 g flour 45 T45
2 g salt
2 g cinnamon
3 g baking soda
3 vanilla essence
2 g grated orange skin
01 g or a pinch of silver powder
STEPS:
Bonet
Combine the cream and milk and bring to 55-60 °C. Add the grated orange zest and jasmine tea and leave to infuse for 13 minutes
Gently mix the sugar, egg yolks, and cocoa without forming lumps or air bubbles
Once the infusion has been filtered, bring it to a boil and delicately incorporate it into the mix of egg yolks, sugar, and cocoa
Filter again and leave to rest in the refrigerator for 12 hours
Pour 65-70 g of the mixture into a glass or mold and cook in the oven at 90 °C for 15-17 minutes until almost completely firm
Store in the refrigerator
Bittersweet Cocoa and Fleur de sal soil
In a stand mixer fitted with the paddle attachment, mix the butter and sugar at low speed
Gradually add the other powdered ingredients (previously sifted) until you obtain a uniform consistency
Chop the chocolate and add last
Give the dough a cylindrical shape and keep it in the refrigerator for 4-6 hours
Coarsely grate the mixture onto a baking tray and cook at 170°C for 10-12 minutes
Once cooled, store away from humidity in an airtight container
 Bitter Almond Soil
In the stand mixer fitted with the paddle attachment, mix all the ingredients at low speed until you obtain a smooth mixture
Give the dough a cylindrical shape and keep it in the refrigerator for 4-6 hours
Coarsely grate the mixture onto a baking tray and cook at 170°C for 10-12 minutes
Once cooled, store away from moisture in an airtight container
Pistachio Coral Sponge  
Process all the ingredients in a food processor until you obtain a smooth, lump-free dough
Filter and pour the mixture into a siphon, and refrigerate for at least 2 hours
Load the siphon with two gas cartridges and shake it well to create a resistant emulsion
Fill a paper cup with 45-48 g of mixture and cook in the microwave for 110 seconds
Leave the blown biscuit to cool inside the glass upside down on a rack
 Rock 5 Species    
In the planetary mixer fitted with the paddle attachment, mix all the ingredients (except the silver powder) at low speed until you obtain a smooth mixture
Give the dough a cylindrical shape and keep it in the refrigerator for 4-6 hours
With your hands, break the dough into irregular pieces with a maximum size of (5-8 mm) and cook at 170 °C for 10 – 13 minutes until golden
Once cooled, store away from humidity in an airtight container
Plating
Using the two crumbles (salted cocoa and almond), compose the first layer on top of the bonnet without following any particular plating scheme
Add the puffed pistachio biscuit, breaking it into pieces following the natural honeycomb structure created during cooking
Follow with 5 spice rocks brushed generously with silver dust to give a more realistic look. Place them randomly inside the glass; the composition must always maintain a natural and harmonious appearance without too much regularity
Finish by adding edible flowers and micro-greens to taste