Manolis Stithos is a pastry chef from Greece. He as born in Athens with origins from Zakinthos and Chios. He studied pastry and bakery at the State School of Tourism Education in Anavissos and first started working at Stanley Hotel in Athens, followed by Intercontinental Hotel where he worked for a year as Pastry Chef at Premiere restaurant. From 2012 until its closure in 2019 Manolis was the Head Pastry & Bakery Chef of 2 Michelin star Funky Gourmet Restaurant in Athens, Greece. After that, during the quarantine period for a year and a half he was working alongside the famous Greek Pastry Chef Stelios Parliaros at his pastry shop Sweet Alchemy in Athens.
"Τhe reopening of the restaurants found me taking on the position of Head Pastry Chef at CTC restaurant in Athens, Greece where I earned another 1 Michelin star. Soon, at the end of 2021 I took up the position of Head Pastry Chef at the 2 Michelin star restaurant Spondi in Athens, Greece. From 2023 i have been the Executive Pastry Chef at The Margi Hotel Group in Athens which includes restaurants AKTI, Krabo and Patio and also the concept of The Margi Farm. I am presenting my own seminars, workshops and masterclasses at some of the top culinary schools in Greece and have consulted in restaurants, pastry shops and hotels in Greece and abroad," he says.
What inspired you to become a pastry chef? You've been in the industry for quite some time. Would you have done anything differently when first starting out?
When I was younger I didn't have pastry in my mind at all. I wanted to do something with sports. But I failed my school exams to get into a university and then my father gave me the idea to study pastry and I thought to myself "let's try the Pastry school who knows". And here I am, after 12 years I am doing something that I love very very much. I would not change anything from all these years because even from a bad decision you always learn something.
What is the philosophy and ethos behind the food you create?
I always follow the seasons and I respect nature and ingredients. I believe that only if you respect and take care of your ingredients you will get the best result. I want to create tasty food with pure and great quality ingredients. And to offer flavors that make people happy and awaken their memories.
What's the latest trend when it comes to baking and patisserie? What is one food (pastry) trend you wish would just go away?
Desserts with less sugar and sustainability I think are the most popular trends these days and for sure we have to follow them and make them part of our job because we can then have better results both for us and nature.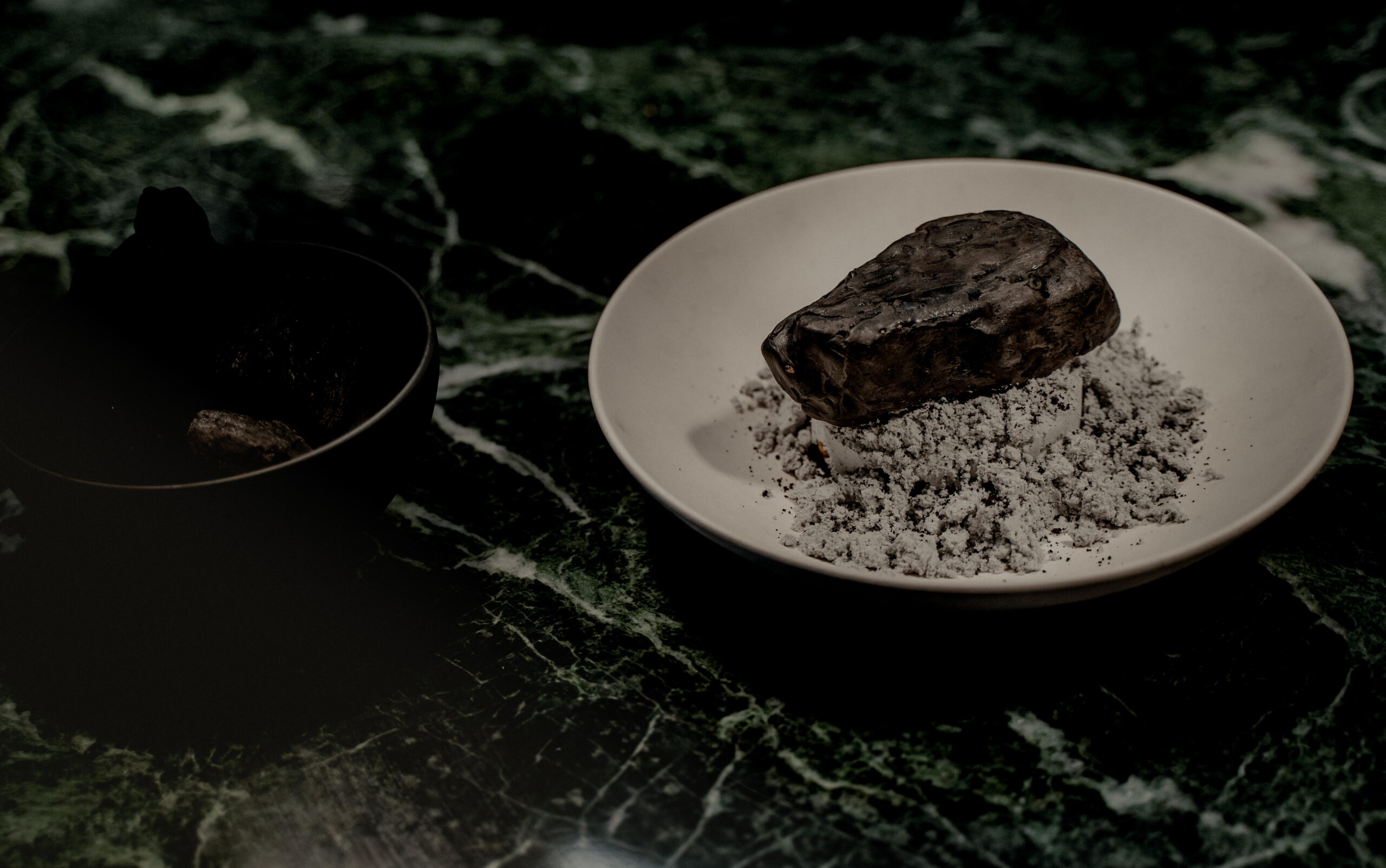 What is your baking style and the philosophy behind it?
First of all it is the flavor and the combinations. To create an explosion of flavors and textures. Then I want to bring memories to people. It very important for me to make customers reminisce about memories and be a part of their dessert. I want to  make them part of the process with interactive desserts. Whoever tries my creations should ideally remember them for many reasons.
 What's your favourite comfort food? What's your favourite pastry or cake or baked product ?
I love ice cream and also I like a lot viennoiseries. My favourite dessert is Black Forest pastry.
 Who or what was your inspiration to become a pastry chef?
As I said before, my father urged me to try Pastry even though no one in my family had anything to do with this section. So, I think I owe him for sure and he became my inspiration.
 What is your advice to aspiring pastry chefs?
My advice for pastry chefs is to stay focused on their dreams and work hard to accomplish them. Stay humble and remain open minded.
 Future Plans?
Always get better and better at what i do and keep trying to think about new ideas. Also, my own shop is in my plans for the future.
Would you consider yourself as an artist? Are you inspired by artists when you create your pastries? When you create different products everyday where do you get inspired from?
Yes, I consider our job an art. Because, we are always thinking about new ideas, techniques and flavors and trying to showcase an excellent product to people who eat our desserts. I get inspiration from artists and also in the past I have create a dessert based on a painting from Dali. But mostly, I get inspired from my memories, from traditions and also from the nature.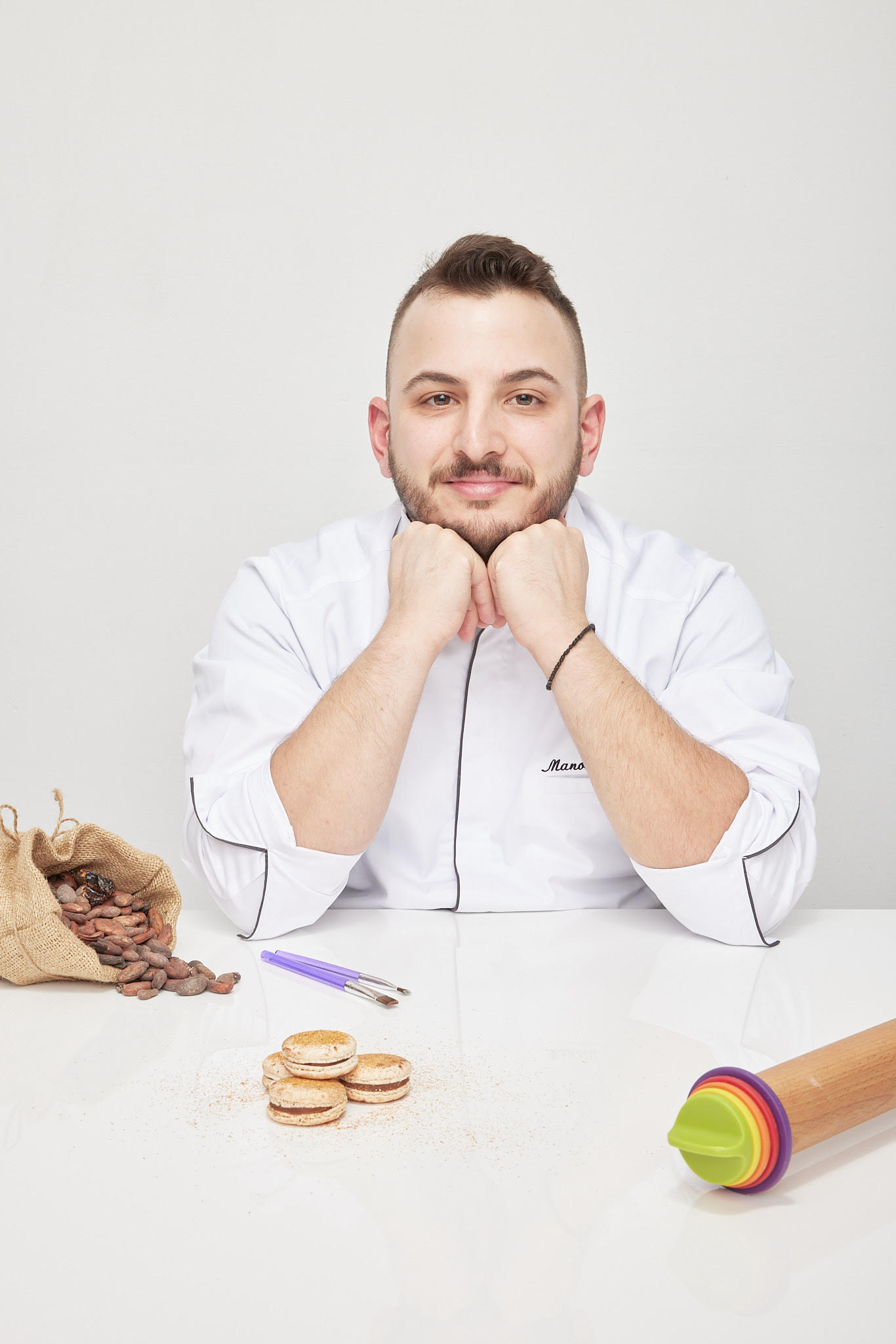 The topic of local food, from smaller, specialized and personally known producers, is becoming more important. What are some of your local partners from whom you source?
I try to use as many of these products as I can in my recipes. And now I am very lucky because at the hotel where I am currently Executive Pastry Chef, The Margi Hotel in Vouliagmeni Athens Greece, we have our own farm from where we have our own production of goat's milk, fruits and vegetables like figs, strawberries, lemons, oranges, melons and many many more. We produce our own liquor from grapes, and also we have honey and free range eggs for our recipes.
What would you say is the key/winning feature of your creations ?
The concepts of my desserts and the flavor.
Some of my ideas for example are: a virtual charcoal from chocolate and hazelnut sitting in a bowl full of real charcoals, a virtual soft boiled egg, a chocolate teddy bear inside a music box, a half peach shape dessert  with edible pit and many many more.
What are the most important considerations when crafting your menu?
I always follow the seasonality. Then, in every menu I have at least one very conceptual and unique dessert than makes costumers get interactive with their desserts.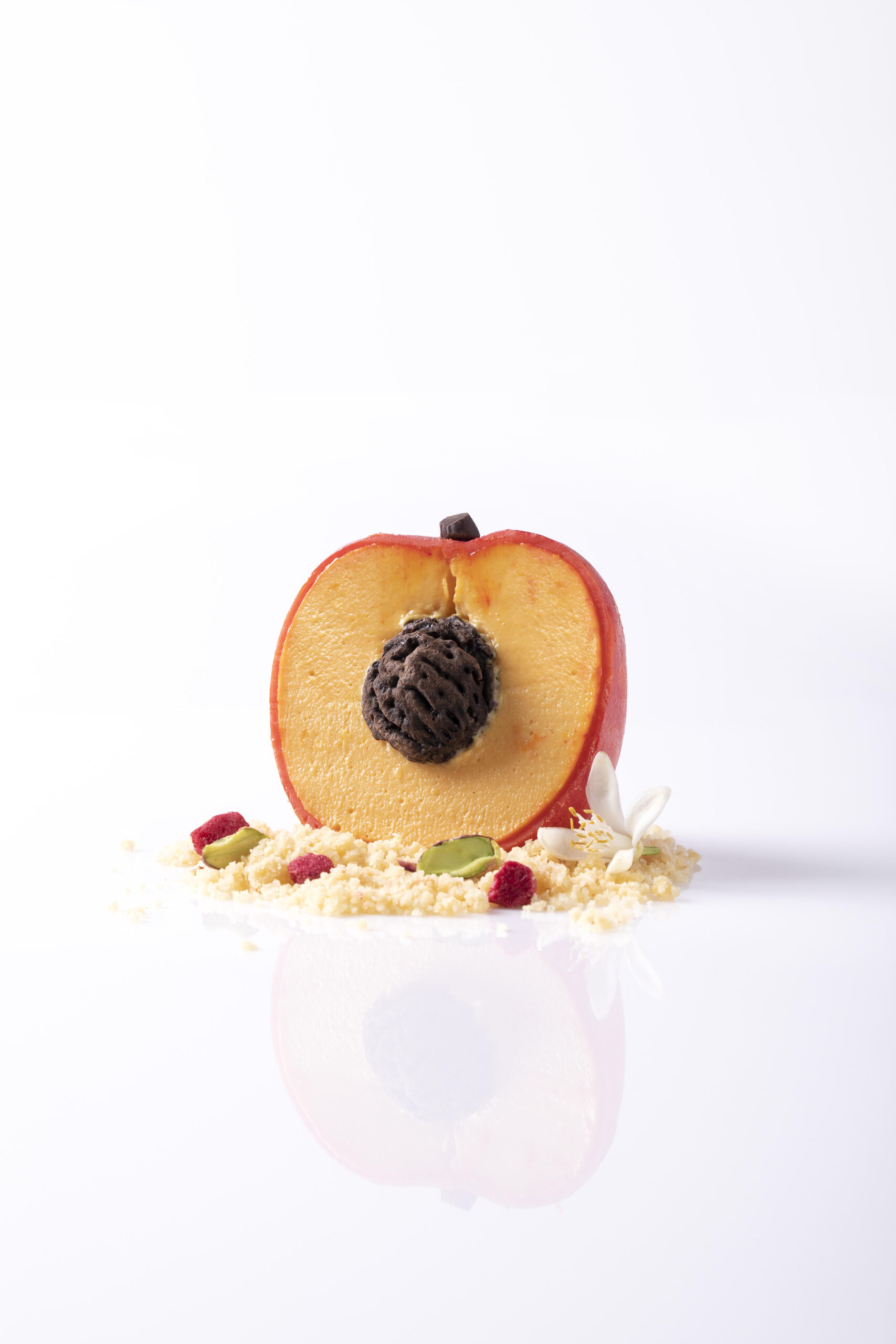 Have you ever considered being a vegan chef? How practical is it being a pastry chef?
To be honest, no. I have never considered to be exclusively vegan chef but i always offer vegan options. I think it is our responsibility as chefs to have options in our menus for everybody.
What's your signature dish?
One of my signature dishes is the virtual half peach with the edible pit, with bitter almond Greek yogurt, white chocolate and peppermint which was also on the cover for Michelin Guide for Athens in 2021 and was a creation for 1 Michelin star CTC in Athens. The "Soft boiled egg" dessert with coconut "egg white", passion fruit "egg yolk", chocolate "skin" and a vanilla soft cake for dip it in your sweet egg, a creation for 2 Michelin stars Funky Gourmet in Athens.
How can restaurants/ hotels/ chefs communicate the approach of innovative sustainable plant-based food/ food chains to others?
We can influence people to really care about the food industry. We can promote it through our recipes, through our menus, make events to promote this philosophy but i think this is not enough. People also have to follow this philosophy on their own and make it part of their lives.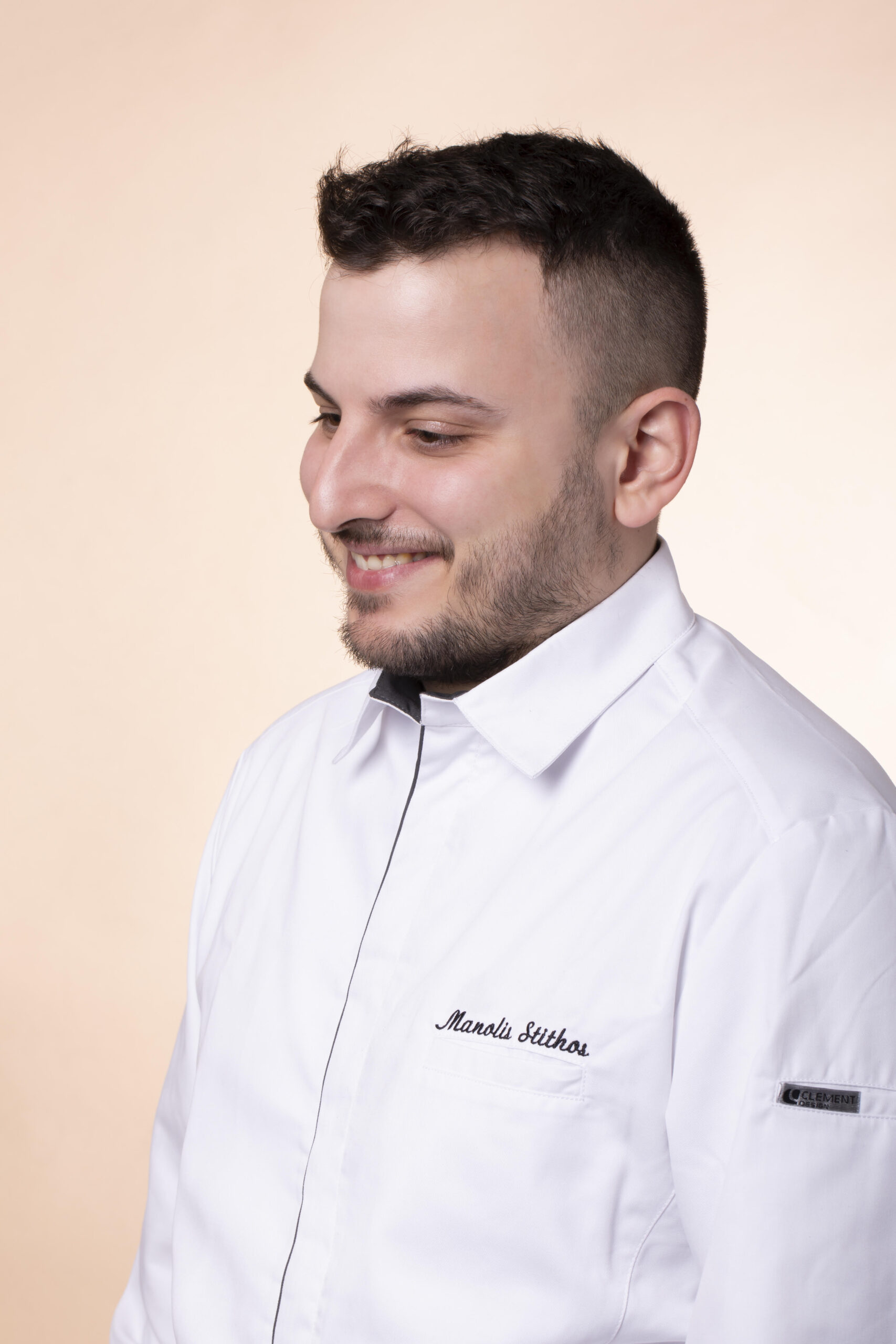 Which is the dish you've created that you are most proud of and why?
I can't just pick one to be honest. There are many creations that at the end made me happy and proud and i also got this feeling from the costumers. But, if I have to choose one then I will choose my very first creation that was included in a restaurant menu, when I was still undergoing my internship at the Intercontinental hotel in Athens, and it was a combination of coconut, mango, black pepper, passion fruit and tonka. It may not have been at the level of whatever i created later in my career, but it will always be a dish that I will never forget.
Recipe of Traditional Greek milk custard we call "Galatopita"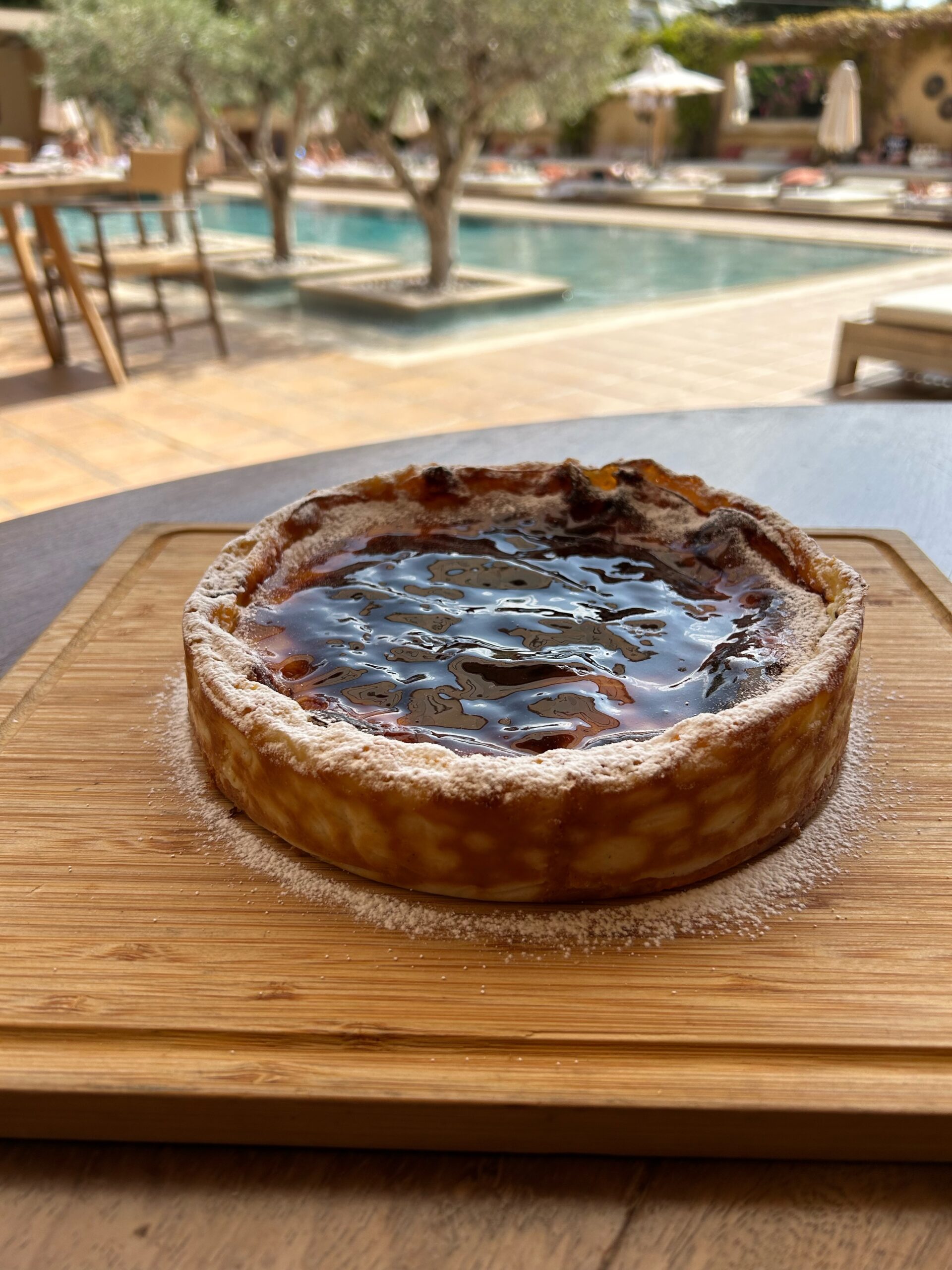 2000 gr Milk full fat  35%
5 pcs vanilla beans
400 gr heavy cream 35%
300 gr eggs
30 gr nature vanilla paste
500 gr sugar
130 gr fine semolina flour
110 gr cornstarch
150 gr cow butter 82%
5 gr lemon zest
-Scrape vanilla beans.
-Put milk, vanilla seeds and heavy cream in a pot in medium heat.
-In a mixer bin put eggs and sugar and beat with the whisk until double size.
-combine with semolina and cornstarch.
-temper with the hot milk mixture and transfer all the mixture back in the pot.
-boil for 3'-4' until thick
-off heat add butter, vanilla paste and lemon zest.
-transfer in the robot and mix with the knives for about 2 minutes.
-Transfer cream in the mixer bin and beat with the paddle attachment until cool.
-transfer cream in a round pot cover with eggs wash all over the top surface and bake at 180c for about 40-45' to have a nice dark crust on top.
-Let cool and cut.