Chennai based artist from India Santhana Krishnan says, ""The concept "doors" was for me to give the next generation what is disappearing from today's world as well as to bring back memories for many. In this fast moving world, I want them to stop for a moment to recollect their past". His work revolves around the entrance of a home which is a door and he has been painting for the past 22 years around this concept. He says a door can either be wide open inviting you inside with warmth or it can be closed and hide a million secrets. Some of his doors open into an interior with Tulsi tharas in the inner courtyards with milk cans, kerosene lamps, wooden boxes, clothes drying ..faint white numbers and letters on the doors are clues about the inhabitants of those residences. The corporation numbers, ward numbers, electricity board connection numbers… For instance, P 26 indicates that polio drops were given to a child in the house under the immunization programme of the government. Some of his closed doors with a huge lock show faded house numbers and painted advertisements. Through this he wants to depict the lives of the people living behind these doors. Most of the doors he paints are not from cities but from the rural homes that he grew up watching every day.
"Today, I paint more wooden, soot covered, kumkum and turmeric marking covered doors because they fascinate me more than the fancy stained glass doors. I believe each door has tale to narrate of the house, its owners and their lives. Even the exterior surfaces of the doors have myriad tales to narrate".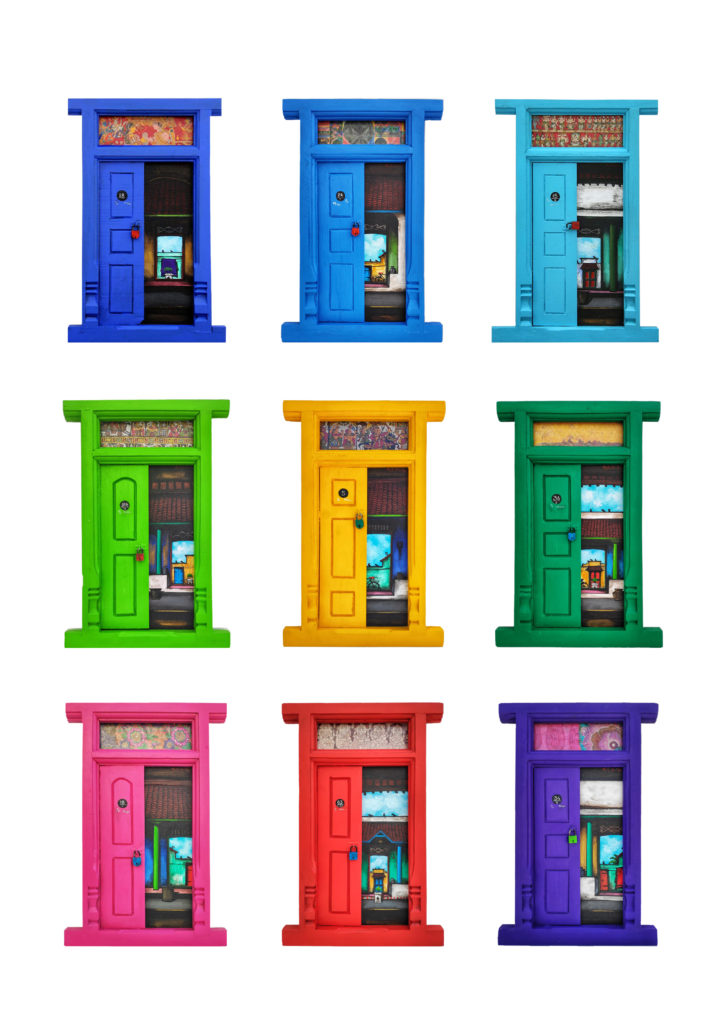 What is your artistic background?
I am from Kumbakonam, Tamilnadu; professionally I did my Under-graduation in the Fine Arts College, Kumbakonam and Post-graduation from Fine Arts College, Chennai.
 What is integral to the work of an artist?
Artist should have his own identity in his work and concepts.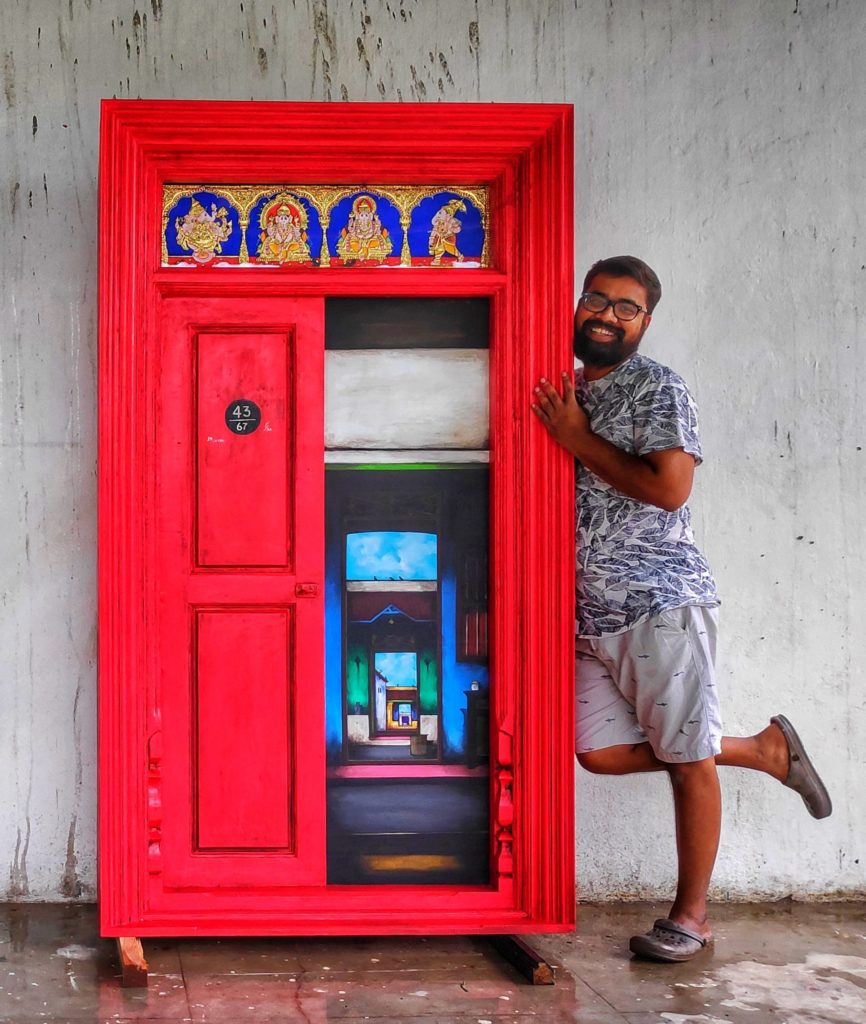 What role does the artist have in society?
Artists have a big role to broadcast the culture; it is their primary accountability to tell the society.
What art do you most identify with?
I am specifically identified with paintings of doors in the last 22 years of my art career.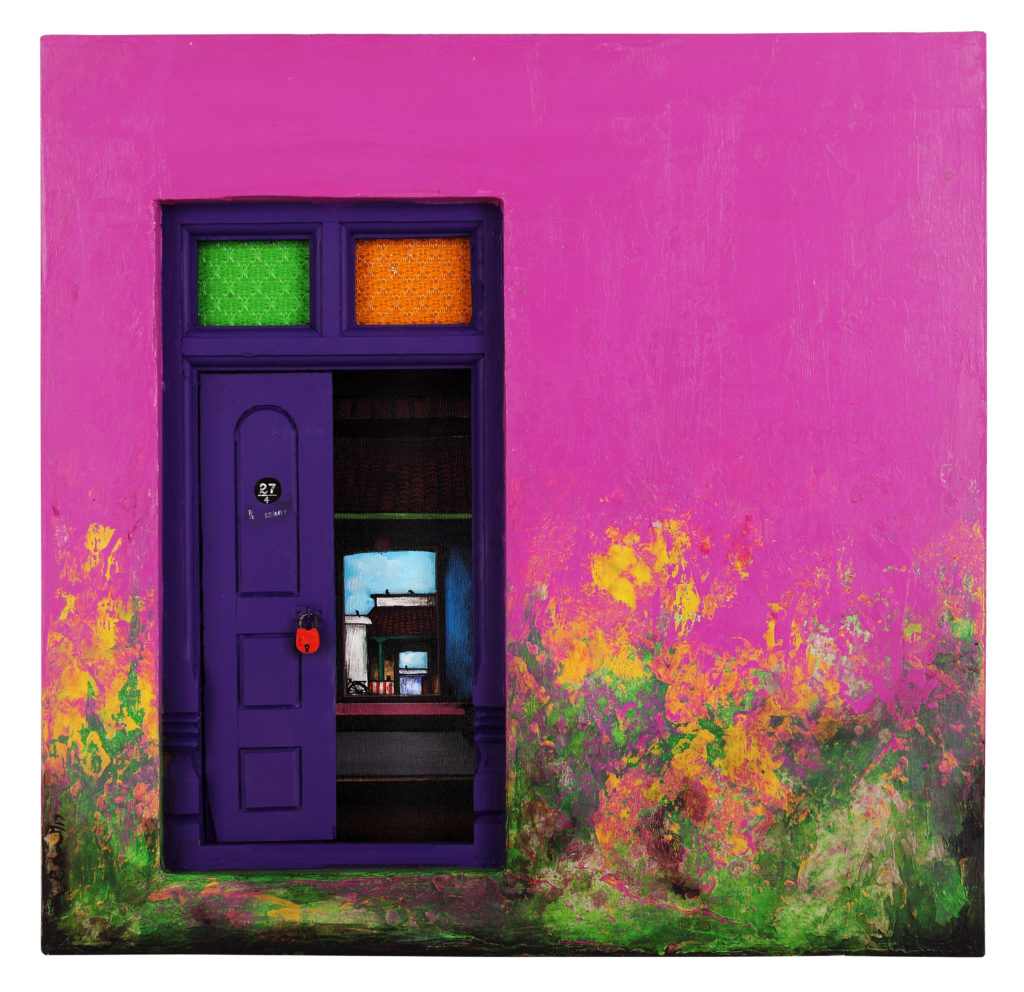 What is your favourite artwork?
I am a fan of all the artwork created by various artists.
Describe a real-life situation inspired you?
My real-life inspiration are the 82 doors in our ancestral home and old home doors, which I used to pass everyday during my college days. My work of art brings back those memories of the vanishing doors of the past.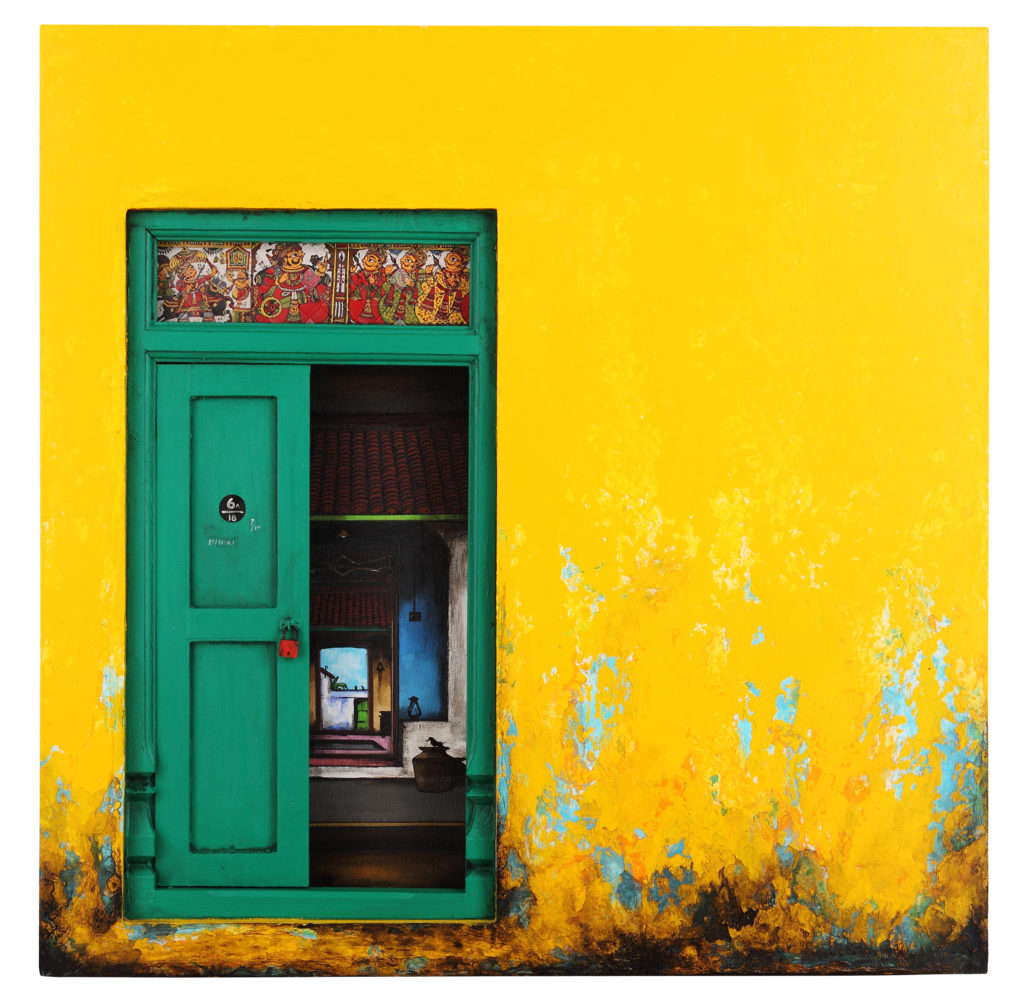 What jobs have you done other than being an artist?
I have not done any other job, other than being an artist.
Why art?
Arts and colours are my passion. I feel I came to the world to be an artist hence I do not know anything else other than being an artist.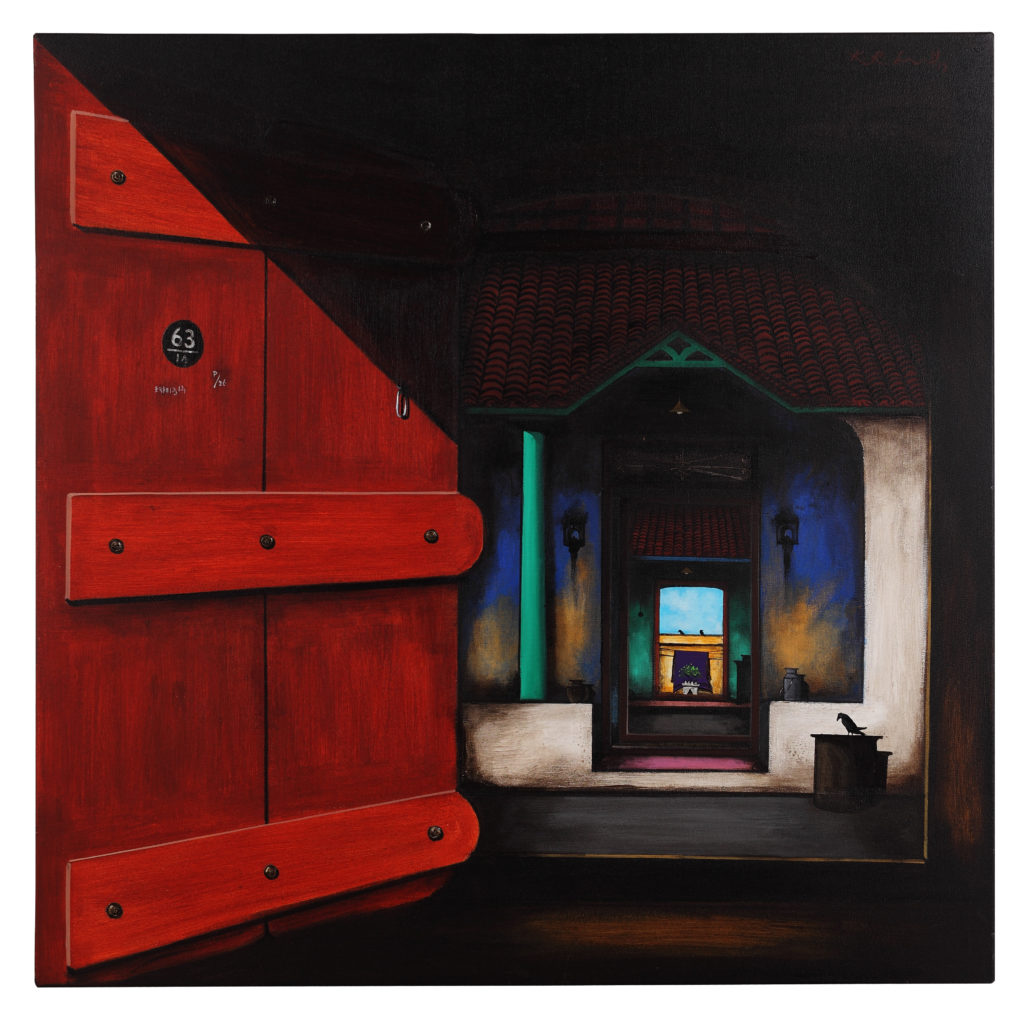 What is an artistic outlook on life?
Everyone has one life to live in this planet; hence, it needs to be filled with happiness, positive vibration and energy to lead a beautiful and colorful life.
What memorable responses have you had to your work?
Any form of art should connect with your life.
I have always had responses coming from people saying that my painting has taken them to their past or made them nostalgic, they recollected their ancestral home, grandparents or their village. These are always my greatest gifts, which I receive for my work.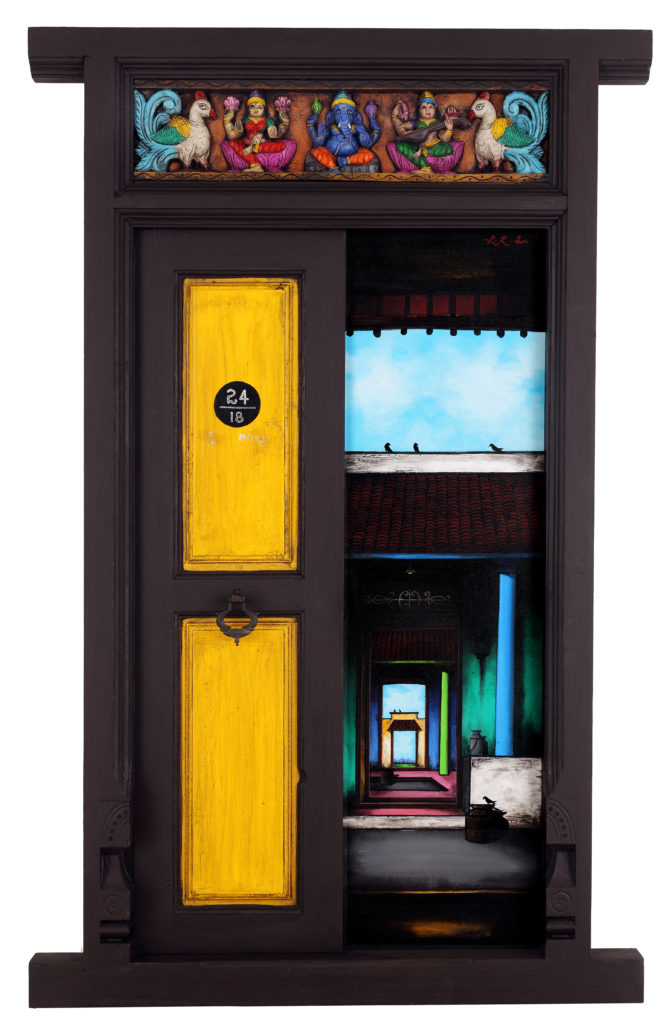 What food, drink, song inspires you?
India, as a country has many countries inside. Every state has their own unique style of cooking and food, culture and language. I am a big fan of all types of Indian cuisine. Specifically, I like filter coffee and Ilayaraja's songs inspire me.
Is the artistic life lonely? What do you do to counteract it?
Artistic life is lonely; however, I do not feel lonely as I engross myself into my own creations. Sometimes, I feel I am inside my own paintings and lose myself in those colours. It is a different type of meditative world where I spend time with myself.
What do you dislike about the art world?
My life is busy with creations; hence there are no specific dislikes, as I always look at life in a positive and vibrant mode.
What do you dislike about your work?
There is nothing that I dislike about my work, as I create every piece of my work with the same energy and passion.
What do you like about your work?
There is only one theme (door) in my work; I bring life to my door paintings by including different materials. I pick up many materials during my travel and add it to my work, example – the locks, glasses etc. I like this aspect of my work, that is just not mixed media work rather inclusion of many other artefacts to enhance the cultural elements.
Should art be funded?
Resources and interests are needed for arts, crafts and antiques.
What role does arts funding have?
It is very important to promote and display Indian art to the world. The art treasure, we possess is enormous and the world has still not seen it.
Everyone can play a big role in this.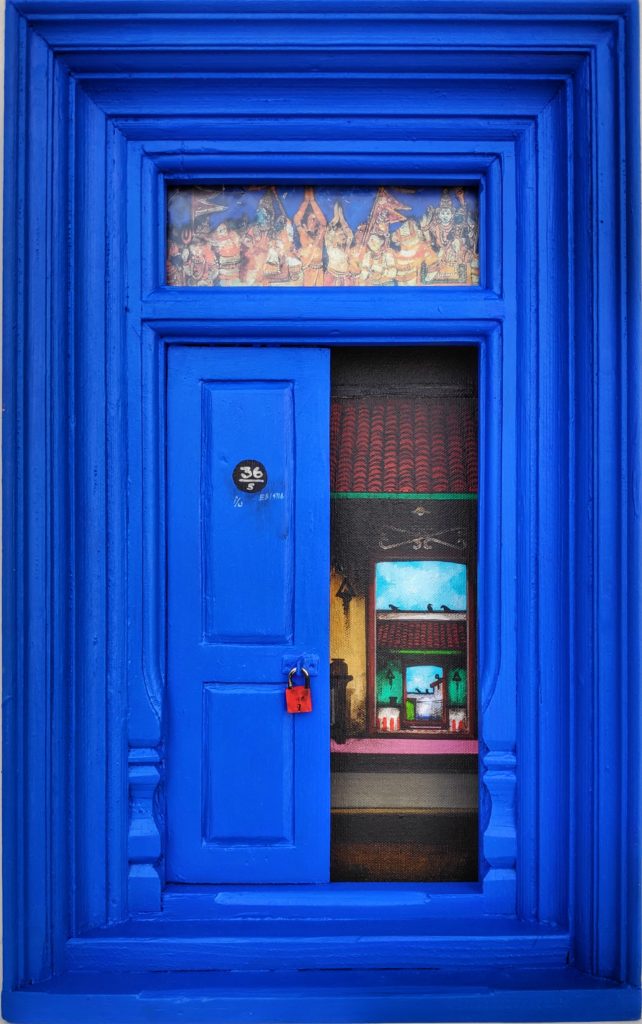 What is your dream project?
My dream project is ready, where I have created an Artist Residency in Kumbakonam, the temple town of India, where the Chola dynasty created their best of temple arts.
The purpose of my Artist Residency project, is to provide rental living and studio space for artists to unleash their creativity and to feel at home.
Favourite or most inspirational place?
  Travel is one the most important aspects of my artistic life. Every time I travel it gives me loads of inspiration, as I get to go through different experiences, which motivate me. Every new place I visit is an inspiration.
 What's the best piece of advice you've been given?
My father has given me the best advice to be my best at whatever I choose to do, help others and be a good human being.