Victor is a seasoned hotelier who has spent over 20 years in the hospitality industry and has worked in different cities across the country as well as overseas. He is leading Le Meridien Goa Calangute as the General Manager since August 2018. After graduating from IIHM Kolkata in 2000, Victor joined Hyatt Regency Delhi as a Food and Beverage associate for a year and thereafter got selected for the prestigious Hyatt Corporate Leadership programme in 2001. He was part of the pre-opening task force team at Hyatt Regency Mumbai, Hyatt Regency Kolkata and at Park Hyatt Goa Resort & Spa. He worked with Hyatt for 16 years before moving to Marriott as Resident Manager at the iconic JW Marriott Mumbai Juhu. After 2 successful years, he was promoted and transferred to Le Meridien Goa, Calangute as General Manager.
In his current position, Victor has created a thriving environment for associates, consolidated hotel positioning, led the RevPAR market share to rank no.1 amongst competition and have elevated the hotel's food and beverage offerings. His emphasis on authentic hospitality has enhanced guest experience thereby driving brand preference. As a passionate hotelier, he is committed to nurturing talent and has mentored many young talents who have gone on to hold key positions at some of the country's iconic hotels. Victor enjoys travelling and exploring the lesser-known sights, sounds and aromas of a destination. He loves nature and returns to Goa with fond memories of his formative years in the industry.
What makes Le Meridien Goa stand out from other properties you've worked in?
Le Meridien as a brand has positioned itself internationally to be distinctive in it's design and delivery. The brand goes beyond just being functional and connects with guests emotionally. With Le Meridien Goa Calangute, we have successfully created experiences that guests either identify with or aspire to identify with. We have utilized the brand's filters of discovery – culture, coordinates and cuisine to weave an art, culinary and experiential story offering moments of discovery to our guests. Located in one of the most popular stretches of North Goa, the team strives to make our guest experience memorable and one that is home away from home through caring and genuine service. We're a small and close knit family and ensure that our guests feel the same when they stay at our hotel.
Who is your typical customer? 
Our typical guest is a creatively inclined traveler who wants to savour the good life. With Goa being amongst the most popular travel destinations in the country, we cater to all segments of travelers- leisure, business, group, wedding and social. The hotel is quintessentially known as a family hotel with customers travelling to celebrate special occasions such as reunions, birthdays, honeymoon, anniversaries, get-togethers or for that quick getaway from the city.
If you could plan a one-day itinerary for guests looking to explore Goa, where would you send them?
The brand's promise of 'destination unlocked' has allowed the hotel to carefully curate local experiences for connoisseurs of all things Goan – coordinates, culture and cuisine. Starting off with an art tour of the hotel and learn about Goa's first settlement- the 'Kunbi' tribe as well as its rich cultural heritage. The 30-minute walk around the property will allow our guests to unveil a little bit of Goa's history. Moreover, the hotel key cards do more than just open doors! We encourage our guests to use their key card to gain complimentary access to the Museum of Goa, our art partner, located just 10 minutes away from the hotel. The Museum again pays homage to Goa through the eyes of its art director and owner Subodh Kerkar. Goa is definitely much more than its beaches. For lunch, a trip to the spice plantations located in Ponda followed by a local authentic lunch cooked with the produce from the plantation. Or visit Fazenda Cazulo to learn about how Goa's local beverage 'Feni' is brewed and bottled, followed by a local Goan lunch in a flowing river.
Enjoy a passai (walk) during sunset at Diwar or Chorao Island which are accessible via a 10-minute ferry ride across the Mandovi River followed by some chai and Goan snacks. Chorao Island is also home to the Salim Ali Bird Sanctuary which is a nature lover's haven amidst thick mangroves with over 450 species of birds as well as reptiles. There are also options to rent a bicycle and pack a picnic to see 2 historic forts located within 10 kms from the hotel- Reis Magos and Fort Aguada.  For those looking to get some local architecture and shopping, a trip to the Latin Quarter in Fontainhas, Panjim is a must.  The popular floating casinos and discotheques are a must for those looking for a late night option.
Building the right team is crucial for a property's success. What are the key skills you look for when hiring new employees?
Marriott International has always considered it's associates as the biggest assets to the company. In the words of our founder J.W. Marriott 'take care of associates and they'll take care of your customers' is the foundation on which our hotels have achieved success. With regards to technical skills, the company again prides itself on encouraging a holistic training experience through their career and hence it is important to ensure that the employee is the right fit to live the company's values and deliver hotel services with superlative hospitality. Whilst hiring new associates, I believe that with their pre-requisites of experience, education and references in check, their positive attitude, communication, compassion and genuine care are what have to stand out during the interview process.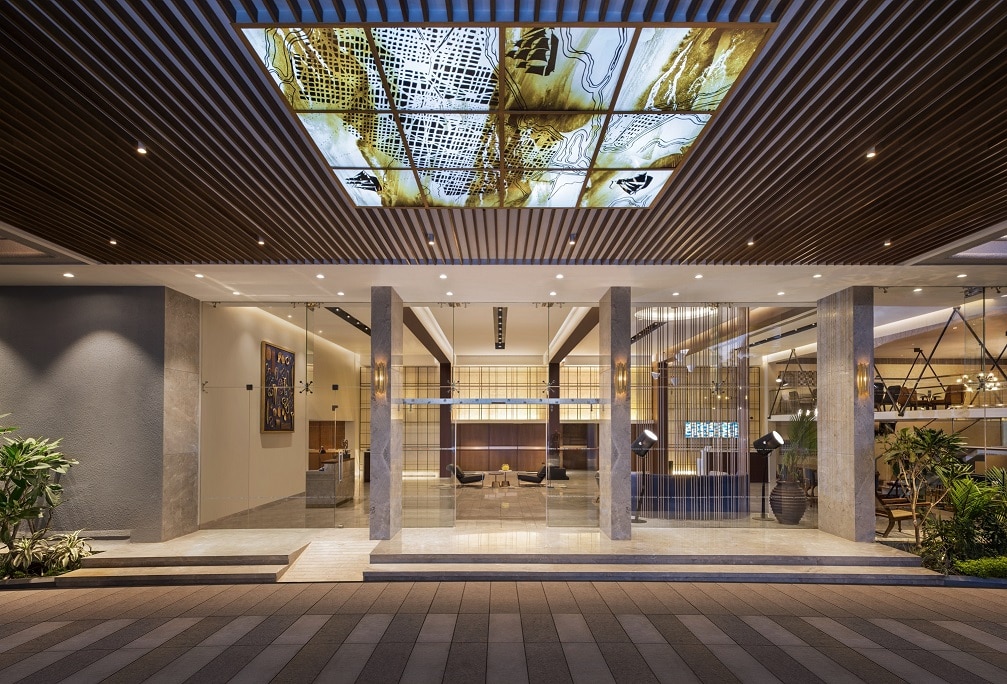 What is the USP of your hotel? 
With 146 rooms (including Family Studio Rooms and Suites), the hotel is located 600 meters away from the popular Calangute beach and key tourist attractions. With our key customer being the leisure traveler, our Family Kids Club is ideal for parents and children to unwind. And for those looking to organize that special occasion, Telhado- our open to sky terrace venue, is ideal spanning over 6000 sq ft overlooking the ocean in the distance. Our food, beverage and experiential programmes are truly created for the curious traveler looking to discover Goa. And above all, our repeat customers come back every vacation or business trip to experience the service at the hotel and our staff hospitality. Amongst all the USP of our hotel, I would consider our compassionate associates as the most significant one.
What is the one dish that guests have to try when at your hotel?
Of the specially curated local items on our menu, our Goan Thaali by our Goan Chef Silvanus is a must try. Available in vegetarian, non-vegetarian and seafood options, this is one of the few locations in North Goa that provides a hygienic and 5 star setting to enjoy this local favourite.
2020 was a challenging year for the hospitality industry. In your opinion, how will travel trends change in the second half of 2021?
With international borders currently closed for the foreseeable future, the new conscious traveller will revisit his/her choice of travel partners and locations, looking for hotels well established as safe havens and to explore more untouched destinations. With working from home being mandated for most larger companies until the end of the year, longer guest stays are eminent and therefore the need to curate experiences on property to keep guests engaged as well as be creative in the food and beverage space.
Was a career in hospitality something you always dreamt of?  What is your advice to aspiring hoteliers? 
The hospitality industry was booming in my formative years and my love for travel, food and people attracted me to join hotels. Glad that I made the right decision 2 decades ago. I would advice aspiring hoteliers to be compassionate and genuine in order to have sustainable success in the hospitality industry. Technical skills and other competencies will come with training and experience.
Which Indian cities are your favourites for: 1) food 2) history 3) fashion?
I love the diversity of our country. There are plenty of choices for outstanding cuisine, fashion and rich historical places. I have a couple of favourites but let me try to list down one in each category.
Food – I might sound biased. My favourite city for food is Kolkata which is my hometown. Kolkata has fantastic Bengali cuisine, Mughlai food, authentic Chinese cuisine in Chinatown and irresistible street food namely egg rolls, jhalmuri and puchka (panipuri).
History – It is definitely Agra. There are at least 265 monuments/sites including 3 World Heritage Monuments to explore.
Fashion – I am fascinated by the fashion scene in Delhi. Most of the Delhiites like to dress up well even while visiting local super market to pick up groceries. They are fashionable at all times.
You have worked in several cities, which is your favourite Indian city for work and play? 
I have spent most of my years in the hospitality industry in Mumbai and Goa. No points for guessing which city for work and play!