Nalin Mandiratta is the Area General Manager of InterContinental Hotels Group (South West Asia Region) and is responsible for fifteen IHG properties in the region. He is currently based at Crowne Plaza Jaipur. Nalin has been with the hospitality industry for around 30 years and has over 11 years experience with IHG, where he has worked with Crowne Plaza brand across various cities such as Delhi, Kathmandu, Gurgaon, Chennai and Jaipur.
Nalin was awarded India Middle East & Africa's 'Crowne Plaza GM of the Year in 2019'. During his tenure at the Crowne Plaza Gurgaon in 2017, the hotel was awarded the 'IMEA Winning Ways Hotel Team of the Year Award'. Further, Nalin was awarded IHG South West Asia Crowne Plaza General Manager of the Year awards for two consecutive years (2015 and 2016). He also won General Manager of the Year 2017 award (Upper Upscale & Upscale Hotels segment) at the Hotels Operations Summit India (HOSI).
Nalin is an alumni of IHM Bangalore and has significant expertise in hotel operations, strategy development and marketing, across reputed hotel brands like Hilton, Marriott and Radisson hotels. He has held various senior management positions in his previous assignments and has led many key projects towards successful improvements in customer experience, revenue maximization and cost management.
What makes Crowne Plaza Jaipur stand out from other properties you've worked in?
In addition to the hotel's convenient location opposite the Jaipur Exhibition and Convention Center (JECC), the hotel also enjoys proximity to the Jaipur International Airport.  In it's five years of operations, the hotel has consistently provided memorable experiences to it's guests.  The award-winning food and beverage outlets of the hotel are known for delivering innovative gastronomical experiences.  With it's plethora of offerings, it is an ideal destination to meet and celebrate.
Who is your typical customer? 
With it's ideal location opposite Jaipur Exhibition and Convention Center (JECC) and in the business hub of Sitapura, Crowne Plaza Jaipur welcomes both business and leisure travelers alike. The proximity to the international airport makes us a favorite of transient guests as well.  Our meetings and events facilities spreading over 50000 Sq Ft makes us an ideal destination for a grand Indian wedding or a MICE event. Our award-winning culinary offerings coupled with curated wellness experiences make us the perfect staycation destination.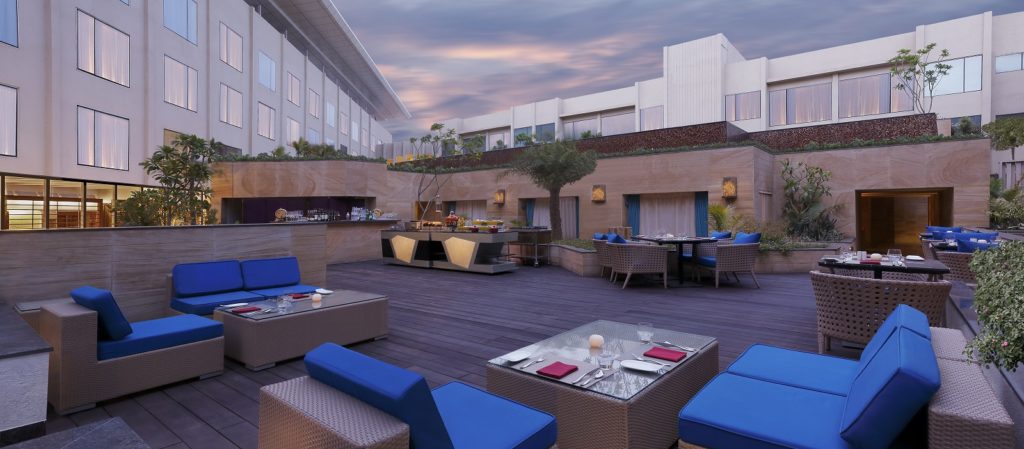 If you could plan a one-day itinerary for guests looking to explore Jaipur, where would you send them?
Known as 'The Pink City,' Jaipur is famous for it's colorful gems, history and awe-inspiring architecture.  The charismatic city with it's plethora of attractions cannot be explored in a day, but you can still get a feel of it.
Witness the grandeur of Jaipur to begin your day.  A visit to City Palace gives you a taste of the lavish lifestyle afforded by the royal family of Jaipur.  Just next door is a UNESCO World Heritage site Jantar Mantar with a collection of 19 astronomical instruments.
Next on the list is another UNESCO World Heritage Site and one of India's most visited forts: Amber Fort. The sandstone and marble monolith is a pristine example of Rajasthani Architecture.
A visit to Jaipur is incomplete without visiting it's famous 'Bazaars'. A trip to the local market is highly recommended before finishing the day. Markets in the city brim with everything from jewelry, gemstones, embroidered textiles, blue pottery, and Rajasthani puppets. After a long day, relish signature delicacies at one of our award-winning specialty restaurants House of Han or The Royal Root.
Building the right team is crucial for a property's success. What are the key skills you look for when hiring new employees?
I am a firm believer that your team defines your success.  I always prefer someone with a positive attitude and a high level of passion for creating memorable guest experiences.  An individual must also possess good communication skills to connect with guests and team members.  I always believe in developing our associates and regular training is being provided to enhance their skill set.
What is the USP of your hotel? 
Our hotel is opposite the Jaipur Exhibition and Convention Center (JECC) and just a 10-minute drive from the Jaipur International Airport.
What is the one dish that guests have to try when at your hotel?
Each dish at Crowne Plaza Jaipur has been carefully crafted by our Executive Chef Akshay Pandit.  My personal favorite is Laal Maas from our Indian specialty restaurant – The Royal Root.  It is a Rajputana mutton curry and a local favorite. Another must-have I would recommend is Peking Duck from our Chinese specialty restaurant, House of Han.
2020 was a challenging year for the hospitality industry. In your opinion, how will travel trends change in the second half of 2021?
Without a doubt 2020 was a challenging year for most. With vaccination drives and restrictions getting relaxed, we are experiencing business getting better.  However, it is still a long way to go.  We are already witnessing a rise in small weddings, domestic travel and staycations.   Domestic destinations like Jaipur would be getaway destinations year-round.    Additionally, focus on safety, hygiene  and cleanliness, will continue as a new normal.
Was a career in hospitality something you always dreamt of?  What is your advice to aspiring hoteliers? 
I always wanted to work in the service industry. My advice to aspiring hoteliers would be to follow your passion.  It is a labor-intensive industry and demands a lot of hard work. One has to be passionate about creating memorable experiences for guests to be successful in this industry.
Which cities are your favourites for: 1) food 2) history 3) fashion?
Jaipur is my favorite city for food and history. Rajasthan has a lot to offer in terms of history, culture, and cuisine.  For fashion Mumbai is well known to set new trends.
You have worked in several cities, which is your favourite city for work and play? 
I have enjoyed working in different cities as every city offered something new and unique.  If I had to choose, I would say Mumbai for it's unity in diversity, nightlife and fashion.
When are you happiest? 
I am happiest when I can strike a work-life balance.  Spending quality time with my family and friends re-energizes me.