Rohit Ghai has become one of the culinary world's most in-demand chefs after a hugely successful decade in the London restaurant scene. His first solo restaurant, Kutir in Chelsea opened its doors in late 2018 to rave reviews, followed by the critically acclaimed Manthan located in Mayfair, in 2021. Rohit has worked and headed kitchens at some of London's leading Indian restaurants such as Benares, Trishna, Gymkhana, Hoppers and most recently Jamavar and Bombay Bustle. He is also the first Indian chef to have won a Michelin star for Jamavar within ten months of the restaurant's opening.
Ghai's debut book was published in 2021, Tarkari, meaning 'vegetable' in Urdu, celebrates this diverse heritage – but on a more personal, homely note. The recipes – every one of them either vegan or vegetarian – are homely to those found on his restaurant menus, but all of them showcase the four key elements that are his trademark – flavour, texture, look, and aroma. Ghai is also heading several restaurants overseas, including the recently opened Aangan at the Shangri-La Al Husn, Muscat, alongside Ishka 360 in Doha, and Khaojee in Dubai.
Do you have a favourite time of the year or set of ingredients that you look forward to working with?
Our menus are seasonal and change every quarter, we also cook with as much local produce as possible. Winters in the UK is a great time as we have more game meat available. I love cooking with game birds, the flavours are amazing. We have a Hunter's menu at Kutir which showcases our love game and grouse, we will look to introduce this in August with limited-edition dishes such as guinea fowl kebab.
What would you do if you weren't a chef?
I've never had a chance to think about it ! I've always loved cooking; I have definitely found my calling.
Do your personal preferences influence the menu at all?
Most of the places I own have my childhood experience weaved into the dishes some way or another, all with a contemporary twist. For instance, Manthan in Mayfair is a reflection of my life in food. From the markets of Delhi, Uttar Pradesh, Rajasthan and Madhya Pradesh, where I grew up. My mother has inspired a lot of my cooking, in fact my love affair with food begun in her kitchen.

What do you think is the most over-hyped food trend currently?
I'm not a massive dessert fan, the UK loves sweets, from cookies to waffles, there are shops popping up everywhere. I don't have much of a sweet tooth but I do enjoy making desserts at all of my restaurants.
When are you happiest?
When my team is happy and thriving. I also love it when guests are enjoying my food and take the time to share their thoughts. I enjoy travelling, Oman is one of my favourite places to visit, I've had many holidays there and it's beautiful. I recently opened by debut restaurant there, Aangan at the Shangri-La Al Husn, Muscat. Mauritius is another one of my most loved holiday destinations.
When you're not in the kitchen where can you be found?
I can usually be found on the phone talking with guests or to my team. I enjoy spending time with my family when free. I also like to watch cricket when I can. We recently hosted an event at Manthan with the legendary Farokh Engineer.
Where is your favourite place to dine?
I absolutely love Asian flavours; I always try to go to new openings whenever possible, there is always something fresh in London! I enjoy relishing my friend Judy Joo's cooking. She is a fantastic chef; I often visit her Seoul Bird restaurants for my Korean fried chicken fix.
What's your favourite takeaway or comfort food?
Home style food- daal chawal with Raita and pickle or simple chicken pulao. I usually order takeaways from neighbourhood restaurants rather than big chains, I always try and support local restaurants and small businesses when I can.
What makes the local food scene so exciting?
I love that there is so much variety in London, for instance places like Borough Market, it's a one stop shop, you have amazing produce and restaurants under one roof. We are very lucky to have such an eclectic food scene.
Which is the dish you've created that you are most proud of and why?
All my restaurants have signature dishes but I have some personal favourites. The masala prawns are always a winner and can't forget Kutir's famed quail naan with truffle and masala scrambled egg, it's truly delicious.
You're having friends over for dinner tonight. What's on the table?
Jackfruit tacos ! They are fuss-free and always go down well.
Name your favourite city that has it all: food, culture, and nightlife.
Marrakesh is amazing, the food scene is really starting to take off there. We'll be announcing some exciting news there soon.
 Can you tell us more about the cuisine at your restaurants?
My restaurants are pan-Indian, we offer a modern take on regional Indian cuisine.
Kutir pays homage to India's rich heritage and wildlife – with a modern menu inspired by the history and splendor of this magnificent part of the world.
Manthan's menu represents home-style cooking and professional techniques. Flavour-packed street food-style bar snacks and sharing plates sit alongside mouth-watering grills, curries, and a selection of my mother's signature dishes and family recipes.
Aangan in Oman showcases Indian food in a new light. Using locally grown fresh produce, authentic Indian spices and innovative cooking techniques, I've evolved and tweaked the very best of the cuisine to create a contemporary menu that is truly unique.
Iksha 360 in Doha largely focuses on small plates and includes dishes such as slow-cooked lamb shanks, paneer palak kofta, and prawn ghati masala.
Rohit Ghai's Ghati Masala Prawns
During a conversation with my good friend who is a Maharashtrian, I got to know about this ghati masala, which she mentioned is very common in most of the Maharashtrian dishes. The success of this dish is the combination of right amount of heat and sourness. My version is made with Vada Pao and masala prawns.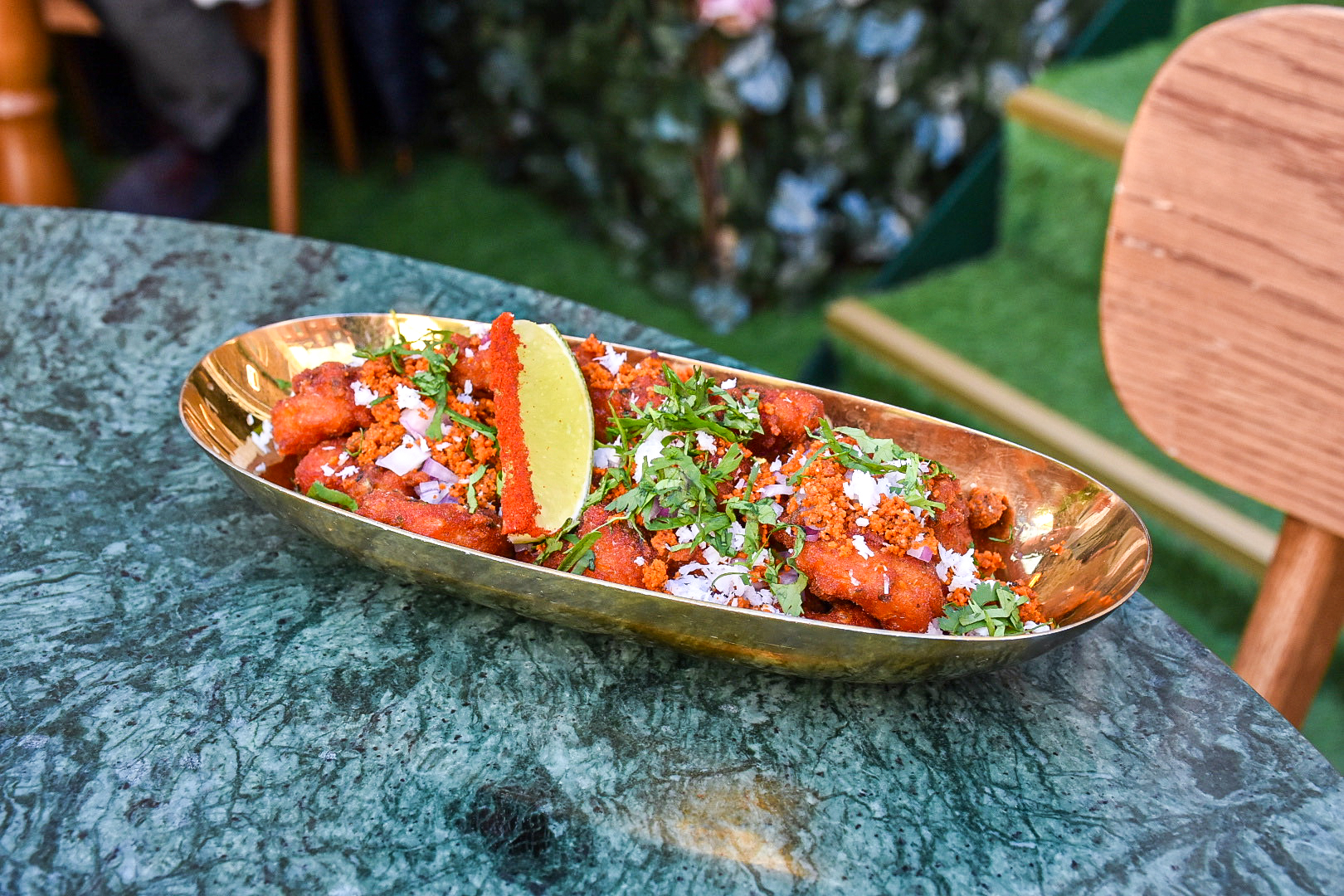 Serves 2
8–12 tiger prawns, peeled
2 sprigs curry leaves, finely chopped
2 tsp mild red chili powder
Juice of 1 lime
2 tbsp rice flour
3 tbsp cornflour
salt
11/2 tsp ginger-garlic paste
1 green chilli, deseeded and chopped
2 tbsp coriander leaves, finely chopped, plus extra to garnish
oil for deep frying
Lime wedges, to serve
For the ghati masala powder
1 teaspoon vegetable oil
8 fresh garlic cloves
1 tbsp sesame seeds
2 tbsp grated coconut
1 tbsp roasted peanuts
1/2 teaspoon tamarind paste
2 tsp red chilli powder
1 tsp coriander powder
Salt
Method :
To make the ghati masala, heat the oil in a skillet or pan and roast the garlic cloves over a low flame for 1 minute, then remove from the head and transfer it to a plate
Dry roast the sesame seeds and desiccated coconut over a low flame until seeds start to pop (approx. 30 seconds) and transfer to a plate.
Let the roasted garlic, roasted coconut and sesame seeds cool for 5 minutes, then put in a food processor or spice grinder with the roasted peanuts, tamarind paste, red chilli powder, coriander powder and salt in grinder jar or food processor jar. Grind until you have a medium coarse powder.
Taste for salt and add more if required. Transfer to an airtight container. You can store it for up to 15 days in the fridge. Use it as a spread for masala fried prawns, vada pav.
Wash the prawns and drain completely. Marinate with the curry leaves and 1 tsp of the red chilli powder and a dash of lime juice. Keep aside.
Make a thick batter using the flours, salt, the remaining red chili powder, the ginger-garlic paste, green chilli and the coriander leaves. Add water as needed. Now the add prawns and coat well.
Deep fry the prawns till golden. Set aside to drain on kitchen paper.
Serve hot, sprinkled with fresh coriander, the ghati masala powder and with lime wedges on the side.