Janak Narayan identifies herself as an Indian American fine artist focusing on acrylics and oils. She got her Bachelors in Fine Arts from Indiana University in 2010.  She has taken her passion for life and color to create compositions that are both joyful and healing. Janak gets her inspiration from nature and her free spirit which transcends into unique, Post–Impressionist inspired, stylized landscapes. Lately her work is constantly about testing the boundaries between abstraction and representational art – her landscapes are becoming more abstract and her abstracts barely hanging on to reality thanks to lucid brushstrokes in fantasy color palette.
Janak divides her time between studio art, teaching and participating in festivals and competitions. She enjoys interacting with young children and channeling their creative energies in her workshops and classes. She believes her strength is her family – her husband of 37 years, her sons and daughter in law. They support her, criticize her and inspire her to do better every day! Her artist mantra – "Art to me is about a beautiful journey of self-discovery and a medium to articulate my inner glee. Art is typically experienced by the sense of sight. I would like my art to be experienced through all the five senses by transporting my audience to a place which invokes a certain feeling of joy and a sense of being in the moment. I want them to step into the canvas and breathe in the world within my composition."
What's your artistic background?
I remember being a creative since I was 10 years old when my mother got me the first set of paints. My parents considered art just a hobby and convinced me to take on a 'real' career path. I went into banking and finance for 25 years but continued to be an artist and a creative person all along. I quit banking after a health setback and went back to art school to get my BFA in painting from Indiana University. I finally made my hobby my profession. When one door closes another one opens– I was meant to follow the calling of my soul.
What's integral to the work of an artist?
To me personally, art is about a beautiful journey of self-discovery and a medium to articulate my inner happiness. A true and passionate artist uses her artistic expression to understand herself, understand what her subconscious is trying to communicate and also connect outwardly with the beauty of the universe and nature around her.  The creation of that synergy is truly integral to the work of an artist.
What role does the artist have in society?
Art is a medium of communication and my art is all about bringing joy and healing – it is simple yet powerful. I have personally been healed by art when I was going through years of pain. I want my art be cathartic to all the viewers and collectors as well.  As an artist, especially in today's world my vibrant and colorful art is all about joy. The world could definitely do with some more of that !
What art do you most identify with?
I coin my style of art Transitional Expressionism – it is influenced mostly by Post-Impressionist artist and overlayed with many contemporary, abstracted artwork giving the composition a very fresh, modern feel. My art delicately straddles the twilight area between representation art and abstract art. The duality of my compositional spectrum draws me to Gustav Klimt who along with Van Gogh and several Fauvist artists like Andre Derain have been my inspiration.
What themes do you pursue?
Color is the language of my emotions and medium of my expression. My art follows my free spirit and draws influences from nature – the composition is simple but the treatment with colors is complex and has myriad of layers to create a kaleidoscopic effect. Manipulating images of nature, especially tree forms to create a mosaic like effect is a repeating motif in my compositions.
What's your favourite art work?
I would have to say that I have no particular favorites ! Each painting that reaches a point of pure happiness from the inception to its completion is my favorite one. I have to enjoy the journey…that is most important.
Describe a real-life situation that inspired you?
I feel divinity in nature. The play of light and shadow does not cease to amaze me and I tend to see patterns where others don't. When I think about the urgency of the effect of climate change and how humans are destroying nature, it pains me and also inspires me to capture nature's glory in all Her multifaceted forms.
What jobs have you done other than being an artist?
As I have mentioned earlier, I have been a banker in the first innings of my life. Other than painting, I am also a potter and enjoy doing ceramics.
Why art?
Because it is the song of my soul – like they say, 'do it with passion or not at all' Art grounds me and gives me wings to soar all at the same time !
What is an artistic outlook on life?
My paintings capture a mood – a certain feeling of being in the moment. That translates to my very outlook in life. I believe that we have to learn to step back and look at the big picture and not fuss over the trivial events in our lives. My brushstrokes are spontaneous and that is how I love to live my life. Spontaneous, not impetuous. Free spirited yet grounded to reality. My personality is multifaceted just like my art. Even my abstracts are gestural but deliberate.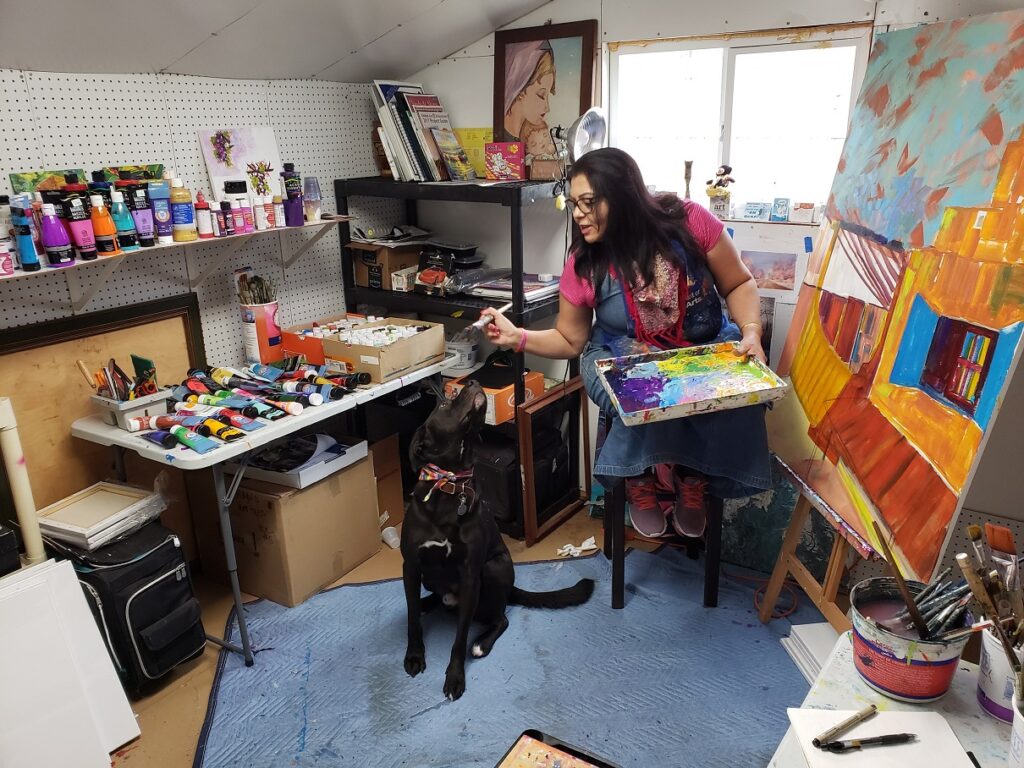 What memorable responses have you had to your work?
Artists like performers thrive on complements and accolades. I am thrilled when a collector comes back to get a second or a third piece to add to their collection.  It definitely stokes the ego. I have had collectors get back with me after sometime and say that every time they look at the painting, they see it in a different light and it always brings a smile to their face and they feel happy. I have received many comments that they literally feel that they can walk into the painting and feel the breeze or the smell of the sea !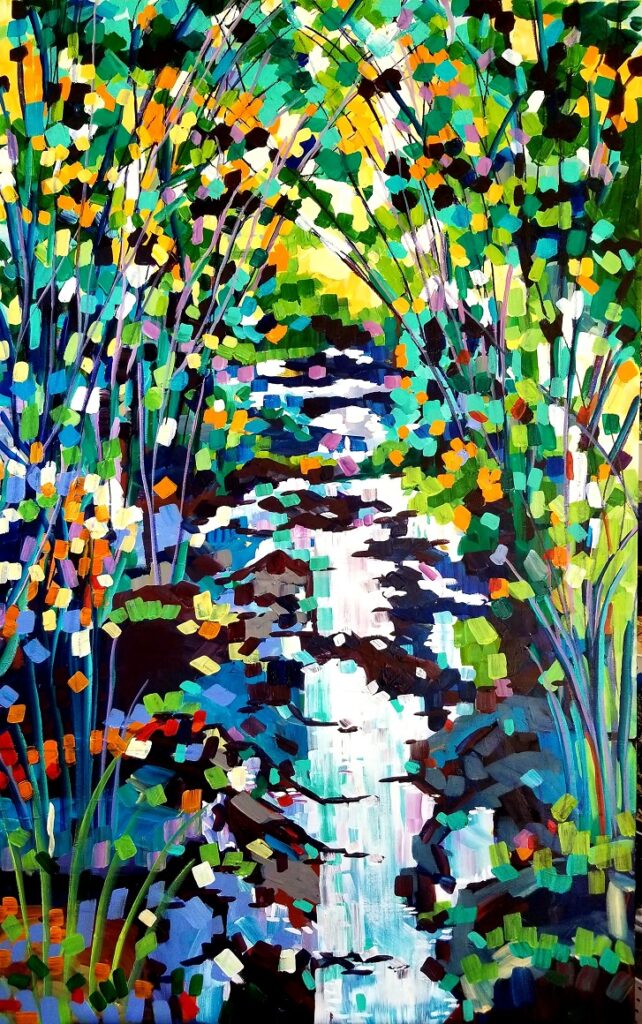 What food, drink, song inspires you?
Food is an art form in itself. I enjoy cooking as much as trying new cuisines as long as it is vegetarian ! I like simple, wholesome Indian food and enjoy Thai. I love all-American salad bars.
Music is part of the tapestry of creating a painting. I cannot paint without music. I enjoy all kinds of music in short spurts. Etta James, Ella Fitzgerald and while listening to other jazz music is how I start on a painting. When i arrive at the middle part of the composition adding the layers, I listen to seventies music and my favorite is Saturday Night Fever and similar genres. When I am finishing up a painting, I am into trance like music like Van Buren and Crystal Method. So, you see, I enjoy all kinds of music but it all depends on my mood!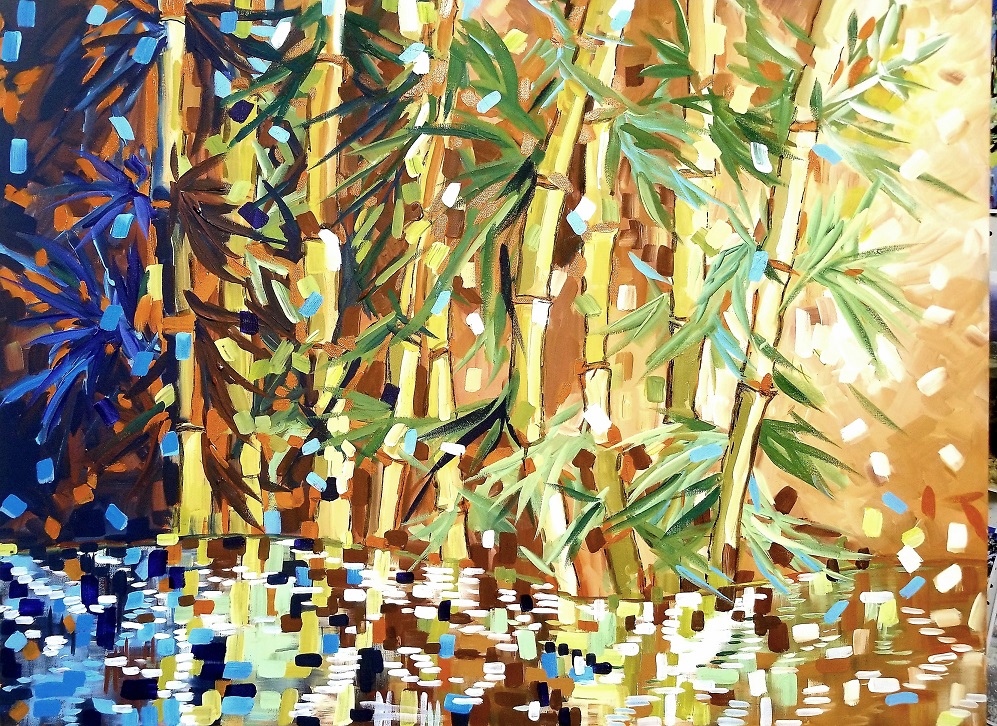 Is the artistic life lonely? What do you do to counteract it?
I never felt that way so am not able to comment on it. I am definitely in a zone when I am painting so I could say I am in a state of Zen.
What do you dislike about the art world?
The art world is surprisingly cut throat and it did come as an unpleasant shock once I decided to transition from being a hobbyist to a professional artist. I always thought it was collaborative and all about sharing. But it is a lot of unnecessary competition. I compete with only myself – I want to be better Janak tomorrow than I am today. That's all that matters to me.
What do you dislike about your work?
All artists go through periods of self-doubt when there is no correlation between the hard work and effort one has put in and the lackluster response it sometimes gets. Plus, as a professional I am obviously trying to place my art in their permanent homes and that at times can be frustrating. For an artist to be a small business person too is a tough juggling act. Maneuvering the social media which seems like the barometer of a successful artist is both inaccurate and time consuming for an artist.
What do you like about your work?
My art completes me. I love every breath I take in the confines of my studio surrounded by color and more color. The process of finding my identity, my brand has been a very fulfilling endeavor and when folks recognize my style it is indeed satisfying. This is one journey that I would not want to end, this is one learning process where I want to be eternally a student.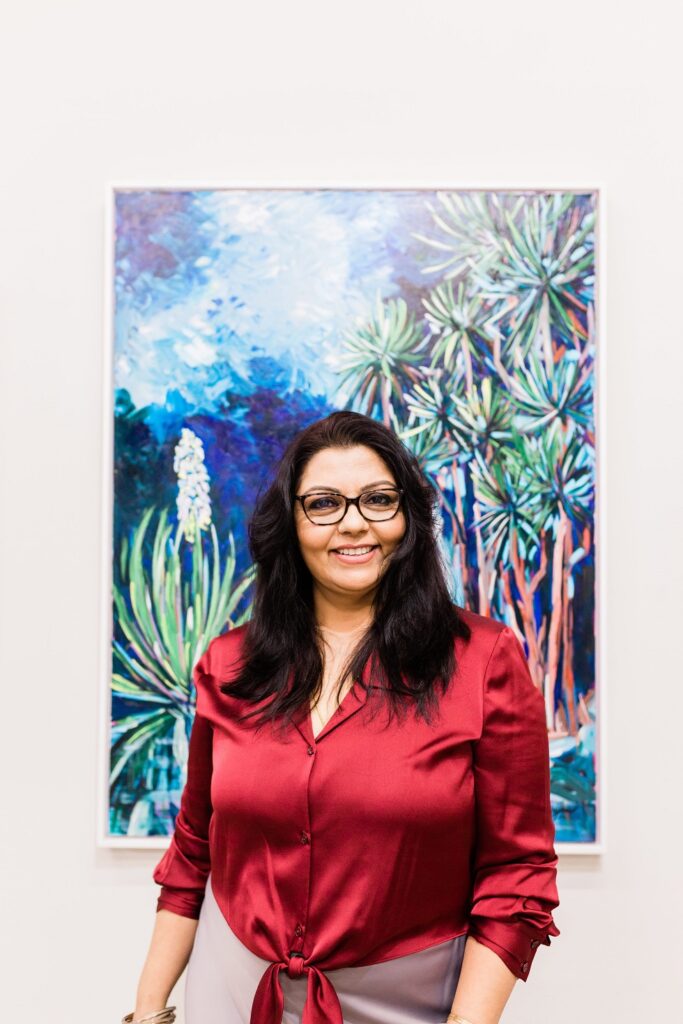 Should art be funded?
Most definitely ! Art is not a need or a want. Art needs patronage – from individuals and institutions. In earlier times of royalty, art flourished under the patronage of kings and queens. Today, artists are struggling, especially during these times of the pandemic. We need all the support so that future artists who are immensely talented don't give up because of financial hardships.
What role does arts funding have?
It quite simply assures the survival of art and artists.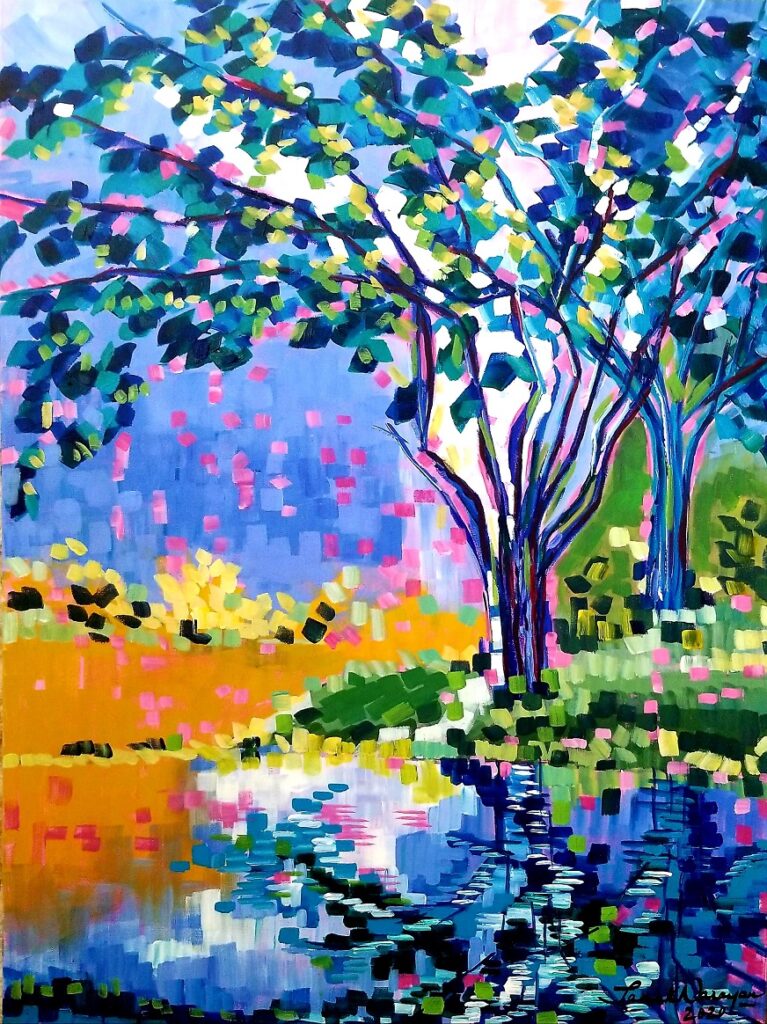 What is your dream project?
I prefer painting large and so I have always dreamt of my art hanging in prominent public spaces and commercial areas like hotels. A commission work of a series of my work to adorn world class hotels and resorts has been a project idea I daydream about often.
Name three artists you'd like to be compared to.
Gustav Klimt, Andre Derain, Van Gogh. Klimt for his versatility, Derain for really breaking free of mindsets, of looking at the world in a different perspective and Van Gogh for his vitality and vibrance in his art.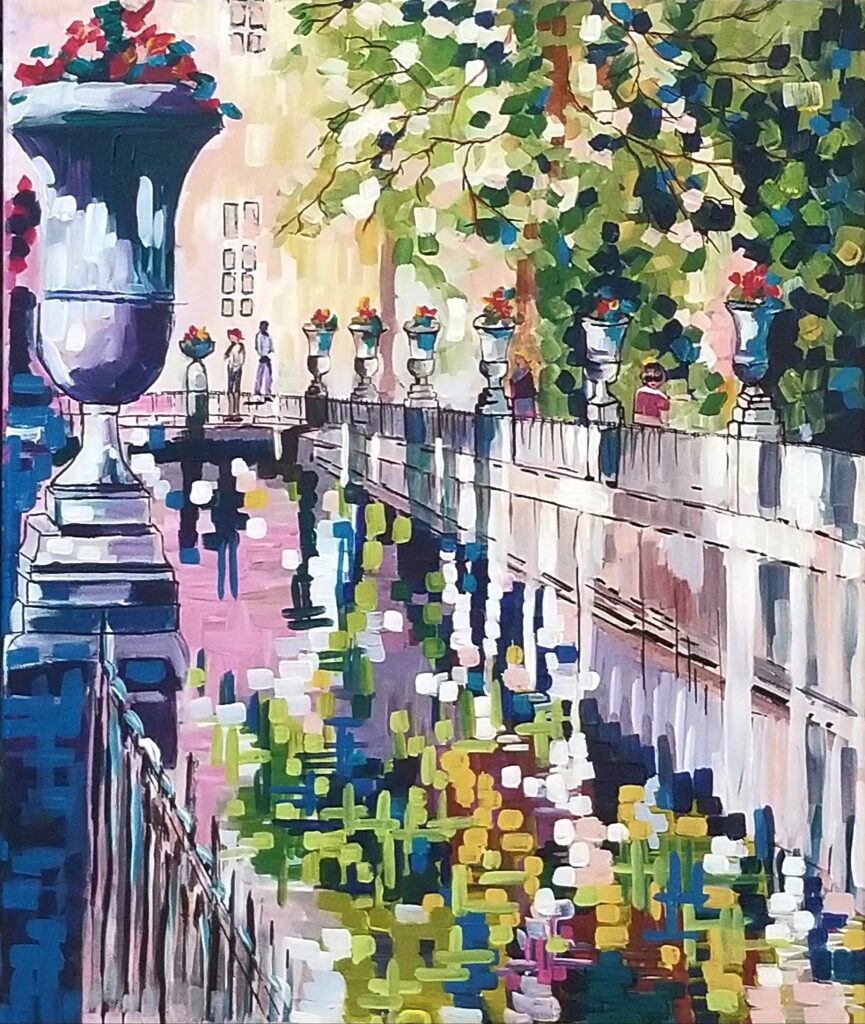 Favourite or most inspirational place ?
My heritage is from India where I grew up even though I have lived in the US for more than 35 years. India has never ceased to fascinate me and I have painted so many sights and sounds of India over the decades as an artist. The people, the variety of clothing and outfits, myriad of jewelry, the variety of landscape…I can go on and on.
I have traveled through Italy many times both as a student and as a tourist – for a small country it is just as varied and stunningly beautiful.
American landscape from the mountains to the desert is a veritable feast of nature at its best and I travel and paint all the places I go to.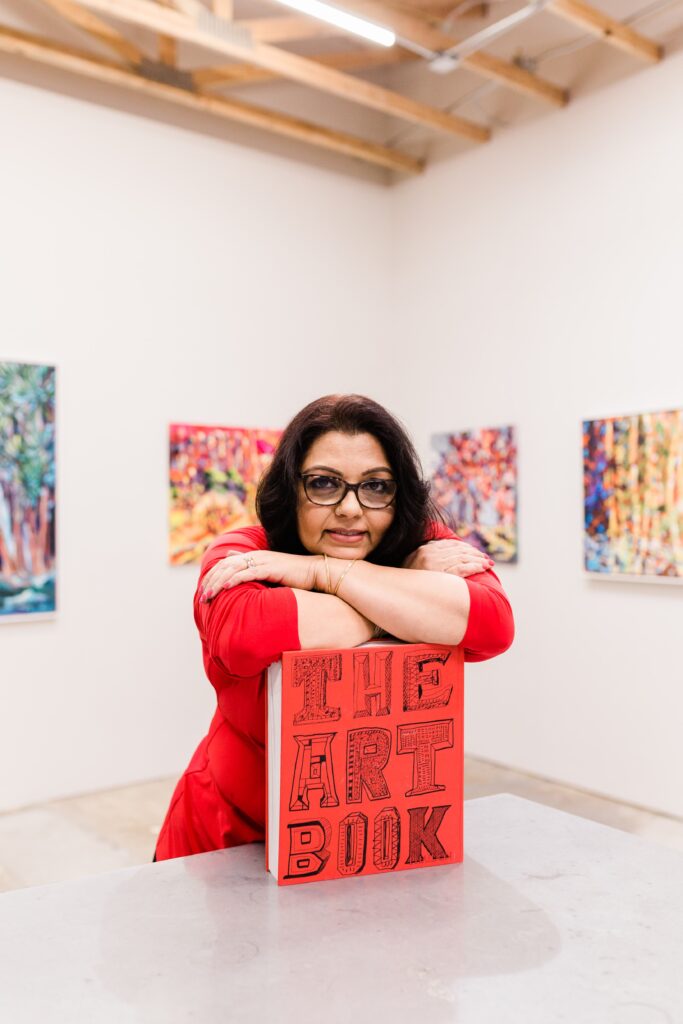 Professionally, what's your goal?
I paint sometimes as I see it, other times as I imagine it – but always because I am loving it…I just want to continue this forever and be appreciated for the caliber of my creations.
Future plans?
Travel, paint and travel some more !