Stefano Maccagno is the General Manager of Four Points by Sheraton Danang. A hospitality veteran who holds more than two decades of  experience in the industry, Stefano Maccagno joined Four Points by Sheraton Danang Hotel in January 2017. In his role as the General Manager, Stefano oversees day-to-day  operations, including  management  of  the hotel's executive team  and  more  than  150  hotel  employees. Stefano, along with the executive team works diligently to execute the following vision 'To be a popular hotel when it comes to creating honest and memorable experiences'.
Prior to his current role at Four Points by Sheraton Danang, Stefano served as Hotel Manager for Westin Siray Bay Resort & Spa, Phuket. He also spent a year and a half as the Executive Assistant Manager for the Westin Siray Bay Resort & Spa, Phuket, where he directed the operating, sales and marketing efforts, led the reorganization and redirection of sales and marketing efforts for the hotel within a competitive and expanding market. Through his years of hotel service, Stefano has gained proven leadership expertise in hospitality operations, sales and staff development, making him a valuable asset to Marriott International.
What makes Four Points by Sheraton Danang stand out from other properties you've worked in?
The Four Points by Sheraton is a life style brand, our brand core values are 'Honest – Uncomplicated – Comfort'. Each Marriott International brand has different core values and touch points. Here at the Four Points by Sheraton Danang we stand out because of the atmosphere that is created by the associates working here.
Who is your typical customer?
Tourists
Vacationers
Businessmen/women
Workers
Event organizers
Just married couples
If you could plan a one-day itinerary for guests looking to explore Da Nang in Vietnam, where would you send them?
watch the sunrise at My Khe beach
drive around Son Tra Peninsula (Linh Ung Pagoda, Banyan Tree, Ban Co Peak)
eat fresh seafood at beach restaurants near Son Tra Peninsula
enjoy craft beer with stunning views at Horizon Bar at Four Points by Sharaton Danang
do a pub crawl or relax in expat area
Building the right team is crucial for a property's success. What are the key skills you look for when hiring new employees?
This is a crucial task in order to succeed, it is not much about skills as you expect that a manager will have those already, it is about the attitude and what type of personality they have. I like to choose people different from my personality, someone that can complement and balance my shortfalls.
How important is it for a hotel to have a solid gastronomic offering?
Food and beverage is the business card for the hotel in the location where it is. If you have a great offering and out of the box ideas to promote your venues it can help to create recognition and polarity and a loyal clientele in the city.
What is the one dish that guests have to try when at your hotel? 
We do not have a particular dish, however in our roof top bar Horizon the Vietnamese food is outstanding, plus we have boutique unique promotions coming up each month.
2020 and 2021 were challenging years for the hospitality industry. In your opinion, how will travel trends change in 2022?
Gradually people will start to travel again, with more caution, but they will travel, I see a full recovery (pre-covid) by the beginning of 2025.
Was a career in hospitality something you always dreamt of?  What is your advice to aspiring hoteliers? 
No it wasn't my first choice, however life sometimes gives you a lemon and then you have no choice but to create a lemonade and enjoy it. Now I cannot see myself in other type of industry. My advice to aspiring hoteliers is to be committed and learn as fast as you can, take your time to do the right things and most importantly always remember that there is no short cut to success.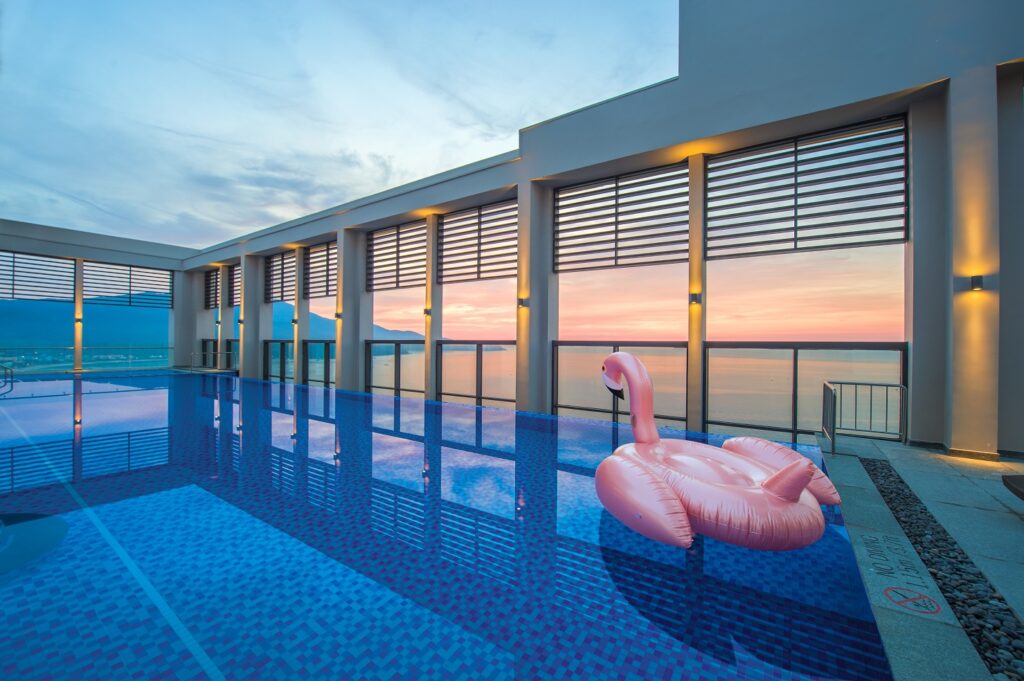 Which cities are your favorites for: 1) food 2) history 3) fashion?
These are all the cities where I have worked and experienced their food, vibrant culture, history and fashion.
What are some of the new measures your team has put into place to deal with the post-COVID-19 situation?
Safety is paramount, we activated all Marriott International procedures plus all local governments requirements, our associates safety is on top of my mind at all times.
When are you happiest?
I am happiest when I am with my family