Elie Houbeich is the Hotel Manager – Mazagan Beach & Golf Resort. He holds a Master of Business Administration (M.B.A.) from Glion Institute of Higher Education in Switzerland and has completed the General management program at Cornell University, New York.  Previous to his appointment, he was the Executive Assistant Manager of food and beverage at The St Regis Mumbai with Marriott International.
With a career spanning over 18 years with leading hospitality companies, including Marriott, Kempinski, Fourseasons and Accor a large portion of his professional life was spent with Marriott, where he held a number of leadership positions, including Food & Beverage champion for North China and Director of Operations for Marriott Beijing .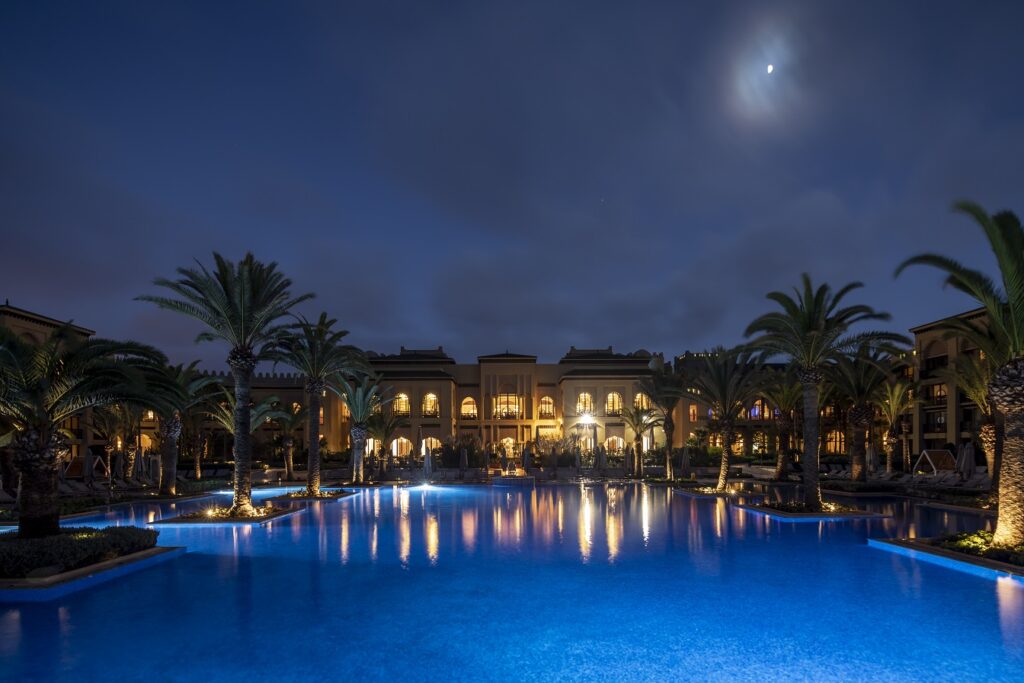 Elie brings with him a wealth of operational experience alongside an intuitive knowledge of Lebanon, Jordan, Egypt, Dubai, China and India. He joined Mazagan Beach & Golf resort (part of Kerzner group) in May 2021. He is responsible for the overall hotel operations.
What makes Magazan Beach Resort stand out from other properties you've worked in?
Mazagan Beach and Golf Resort stand out from the other properties I have worked at in terms of the location in a new authentic destination in Morocco with the largest Casino in North Africa. The immensity of the resort with 7km of beach, a spectacular garden, and a unique resort, a destination by itself. As a result, all our guests can have well-curated experiences.
A property of Kerzner International, a leading global developer and operator of destination resorts, ultra-luxury hotels and residences, innovative entertainment, gaming experiences, and immersive lifestyle destinations. Kerzner operates distinctive brands : Atlantis Resorts and Residences, One&Only Resorts, SIRO Hotel and Mazagan Beach & Golf Resort here in El Jadida.
Who is your typical customer? 
FIT, corporate, couples and families who travel for leisure come to Mazagan Beach Resort to create everlasting memories with every experience our beautiful hotel has to offer: Our child-friendly resort offers multiple activities for the little ones and three different kids clubs where trained staff provide a safe and fun environment when parents need a little time out. Our clients can try their luck and play in our renovated casino filled with bright and warm colors and enjoy being in the largest Casino in North Africa.
Golf players enjoy our 18-hole golf course where time slows down as they admire the clouds casting their shadows on the Atlantic ocean, designed by the legendary Black Knight, who is none other than the famous golfer Gary Player. Mazagan Beach resort boasts one of the largest conference centers in Morocco, offering 2000 sqm of flexible space that can be transformed for any event by our professional banquet team for MICE and events customers.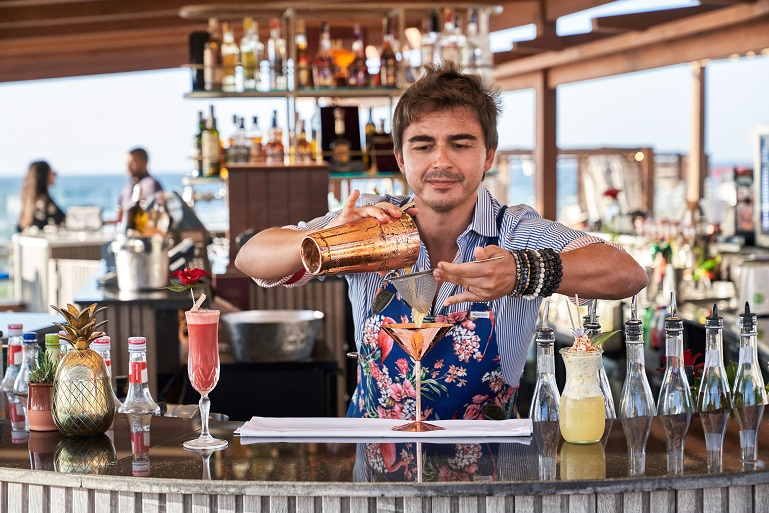 The resort is a destination for foodies with over 13 food and beverage outlets and more than 13 activities, a football pitch beside various activities for team building that drive customers from all over Morocco. Wellness customers do enjoy our extended packages such as : My Day Spa with lunch and rotating added value, depending on the season (outdoor treatments in summer).
If you could plan a one-day itinerary for guests looking to explore Morocco, where would you send them?
The day can begin at Mazagan, we have a unique sunrise breakfast experience where our guests can sample the tea on top of our safari jeep with a local food experience, followed by heading to the Portuguese city: a historic district near the Medina of the city of El Jadida. Bab El Bhar is one of the gates of the city. In the centre of the city is an underground cistern with 23 gates. In 1516, the city was a Portuguese prison and garrison. In 1790, the city became Moroccan.
The journey continues to Casablanca. Only one hour drive from the resort, you can discover the largest city in Morocco with a beautiful setting overlooking the Moroccan coastline. The city is rich in diverse and fascinating tourist sites, where the historical center of the old city is surrounded by a wall and several beautiful doors. A stop to visit the second largest mosque in the world, the magnificent Hassan II mosque. For beach lovers, the Corniche located on the water's edge is a great place to go to. It's a long strip that offers a nice walk with lot of international restaurants overlooking the water and shops.
Building the right team is crucial for a property's success. What are the key skills you look for when hiring new employees?
As we are welcoming guests from all over the world, for our management team, we are seeking experienced colleagues in international hospitality and we are training local young graduates who we provide with general and personalized trainings, languages and skills.
All our trainings combine theory and practice. We have developed our own academy with a dedicated department for these purposes offering them the opportunity to be hired after being trained. We walk the talk of recruiting for attitude and training for skills.
What is the USP of your resort?
A unique destination in Morocco, the resort spreads over 250 hectares, 7 kilometres of beach-side, a myriad of extraordinary experiences. Whether for a couple, a family or a group of friends stay, our guests will be enchanted with our 500 rooms and suites, 13 restaurants and bars, countless activities, golf course, spa, casino for a one of a kind experience.
What is the one dish that guests have to try when at your hotel?
From authentic local cuisine at the farm to international outlets with signature venues to  a generous Modern Middle Eastern menu created by the award-winning Chef Greg Malouf at Bushra by Buddha Bar we offer something for everyone's palate. Buddha Bar Beach takes guests on a culinary journey through an exotic range of Japanese, Chinese and Mediterranean flavours. Being close to the beach, I would recommend our signature dish at Sel De Mer: Lobster medallions and linguini pasta with creamy crustacean emulsion, Al Firma greens and crispy nori.
2020 and 2021 were challenging years for the hospitality industry. In your opinion, how will travel trends change in 2022?
Staycations and domestic holidays will likely continue into Q3 of 2022. Safety and health measures will remain to be very important and a critical element to choose the hotel. The consumer behaviours will keep shifting to the need for having healthy and organic food and drinks, respecting more sustainable products and looking for personalization. The rising demand for digitization and the use of technology and ;ed-ventures', combining education and holidays for the youngest while adults can execute their remote work or attend meetings are here to stay.
To keep in tune with these changes, we are adapting our offers and remaining flexible. We have collaborated with Matthew Kenney an American celebrity chef, entrepreneur, author and educator specializing in plant-based cuisine and soon will be launching his menu in Sel De Mer and La Cave.
Was a career in hospitality something you always dreamt of?  What is your advice to aspiring hoteliers? 
I have always had a dream to pursue a career in hospitality, explore various cultures and meet new people. I have had the chance to explore Jordan, Egypt, Dubai, China, India and Morocco. My advice to the aspiring hoteliers is while they are on the way to travel the world and explore the various opportunities this career may offer, they should always put people first, look for every opportunity to create joy around them, pursue excellence, never stop learning and exploring, as the guests they would be serving come from the various background and has traveled to so many places. aspiring hoteliers should find ways to contribute to a more sustainable environment and commit themselves s with the hope of creating a better world, fairer, closer and more respectful of nature, of our planet and for their future children.
You have worked in several cities, which is your favourite city for work and play? 
I do have couple of favourite cities where I was thrilled by the experience that I had. It is very hard to choose only one among the others. However to answer your question I did enjoy Dubai a lot.
A global exposure: multicultural nationalities from all over the world.
The glam quotient as there is the chance to see the top hotels, outlets and witness the latest trends in fashion and meet plenty of famous people year around
When it comes into play, there is plenty of chances to have fun, the city is full of activities, services, event and facilities that will keep you occupied. It is more than what you have experienced in your life so far.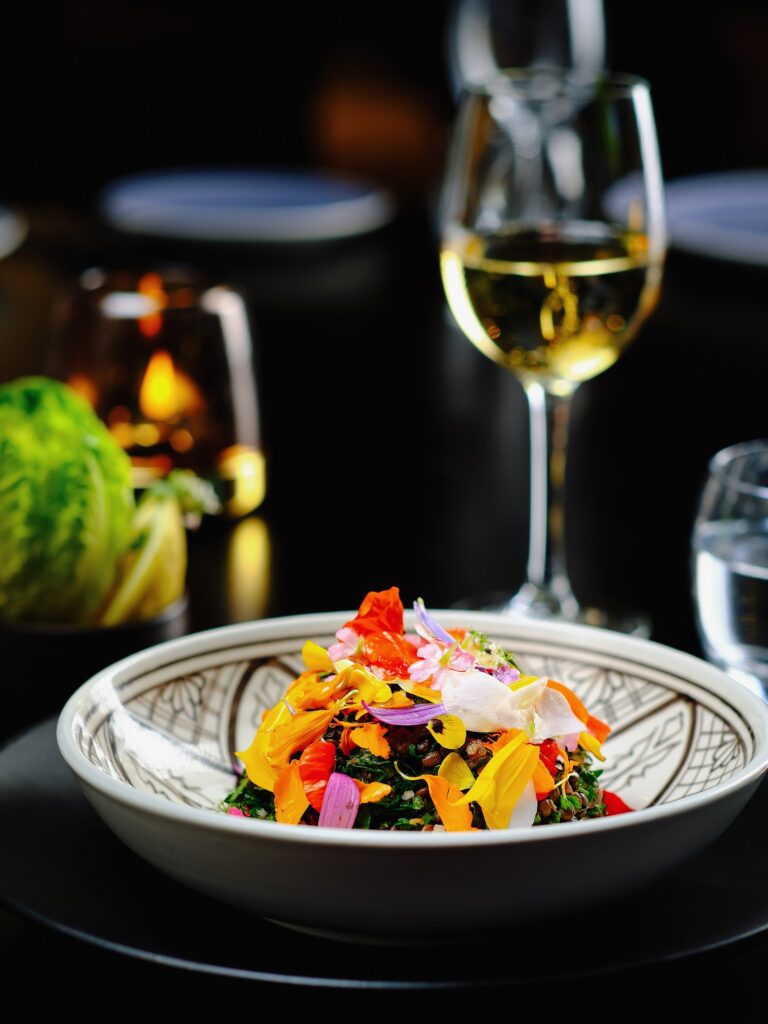 When are you happiest? 
I am happiest when there is my family around me knowing that I do not get the opportunity to see or reunite with them very often, so I do cherish every moment spent. I do feel happiness when I create joy in what I do for our guests and for our colleagues. The best moment is when to know that guests are thrileed with the service or when a colleague has learned something new or I was able to assist to make his/her life better