An accomplished hotelier; with an extensive experience of around two decades, Bharat Ratanpal General Manager – Azaya Beach Resort Goa brings with him a deep understanding of the hospitality industry after having worked with renowned hotel brands across India. He has an edge to adapt to performing remarkably in these ever-evolving global business scenarios, which is rooted from a rich experience in prime leisure and business markets. During his tenure with these iconic hotels, he was able to successfully position luxury hotel brands as leaders in their respective markets.
He has served as the Director of Sales & Marketing, for Marriott International at JW Marriott Mumbai Juhu and has developed his expertise through a diverse spectrum of roles in Sales & Marketing Department. During his 12 years stint with Hyatt Hotels Corporation, Ratanpal's career boasts of a very successful journey with hotels like Grand Hyatt Mumbai Hotel and Residences and Park Hyatt Goa Resort and Spa (Now an ITC Property), he was also a part of pre-opening of Grand Hyatt Goa.
During his tenure at JW Marriott Mumbai Juhu, Bharat Ratanpal was recognized and awarded with Marriott Elite Award 2017 – 'Luxury Property Team of the Year Asia Pacific' – Sales and Marketing team of the year in the entire ASPAC region.
What makes Azaya Goa stand out from other properties you've worked in?
Azaya Beach Resort Goa is a boutique luxury property, distinctively located right on the pristine white sands of Benaulim beach with unparalleled views of the Goa shoreline. With uninterrupted soul string sea views and powder-white sand right up to the doorstep of Azaya making it one of the prime properties in South Goa. Just 40 minutes away from the airport, the well-thought-spaces at Azaya celebrate it's Portuguese past with a beautiful Portuguese garden – Palacio and other design influences. Azaya, is exclusively designed to provide a luxurious yet fuss-free and contemporary experience. This is a 10 acres property, 114 impeccably designed rooms and suites out of which 39 rooms feature personal pools that are almost 40% of the room inventory has villas. One major difference that stands out for Azaya Beach Resort Goa is that even though it is a standalone property, it still competes with luxury properties around.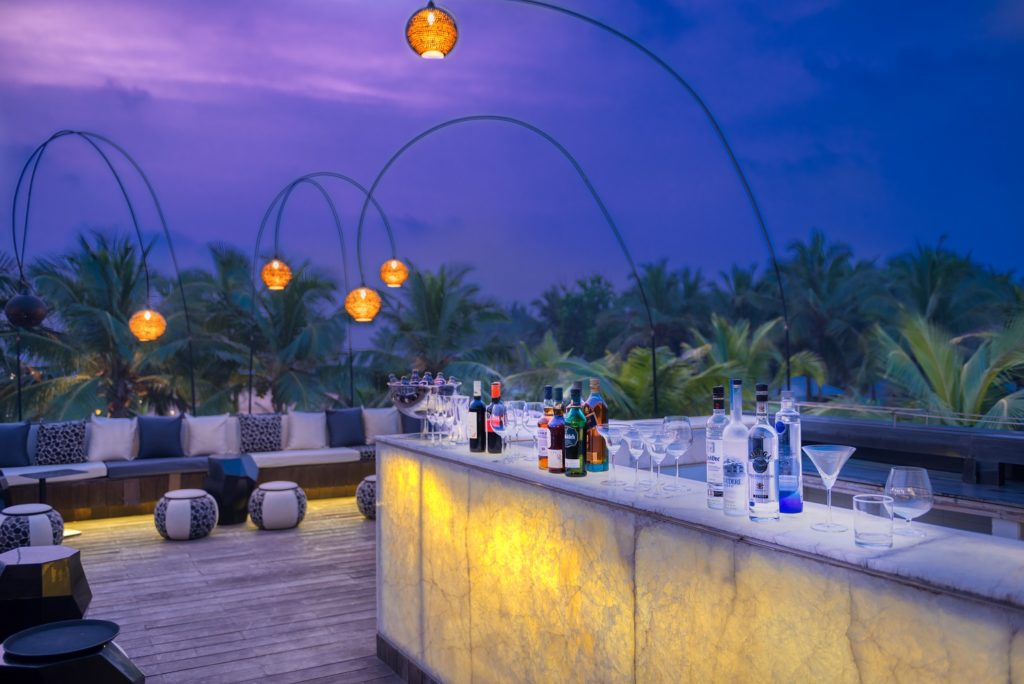 Who is your typical customer? 
Azaya has 40% inventory of villas with pool suites which attract family staycations as well as celebrations. The freshness of the property and innovative approach to hospitality that Azaya offers is enjoyed by both leisure as well as corporate travelers. An experiential paradise in itself, Azaya Beach Resort Goa gives fresh, fun and trendy vibes which are mostly liked by honeymooners, couples and young groups. While leisure travel to outbound and international destinations is limited due to the ongoing pandemic, Azaya Beach Resort Goa is a perfect destination in South Goa to experience the Maldivian sense of place with uninterrupted soul-stirring sea views and powder-soft white sand spread deep into the resort.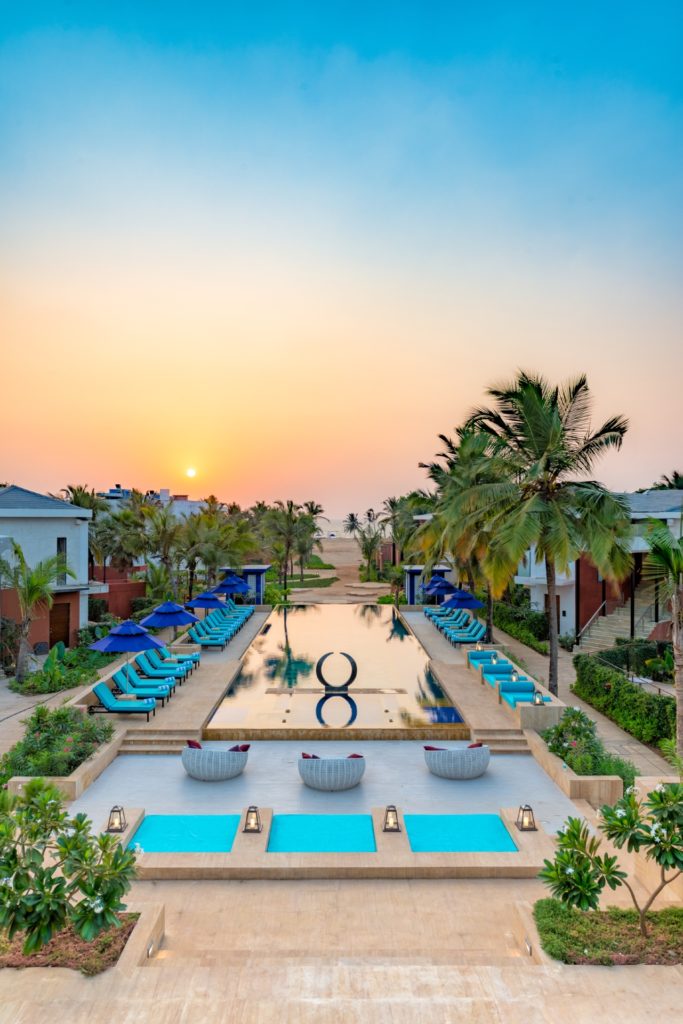 If you could plan a one-day itinerary for guests looking to explore Goa, where would you send them?
People have the impression that Goa is a place only to relax and enjoy. Goa has a lot to offer with it's mixed bag of culture and beautiful history. You can start your day with breakfast at La-Concha. Feel the fresh sea breeze and soak up spectacular views while dining at the palm grove of the La Concha al fresco. Later, I would suggest Shri Shantadurga temple it is one of the most famous temples in Goa. After that experience one can visit Spice Plantations to see the magic of spices that lured Empires and Colonies that invaded the country and claimed the country and the spices as their own, leaving behind a melting pot of cultures. Not only this, South Goa has these beautiful and quaint small towns that still welcome serenity and calm, to witness this long-lost world drive to the Village of Chandor to see the 300-year-old Braganza mansion -the longest house in Goa with 24 windows. In the 17th century, Menezes Braganza used to represent Goa under the Portuguese Government as Vice Consul General. He was gifted this land by Don Luiz the King of Portugal. The house is made of laterite and has a garden with mosaic seats and fountains. Walk around the scenic village taking the sights and sounds of a town that still holds a piece of the Portuguese era. End your evenings with a visit to Cabo De Rama. The atmosphere and the amazing views of the fort are picturesque and social media worthy, to get to the beach you have to walk down the fort but the view totally deserves the trek.
Building the right team is crucial for a property's success. What are the key skills you look for when hiring new employees?
Azaya means 'Soul' and we always prefer associates/ colleagues who have the passion and sense of hospitality engraved deep within themselves. The skills that we look for are passionate, young, energetic, persons who are enthusiastic to ensure that each and every guest gets personalized service and creates memorable experiences for them.
What is the one dish that guests have to try when at your hotel?
Each dish at Azaya Beach Resort Goa is carefully crafted by our Executive Chef Atanu Nath. With over 16 years of experience including Michelin star restaurants, Chef has successfully brought innovative, contemporary and fresh flavours to Azaya's culinary journey. My personal favourite dish to try at Azaya is- Blue swimmer Crab Xacuti, with grated coconut and dried chilies.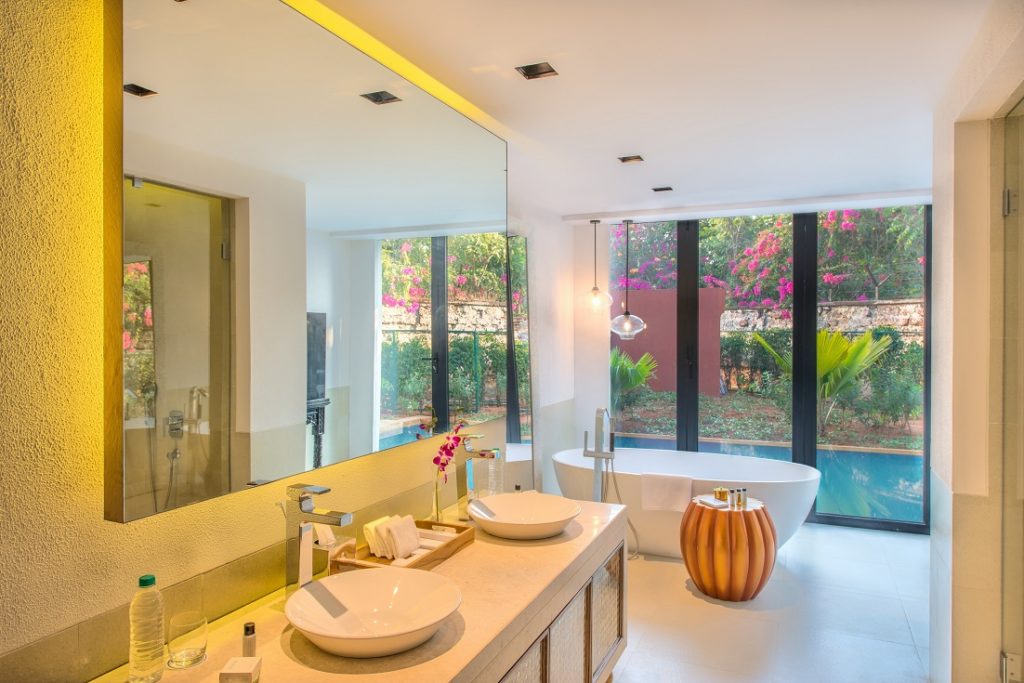 2020 was a challenging year for the hospitality industry. In your opinion, how will travel trends change in the 2nd half of 2021?
Though 2020 was a challenging year for hospitality Industry, Goa was still in demand. People wanted to go out after months of isolation and staying home. Azaya Beach Resort Goa has been the perfect destination with the benefit of having your own personal pool, personal beach. A unique resort with 'no-corridors'. Now that people are getting vaccinated and are open to travel, the demand is increasing day by day. The second half of 2021 will be robust considering that people are still working from home and often looking for a space from where they can rejuvenate as well as work. Guests prefer Azaya for a personal and safe luxury experience, as we do not have corridors and have a separate entry to each of our villas making it completely safe.
Was a career in hospitality something you always dreamt of? What is your advice to aspiring hoteliers? 
I always wanted to be a commercial pilot. Since hospitality and travel industries go hand in hand, it is still the service industry. So, I am not missing out much. There you fly people to different places; here I am giving my guests a variety of experiences in one place. My advice to aspiring hoteliers is -one has to be dedicated, perseverant, disciplined and has to have a passion for being around people.
You have worked in several cities, which is your favourite Indian city for work and play? 
Goa. It is the best Indian city for work, fun, exploring, and an inherent sense of rejuvenation. The city offers more than it looks like. Goa with it's beautiful beaches, an amalgamation of different cultures and rich history is a place you would always want to be.