Chef Cedric Barberet is the Chef owner of Bistro Barberet and Bakery located in Lancaster. He is an award winning chef and has received several honors such as Chopped sweets champion during season 1 food by network TV in 2019, Top ten Pastry chef in America 2016 By Dessert Professional, Chevalier du mérite agricole April, 2017 and The Order of Agricultural Merit is an order bestowed by the French Republic for outstanding contribution to agriculture and food. It was second in importance only to the Legion of honor within the French order of precedence when it was created." He is also a Member of Academie Culinaire de France since the year May, 2011.
Barberet Bistro & Bakery is a contemporary French bistro with a warm and welcoming atmosphere offering classically French options such as everyday favorites like Quiche Lorraine and Croque Monsieur and specialties like Foie Gras, Tartare, or Bouillabaisse, providing a rich, authentically inspired cuisine and the Bakery prepares daily home-made delectable desserts. Unique about the Bakery is its use of specialty ingredients. Chef Barberet sources ingredients for the whole operation, from local Lancaster farms for the bistro and the bakery, whenever possible.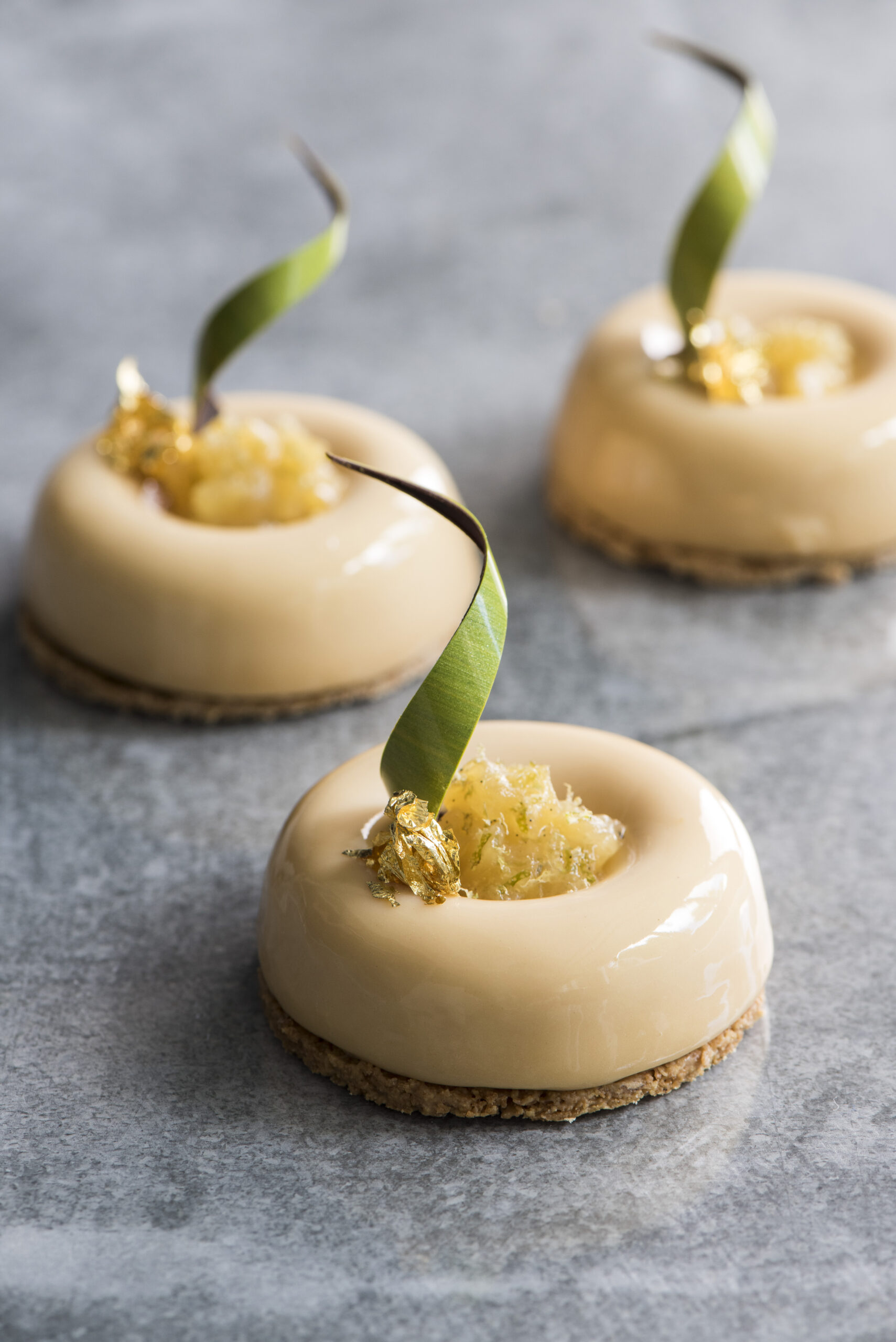 Cedric Barberet was the Executive pastry chef for Buddakan, Pa, a Stephen Starr restaurant group until march 2015. He joined the prestigious team at Philadelphia's Le Bec-Fin "Table du Monde" as the latest Executive Pastry Chef in late September 2009. His previous professional experience has included working with Executive pastry chef & M.O.F Jean Claude Canestrier at Las Vegas' M Resort Casino & Spa and Executive pastry chef at Donald Trump's prestigious private club, Mar A Lago Club in Palm Beach, FL. While working in Palm Beach in 2005, he spent two months creating Donald Trump and Melania knauss five-foot high, 200-pound, seven tier Grand Marnier chiffon wedding cake with nearly 3,000 white icing roses and was elected the 10 most extravagant wedding cake of the century according to VH1 and other media. He was also a pastry chef in a fifty room hotel in Massachusetts and worked in his parents' bakery in Villefranche near Lyon, France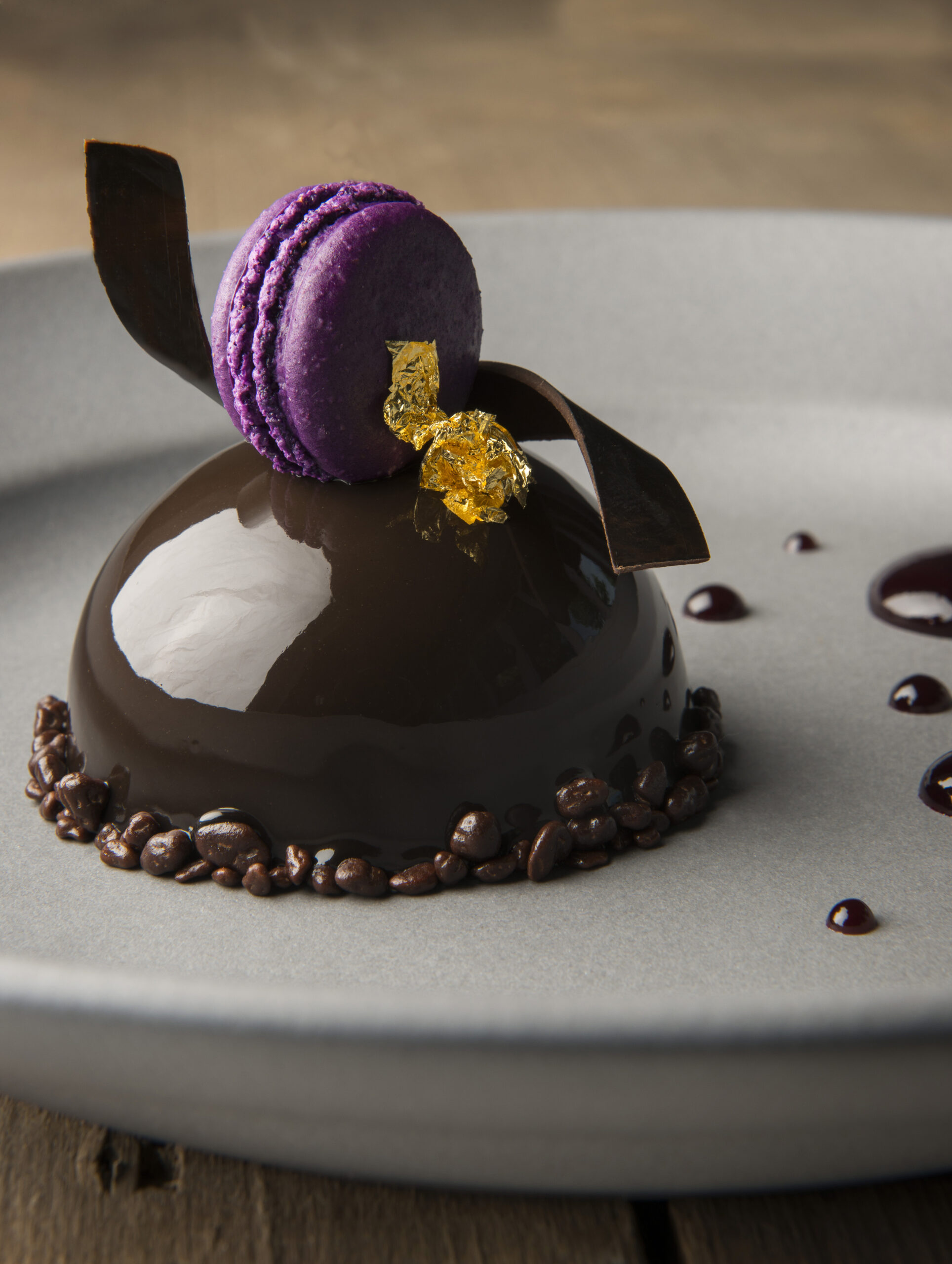 What inspired you to become a pastry chef? You've been in the industry for quite some time. Would you have done anything differently when first starting out?
My dad inspired me to become a pastry chef. Every weekend I would be at my parents bakery in France. I went for fun but also to help to him. I enjoyed those moments that lead to having 'a passion for the craft' . I made all sorts of different pastries like griottine tarts, millefeuille, etc. I enjoyed those moments of work and honestly I would not change a bit of how I started.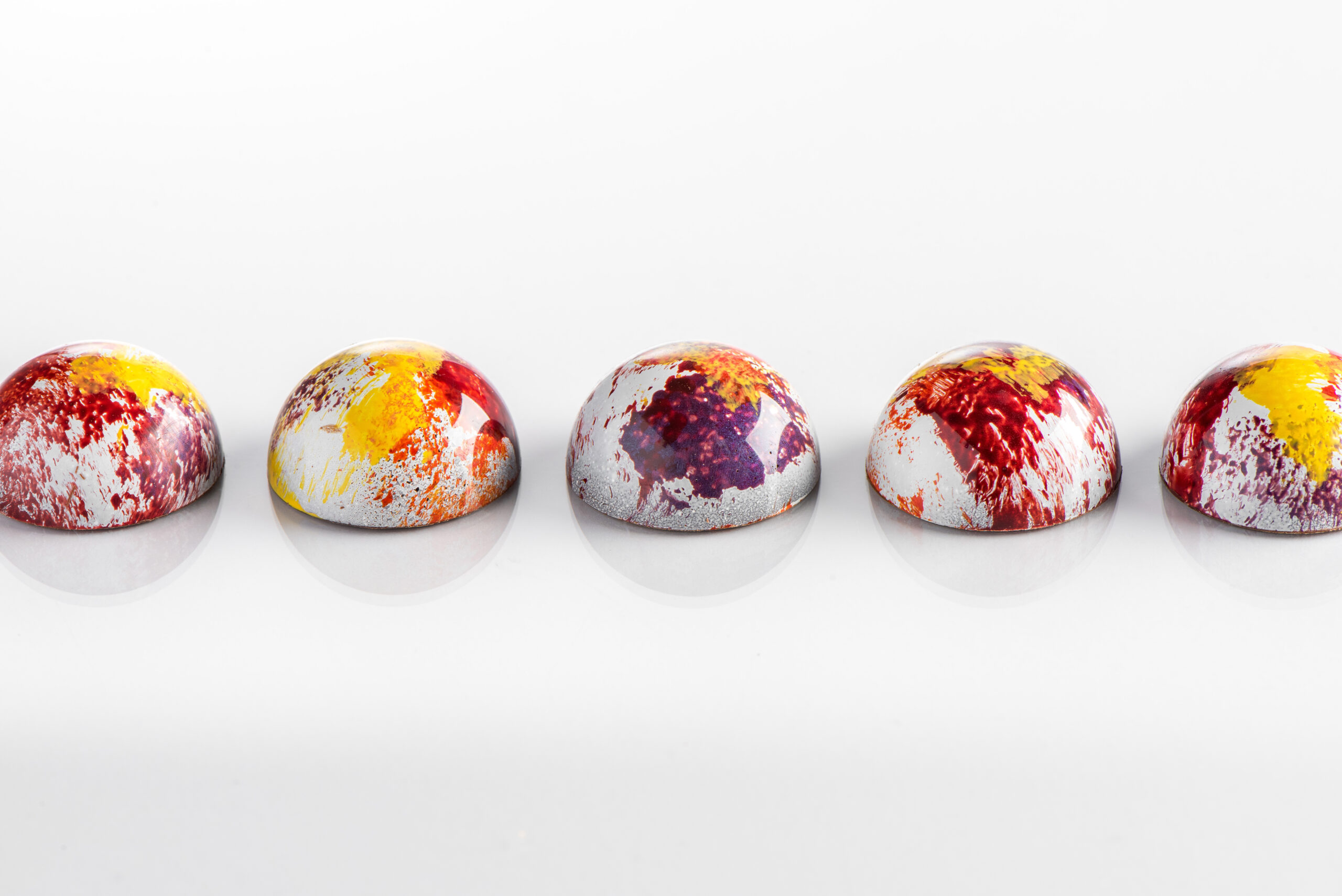 What is the philosophy and ethos behind the food you create?
My philosophy is actually to accept and make use of the new techniques in pastry that are being discovered all the time. That we must fully understand them even though our sense of taste doesn't evolve continuously over the years. The continued progress of techniques has a very positive influence on the culinary world. My main motivation and prerogative is to arouse and surprise the taste buds without forgetting that the final product is the result of an amalgamation of different textures. Pastries depend not only on the quality of the ingredients, but also on the techniques used to execute them and I believe this an essential factor if we are to ensure the evolution of our profession.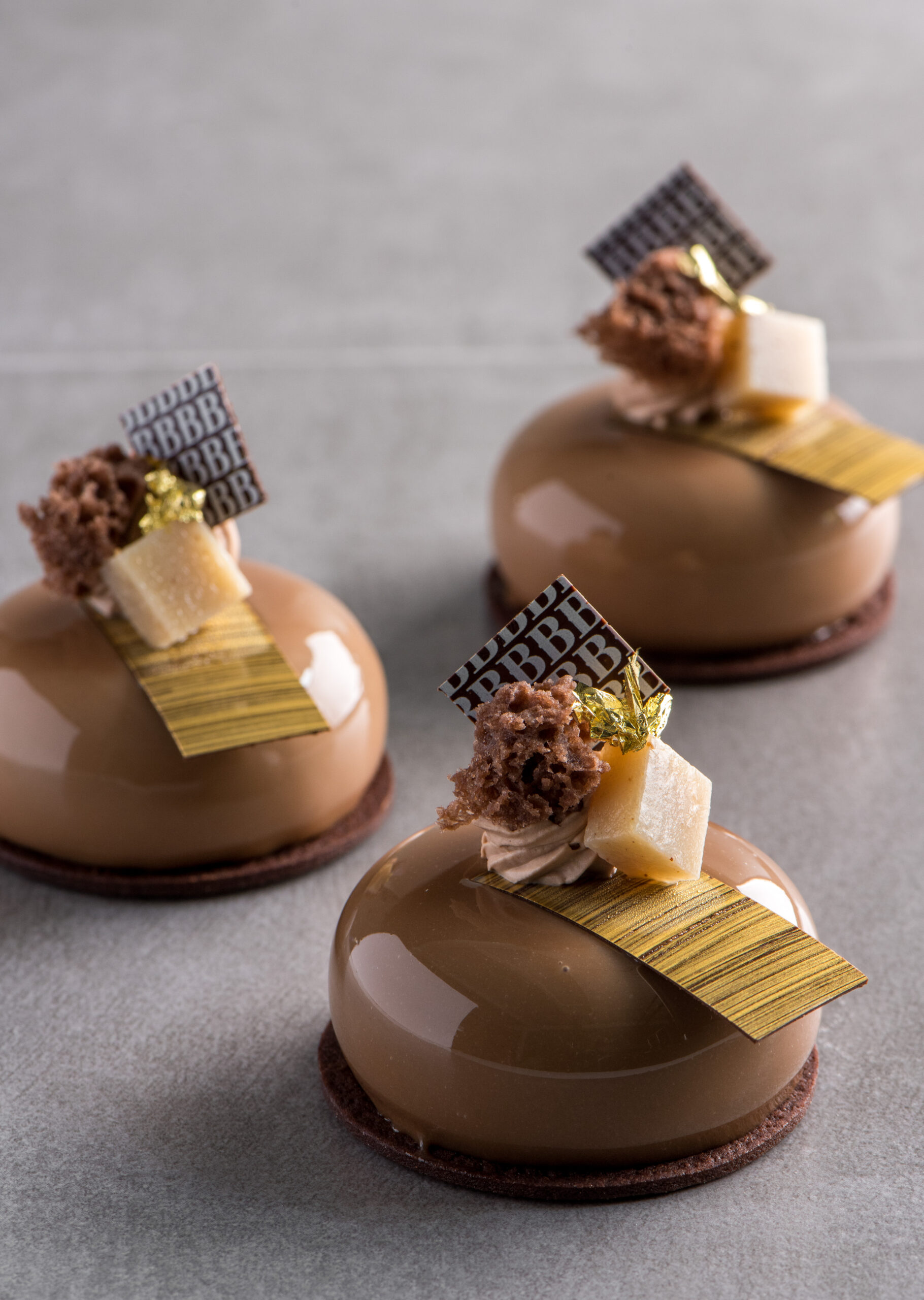 What's the latest trend when it comes to baking and patisserie?
Lamination. It is crazy when we can see visually, all the layers of the lamination accentuated, pronounced and sharp. This also brings us to these new shapes that have been coming out in the last several years like the wheel and cube croissant. All achievable of course if you have the proper molds to do so.
What is one food (pastry) trend you wish would just go away?
For me it is the cupcake. In my opinion they are usually not well balanced in sweetness or flavor.  Just like any pastry they can look very sloppy if not made with care and precision, but I feel they tend to be more of a 'rustic' dessert and you don't get that clean sharp look you get with a French pastry.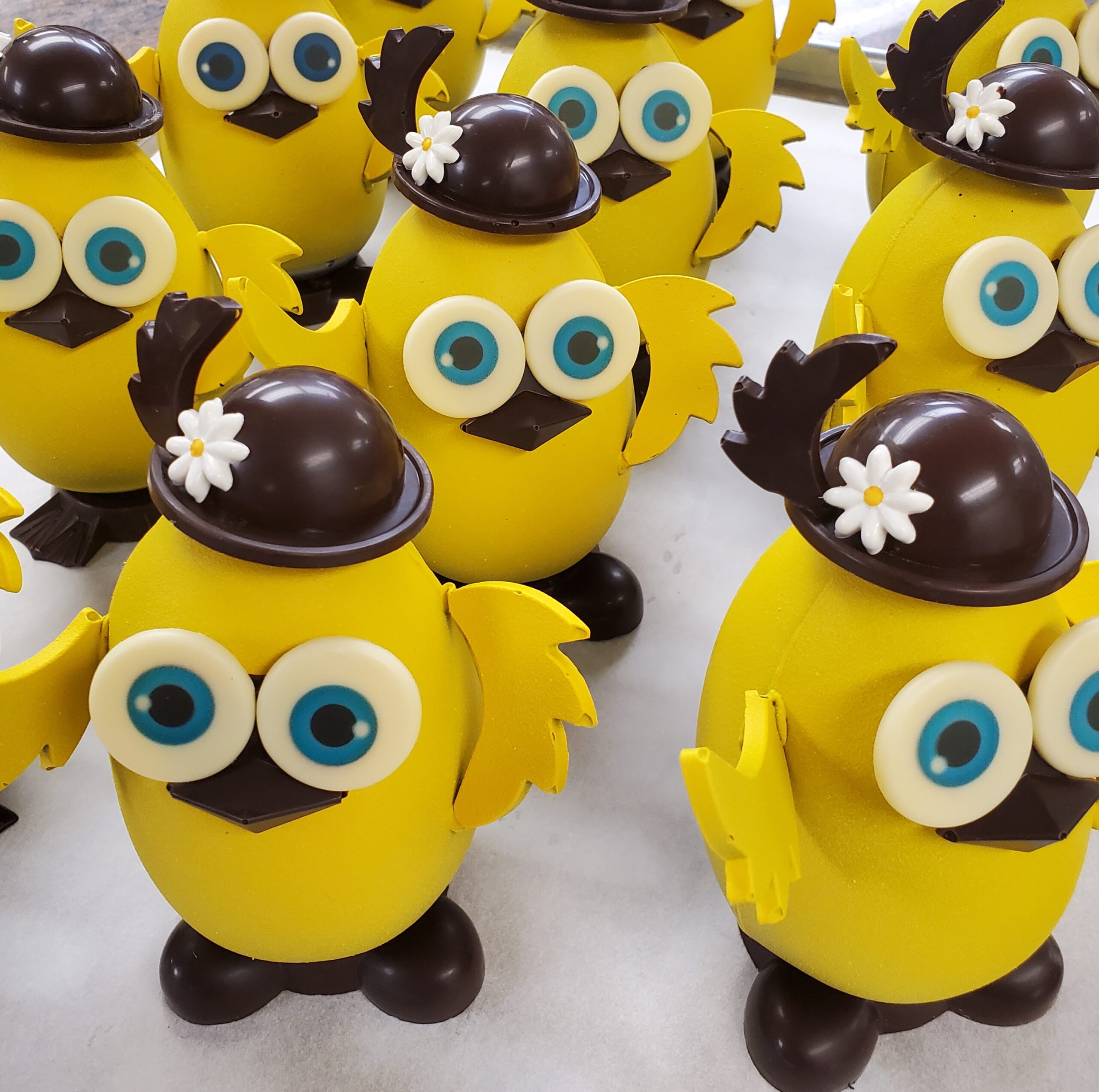 What is your baking style and the philosophy behind it?
French classic with a modern twist. Also working on pastries with low sugar content as well as a wide selection of gluten free items while repeating the textures of the products.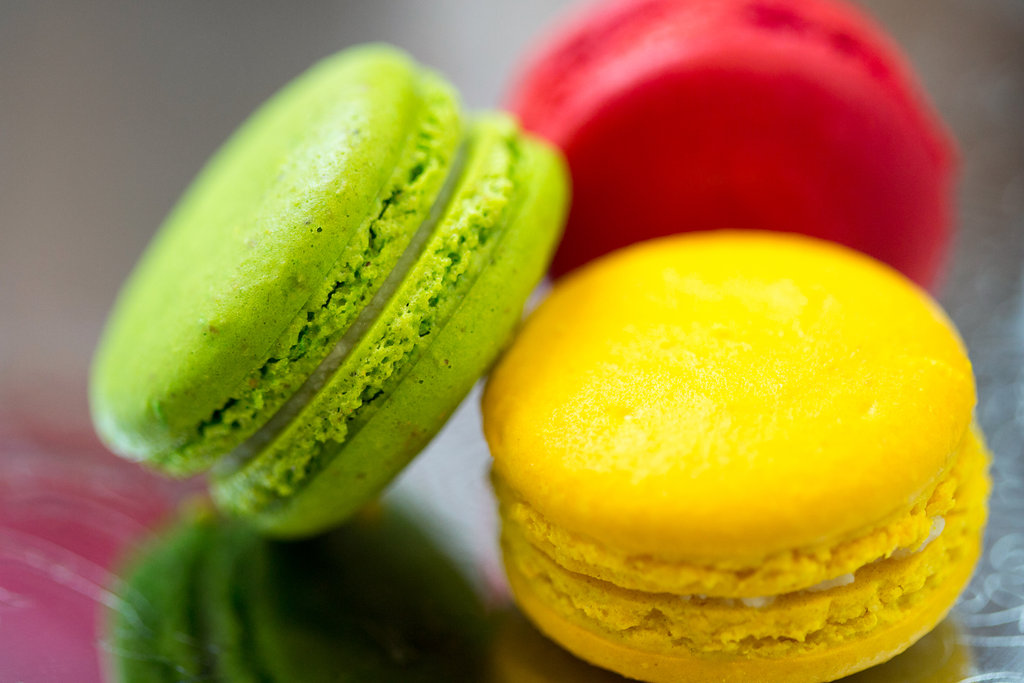 What's your favourite comfort food? What's your favourite pastry or cake or baked product ?
My comfort food a good fresh baked doughnut. I love a good seasonal product like a strawberry tart, with fresh and a vibrant flavor. As far as a baked goodies is concerned, pain au chocolat is my go to for breakfast
Who or what was your inspiration to become a pastry chef?
My dad was my inspiration as I talked about earlier he really made me who I am today, and now the roles have reversed. He is retired and I am the inspiration for him to keep baking on the side.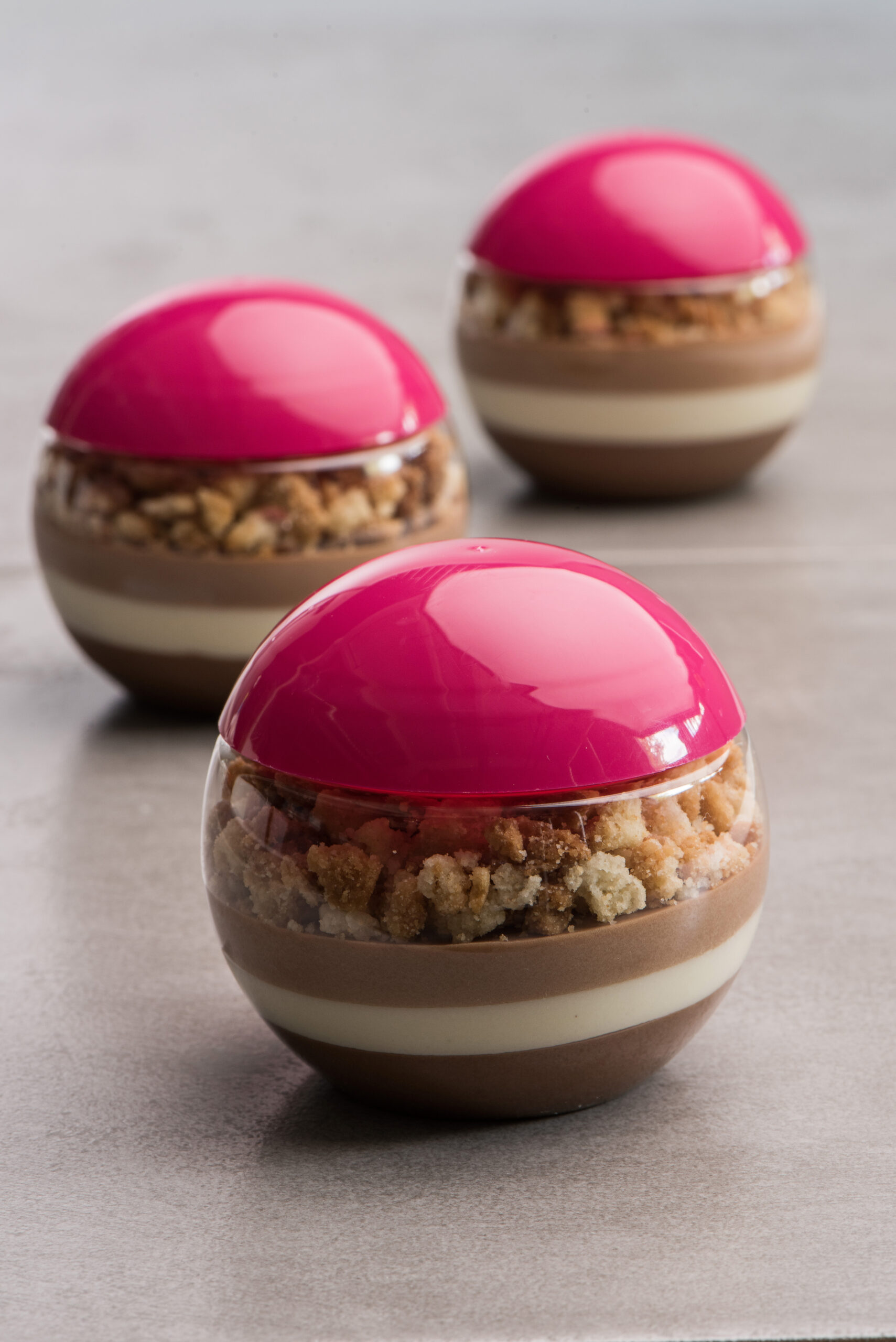 What is your advice to aspiring pastry chefs?
Passion is the most important thing for a pastry chef or a culinary chef for that matter. This job can be very hard and demanding. With long hours and lots of holidays spent in the kitchen. It is not for the faint of heart. So for me passion is the most important aspect because the love you feel for pastry will keep you going even through the roughest days in the kitchen.
Future Plans?
Expanding maybe at some point if a good opportunity arrived, who knows!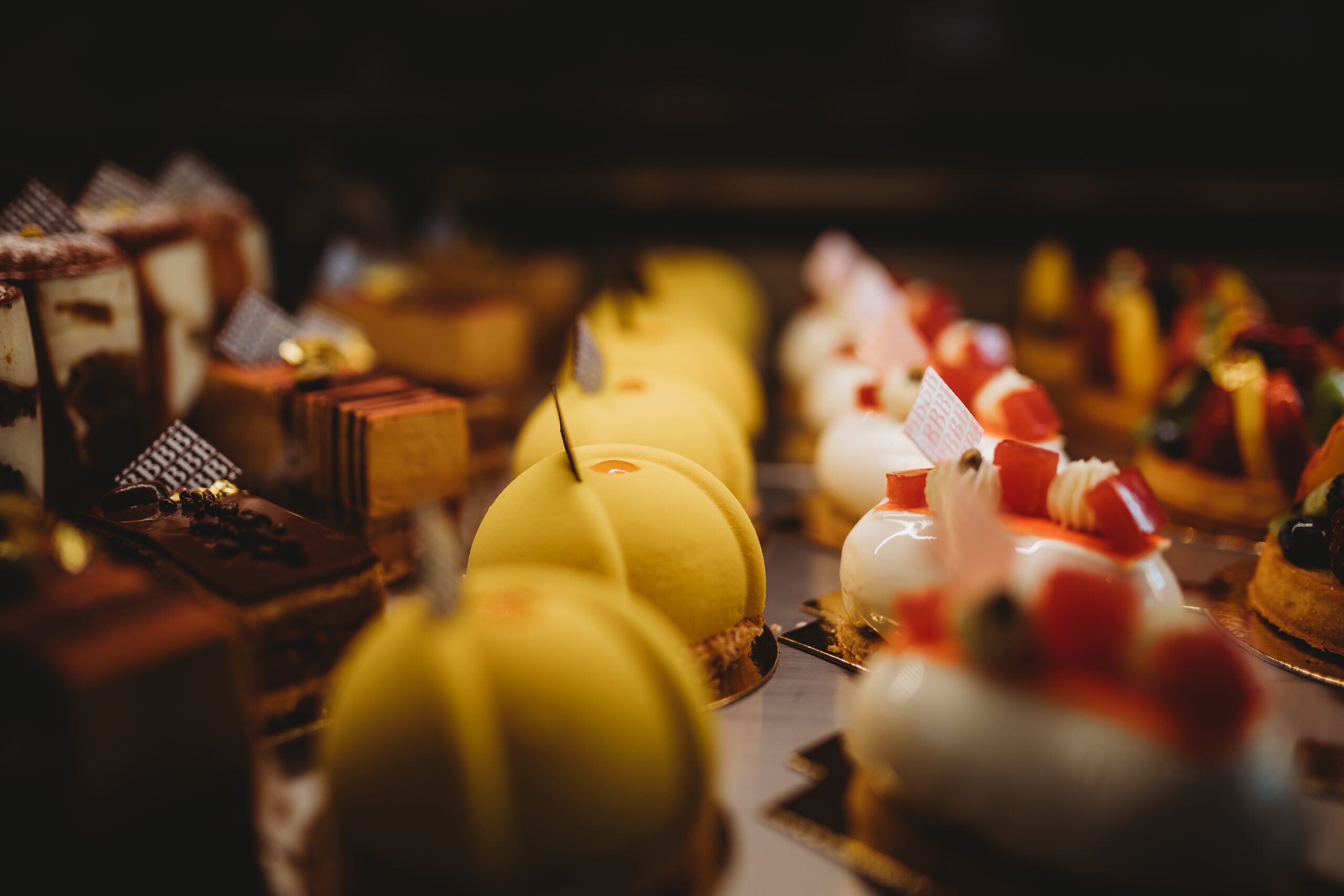 Would you consider yourself as an artist? Are you inspired by artists when you create your pastries? When you create different products everyday where do you get inspired from?
Yes I would consider myself an artist. Art is the creation of something from nothing and we certainly do that where pastry is concerned. Turning simple ingredients into something special. Especially when Easter arrives. When I'm working on chocolate moulage and showpieces that is were the true artist comes out of you. I get inspiration from Salvator Dali for his modern approach on painting, but with classic techniques and his use of vibrant colors.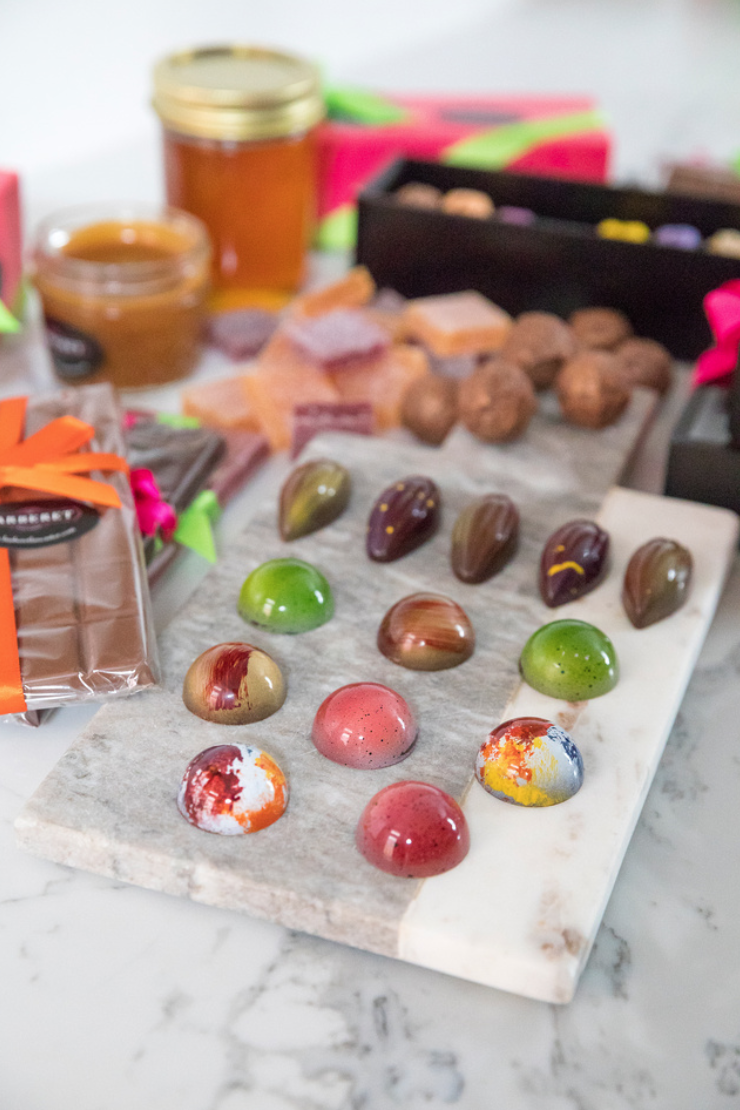 The topic of local food, from smaller, specialized and personally known producers, is becoming more important. What are some of your local partners from whom you source?
Yes, we try to source locally whenever possible. We are constantly looking for new vendors especially within the produce world, to get the freshest product possible. Not only that but to also work with the community and have that give and take. I will include a list of vendors we currently use in Lancaster.
-Farm field project
-brogue hydroponics
-Stoltzfus farms
-Cherry hill orchard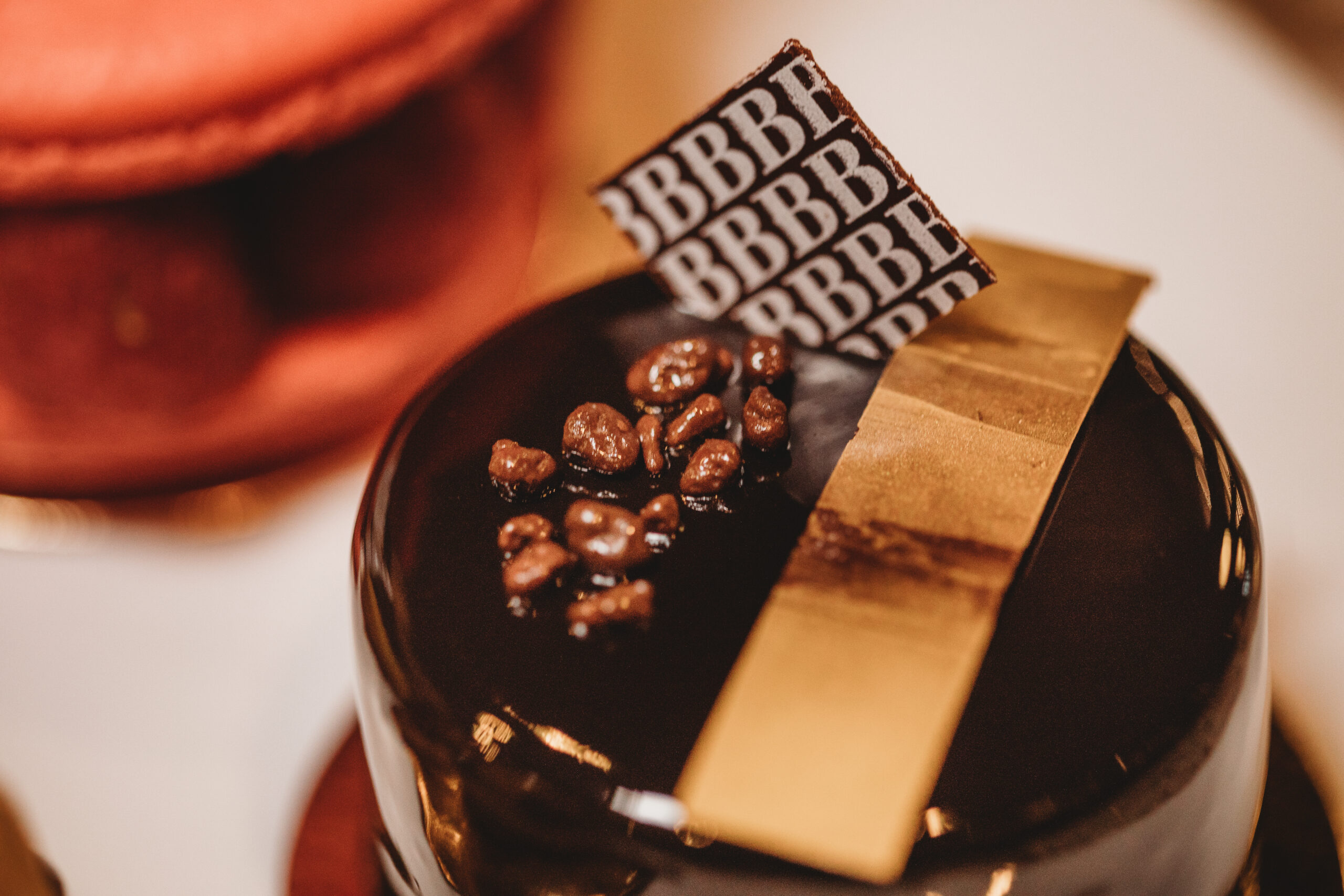 What would you say is the key/winning feature of your creations ?
To me the most important feature is consistency. This is something I instill in all my pastry cooks. You could have all the talent and speed in the world but if you can't make a consistent product, it means nothing. The main goal for any cook is to make good tasting food but when you have a showcase especially it is very important to have all your products look as close to the same as you can so each customer gets the exact same product.
What are the most important considerations when crafting your menu?
Seasonality, durability, aesthetic, flavor and balance.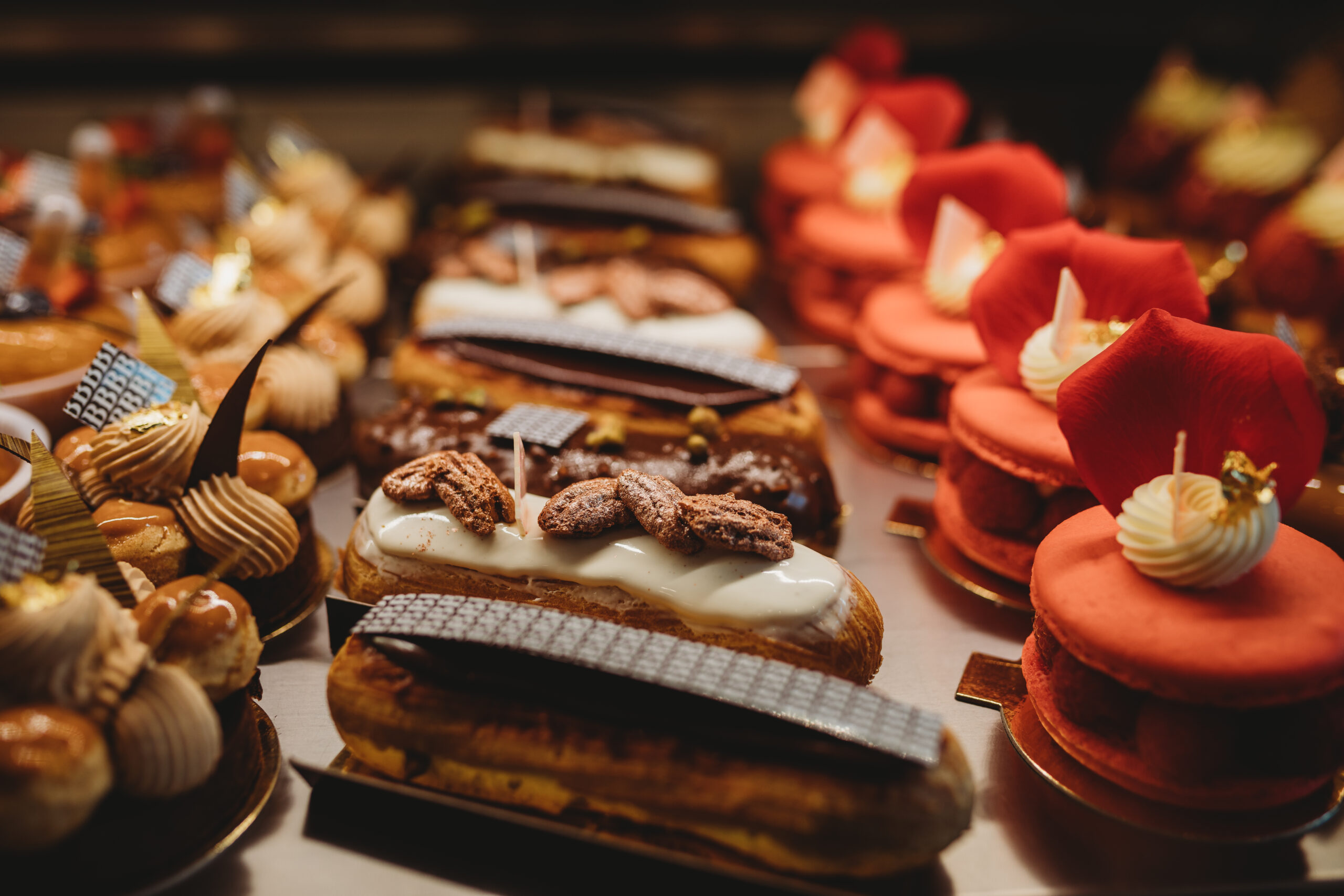 Have you ever considered being a vegan chef?
No, this is never something that has appealed to me. I understand that there is a market for it, but it is almost as different as being a culinary chef and a pastry chef. Vegan foods are their own little world that I am not interested in stepping into.
What's your signature dish?
At the restaurant I would say it is the floating island, poached meringue over creme anglaise and a caramel tuile. This is the dessert that won me my episode of Chopped Sweets. At the bakery macaroons are most popular, who does not like them.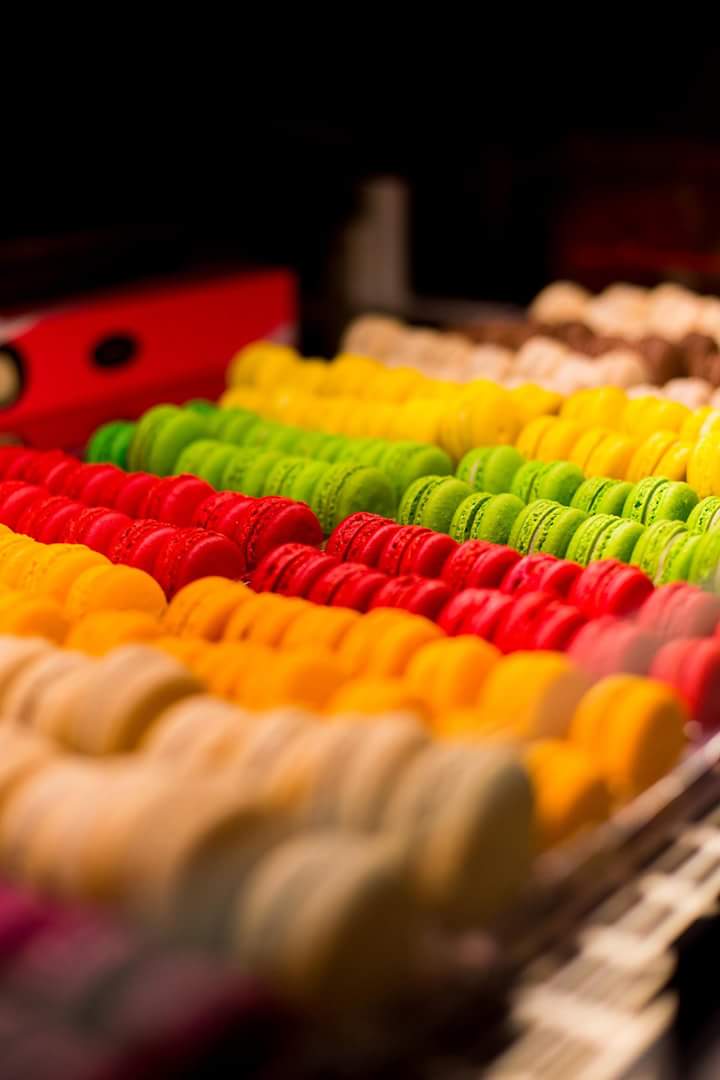 How can restaurants/ hotels/ chefs communicate the approach of innovative sustainable plant-based food/ food chains to others?
It think the easiest way to do this is through social media platforms. You are able to reach a broader range of people this way and you are able to look at this information again and again if you need it as well as posting demos for learning purposes. You can also host seminars or demos in person for a more local crowd which helps with a little more face to face learning.
Which is the dish you've created that you are most proud of and why?
The Trump-Melania wedding cakes (I did 2 of them). At the time they pushed me into the spotlight and pushed my career further than it had ever been up until that point.
Recipe of Bonbon Exotic Zephyr caramel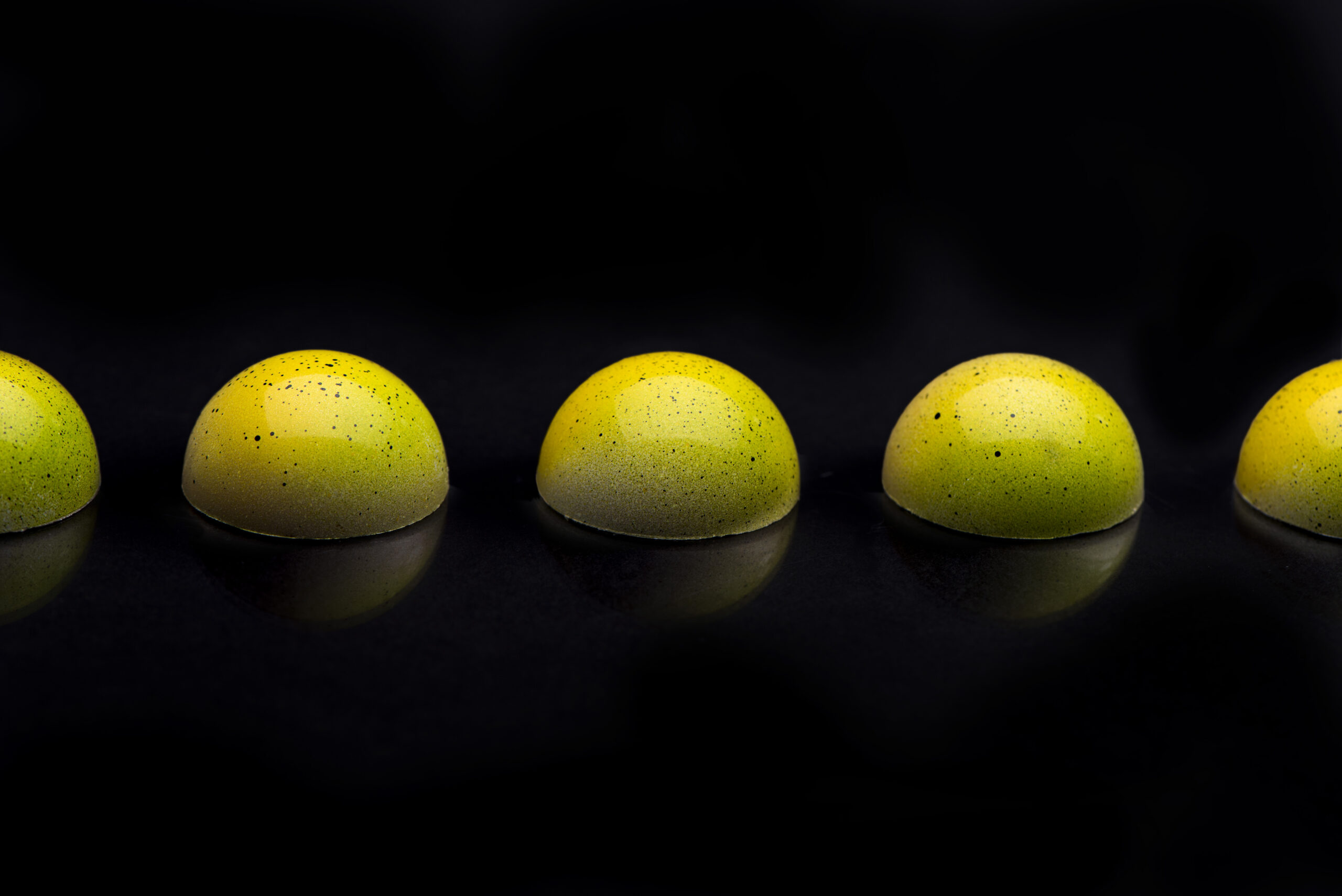 Speculo dough
125gr unsalted butter
125gr brown sugar
75gr granulated sugar
Half egg
7gr cinnamon powder
225gr ap flour
10 gr milk
Creamed well butter to pomade and ass all the sugar, eggs, cinnamon and flour and finish by milk
Set in cooler for 1h before use, roll in 2mm thickness between 2 silpat and pre cut 1 inch ring
Cook at 170c for 15mn with silpat on top
When cool spray disc in zephyr/cacao butter mix (60gr zephyr caramel/40gr cacao butter.
Set aside
Banana gelee
112gr banana puree
12gr sugar1
3.5gr yellow pectin
90gr sugar2
9gr sorbitol
4gr citric acid
20gr powder glucose
35gr captain Morgan rum
Pre heat banana puree, sugar1 and pectin to 40c
Add sugar2 and powder glucose
Boil for 2mmn and add sorbitol
Cook to 103c
Then add citric acid mix well and pour over silpat to cool
When cool and gelée is set pour into Vita prep mixer add rum and blend well
Ready to use set in piping bag
Zephyr caramel ganache
335gr heavy cream
670gr zephyr caramel
75gr butter
Boil cream, pour over chocolate and use hand blender and mix well do not bring air into mix, at 40c add butter and ready to fill mold.
In preset mold shelled in temper chocolate fill inside with gelee then speculo then finish with ganache fill to under top rim set in cool and cap them with tempered chocolate
Et voila!