Anuraag Narsingani is the Executive Chef of JW Marriott Hotel Pune. With close to two decades of experience in the hospitality industry, Anuraag is the quintessential chef whose expertise in the culinary world has resulted in award-winning menus. Prior to joining JW Marriott Hotel Pune, Chef Anuraag worked with the Oberoi Group of Hotels. He began his career at The Oberoi as a Demi Chef de Partie. Since then he has worked hard to become an indispensable asset to every restaurant he has worked with. After working at The Oberoi, Mumbai, he moved to Trident BKC where he was an integral part of the pre-opening team, which worked right from the conceptualization through to the operational stage. After a successful stint of three years at Trident BKC, Chef Anuraag moved on to The Trident Jaipur as Executive Chef where he perfected his signature style and prepared great culinary dishes from across the globe. He has worked with various cruise lines, after which he returned to Mumbai to work with The Trident, Nariman Point, to take charge of the food operations of the celebrated Frangipani all day dining restaurant, as well as other food production areas. Armed with a bachelor's degree from IHM, Mumbai, and numerous other professional trainings, Chef Anuraag's ardent focus is create more memorable dining experiences for his guests, by designing interactive menus that incorporate super foods and vegan options. Chef Anuraag believes that great food goes beyond tantalizing the taste buds, and with every recipe, he aims to create a striking experience for his guests. In his spare time, he enjoys listening to music, playing badminton, going for adventurous bike rides and spending time with his family.
 Do you have a favorite time of year or set of ingredients that you look forward to working with? 
Favorite time of the year is the advent of a new season, with every change, a new set of ingredients come into play. However, yes, winters are my favorite. The availability of  fresh carrots for Gajar halwa, Sarson ka saag, fresh strawberries. The winter season has so much to offer!
What would you do if you weren't a chef?
A creative mind always find a humble abode. I would have been a wellness trainer or would have gone into a field where I could use my oratory and storytelling skills.
Do your personal preferences influence the menu at all? 
The menu is designed keeping in mind the current trends, popular cuisine/ dishes, local fresh produce, ingredients with less carbon footprints, and over all wellbeing of the body.
What do you think is the most over-hyped food trend currently? 
Mock meat culture is the most over hyped food trend currently.
 When are you happiest?
1) Dishes cooked by me when relished by family, friends and guests make me happy.
2) The act of kindness in any form makes me happy
3) Times when I am able to practice gratitude
4) I am happy when I see people following a fitness regime
When you're not in the kitchen where can you be found?
When not in the kitchen, I am around soft music to soothe the mind especially Jagjit Singh. I love to go on bike rides and I enjoy playing board games and badminton with my kids.
Where is your favorite place to dine?
I like to try a lot of food. I do not want to name a place but my criteria of a good place is the dining experience. It is not just food but it is a combination of innovative food, authenticity, great service, bespoke cocktails, and adequate natural light in the restaurant. I personally believe that a place is great when the chefs and servers follow the 'commitment to serve'.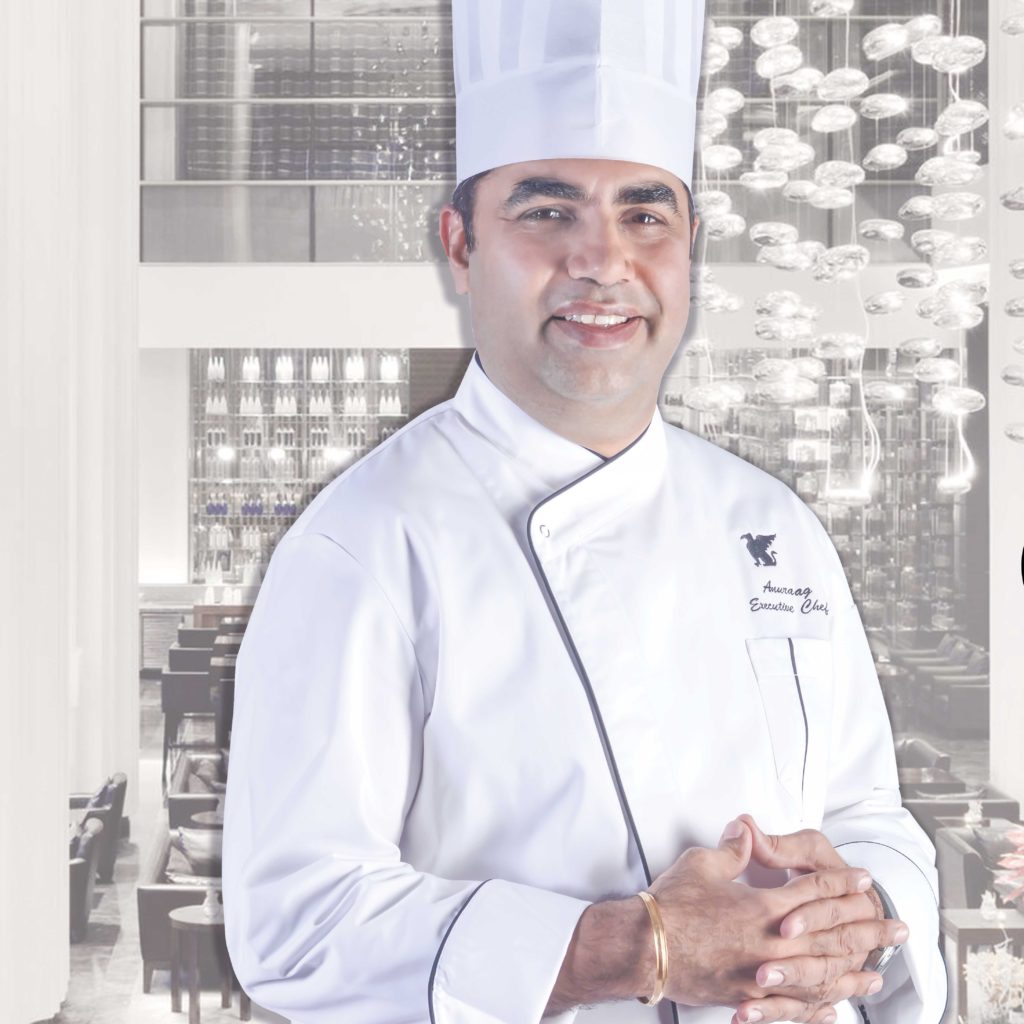 What's your favorite takeaway or comfort food? 
I feel Chicken kathi rolls (Kolkata rolls) by far is my favorite comfort food followed by a flavorful lamb biryani. Not to forget the steamed prawn momos.
 What makes the local food scene so exciting?  
Local food is all about the indigenous ingredients, freshness, cultural and historic influence of dishes and last but not the least the variety. In addition, it is very cost effective and easily available.
Which is the dish you have created that you are most proud of and why? 
1) Salmon fish Nicoise encased in a puff dough. The inspiration is from a French dish –Wellington. With salmon, green beans, potatoes and eggs, it turned out to be a super combination.
2) I created a vegetarian counter for New Year called the 'all bakes'. The counter had tucker-bags, puffs, and tarts with innovative vegetarian fillings including Jain and Indian spice. This counter was well appreciated all our guests
You are having friends over for dinner tonight. What's on the table? 
Indian, Asian and a bit of Lebanese would be the highlight of the evening; it is all about the robust flavor these cuisines have to offer. Table placements would surely be Lebanese dips with lavoush, cheese with condiments and lacquered nuts. Starters would definitely be kebabs, grilled sausages, stuffed eggs, barbeque prawns and steamed dumplings. Main course would be Indian food- a robust portion of Rogan josh, paneer lababdar, black dal and biryani. Dessert would be home made kulfi or Malpua with rabdi.
Name your favourite city that has it all: food, culture, and nightlife. 
If we talk about India it definitely has to be the land of Five rivers- Punjab. If in the context of Asia as a whole then the most favorite city that has it all would be Pattaya.
 Can you tell us more about the cuisine at your restaurants?
The restaurants at JW Marriott Pune, aim at serving a diverse clientele, our cuisine has an influence from various regions.
Alto Vino: The cuisine features traditional Italian dishes with a modern approach.
Paasha: This restaurant show cases the lavish cuisine from Khyber Pakhtunkhwa or the North western frontier.
Shakahari: Our pure vegetarian cuisine based restaurant offers the traditional vegetarian cuisine from regions like Rajasthan, Gujarat and Maharashtra.
Spice Kitchen: The multi cuisine restaurant offers an array of Mediterranean, Mexican, regional Indian cuisines for its Patrons.
Pune Baking Company: The most happening corner of the city, boasts about its collection of coffees, tea, pastries and savories.
JW Food Truck: Crowd favorite dishes with a desi twist.