Wescley Braga is a Brazilian multimedia artist. He works with painting, drawing, sculpture, engraving, digital art, photography, video art, urban intervention and installation. His theme emerges from the discussions about the internal and external transformations of human beings. He has been awarded in 2020 by the National Arts Foundation – Brazil for the video art 'Cicles' and later in 2021 by the Narrative Film Festival in the categories of Best Cinematography and Best Edition – USA for the video art 'ambiguous destinations'. He has participated in several national and international exhibitions in Portugal, USA and Japan.
What is your artistic background?
I am a self-taught artist since I was a child; I studied art for a long time on my own. After some exhibitions that I held in 2010 I had the opportunity to work and learn with several artists of different techniques and nationalities, this enabled a wide growth in my art. My academic background is in philosophy, where I developed research on the philosophy of art and this directly influenced my artistic work.
What is essential for an artist's work?
For me it's emotion, art needs to convey a message. Something that seeks reflection from those who are watching. Regardless of the technique the artist uses, the work has to reach the viewer's soul.
What is the role of the artist in society?
The artist manages to change vision, step out of the ordinary, create new perspectives on a subject and generate new realities. Art has this power to make us see the world in unlimited ways.
Which art do you most identify with?
I currently work with painting, drawing, sculpture, video art, digital art and installation. Each of these languages allows me to say different things and my work carries diversity.
What themes do you follow?
My theme arises from discussions about the transformations of human beings.  Philosophy brings in me these reflections on how humanity is transformed, how society is built. My works reflect on the diverse changes of humanity.
What is your favorite artwork?
It's hard to choose just one; I like different types of art. But I would say Picasso's Guernica. This work brings an emotion and a trace that crosses time. This impresses me.
Describe a real-life situation that inspired you?
A few days ago, I arrived at the studio and saw a light slowly fading until it burned. At the same time, news kept coming about deaths due to the pandemic. And that led me to think about life as a lamp that has a light and that one day goes out. Inspired by this thought I created a series of sculptures using burning lamps, called 'lost headlights'.
What works have you done besides being an artist?
I also curate exhibitions. I like how the assembly of an exhibition is capable of transforming the space into a different environment in order to build a dialogue with the viewer.
Why art?
Art has always been present with me since I was a child, I spent my childhood drawing other worlds and I still continue to do that today. Art is already something that is part of my nature.
What is an artistic view of life?
For me there are two types of artists. Those who are able to show in their art their particular inner world and those who show their outer world. The artist has this ability to transform experiences into art.
What memorable responses have you had to your work?
Recently, my video art Dichotomies' was exhibited at the Calm and Punk Gallery in Tokyo, Japan. Seeing my work circulating around the world is a very enriching experience for me.
What food, drink, music inspires you?
My artistic process is based on music, whenever I go to create an artwork I hear a song like: 'Hans Zimmer – time'. And a glass of red wine to sweeten life.
Is the artistic life lonely? What do you do to neutralize this?
Art has always been good company for me. When I'm creating a work, I'm immersed in the process, listening to music and disconnecting from the world to create that work, to convey that emotion.
What don't you like about the art world?
I believe that there should be a greater incentive for artists, a greater appreciation by governments for artistic work from a cultural point of view. The artist does not create a work for himself; he creates a work for the world, works that represent our culture and way of thinking, which end up influencing us.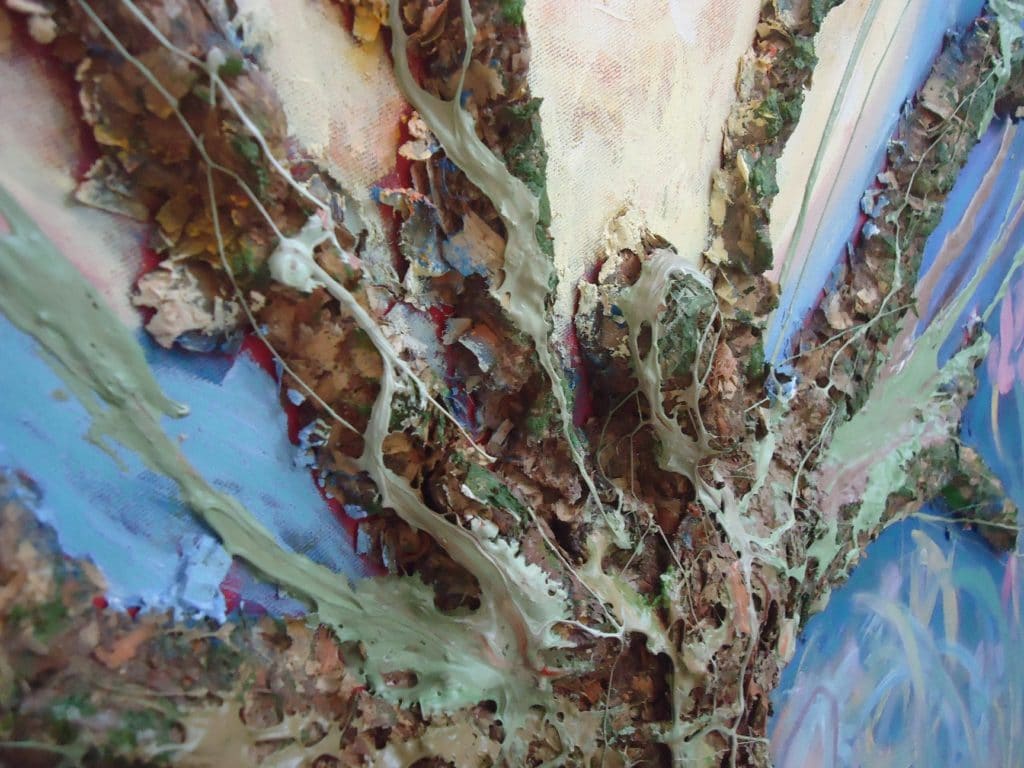 What don't you like about your job?
I love creating works with different techniques and languages. The work of creating is very satisfying, what I don't really like is the bureaucracy that the artist sometimes has to go through in order to set up the exhibition.
What do you like about your job?
I like the infinite possibilities that art offers us to represent the world. Every work of art I make has a message, a story to be told, an emotion to feel and reflect. As I create, I look for new ways to make art; I get inspired by other languages to create my visual poetry.
Should art be financed?
Certainly. Art brings to the population an enormous educational value for all cultures and when governments recognize this importance and finance exhibitions, it allows for the appreciation of regional and international artists.
What is the role of arts financing?
Holding an exhibition demands financing and needs a team specialized in the area. When the exhibition is financed, this makes it possible to happen even in other countries.
What is your dream project?
A large public sculpture so people can interact with the object.
 Name three artists you would like to be compared to.
Anish Kapoor
Bansky
Damien Hirst
Favorite or most inspiring place?
I love nature, I've been inspired by many trees to create several works. Nature is capable of creating magnificent things that bring us good energy.
 What's the best advice you've received?
Keep an open mind, art has no limits.
Professionally, what is your goal?
Continue exhibiting my artworks around the world. It is a great satisfaction for me to be able to share my art, to make people feel the emotion of every detail that my art expresses.
Future plans?
During my career I participated in several exhibitions and over time I developed more and more different techniques. I intend to set up an exhibition with international circulation that brings together the diversity of languages I work with: painting, sculpture, drawing, video art, digital art, photography and installation.