Since childhood acclaimed artist Vipta Kapadia was keen on drawing and painting. She would try to copy pictures from books and magazines and remained engrossed doing so. Eventually she joined the Sir J.J. School of Arts to formally learn Art (Drawing & Painting) passing out in the year 1978.  The renowned artist has had several exhibitions of her works since 1974. She currently lives and works in Mumbai.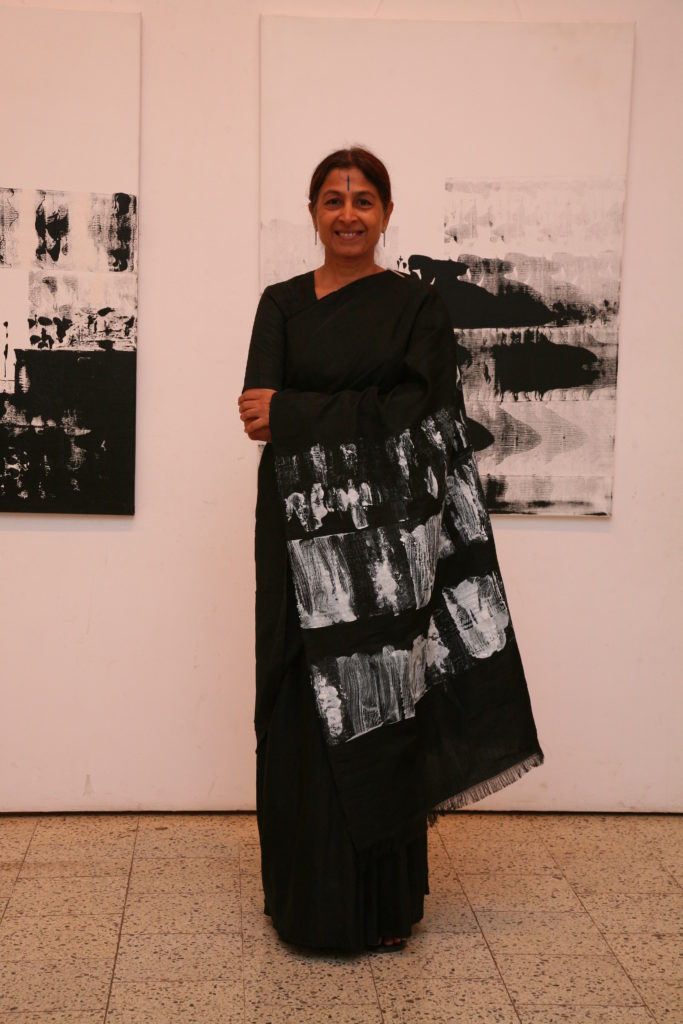 What's integral to the work of an artist?
An artist's innermost feelings find expression in their art works. That's the honesty which is integral to any artistic work. This resembles a spiritual process where one has to be open to the universe as a true being. My journey of art is integral to spirituality. Growing up in the proximity of a Jain temple, there was constant interaction with followers of Jainism.  The profound Navakar Mantra is my source of energy and peace.  I was also deeply influenced by the Jain tenet of 'aparigraha' which is a process of gradual detachment towards material goods and advancing to the higher plane of spiritual bliss. I believe my art is integral to my spiritual journey of such abstraction.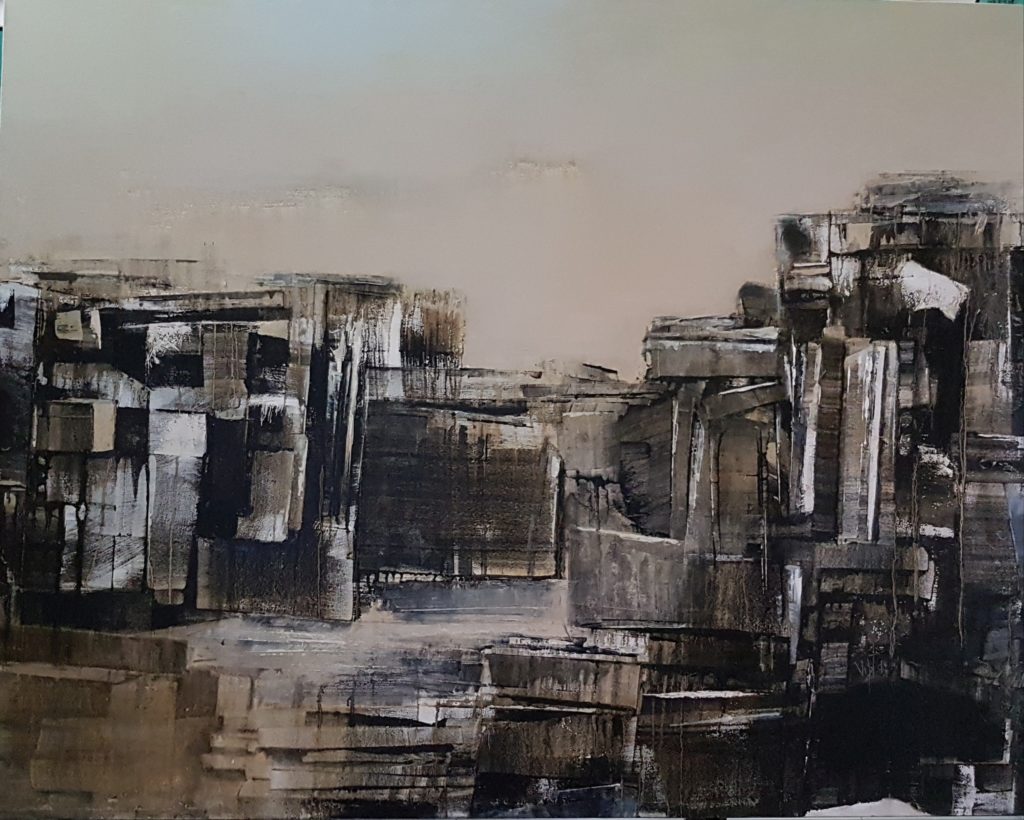 What role does the artist have on society?
Each artist has her/his own expression reflected in her/his work. These are perceived by viewers in different lights. Art has many manifestations, like dance, music, painting, pottery etc.  For me, an artist elevates the society towards appreciating beauty. The audience and viewers enjoy creations by artists thus providing encouragement to artists.  An artist is also a part of society so she /he becomes part of the whole process of uplifting society.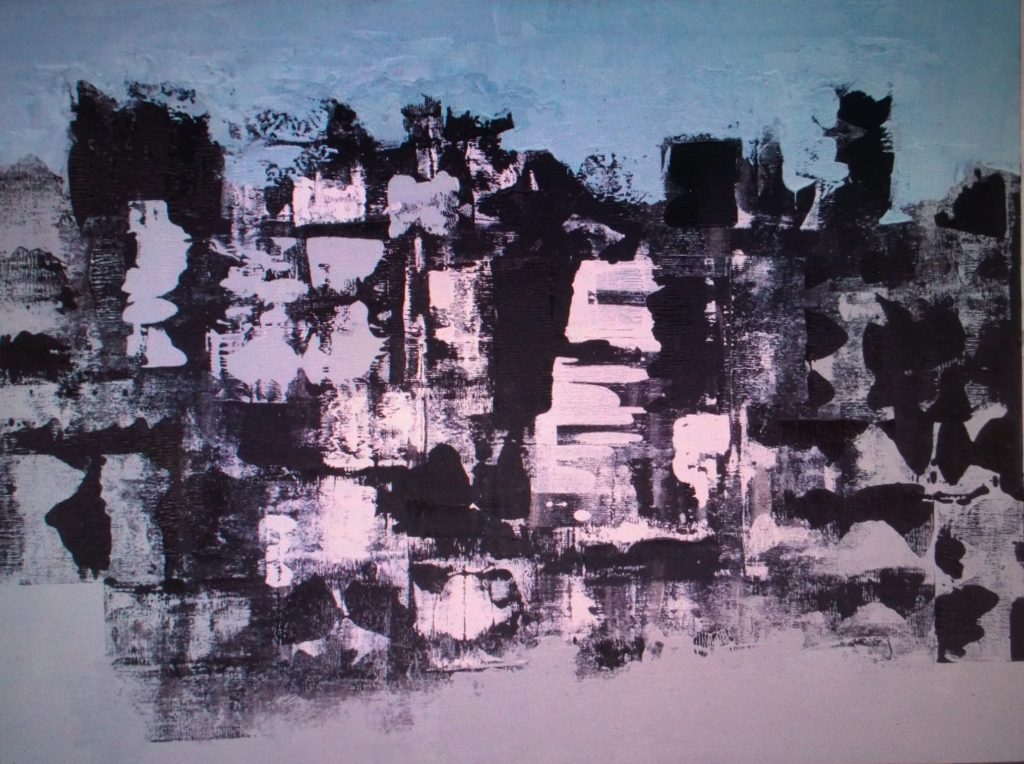 What art do you most identify with?
I find art around my surroundings and get absorbed in nature. My eyes are my guide and I keep observing the changing patterns of nature. It is never the same although, most often we are oblivious to the subtle changes which are taking place around us. This perpetual dynamism of nature is a challenge to frame into a static moment on canvas or paper. The way an artist decides to place an object in a particular manner is in itself an installation work. A particular moment carries a specific mood. Anything that holds my attention to exude a particular feeling takes form in my painting. The particular visual impression transforms into abstraction in my work.  Abstraction of the forms in my work gives me a sense of detachment that does not restrict me and my creation become limitless and formless.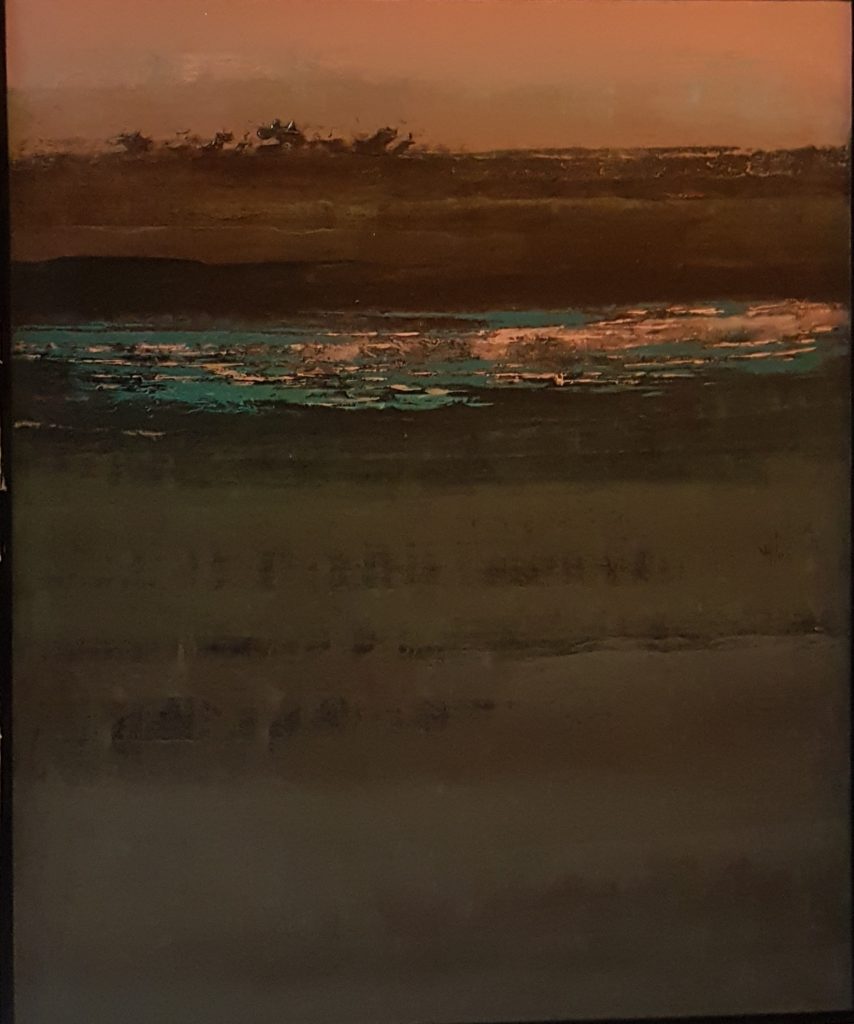 What themes do you pursue?
My childhood was spent in the midst of nature that had a free spirited aroma around. Although I derive my inspiration from what we see around in our mundane day to day lives, my imagination tends to discover something new in that familiar imagery. My constant search for something fresh in the familiar backdrop elevates me to a world of beauty and bliss. My themes sprout from the flavour of the serenity that I imbibed since I was a child.
What is your favourite artwork?
My favorite artists are Gaitonde, Ram Kumar, Cezanne and Rothko.  Their works have greatly inspired me. The play of vibrant and muted colours and their textured surface that create such deep and meditative space on their painting inspire me to spread the silence of colours.  These artists have so powerfully created such a profound impact on the viewers that all chaos becomes quiet and just peace remains.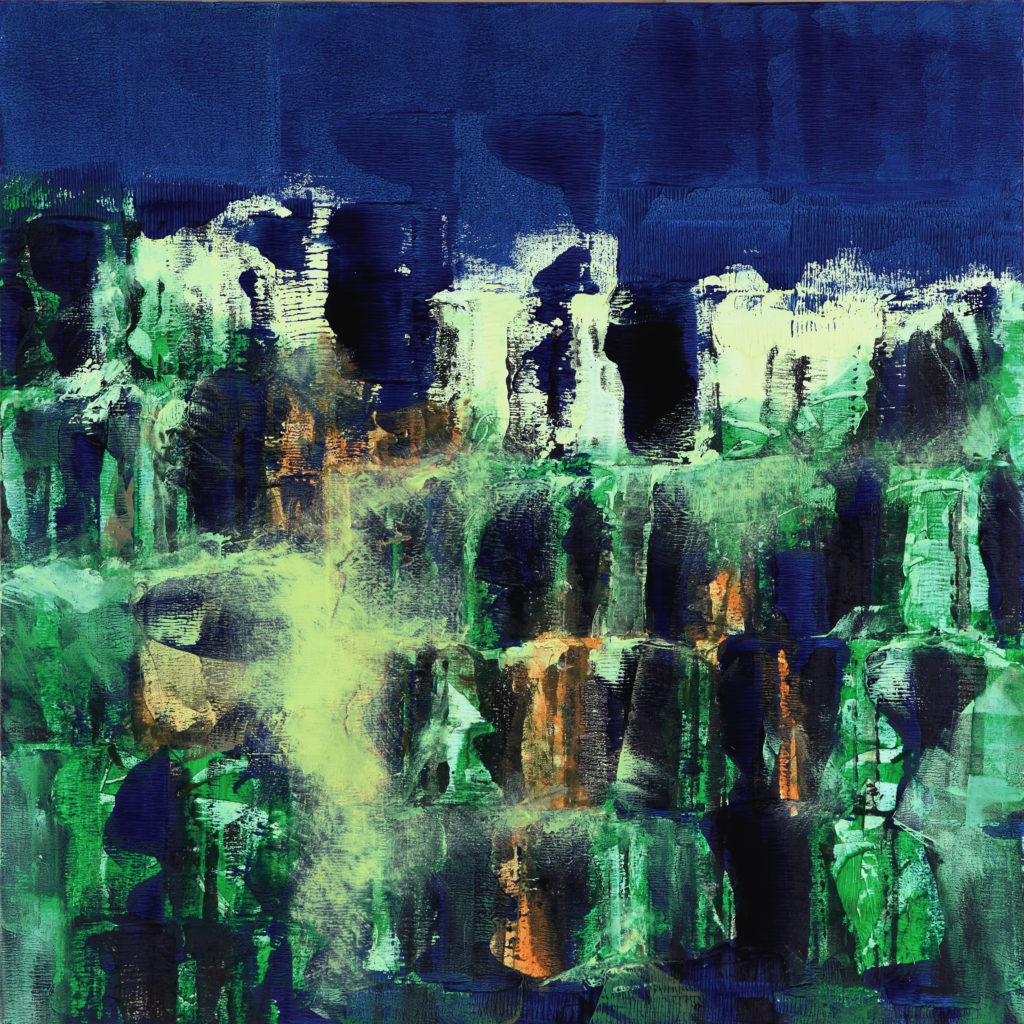 Describe a real life situation that inspires you.
My childhood memories of quaint nature still continue to inspire me. Though I grew up in Mulund, that was so green and was almost like a village. It is difficult to imagine now the lush green abundance of trees and bushes and the simple lifestyle that was so close to nature. We would swim in a large well. I remember the first time I went to Powai Lake and the serenity of the lake mesmerized me. The silence of nature that fills the heart with peace and content has been my inspiration to express in my paintings where I spread silence that inspires me.
What jobs have you done other than being an artist?
I taught art for some years. My students were from all age groups and I enjoyed watching them grow passionate about art.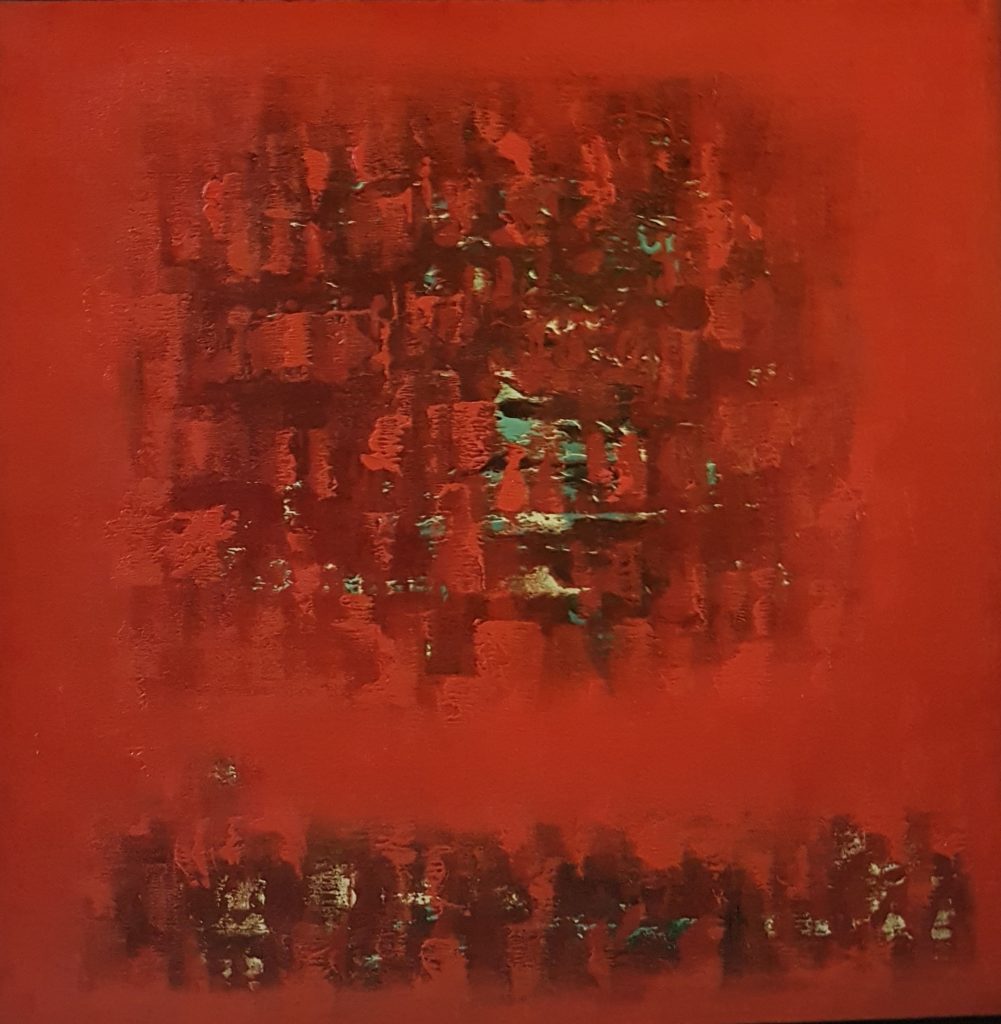 Why Art? 
In painting I find my inner joy blossoming and I can get away from all kinds of worldly chaos. Anytime I pick up my brushes and paints to start working, it immediately fills my heart with joy as if I met a friend. I share my feelings with my paintings and that gives me immense pleasure. I feel rejuvenated every time I paint. It is an intimate world to meet my art, my greatest friend.
What is an artistic outlook on life?
Art shows the way to peace. Through my art, I reach out to people and take them along with me to a synchronized meditative world. Art is capable of spreading delight in mundane moments. Everything lights up when watched from an artistic perspective.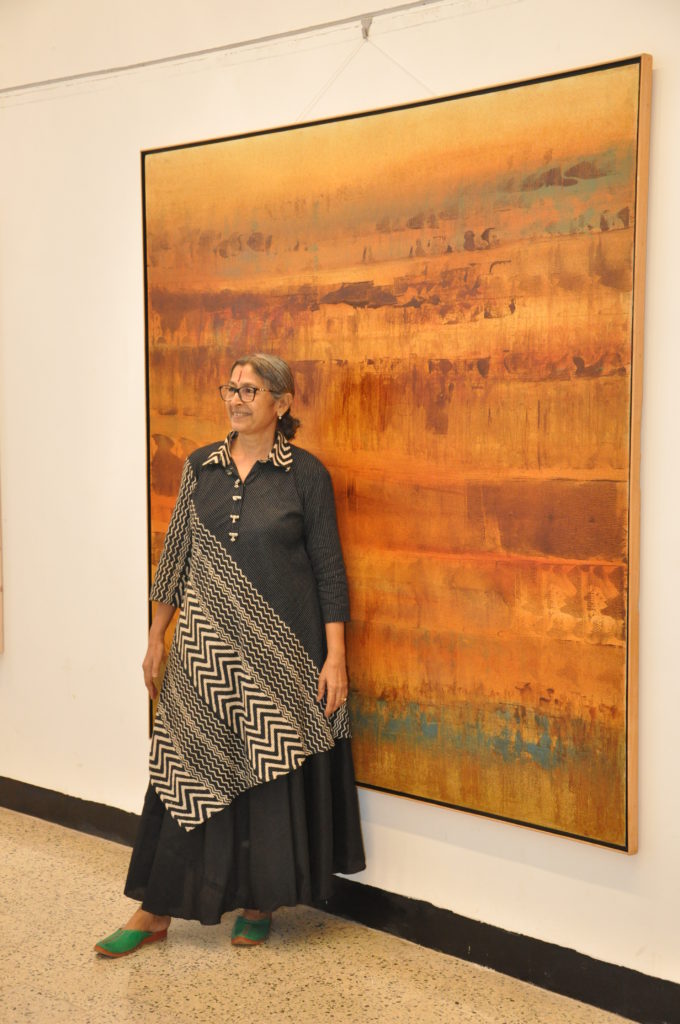 What memorable responses have you had so far for your work? 
Once at my exhibition at the Jahangir Art Gallery, an eleven year old boy who was from the US took me all by surprise. He wished to buy one of my paintings. In reply to my inquiries he revealed that he wished to present my painting to his mother who was in the US. I showed him a few of my paintings of the size he wanted and told him to pick up whichever ones he liked. He didn't have enough money to pay but his love for my paintings was more precious for me.
What food, drink, songs inspires you?
I find inspiration even in my spice bottles which I use daily while cooking. How richly textured are the masalas and how the vibrant colors of turmeric, chilli, black pepper appear to me as if Holi is being played by Mother Nature. I marvel at the changing colours of vegetables and lentils in the process of getting cooked. Such insignificant things in life become my source of joy and inspire me towards my creation. I like devotional songs, listening to which puts my mind at rest and I feel elevated to a peaceful world where the trivial worries evaporate. I also like Hindi film songs where the charm of nature outpours. When I hear these lines  'Aise hi jag mein/ Aati hein subehein/ Aise hi shaam dhali/ Neele gagan ke tale' I get lost in those magical worlds of nature. Another song that reminds me of the ever changing nature around us is 'Har ghadi badal raha hai roop zindagi/ Chaav hai kahhi hai dhoop zidnagi'.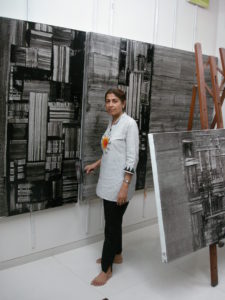 Is the artistic life lonely? What do you do to counter it?
Art is my most intimate friend. When I am with canvas, colours and brushes, I forget the world of people. The process of my painting magically transports me to a meditative world. I find so much at peace and full of energy that I don't feel anything missing in my life.
What do you dislike about your work? 
My art bestows me with an enormous amount of contentment and joy. So, there is very little space for dejection. Occasionally I do feel disappointed with what I paint but then I put it away and wait for a few days.  After a while, I feel as if I hear an invitation from the painting and then I again pick up the same work and continue working on it.
What do you like about your work?
There is no particular thing I like or dislike about my work. It is a process that gives me immense positivity so I embrace it wholeheartedly. While I am painting is the time I am at the top of the world. The process is like oxygen for my life.
Should art be funded?
Art renders joy and touches the heart of not only one generation but several in the future also. Artists should not be forced to create under the stress of earning livelihoods. Under the shade of art, so many people find solace during their tough times. It should be a collective effort to fund Art. Art illuminates the consciousness of the society as a whole so I think the society also must understand and support art.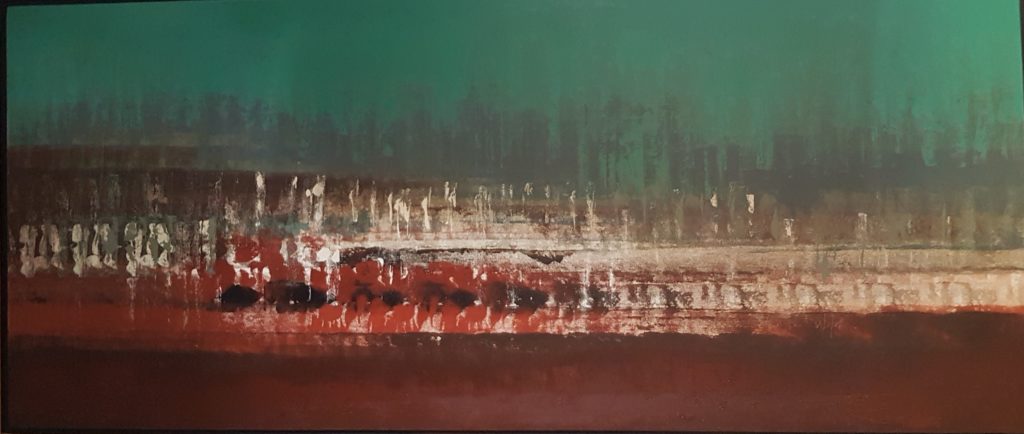 What roles does art funding have?
Earlier art received patronage from religious bodies or kings and rulers. Artists need such support so they are relieved from the stress of sustaining livelihoods.  Artistic minds are fertile grounds for generating wonders of life that spread across the whole society. Presently, the sponsors must bear the responsibility of selecting potential talent and nurture them so the fruit of art can be savored by many.
What is your dream project?
There is no project in particular which I consider my dream project but I do have a wish to adorn places with art so that art becomes a part of life for everybody. Children should grow up looking at art, admiring and imbibing the beauty in mundane activities also. Art is not just an object that can be watched from distance but it is spread everywhere. We just need to transform our minds to be able to see it everywhere.
Name 3 artists that you would like to be compared with.
I do not believe in comparing artists. Art for me is an expression that is unique to each individual who is creating it.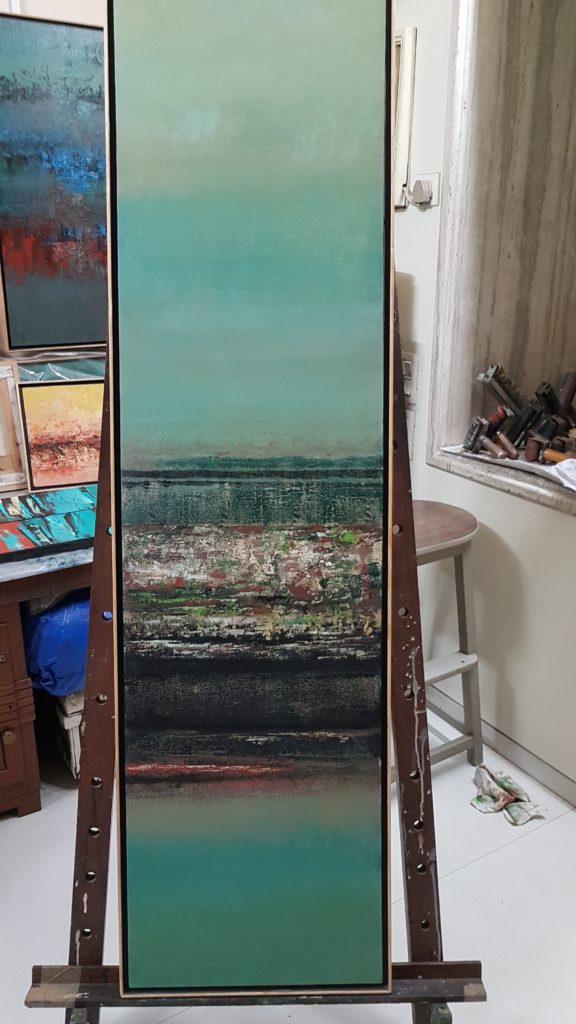 Inspirational place? 
I derive a lot from nature. The sea is a great source of calm and peace for me. Although I do not paint seascapes with conscious effort but being in Mumbai, the sea has a presence in my subconscious. I feel the bond with water deep down within me.
What's the best piece of advice you got?
Usually artists do not advise others. I have had motivational conversations with Gopal Adivrekarji and Shamendu Sonavane-both eminent in their creativity. They told me to just continue to paint and in the process I will discover magic that transforms the painter as well as the viewers to an unknown territory and opens up a world of emotions.
Professionally what's your goal?
I would love to paint all my life and remain with the bliss of art. It's the joy I derive from the process of painting that makes me most alive.
Future plans
I am a person who likes to be in the present and make it beautiful. No wistful dreams of structured plans distract me from my meditation of being in the moments of art.