"My preoccupation with paintings is to make an attempt to relate my subjective experience in relation to my surroundings and situations. A serious attempt to understand the feeling of the void within me set me thinking about existence in general. A dematerialized human figure (form) became the protagonist in the quest of understanding the metaphysical reality around me. The individual figure in my work never looks at the landscape, but with simple gestures tries to express the states of mind. A mood of non-involvement is deliberately created so as to offer the viewer the critical distance to watch the mental landscapes contained within, in order to understand the very centre of being," says artist U Vijay Kumar.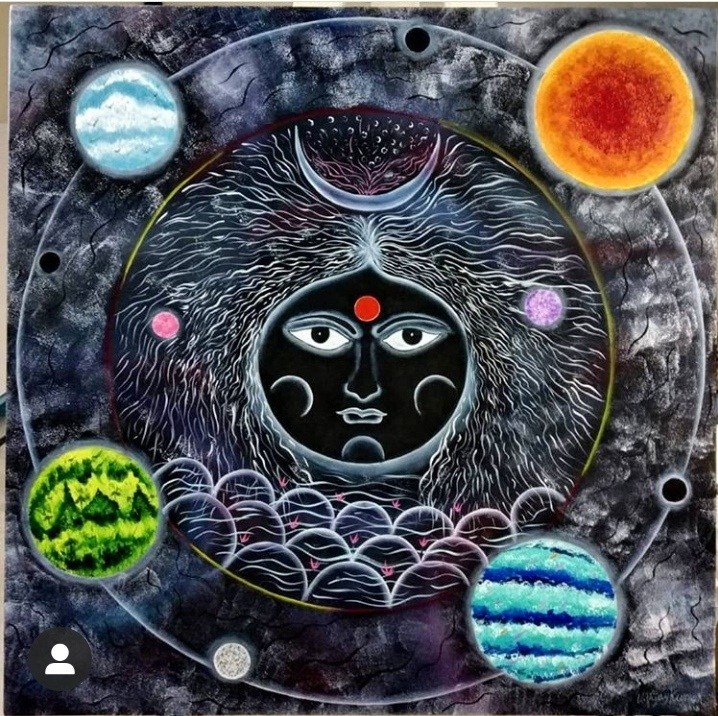 He would like to pursue his thoughts and expressions in the form of painting.  He wants to break the barriers defined by geography, language and age. Artist U Vijay Kumar also wants to present to this new world the beauty of art and the strength of the human mind.
 What's your artistic background?
After a Masters in Finearts (Creative painting) at MSU, Baroda, I got a fellowship from Kanoria Art Centre, Ahmedabad and Junior fellowship from the Government of India. Later I taught at AECS, Hyderabad. Meanwhile, I had solo shows and participated in group shows and artists camp at various places in India and abroad.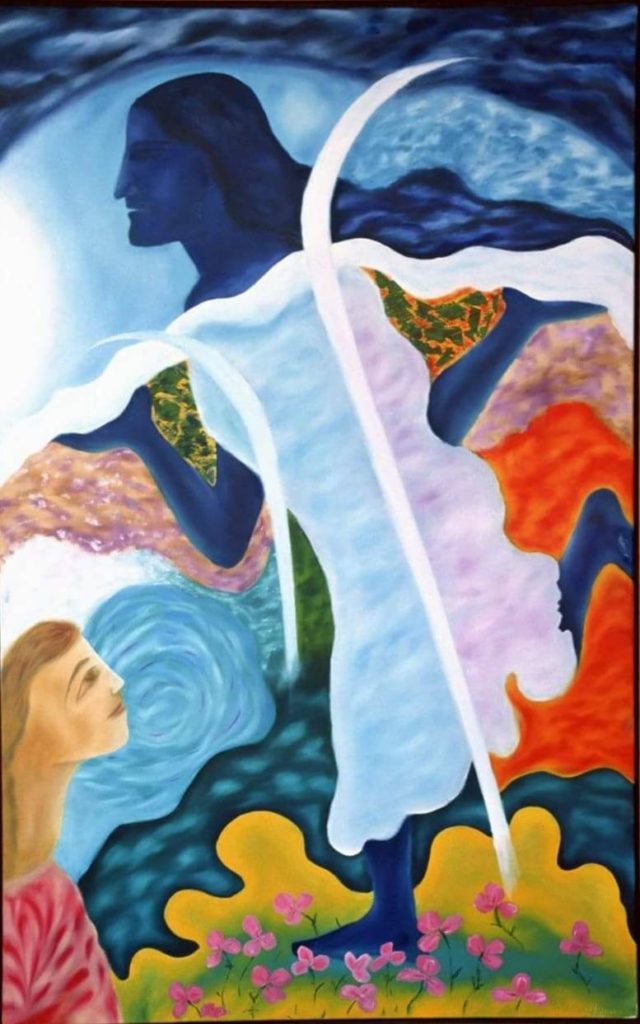 What's integral to the work of an artist?
I react to the sufferings in real life whether in nature or in community. An artist should be true in his skill and execution, genuine in his comment on society. Introspection and deep reflection enable one to portray a theme adequately. Passion and commitment, careful attention to detail and maintaining high quality are vital for creative work.
What role does the artist have in society?
Artists have been respected through history. The themes and medium have changed and evolved over centuries. If photographic depiction was the hallmark of the artists in the royal era, the Industrial Revolution and technology have contributed new themes and materials to artists. Now digital art has added a new dimension to the pursuit. Art reflects reality. Excellence must be the watchword of any artist. Artists are very sensitive to different situations in life, whether human sufferings or natural calamities.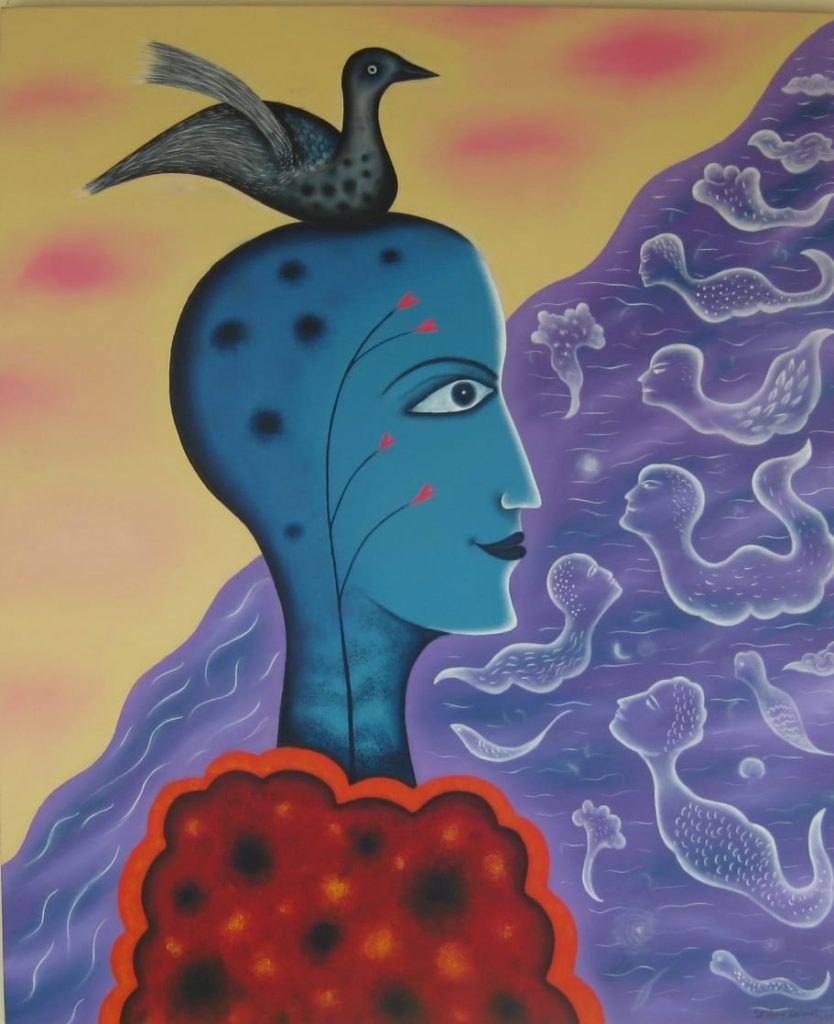 What art do you most identify with?
I identify with my metaphysical oil paintings, charcoal drawings and unique compositions.
What themes do you pursue?
My preoccupation with my paintings is to make an attempt to relate my subjective experiences in relation to my surroundings and situations. I want to attain the 'Freeness' to merge with 'Panchabhootams.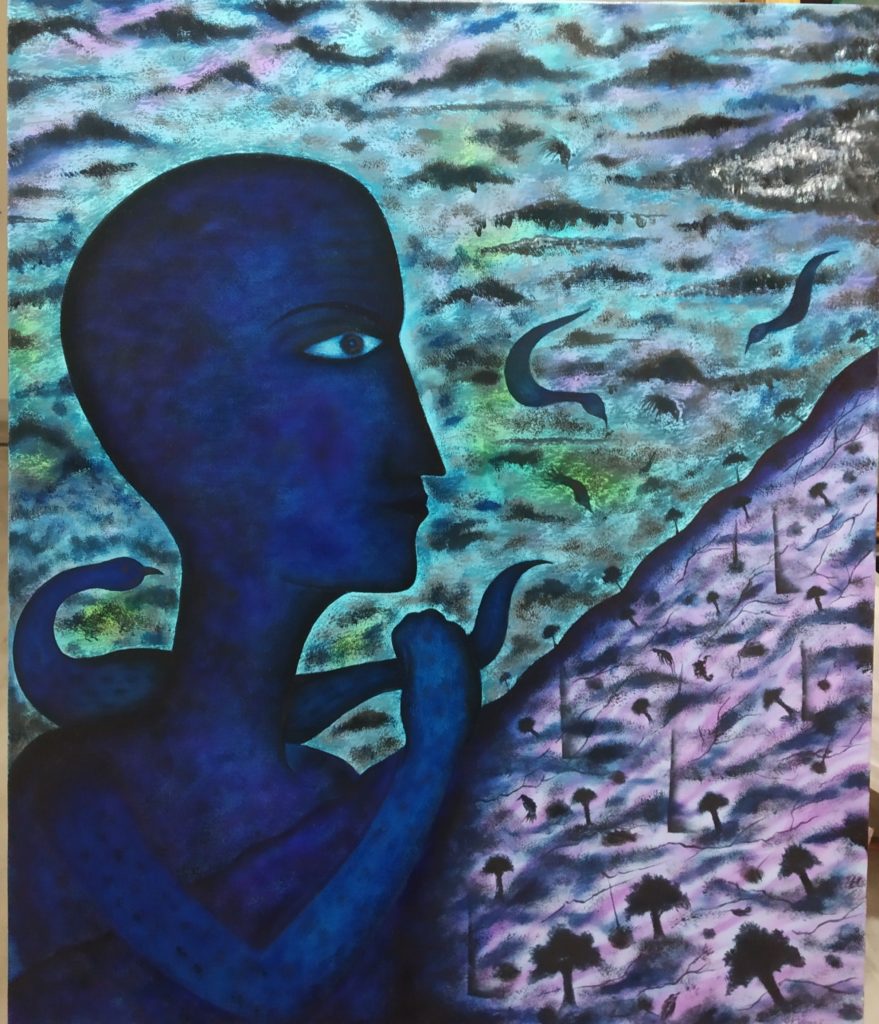 What's your favourite art work?
As far as my paintings are concerned, 'Between the walls' during the early days in 80's, this was my turning point and later on 'Hope-1' did in 2017, besides these two there are many.
Describe a real life situation that inspired you?
When I saw a man in turmoil, I pondered over and a nebulous idea took shape. Gradually it did transform into a painting.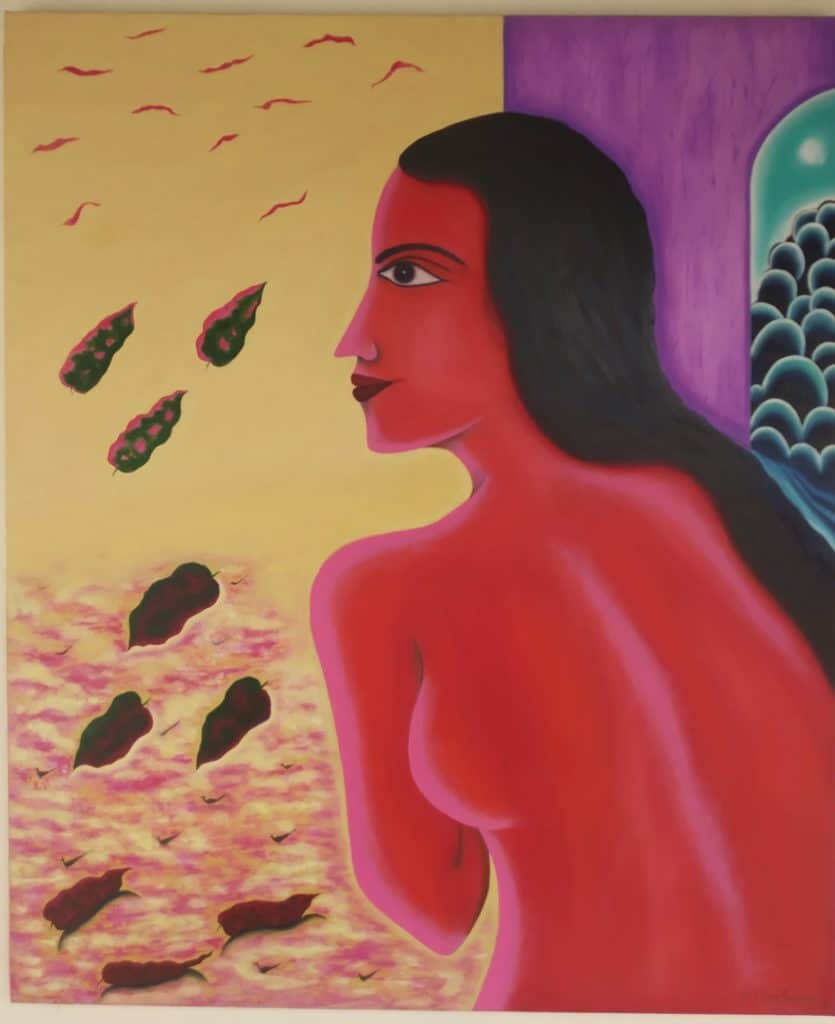 What jobs have you done other than being an artist?
I have taught at the AECS, Hyderabad, besides teaching I have been involved with students of diverse backgrounds and varied age groups. I have been interacting with senior as well as contemporary artists of different genres. This has imbibed in me a deep insight to view art in it's entirety with a holistic approach. I continue to mentor budding artists, conduct art workshops and coordinate art shows and events.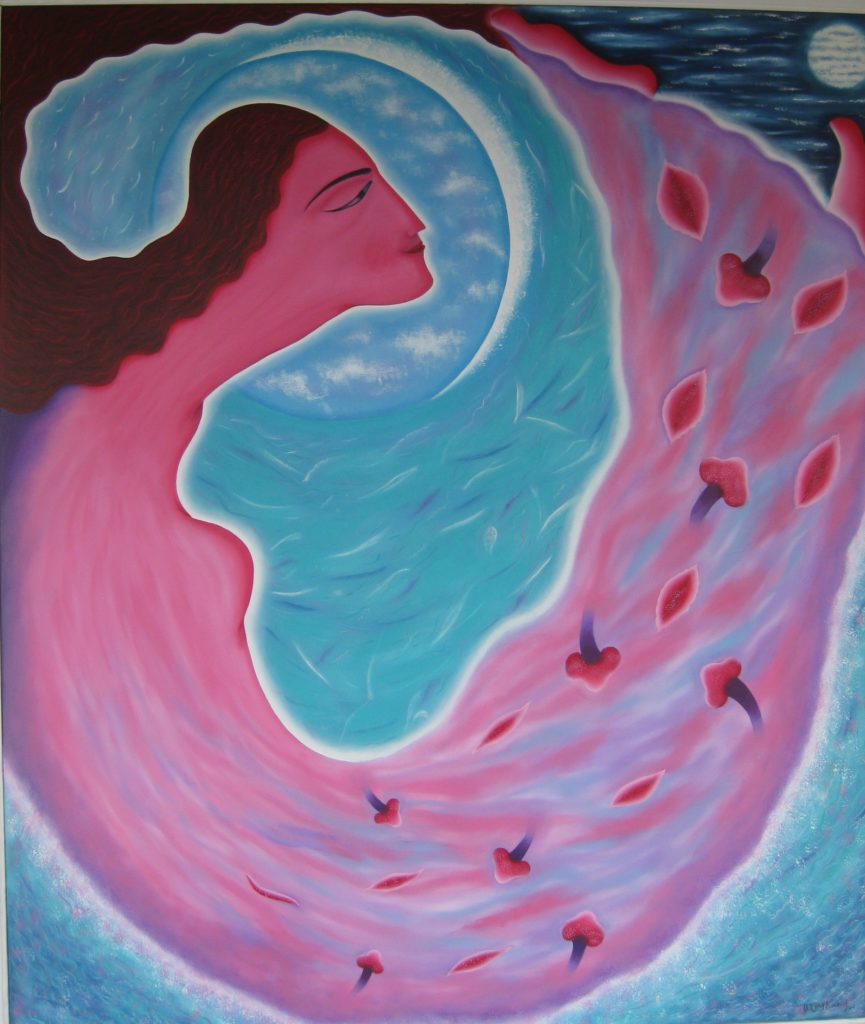 Why art?
I had embarked on this journey at a young age and imprints nagged me and prompted me to be steadfast in my ambition, whatever hurdles I came across. Luckily, hurdles were few and I am content with my progress. Of course, one doesn't rest. The palette, the brush and the theme are all ingrained in the psyche.
What is an artistic outlook on life?
An artist has an incisive look at matter. He glances at a moment from his perspective. He then mounts that idea into a lovely pattern of colours and strokes. It must evoke a viewer's mind and enthuse a viewer.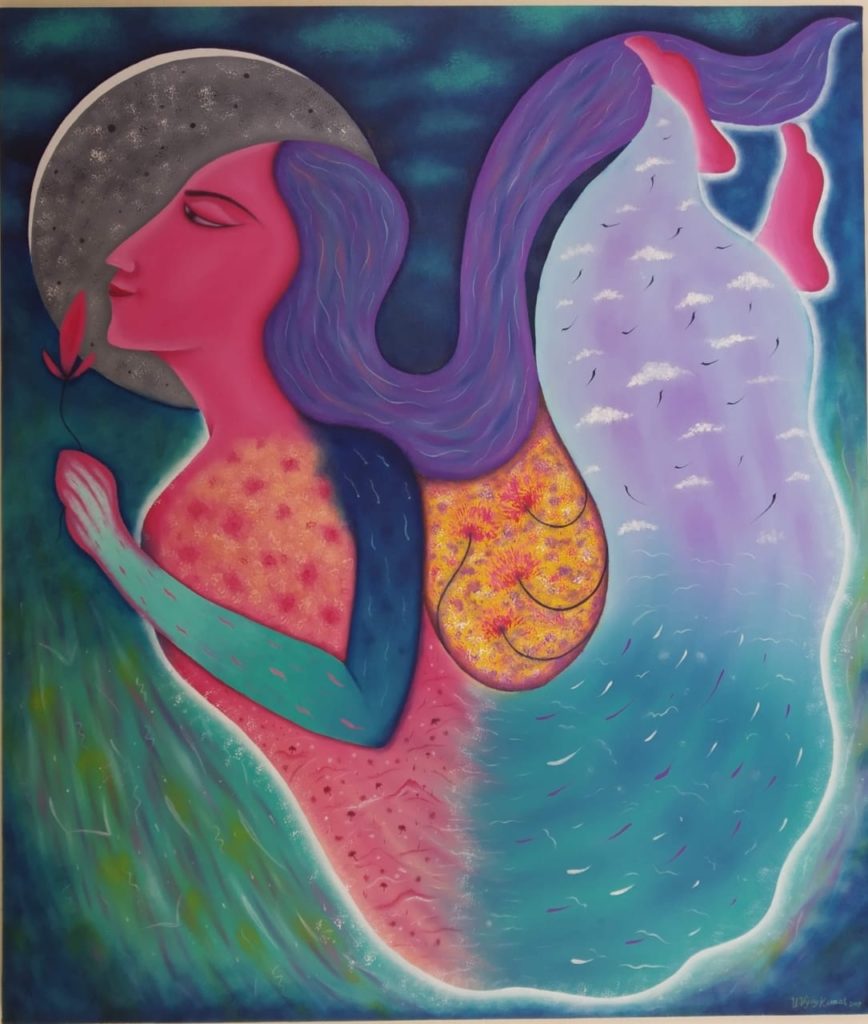 What memorable response have you had to your work?
A work of art should hold the viewer's attention and communicate with the viewer. Even art connoisseurs have come up to me and exclaimed at my pursuit. My works adorn many spots. Here I can recall an incident during my solo show in New Delhi, Professor Sankho Chaudhary, eminent sculptor and Shri Anand Dev, Chairman, Lalit Kala Akademi, New Delhi, collected my paintings for the LKA and NGMA, New Delhi.
What food, drink, song inspires you?
I prefer simple saatvic food. No particular song, but Indian classical music inspires me, and flute is my favourite instrument.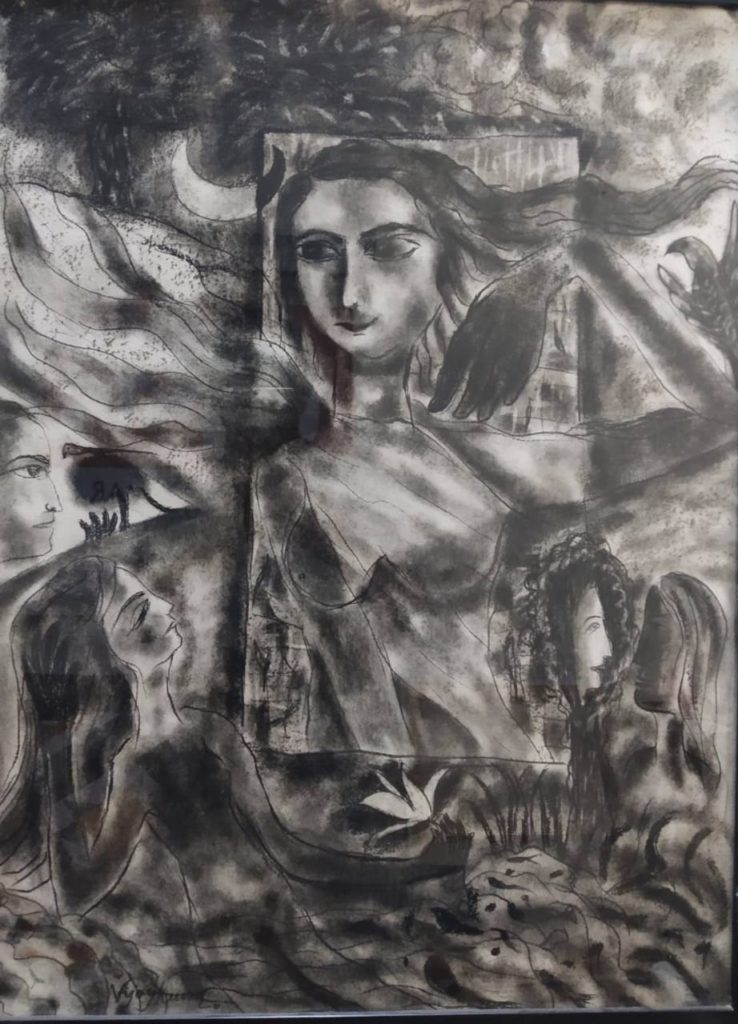 Is the artistic life lonely? What do you do to counteract it?
An artist's life is not lonely. He/she mingles with society and nature. Yet when he/she gets back to work on his/her nebulous idea in a studio or in the open, he/she prefers a calm and quiet setting. Chirping birds and humming bees and the cool breeze merely add to the ambiance. I call this solitude of the meditative type. I counteract it with my thoughtful paintings.
 What do you dislike about the art world?
The art world is a reflection of our society, it's taboos. Snobbery and falseness of some people does bother me. Unhealthy competition, groupism, politics, economic exploitation of artists is what I dislike about the art world.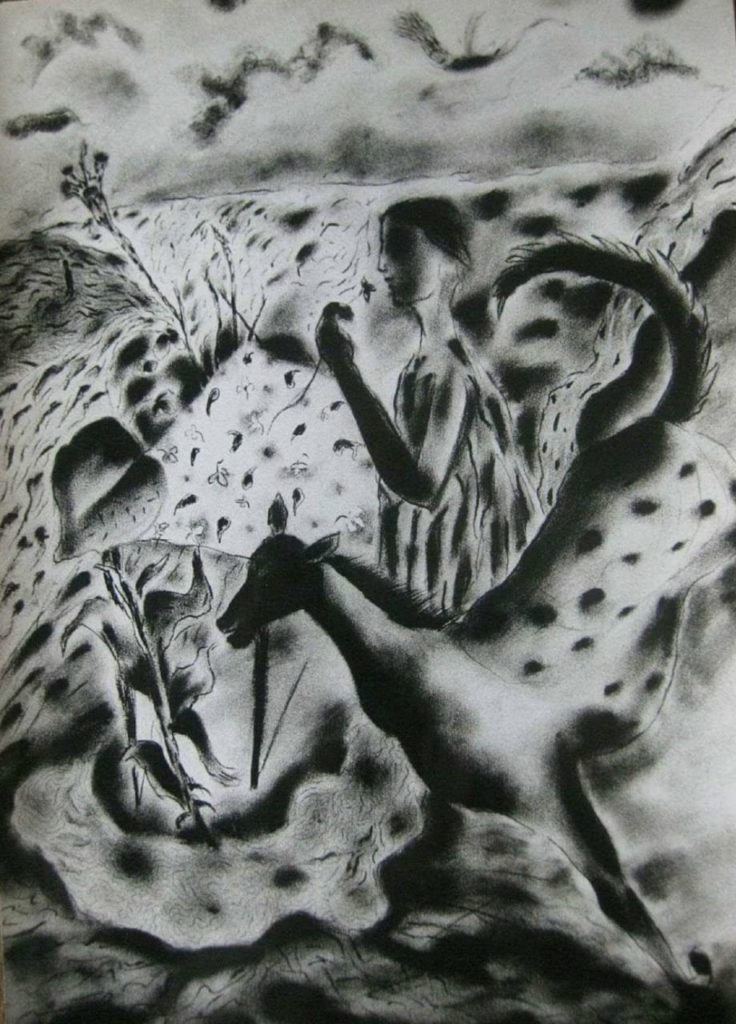 What do you like about your work?
My work is fully composite – emotionally charged and with all ideas taking a concrete shape. It's total in all aspects – composition, texture and colour.
Should art be funded?
Not funding per se. But art needs patronage of the government and private art lovers. Or else, how could an artist pursue his vocation and enhance the contribution of this work to the creative world.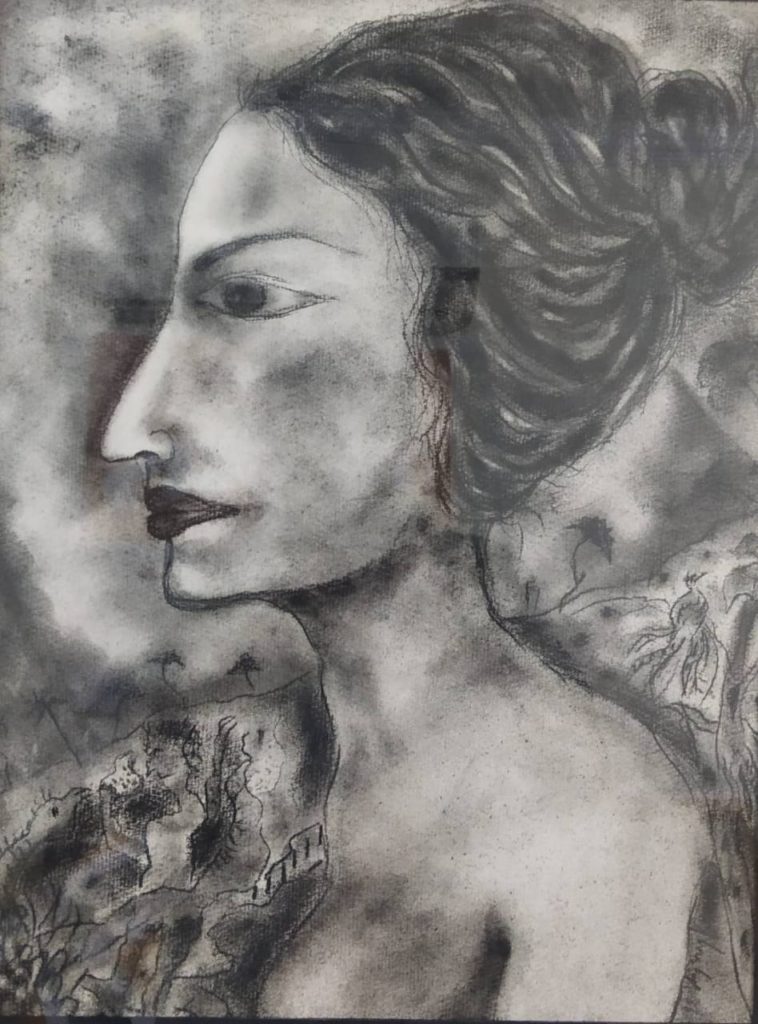 What role does art funding have?
Art funding inspires artists to explore new facets and the myriad hues of nature and the community to people.
What's your dream project?
My dream project is to depict the harsh truth and contrast with the hope of the future of mankind on a vast canvas.
Name three artists you'd like to be compared to.
I don't believe in comparison, each artist is different, has his/her own identity.
However I admire Marc Chagall, Himmat shah and J.Swaminathan.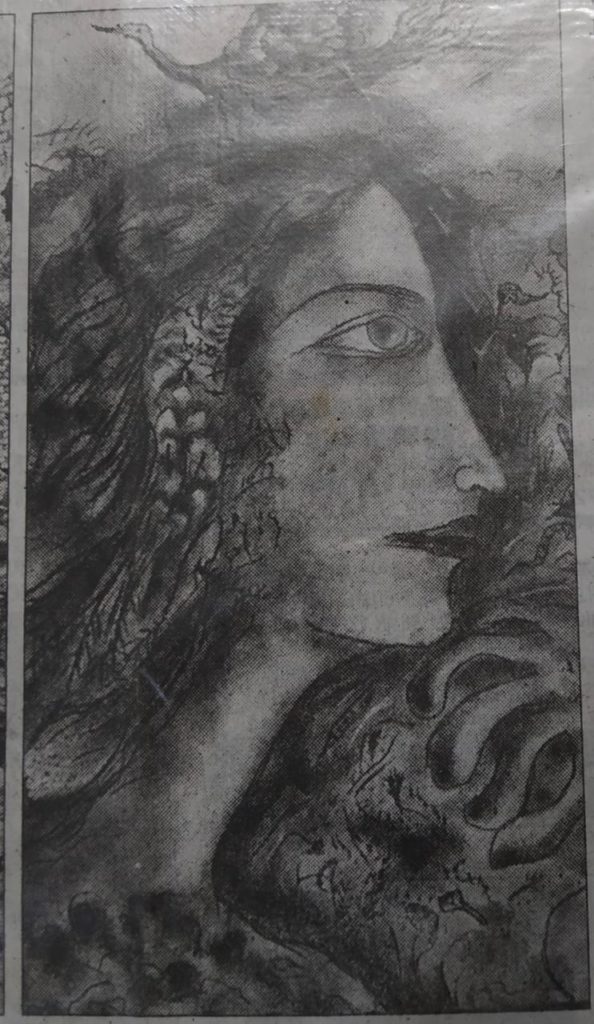 Favourite or most inspirational place.
My favourite space is my Tapas Studio and inspirational spot is in the midst of nature.
What's the best piece of advice you've been given?
When viewers respect, react and connect with my concept, feelings and my presentation, I must take note.
Professionally what's your goal ?
I just want to participate in as many shows as possible.