Tyler Ellis' sartorial journey has been a lifetime in the making. In November of 1984, she was born in Los Angeles to the legendary designer Perry Ellis and his good friend, Barbara Gallagher, an NBC executive and one of the original producers of Saturday Night Live. "The plan was for me to live in L.A. for the school year and travel abroad with my father in the summers," Tyler recalls. "But things changed."
The fashion industry was rocked when Perry Ellis tragically passed away in May 1986, of complications from AIDS. Although the world lost an icon, Tyler lost her father. "My dad passed away when I was 18 months old, so I have no personal memories of him," Tyler says. "But after researching his life and hearing personal stories from my mom and his peers, I see so many similarities between me and my father.  He was a very private man who took his career extremely seriously, dreaming big and striving for nothing but the best.  Yet what he loved most was spending time with close friends and family, sharing funny stories over delicious food and fine wine…enjoying life.  Unique points of view I find innate in me."
After graduating from Boston University with a degree in communications, Tyler moved to New York City, where she began to connect with the fashion community that had embraced her father so many years before. "I was fortunate to meet Michael Kors and ended up interning directly with him and his team," she says. "They were so down to earth—a sentiment that, prior to this experience, I didn't think existed in fashion." Eventually, the pull of her design DNA proved too difficult to resist, and she decided to launch her own handbag line in 2011. She set out to design a truly original and luxurious collection of handbags, purses, totes and clutches. The bags were first crafted in Paris, France, and today, Le Sieci, Italy, where she continues to source the finest leathers and rarest exotics.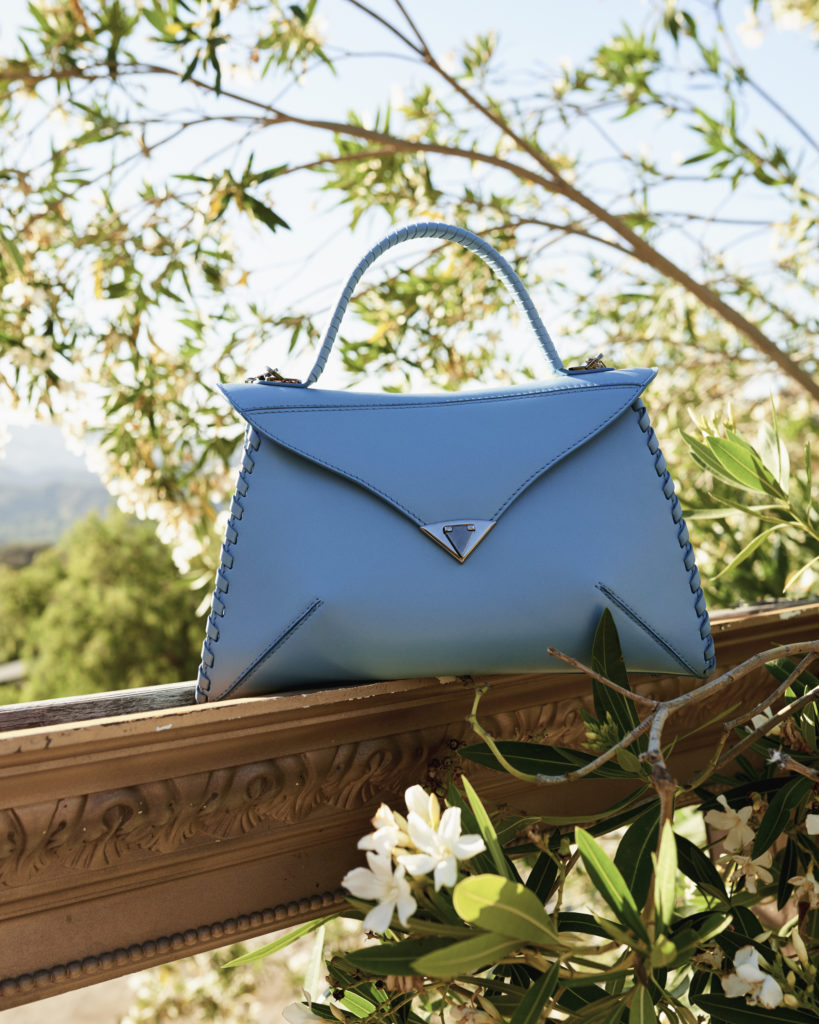 In 2017, after five years of perfecting her designs and developing an incredible partnership with her factory, Tyler took the next step – launching her first collection, 'Palm Springs', under the Tyler Ellis label. "I finally felt ready to embrace my last name in the fashion world," she says. "My father is an extraordinary American fashion icon and he always will be—but that doesn't mean that I can't create my own Ellis legacy." 
Currently, Tyler and her husband Ben live in Los Angeles, with their puppies. Passionate about continuing education, Tyler is an Executive Board member of Learning Lab Ventures, an organization focused on transforming the lives of children living in Los Angeles and disrupting generational poverty through intensive after-school education and enrichment programming. She is also a founding member of the InStyle Fashion Trust, a charitable initiative that provides business support to U.S. based designers through financial grants and strategic mentoring.
 What made you decide to pursue a career in accessory designing?
I love to travel, and I began noticing women all over the world carrying the same few brands of handbags, which inspired me to design a line of luxury accessories, with the unique charm of a boutique brand.  You will not find my Tyler Ellis logo on any exteriors of my handbags.  I believe the silhouettes, materials and craftsmanship speak for themselves.    
What do you consider the most important facets of the accessory industry?
My father (American fashion designer Perry Ellis) always believed that fashion should be fun and light-hearted, not taken too seriously.  He and his models were always smiling jovially as they frolicked down his runways.  He created clothing that not only made women look beautiful but also feel comfortable. I have taken his principles to heart.  I love what I do, do not take myself too seriously and strive to create beautiful accessories that make women and men feel excited to use and wear while also serving a functional purpose.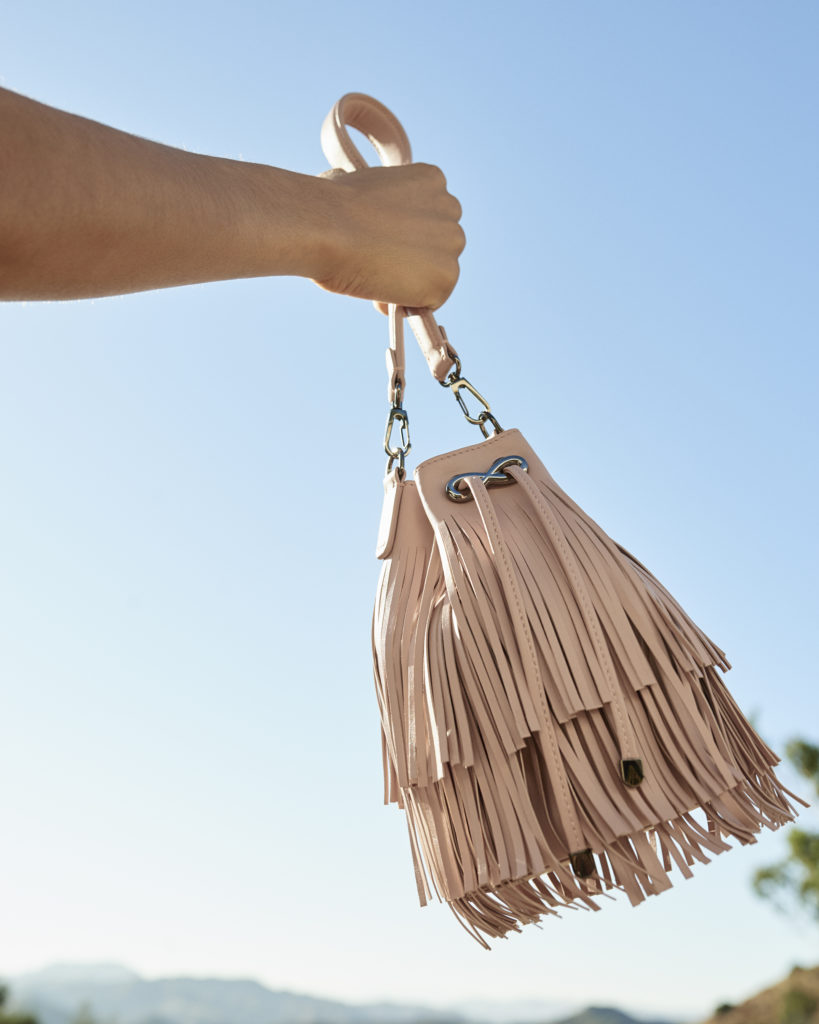 What do you think are the current and future trends in the accessory industry globally?
People are beginning to gravitate back towards true luxury, or what luxury used to mean: quality, rarity, and exclusivity.  Instead of loud trends and over the top brand logos adorning exteriors, the industry is heading toward classic, understated designs, more personalized and special one-of-a-kind pieces that you won't find everywhere you turn.  My season less collections are named after meaningful locations rather than chronologically.  I design pieces that are meant to remain relevant for generations to come.    
How do you think your education has prepared you to work in this industry?
I went to Boston University and graduated with a degree in communications, which has been very helpful in managing the backend of my business.  The most valuable lessons I've learned about being a designer/business owner have come from actual life experiences.  Finding and partnering with the right factory who views the world the same way you do is of the utmost importance.  It took me three to years to find my current factory, which was the turning point for my design career.  I was finally able to work one-on-one with the father and son owners to customize everything I had envisioned, from the smallest details like dog-clips and zipper pulls to my signature Pinecone hardware and Thayer Blue lining. Highs and lows are inevitable, but if you develop likeminded, respectful relationships, you and your business will grow and evolve successfully.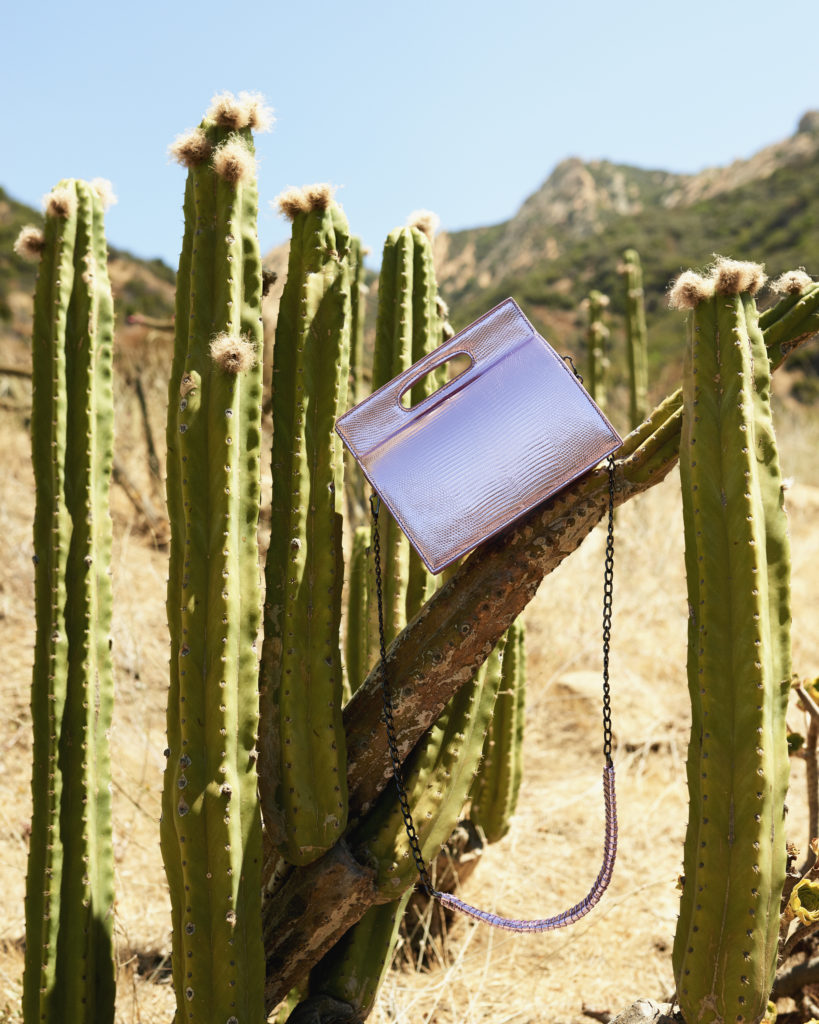 How would you describe your personal style?
I live in Los Angeles, so I'm a pretty casual dresser.  I'm typically in jeans, tee-shirts, and flats.  I stick to wearing mostly neutrals because I like to get my understated pops of colours from my handbags.
What was the first piece of accessory you ever designed?
The first bag I ever designed was called the Winifred, named after my paternal grandmother.  It was a burgundy shoulder-bag with exaggerated wing-tipped edges and a triangular front flap.  This silhouette has evolved into my current Rita Handbag, named after my maternal grandmother, and now features my custom Spear-lock Closure and Thayer Blue lining. 
When did you realize you wanted to become a designer?
I've always been an accessories girl, but didn't pursue my love for design until I was in my mid 20's.  My father was one of the most iconic American fashion designers to ever live, so I was fearful of following in his footsteps and being judged by his peers.  But, after working alongside Michael Kors and his husband/creative director, Lance LePere, (an incredible learning experience) and later for the company, I decided to take the leap and give into my DNA.    

How does designing accessories differ from designing clothes?
Designing clothing requires fitting for all different body types.  Thankfully handbags are one size fits all. Beautiful bags are a dime a dozen, but what defines the good from the great is matching aesthetically pleasing designs with intuitive practicality – a principle I strive to master.  I work very hard to create functional luxury bags.  Every one of my pieces comes with a cross body strap or chain, all fit the large iPhone (aside from my purposefully micro mini's) I strategically place pockets internally and externally, my custom Pinecone Feet are meant to protect skins from getting dirty, all bags are weight conscious and my signature Thayer Blue's electric lining is not only a gorgeous colour, but it also makes it easy to locate belongings.

How long does it usually take you to construct a piece?
My designs are handmade at a multi-generational factory in Le Sieci, Italy. The intricate production process takes between two and three days to construct each handcrafted piece depending upon design details and the materials used. Satins and crushed velvets are manually backed to provide extra stability, leathers and skins are cut by hand to ensure ultimate precision and Swarovski crystals are heat-stamped on to obtain maximum durability. From the beautifully hand-stitched accents to the meticulously hand-painted edges to the eye-catching hardware customized for each design, the highly trained native artisans utilize their honed skills to bring my visions to life. Our partnership was founded upon principles of genuine respect for each other and the thoughtful work that goes into designing and producing each handbag.  It's all about the details.

What are some of your accomplishments as a designer?
From Jennifer Lopez, to Renée Zellweger to Oprah, I've had a wonderful amount of success on Hollywood's international red carpets, which never ceases to amaze me.  Watching these incredibly talented, strong women, who have access to anything and everything, choosing to carry my bags means the world to me and my boutique brand. I designed a one-of-a-kind Perry Clutch, named after my father, Perry Ellis, who passed away from AIDS in 1986, to be auctioned off at The Elton John AIDS Foundation Oscar Viewing Party.  It was a very special night; the clutch raised $19,000 for the cause.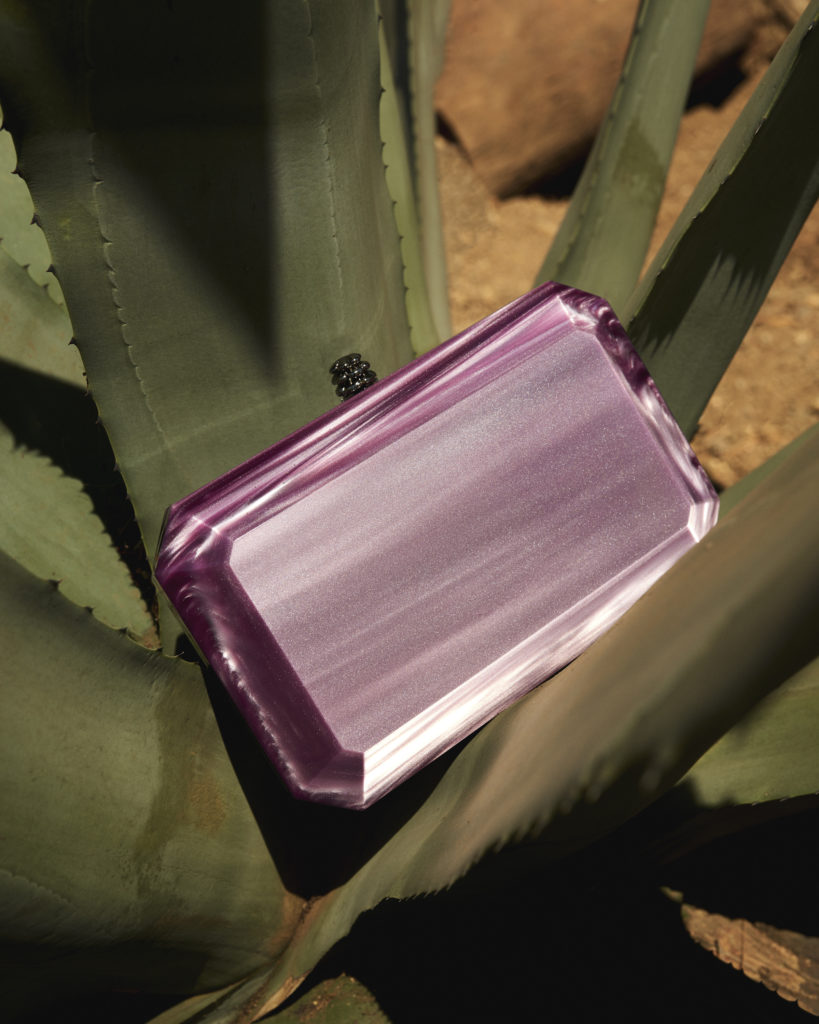 Who are some of your favorite fashion designers?
Coco Chanel-Her timeless, understated eye inspires my views on life and the designs I create. Current designers – My go to cocktail dress designer is Alaïa.  The fit is perfect, and the materials used are so luxurious and incredibly comfortable.  
Where can readers buy your products?
I just finished a major update of my website, tylerellis.com. Please go check it out!  I also sell on Farfetch.com and 1stdibs.com, a beautifully curated site dedicated not only to high end fashion, but also to incredible furniture, art and unique items you won't find anywhere else!   
How long have you worked as a designer?
I launched my company under the Tyler Alexandra (my middle name) label in 2011 leaving off Ellis because I felt I needed to earn my last name not just use it.  During the Alexandra years, I worked hard perfecting designs and hardware, building the right team and making sure the back end of the company was running like a well-oiled machine.  In 2017, when I felt confident and proud of what I had built, I changed the name to Tyler Ellis, finally ready to create my own Ellis legacy. 

What advice do you have for aspiring designers?
Make sure you absolutely love what you are about to do.  It's a highly competitive world, and in order to succeed you need to distinguish yourself from the rest, define and live by your brand DNA and understand that it takes time to build consumer trust in your brand.  Long term success will not come from one advantage or connection you might think you have.  It will happen slowly with time, while you work to perfect every aspect of your business.  Always keep thinking outside the box ways to push forward.  And never forget, you are nothing without your team.  As Michael Kors once told me, "Surround yourself with the best people possible."

Do you consider yourself as an artist?
I think of my handbags as little pieces of art.  But I would consider myself the visionary, and the Italian artisans at the factory the true artists.  Their incredible craftsmanship is artwork no machine can ever mimic.