Born in Mumbai of Goan parents in 1960 Wendell Rodricks studied Hotel Management and worked in the hospitality industry for six years before studying Fashion Designing in the USA and France from 1986 to 1988. He returned to India, and eventually his ancestral village in Goa, in 1993. Wendell's first collection from Goa earned him the title 'Guru of Minimalism' and his next collection in 1995 pioneered the concept of 'resort wear' and eco-friendly garments in India and eventually put Goa on the fashion map of the world. A designer with an international presence Wendell presented his unique garments, inspired by Goa and India, at major fashion events. Rodricks had the honour of being the first Indian designer to be invited to show at World's largest garment fair IGEDO in Germany (1995), Dubai Fashion Week (2001), Malaysia Fashion Week (2002), the prestigious Paris Pret-a-Porter salon (2007) and the world's biggest organic fair BioFach in Nuremberg, Germany (2012). In 2007, the Confederation of Indian Industries invited the designer to showcase two fashion shows in Bryant Park, New York to celebrate the 60th year of India's Independence.  Rodricks had also, shown at Festival of India (1993) in Beijing and Shanghai in China and had shown in Sri Lanka.
Wendell Rodricks was instrumental in planning the first ever Lakme India Fashion Week in 2000 and guiding it in an advisory capacity during its formative years. In 2000, 2003 and again in 2008 he was honoured as the 'finale' artist for the event. In 2002 Wendell was named Man of the Year, a prestigious honour from Goa Today magazine. In 2014, the designer was awarded India's fourth highest civilian honour, the Padma Shri by The President of India, Pranab Mukharjee for Art (Fashion Design), honoured by the All India Konkani Parishad, bestowed the Rainbow Warrior Award by Kashish Film Festival and conferred the distinction of Knight in the Order of Arts and Letters (Chevalier de l'Ordre National des Arts et des Lettres) by The Ministry of Culture and Communication of France. On 12th February this year, the much loved and respected Wendell Rodricks passed away peacefully in his sleep at the age of 59 in his hometown Goa leaving many of his friends and admirers devastated. In this feature we spoke to Schulen Fernandes, Creative Head of the brand Wendell Rodricks about the current and future trends of fashion and the future of the Indian fashion industry.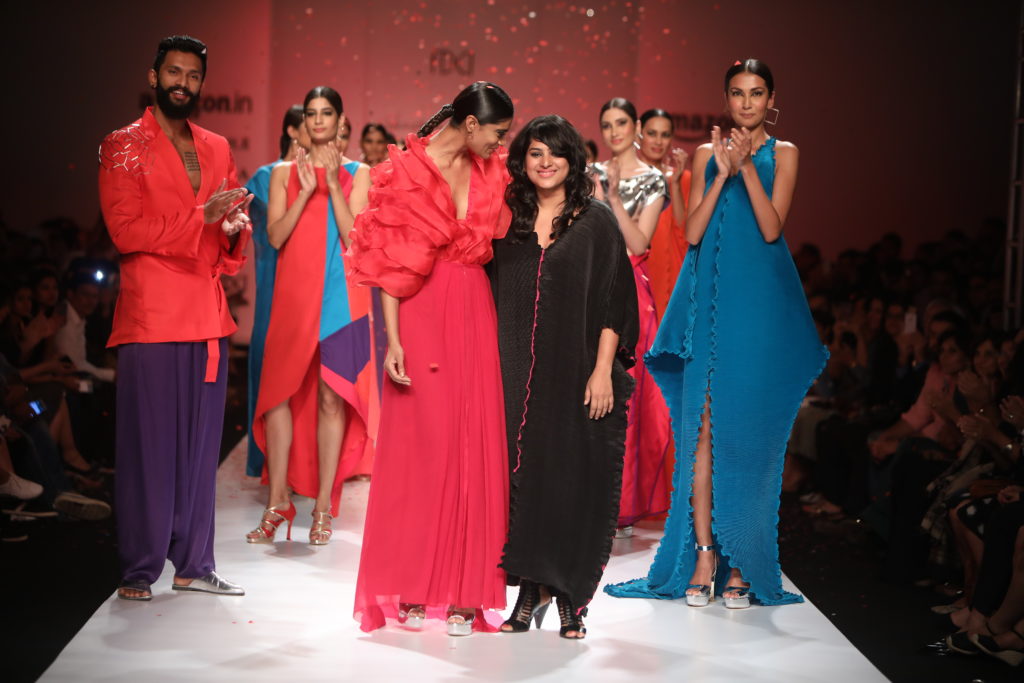 What do you consider the most important facets of the Indian fashion industry?
The access we have to a vast, culturally rich heritage of the arts as well as the crafts of our beautiful indigenous communities spread across so many states. Each one so distinctly special and unique.  There's so much to inspire in terms of traditional weaves and surface textures. As an industry, many of us are committed to the cause of restoring these heirloom techniques and their most often, undervalued hand crafted appeal. The upsurge in the relevance of slow fashion, which until now was peripheral only to the luxury segment, is thankfully taking on a new role with most fashion houses also employing a sustainable approach to their processes. Lastly, we are a 2.5 plus trillion dollar industry and the world's sixth largest fashion market, one that also employs a fair amount of women as it's workforce. The Indian fashion industry is hence an empowering business that supports society and the economic structure of our country.
What do you think are the current and future trends in fashion?
Fashion in collaboration with science, engineering and technology will be the new future. For the last couple of years the most important trend has been to impact a positive change on our planet while supporting evolving and conscientious fashion. Innovations with a purpose like the bra developed with the ability to detect tumors, catalytic clothing, air-dyeing which has drastically reduced the water and energy usage as well as cognitive computing to forecast trends for future seasons that could help reduce excessive manufacturing. Brands will offer more transparency and insight into their processes, almost like a nutritional sticker for their clothes. Knowing where the fabric was sourced, how the clothing was made, the technician's name who stitched your shirt etc. While considering this present global crisis, I think for the Indian fashion industry the spotlight will shift further more towards including local artisanship with technology, to help raise and sustain the revenue within our economy. Consumers will play a huge part in driving the change too, with informed responsible buying.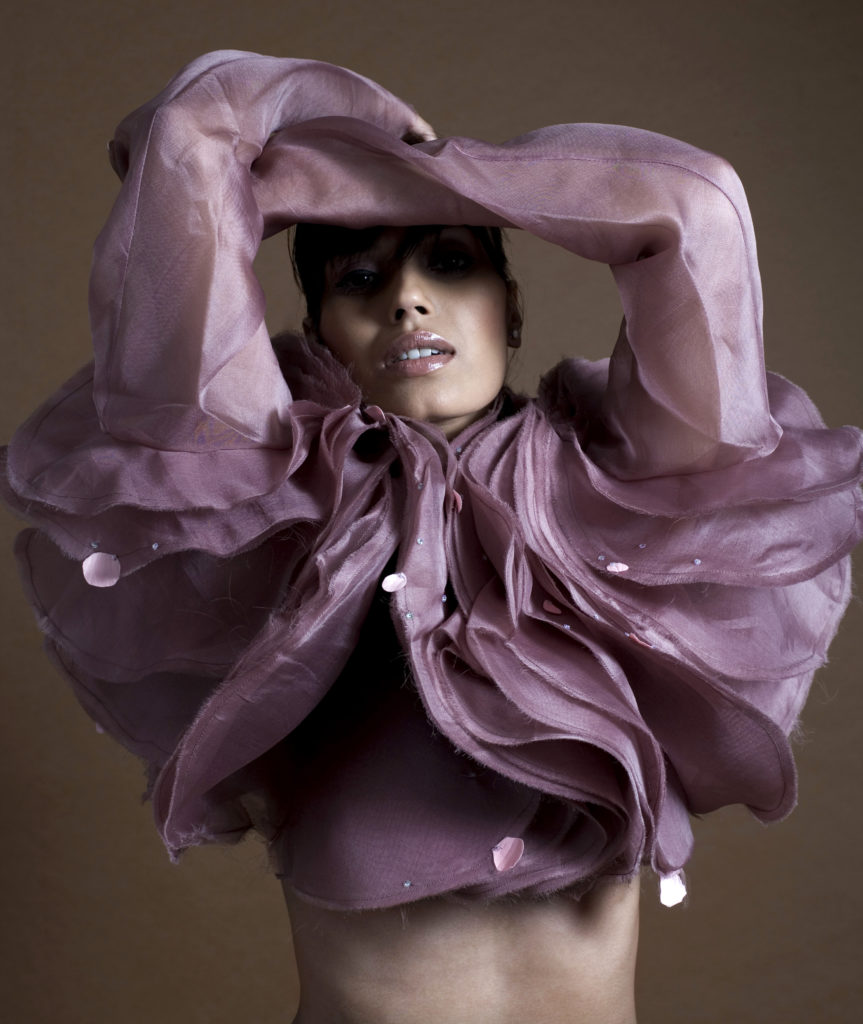 Define 'Fashion'
Fashion is affordable art, thematic or practical wearable art. It's the freedom to choose and express yourself. It's meant to pique your interest, to be new, to be aspirational but most of all it is meant to spark joy and make you happy. It's not defined with clothing alone, it could be a hairstyle or a bag or a shoe. Fashion is essentially about your style. It helps visualize and dress that innate style, one that should be uniquely yours forever.
What was the first article of clothing you ever designed?
As a little girl, I designed and hand sewed a dress for my Barbie doll. It was a slim strapless dress with a low-waisted flounce in lilac cotton twill fashioned from some waste fabric, left over from shortening a long skirt as I recall.
What do you believe makes a good quality article of clothing?
The fabric, I believe it is the most crucial element to making a piece of clothing. If the construction of the fabric is not perfect for a particular design, it can fail the purpose of the design entirely. From it's drape to how it feels when you put on a garment, as well as it's tensile strength to handle the eventual wear and care. Besides this, I also find special attention paid to finishing a garment with impeccable finesse is key to it's longevity too.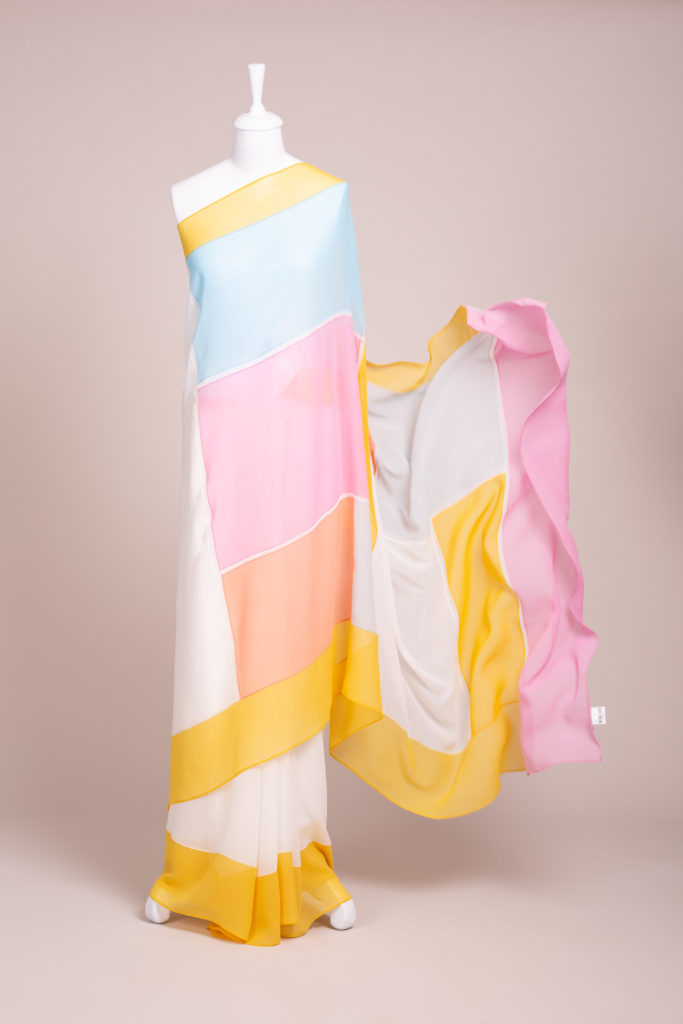 What advice do you have for aspiring fashion designers?
Beyond getting the right education suited to your aspirations, I completely endorse working with the best there is in the industry. Be it a design house, a publication or a corporate organization.  Once you elevate your first exposure and experience to the best, everything is a plus from there on. Nothing can trump what you learn firsthand on the job with standards set to a high early on. It will always throw up aces on your fashion journey to follow.
 How would you define the style your line exemplifies?
I have a special affinity for minimalism, a Goan ethos that is resort inspired and like using Indian geometric lines in a contemporary style. At the core of my designs are clothes with a sensitivity to the environment. My designs feature breathable fabrics and breathable silhouettes in uni-size or fluid drape. I believe the clothes should feel like air, making you less aware of them and more aware of you.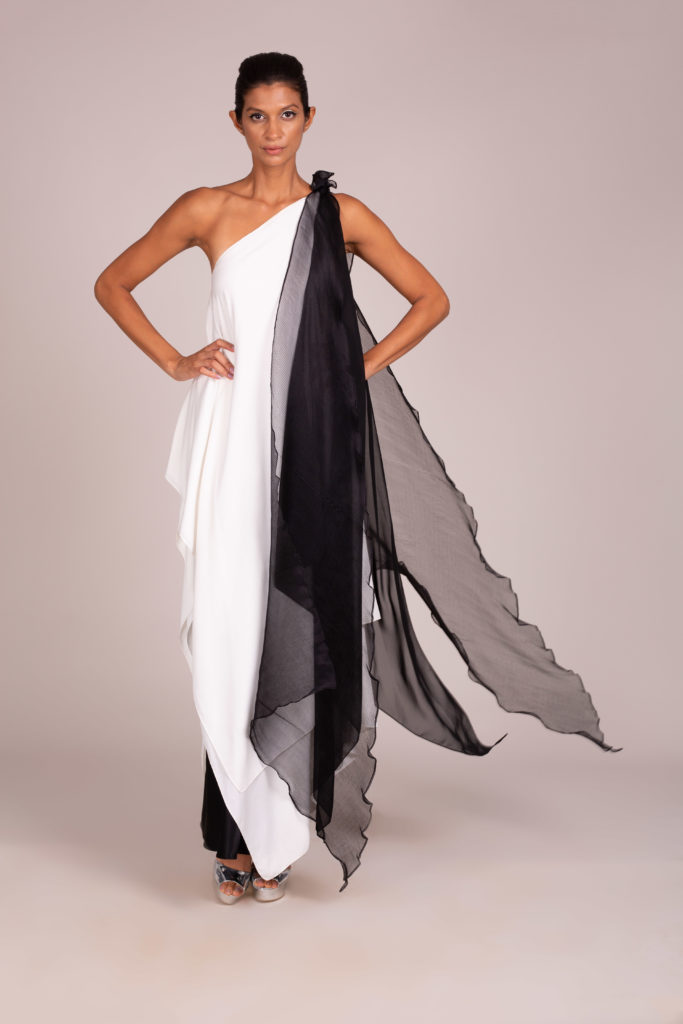 What are some of your fashion goals?
Presently, with the 'Wendell Rodricks' label in which I'm hugely invested, the goal has been to have an online domestic and global presence, which we have never had before. Further to this, I am working on exploring the brand through various licensing deals and other such collaborations with retail opportunities adding to a vibrant palette of this most versatile Indian brand. I'm also working on a special project to further build relationships with a social enterprise at it's core, empowering women in Goa and hopefully the rest of India too eventually if all goes to plan.
Where do you get your inspiration?
From anything and everything. I keep a very open mind and a curious eye to observe. There's so much to inspire around us. From everyday life to art, to music, history, architecture, nature, cinema or even a piece of furniture. That's the beautiful thing about design, there's never a dull moment creatively.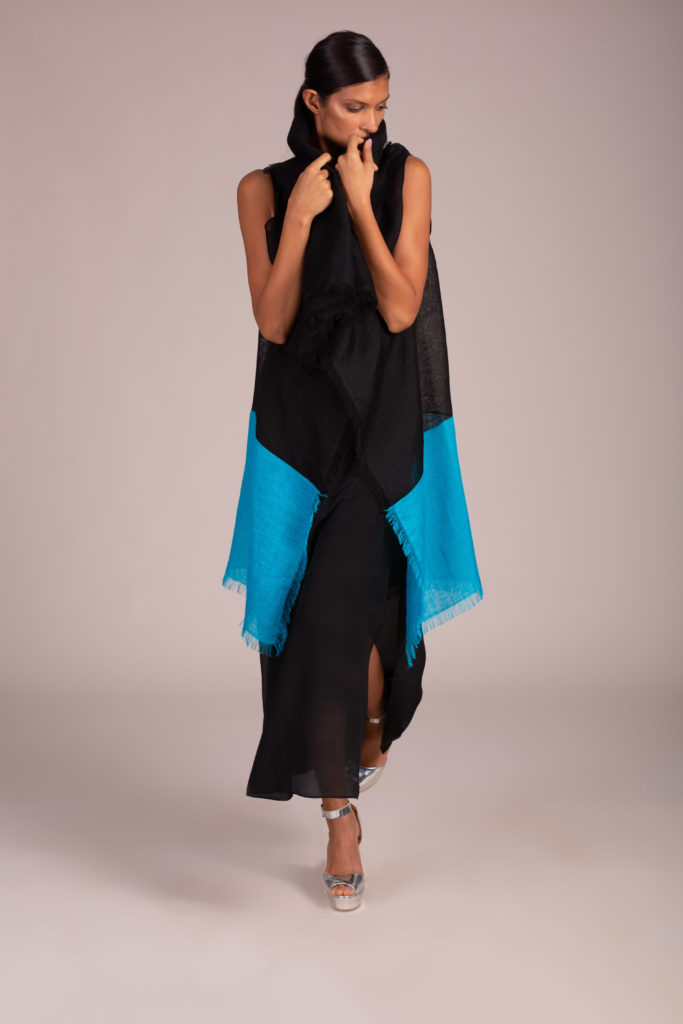 What are your favorite colors to work with and why?
White by default. I love the elements of calm and a blank canvas that it affords. Then of course black, which gives you a stark non reflective canvas to splash on colour or surface textures lending it a stark graphic palette. I also absolutely love the stunning bright Indian festive colour of 'Rani Pink' or 'Fuschia', as it is popularly known. So vibrant, feminine, strong, beautiful and celebratory.
What are your favorite fabrics to work with and why?
Natural fibres are my favourite. There's a certain honesty of feel and drape that unadulterated natural yarns bring to fashion. Especially handloom cotton and khadi. I strongly believe the challenge is to make what is otherwise considered to be a nonchalant fabric stand out in the strong hold of glitzy synthetic power looms.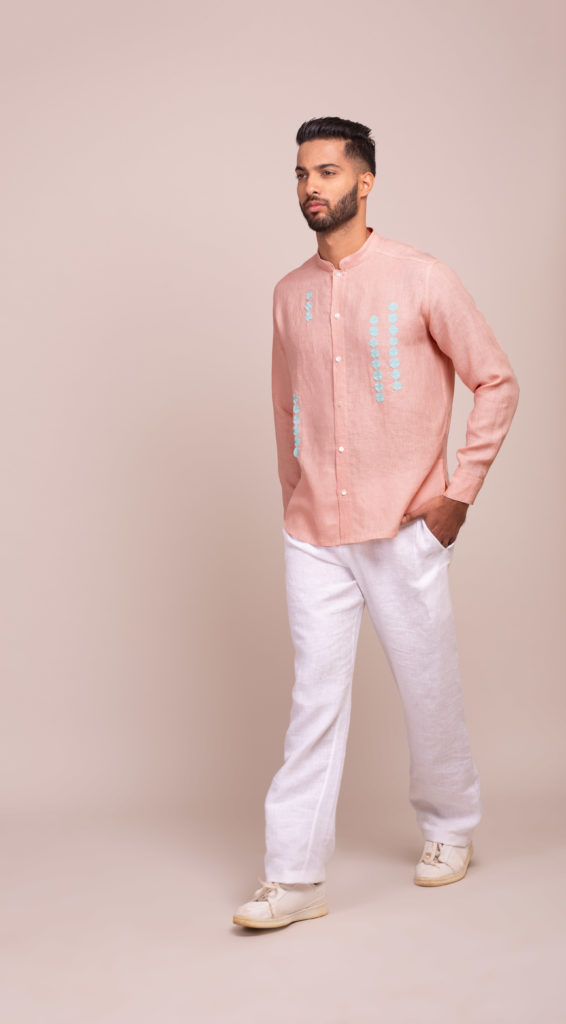 What are your favorite patterns [prints] to work with and why?
The WR label from it's inception has believed in a clean minimalist approach to design and hence patterns form only 5% of our design narrative. Though if I had to pick one, I am largely influenced by geometric designs. So the prints or surface textures created and developed are usually geometric and largely abstract in appeal. The aim is to always ensure to never let a print or pattern over power the design or it's wearer.