Artist Supriya Wadgaonkar graduated from Abhinav Kala Mahavidyalay, Pune and started her artistic career from there. She has participated in several solo and group shows as well as attended many workshops and art camps. Her beautiful paintings hold a place of pride in the collections of the National Museums at Uzbekistan and Poland.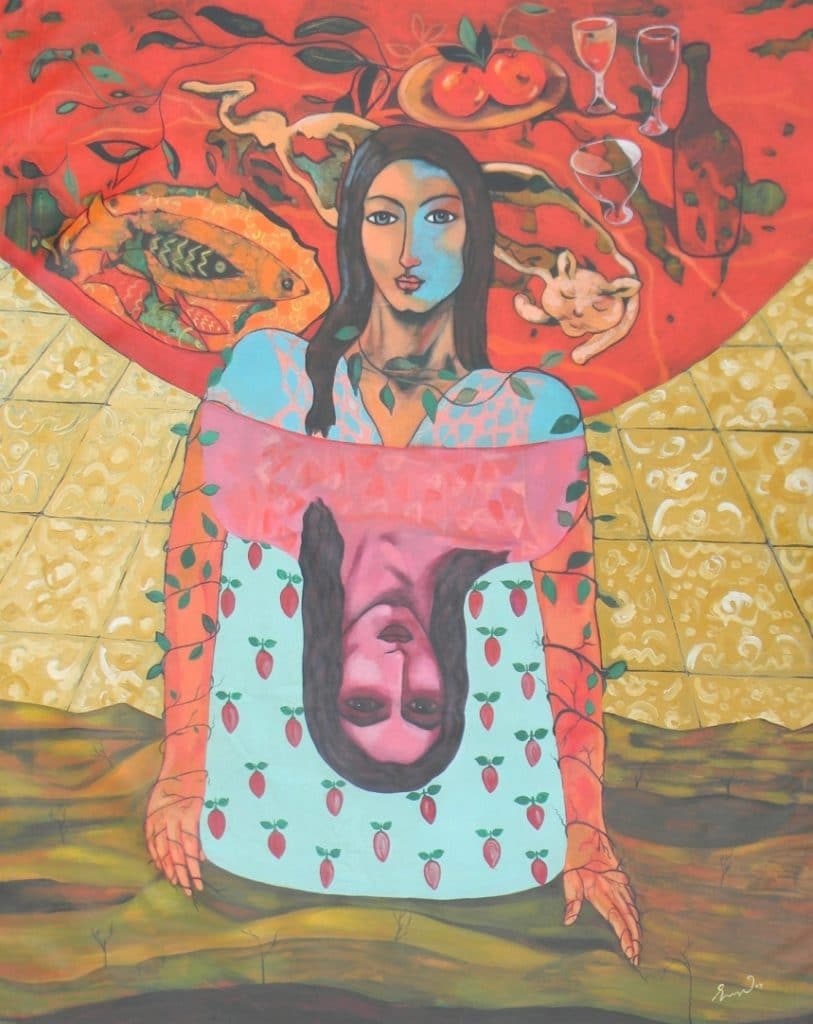 What's your artistic background?
I always feel that since childhood, I have been speaking only through my paintings. It's the language of my soul and it drives me to communicate through all the mediums, with the shades of happiness and emotions. I look at my surroundings and find myself in the endless corridors of colors, shapes, lines and forms.
What's integral to the work of an artist?
The soul of any painting lies in it's own originality of expression. It's the vision of an artist which is expressed in his/her artworks.  The artist provides a simple, pure thought to his/her painting and that thought, in turn, ignites the fire of millions of expressions in his/her paintings.  So, the charm and essence of my paintings is my sensitivity towards this world, towards nature and towards every element of humanity.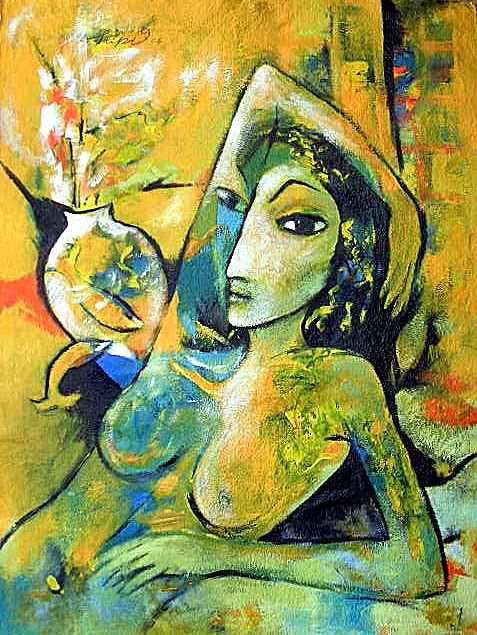 What role does the artist have in society?
Art is among the most important pillars of any society on this earth. It encompasses the entire life of people, nourishes the society with it's thoughts and nurtures human beings with it's hidden values.  Civilization is incomplete without art.
What art do you most identify with?
I paint the figurative forms of life, sometimes they are abstract, too.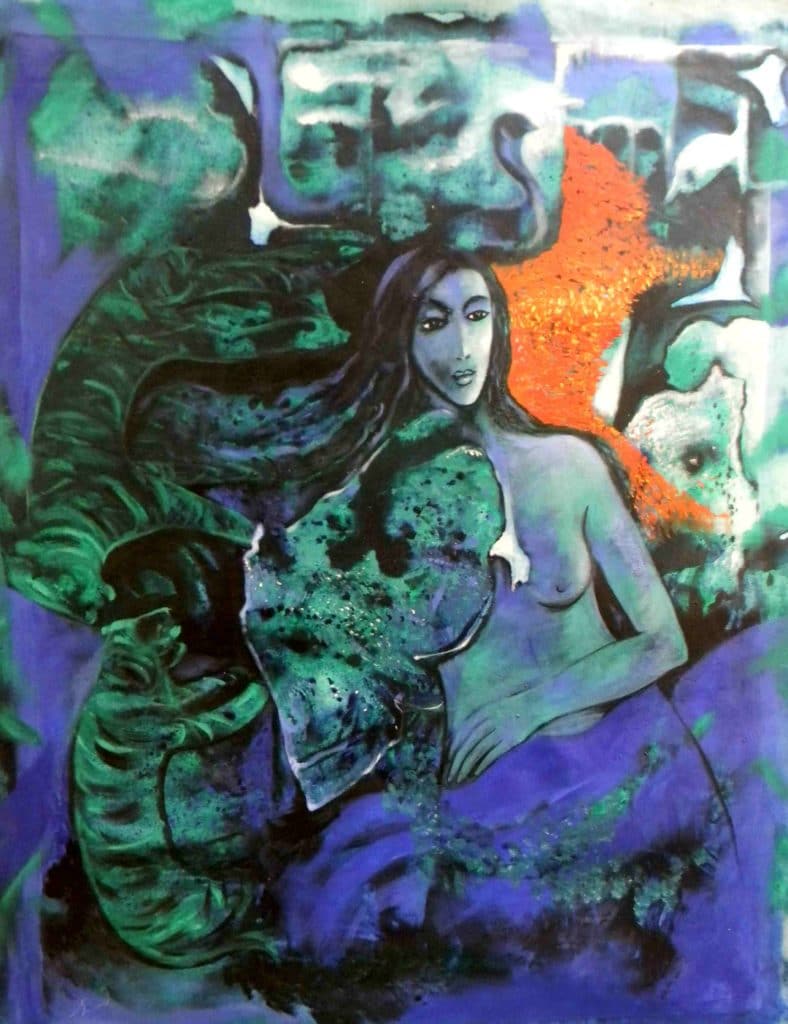 What themes do you pursue?
My paintings depict several themes such as social integrity, woman empowerment, equality, love, passion, desires etc. Various forms of pain, happiness and other emotions are usually featured in my paintings.
What's your favorite art work?
' Stream of Consciousness', Blue Series, Nirbhaya painting, season series… theses all are my favorite artworks.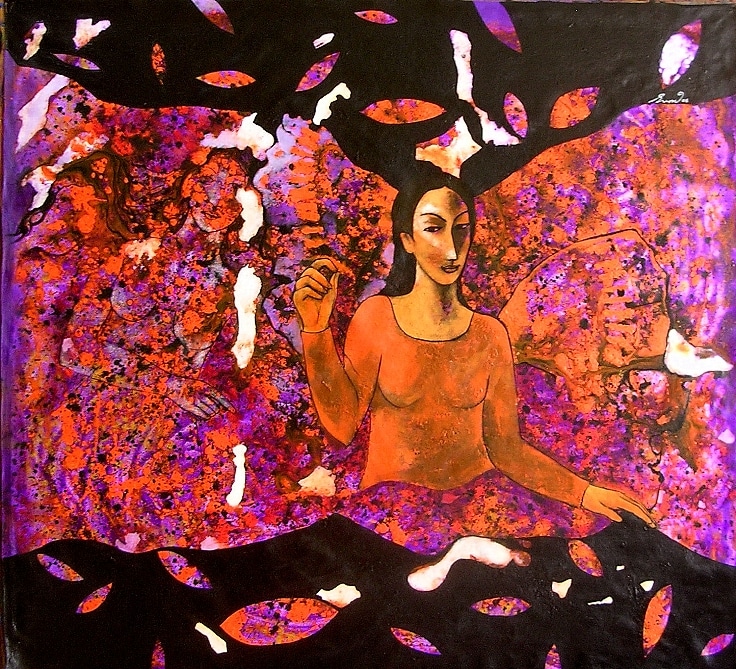 Describe a real-life situation that inspired you?
Once an auto rickshaw driver after seeing my abstract painting when I traveling in his autorickshaw was thrilled and said, "Oh, I must get such a beautiful painting for my place"!!! The painting got sold at an exhibition, but I wished that I should have presented that painting to him as he could understand the joy of that abstract painting and imagined it to be on his empty walls of house.
Why art?
An artist uses his art as a tool to communicate, understand, evaluate and analyze day to day situations. On a subconscious level, he/she tries to imbibe the lessons of many incidences, absorbs the shocks of pains and sorrows and portrays them in his/her art with a silver lining of hope and wellness. An artist sitting at any one point of any city has the capacity to reach out to any corner of the world without moving. His/her art travels within seconds from one corner of the world to the other and creates the desired change.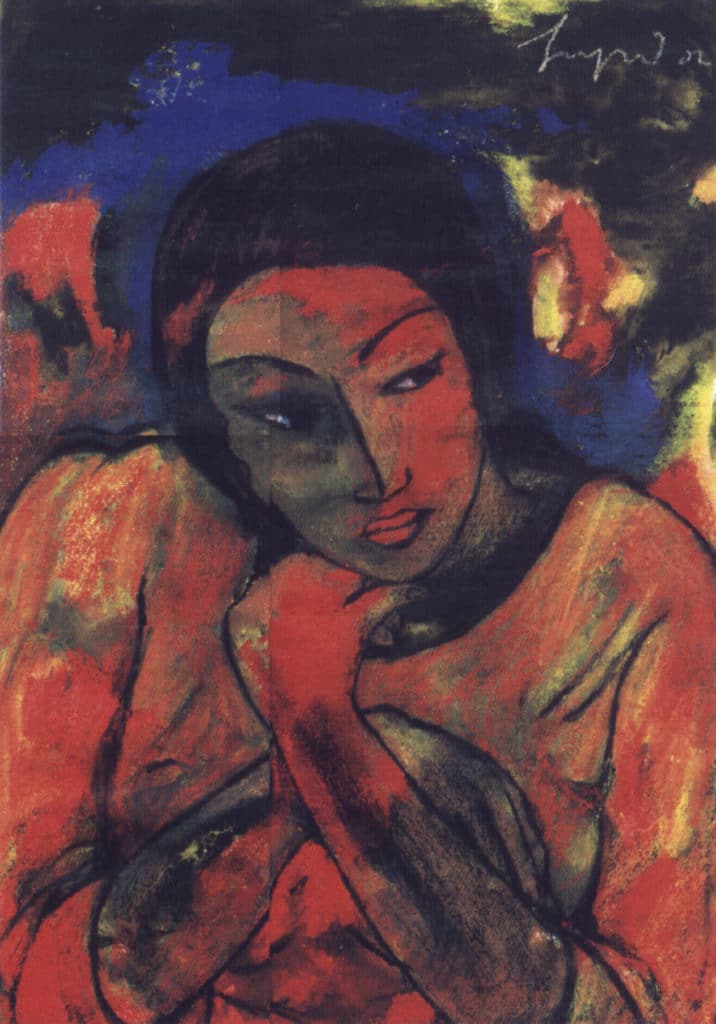 What memorable responses have you had to your work?
I am fortunate that my works always get huge appreciation, love and affection from viewers, critics and experts. Such enthusiastic responses have always ignited me to give my best every time.
What food, drink, song inspires you?
Vegetarian food which is made with a lot of love and amazing spices along with a hot, aromatic cup of coffee inspires me.  Music in the form of songs sung by Lata Mangeshkar or Michael Jackson, or music emanating  from the bells of a bullock cart to the chimes in my house….I love every melody hidden in the trees, wind, sunlight and rains.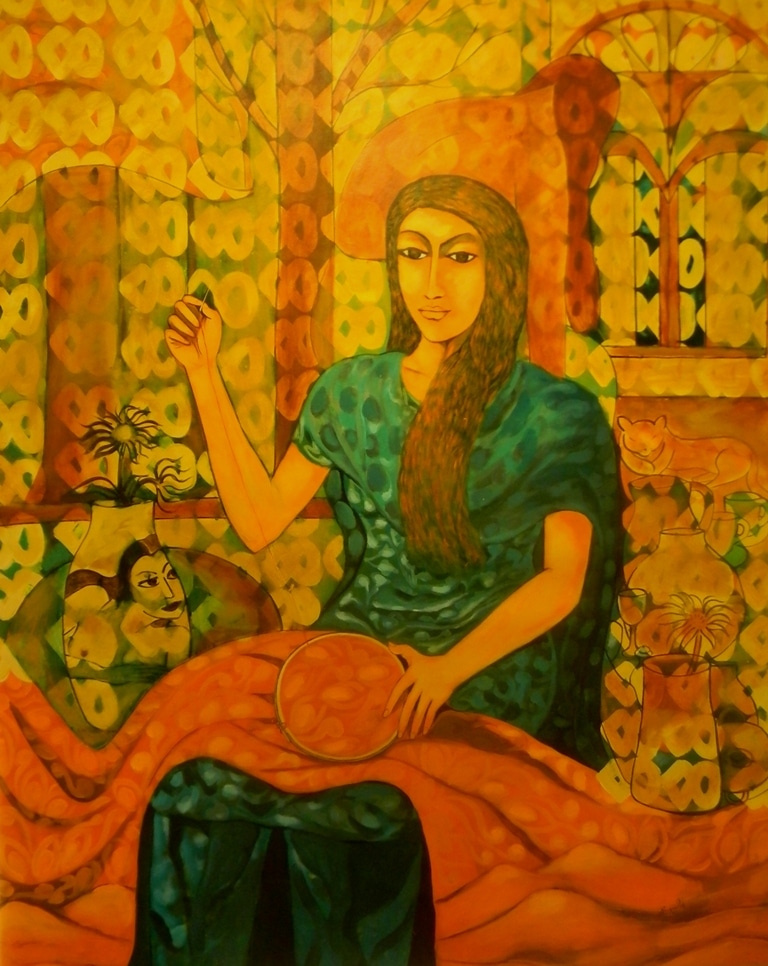 Is the artistic life lonely? What do you do to counteract it?
Not at all…my life is full of vibrant colors, beautiful dreams, adorable people, lively voices, books, thoughts and canvases. How can one be lonely in this mesmerizing world!
What do you dislike about the art world?
Any art should be free from all discrimination. It is beyond all barriers and biases like color, cast, gender, classes, favoritism, inequality, languages and patterns.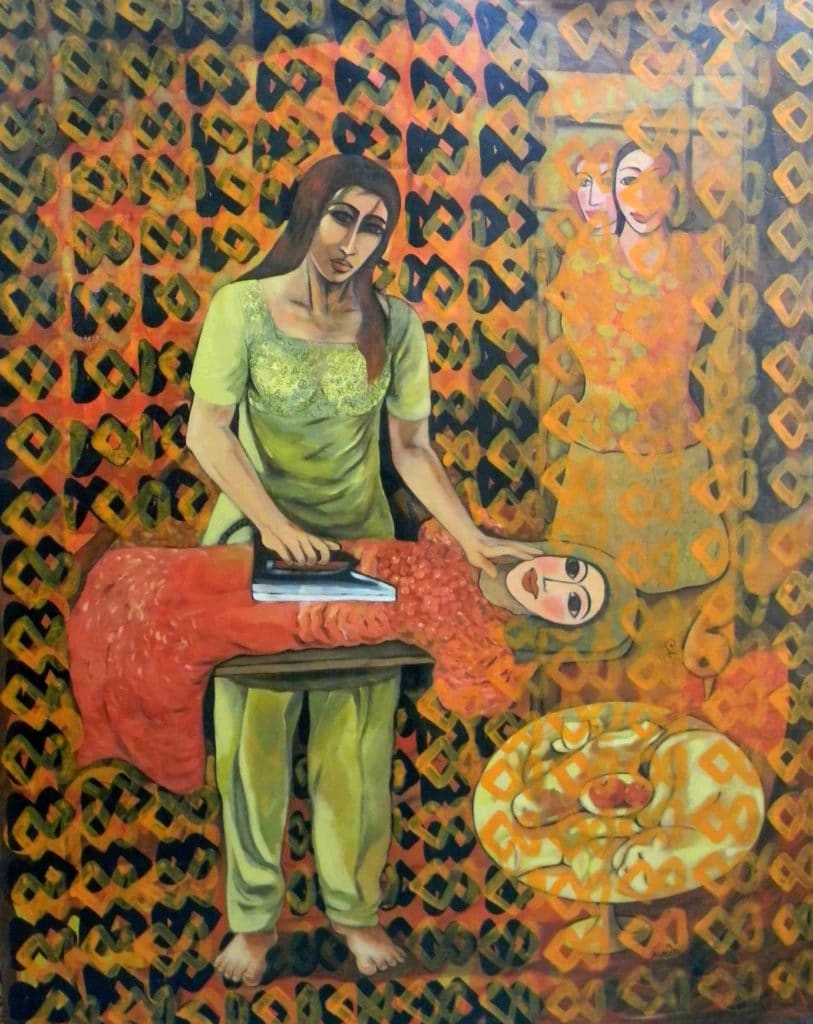 What do you dislike about your work?
I paint regularly, but do not present it consistently. I just dump my works in my studio for a long time, which, I feel, is unfair.
What do you like about your work?
I don't follow any boundaries while I paint. I enjoy every kind of freedom and innovation.
Should art be funded?
Yes. Art funding is a very robust way to strengthen the art community of any nation. It should be funded and backed by various ways so that an artist can explore his/her art in a stress free manner.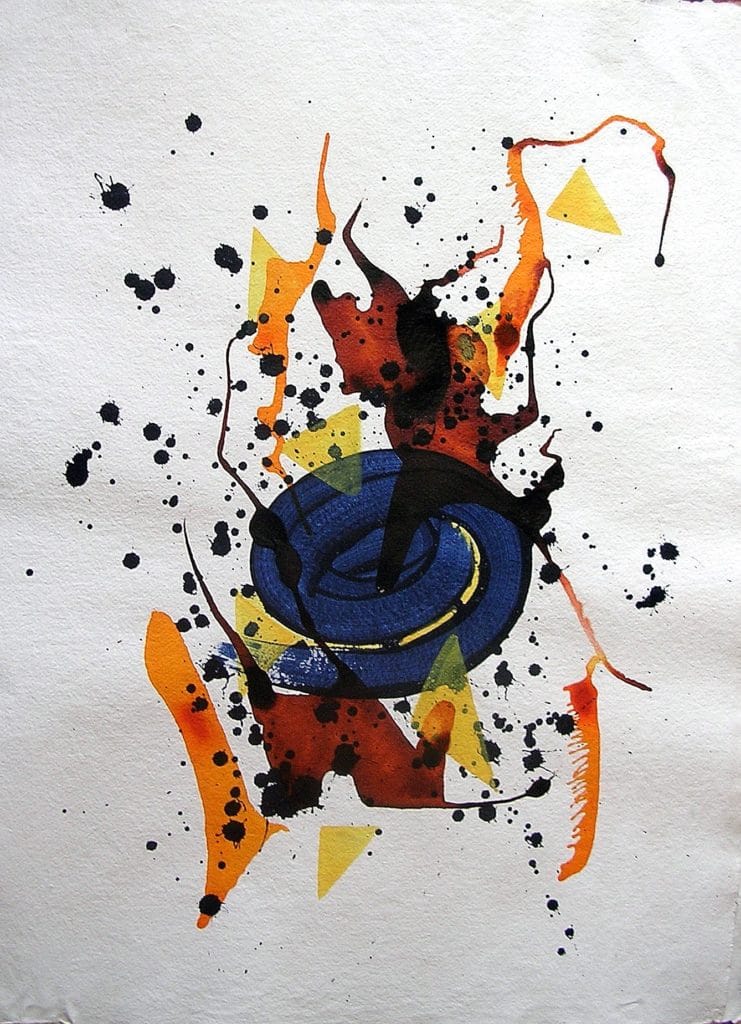 What role does art funding have?
In the olden times, art forms used to be backed by wealthy kings and honorable people in society. Today, art is quite expensive to create and exhibit. Even the maintaining and exploring of art requires huge efforts, money, energy, space and time. Such art forms require financial backing in the way of funding, scholarships, awards etc. This financial backing can be justified by widening it's access, scope and activities by developing nationwide art institutions, facility centres and selling networks for art. Our nation is extremely rich in art and culture. For showcasing Indian artists on international platforms, our government, corporate industries, business tycoons should come together and prepare a master plan which will allow urban and rural talent to flourish.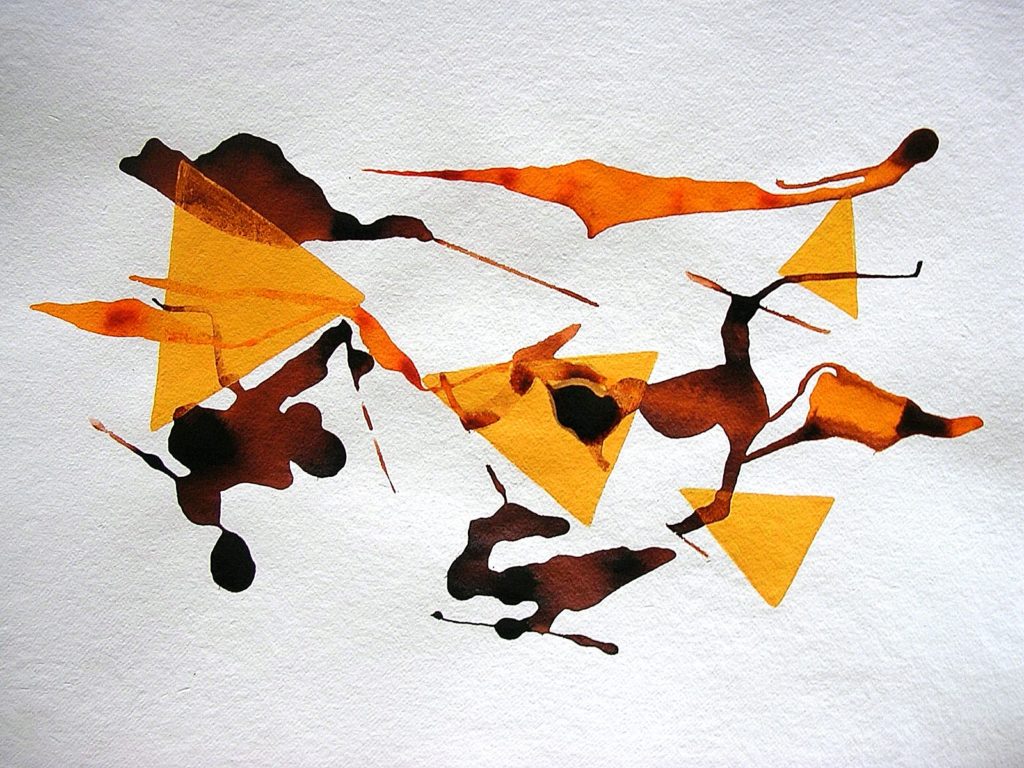 What is your dream project?
I wish my works get exhibited in every renowned gallery and museum in the world.
Name three artists you'd like to be compared to.
Amruta Sher Gill, M.F.Hussain, Picasso, Paul Gauguin and Paula Rego.
Favorite or most inspirational place?
Paris.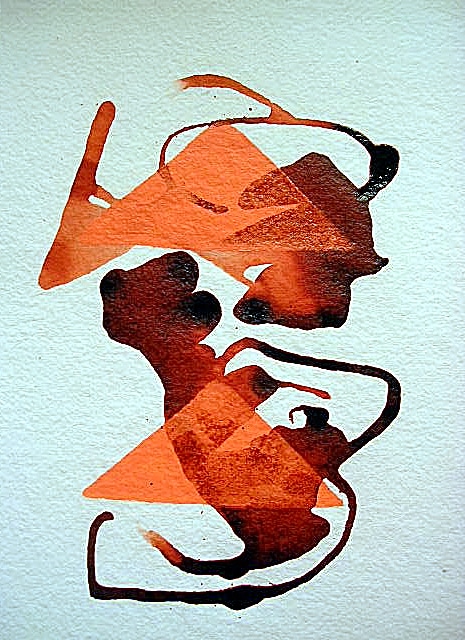 What's the best piece of advice you've been given?
My mother is my biggest inspiration. She was always smiling and brave and courageously led her life.
Professionally, what's your goal?
To become one of the leading artists of India and represent Indian art on the international canvas.
Future plans?
To create many more artworks…participate in many more exhibitions and explore more of the artistic world. This is a continuous, ongoing process.