"Art is my passion, which has come to me as a blessing from my father, senior artist Sachin Nath who is also my mentor, philosopher and guide. I cleared my G. D. Art (Drawing and Paintings) from Abhinav Kala Mahavidhyalaya, Pune 1998 with a record-breaking result of 82% first class with distinction in Maharashtra state. Sir J. J. School of Art honoured me with a Gold Medal. This was my first achievement in life. My works were sent to Lalit Kala Akademy Regional Center, Chennai for 'Best of the Year 1999' Show. In the same year my works got very good response at the monsoon show which was held at Jehangir Art Gallery, Mumbai," says artist Sumana Nath De. Since then Sumana has had many solo and group shows at different places, to name a few Lalit Kala Akademy (New Delhi), Chemold Art Gallery (Kolkata), Nehru Centre (Mumbai), Bharat Bhavan (Bhopal), Dubai Art Gallery (Dubai), etc. She works with all mediums; however oil and dry pastels are her favourite medium and black and white are her favourite colours.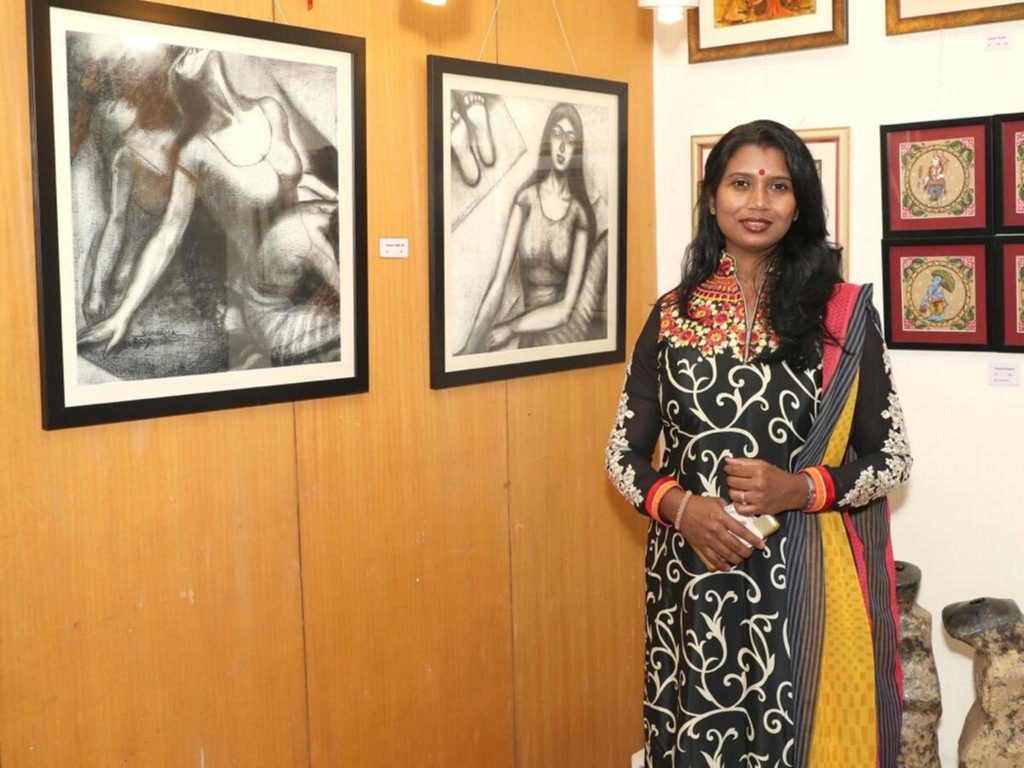 What's integral to the work of an artist?
The passion and dream of an artist are integral to the work of an artist.
What role does the artist have in society?
The role of artist in the society is to spread creativity and  positivity in society. We have seen in European and Indian art history, artists have conveyed their feelings and messages through their art works. Their art showcases their era and the period when they were alive. Great masters have expressed their views through their art works.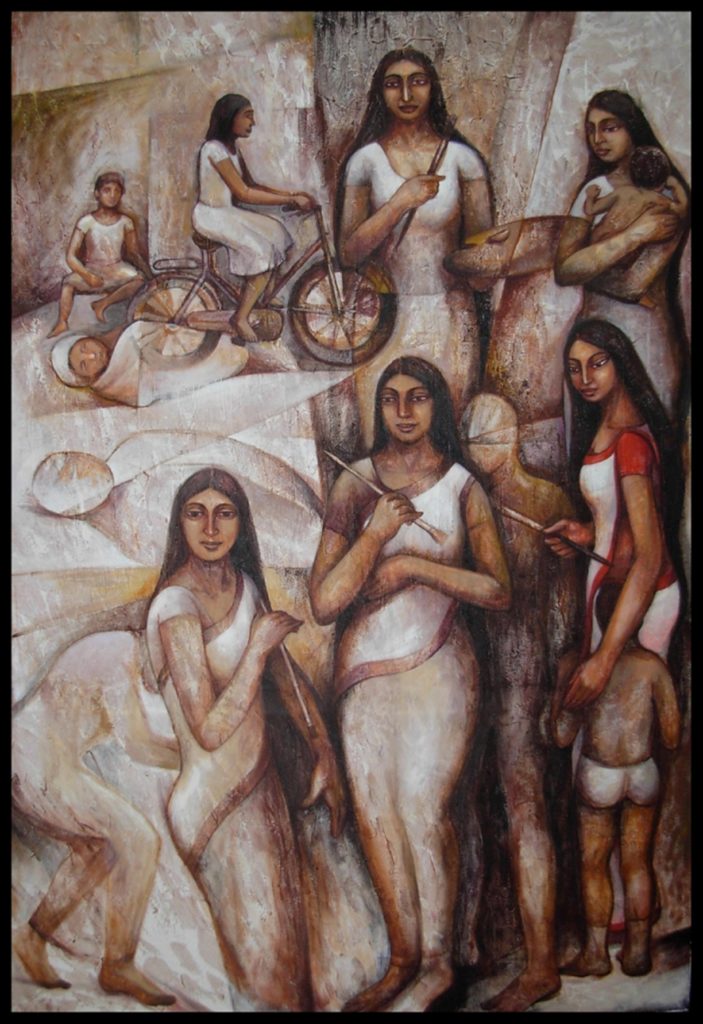 What art do you most identify with?
I am very much in love with human figure drawings. During my college days, I would go to Swargate bus stop, Pune station and to all the crowded places to create human sketches after college hours, which has over a period of time developed my keen interest in making figures.  I carry my sketching book almost everywhere I go and I keep sketching even now. I like using free lines on paper to form longish figures of ladies and sometimes men. I would love to be identified as a figurative contemporary artist.  I also make drawings based on animals, birds, trees, plants and nature.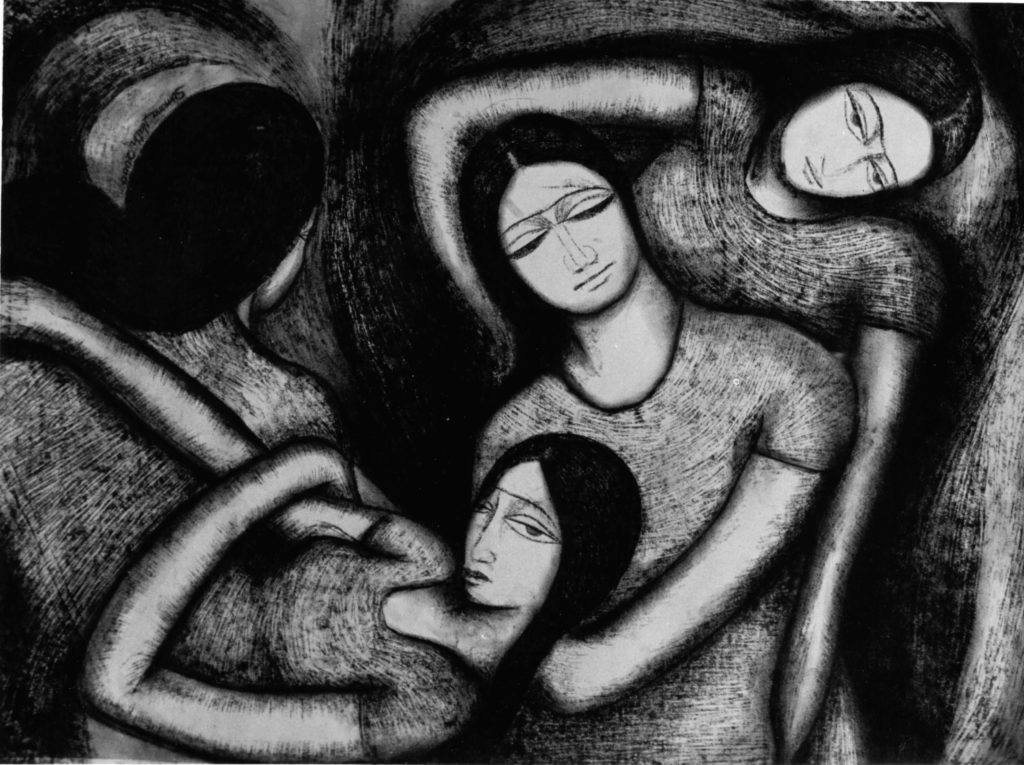 What themes do you pursue?
I generally work on whatever I experience in my surroundings and environment.  Sometimes, I start drawing first and then later give a theme or title to my work. It is a process, in which communication with the canvas or the paper is very important. Gradually, I make step by step progress towards completing my art work. This process is intricate and timeless. It can finish in a day or can also stretch to a month. I keep working on the same painting until I feel satisfied with the end results. My themes revolve around my life, while being a part of our society.
What's your favorite art work?
All the art works created by me are my favorites. I have worked on various topics revolving around myself and my belief system. Art is an integral part of my life.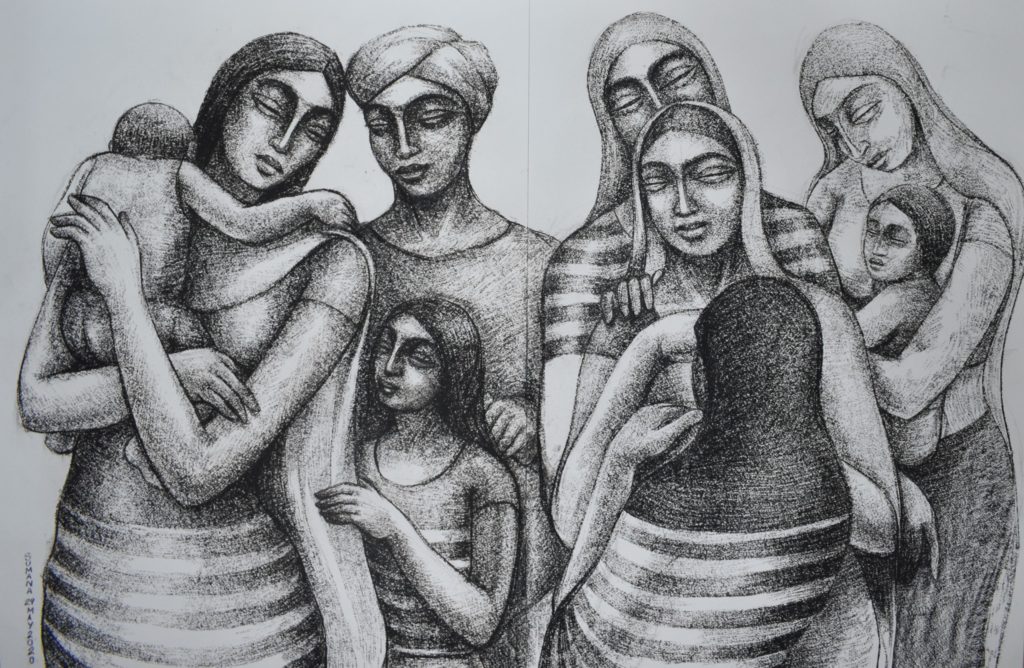 Describe a real – life situation that inspired you?
Artists are very sensitive to happenings in and around the society/surroundings, from simple to complicated things anything can inspire one to draw.  When I was in college, my father began art classes in his studio which was at a distance from our house. While learning art in his class I developed a profound liking and interest for art. As a result my father got me enrolled in Abhinav Kala Mahavidhyala to encourage me to pursue my interest.
Soon, I got an opportunity to exhibit my art works at Jehangir Art Gallery at 2000, my first solo show where I displayed 48 paintings. One of them was titled 'Sacrifice' the painting of a Mother who is seen in a Cross but not crucified.  This was my way of showcasing the selfless sacrifice which all mothers do for their children and family just like Mother Mary. I was inspired by my mother.
My works were appreciated by the art fraternity and I got very good responses. This first experience of acceptance of my art inspired me to continue working in the field of art. My father always said "(karma karte jao) keep working and returns will come automatically."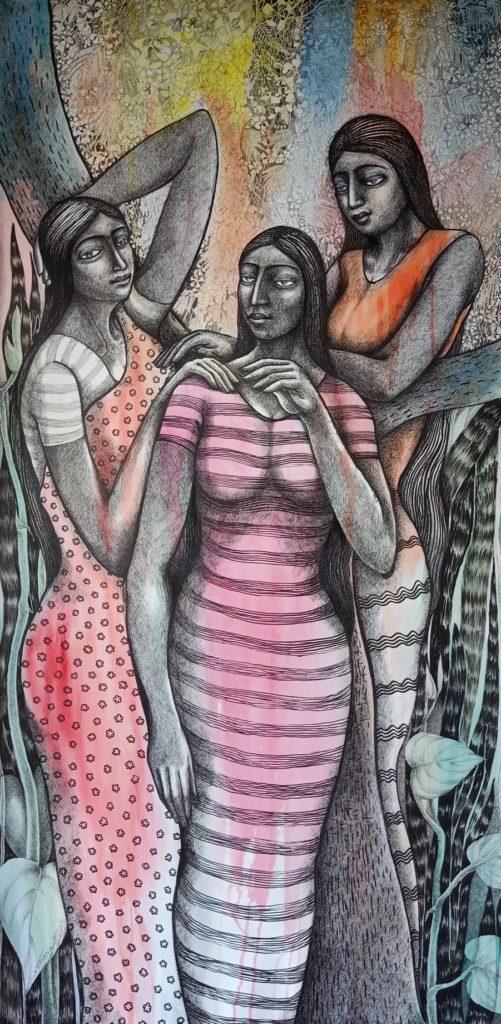 What job you have done other than being an Artist?
I was Secretary at SIMA (Society of Indian Maritime Artists) and an Art Teacher at Army Public School.  At present I am a house wife and mother of a son.
What is an artistic outlook on life?
My outlook in life is 'Life is beautiful and we should enjoy and express this to the world.'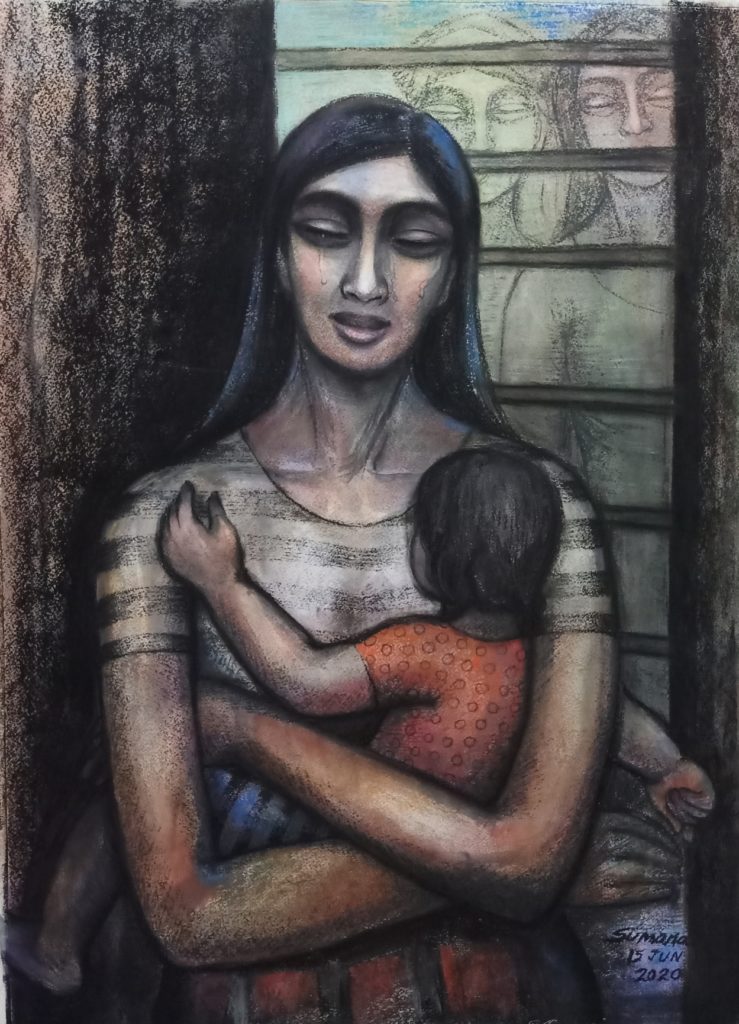 What do you dislike about the art world?
In the world of art there are a few things which are disturbing and discouraging. But I believe in karma. I have been working in this field since the year 1994 for almost 36 years now. I have experienced a lot of ups and down in my life but I need lose faith in myself and follow my father's teachings and will keep working continuously to someday finally reach my goal.
Should Art be funded? What role does art funding have?
Yes, art needs recognition and acceptance in our society. Our government should make museums and art galleries for artists to display their work and promote artists by giving them more platforms to showcase their works. The selection of artists and activities should be in proportion of the number of artists coming out of art colleges every year.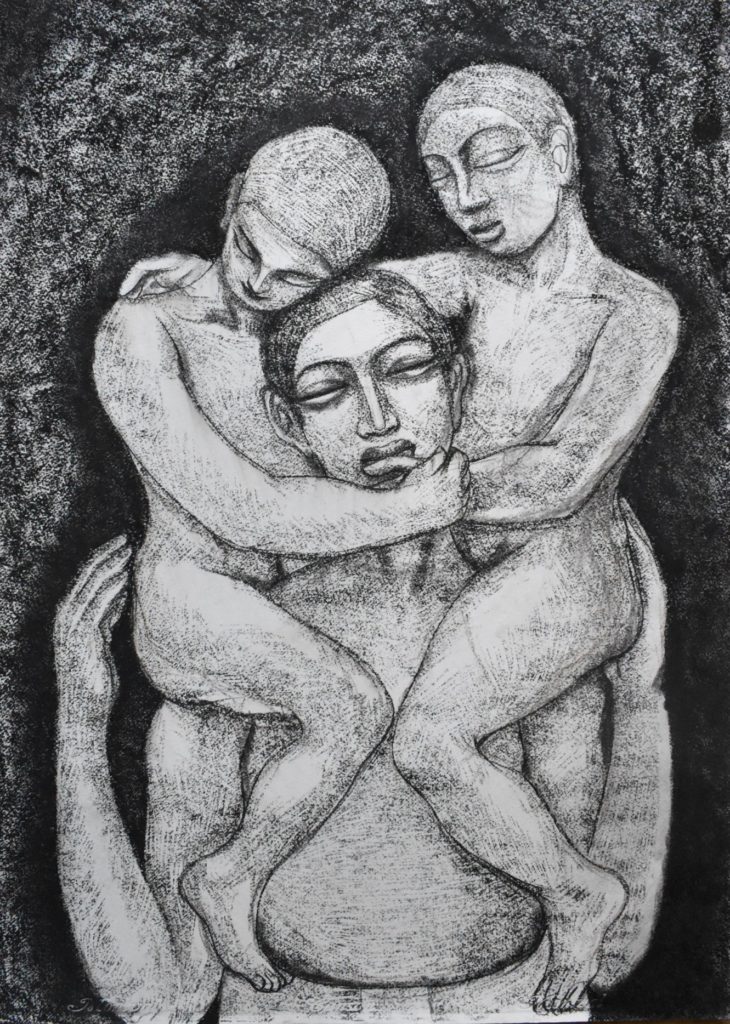 What is your dream project?
My dream project keeps changing with each passing year, at present my dream project is to own a big spacious studio and create huge artworks. I hope to liberate myself from all kinds of bonding and explore more in the field of art.