Sukanta Das is an artist based in Kolkata. Right from the time he passed out from the Rabindra Bharati University BVA (Bachelor of Visuals) in 1996 and received the National Scholarship, he has been working on his own for many years now. He has been a part of several successful solo and group shows in India and abroad. His paintings have adorned the walls of countless private and corporate collectors. His works deal with the human element and nature, being primarily figurative. "The blissful co existence of human beings and nature underlines the story of love in my canvasses, using mythological codes and their essence. My paintings portray a soft, bewitching charm and are generally Mixed Medium on canvas, that fabricate a new world of symbolic fantasy and reflects the inner soul and desire", he says.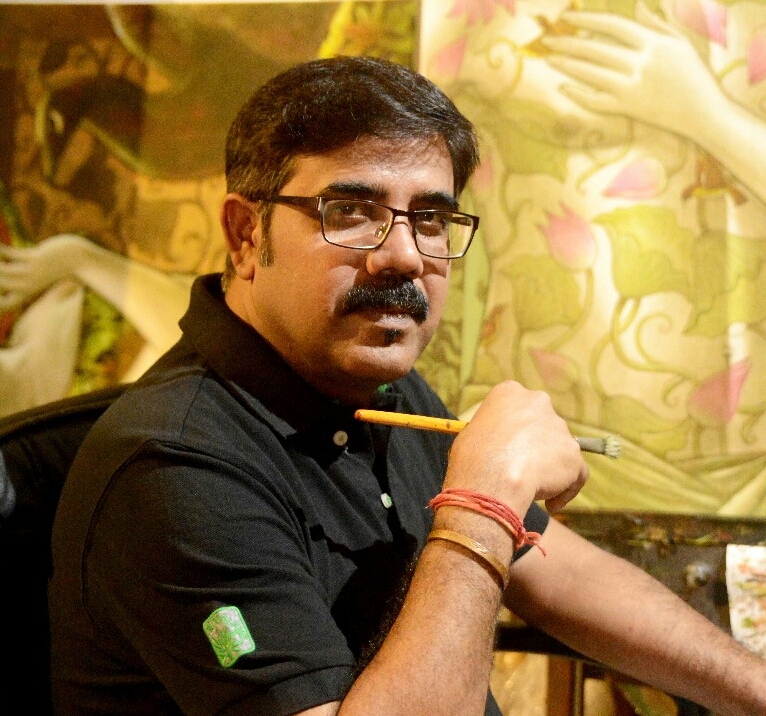 His special inclination towards art from early childhood made him join art classes. Later he graduated from the Rabindra Bharati University and received a National Scholarship from The Ministry of Culture, Government of India. Since then there was no turning back for him and he started off as a full time, professional artist showcasing romance through his artworks.
What's integral to the work of an artist?
Experience. As one gets older his outlook towards the world and life changes. His preferences change, be it culturally or morally. He is put to test at every level, in every aspect of his life, which is reflected through his paintings. The themes, colours and the unspoken story waiting to be explored are integral to the work of an artist.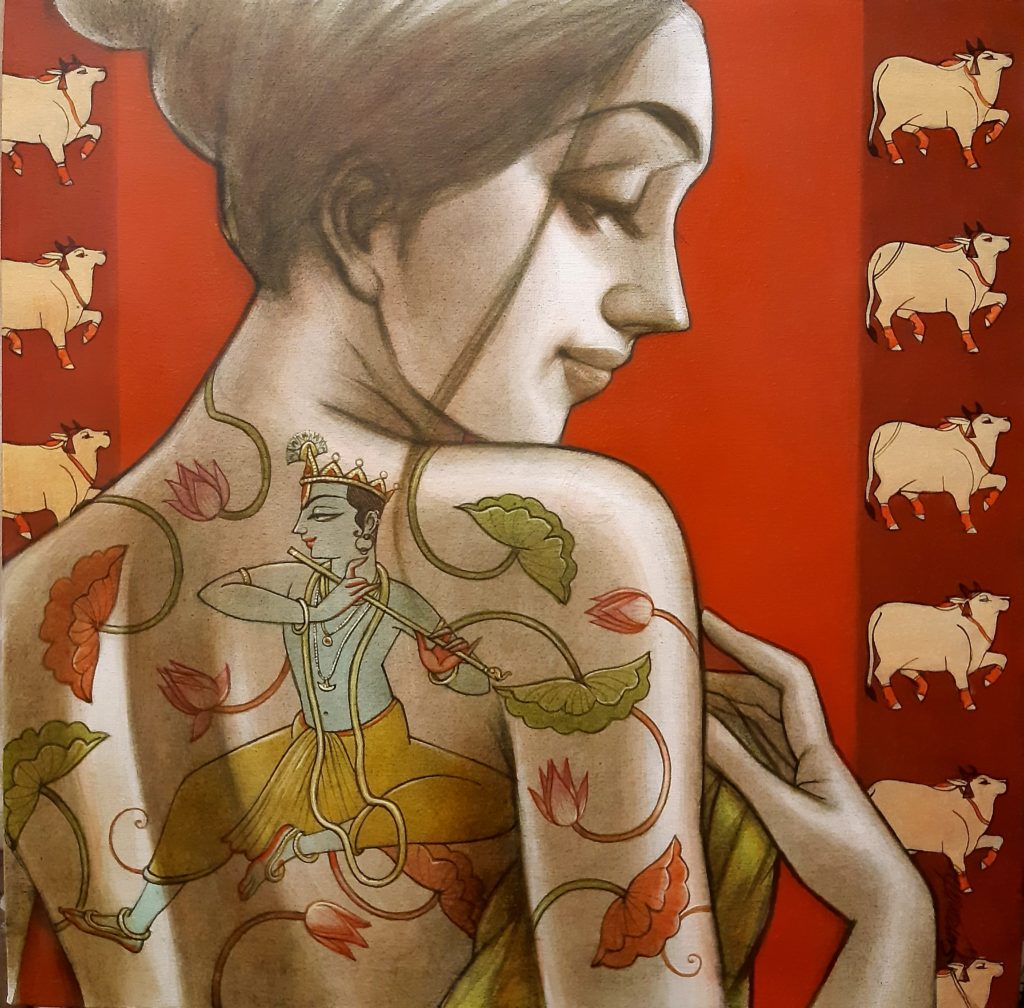 What role does the artist have in society?
In times like these, when people are continuously involved in a rat race to be better, to live better, somewhere in the process they end up losing themselves. In that moment, a piece of art, music or writing has the power to motivate them. It rejuvenates an individual's life and provides him with strength to face upcoming challenges. An artist not only helps to build society but also change it's perspective.
 What art do you most identify with?
In the past few years, Indian miniature paintings have primarily been my source of inspiration, as nature and human beings to me are the most correlated elements in an artwork. While portraying seasons or any other subject, miniature paintings have quite an elementary way of celebrating through nature, human beings and colours. Miniature schools such as Kangra and Bhasoli are the ones I respond to majorly.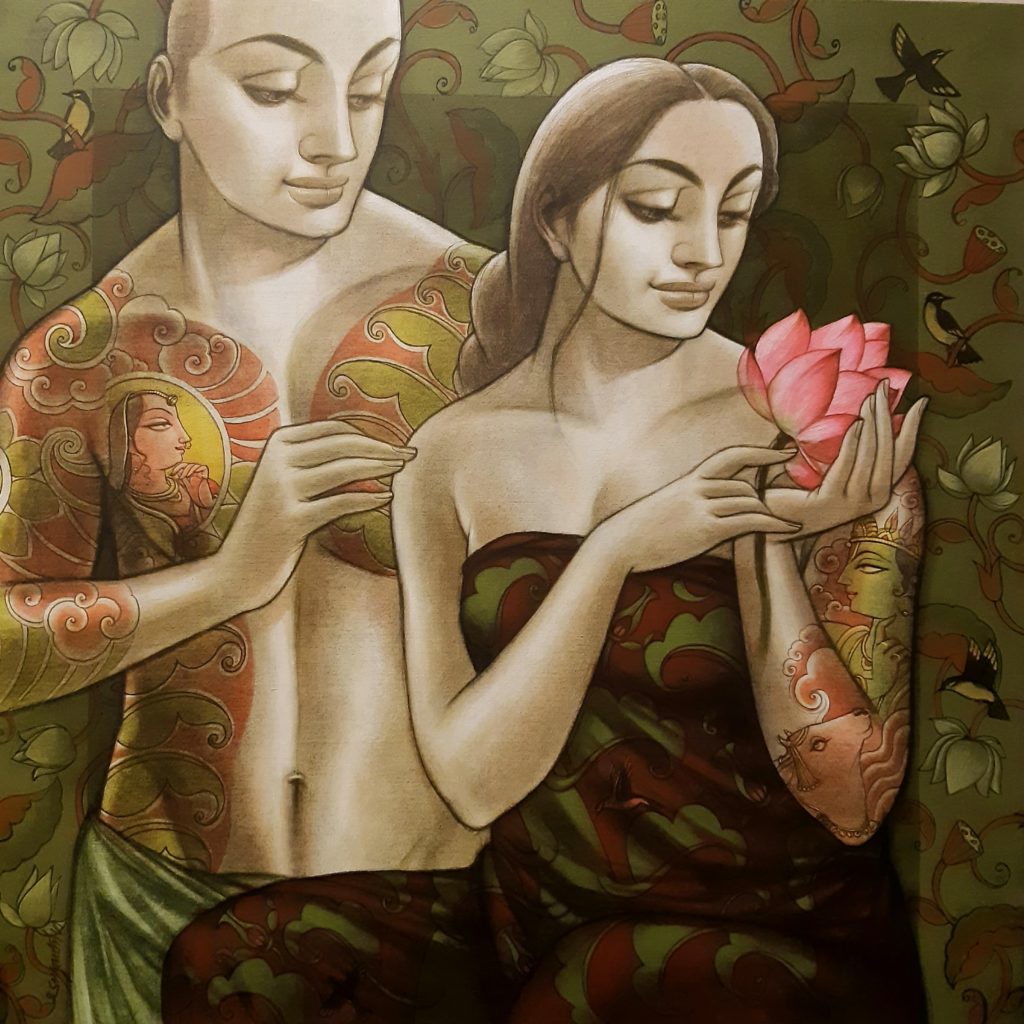 What themes do you pursue?
'Purush and Prakriti' -Nature and the human element is a blend that never fails to bring my canvas to life. My paintings have human relationships as the main aspect which has been shown as a symbolism of the eternal love between Radha and Krishna. The discrete stages and emotions, the love and the longing, the inner wishes and the desires have been daintily portrayed through body paintings. Mother Nature here is a self portrayal of Radha.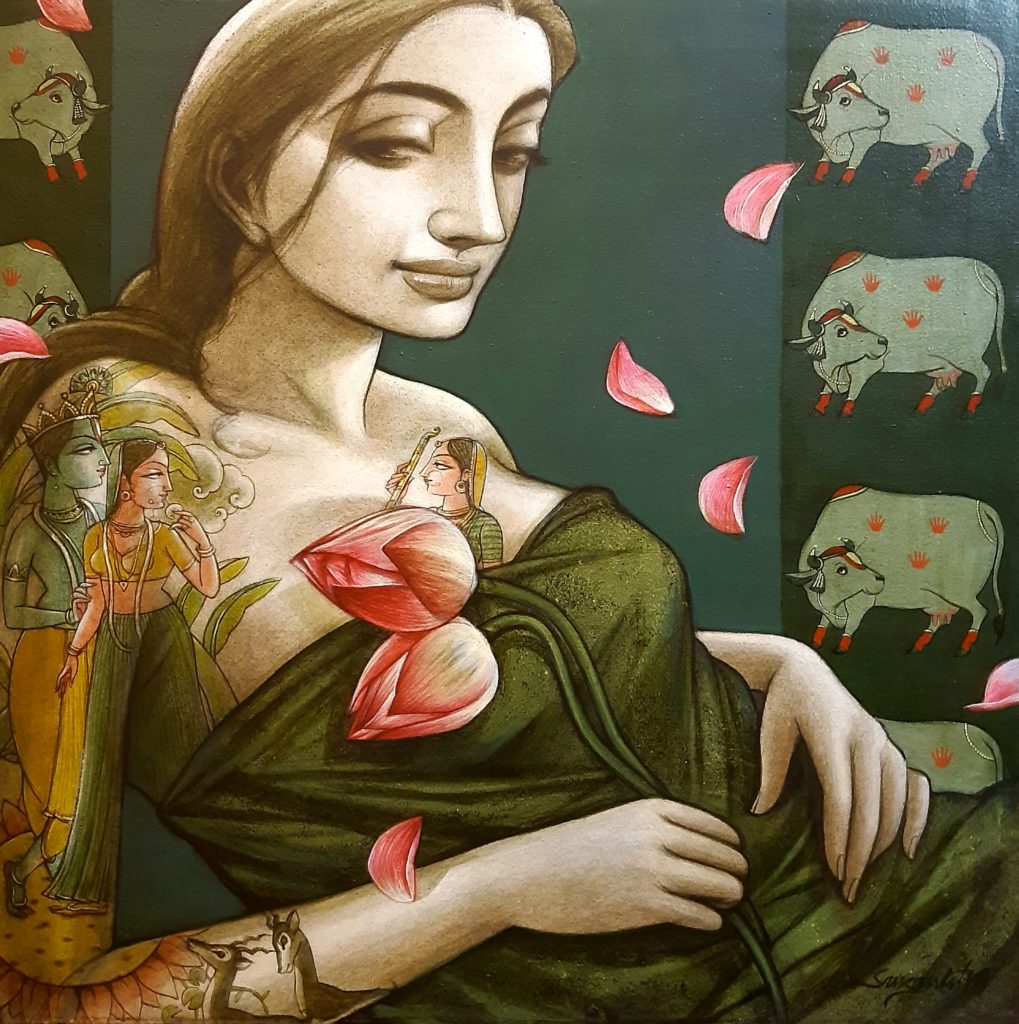 What's your favourite art work?
There are a variety of artworks which are close to my heart. Van Gogh for his colours and brush strokes, Gustav Klimt has a gorgeous uniqueness, Ganesh Pine's mystic aura and MF Hussain to name a few.
What jobs have you done other than being an artist?
Art has been my only medium of concentration since childhood. It is my passion and I have never been able to think of any other career as a profession.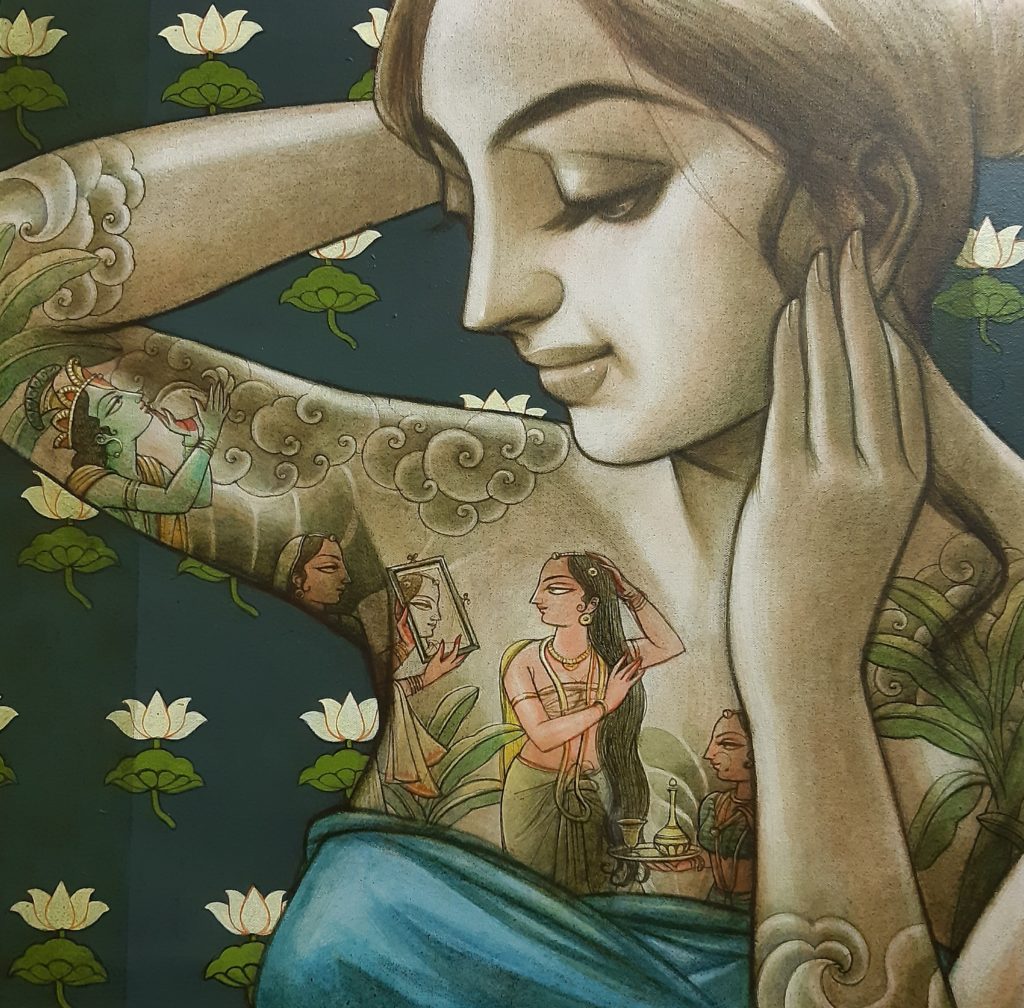 Why art?
A painting passes through different stages to become a complete piece of art. Just like a painting has distinct colours in it, similarly life has contrasting emotions at each and every stage to enhance it's colours. Art is nothing more or nothing less than the shades of life.
Is the artistic life lonely? What do you do to counteract it?
Any individual who is related to the field of art or performing arts, be it music, writing, painting or any other creative platform, has a distinct world that entirely belongs to them. Artwork requires time and the creator finds himself bound to it. This often separates him from the exterior world, which makes the life of an artist lonely.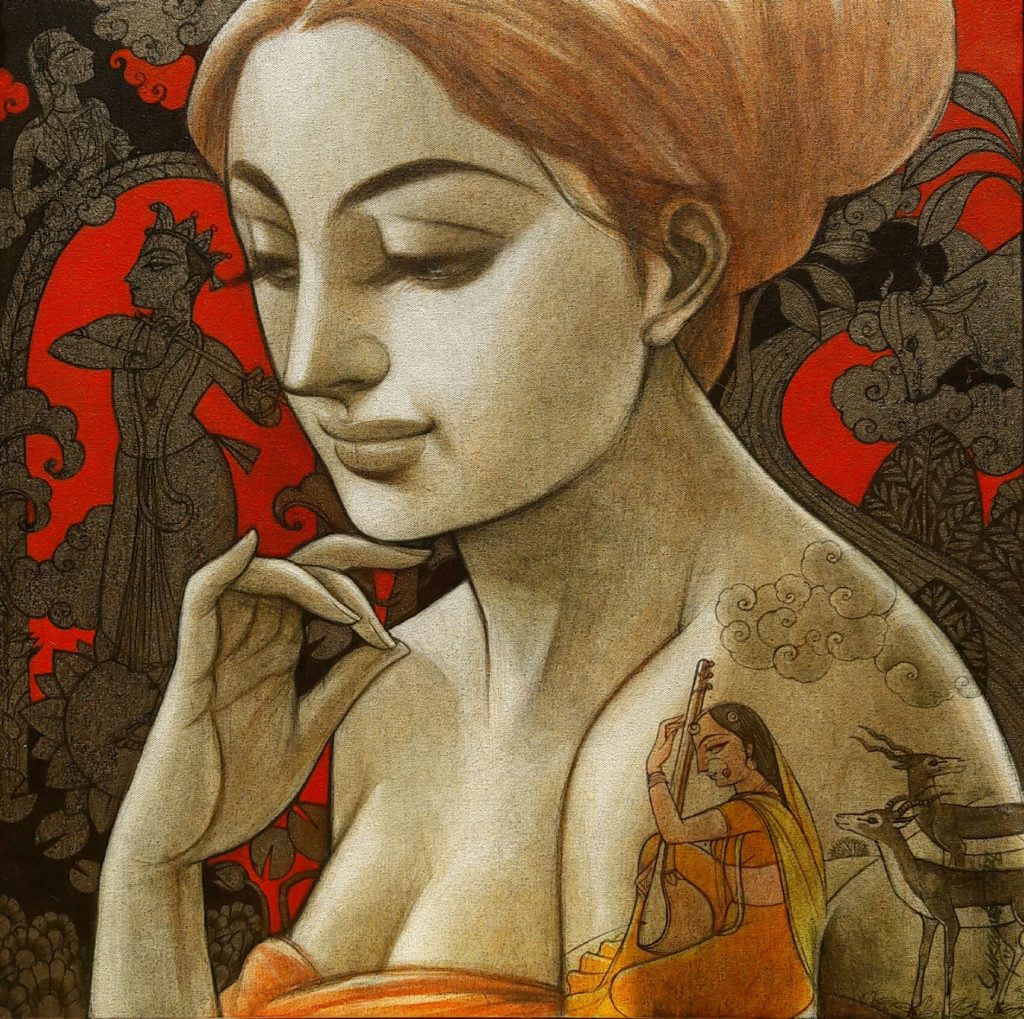 What do you dislike about the art world?
Similar to any other profession, there is a good and bad side to the art world too. The new trends of open call exhibitions, which is being hugely promoted on social media platforms, is my recent reason of despise. In this present scenario, the eligibility or the skills of a deserving artist no longer holds importance but what counts is whether the individual is capable of providing financial aid to the show. The aim that was primarily to promote art is now a monetary trade.
What do you like about your work?
Being in this profession for about 20 years, I am happy to have made my signature works, my own language in terms of art and an individual identity.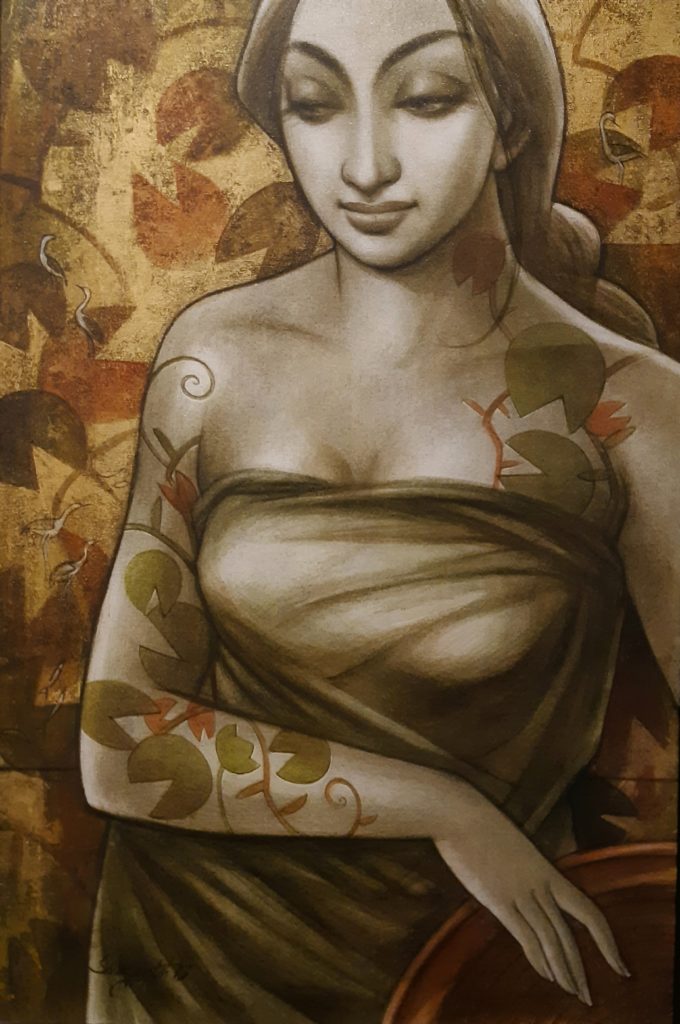 Should art be funded?
Art should not only be funded but promoted as well. It helps to develop and enrich one's inner soul. In a civilized society art is indispensable.
What is your dream project?
I have always dreamt to have an art residency, with a calm and serene ambiance, where artists from any and every genre or region can visit and even stay. It will provide them an opportunity to create their own works, interact and discuss about contemporary art scenarios around the world.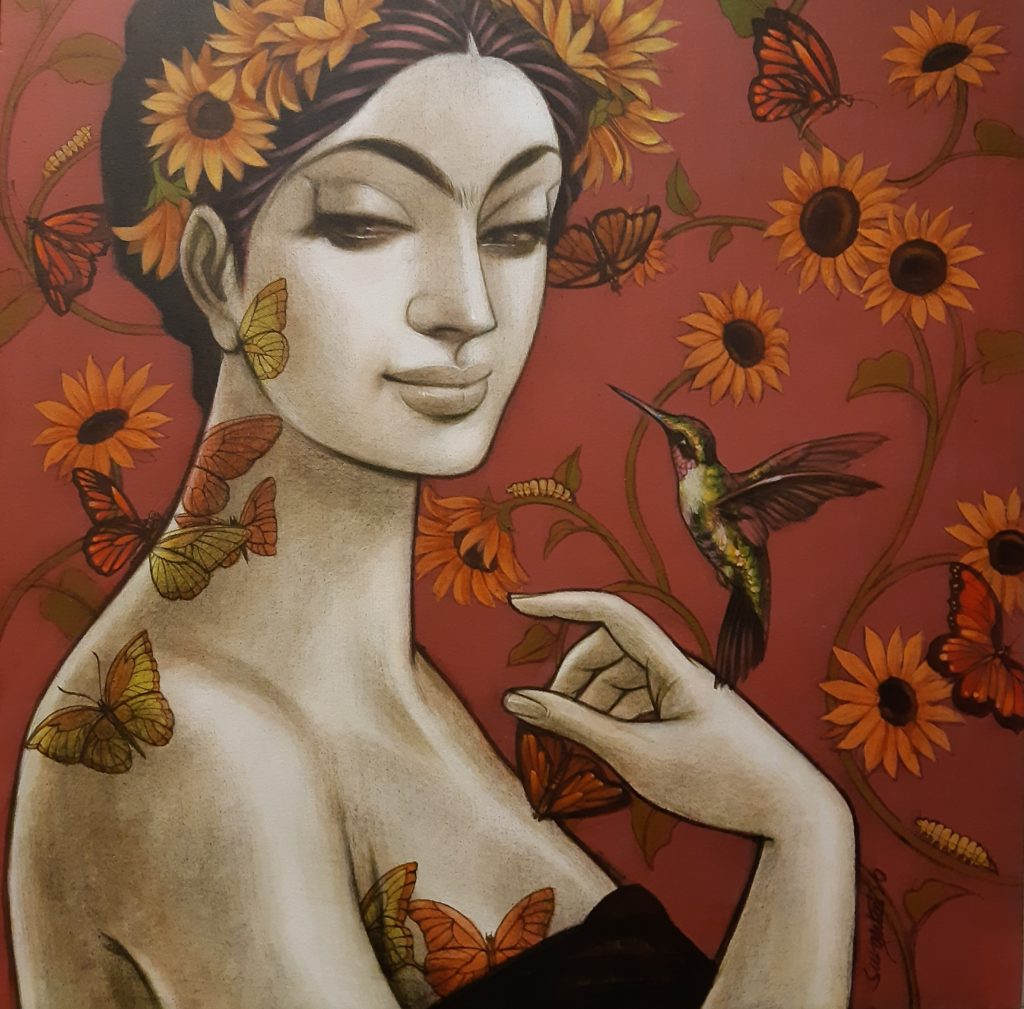 Name three artists you'd like to be compared to.
Every artist is unique in their own way. Being an artist myself, I have an individualistic identity that is recognized through my signature paintings, which I think should be the salient feature rather than to be compared.
Favourite or most inspirational place?
Santiniketan, an evergreen cultural hub of Bengal is my most inspirational place. Every time I visit the place, I find myself enriched by the creations of pioneers of Indian Art and Sculpting, such as Ramkinkar and K.G. Subramanyam, to name a few. The visitors at the weekly fair are as much a sight to behold as the bauls tuning into their folk songs amidst the greens and the laal maati. These songs bring bliss to the soul and a heavenly escape from the world of materialistic desires. Being someone fond of music and art, I have never failed to stay connected to my roots.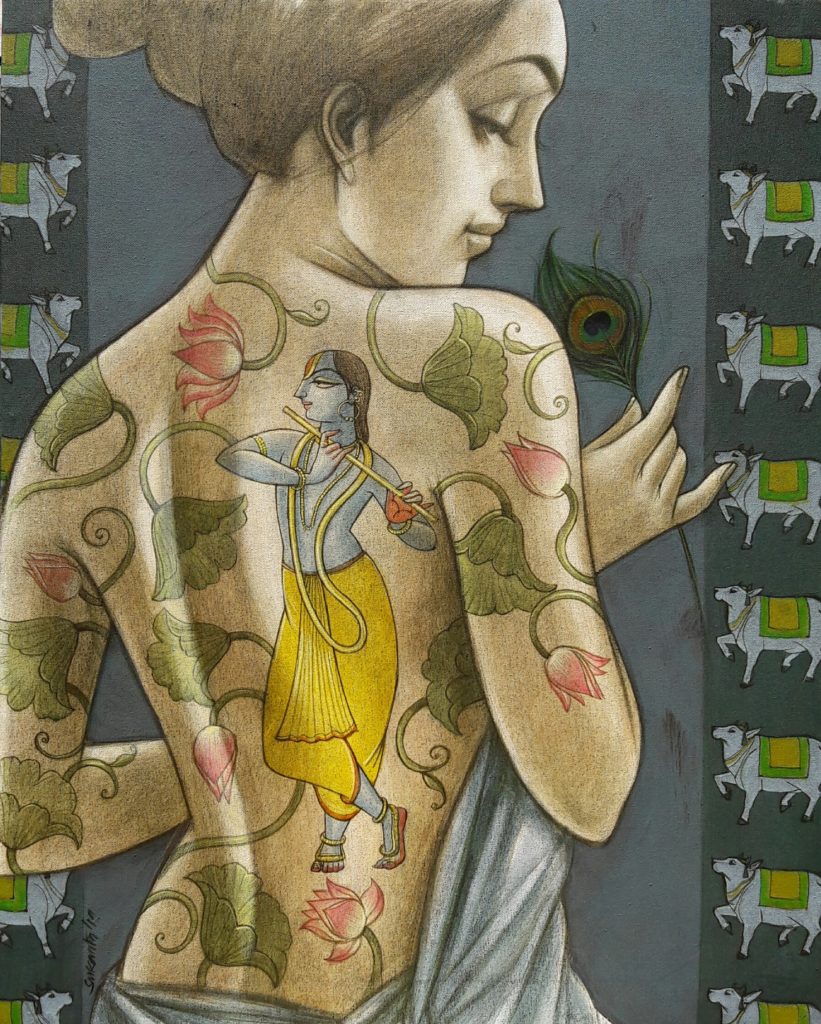 What's the best piece of advice you've been given?
During my college days, I have had the privilege of being taught by the senior Bengali artist, Ramananda Bandopadhay. A piece of advice he gave me has stayed with me till date which is to keep practicing art. No matter how busy one is, a time in the day should be dedicated to art. I sincerely follow this advice till date.
Future plans?
Among the list of my future goals, is hosting a retrospective exhibition, where the viewers will be able to witness my works at different stages in my life and evaluate as well as comprehend my journey.