Shivani Mathur is a fine art enthusiast who has developed her own distinctive style to convey her point-of-view on canvas. Presently settled in Dubai with her family for over 20 years, she paints in a cosmopolitan environment that can be sensed from her variety of artworks. She believes that Dubai brings multiple cultures and people together, therefore it takes her work to places. Like many others, she aspired to become an artist since her childhood and pursued her studies in Fine Arts to achieve her passions. Shivani's work depicts perfect color balance, color unity and confident strokes that only come out from an experienced artist. Her paintings truly have a life of their own; they are rich, vivid, elegant, and mystical.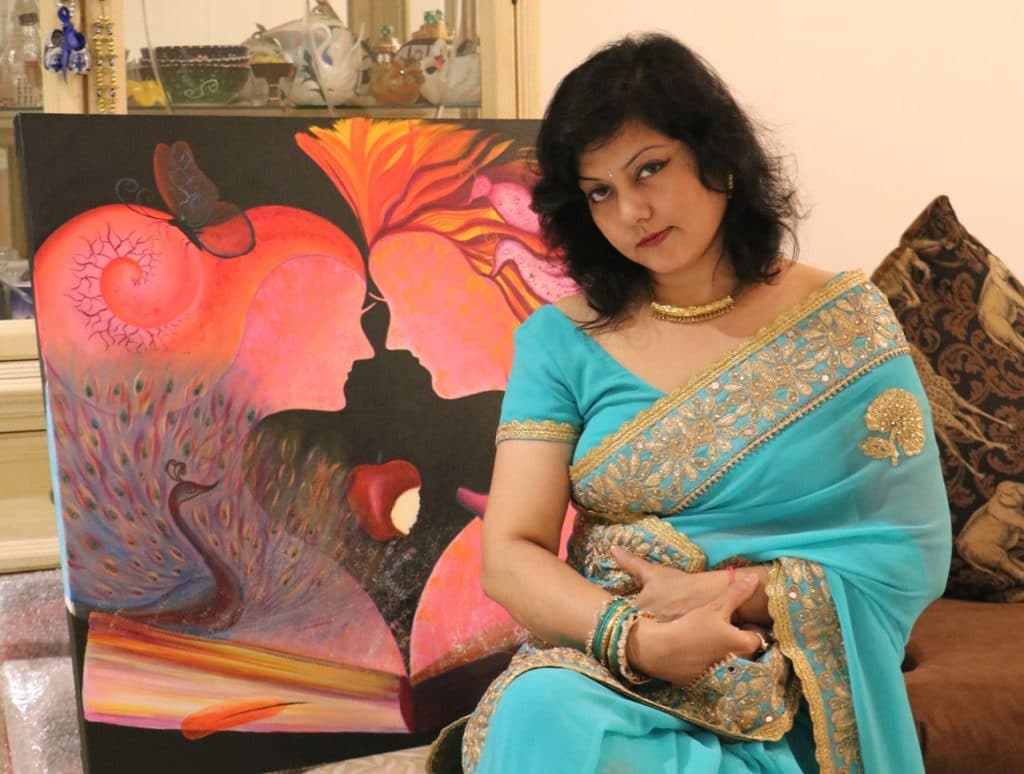 Shivani is devoted to art and considers painting as a mode of meditation. "My art is influenced by everything I lay my eyes on and has the power to control my body and replicate it on a canvas. I believe that paintings are an essential element in any décor. Not only does it reflect your beliefs, but it may also elevate your mood. A painting in your house is not a piece of furniture that changes every time, a good painting can last for decades." she says. According to her, deep interest and motivations coupled with support move an artist to a stature where they cherish the success of the artistic journey and become confident enough to achieve set aims in the boundless world of arts.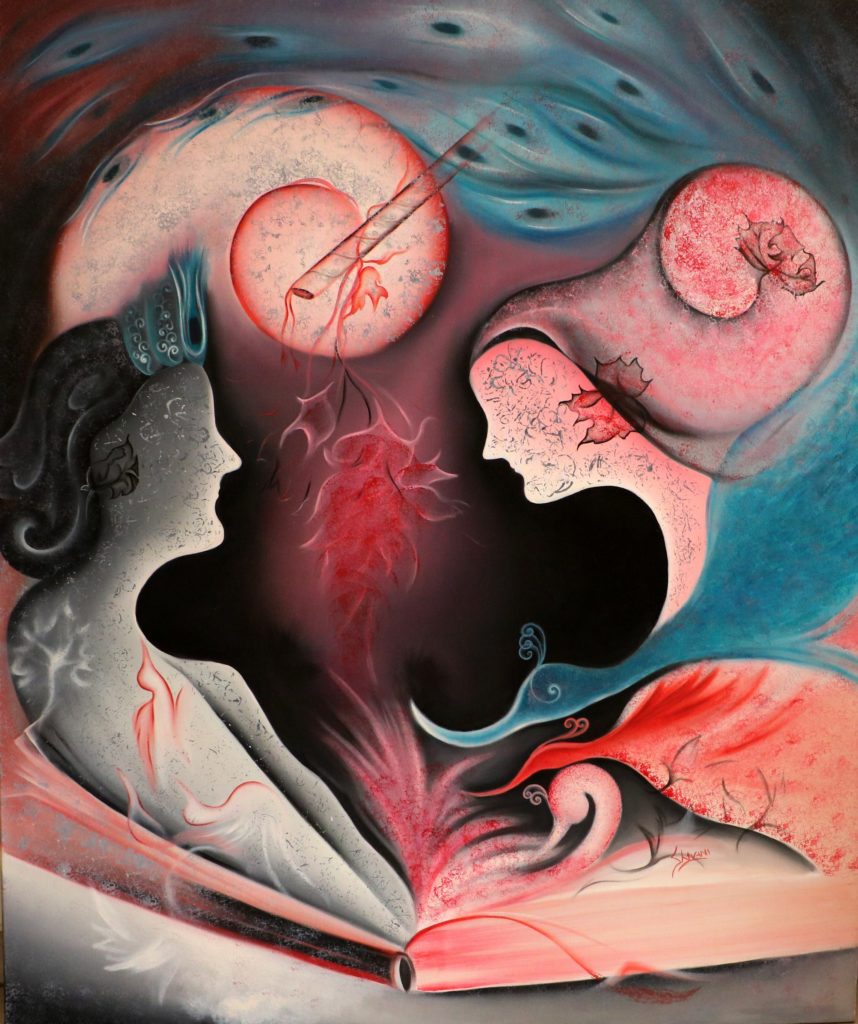 What's your artistic background?
I was born as the youngest daughter in a large and supportive family from Mathura. Mathura's deeply religious and historical background aided my imagination throughout my childhood which is clearly reflected in my work. Having been intrigued by art at a very young age, I consider myself fortunate to have received unconditional guidance and support from my father in pursuing it as a profession. Nothing fazed my burning passion for art—not even the fact that I had to commute to Agra College on a daily basis and was a frequent train passenger. My college life was packed with memories of the train, the intense pollution, my closest friends and the unforgettable words of my art teacher that have been engraved in my mind and shaped me into who I am today.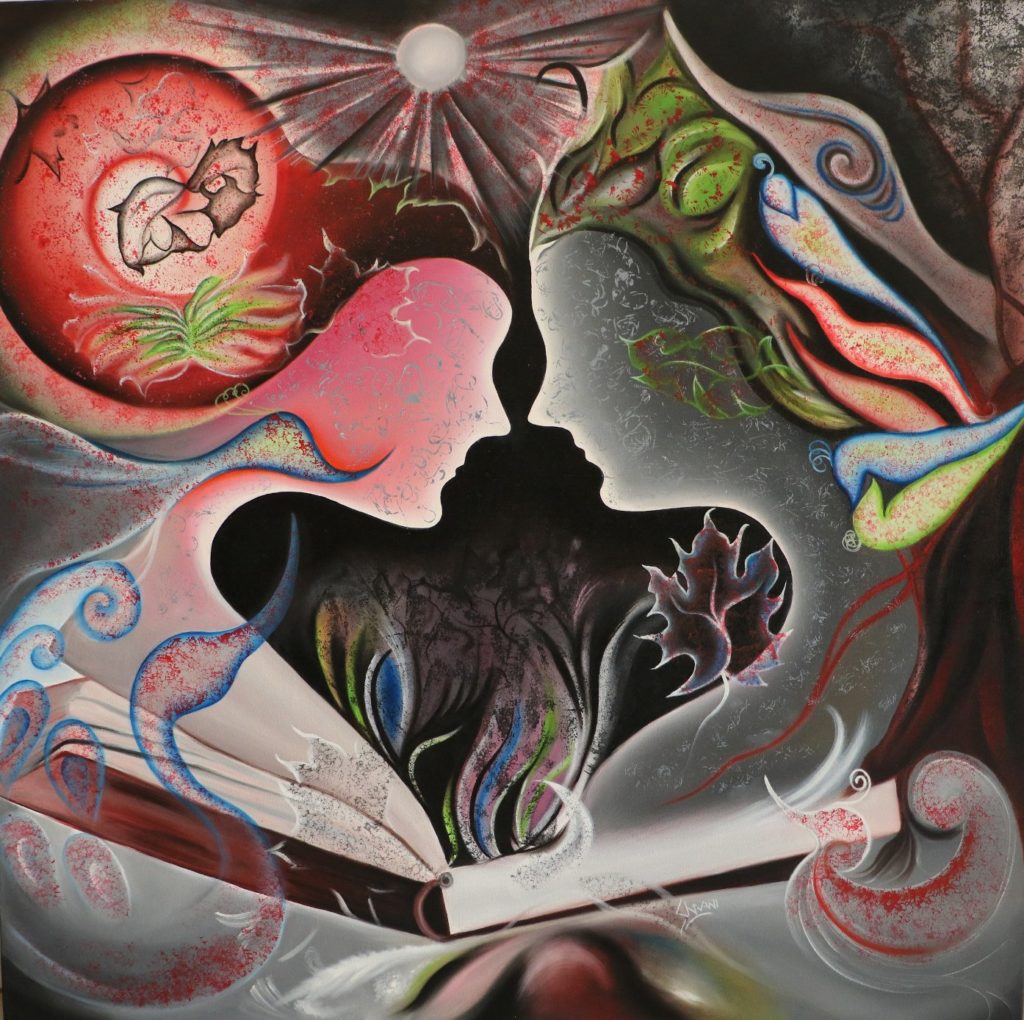 What's integral to the work of an artist?
When life offers a chance to do something that a person is passionate about, one must readily seize the opportunity and make every effort to do the best one can. Therefore, I think sincerity and authenticity are integral to the work of an artist. Art is not something that can be forced out of someone, nor can it be replicated. It requires one to be fully immersed in their work and make sure that they do justice to their vision. An artist's sincerity is apparent in their work and poses as an aspect that distinguishes their work from the rest. This is precisely why replicas are far from perfect as opposed to the original—they lack the depth and understanding that only the original possesses.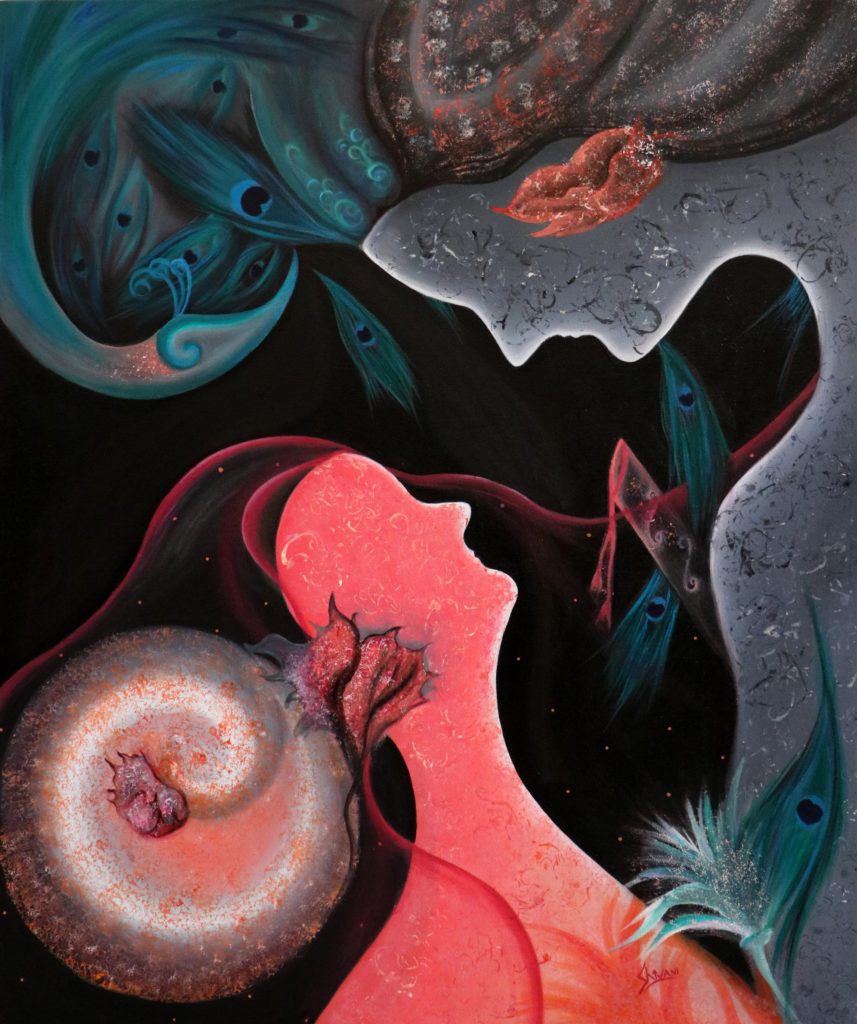 What role does the artist have in society?
An artist is someone who simply tries to portray the thoughts or feelings that they think of as an artist. The role of an artist is the same as any human being—to not just create something spectacular, but with a vision of making something that will be of some significance to lives other than your own. To give—being an artist is all about giving. When I paint, I give form to my emotions on a canvas, while for an observer; it may pose as a window for thought, a companion, or even a mirror of their emotions. The observer may perceive it as something that might not be the intention with which it was made, but it still validates their sentiments and stimulates their thoughts. Whatever it may be, it's all up to their interpretation.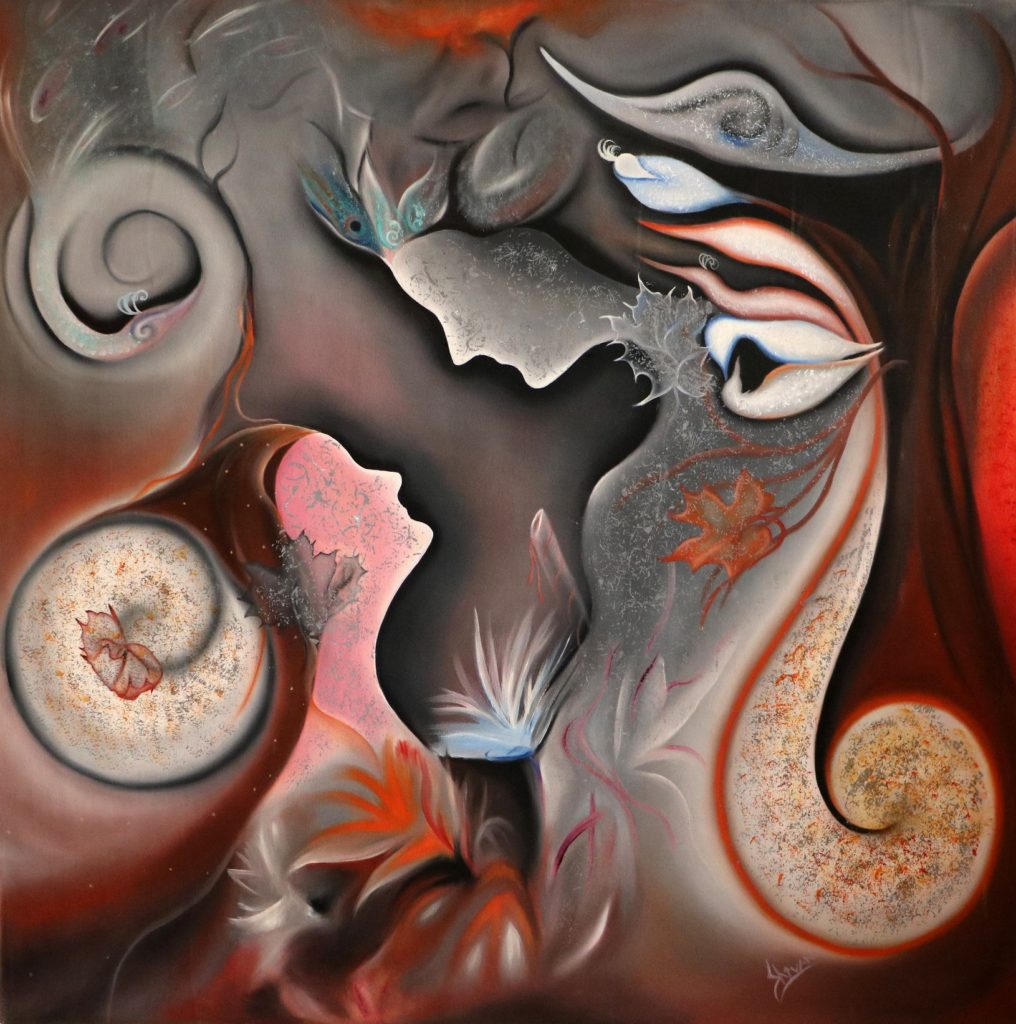 What art do you most identify with?
My work has always been deeply influenced by love, relationships, and nature. I truly identify with abstract art and much of my work is the synthesis of all these subjects. Often I create something vaguely based on nature that may look out of the ordinary to others. I aim to spread positivity through my work and elevate the mood of the observer. This is one of the reasons why I focus on subjects that express happiness, positivity, and affection. Figurative work and nature-based imaginings are manifestations of such optimistic energy on canvas.
What themes do you pursue?
The themes that I pursue are not limited at all. I simply create whatever I like based on things that catch my attention or interest me. However, some of the themes that have become the inspiration behind my most prominent series of works are Radha-Krishna, Adam & Eve and Nature. Human emotions like passion, affection, and desire are the core ideas that I portray on canvas through the extravagant use of bright colors and confident brushstrokes.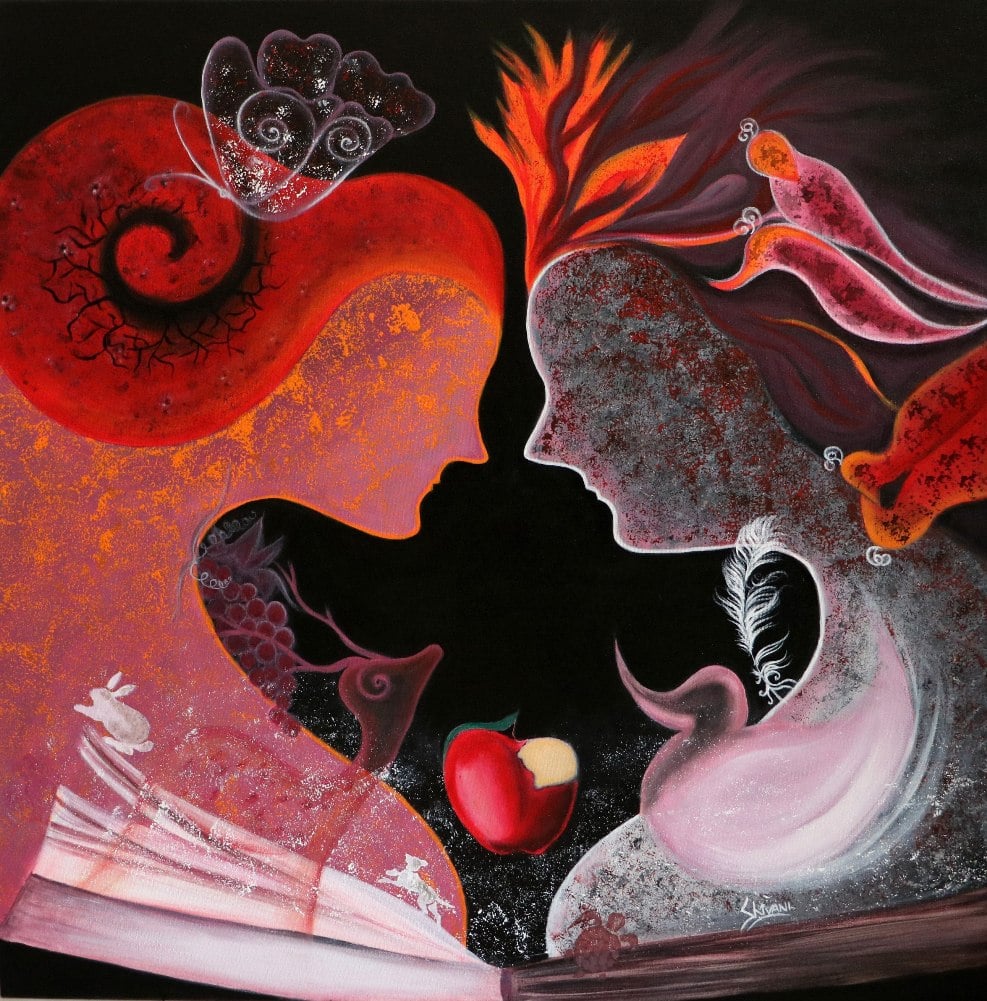 Describe a real-life situation that inspired you?
My greatest inspiration has always been my father, Mr. K.M. Mathur. I have received his wisdom on several occasions in my life, and those teachings have always inspired me. I do believe that I have inherited the artistic talents of my father and even his gift for poetry. The incredible support I received from him for pursuing a career like art was something that has not been very common to this day. Apart from him, my professor at Agra College, Shri Ashwini Kumar Sharma, had a strong influence on me when I came up with a refined level of artwork. The natural part of the art, which comes as an instinct is still the same as it was when I younger. Over the years, experimenting with various subjects, practicing a variety of mediums, and participating in a number of art exhibits have helped me in getting my style uniquely recognized.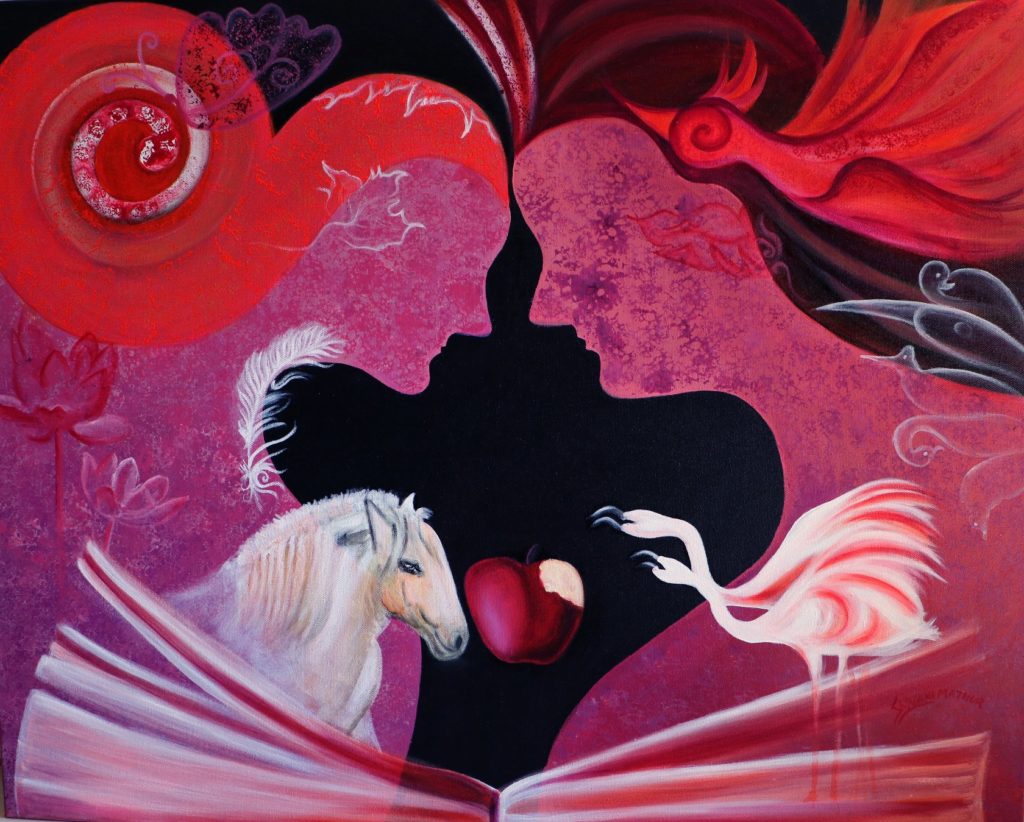 What jobs have you done other than being an artist?
Having devoted my entire life to art, I haven't ventured into any other field but I love to teach and I have imparted my knowledge of art to a variety of students of various ages who appreciate it as much as I do.
What is an artistic outlook on life?
When art becomes a prominent color in normal experiences, it becomes life. Living an artistic life would be living with a carefree mind and instilling the same imaginative sense in everything you do. It means living in an environment that has a significant artistic touch to it. Mixing everyday work with art is the only way to keep it from being rather dull and colorless.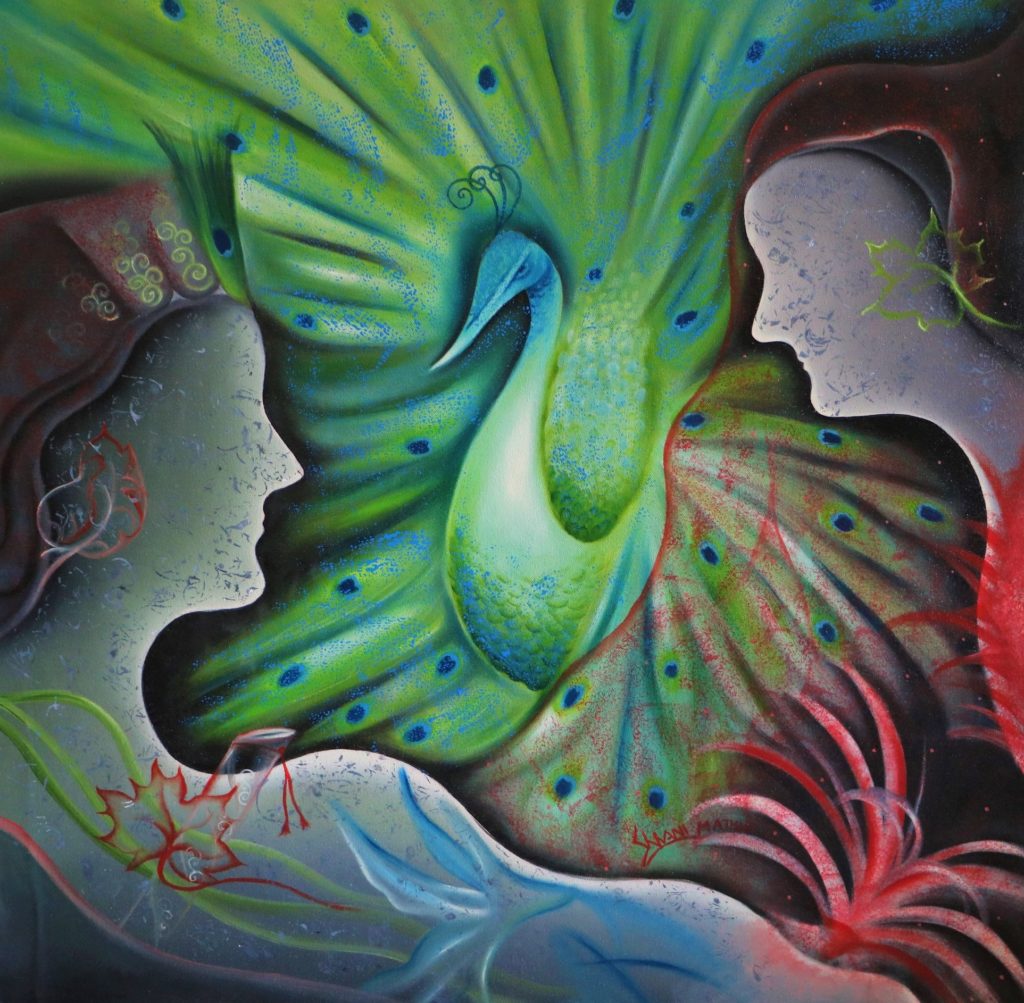 Is the artistic life lonely? What do you do to counteract it?
The artistic life is extremely colorful. If you're a true artist, you're never alone and are constantly surrounded by your imagination. As a daydreamer, your eyes see art everywhere. An artist's imagination is truly boundless. As for me, even if I were stuck within four walls of a room, my imagination would never fail to exceed its limits. I firmly believe that art is influenced by everything around us and it doesn't have to be tangible by any means. It could be a thought, an emotion, an object, a person, nature, and much more.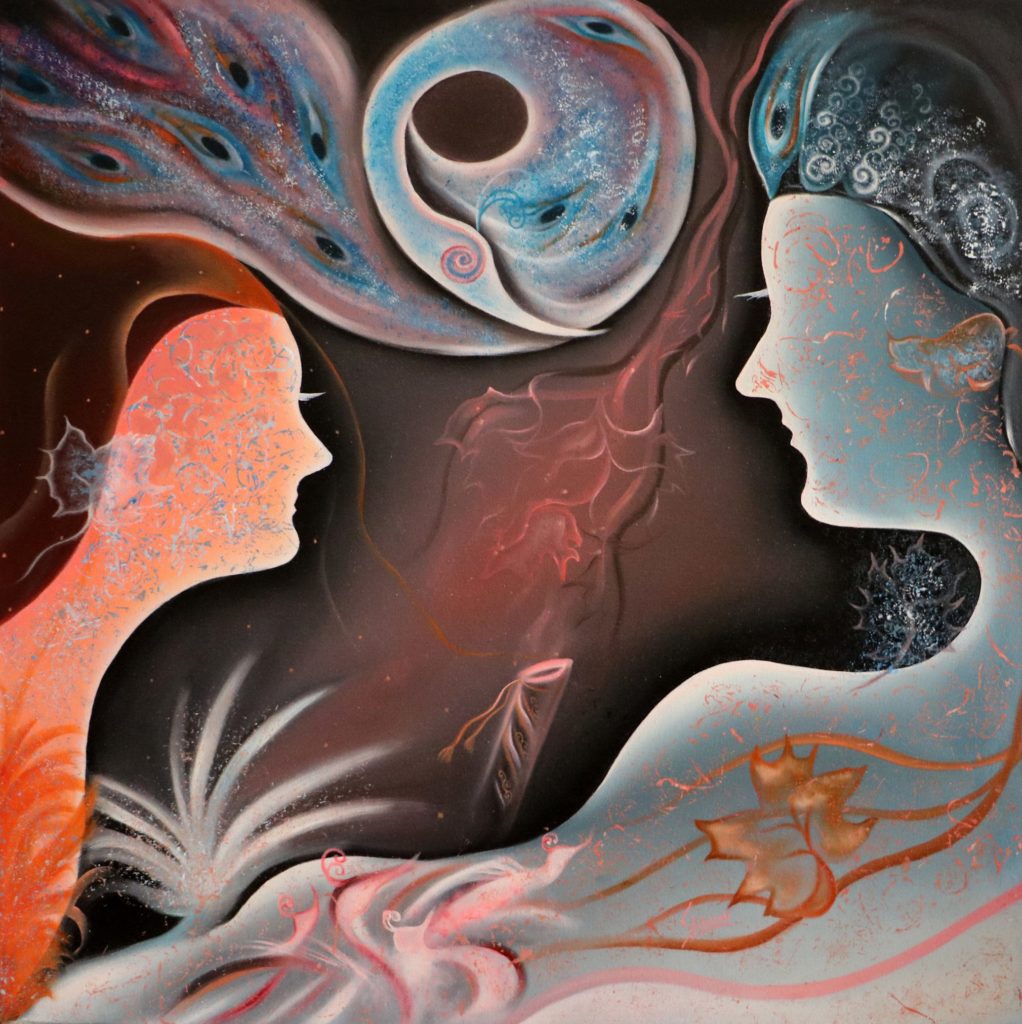 What do you like about your work?
I particularly like the beauty and nature surrounding my work and I ensure that I include that element in everything I create. I've spent almost half my life in a concrete jungle where indulging in nature and it's surreal beauty is certainly tough, but I find inspiration everywhere-whether it's the internet or my imagination. My admiration and craving for nature are probably why most of my work is surrounded by it. Another aspect I love about my work is that it's like therapy for me, and it's my primary worship. The true sense of satisfaction that comes with successfully creating something so expansive and intricate in your mind onto a canvas is transcendental.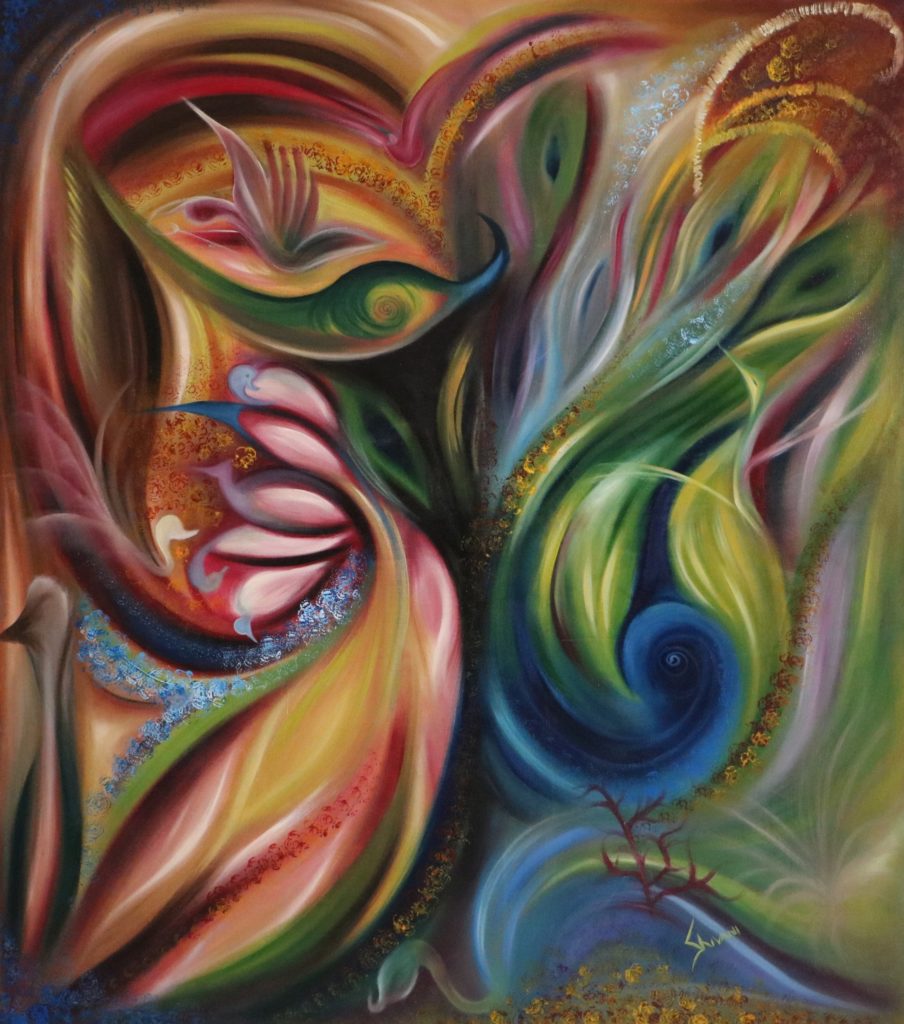 What is your dream project?
I would love to work in close collaboration with a variety of NGOs to help people from underprivileged backgrounds. I aim to support them—via the medium of art—in any way possible and would like to continue to extend these ventures among other internationally recognized artists as well.
Name three artists you'd like to be compared to.
I wouldn't want to compare myself to others, because I strongly feel that every artist is true to themselves and are their own inspiration. I believe that each of them is unique and their signature works accurately represent them.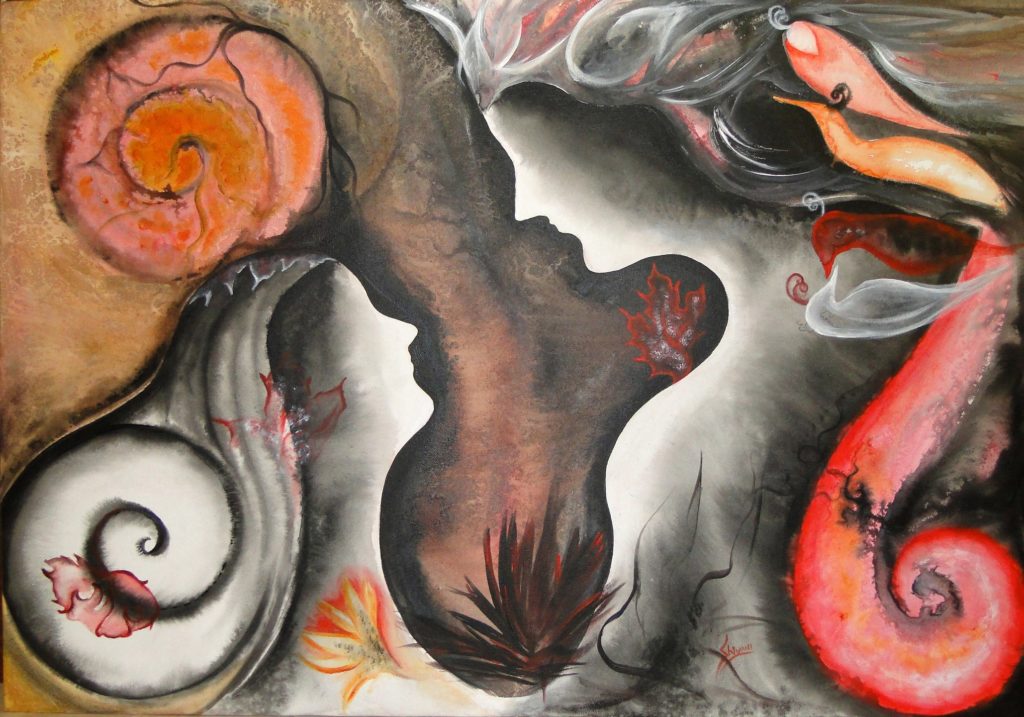 Favorite or most inspirational place?
As someone whose work is heavily inspired by relationships, the most inspirational place to me is Mathura-the place that I call home. It's lavish religious history and spiritual atmosphere are what seem to give me a sense of comfort and stimulate my imagination. I've grown up hearing about the tales of Lord Krishna and his eternal bond with Radha which has become one of the main themes I focus on.
What's the best piece of advice you've been given?
The best piece of advice I've been given is to express myself completely through my art and be true to it—never to be influenced by worldly thoughts.