"The pursuit of truth, which is often hidden in the subconscious layer of human minds, has been the crux of all my artistic endeavours. In my art practice, spanning roughly 12 years, I have explored a diverse range of subjects from identity to sustainability and cosmology to consumption. I'm a curious person by nature and this curiosity to understand and express the gamut of human experience is what drives me to create art. My artistic language has evolved through a continuous exploration and synthesis of concepts, materials and technologies," says artist Romicon Revola.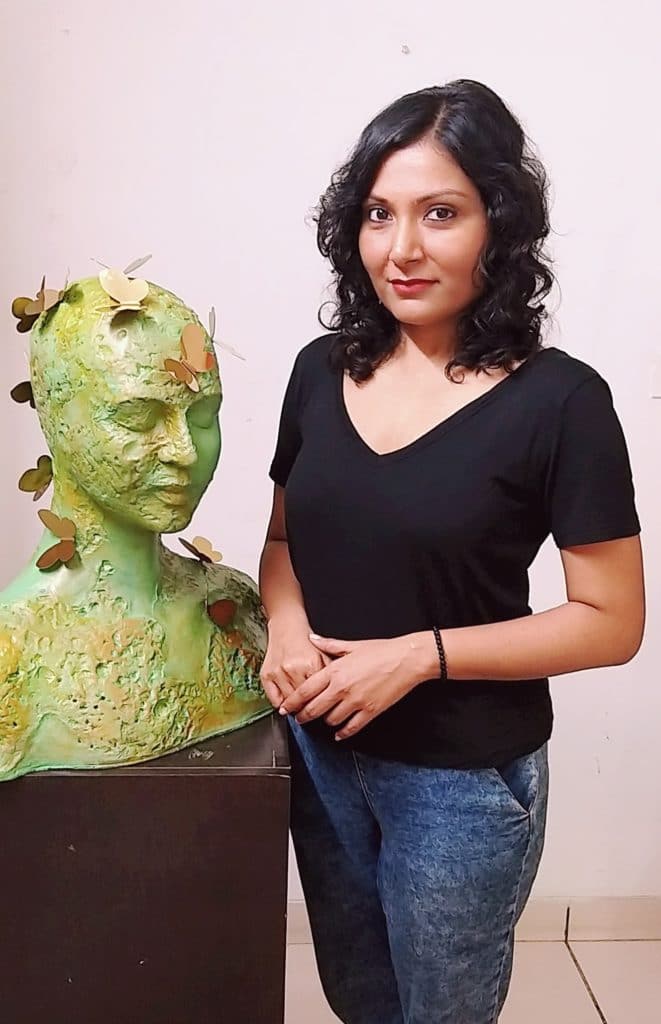 Romicon Revola a.k.a Romi is a contemporary visual artist based in Bangalore, India. Her art practice encompasses monumental public sculpture, installation, painting, video and digital art. Romi is the recipient of the 2019 CIMA Infosys Special Award as well as the 2019 KWAA (Karnataka Women Achievers Award) award for Excellence in Art & Culture. Her video 'Ocean within a drop' was screened at the Birmingham Art Summit at MAC in the UK on World Water Day in 2018. Her large-scale public art is installed across various tech parks and other campuses in Bangalore city including the historic Cubbon Park, Hilton Hotel, Shell R&D Center, Manyata Tech Park as well as World Trade Center, Kochi.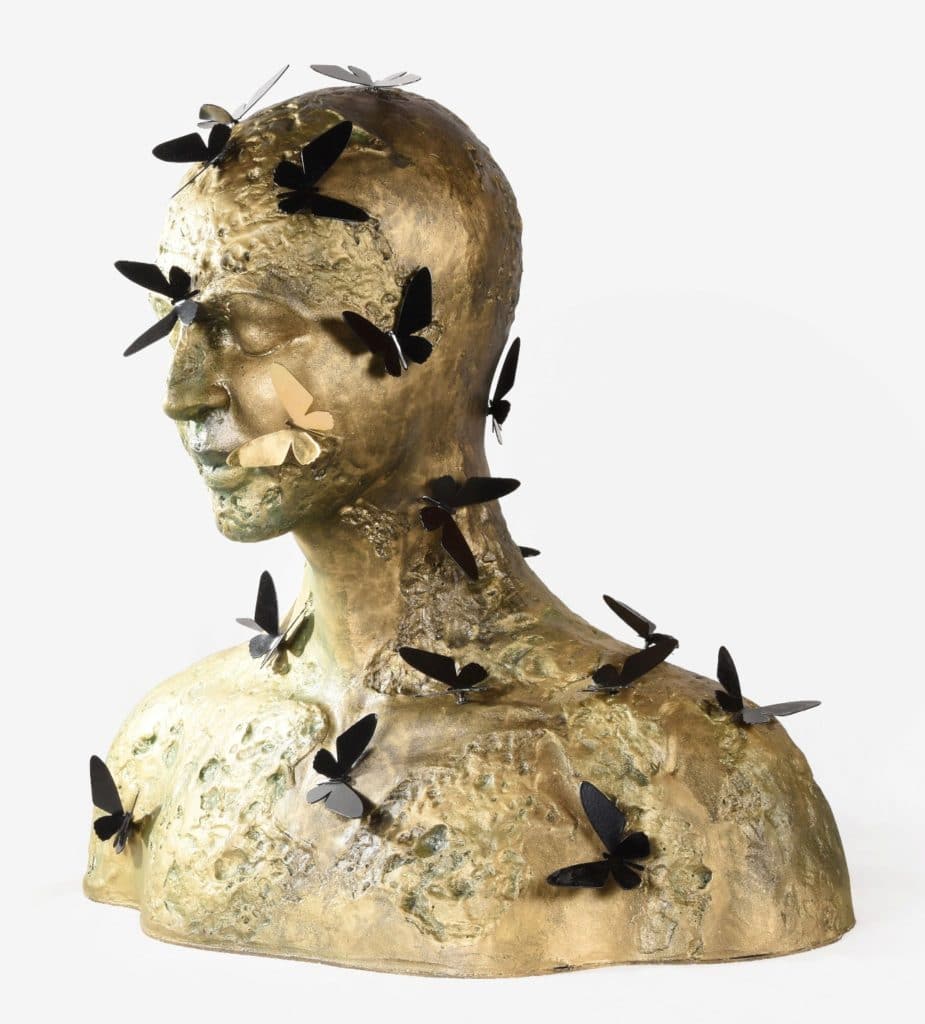 What's your artistic background?
I grew up in a family of artists so most of my childhood was filled with art related activities. I trained under my parents and then apprenticed under senior artists. When I began my journey as an artist in Bangalore there were very limited opportunities for large scale sculptures, which was my area of focus initially, but then the city started to develop at a rapid pace to become the Silicon Valley of India and I got more opportunities to work on outdoor sculptures across the city. In a way my art career evolved in parallel to the city's IT boom.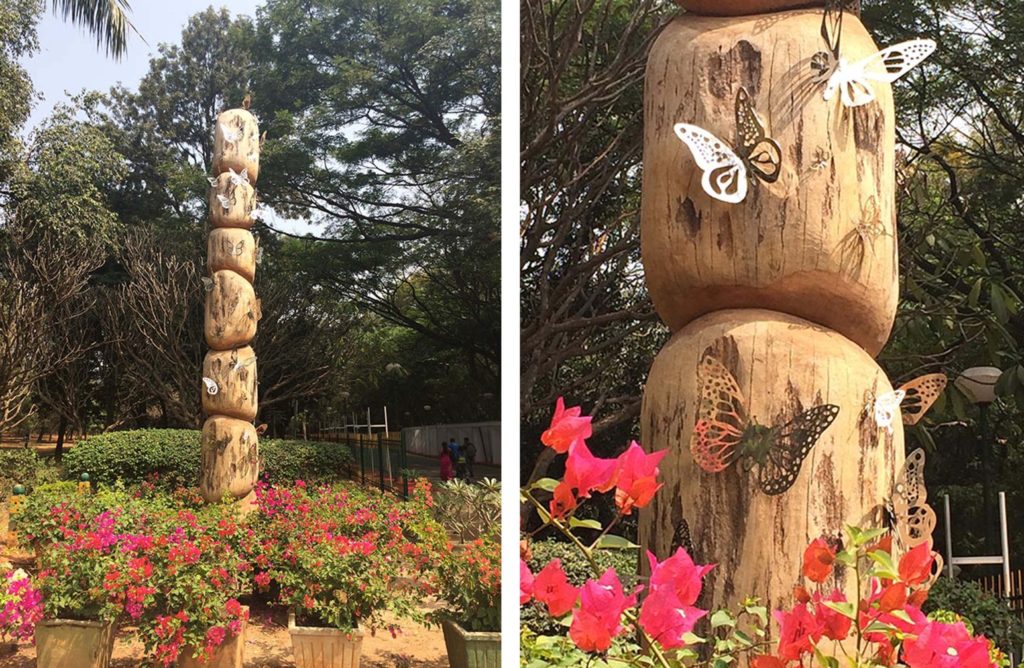 What's integral to the work of an artist?
Constant growth and evolution. Your journey of self-growth and self-discovery is what translates into your work so artists must stay curious and challenge themselves constantly.
What role does the artist have in society?
I believe that art opens up a sacred portal for the viewers where they are connected to physical, mental and spiritual realms all at once. Hence, an art experience is often transformative even if the viewer is not always conscious of it. Human beings have always sought more than food and basic sustenance. Even in the harshest of times we seek to nourish our minds and souls and artists provide that vital link to accessing our higher levels of consciousness.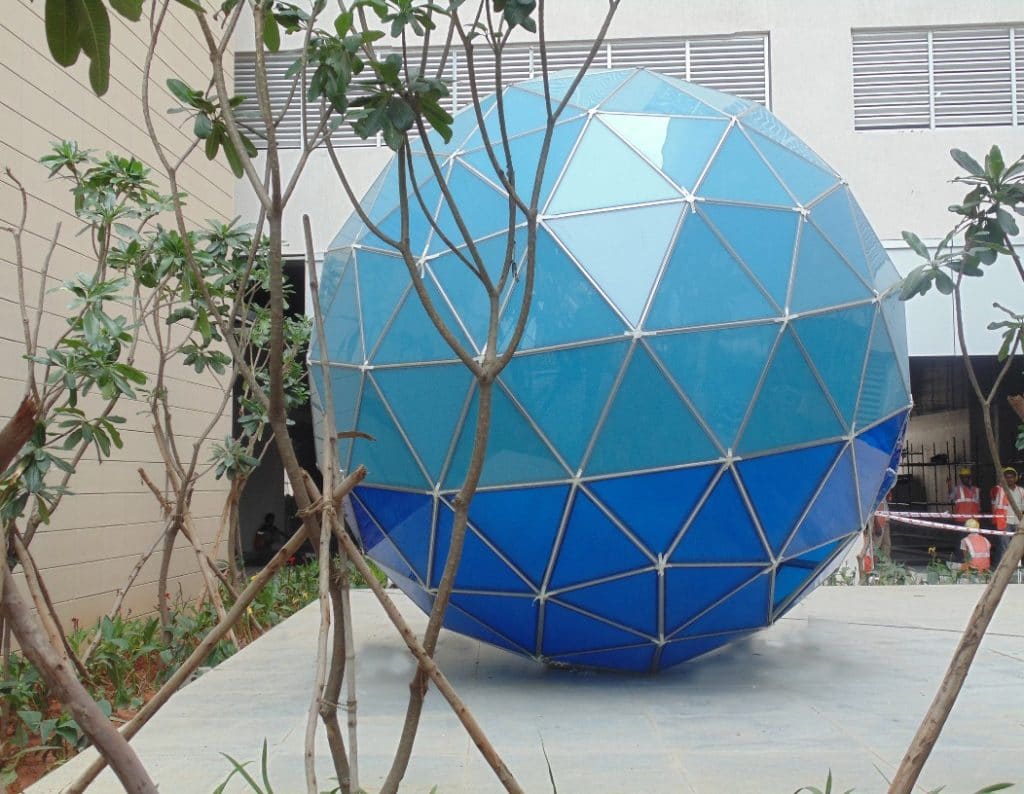 What art do you most identify with?
Public Art that engages with a wider audience that may never step into a gallery or a museum is what interests me the most. Art is about non-verbal communication and it triggers the imagination of the viewer while offering a fresh perspective on existing ideas. Invoking this subtle shift in perception is what I love most about being an artist and art in public space is especially important to me since it gives my work the opportunity to engage with viewers from diverse backgrounds.
What themes do you pursue?
I have explored a diverse range of subjects from identity to sustainability and cosmology to consumption. I'm a curious person by nature and this curiosity to understand and express the gamut of human experience is what drives me to create art. My artistic language has evolved through a continuous exploration and synthesis of concepts, materials and technologies.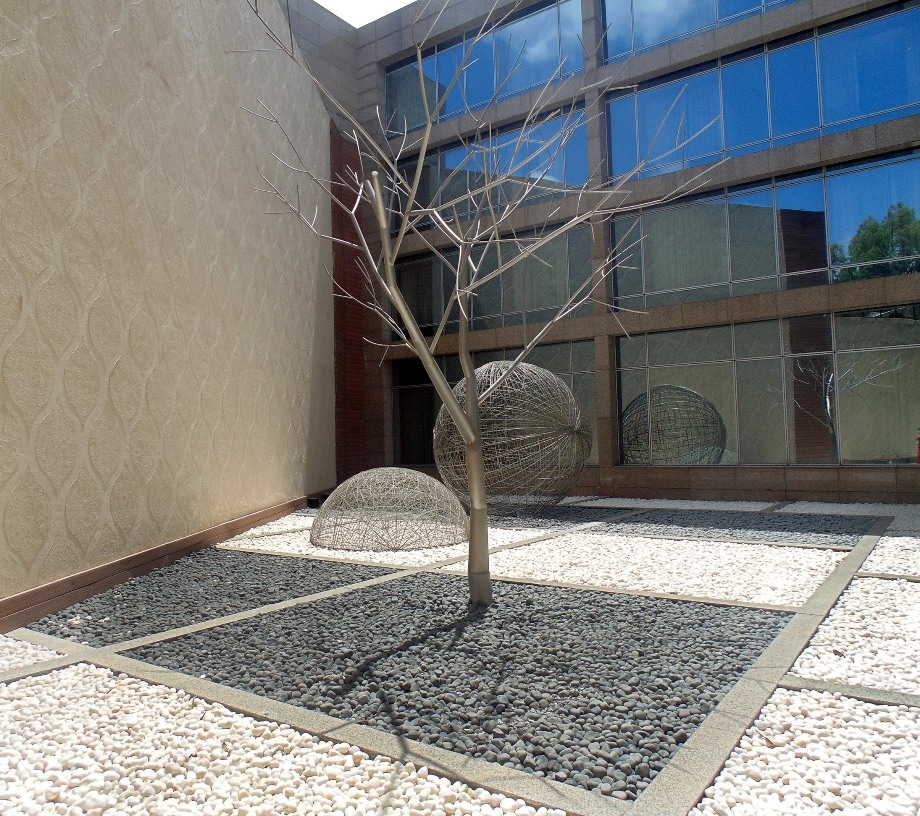 What's your favourite art work?
From my own body of work, my favourites are Metamorphosis, installed at Cubbon Park and Urbanscape, installed at the Hilton hotel in Bangalore.  Favourite artwork from history is The Acrobat Family by Picasso; Starry Night by Van Gogh and so many other classics.
Describe a real-life situation that inspired you?
After working on large scale sculptures and site-specific installations for about 7-8 years my focus shifted to other mediums and subjects. I started making work in response to what was happening around me. There were major ecological challenges caused by unplanned urbanization in Bangalore. We had lakes catching fire, water shortage, landfill management issues and every day was a battle against various forms of pollution. Around this time I became interested in juxtaposing man made materials, especially plastic, with fragile, natural, bio-degradable materials. The Golden Bough and other stories from the Landfill is a series of sculptures and paintings made with found objects and biodegradable materials. I enjoyed making these ephemeral objects after having worked in large scale permanent installations for so long.  I worked with tree trunks, turmeric, cotton and natural fiber.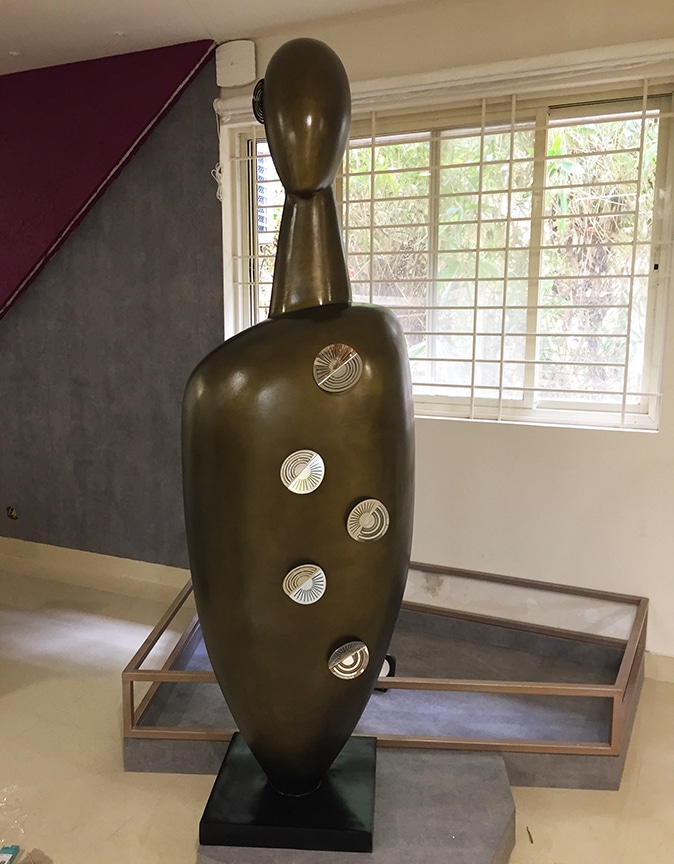 Shortly after that I went back to working with metal and other permanent materials. However, there was a major shift in my visual language as seen in my present series Cosmic Bloom which consists of sculptures as well as videos. The Biosphere sculptures and the Trilokini busts are my most recent works from this series. I'm constantly challenging what I know and what I say.
What jobs have you done other than being an artist?
I never had any other job. I did some freelance design work initially but it was for a very short phase and did not satisfy me so even when things were challenging, I stuck to making a living as an artist.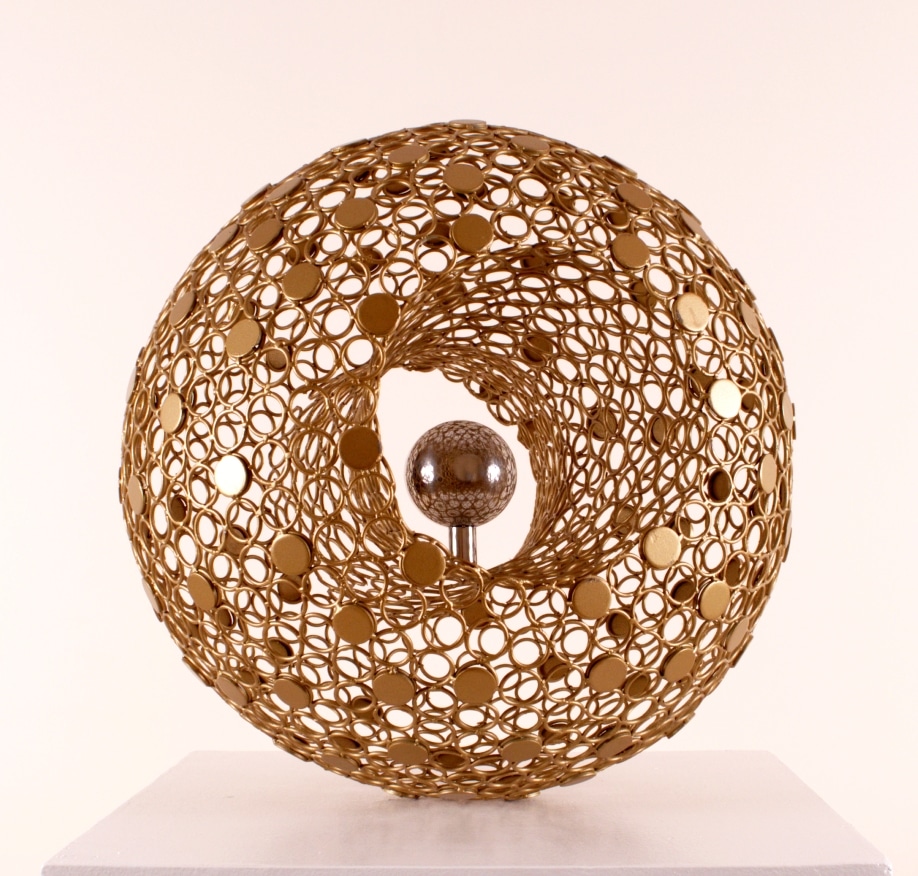 Why art?
When you are born with a creative bent of mind you have to be true to your calling and embrace it and that's what I've done.
What is an artistic outlook on life?
Life is a creative process. Sometimes we may get caught up in the pressures of the day to day and forget that. Humans are the only species that are actively thinking about and shaping their future. They have the imagination to envision a certain future and work towards making it a tangible reality. This is an inherently creative process. There are many unknowns and many twists and turns that take place during this journey.
An artistic outlook on life would be to embrace uncertainty and understand that it's not a setback but the natural way in which the universe operates. Be agile and keep moving.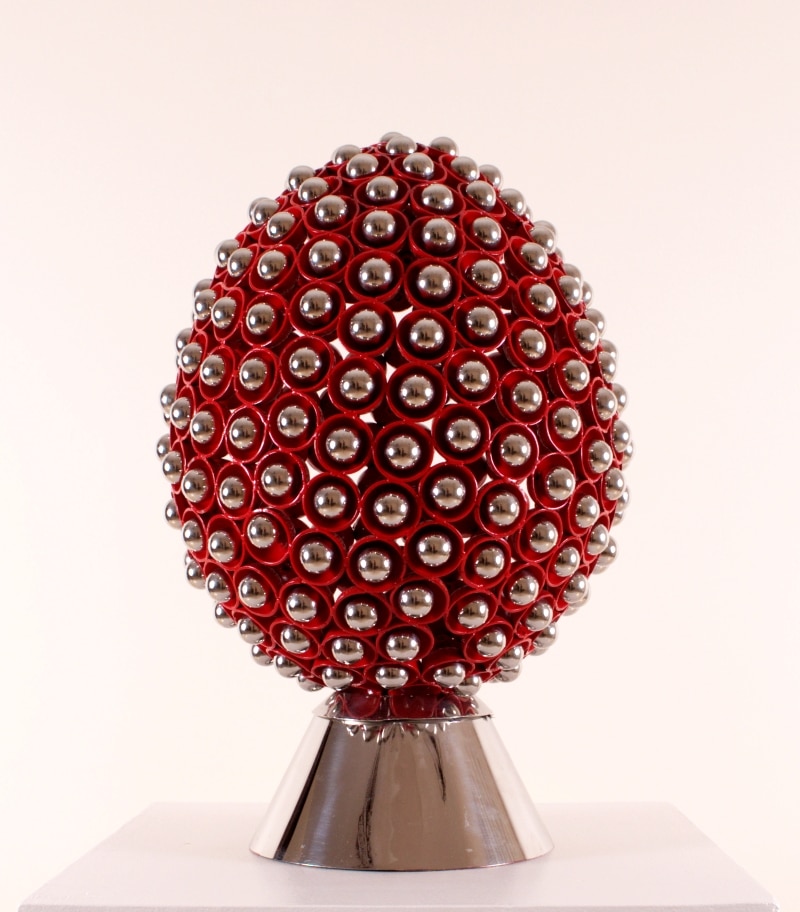 What memorable responses have you had to your work?
Since most of my work is in the public domain I sometimes walk past or drive past the work and see people taking pictures and assembling near the work which is always satisfying. In Cubbon Park I've observed people use my work as a landmark since it's a very large park and one can get lost easily. I'm always happy when I hear people say, "Let's meet at that sculpture with the butterflies". There's an old man who has a juice stall right opposite my work. When I went back a year after it was installed I got to chat with him and he told me that people come up to him and ask him about the work and want to know its meaning, when it was installed and so on…I'm glad people are engaging with the work.

What food, drink, song inspires you?
I love Bossa Nova, Latin pop, wine and all kinds of food.
Is the artistic life lonely? What do you do to counteract it?
Some aspects of the artistic life are solitary but it doesn't mean that it has to be lonely. It really depends on the personality of the artist. I'm a social person so there are phases when I work on my art alone and then there are phases where I go out and socialize, meet my friends. I make it a point to stay connected to the outside world. My closest friends are not artists; they come from various other walks of life which is inspiring for me as I get to hear their stories and discover other perspectives on life.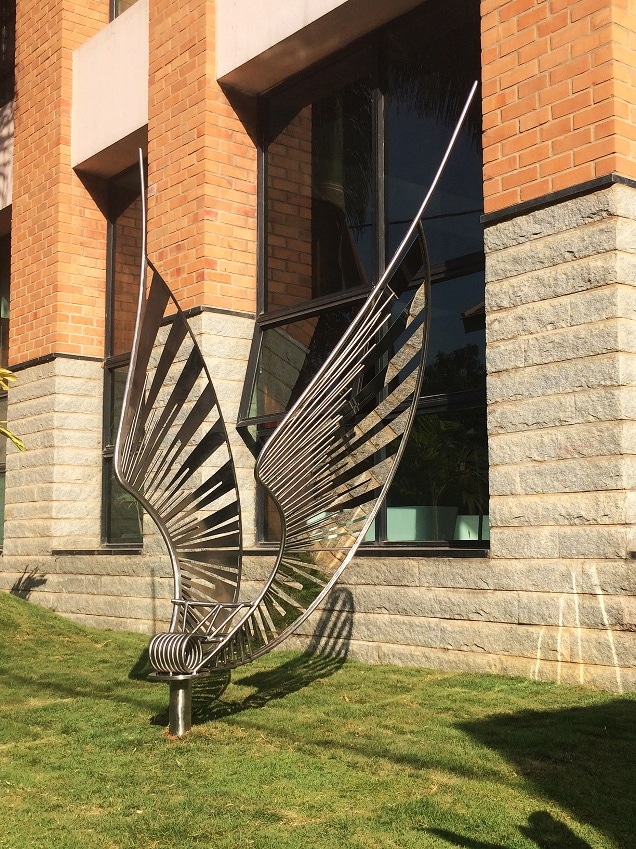 What do you dislike about the art world?
I feel as a community we need to do a lot more to integrate visual art into the mainstream culture. Being insular is not helpful. By being more accessible we enrich society as a whole and are able to touch more lives.
What do you dislike about your work?
I don't really dislike something about my work. It's always been a process of evolution so if there's something I don't like I work on improving it and then it's no longer an issue.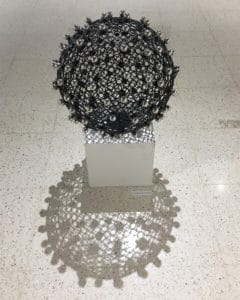 What do you like about your work?
I like the journey of discovery that my work leads me on. It's a beautiful journey where I get to pick up any subject that interests me – from cosmology to psychology to ecology – and really immerse myself in it and explore various aspects of it. It's a very enriching experience that I cannot describe in words.
Should art be funded?
Yes art should be funded.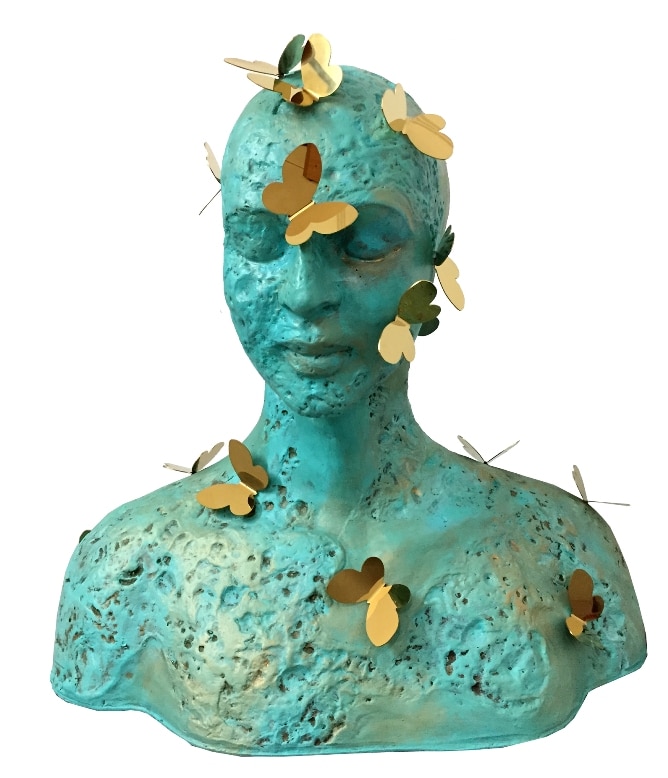 What role does art funding have?
For a country of a billion people, we don't have enough museums, sculpture parks, concert halls. A few places have recently been funded by philanthropists which is a positive sign but we need to scale up exponentially.
What is your dream project?
Arts at CERN in Geneva is an art program that I'd love to be a part of. Getting to spend time with scientists and philosophers would definitely be a dream project.
 Name three artists you'd like to be compared to.
Artists are self-made people who value their individual freedom and creative independence more than anything. I wouldn't want to be compared to another artist. Each of us goes through a unique journey that contributes to our individual narrative and expression.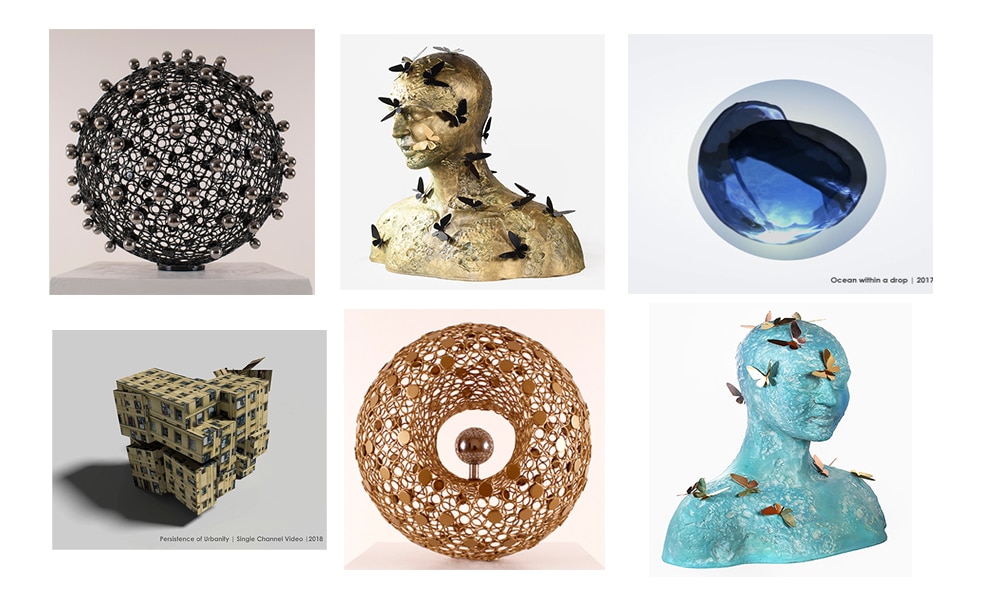 Favourite or most inspirational place?
Spending time near a water body like a pool, lake or even a waterfall is always inspirational.
What's the best piece of advice you've been given?
Everything stems from work so just keep evolving as an artist and opportunities will find you.
Professionally, what's your goal?
Goals in context of a creative career are always moving targets. At the moment the main goal is to get back to exhibiting in physical art shows and art fairs which were all cancelled last year.
Future plans?
In the future I would definitely be showing more work internationally. During the pandemic I worked with online platforms based abroad so I realized that they can erase geographical boundaries and bring my work closer to a global audience.